5 Best Mattress Toppers for Hip Pain — 2020 Reviews and Buyer's Guide
by | Last Updated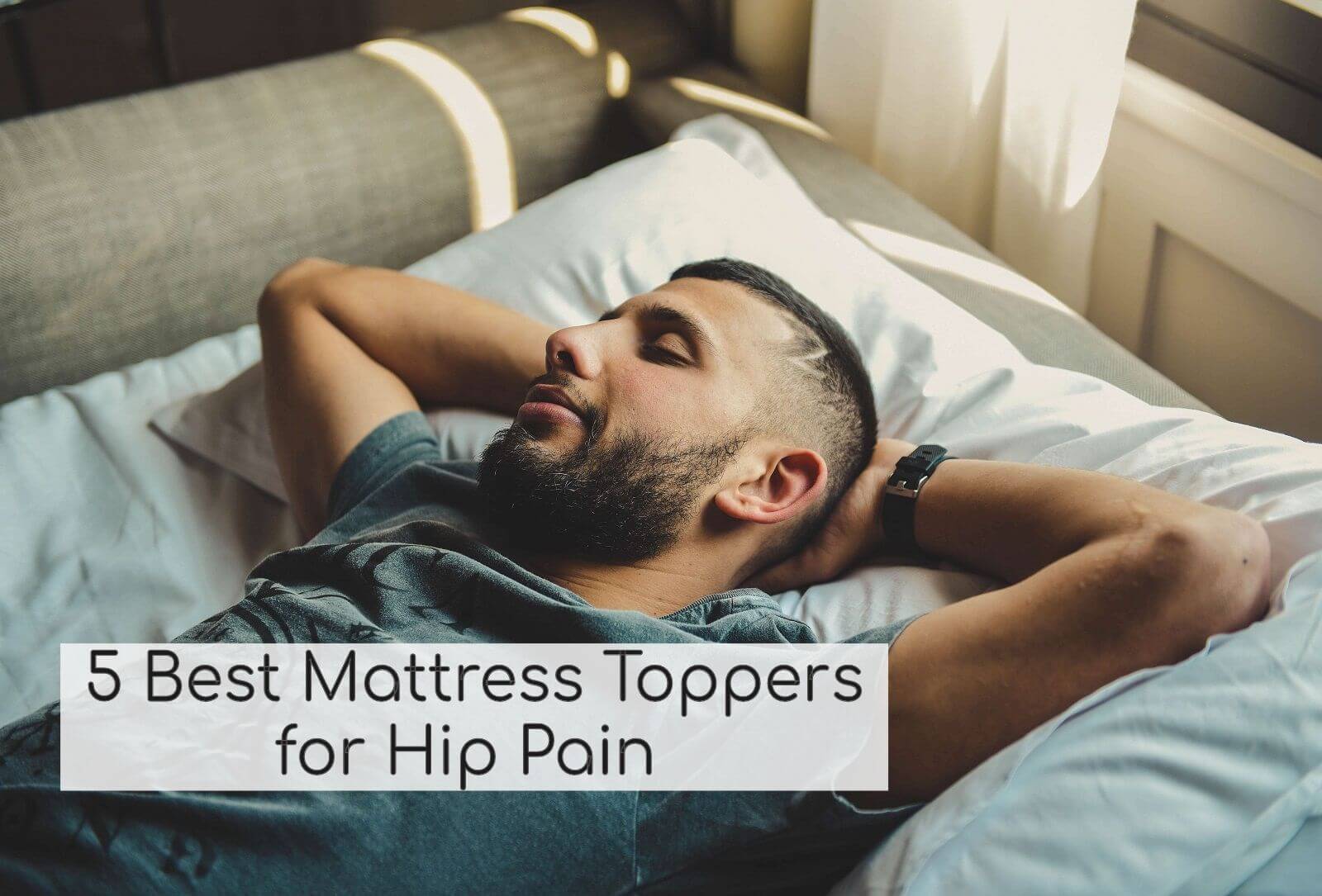 There are many factors that contribute to a good night's sleep, but hip pain definitely isn't one of them. Achy hips may cause you discomfort for hours after waking up, and this pain may even become chronic.
The good thing is, you may improve your condition by upgrading your bed.
Below, I will share my reviews of 5 best mattress toppers for hip pain and give you some tips on how you can choose the right one among them. Enjoy!
[table id=115 responsive=collapse datatables_row_details=true datatables_row_details_columns="A-G" /]
Our Reviews of 5 Best Mattress Toppers for Hip Pain Sufferers
UTTU – Best Mattress Topper for Hip Pain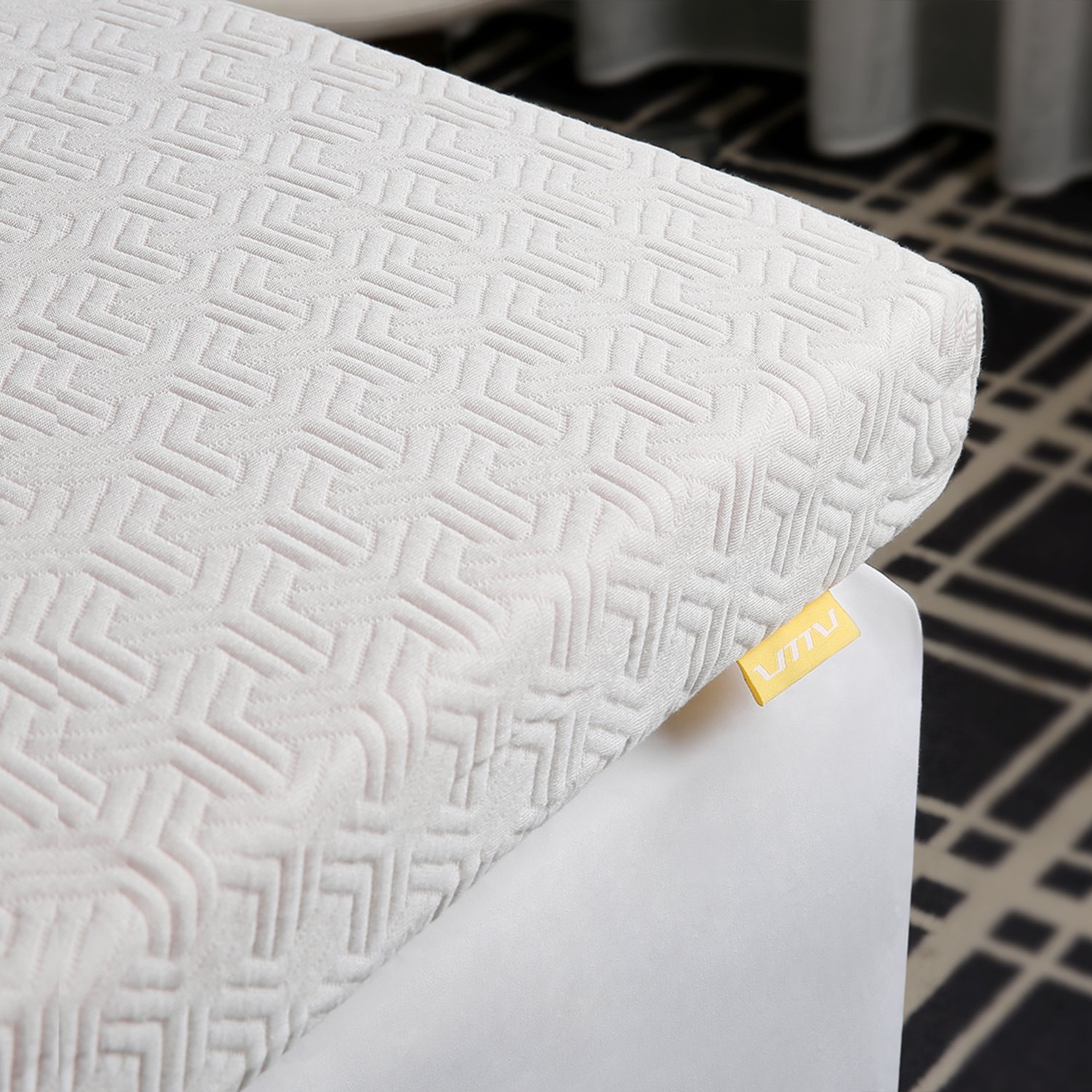 Moving down the list of the best mattress toppers for hip pain, this model by UTTU features a two-layer design and is made from incredibly cradling foams. So, if you're looking for a personal sleeping cloud that could change the feel of your worn out bed, take a closer look at this topper.
The first layer is made from the brand's proprietary Red Respira foam. It has a soft feel and ensures your body is properly hugged for effective pain relief.
The second layer features 2 inches of UTTU's Dynamic foam. I believe that it's used for maintaining a uniform sleeping surface and smoothly transitioning the load from your body onto your mattress. This foam feels pretty dense and spongy.
The cover fabric consists of a polyester and rayon blend and is soft and cool to the touch. Moreover, you can unzip it and throw in the washing machine to give it a fresh look.
The main drawback of the UTTU topper is that it might sleep hot. Although I did get proper sleep on this topper, my wife admitted she wasn't completely comfortable and even woke up in the middle of the night because of the heat. So, if you're a hot sleeper, you may want to choose another option.
But despite this flaw, the cradling properties of this mattress pad are top-notch. I felt so well-rested in the morning. No matter which sleeping position I chose, I didn't feel stiff and sore upon waking up.
So, I think that fans of the sinking memory foam feel will definitely love this topper. Just make sure to adjust your thermostat to enjoy the most comfortable sleep.
Check out this mattress topper on amazon
Dreamfoam Bedding – Best for Cooler Sleep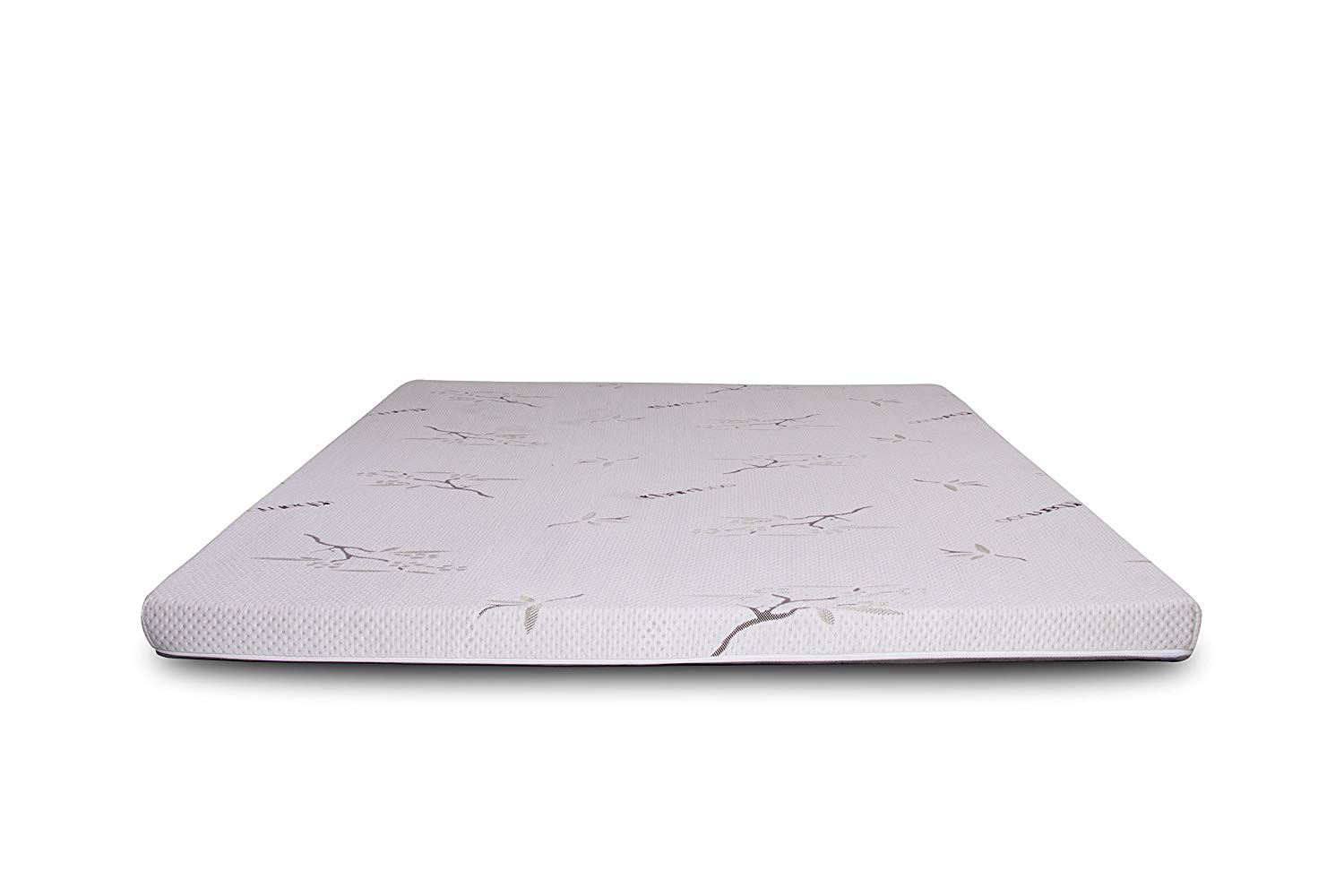 The second option in my review of the best mattress pads for hip pain would work great for those who tend to sleep hot. This model by Dreamfoam Bedding provides you with 2 inches of latex encased in a bamboo rayon cover, which is washing machine-friendly for even better maintenance. What else could you wish for?
The manufacturer uses a latex blend made via the Talalay process, which results in a nice, soft feel and a decent amount of cradling for your sore hips. This mattress topper, however, isn't made from natural latex only: according to the label, they use natural latex tree sap and synthetic fillers.
Another great feature of the Dreamfoam Bedding topper is that you can choose between a 2-inch and 3-inch option. Plus, there are three levels of firmness — Soft, Medium, and Firm — which allows you to get the most suitable topper, based on your sleep preferences.
The worst thing I've managed to find about this model is its cover. I mean, although it's washable, the rayon fibers may start shedding and become itchy. So, you may want to put a protector above the topper, which might mean more expenses.
What I really loved about the Ultimate Dreams is how it keeps you cool throughout the night. Latex naturally is very breathable. And a bamboo rayon cover acts as a moisture removing layer and prevents you from sweating.
This topper would make a great choice for hot sleepers and fans of the latex feel. It is able to give you nights with no pain for years to come.
Check out this mattress topper on amazon
Zinus Night Therapy – Best for Thickness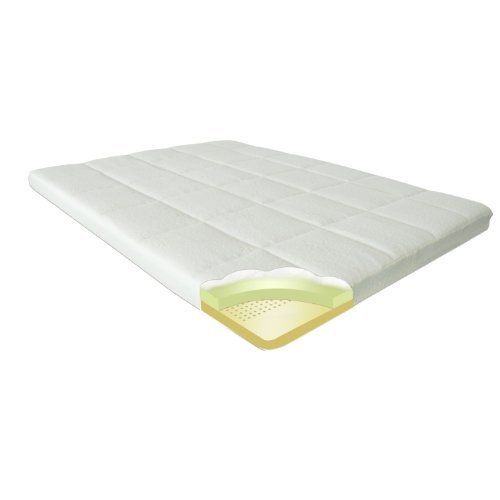 Typically, the thicker your mattress topper is, the higher is the chance to get the desired pain relief during sleep. That's why the first model in my review of the best mattress toppers for hip pain is this model by Zinus. Being 4 inches thick, it is also quite soft, which makes it a good pick for side sleepers.
Now, this topper consists of two foam layers: 2 inches of memory foam and 1.5 inches of pressure relief foam. And there's also a 0.5-inch quilted cover with fiberfill.
Memory foam is pretty dense and cradling. I'm a combo sleeper (back and side), and I felt very comfortable and relaxed on each night of testing, with no tension built in my hips.
The worst thing about this topper is that it's only available in three sizes: Twin, Full, and Queen. So, if you own a King or Cal King bed, you'll have to look further.
The best thing about the Zinus is how thick, soft, and cradling it is. It gently contours the curves of your body and help you get your portion of rejuvenating sleep with no pain.
Overall, I believe that chronic hip pain sufferers, especially those who tend to sleep on their side as well as larger sleepers, would benefit from the Zinus the most.
Check out this mattress topper on amazon
HOFISH – Best Value for Money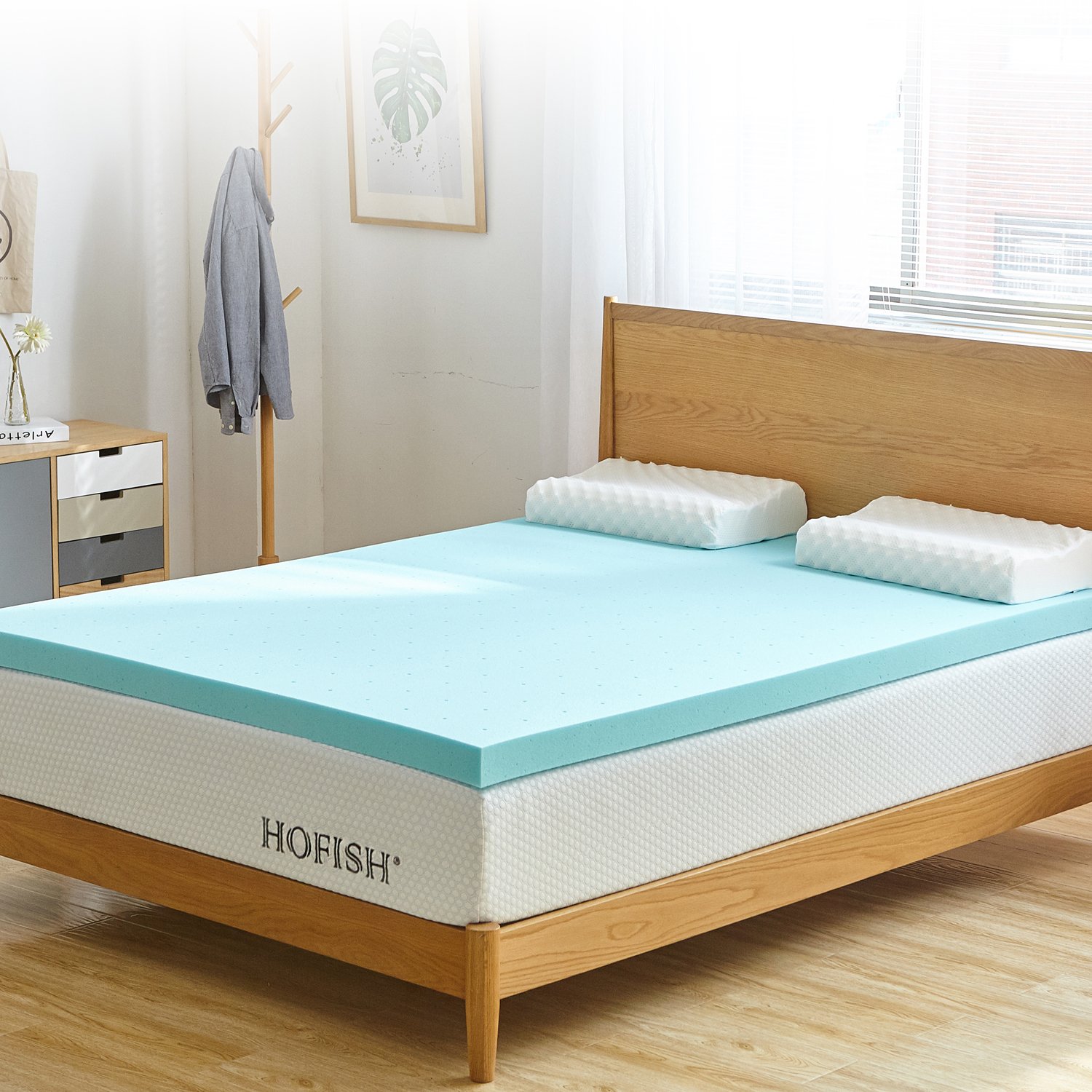 I included the HOFISH in my review of mattress toppers for hip pain because it's literally a lifesaver for those who are on a budget. Even the King size will cost you less than 100 bucks, but the pain relief it can give you is definitely worth many times more.
So, the HOFISH is made up of a 3-inch thick layer of gel-infused memory foam (or, you can choose the 2-inch option). I found that it has a soft to medium feel, as it does give in under your body, gently cradling your spine.
Gel particles do a great job at dispersing heat during the night and keeping your body temperature at optimal levels. I didn't sleep hot during testing, which is rare when it comes to cheap foam toppers.
Now, what I didn't like was the smell. I left the topper for a couple of days to aerate, but the smell still was pretty intense and has gone only by the fifth day. So, if you're sensitive to odors, you may want to look for other options.
The biggest advantage of this topper is its affordability, of course. It looks pretty durable and offers a balance of support and cushioning, without making you too hot. Doesn't this make it a worthy investment?
Overall, if you're looking for a really affordable but quality mattress pad, go with the HOFISH. Just be patient and let the odor go away.
Check out this mattress topper on amazon
LUCID – Best for Construction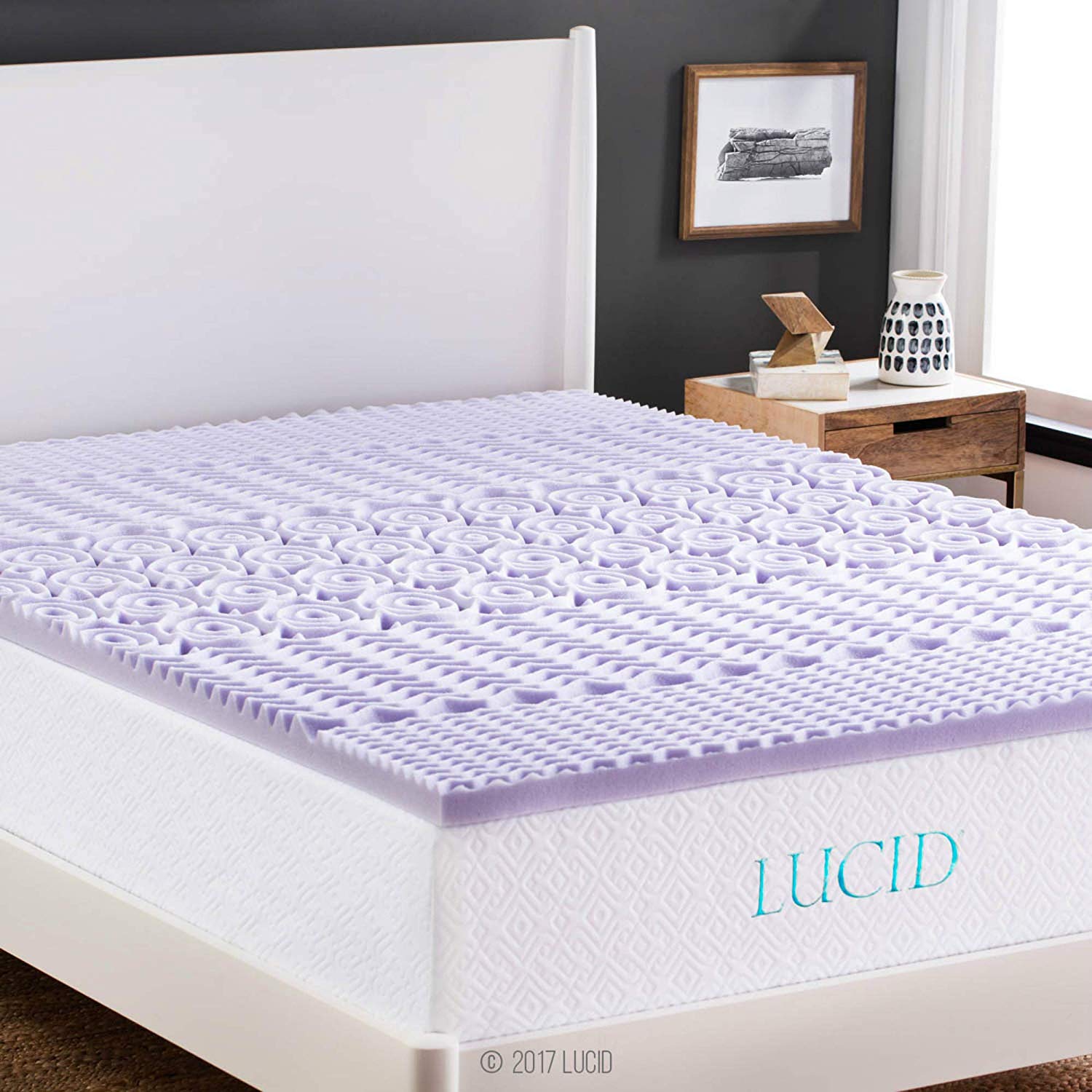 The last model in my review of mattress pads for hip pain relief is the LUCID, and this company seems to have put relaxation to a whole new level. Their lavender topper has a 5-zone construction that provides targeted comfort and cradling right where you need it.
This LUCID topper is 2 inches thick, which may be too thin for heavier individuals but is perfectly enough to cradle a small or average sleeper. The foam is infused with lavender extract, so you get the royal aromatherapy session, which will help you wind down before sleep.
Another awesome thing I want to mention is that the textured surface not only works well for pain relief but also promotes better airflow between you and the mattress, sleeping significantly cooler compared to solid foam models.
The only flaw I could find in this topper is that it needs a couple of days to expand entirely and become ready for use. Thus, you need to be patient if you want to get maximum comfort from this model.
But what I absolutely love is the zoned design of this mattress pad. It really contributes to therapeutic sleep with no pain and soreness the day after. Plus, it provides a slight massage effect for your whole body.
I think that because of its profound relaxing properties, the LUCID topper will work great for individuals with episodic aches and pains or anyone who is excited about the massaging effect.
Check out this mattress topper on amazon
Why Do You Have Hip Pain During Sleep?
So, why do some people sleep like the dead, while others are constantly waking up with soreness?
There are several reasons for that:
Old mattress

. Any bed will change its feel over time. Foams tend to soften and sag with age, while hybrids and innersprings may, on the contrary, start feeling too firm. Both these extremes don't contribute to restful sleep, as they put your spine out of anatomical position and may cause you pain.

Injuries

. Fractures and twists may provoke inflammation flares in the bone tissue, which limits mobility. Thus, you may begin to experience painful symptoms in your joints and regions that you've got injured.

Structural changes

. Our bones and joints get harder as we age because the production of collagen — a protein that is responsible for flexibility — declines over time.

Sleeping position

. Some sleeping positions can contribute more to the appearing of hip pain. Side sleepers are the ones who suffer the most, as they initially have more tension in their hip area. Back sleepers may experience hip pain too if they have hip arthritis or sleep on an overly soft bed.

Physiology

. If you're a pregnant woman or a large sleeper, you have an increased load distributed in the pelvic area, which can cause you pain, no matter which sleeping position you choose.
Since pelvic bones are connected to the spine, their misalignment can also cause lower back pain. If you're experiencing discomfort in this area, you may consider investing in a mattress topper for lower back pain relief, as they're often very cradling and may relieve the tension in your hips as well.
Also Read: Best Egg-Crate Mattress Toppers
Can a Mattress Topper Really Help Alleviate Hip Pain?
The short answer is yes.
There are at least three ways buying a mattress topper can give you relief:
A topper will provide you with contouring and cradling

. If your pelvic area isn't aligned correctly, you will continue waking up in pain. A

good, high-quality mattress topper

will serve as an additional comfort layer of your mattress and will adjust to your body shape, thus keeping your spine naturally positioned throughout the night.

A mattress pad might give you a massaging effect

. Some mattress pads have a textured or convoluted surface, which can aid in relaxation in case your hip pain is caused by stiff muscles.

A mattress topper will make a uniform mattress surface

. Most mattress toppers have the thickness that can effectively mask the sagging spots and indentations of your mattress that may create additional tension in your spine.
Be aware that any mattress topper can offer you support for only a couple of years, so you'll still have to consider getting a new one. However, if your hip pain persists until that time, investing in a mattress designed for relieving hip pain is a good idea along with getting proper treatment.
Also Read: 7 Best Cooling Mattress Toppers For Better Sleep Throughout The Night
Things to Look For in a Mattress Topper With Pain-Relieving Properties
I hate to break it to you, but even the very best mattress topper for hip pain wouldn't work for everyone. This means that you still have to make your choice based on a ton of tiny details that need to be combined to meet your demands.
Gladly, I've arranged them below in a simple list.
Materials
The main materials used for making mattress toppers are foam and latex. Each of them has its benefits and downsides in terms of exploitation and pain relief:
Memory foam

. This material offers exceptional cradling and can adjust to your body curves in no time. The only problem is that memory foam traps more heat compared to other materials, even if it's infused with gel or copper. This can be a "no" for those who tend to sleep hot.

Polyfoam

. Polyurethane foam has an open-cell structure and sleeps slightly cooler. It also conforms pretty close to your body and thus provides support and relief for achy areas. The main downside of polyfoam is that it's generally less resilient and durable than memory foam and latex.

Latex.

Latex is the densest material used for mattress toppers, and it will work best for individuals that struggle with moving across the mattress because of their pain. Yet, its springiness may be a downside as well, as it may resist the body load more and aggravate pain in petite sleepers.

Down and fibers.

Some models of mattress toppers for pain relief are entirely made from down and fibers, while others only have a quilted cover with fiberfill. In fact, fibers are great when it comes to cradling and pain relief. Plus, they serve as a breathable layer between you and the foam pad. But synthetic down won't maintain its fluffiness for too long and may go flat, thereby reducing its supportive properties to zero.
No matter which material you prefer, look for high quality and certifications. In this case, you will be sure that the product you're using won't do any harm to your health.
Thickness
Mattress toppers come in a range of thickness, but most of them don't exceed 4 inches. You may choose the preferred thickness based on the following recommendations:
1,5-2 inches

. This will work great for petite sleepers and those who have a relatively new mattress and only want to add some comfort.

3 inches

. This is the optimal thickness that will do great for most sleepers. The 3-inch topper is enough to compensate for the uneven mattress surface and support your spine alignment.

4 inches

. These pads will suit heavy sleepers and owners of very old and worn-out beds who are willing to eliminate sagging.
Firmness (of your topper and your mattress)
Since buying a mattress topper is one of the most affordable ways to alter the feel of your bed, you need to consider both the firmness of your current mattress and the firmness of your mattress pad.
The goal here is to get the most balanced result that will help you get rid of the pain. So, for a firm innerspring bed consider purchasing a softer mattress topper, while foam mattresses may need more dense and sturdy latex layering over the sagy spots.
Also Read: Best Mattress Toppers For Side Sleepers: Top 5 Picks For The Best Sleep Of Your Life
Best RV Mattress Toppers For Camping Devotees
Wrapping Up
I hope this guide has helped you make a step towards painless sleep.
All the toppers I've mentioned above worked well for me, as they have everything needed to provide hip pain relief.
My very favorite is the Ultimate Dreams by Dreamfoam Bedding. It combines gentle contouring and refreshing sleep, so even solid fans of side sleeping as well as heavy users won't overheat. Also, latex, even though it's blended, will last longer than other materials, so this is a worthy investment for years to come.
If you have a limited budget, though, invest in the HOFISH pad. Despite the issues with the smell — which will diminish eventually — this topper offers you a great combo of cradling, support, and durability.
How long have you been struggling with hip pain? Do you believe a mattress topper is a good solution for you? Share your thoughts below!
Product links on Happysleepyhead are referral. We get a commission on purchases made through our links at no additional cost to you. More information in my disclosures.