Best RV Mattress Toppers for Camping Devotees
by | Last Updated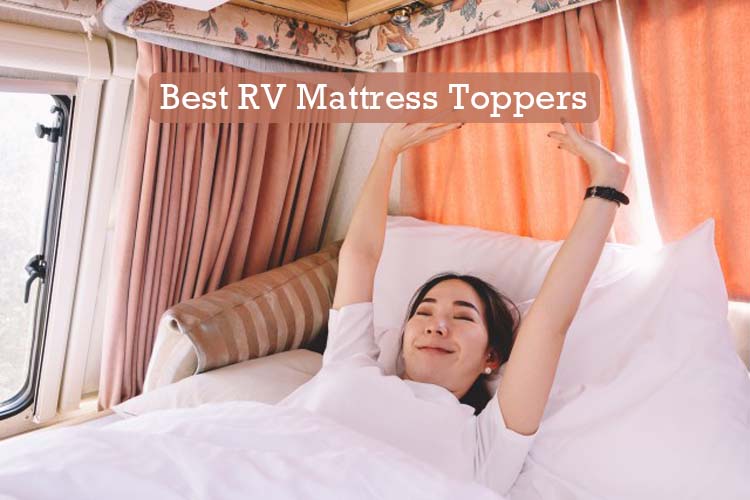 All my fellow campers out there certainly know how important sleep is after a long day of driving.
The problem is, most RV mattresses that come with your RV are of mediocre quality and may not perfectly suit your body type.
Thankfully, rather than replacing the entire mattress, you can invest in a mattress topper. If you choose the right one, you may improve your sleep immensely!
So, here are my reviews of 5 best RV mattress toppers available today. Let's see which one can take your sleep during travels to the next level!
Our Reviews of 5 Best RV Mattress Toppers
Best Price Mattress Gel Memory Foam Topper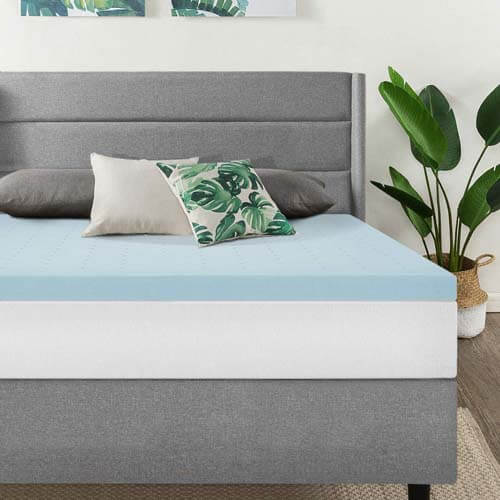 I will start my selection of the best RV mattress toppers with this model by Best Price Mattress. It's a simple mattress pad made of gel-infused memory foam. But thanks to its 2.5-inch thickness, it can work even for side sleepers and large guys, relieving their pressure points with ease.
Since the topper is made of gel memory foam, you can expect better thermoregulation compared to traditional viscoelastic foam. Gel particles will withdraw some amount of body heat and dissipate it into the air, thereby keeping you cool.
Moreover, the topper has perforations all across the area. These little holes enhance the cooling effect and prevent the development of mold and unpleasant odors inside the topper itself.
So, the thing that I liked the most about this topper is its cradling ability. The pad literally molds to your body shape and creates a breathable and supportive layer, which is especially helpful if you have stiffness in shoulders and lower back.
What didn't impressed me, though, is the inflation time. It took two full days for this topper to reach the stated level of thickness, and I'm not the only one reporting this issue. So, if you're planning your trip, you may want to buy this topper a bit in advance, to let it expand properly.
Despite some issues, I liked this mattress pad. It's cradling, odorless, and doesn't make you sleep hot. I mean, what else do you need?
Check out this mattress topper on amazon
Best for Versatility in Sizes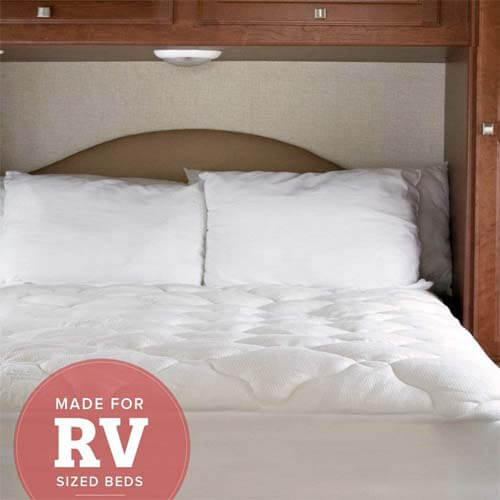 Another top-rated RV mattress topper I've reviewed is offered by eLuxurySupply. And if you own an RV bed of the Short King, Queen RV, or Full RV size, you've just found your perfect pad!
This model features quilted design and is made of down alternative fibers encased into a bamboo rayon cover. Both materials are breathable and hypoallergenic, so they may suit even the most sensitive individuals.
The pad is very fluffy and measures about 1.5-2 inches in height. So, it won't alter your bed's feel significantly but still can make it more comfortable for you. Along with that, a fitted skirt can easily fit mattresses up to 18 inches high and rejuvenate the look and feel of your RV bedroom.
The most prominent feature of this mattress topper is its availability in different RV mattress sizes. Most toppers on the market are not available in any RV sizes at all, and those who are can usually boast of only one size option — Short Queen. But if you own a bed of a non-common size, this model may be just the right fit.
What's disappointed me a bit is that fibers might occasionally stick out of the fabric a little. Although they're hypoallergenic, this might lead to irritation, so keep that in mind if you have sensitive skin.
To sum it up, eLuxurySupply will make a good purchase for all RV owners, whatever the size of their mattress. It works as a fluffy and breathable layer on top of the bed without altering how it feels too much.
Check out this mattress topper on amazon
Best Price Mattress Lavender Topper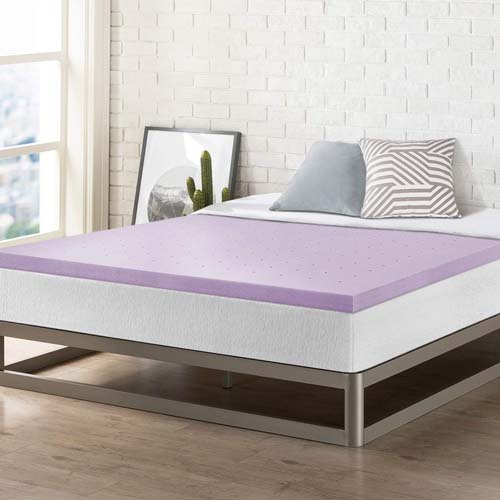 One more option on my list of the best RV mattress toppers will suit those who search for a budget-friendly yet effective model. That's because the Best Price Mattress memory foam pad is among the cheapest picks out there. And despite that, it can still send you into the Land of Nod in minutes.
The topper is 2 inches thick and has a medium to medium-firm feel, which makes it universally comfortable for different types of sleepers.
I was surprised by the great motion absorption this pad can offer. If you share a bed with a partner, their movements won't be a disruption to your sleep anymore.
Finally, the topper features a lavender-infused foam with a gentle scent. So, you can soothe yourself even more and get a comfortable sleep after a long day of driving.
The coolest thing about this topper is that all these features come with a reasonable price tag! The Best Price Mattress makes pretty decent toppers that are definitely no worse than more expensive models, so I'd call it a great deal!
The only issue about this mattress topper is its plushness. Although I did find it okay, some users complained about excessive softness and lack of support.
With all its pros and cons, I really loved this topper. Unless you're looking for something firm, you will love it as much as I did. It can quickly soothe you down to sleep while you're camping.
Check out this mattress topper on amazon
Best Pick to Make Your Mattress Softer
The next candidate to claim its place in this review of the best RV mattress toppers is LUCID. I put it here because, in my opinion, it can work wonders for your old and firm RV mattress. It's comfy, cradling, and sleeps neutral — that's everything a good mattress topper should have!
The mattress topper comes in the Short Queen size and is 2 inches thick. It was comfortable enough to accommodate me (an average-weight combo sleeper) and my wife (a petite stomach sleeper), so it's pretty universal.
Also, the LUCID topper utilizes a more innovative open-cell memory foam that retains less heat and keeps you cool throughout the night. Pair it with a plush feel, and you'll get a pad that can cope with your firm mattress pretty easily.
So, the most prominent feature of this mattress topper is its ability to make even the firmest mattress feel comfy. It's very cradling and durable, so it can provide you with comfortable sleep for years to come.
My only complaint about this model is the smell it has when I was unpacking it. It was really persistent, and we could feel it in the air for the first three days at the least.
Overall, I genuinely enjoyed testing this mattress pad and can recommend it to you if you need a topper for an overly firm RV bed. It can improve your sleep experience immensely.
Check out this mattress topper on amazon
And one more option among top-rated RV mattress toppers in this review is designed by Dreamfoam Bedding. If your vehicle's mattress is old and makes you dripping from sweat every night, you can use this topper as a solution, as it's made of refreshing gel-infused memory foam.
Now, the manufacturer gives you two thicknesses to choose from: you can go for either a 2-inch or 3-inch thick option. The latter may be a better choice for owners of beds that need serious rejuvenation and for heavier users, while the former is more preferable if you simply want to get more cushioning without changing how your bed feels. Whichever you choose, the foam used in both of them is pretty dense and supportive.
Now, the thing I liked the most about this topper is its cooling effect. Even though I didn't expect something extraordinary, this topper managed to impress me with how well it withdraws body heat and keeps you cool.
The main downside, however, is typical for infused memory foams: it's the smell. You need to aerate the topper at least for a day to allow the odor to dissipate before you can try sleeping on it, so keep that in mind before planning your trip.
Despite some minor inconveniences, I believe that the Dreamfoam Bedding topper will work great for anyone who wants to add more comfort to their RV mattresses and get a cooler sleep.
Check out this mattress topper on amazon
Why Do People Buy RV Mattress Toppers?
So, you must know that any recreational vehicle is designed for occasional yet long-term living, which is why it has a sleeping space.
But as soon as you decide to improve your sleeping space, the problems begin.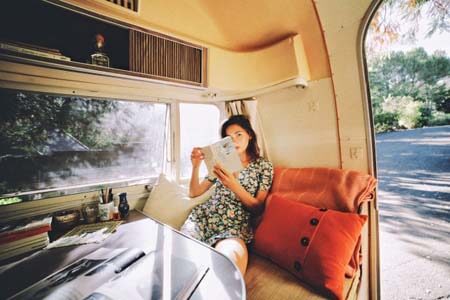 First, some older models of recreational vehicles are basically built around the bed, as this is the biggest item inside. So, in order to replace a mattress, you will have to either completely shred it into small pieces or deconstruct the whole vehicle.
Both scenarios don't sound very appealing, right?
Now, another problem is that many mattress brands simply don't offer RV mattress sizes, so searching for a new bed may eventually cost you a lot of neural cells.
And that's where mattress toppers come in.
A quality topper can really be a worthy purchase. Here's why:
It can alter the feel of your mattress.

Sometimes, the bed in your newly purchased RV just doesn't feel right for you. To solve that, you can buy a mattress topper with your preferred firmness level and overall feel.

It can improve your sleep quality.

A mattress topper with a higher rebound, such as those made of polyurethane foam, can not only

make your RV bed more comfortable

but also promote a drop in body temperature and thus, make you fall asleep faster and sleep deeper.

It can make your sleeping space cleaner.

If you're buying a used RV, you get a used mattress, which is not really great. A mattress topper can alleviate your hygiene concerns and serve as a temporary additional layer while you're searching for a new mattress.
Also read: Best Mattress Topper For College Dorm Beds: Get A 'Grade A' Sleep!
What Materials Are Used for Making RV Mattress Toppers?
Different materials are used for making mattress toppers, and each of them has its own strong and weak points.
Speaking of mattress toppers for RV, you will most likely choose between memory foam, polyurethane foam, or fiberfill. So, let's see what features are specific for each material.
Memory Foam
Memory foam proudly holds the title of the most common material in sleep products. When it comes to mattress toppers, chances are that you will be choosing among the main three types of memory foam:
Standard memory foam. This one offers the golden mean between cradling and support for your spine. The standard memory foam toppers offer you a good amount of sinkage; however, if the manufacturer didn't use the open-cell type of foam or at least didn't make perforations, the issue with hot sleeping may be really bad. It doesn't stop thousands of people from loving memory foam, though.
Egg-crate memory foam.

A

mattress topper with convoluted design

can create a breathable layer between you and the surface you sleep on. This allows it to withdraw body heat and promote cooler sleep. For many of us, this will work. But people who are particularly prone to hot sleeping may not feel any cooling effect. Besides, the effect also depends on foam density and rebound.

Infused memory foam.

These can be both convoluted and flat, but I gave them a separate category because the infusions may alter the properties of the topper to some extent. The most common substances to add are graphite, copper, and cooling gel. Sometimes, refreshing scents, such as green tea or lavender, are also used. The purpose of doing this is to cope with the most annoying issues of memory foam: heat retention, poor resistance to mold, and chemical odors. Most of the

mattress toppers with a cooling effect

are made of infused foams. But you should note that these particles might make the foam less resilient, which results in a shorter lifespan.
Polyfoam
Polyurethane foam is the second most common material. Its open-cell structure makes polyfoam retain less heat, so it can be a good pick for those who struggle with hot sleeping. Also, polyfoam and has a better rebound, meaning it restores the shape faster after the pressure is removed. But the open-cell structure is also the culprit when it comes to durability: polyfoam toppers are typically less resilient and may start sagging sooner.
Fiberfill
Mattress toppers with down alternative fill are less common when it comes to RV pads, but you can still find them. They look like a fluffy blanket and may or may not have a memory foam support layer. The main features of these toppers are good breathability and nice cradling, but they share the same issue as cheaper foams — mediocre lifespan.
How to Choose the Right Mattress Topper for Your Needs?
Each of us is unique when it comes to sleeping experience, right?
That's why it's important to refine your search and consider some important details that will help you pick the most suitable model for your needs.
Find the Right Size
RV mattresses are typically smaller than standard ones, so you need to familiarize yourself with their dimensions. Here they are:
RV Twin (Narrow Twin): 39" x 75";

RV Full (Three Quarters): 49" to 53" x 75";

RV Queen (Short Queen): 60" x 75'';

RV King (Short King): 72" x 75".
"Some manufacturers also offer trimmable mattress pads — that is, the pads which you can trim to the needed dimensions by using scissors or a sharp knife."
Choose the Right Firmness
According to my experience, standard RV mattresses tend to be on the firmer side, so you may need a softer mattress pad to balance out the feel and improve cradling properties.
Now, if your RV mattress is made of foam, chances are it will begin to lose resiliency sooner. In this case, a firm mattress topper can save the situation and prevent further sagging.
Revise Your Sleep Position
Your preferred sleeping position is one of the determining factors for choosing a mattress topper, but general rules are pretty simple here:
Side sleepers

are recommended to use a thicker (2.5-3 inches) and softer pad to cradle their hips and shoulders.

Back sleepers

only need to maintain their initially healthy spine alignment, so they are advised to choose a medium-firm mattress topper and medium thickness (2-2.5 inches).

Stomach sleepers

need a firmer surface to keep their spine aligned without twisting the lower back area.
"Mixed sleepers need to track their most preferable sleeping positions and choose a mattress topper based on that."
Also read: Best Mattress Toppers For Side Sleepers: Top 5 Picks For The Best Sleep Of Your Life
Address Your Medical Conditions
If you have any health issues, especially the ones linked to your spine health, you need to choose a mattress pad very carefully.
For example, chronic back pain and joint pain may require a different level of firmness and support, so it's always better to consult your doctor first and follow their recommendations.
Also read:
Best Mattress Toppers For Lower Back Pain Relief And Sound Sleep — Our Top Picks And Buyer's Guide
5 Best Mattress Toppers For Hip Pain — 2020 Reviews And Buyer's Guide
Conclusion
You'll probably agree with me on this:
Your RV camping experience can get significantly better when you get proper sleep. And a good RV mattress topper can totally help you here.
Among all the models I've tested, my most favorite one is that lavender topper by Best Price Mattress. First, I really love the idea of using a soothing odor to set you in a calm mood. Second, the supportive properties of this mattress pad, as well as its temperature neutral design, are totally off the charts.
However, if you do not like the feel of memory foam, you can choose the eLuxurySupply mattress pad. Along with being fluffy and breathable, it's also available in various RV mattress sizes, so you will definitely find a perfect fit.
So, what's the size of your RV bed? And what makes you look for a mattress topper? Share your stories in the comments!
Product links on Happysleepyhead are referral. We get a commission on purchases made through our links at no additional cost to you. More information in my disclosures.