Best Mattress Topper for College Dorm Beds: Get a 'Grade A' Sleep!
by | Last Updated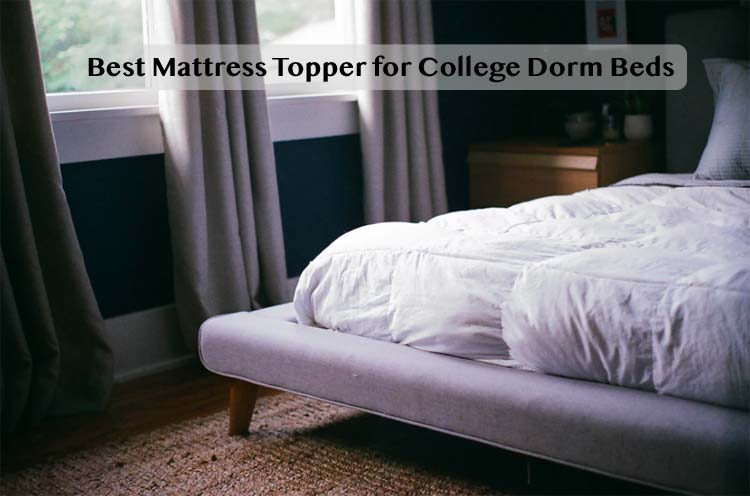 Jumping into college life is fun and exciting. But it also requires a lot of preparation beforehand.
Since you'll be living in a new place, you need to make sure it is comfortable, especially in terms of sleep. After all, proper sleep is vital for your college productivity.
The thing is, dorm beds rarely have anything to do with comfort. So, it should be your own desire to change the situation.
It's actually quite easy to do this. Let me help you by sharing my reviews of 5 best mattress toppers for college dorm beds that I have carefully picked for you! Below, you will also find a few tips on how to make the right choice. Enjoy!
| Model | Type | Thickness | Warranty | Rating |
| --- | --- | --- | --- | --- |
| ViscoSoft | Memory foam | 3 inches | 3 years | |
| Dreamfoam Bedding | Memory foam | 2 inches and 3 inches | 3 years | |
| LUCID | Memory foam | from 2 to 4 inches | 3 years | |
| SleepOnLatex | Talalay latex | from 1 to 3 inches | 5 years | |
| Linenspa | Memory foam | 2 and 3 inches | 3 years | |
Our 5 Top-Rated Mattress Toppers for College Dorm Beds
Best for Non-Slip Design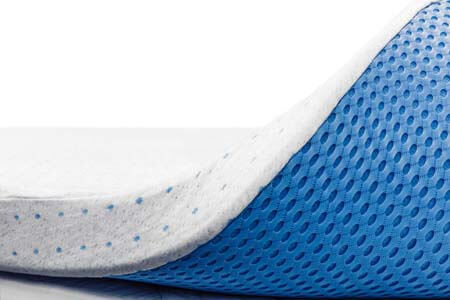 This model by Viscosoft eliminates all concerns about the wandering mattress toppers that will disrupt your sleep. It's encased in tenacious fabric and will stay in place no matter how active you are. That's why I've included it on my list of top-rated mattress toppers for college dorm beds. But there's more to it.
The ViscoSoft topper is made of memory foam and is three inches thick, which is optimal for the most sleepers — and most dorm beds. It offers you a decent amount of sinkage and pressure relief, and it can suit side, back, and even stomach sleepers of average weight.
Made of bamboo rayon, the cover feels cool to the touch. Moreover, it's washable, so the maintenance of the topper becomes as easy as pie, and you can enjoy the fresh look for much longer.
The only issue with this topper is that it may sleep hot. So, if you often can't fall asleep because of the heat, this option might not be the best one for you.
But I really like the non-slip design of this topper. It combines the tenacious fabric and corner straps, so you can easily fix it in place without worrying that it will slide off during the night.
I can surely recommend this mattress topper to any sleeper who does not have issues with getting hot at night. It has a comfortable firmness level and offers good support overall.
Check out this mattress topper on amazon
The second option in my review of the best mattress toppers for college dorm beds is for those who don't want to spend a lot of money. This affordable pad will make a great addition to your bed without making a hole in your pocket.
The Dreamfoam Bedding is made of gel-infused memory foam with an open-cell structure, so you won't drown in your sweat at night. It has two thickness options — 2 and 3 inches — and can suit any sleeper, including larger ones.
The two-inch thick option that I was testing provided excellent pressure relief in the shoulders, when I was on my side, and in the lower back, when I was on the back. Overall, it gave me a comfortable shut-eye on each night of testing.
The only possible issue you can encounter with budget toppers is their mediocre lifespan. This one is no exception, so don't be surprised if it goes completely flat in the first year of exploitation (some user reviews I found on the Web support this opinion).
Now, even with a shorter lifespan, the value for money this model offers is really good. Even if it breaks in a year, you can get a new one for each year of your studies and this will still cost you less than many other models on the market.
Despite the drawbacks, the Dreamfoam Bedding is a worthy investment, especially if you're on a strict budget. Just keep in mind that you shouldn't expect it to serve you from the first to the last year of your studies.
Check out this mattress topper on amazon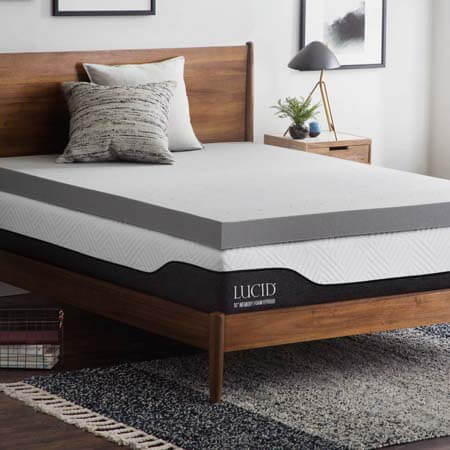 If you were unlucky to get a bed with a very saggy mattress, then my next option is just for you. I've included the LUCID in the selection of the best mattress toppers for college dorm beds for its thickness. Four inches of memory foam is more than enough to save any ancient mattress.
Now, it's not just pure memory foam here. The LUCID's foam contains charcoal particles, which have great antibacterial properties and thus protect you from mold and weird smells.
The four-inch option I was reviewing will work great for those who struggle with back pain, as well as for overweight sleepers. It contours your body perfectly and offers outstanding pressure relief.
What I didn't like about this model is that it comes with that 'fresh-from-the-package' smell typical of all foam pads and mattresses. If you're very sensitive to odors, you may want to look for other options.
Now, the best about the LUCID is definitely its thickness. You can easily rejuvenate your old dorm bed and get relief from stiffness and pain with these four inches of cushiony memory foam.
This topper is also available in two and three-inch thicknesses, so it can basically please any sleeper. Dense and durable, the LUCID will surely serve you for years to come.
Check out this mattress topper on amazon
Best for Natural Materials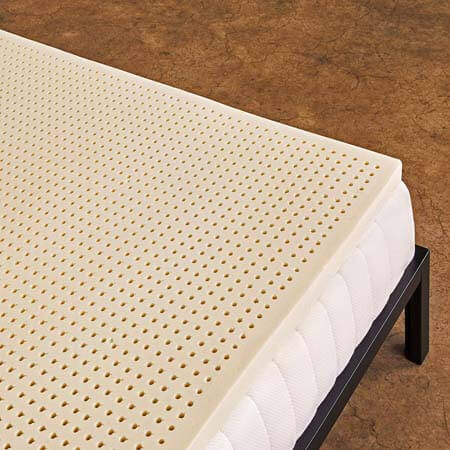 The fourth option in my review of the best mattress toppers for college dorm beds is for those who want an eco-friendly mattress pad. The SleepOnLatex model, as the name implies, is made of 100% Talalay latex and is available in three firmness levels. But that's not it yet.
First, latex naturally sleeps cool. The manufacturer enhances this effect with perforation all over the topper to create targeted airflow between you and the mattress. Thus, you will stay comfortable despite the hot weather.
Second, latex is immune to mold, mildew, dust mites, and bed bugs. The latter is especially crucial for those who live in block buildings and share a room with someone.
Finally, latex is much more durable than synthetic foams and will serve you for a longer time while maintaining its supportive properties all along.
The only downside to using this mattress topper is that you have to pay more for all these wonderful features. So, if you're in the market for something budget-friendly, skip this model.
What impressed me about the SleepOnLatex pad is that it's made of 100% natural latex. The benefits of this material are undeniable. It will prevent allergies and relieve your pressure points, thereby making your sleep more therapeutic.
The SleepOnLatex model can definitely work for anyone who wants a natural product (and who doesn't mind a higher price). It also has three different thickness and firmness options, so you won't have problems with choosing a suitable one.
Check out this mattress topper on amazon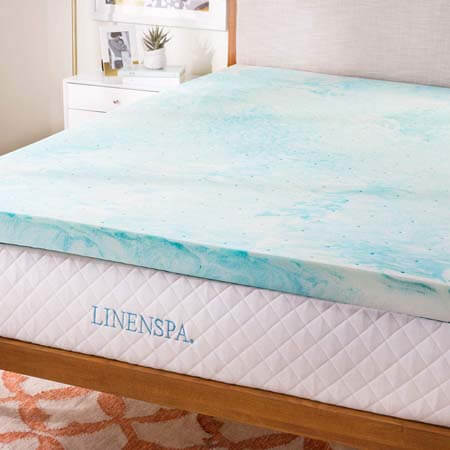 And the last model in my selection of top-rated mattress pads for college dorm beds is offered by Linenspa. It will make a perfect fit for all hot sleepers out there. Besides, it will keep your spine supported and aligned throughout the night.
Open-cell memory foam with gel swirls has great pressure relieving properties. Top it with a plush feel, and you get your personal cooling cloud to sleep on.
The Linenspa topper is available in two thickness options. The two-inch variation will be a good fit for petite stomach and back sleepers, while the three-inch model, the one I was testing, can suit back and side sleepers.
The only issue I've encountered with this topper is that it takes a long time to expand completely. Even though the manufacturer claims that your topper will be ready in 24 hours, I had to wait for two days, and it still was a bit flat during testing.
But I'm impressed with the cooling effect from this topper. Despite being made of foam, it feels much more refreshing compared to similar models, so it can offer you therapeutic sleep even during the hottest summer nights.
If you're looking for a mattress topper that simply does its job and does it well, the Linenspa is your go-to option. It offers proper support and the right amount of sinkage to cradle your body and lull you to sleep.
Check out this mattress topper on amazon
Why Do You Need a Mattress Topper For Your Dorm Bed?
A mattress topper is basically an additional comfort layer you place atop of your mattress. When appropriately chosen, it can enhance the features or even mask the drawbacks of the mattress, thus making a better place for your sleep.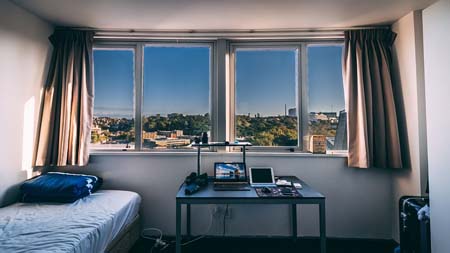 Here are the main reasons why a good dorm mattress topper is exactly what you need:
To rejuvenate an old mattress

. You never know what bed you're going to get until you move in. Dorm mattresses usually have innerspring or foam construction, and both of these types of beds become equally uncomfortable and wear out quite quickly. Foam may start emitting funky smells or sleeping hot, while innerspring mattresses may poke you with their coils. If that's the case, a topper,

especially those with a cooling effect

, may seem like a reasonable investment, as it covers the entire surface and literally breathes new life into your bed.

To have a better sleep.

A used mattress cannot offer you uniform support, causing you to toss and turn more, which results in poor sleep. A mattress topper will make your sleeping surface more even and comfortable so that you will drift off faster.

To eliminate any hygiene concerns

. Finally, you never know how healthy was the previous occupant of your bed and what kind of things he was doing on it (aside from sleeping). A mattress pad can help you create a hygienic layer between you and the mattress, thereby making your sleep healthier. Still, I would recommend to pair it with a

mattress encasement

for better protection.
"Most mattress toppers are delivered in vacuum-sealed packages, so they don't take much space. This is another great feature because you probably don't want to carry too many things as you move into the dorm."
Main Things to Look For Before Purchase
Now, let's outline the main things you should look for in a quality college dorm mattress topper.
Size
Most dorms are equipped with Twin XL beds, so this is the size you should mainly look for.
Note that Twin XL is not as common as other mattress sizes, so it might be a bit harder to find the right model for you.
Mattress Depth
If your dorm mattress is 8-10 inches high (aka low-profile), it may require a higher mattress topper to offer enough support and sinkage.
At the same time, mattresses thicker than 10 inches will perfectly pair with a thinner topper so your bed won't get awkwardly high.
Materials
The choice of materials for a mattress topper is not really diverse, but the properties of each material do differ, so let me briefly explain them to you:
Polyfoam

. It is the cheapest one and feels cooler compared to other foams. However, it's also less resilient, so the toppers made of polyfoam may have a shorter lifespan.

Memory foam

. This one is very cradling and able to perfectly adjust to your body shape. However, it often sleeps hot; some manufacturers eliminate this drawback by infusing the foam with graphite, gel, copper, or charcoal particles.

Latex

. It sleeps cool and is resistant to mold and dust mites. But it's also the priciest option, as the process of manufacturing latex is complex and expensive.
"The average lifespan of a mattress topper is around 3-5 years. So, technically, most of them will cover your needs throughout your college studies."
Also read: Best RV Mattress Toppers
Final Word
A mattress topper is an affordable and easy way to improve the comfort of any bed, including those in dormitories. And if you know what to look for, you will have no problem finding your perfect option.
Among the five options reviewed above, my perfect one is the SleepOnLatex topper. The thing is, I'm a huge fan of natural materials. The latex topper is durable, supportive, and immune to most of the potential allergens, so it has everything you look for in a mattress topper.
But if you need something cheaper, try the LUCID. Charcoal particles have excellent antimicrobial properties and can absorb odors, while foam offers a decent hug and conforms to your body curves to provide relief.
Do you already know the size of your dorm bed? Which model from the above mentioned ones do you think can make the best fit for it? Feel free to share!
Product links on Happysleepyhead are referral. We get a commission on purchases made through our links at no additional cost to you. More information in my disclosures.