The 7 Best Latex Mattresses in 2020 – Reviews and Buying Guide
by | Last Updated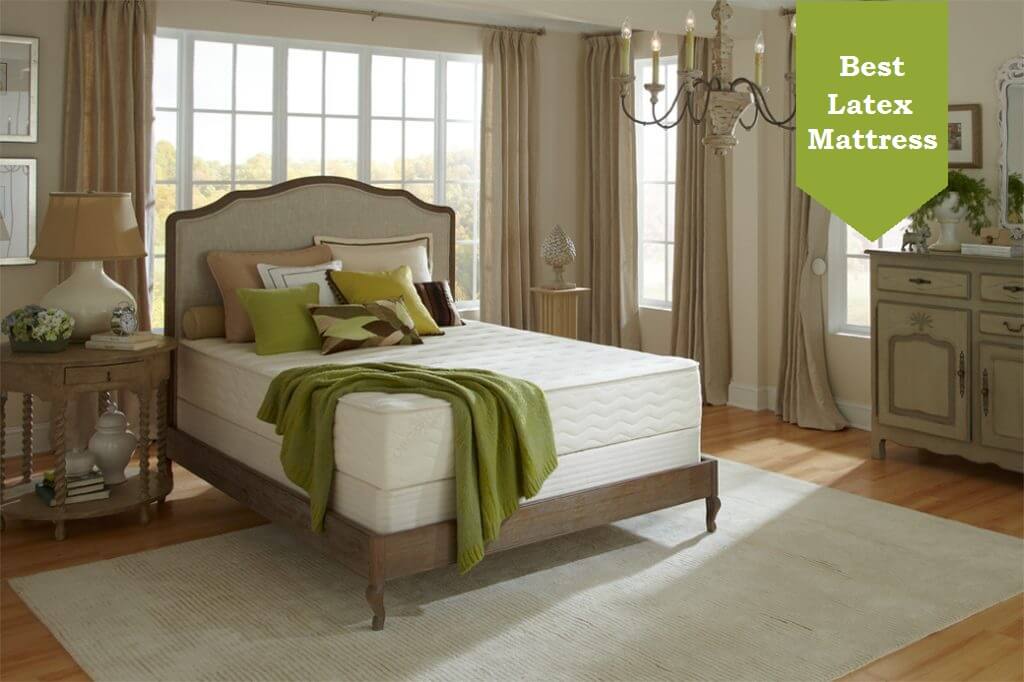 I'm sure you've heard about natural latex mattresses as they are becoming a new boom in the world of comfortable sleep.
Let me just tell you this:
No matter what the adverts and latex mattress reviews say, not all of them are that comfortable.
So, today I want to introduce you to the top 7 best latex mattresses. Let's find out, which manufacturer can turn your ordinary sleep routine into the baby-like sleeping experience.
"Natural latex is the product of the rubber tree plant, which can be harvested without actually cutting the tree, thus making this material the eco-friendly one."
[table id=37 responsive=collapse datatables_row_details=true datatables_row_details_columns="A-G" /]
Superb Latex Mattress for Back Sleepers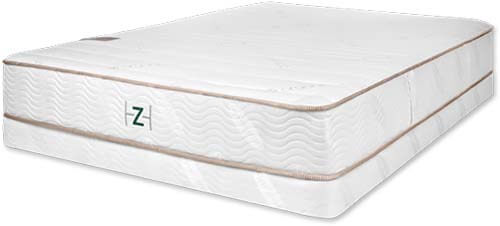 ZenHaven by Saatva is our contestant number 1 as it has many qualities that can turn it into the awesome latex mattress for you. Additionally, ZenHaven can be easily considered to be the best latex mattress for back sleepers. It offers just the right combination of support and cradling. While keeping your spine in a neutral position, ZenHaven allows for a moderate sinkage, which makes the mattress cradle the protruding points gently.
Let's take a look inside:
Two base layers are made of Talalay latex, each of them is 3" thick.
The proprietary 5-Zone comfort layer. It is 1.5" thick and made of Talalay latex. What makes this layer special is the different firmness levels of its zones, which serve to provide additional support for specific body parts and proper spinal alignment.
The 1" wool layer. It's organic, breathable, and gives the mattress that plush, moderately soft feel.
The quilted cotton cover, which is breathable, pleasant to the touch, and hypoallergenic.
What is really great with that mattress?
While I was testing this mattress, I've discovered that the best thing about it is the feeling of balance it provides. Let me explain: when lying on this mattress, no matter in what position, you feel like every part of your body is properly supported and relaxed. It's like you're not actually lying but floating. Even with the wool layer, the mattress is rather bouncy, so it doesn't envelop you and makes your body perfectly aligned.
What is wrong with that mattress?
The worst thing that I've noticed about this mattress (and I've seen this issue in many other latex mattress reviews) is how heavy it is. This is a common feature of latex mattresses, and I knew it. But ZenHaven still managed to surprise me.
"Latex is 3-4 times more durable than the ordinary poly-foam."
Overall, ZenHaven has high chances to become the most comfortable latex mattress you've ever slept on. It's very cozy and supportive, and I would definitely recommend trying it out.
check out zenhaven mattress on zenhaven.com
Best Organic Latex Mattress
Botanical Bliss by Plushbeds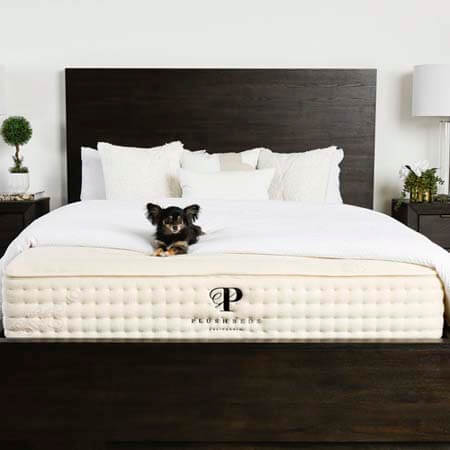 There are many reasons to consider Botanical Bliss the best latex mattress. It comes in four different firmness options, it is 100% natural, and, frankly speaking, it is very comfortable. You can choose the thickness of your mattress. I personally decided to go with the medium option – 10". This top-rated organic latex mattress is ideal for people who want to feel 100% safe. It is tested and safety certified, which means this model uses only natural materials, from top to bottom.
Let's take a look at what it's made of:
The 6" dense ARPICO latex base.
The 3" Talalay latex layer.
The 1" wool comfort layer.
The 100% organic cotton cover (charming to the touch, breathable, and contributes to the cooling effect of the latex material).
"When sleeping on a latex mattress for some time, you don't have to ever turn it as latex is a very resilient material."
What is really great with that mattress?
The best thing about Botanical Bliss is the quality of its materials. First of all, the mattress didn't have any off-gassing when I received it. My sensitive nose was completely satisfied, and I didn't experience any allergic reactions. Also, because of the mattress materials, I slept cool and felt very comfortable.
What is wrong with that mattress?
The worst thing about this mattress is its price. It's quite expensive, there's no denying that. Nevertheless, when you get the mattress, you know what you're paying for as it's totally worth the price. Still, I can't call this mattress super affordable, and some people might consider its price to be a real downside.
So, my verdict is as follows:
This mattress is totally worth investing in. I couldn't find any fault in it and slept like a baby. It is customizable, natural, high-quality, and comfortable. If this doesn't buy you over, I don't know what else can.
check out botanical bliss mattress on plushbeds.com
Great Value Latex Mattress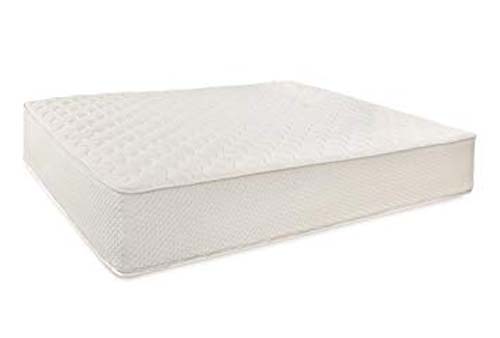 Latex for Less truly has the right to be called the best value latex mattress. Why? Because, while being relatively reasonably priced, it offers many benefits. Additionally, this mattress is flippable, which means it comes with two firmness levels in one.
And it gets better:
The mattress is currently on sale!
Let's look at some of its features:
Different firmness levels are available in one mattress;

One side is around 5 on the firmness scale (medium feel);

The other side is 7-7.5 on the firmness scale (firm feel);

100% latex construction;

Pure cotton cover and natural wool lining.
The coolest thing about this model is, of course, the value for money that it offers. When buying just one mattress, you get two different firmness levels. This is an ideal option for people who don't really know what they want or plan to use the mattress for different purposes.
The worst thing about Latex for Less is the edge support. This is the common issue for latex beds, to be honest, but it still might disappoint some users. Weak edge support means you will have a smaller sleeping area, which might not be suitable for couples.
If you are looking for a top-rated organic latex mattress for the best value, this model might be perfect for you. It is versatile in use and very comfortable. To me, that's a great combo!
"Keep in mind that latex is the material that might take quite some time to break in. When buying a new latex mattress, chances are it's going to feel too firm for the first 20-30 nights. However, once it breaks in, you will be able to appreciate the comfort levels your new bed provides. So, this is something for you to consider: you need to be patient when sleeping on your new latex mattress."
check out latex for less mattress on latexforless.com
Top-rated Natural Latex Mattress for Average Weight Sleepers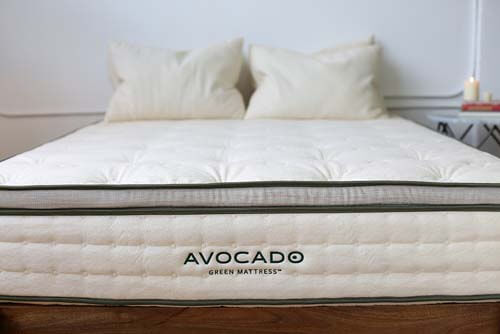 The last item on our list deserves to be called one of the best natural latex mattresses for average weight sleepers. It is supportive and bouncy but offers enough cradling for your pressure points.
And it gets better:
If you need a more plush feel, there is a pillow-top option.
Let's see the main characteristics:
This is a hybrid mattress, which features a combination of coils, latex, a wool lining, and a natural cotton cover;

The mattress has a gentle firm feel and is rated around 7 on the firmness scale;

The manufacturer uses Dunlop latex;

It comes with a 25-year warranty.
The greatest thing about this model is that it works perfectly for side sleepers. It offers just the right amount of support and cradling, which means superb comfort levels and pressure relief. It also comes in two firmness levels, which gives users the freedom to pick the most suitable option for them.
As for the drawbacks, the biggest one, in my option, is the potential noise the coils can make. This can be a real deal breaker for people who tend to wake up even from the slightest sounds. Or, it can simply be annoying for some users.
Overall, Avocado is a great mattress. It does have some flaws, but I feel like it can still buy you over thanks to its great features and comfort levels.
check out avocado mattress on avocadogreenmattress.com
Inexpensive Latex Mattress
The Eco Terra Latex Mattress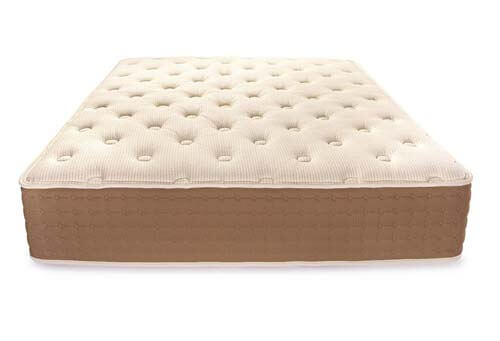 The next item on our list really has everything you would want, in my opinion. It costs just like a regular mattress but comes with an awesome set of features. This mattress has a coil support system, a natural latex layer, and an organic cotton cover. And because of its medium feel, it is suited for the majority of users.
Here are some of the specs for you to consider:
The Talalay latex layer is 3 inches tall;

The cotton cover has a natural wool lining;

The coils are fabric encased;

The mattress comes in two firmness options: medium and medium-firm.
The absolute best thing about this model is its price (and, of course, the value it offers for such a price). With the Queen size being only $899, this model offers great support levels and comfort. Moreover, it comes in two firmness options, which promises more versatility for different sleepers.
As for the drawbacks, the biggest one is the noise potential that the coils have. Even though they are encased, they might still make a sound, which can annoy many users and disturb light sleepers during the night.
Overall, the Eco Terra is a great mattress, especially given its affordable price. It is comfortable and supportive. So, even despite some of its flaws, I am sure this mattress has the potential to become your favorite.
check out eco terra mattress on ecoterrabeds.com
Best Latex Mattress for Pressure Relief
Natural Latex Sweet Zzz Mattress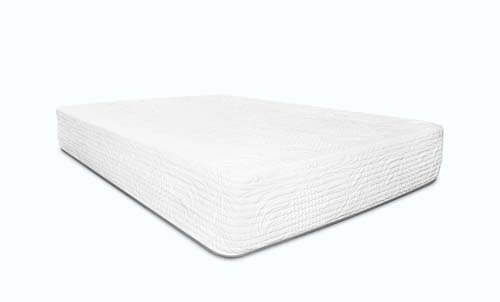 Because this model is a bit on the firmer side, it can be considered the best latex mattress for pressure relief. The Sweet Zzz mattress offers superb support, which results in a proper spinal alignment. Additionally, it effectively adapts to your body shape, allowing for some pressure relief as well.
Moving on to the most important features:
This is a 100% latex mattress, with a cotton cover and a natural wool lining;

The cover is zipped and removable;

It comes in 4 thickness options;

Split-Side firmness available.
The coolest thing about this mattress is how perfectly it is suited for stomach sleepers. To be honest, it is hard to find a good bed for this sleeping position. However, the Sweet Zzz offers a very bouncy and dynamic support, which means it will easily keep your spine in a neutral position when sleeping on the stomach.
The worst thing about this mattress is its price. Don't get me wrong, I know that such a high price means quality materials and superb flexibility in terms of comfort level options. Still, I realize that such a price may be too much for some users, and that's a big disappointment.
To be honest, I loved every minute sleeping on this mattress. It offers a fast response and superb support, which are ideal for stomach sleepers. So, if you are one of them, I am sure you are going to love the Latex Mattress by Sweet Zzz just as much.
"Latex mattresses tend to be pricier than, let's say, foam or innerspring ones, especially when they are made of 100% natural latex. Thankfully, many companies offer a financing option to their customers. So, if you want a natural and high-quality bed, you can still get it even if your budget is a bit tight at the moment."
check out natural latex mattress on sweetzzzmattress.com
The Most Customizable Latex Mattress
Select Sleep Organic by SleepEZ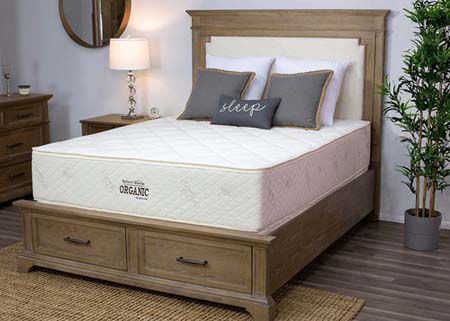 I've included the Select Sleep Organic in my selection of top-rated latex mattresses for its incredible versatility and customization options. You can adjust the desired firmness to better suit your needs in your own home. You will only have to remove the cover and place the three latex layers inside in a different order.
There's even more!
You can choose between two latex types — Dunlop or Talalay — and even get a split design option if you share a bed with someone so that both of you can sleep comfortably.
Let's take a closer look at the main features:
The mattress uses organic materials only.

You can customize it based on your preferences and body type.

There are 4 thickness options available.

The cover is removable for easy firmness adjustment and maintenance.
The best thing about the Select Sleep Organic mattress, in my opinion, is that it can be tailored to your specific needs. Choose this mattress if you and your partner have specific firmness preferences so that each of you can get sound sleep.
As for the drawbacks, I would name the price. Given the fact that it's an organic latex mattress and all the materials meet the GOLS standards, its price is higher than average. But you can still enjoy all the benefits of this model at a cheaper cost if you go with a thinner option.
Overall, I enjoyed sleeping on this mattress by SleepEZ. Once I adjusted its firmness to my liking, it nicely conformed to my body and gave me my portion of refreshing sleep.
check out organic latex mattress on sleepez.com
Best Combination Construction
Latex Hybrid by Nest Bedding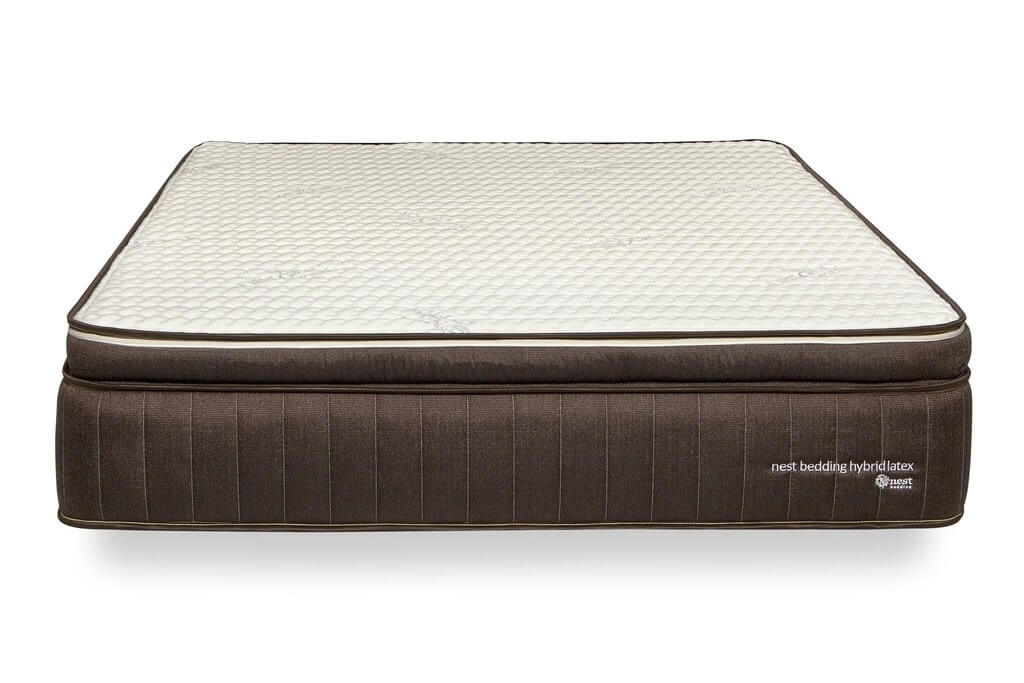 Even though the Latex Hybrid mattress isn't 100% latex, you can still see it in numerous latex mattress reviews. And despite being a hybrid, I believe this model has the potential to be called the best latex mattress. It is supportive, sleeps cool, and you can even pick the firmness level. It gets better:
This particular model features a smart combination of layers. The ensemble of coils and latex results in superb comfort and support. And the wool layer gives you that soft cushioning, ideal for your pressure points.
The construction is quite interesting:
The 7" base layer, which consists of 1100 individually pocketed coils and 5 different zones for better support for different body parts.
The 3" latex layer. You can pick either medium or firm. There's also a split option, which is perfect for partners who have different firmness preferences.
The 2" top layer filled with wool.
The organic cotton cover.
What is really great with that mattress?
The thing that can make this hybrid the best latex mattress is the fact that it provides excellent support without feeling too firm. I guess the combination of coils and latex really works as I didn't experience any back pain whatsoever. In fact, lying on this mattress made me feel like my body was supported in all the right places and contoured by the mattress where needed.
What is wrong with that mattress?
The worst thing about this mattress is that it might feel too firm for people who are side sleepers. Even if you pick the medium option, there's a chance you won't feel comfortable lying on your side.
Overall, my experience with Latex Hybrid was rather pleasant. It's excellent for back support and spine alignment. And you'll definitely love it if you're a back or a stomach sleeper.
"It is known that your mattress can double in its weight in 7-10 years because of the debris, dead skin cells, and dust mites. Well, with latex, the situation is a bit different as it doesn't provide a favorable living environment for those nasty dust mites."
check out latex hybrid mattress on nestbedding.com
Factors We Look At
When trying to find a good latex mattress, you might face certain difficulties. For instance, the amount of info online can be really overwhelming. There are so many specs and factors to consider, but what really matters and what can you omit?
We are here to help you with that issue. You see, we pick the best latex mattresses for you and we know exactly which aspects matter the most. Here are the factors we look at:
Construction and layers

. There are many 100% latex mattresses, but you can also find mixed models with blended materials such as foam or innerspring. Whatever the case is, we only pick the best layer combinations for superb comfort.

Durability

. Mattresses are not cheap, which is why they have to be a reasonable investment and serve you for years to come. We always test how the material performs under constant pressure and intensive use to see whether it will be able to hold up with years.

Firmness, support, and the overall comfort

. Obviously, these factors are very important. The firmness of the mattress and the support it can provide directly influence your comfort and the quality of your sleep. We try to recommend different firmness levels for different users and sleeping positions, but we never pick anything extreme (like "brick wall" firm or saggy soft beds).
"When shopping for your new latex mattress, you might see the abbreviation ILD in the descriptions. ILD, or Impression Load Deflection, is a rating, which measures the firmness level of a mattress. Typically, anything from 24 to 31 is medium/medium-firm. A mattress with the 34-39 rating is firm, while the 19 and below rating means it's very soft and plush."
Temperature regulation

. Latex doesn't tend to sleep hot, which is great news for many users. However, we also try to find the models providing some extra ventilation since it's good for temperature regulation.

Certifications and warranty

. These two aspects can determine the quality of the mattress. A good warranty shows the manufacturer's belief in their product's durability. And

safety certifications

mean that the mattress is made of the high-quality, safe materials.

How it works for different users

. We realize that one bed cannot suit everyone. Therefore, we always read other people's reviews to see, how a certain mattress performs with different body types and sleeping positions.

Value

. We always make sure that the mattresses we recommend offer a good value. We don't pick expensive models if they are poorly made. If we suggest you pay more for a mattress, this mattress is really a high-quality one. Just like that, if we recommend a cheaper option, we still make sure that it's not trash but nicely made and comfortable.
Types of Latex
If you are one of those people who need to know exactly what they are buying, you might want to figure out the difference between latex types.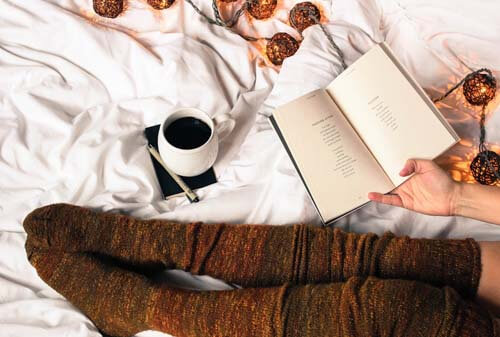 Now, there are two main groups: natural and synthetic latex. And you can probably understand the difference between them. Natural latex is harvested from trees; it's a natural rubber. The synthetic type is man-made, obviously. It's not dangerous for your health but might have a strong rubbery smell for the first couple of days.
"A quick note: some manufacturers blend natural and synthetic latex when making their mattresses. This allows them to sell their product at lower prices (thanks to the synthetic component) while making a durable product (the courtesy of the natural latex)."
Here's the deal:
Latex can also be divided into Talalay and Dunlop types. These are the two common methods for latex production.
Now, Dunlop is the older one. It is fairly simple: the latex rubber is gathered from the trees, whipped, and placed into a mold. Then it's being heated in the oven. Finally, the material is being cleaned. This process results in a couple of things. First off, the latex tends to concentrate at the bottom of the mold, which means that side feels firmer at the end of the process. Additionally, such latex has a very good bounce to it.
As for the Talalay method, it's quite simple too but takes a bit more time. When the latex is being poured into a mold, the air is extracted from it. Then the latex is flash-frozen and split/cut into multiple sections. Finally, the layers and sections are glued together to form a whole mattress. Talalay latex has an open-cell structure thanks to that air extraction, which makes it more breathable and well-ventilated. It is also very responsive and bouncy. Also, in the majority of cases, Talalay tends to feel a bit softer than Dunlop latex.
To Buy or Not to Buy: Pros and Cons of Latex
When looking for the best natural latex mattress, you need to consider both the benefits and drawbacks of this material. After all, only when looking at both the good and the bad, you can get a clear picture.
So, let's start with the good. Here are the benefits of latex mattresses:
Latex is rather

durable

. It will definitely serve you longer than the majority of foam and innerspring mattresses. While spring beds are usually good for around 5-6 years and foam ones for 6-7 years, latex mattresses tend to serve their users for good 8-9 years on average.

Latex is great for

reducing back pain

(and other chronic pains, for that matter). It offers good support levels and helps with pressure relief too.

If the mattress is using 100% natural latex, your bed is going to be

100% safe

for you. Unlike memory foam, latex does not require any chemicals to be made.

Latex is good at

absorbing movement

, which means such mattresses are great for couples who need their bed to have good motion isolation levels.

Latex mattresses are

quiet or completely silent

. So, unlike spring beds, your latex mattress will not annoy you with any noises.

This material

does not trap heat

. This means latex mattresses do not sleep hot.

Latex is

hypoallergenic

by its nature, so it's completely safe for people with sensitive skin and noses.
Moving on to the drawbacks:
Latex

takes time to break in

. Your new mattress might feel too firm at first, but if you give it some time (usually around 20-30 days), it will break in and become much more comfortable.

Excellent natural latex beds

usually

cost more

than average. Of course, synthetic blends are cheaper, but if you want an organic mattress, prepare to pay more.

In the majority of cases, latex mattresses have

mediocre or even weak edge support

, which means you get a smaller sleeping area.

Latex beds are

heavy

. Therefore, keep in mind that carrying your new mattress to the bedroom might be a challenge.
What do you think of latex mattresses? Are they suitable for your particular needs? Share your thoughts in the comments!
Why Sleep on a Latex Mattress?
More and more people these days get rid of their old traditional mattresses and start sleeping on latex ones. You can probably guess that the majority of them never goes back to foam or innerspring mattresses. Why? Because latex offers tons of benefits that can improve the quality of your sleep.
aJust think of it:
Latex is a natural material made of the serum from the rubber tree plant.
If the manufacturer makes the mattress 100% latex without adding any poly-foams or other synthetic materials, such a mattress will never cause you to have any allergies or other health issues. It's also anti-microbial, mold-resistant, and doesn't create a good environment for the dust mites. It means that your mattress will always be clean and safe.
It gets better:
A latex mattress is more durable. If you want to invest in a good bed and use it for years, the latex one is a perfect option for you.
Another vital reason to sleep on a latex mattress is the way it can support your spine and relieve your pressure points. If you have any painful spots, you won't feel too much pressure on them as latex can cradle your body. Of course, this will depend on the mattress firmness. So, if you have any severe health issues, consult your doctor and ask how firm your mattress should be. Luckily, lots of latex mattress manufacturers allow their customers to customize the bed and pick the firmness level.
Latex also does a great job regarding motion isolation. We all know how irritating it can be to get disturbed by your partner tossing and turning during the night. Latex mattresses are somewhat firm and bouncy, so they provide excellent motion isolation.
Finally, what makes latex mattresses a great option is how easy it is to customize them. You can get a mattress with special spine and back zones, you can switch the layers, and you can even split the mattress and have different qualities for the two sides of it, for yours and for your partner's.
Conclusion
After sleeping on so many mattresses and comparing them all to each other, I must admit:
Choosing the best latex mattress isn't easy. Still, I have my favorite – Botanical Bliss by Plushbeds. It's 100% latex, natural, super comfortable, and customizable. This bouncy mattress sleeps cool and provides excellent spine support. Yes, it's more expensive than the average latex mattresses, but when the mattress can help you sleep like a baby, it's totally worth the money.
Do you agree that latex is the best material for mattresses? Tell us what you think in the comment section!
Additional Resources:
Best Innerspring Mattresses On The Market – Buyer's Guide
Best Hybrid Mattresses – Reviews And Buyer's Guide
Best Memory Foam Mattresses For Everybody – Buyer's Guide And Reviews
Product links on Happysleepyhead are referral. We get a commission on purchases made through our links at no additional cost to you. More information in my disclosures.