Best Latex Mattress
by | Last Updated
I'm sure you've heard about natural latex mattresses as they are becoming a new boom in the world of comfortable sleep.
Let me just tell you this:
No matter what the adverts and latex mattress reviews say, not all of them are that comfortable.
So, today I want to introduce you to the top 5 best latex mattresses. Let's find out, which manufacturer can turn your ordinary sleep routine into the baby-like sleeping experience.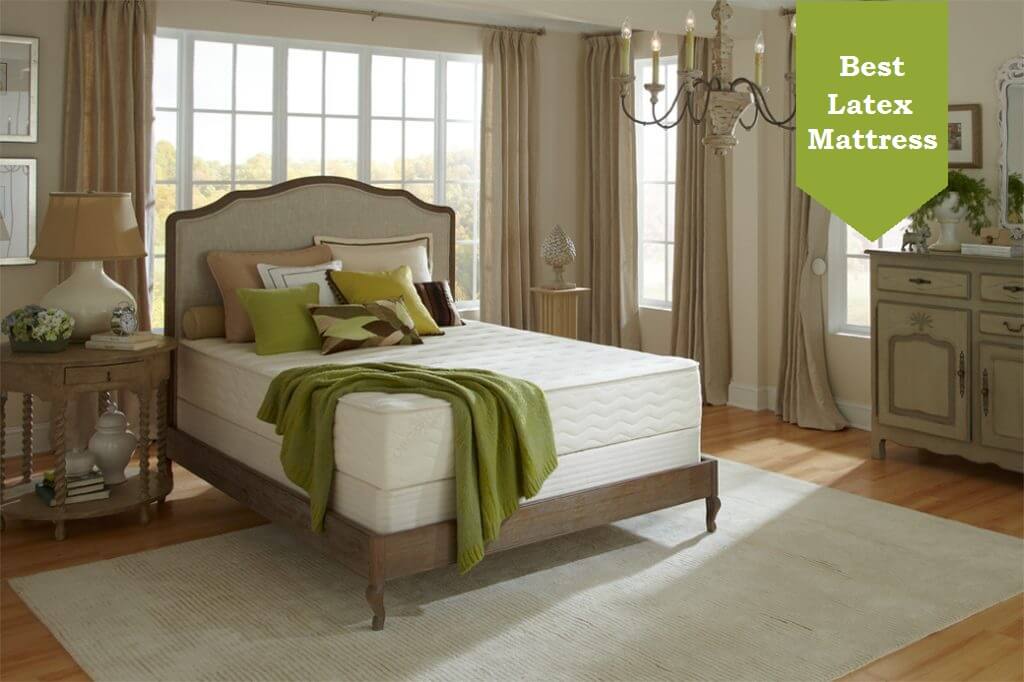 ZenHaven by Saatva
Spindle
Latex Hybrid by Nest Bedding
Botanical Bliss by Plushbeds
Pure Green by SleepOnLatex
"Natural latex is the product of the rubber tree plant, which can be harvested without actually cutting the tree, thus making this material the eco-friendly one."
Name
Type
Construction
Warranty and Trial
Price (Queen Size)

Rating
ZenHaven by Saatva
Latex
Two 3" Talalay latex base layers;
1.5" Talalay latex comfort layer;
1" wool layer.
120-day trial, 20-year warranty.
$1899
Spindle
Latex
three 3" latex layers;
natural wool batting layer.
365-day comfort adjustment (allows you to exchange the mattress for a different firmness level option), 10-year warranty.
$1349
Latex Hybrid by Nest Bedding
Coil + latex
7" base layer with individually pocketed coils;
3" latex layer;
2" wool filled top layer.
100-night sleep trial, lifetime warranty.
$1599
Botanical Bliss by Plushbeds
Latex
6" ARPICO latex base;
3" Talalay latex layer;
1" wool comfort layer.
100-night sleep trial, 100-night comfort level exchange, 25-year warranty.
$1799
Pure Green Natural Latex Mattress
Latex
6" latex base layer;
2" latex comfort layer;
1" quilted wool layer.
100-day trial, 10-year warranty.
Check Price on Amazon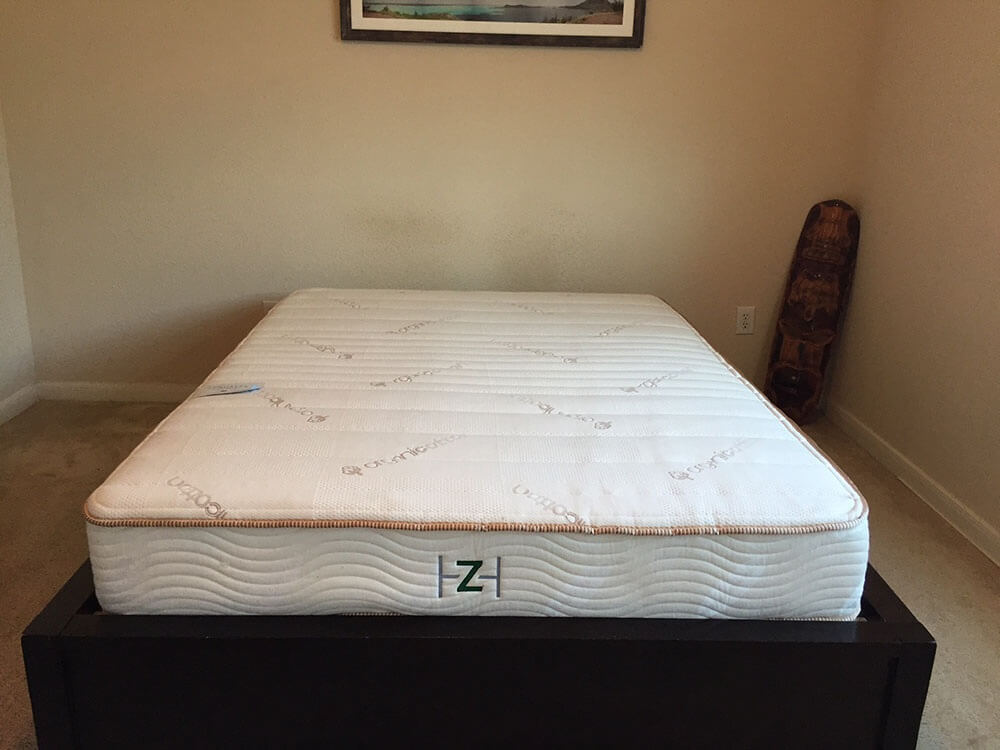 ZenHaven by Saatva is our contestant number 1 as it has many qualities that can turn it into the best latex mattress for you.
Let's take a look inside:
Two base layers are made of Talalay latex, each of them is 3" thick.
The proprietary 5-Zone comfort layer. It is 1.5" thick and made of Talalay latex. What makes this layer special is the different firmness levels of its zones, which serve to provide additional support for specific body parts and proper spinal alignment.
The 1" wool layer. It's organic, breathable, and gives the mattress that plush, moderately soft feel.
The quilted cotton cover, which is breathable, pleasant to the touch, and hypoallergenic.
What is really great with that mattress?
While I was testing this mattress, I've discovered that the best thing about it is the feeling of balance it provides. Let me explain: when lying on this mattress, no matter in what position, you feel like every part of your body is properly supported and relaxed. It's like you're not actually lying but floating. Even with the wool layer, the mattress is rather bouncy, so it doesn't envelop you and makes your body perfectly aligned.
What is wrong with that mattress?
The worst thing that I've noticed about this mattress (and I've seen this issue in many other latex mattress reviews) is how heavy it is. This is a common feature of latex mattresses, and I knew it. But ZenHaven still managed to surprise me.
"Latex is 3-4 times more durable than the ordinary poly-foam."
Overall, ZenHaven has high chances to become the best latex mattress you've ever slept on. It's very comfortable and supportive, and I would definitely recommend trying it out.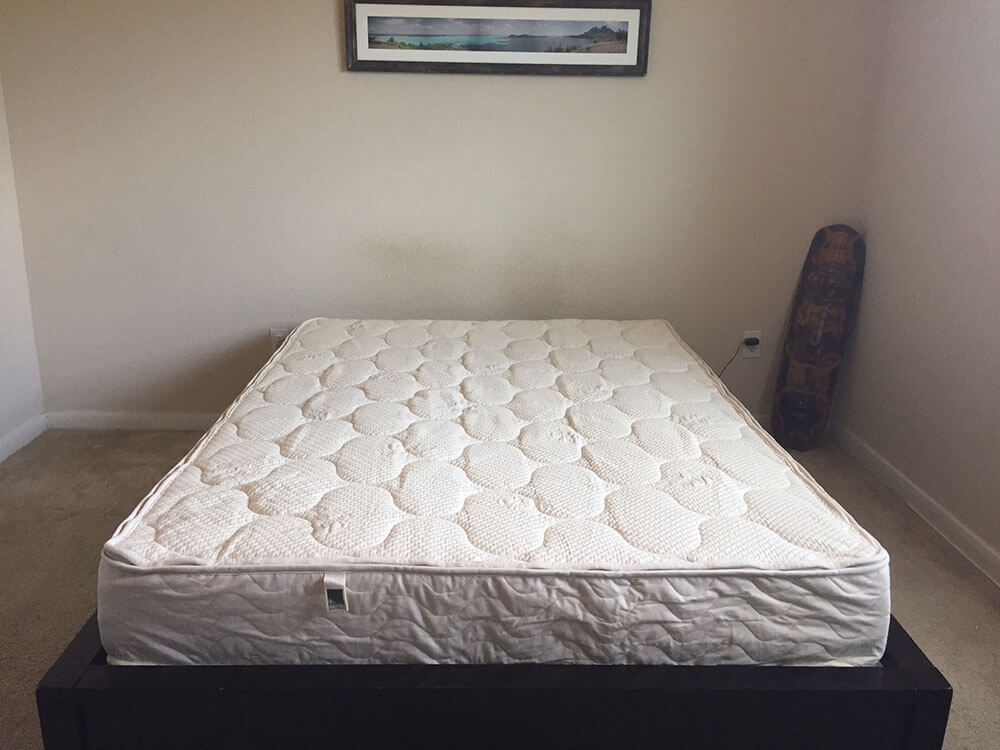 Another natural latex mattress on my list is Spindle. You might be wondering what makes it the best latex mattress or at least one of the best ones? Well, let me tell you:
It is cheaper than the majority of latex mattresses, it is natural, and it is adjustable in terms of firmness.
Here's how it's constructed:
Three natural latex layers, each 3" thick.
The wool batting layer. It is soft, it adds some plush comfort to the firmness of the mattress, and it doesn't sleep hot.
The organic cotton cover. It is breathable and very pleasant to the touch.
What is really great with that mattress?
Now, the best thing about this natural latex mattress is the combination of its price and quality. It's one of the cheapest latex mattresses on the market, but it offers so much for the money. Spindle is comfortable not only because of the high-quality latex but also because it is adjustable. You can rearrange the layers in order to adjust the mattress firmness to your personal preference.
What is wrong with that mattress?
The worst thing about Spindle is that you have to arrange it yourself. It's not difficult to do, so don't freak out and think that you'll have to spend hours trying to make a mattress from scratch on your own. Still, some people might find it too annoying.
I must admit that Spindle is among my favorite mattresses now. The company is very transparent about the materials that they use, which are natural and certified. That's a big plus for me. For a natural latex mattress, Spindle is sold at a very reasonable price. And most importantly, it is very comfortable.
Latex Hybrid by Nest Bedding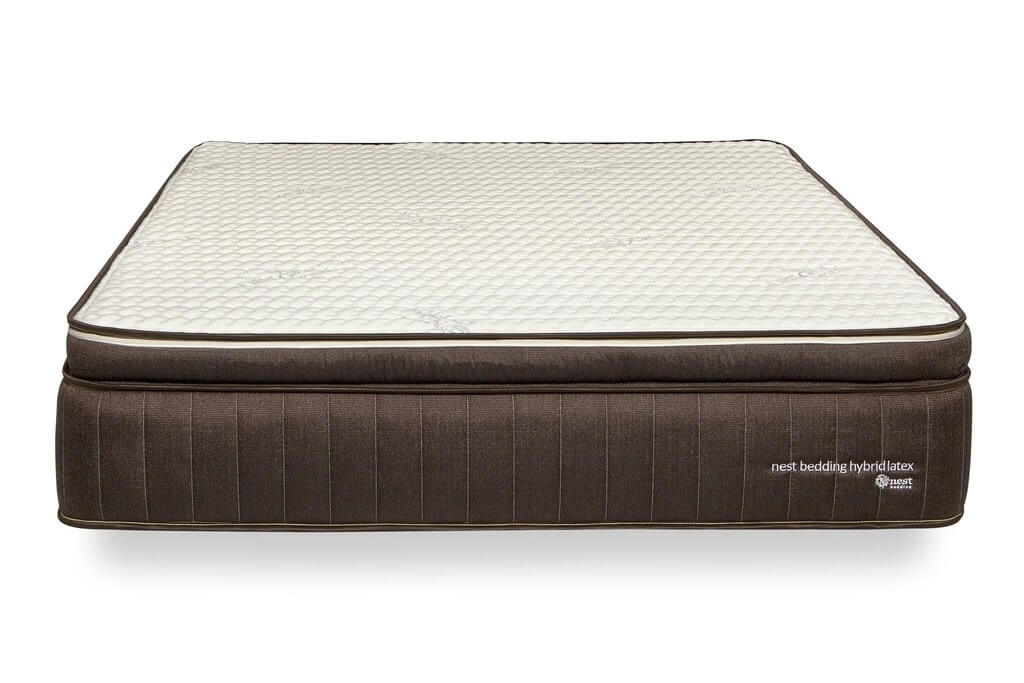 Even though the Latex Hybrid mattress isn't 100% latex, you can still see it in numerous latex mattress reviews. And despite being a hybrid, I believe this model has the potential to be called the best latex mattress. It is supportive, sleeps cool, and you can even pick the firmness level.
The construction is quite interesting:
The 7" base layer, which consists of 1100 individually pocketed coils and 5 different zones for better support for different body parts.
The 3" latex layer. You can pick either medium or firm. There's also a split option, which is perfect for partners who have different firmness preferences.
The 2" top layer filled with wool.
The organic cotton cover.
What is really great with that mattress?
The thing that can make this hybrid the best latex mattress is the fact that it provides excellent support without feeling too firm. I guess the combination of coils and latex really works as I didn't experience any back pain whatsoever. In fact, lying on this mattress made me feel like my body was supported in all the right places and contoured by the mattress where needed.
What is wrong with that mattress?
The worst thing about this mattress is that it might feel too firm for people who are side sleepers. Even if you pick the medium option, there's a chance you won't feel comfortable lying on your side.
Overall, my experience with Latex Hybrid was rather pleasant. It's excellent for back support and spine alignment. And you'll definitely love it if you're a back or a stomach sleeper.
"It is known that your mattress can double in its weight in 7-10 years because of the debris, dead skin cells, and dust mites. Well, with latex, the situation is a bit different as it doesn't provide a favorable living environment for those nasty dust mites."
Botanical Bliss by Plushbeds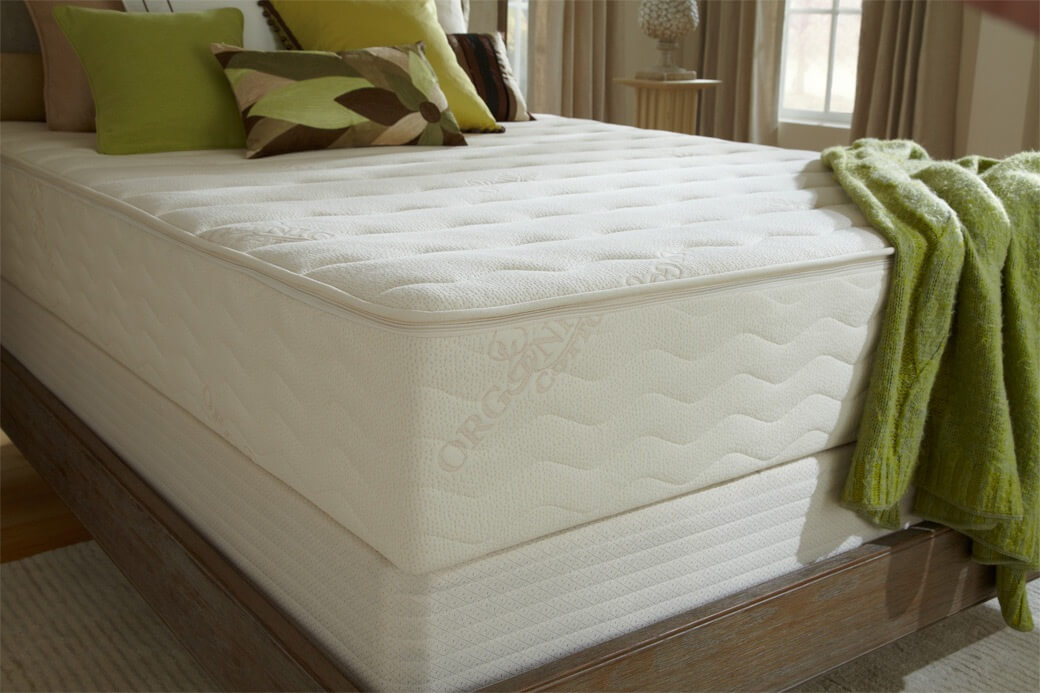 There are many reasons to consider Botanical Bliss the best latex mattress. It comes in four different firmness options, it is 100% natural, and, frankly speaking, it is very comfortable. You can choose the thickness of your mattress. I personally decided to go with the medium option – 10".
Let's take a look at what it's made of:
The 6" dense ARPICO latex base.
The 3" Talalay latex layer.
The 1" wool comfort layer.
The 100% organic cotton cover (charming to the touch, breathable, and contributes to the cooling effect of the latex material).
"When sleeping on a latex mattress for some time, you don't have to ever turn it as latex is a very resilient material."
What is really great with that mattress?
The best thing about Botanical Bliss is the quality of its materials. First of all, the mattress didn't have any off-gassing when I received it. My sensitive nose was completely satisfied, and I didn't experience any allergic reactions. Also, because of the mattress materials, I slept cool and felt very comfortable.
What is wrong with that mattress?
The worst thing about this mattress is its price. It's quite expensive, there's no denying that. Nevertheless, when you get the mattress, you know what you're paying for as it's totally worth the price. Still, I can't call this mattress super affordable, and some people might consider its price to be a real downside.
So, my verdict is as follows:
This mattress is totally worth investing in. I couldn't find any fault in it and slept like a baby. It is customizable, natural, high-quality, and comfortable. If this doesn't buy you over, I don't know what else can.
Pure Green by SleepOnLatex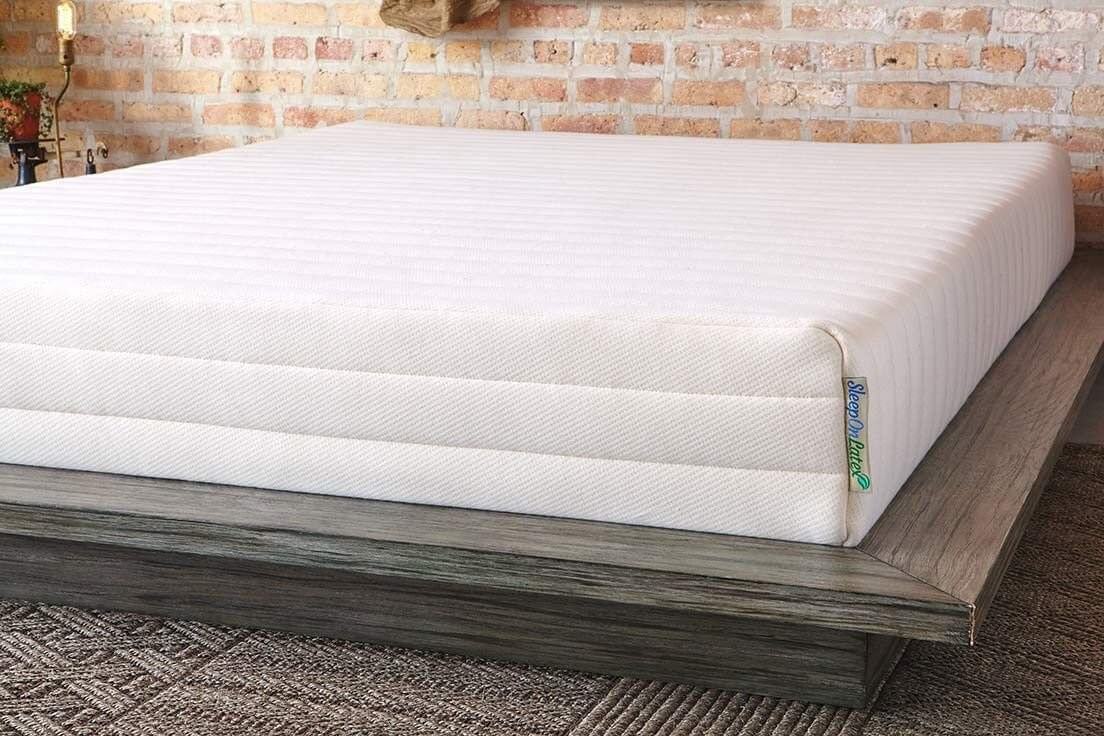 Pure Green is another mattress that deserves to compete for the right to be called the best latex mattress. It is 100% latex, 100% natural, and 100% comfortable. The manufacturer allows you to choose among two thickness options and three different firmness models. I decided to pick the medium feel and the 9" thickness.
Let's take a look at its construction:
The 6" latex base layer.
The 2" comfort layer made of 100% natural latex.
The 1" quilted wool layer.
The cover made of pure cotton.
What is really great with that mattress?
The best thing about this mattress is how it provides a perfect balance between sinkage and support. It envelops you but not too much. It allows your body to sink through the top comfort layer and get that feeling of support from the core of the mattress.
What is wrong with that mattress?
The worst thing about Pure Green is that it might seem to be too soft for heavier sleepers. As I've already said, it allows some sinkage, so overweight sleepers might feel stuck in the mattress and feel too much of that firm supportive layer. Keep in mind that I'm talking about the medium firmness option. Perhaps the firm model won't cause such a problem.
Overall, I enjoyed my experience with this mattress. You will definitely love it if your weight is average and you enjoy sinking into your mattress just a little bit. If you want a 100% natural mattress, this is your option.
Why Sleep on a Latex Mattress?
More and more people these days get rid of their old traditional mattresses and start sleeping on latex ones. You can probably guess that the majority of them never goes back to foam or innerspring mattresses. Why? Because latex offers tons of benefits that can improve the quality of your sleep.
Just think of it:
Latex is a natural material made of the serum from the rubber tree plant.
If the manufacturer makes the mattress 100% latex without adding any poly-foams or other synthetic materials, such a mattress will never cause you to have any allergies or other health issues. It's also anti-microbial, mold-resistant, and doesn't create a good environment for the dust mites. It means that your mattress will always be clean and safe.
It gets better:
A latex mattress is more durable. If you want to invest in a good bed and use it for years, the latex one is a perfect option for you.
Another vital reason to sleep on a latex mattress is the way it can support your spine and relieve your pressure points. If you have any painful spots, you won't feel too much pressure on them as latex can cradle your body. Of course, this will depend on the mattress firmness. So, if you have any severe health issues, consult your doctor and ask how firm your mattress should be. Luckily, lots of latex mattress manufacturers allow their customers to customize the bed and pick the firmness level.
Latex also does a great job regarding motion isolation. We all know how irritating it can be to get disturbed by your partner tossing and turning during the night. Latex mattresses are somewhat firm and bouncy, so they provide excellent motion isolation.
Finally, what makes latex mattresses a great option is how easy it is to customize them. You can get a mattress with special spine and back zones, you can switch the layers, and you can even split the mattress and have different qualities for the two sides of it, for yours and for your partner's.
Conclusion
After sleeping on so many mattresses and comparing them all to each other, I must admit:
Choosing the best latex mattress isn't easy. Still, I have my favorite – Botanical Bliss by Plushbeds. It's 100% latex, natural, super comfortable, and customizable. This bouncy mattress sleeps cool and provides excellent spine support. Yes, it's more expensive than the average latex mattresses, but when the mattress can help you sleep like a baby, it's totally worth the money.
Product links on Happysleepyhead are referral. We get a commission on purchases made through our links. More information in my disclosures.