Best Mattresses For Side Sleepers with Lower Back Pain in 2020 – Reviews & Information
by | Last Updated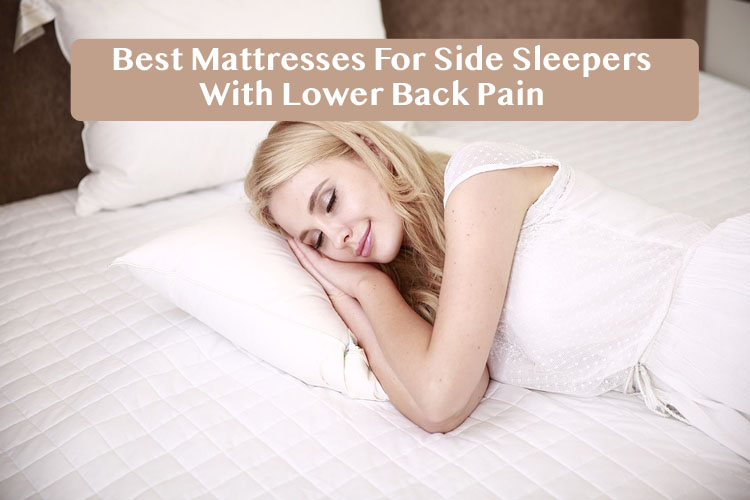 I suppose you will admit with the fact that the most common sleeping position is on the side. Some experts confirm that side sleeping can help to get rid of insomnia. But what do you have to do if you are confused with a great number of versatile mattresses?
I have good news! I have collected valuable information about the most comfortable mattresses suitable exactly for YOU. One of our top five mattresses will be able to make your dream colorful and sleep uninterrupted.
Please follow me further in order to discover the best mattresses for side sleepers with lower back pain. I would like to recommend taking below info into consideration before you make your final choice.
[table id=38 responsive=collapse datatables_row_details=true datatables_row_details_columns="A-G" /]
Amerisleep AS3 – Best Mattress for Side Sleepers with Lower Back Pain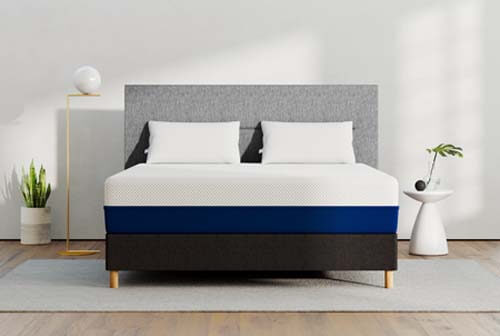 I will begin my review of the best mattresses for side sleepers with lower back pain with a mattress by Amerisleep. Their AS3 model combines medium feel, a good hug, and zoned support — literally everything you need to chase your pain away and get a peaceful sleep.
So, let's take a sneak peek at its layers.
The first comfort layer is made of Amerisleep proprietary Bio-Pur memory foam. It has an open-cell structure, so it won't trap your body heat. Plus, it responds to pressure faster than traditional memory foam, meaning you won't have difficulty moving around the mattress.
The second layer utilizes the HIVE technology for more precise cradling. This layer has a hexagonal construction and is divided into five zones. In some zones, the spacing between hexagons is wider, which results in deeper sinkage and better pressure relief.
Finally, the foundation layer is made of Bio-Core foam. It contributes to good motion absorption and overall durability.
All these layers are encased in a durable Celliant cover. This material understands the changes in your body temperature and adjusts to them, ensuring optimal temperature throughout the night.
What is really great about that mattress?
The thing I liked the most is that the mattress construction is designed to bring you the needed pain relief in any sleeping position. I'm a combo sleeper and I felt comfortable on this mattress regardless of the position I slept in.
What is wrong with that mattress?
I was a bit disappointed with the weak edge support. Even though the mattress is made of dense foam, you still need a good foundation to reinforce its perimeter if you plan to share a bed with a partner or tend to sleep closer to the edge.
check out amerisleep as3 mattress on amerisleep.com
WinkBeds – Best Firmness Variety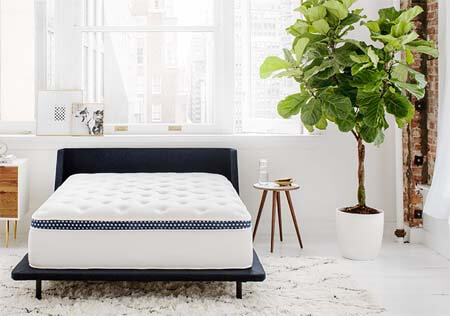 WinkBeds (the Soft model, to be exact) is in our list because you get both support and springiness from the coils and cradling from the foam. WinkBeds isn't a 100% innerspring mattress. It has a coil support core and some added foam for improved comfort. It's an amazing combo for side sleepers with lower back pain!
Let's take a closer look at the construction:
Supportive coil system

. Individually encased coils serve as the foundation of the bed. They have a 5-zone design, which allows them to effectively distribute the body weight and deliver superb support to the sleepers.

Foam comfort layer

. The Soft model uses 2 inches of foam, which is perfect for pressure relief. It easily adjusts to the body shape and cradles the protruding parts gently.

Micro Air-Springs

. Placed right under the pillow-top, these wrapped coils add some extra breathability and more support for your spine.

Extra Plush Euro pillow-top

. It is three-layered, which means it allows a generous amount of sinkage for the pressure points.
Tencel cover. Derived from the Eucalyptus, Tencel is breathable, very soft to the touch, and has good moisture-wicking properties.
The absolute best thing this mattress offers is a balance of support and cradling, which makes it an ideal innerspring bed for side sleepers. The coils are very supportive and can withstand even heavier users. And combined with the hugging foam, they work perfectly for side sleepers.
The biggest flaw of this mattress is the noise it might make. So, keep in mind:
If you tend to toss and turn during the night, you might hear the coils. And I know that this can annoy some users.
check out winkbed on winkbeds.com
Nolah Signature 12 – Best Smart Construction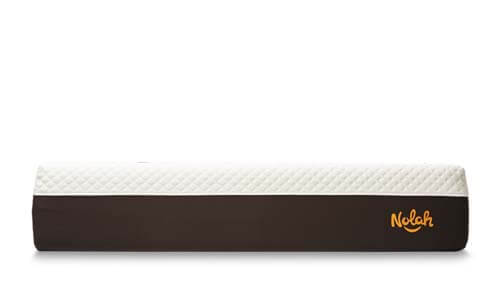 The mattress has an all-foam construction. This allows it to offer close conforming and maintain natural spine alignment throughout the night. Along with that, the proprietary Nolah Airfoam has a great motion response, so it won't limit your movements during the night, and hence, won't cause additional pain.
Even though there are certain universal recommendations as for the best mattress for side sleepers with lower back pain, each sleeper has individual needs, especially when it comes to mattress firmness. The Nolah Signature mattress easily addresses this concern with its dual-sided design that has different firmness on each side, which makes it a great pick whether you like your mattress soft or firm!
I slept on both sides of this mattress during testing and here are my takeaways. The soft side cradles every inch of your body very precisely, relaxing the deep muscles in your back. The firm side also provides decent support for your lower back area but offers less sinkage, so it may be great for heavier sleepers.
So, the most significant advantage of the Nolah Signature is its dual-sided design. Whatever your weight and firmness preferences, this bed will be able to offer you a comfortable sleep.
The main problem with Nolah, however, is common for all foam mattresses: it may lack proper edge support, especially if you're on the heavier side. So, if you love hugging the pillow closer to the edge of the bed, this mattress might not be the perfect option.
Overall, I would definitely recommend this mattress to all side sleepers suffering from lower back pain. Supportive and comfortable, this bed will relieve your pain and help you get sound sleep.
check out nolah signature 12 mattress on nolahmattress.com
Loom and Leaf – Best Luxury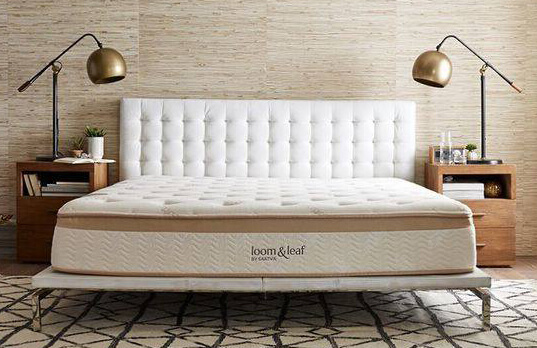 Next mattress which I would like to outline is Loom & Leaf too. Let's look closer what reasons make this series worth your precious attention. And one of those reasons is the fact that Loom and Leaf can be considered the best mattress for side sleepers with lower back pain. Why? Because this mattress offers the perfect balance between support and sinkage. It keeps your body in a neutral position while allowing a very generous amount of cradling for the hips. This results in superb pressure relief and reduced tension from your hurting hips.
Loom & Leaf is the luxury mattress by Saatva. The great news is that you can purchase this mattress directly from the producer without any overpayment. I have tested it and can say that it will be a wonderful variant for side sleepers taking account the following information.
The luxurious cover made of organic cotton will touch you smoothly.
Spinal zone gel layer is designed specially to provide cool night. Visco premium foam doesn't disappoint you by off-gassing. Launched air flow channels make the breathable effect. You can rely on the eco-friendly support base.
Now: Firmness
Loom and leaf is available in two variants. A medium variant is suitable for most sleeping positions. If you are back sleeper and desire to purchase firmer version, then 8,5 out of 10 scales will be the ideal option for you.
What is really great with that mattress?
I liked organic materials which make my sleep safe and durable. I liked that I can sleep without interrupting thanks to cooling effect from the respective gel. Medium version is an excellent variant as I am a side sleeper.
What is wrong with that mattress?
A relaxed firm variant is not suitable for people with overweight. You should be careful when you choose the respective variant for both partners. Support, while you are sitting on the edge, is not sufficient.
check out Loom and Leaf on loomandleaf.com
Nectar Mattress – Best Value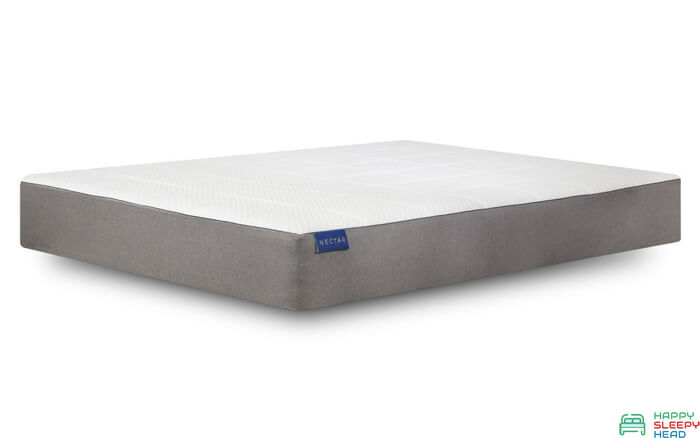 Nectar has become popular on the USA market despite that mattresses are originally designed in Europe. They proposed overwhelming condition such as lifetime warranty. You have an opportunity to sleep on the mattress a year and give it back in case of non-satisfaction.
Nectar is very supportive, so your spine is properly aligned and there is much less pressure on the lower back. And this means less pain and tension. Great news, right?
"The recommended firmness for side sleepers is around 4-6 on the firmness scale. However, each mattress feels different for different people and body types. So, even if the mattress you are planning to buy states "5", it might not feel like a 5 if you are, for instance, a heavier user. It might feel like a 3. That's why I always recommend buying mattresses with a trial period. This way, you will be able to return yours in case it doesn't feel that comfy."
Let's look closer to the construction of layers and the cover.
The quilted foam of the first layer gives breathable effect. It means that your dream at night will be without heat.
The second layer is made of lush foam and thanks to semi-open cell technology makes your sleep comfortable and cool.
Height core memory foam as the third layer guarantees excellent support. I have noticed nice contour and minimal sinkage.
Base layer plays a crucial role as it supports all above layers and does it great thanks to denser foam. Its structure has breathable air channel too.
Pleasant design of the cover has been made of smooth embroidered cotton. It is fully removable which is an excellent option for washing. Air circulation is possible and gives you feeling of cool and comfortable sleep.
What is really great with that mattress?
Great combination of breathable layers along with qualitative cotton cover make you sleep proper and durable. Medium firmness should satisfy the most sleeping positions.
Good option for heavier people.
What is wrong with that mattress?
If you would like to feel softer or firmer mattress, then this mattress is not for you as it has only one level of firmness. Foam is responding very slowly.
check out nectar mattress on nectarsleep.com
Helix Mattress – Great Firmness Variety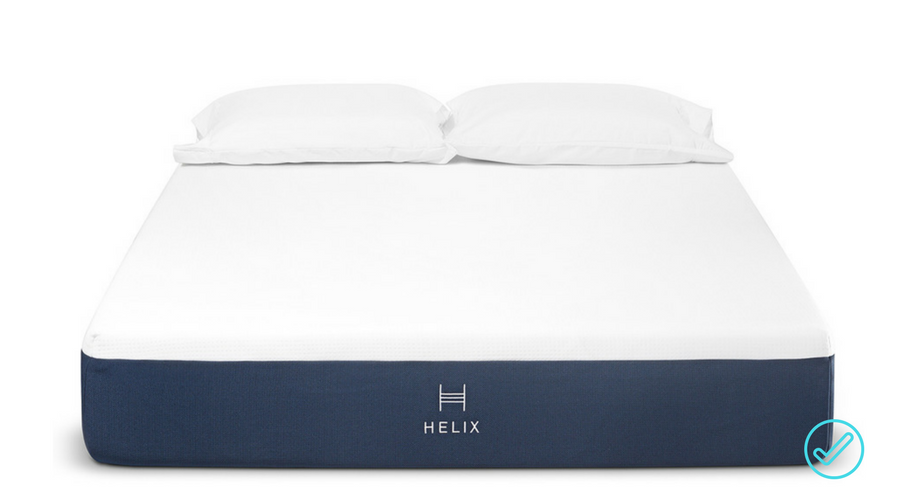 Please be so kind to welcome Helix, one of not many companies able to propose you mattress size perfect suitable only for you.
Helix suggests us versatile versions for every type of the sleeper, but here you will see the option and respective configuration for side sleepers.
However, I understand that different users (with different body types) might want to consider other firmness options.
And that's why Helix is so great:
It offers many firmness variants (from 3 to 10 on the firmness scale). This gives users the freedom to choose something that would be perfect for their particular needs.
Now: Layers
The first layer which gives you comfort is polyfoam. It has excellent bounce and responsiveness, special designed similar to latex.
Next layer named micro coils provides good pressure and soft feeling. A thousand of coils give you transition support and cooling effect.
Third and base layers are designed to provide with proper support. They work together ideally. Deep compression support is promised by producer in the third layer and foundational obligatory support you will meet in last, base foam.
The soft fabric of 100% polyester cover is quite thin, which is wonderful as airflow moves freely and provides the respective cooling effect.
Helix is able to suggest you wide range of different firmness – from 3 to 10 where 10 is the firmest. If talking about the suitable version for side sleepers, it is better to choose the mattress with 5 out of 10 scales. Such medium softness allows you to sink into the foams, but not so deeply. So you will feel nice contouring support. Anyway, you will fill company's quiz where you are able to mention all your desires and will be ideal only for you.
What is really great with that mattress?
I liked that the company who really cares about your needs is like a pearl in the sand and worth your attention and respect. Customizable firmness and size for an affordable price should attract you without doubts.
What is wrong with that mattress?
I didn't like that edge support like in many mattresses is not on the high level. For some customers there was not enough cooling effect provided by the cover and first layer.
check out helix mattress on helixsleep.com
Puffy Mattress – Best Soft Option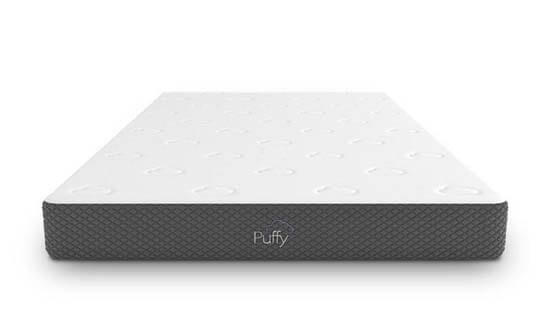 Being a pure foam mattress, Puffy is plush soft and very cradling. That's why it can be easily called the top-rated mattress for side sleepers with lower back pain. It will hug your body very gently, contour it nicely, and release tension. This will help you relax and will even relieve the pain.
Let's take a look at this model's construction:
Firm Core Support foam

. It is 6 inches thick and offers great support for the rest of the construction and the user's body. This layer implements Puffy's Insta-Firm Technology, which makes it more responsive.
Cooling Cloud foam layer. Being 4 inches thick, it serves as the comfort layer. It is gel-infused and offers a cooling effect. This layer is very cradling and offers a generous amount of sinkage.
The coolest thing about Puffy is how hugging it is. This mattress really feels like a cloud, which makes it ideal for side sleepers. It allows for deep cradling and perfect contouring.
The worst part is the weak edge support. This issue is common for many mattresses, but I know it can still be a huge disappointment for many users, especially those who tend to sleep closer to the edge of the bed.
check out puffy mattress on puffy.com
Factors We Look At
The most popular sleeping position is on one's side. When reviewing mattresses, we take into account that many people will sleep in this position. We know what aspects to consider to find the best models and what information (marketing claims and manufacturers' empty promises) to omit. Here are the factors we look at when searching for the best mattresses for side sleepers:
Support

. You probably know that proper spinal alignment is crucial when sleeping. And to achieve it, you need a supportive mattress. You need the one that can distribute your body weight evenly and keep your spine in a neutral position, without any unnecessary curves. We always pick mattresses with a strong core, which can provide proper support for users.

Cradling and pressure relief

. When sleeping on your side, your pressure points and protruding parts "dig" deeper into the mattress. When your bed isn't cradling enough, your pressure points can end up hurting. That's why we try to find the models that offer a gentle hug and enough cradling for side sleepers in particular.

Quality of the materials

. This one doesn't really need an explanation. The quality of a mattress's materials determines its durability, the comfort it can provide, and its safety for a user. We pick only from tested and trusted brands and give their products a couple of additional tests, just to make sure everything is alright.

Warranty

. This factor is important because the warranty is your protection. If, let's say, your new mattress turns out to be defective after some time of usage, you will definitely want the manufacturer to either exchange the mattress or fix it. That's what the warranty can offer you. Also, the general rule here is: the better the warranty, the more the manufacturer is sure of their product's quality, which promises you durability.

Cooling

. Because side sleepers need more cradling, they sink a bit deeper into the mattress. Naturally, this might make them sleep hot. Therefore, we try to give our preference to the mattresses that have a cooling top layer (gel-infused, for instance). Of course, not all manufacturers offer such a feature, so remember one thing: if we recommend a mattress that might sleep warm, we are sure that its other qualities (positive, of course) will be able to compensate for this inconvenience.

Safety certifications

. This one is important, especially when it comes to foam mattresses. A certified material does not contain any chemicals that might be dangerous for your health. That is why we check the potential best mattresses for their certifications.

Value for money

. No one wants to pay more than necessary (for the brand name, for instance). Neither do we. And we search for the best value for you. If we pick an expensive mattress, just know that it's of the best quality. If we suggest an affordable model, we still make certain that it's comfortable, safe, and nicely made. Whatever the case is, we try to find mattresses that are worth every penny.

What other users have to say

. Obviously, a mattress cannot offer universal comfort to all. Different people may feel different lying on one mattress. That's why we listen to what other people have to say. How does this model perform for heavier users? How good is this mattress for couples? Does this bed work well for petite sleepers? We consider all of these aspects.
Best Mattress Type for Side Sleepers with Lower Back Pain
You and I both understand that different mattress types have a different effect, which means any bed won't work for any sleeper. Let's take a closer look at each type and see which one might be the best for people sleeping on their side.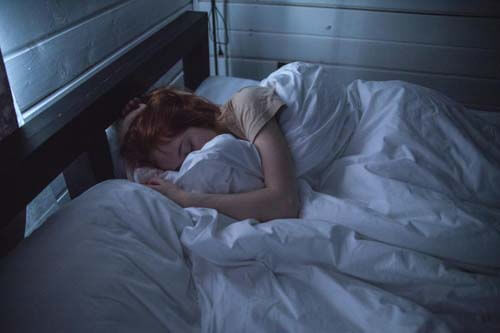 Memory foam mattresses are the most popular ones (and not only among the side sleepers). This material offers great pressure relief and can be rather supportive as well. It also offers that gentle hugging feel, which so many users love. However, picking this mattress type can be tricky. You need to make sure that it offers adequate support and isn't too soft. And don't forget about the quality:
Lower-quality foam isn't that cradling and will sag with time.
Moving on to latex mattresses. Latex can offer just as good pressure relief as memory foam (if you pick the right mattress, of course) but without the feeling of being stuck. It is ideal for side sleepers who want a bouncier cradling. Latex also does not sleep hot.
"Latex can be natural and synthetic. Synthetic latex is more affordable but it's still safe for your health. However, if you want an organic option, natural latex would be perfect for you (just keep in mind that it costs more). Some manufacturers blend these two types of latex to offer their customers more affordable mattresses while keeping the quality on the top."
Innerspring mattresses are among the oldest bed types. They offer great support (including around the edges) and breathability. However, the majority of innerspring mattresses aren't perfectly suited for side sleepers. Why? Simply because they don't offer enough contouring. An innerspring mattress might have some extra padding on top (wool, for example), but in many cases, it's not enough to cradle the protruding body parts properly.
However, if you still want the support of the coils, you can always try a hybrid mattress. This type usually features a combination of an innerspring system and foam comfort layers. In some cases, the latex is used as well to provide more bounce and breathability.
I personally love hybrid beds thanks to the balanced feel they provide. And I feel like they are perfect for side sleepers. You get strong support from the coils and a good amount of cradling from the foam. This is a perfect combo to keep your spine in a neutral position and to allow some sinkage for the protruding parts of your body.
Picking the Best Pillow for Side Sleepers
Getting yourself a good mattress is important, but finding a proper pillow should definitely be your next step. Your pillow plays a huge role not only in your comfort levels but also in spinal alignment and the quality of your sleep.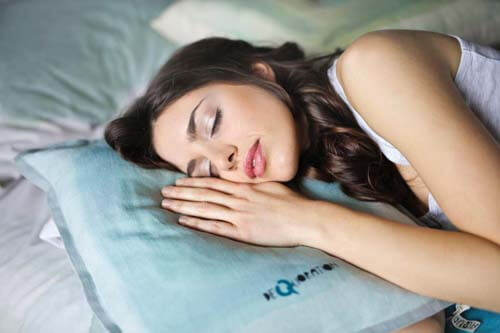 And here's the kicker:
Each sleeping position needs its special pillow.
Want to know what pillows do side sleepers need?
The answer is actually rather simple. For a side sleeping position, you would want your pillow to be tall enough to fill the space between your head and your shoulder. However, be careful. Your pillow shouldn't be too tall because it might put your neck under pressure and create the unwanted curves in your spine, resulting in neck pain.
The most popular pillow material for side sleepers is memory foam (shredded, in the majority of cases). It easily adapts to the head and neck, cradling and supporting the head at the same time.
A quick tip: It is very helpful to buy a pillow with a zipped cover. This way, you will be able to easily regulate the thickness of your pillow by adding or removing the filling. Such pillows allow for customization and help users find the perfect option for their sleeping positions.
Issues a Side Sleeper Might Face
I think you will agree with me when I say:
No matter how comfortable we feel when lying on our side, the aftermath might not always be pleasant. Side sleepers experience some issues too, especially when lying on an improper mattress.
Here are the most common of them:
Hurting pressure points

. When lying on your side, a lot of weight is concentrated on your pressure points (shoulders and hips in particular). If your mattress doesn't cradle them enough, these parts of your body become stiff and hurting. Lower back pain is also common for side sleepers, especially "sprinters" (people who sleep with one leg straight and the other one bent).

Neck pain

. Again, weight and pressure concentrate on your neck too when sleeping on your side. As a result, it feels stiff and may even hurt in the morning. To deal with this issue, you need a proper pillow.

Back pain

. Sleeping on the side is quite an awkward position, which may create the curves in the spine. And when your spine isn't in a neutral position during the night, you can wake up with a back pain. How do you fix it? Get a proper mattress (duh!) and try to sleep with your legs straight.
"Many side sleepers prefer to put a thinner pillow between their knees as well. This is actually really good for your spine and your overall comfort. You see, this way your spine is resting in a neutral position. Additionally, there is less pressure on the lower back, which also helps with relaxation and can improve your overall well-being."
Benefits of Sleeping on Your Side
Don't worry: sleeping on your side isn't that bad. In fact, this position has its benefits. Especially when lying on your left side. Those benefits include:
no snoring;

reduced heartburn

;

improved process of lymph cleansing;

better digestion;

improved brain health.
Of course, if you prefer sleeping on your right side, there's nothing wrong with that. However, many side sleepers notice that their bodies naturally lean towards turning to the left side, even when the sleeper does not really feel comfortable in that position. Who knows, maybe this way the body tries to tell us what's better for our health?
Conclusion
Side position is widely spread between sleepers, and I am glad to introduce our top 7 mattresses destined for people who are used to sleep on the side. Please do not hesitate to take into account above versatile factors which have the impact on your comfortable sleep. You have been aware of crucial points which should be obligatory for you in the selection process. All mentioned producers are ready to make required support and desirable comfort available to you. By selecting one of them, you will be delightful with your decision.
Nolah Signature is my most favorite mattress among all the models reviewed. I was impressed with the well-made construction and excellent pain-relieving properties. This mattress conforms to your body perfectly and cradles your spine in any sleeping position.
What is your most favorite sleeping position? Do you have any tips and tricks, which help you get comfier every night? Share your thoughts in the comments!
Additional Resources:
Best Mattresses For Stomach Sleepers – Buyer's Guide And Our Picks
The 7 Best Hybrid Mattresses In 2020 – Reviews And Buyer's Guide
Product links on Happysleepyhead are referral. We get a commission on purchases made through our links at no additional cost to you. More information in my disclosures.