Best California King Mattresses on the Market — Reviews and Essential Information
by | Last Updated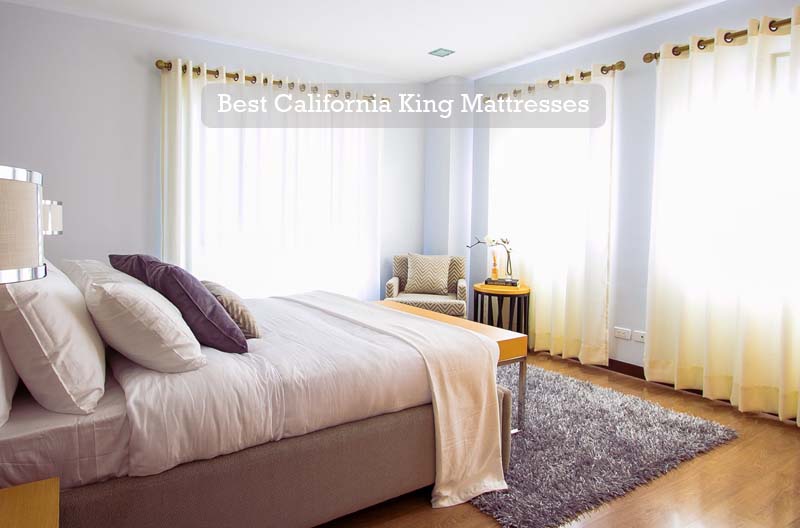 We all want to get good sleep every night, right?
And what is more sleep-inducing than a big, luxurious California King mattress in the center of your bedroom?
I know, nothing beats that picture. So, all you need to do now is to choose the right mattress that will easily guide you to the land of Nod.
And my review of the best California King mattresses is aimed to help you do that! So, sit down and have a look!
Model
Type
Layers
Trial & Warranty
Rating
Botanical Bliss by Plushbeds
Latex
organic cotton cover;
Joma wool;
soft Dunlop latex;
medium Dunlop latex;
firm Dunlop latex base
100-night trial;
25-year warranty
Avocado Mattress
Hybrid
organic cotton cover hand-tufted with wool;
organic Dunlop latex;
zoned coil unit made of upcycled steel;
Dunlop latex base
365-night trial;
25-year warranty
Winkbed
Hybrid
Construction differs depending on the firmness level
120-night trial;
lifetime warranty
Nolah 12
Foam
organic cotton cover;
Airfoam (Soft side);
high-resiliency transition foam;
dense foam base;
Airfoam (Firm side)
120-night trial;
lifetime warranty
Dreamcloud
Hybrid
quilted polyester cover;
gel-infused memory foam;
foam support layer;
pocketed coils;
foam base
365-night trial;
lifetime warranty
Our Reviews of 5 Best California King Mattresses
Best California King Mattress — Editor's Choice
Botanical Bliss by Plushbeds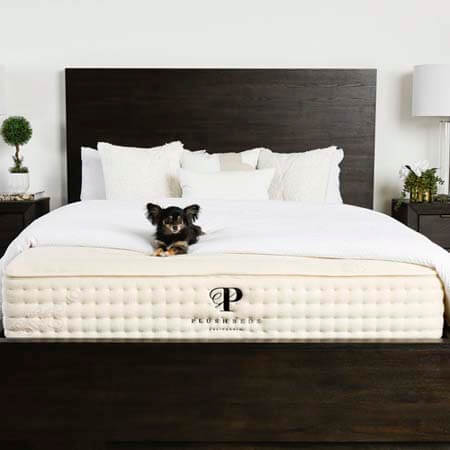 If you want to know what the best California King mattress looks like, have a glance at the Botanical Bliss by Plushbeds. It is made of natural materials, offers unbeatable support, and sleeps cool. What else may you need?
Now, with this mattress, you can adjust the firmness level to your needs! Just unzip the cover and swap the upper latex layer with the middle one — and see if this feels more comfortable for you.
Natural Dunlop latex used for making layers, is great for many things: cooling effect, quick rebound, and durability are among the best-known. Also, latex is dust mite-resistant and hypoallergenic, so it will suit even sleepers with sensitivities.
But the thing I didn't like is the unpleasant rubber odor. This is common for all latex beds, as they're made from the rubber tree sap. Still, this may bother individuals with a sensitive nose on the first couple of nights.
I'm really impressed with the value for money this mattress offers. The Botanical Bliss is not cheap, but the ability to alter the firmness level to your liking and a breathable, natural construction make this mattress worth every cent.
If you need a Cal King mattress that has it all, let me tell you: you won't find a bed that is better than the Botanical Bliss. It's an investment for a truly blissful sleeping experience.
check out botanical bliss mattress on plushbeds.com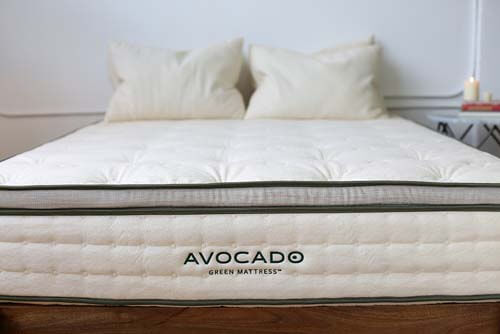 Another model in our list of best Cal King mattresses is produced by a company that does its best to minimize the carbon footprint and the overall negative impact on the planet. The Avocado Green Mattress consists of organic materials from top to bottom — they have even replaced adhesives with a traditional hand-tufting technique! — and can be a good pick for any eco-conscious sleeper.
Now, a hybrid construction can offer you decent support. As for the firmness level, the mattress is available in a standard configuration with a medium-firm feel, but if you need something softer, you can choose an option with a pillow-top for deeper sinkage.
The supportive core of the mattress is made of upcycled steel coils, resulting in great edge support and superb durability of the whole construction. Atop the coils, the manufacturer has placed a layer of Dunlop latex for great pressure relief and cooler sleep.
As for the drawbacks, I would name the motion response. Steel coils keep the edges sturdy, but they're quite bouncy, especially with the latex layer above. So, if you're a light sleeper and your partner moves a lot in their sleep, this mattress might not be a perfect option for both of you.
I love that this mattress is completely organic. Besides, the company itself tries everything to minimize the negative impact on the planet while still making their products comfortable and long-lasting.
To sum up, I loved the Avocado mattress for its organic design. As a combo sleeper, I was more comfortable on the pillow-top option, but stomach or back sleepers may sleep well on the standard configuration.
check out avocado green mattress on avocadogreenmattress.com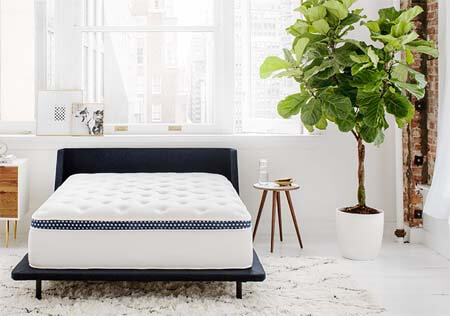 Moving down my list of the best California King beds, and here's the Winkbed. I placed it here because unlike most mattresses that have one to three standard firmness levels, this bed actually comes in four! Aside from the Soft, Medium, and Firm levels in the model's lineup, you can also get the Firm Plus model designed for supporting bigger weight — a great pick for heavy users and couples.
So, this hybrid mattress has all the features typical of hybrids: good edge support, floating-atop-the-mattress feel, and proper air circulation thanks to the coil block.
Depending on the firmness level you choose, the construction will slightly vary. But you can be sure you'll get great amounts of support for your spine. The models from Soft to Standard Firm feature a zoned coil system for better pressure relief in different body areas. Meanwhile, the Firm Plus model uses a lumbar pad for targeted lower back support.
What bothers me, though, is that even the softest model might feel on somewhat firm for some sleepers. The reason for that is the coils and dense foams used in the mattress. Even though it may become softer over time, you still need some patience to adjust to the new feel.
I really like that the manufacturer cares for every sleeper and takes into consideration their needs. Whatever your body type and preferred sleep position, Winkbeds can offer you a mattress made exactly for your comfortable sleep.
I loved the Winkbed for the combination of durability, pressure-relieving properties, and support. If these are the features you look for in a mattress — do not hesitate to go with this one.
check out winkbed mattress on winkbeds.com
Best California King mattress for Pain and Pressure Relief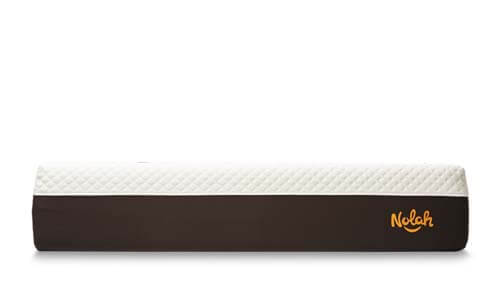 Let's switch from coils to foams for a while. The Nolah Signature is a 12-inch thick model designed to offer you absolute relaxation and pain relief in every sleeping position, and this is why it holds a place in my California King mattress review.
And when I say 'every position', I literally mean it, because the mattress features dual-sided design with Soft and Firm sides, so you can easily choose the preferred firmness by flipping the mattress.
Along with that, the manufacturer uses its patented Airfoam as a comfort layer for both sides. The Airfoam has an open-cell structure, which results in cooler sleep and closer conforming to your body curves — an essential thing for pain relief.
Now, there's also a transitional layer of high-resiliency foam for better weight distribution and proper spine alignment. Plus, the Nolah has great motion-absorbing properties and can be a good pick for restless sleepers and their partners.
However, the main issue with this mattress is the lack of edge support. Although it's common for all the foam mattresses, this might be a turn-off for those who sleep closer to the edge of the bed or share it with someone.
The most significant advantage of this bed, though, is the amount of cradling it provides. I should say it beats even some well-known memory foam beds! The Nolah truly feels like a cloud and may help alleviate your back pain.
So, I've had great sleep on this mattress. If you're a fan of cradling and need a bed that will help your stiff muscles relax and alleviate pain, go for the Nolah Signature without hesitation.
Check out nolah 12 mattress on nolahmattress.com
Best Cal King Mattress for High Profile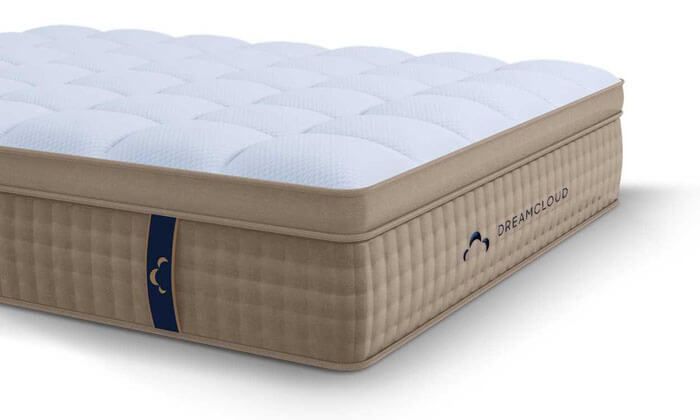 Let's admit:
A spacious California King bed may look a bit ridiculous if it's thin (unless you have a minimalist bedroom design). That's why I want to present to you another best-rated Cal King bed, which probably is one of the thickest — and hence, really luxuriously looking — options on the market.
So, this hybrid goodness measures 15 inches high and has medium firmness, allowing you to sink deep enough to get that pressure relief you need. The balanced feel is the result of three layers combined: a plush pillow-top, a layer of gel-infused memory foam, and a layer of soft transitional foam. These three layers create a cradling cushion, which can nicely hug even a side sleeper and support their alignment through the night.
The supportive core of the Dreamcloud is made of individually wrapped coils. These coils not only offer you targeted pressure relief but also allow the air to freely circulate between the layers, which results in a cooler sleep.
The downside of the mattress was a bit surprising for me. Even though it's not an all-foam option, and the coils allow for proper air circulation, the foam layers still have a noticeable odor. So, keep in mind that you may have to wait a couple of nights before it dissipates.
The thing I love the most about the Dreamcloud is its high-profile construction. The mattress packs just the right layers to support you in any sleep position. And it looks more proportional in the Cal King size, compared to thinner mattresses.
To sum up, those who look for a high-profile bed with a balanced feel and a decent amount of sinkage can surely pick the Dreamcloud — it can literally be your dream cloud.
check out dreamcloud mattress on dreamcloudsleep.com
A Brief History of California King Beds
Have you ever wondered how California King — the only location-driven name among all the mattress sizes — appeared on the market?
The answer is quite simple.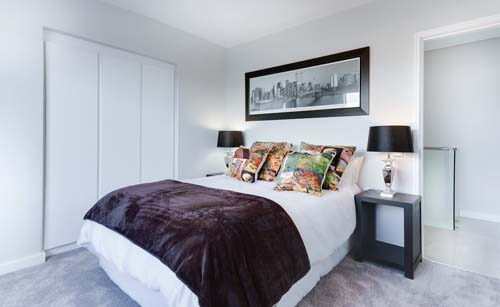 A couple of decades earlier, the size of your bed directly corresponded to your wealth, and a larger bed in your master bedroom would literally scream about how rich you are. So, it wasn't surprising that Queen and King beds quickly became dominant on the market right after Sealy and Simmons had released them in the 1960s.
But:
Celebrities living in Hollywood wanted even fancier beds to fit their mansions. So, Simmons started producing a separate line of longer and narrower King mattresses specifically for California. This quickly became a trend and remained the most demanded mattress size for several years straight.
Now, to avoid confusion between two different King sizes, the manufacturers labeled them as Standard King and California King, respectively, and this is the classification we are all familiar with today.
"In Europe, California King is also known as Western King, and Standard King is sold as Eastern King."
King and California King: The Main Differences
Since both King and Cal King mattresses have a shared history, people often tend to confuse them with each other.
That's why I'd like to briefly break down the main differences between King and Cal King mattresses.
The most obvious one is their dimensions:
A standard King-sized bed measures 76 inches wide and 80 inches long and is the widest mattress size on the market due today.
A Cal King mattress, on the other hand, is 72 inches wide and 84 inches long, which makes it the longest option available.
Another noticeable difference is availability. California King is a size with lower market demand, so some mattress brands simply don't offer it in their lineup.
Now, you may wonder about the price differences.
Are there any?
Well, a good Cal King mattress, as well as a decent King bed, is typically the priciest size available. And that's pretty obvious — as they require the most resources and energy to be manufactured. However, if you search well, you can still find a low-cost mattress available in this size.
Pros and Cons of Cal King Beds
Now, since we all have different preferences when it comes to sleep, it's hard to find a mattress that will please everyone. Even the best California King mattress will have its advantages and weak points. That's why I want to outline the pros and cons common for all mattresses of this size.
Let's begin with the good: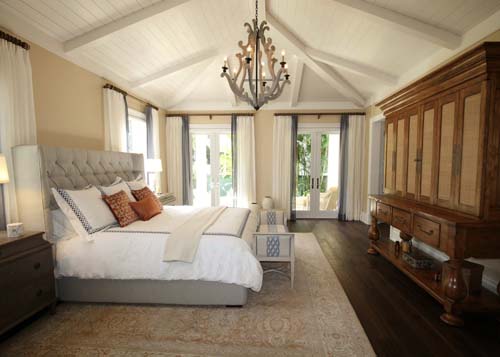 Spacious

. An additional 4 inches of length will add a significant amount of comfort for taller individuals or those who love to stretch during their sleep. And even though a Cal King bed gives you 36 inches of bed space per person — instead of 38 inches like King-sized beds — it's still more than enough to comfortably accommodate two average adult sleepers.

Aesthetically pleasing

. A large bed can add a few luxury points to your master bedroom and easily become the main accent of your sleep sanctuary.

Split design

. If you and your partner have completely different firmness preferences, you can order a Split Cal King bed. It's made of two separate halves and you can choose the firmness level that suits you personally.
"Split design is also a great option for owners of adjustable bed bases."
Now, let's see the weak points:
Harder to find accessories.

Since California King beds typically have lower market demand, you might encounter difficulties with finding suitable bed sheets, mattress protectors or other bedding items.

You'll need a really big bedroom for it.

Being the largest size, a Cal King bed will need a lot of space for proper placement. The minimal room size for this type of mattress is 12 x 12 feet, but I would recommend even larger rooms starting at 12 x 14 feet. Thus, your mattress won't eat too much space and you will still be able to arrange other furniture items without making your room look cluttered.
Other Things to Consider
Now, let me tell you a few crucial things you definitely shouldn't overlook when shopping for a California King bed.
Warranty Coverage and Trial Periods
A California King mattress is an expensive purchase, it's a fact. And you, as a customer, should make sure that your investment is protected throughout the whole lifespan of your mattress.
Choose companies that offer a clear warranty and longer trial periods.
Thankfully, many mattress manufacturers today — especially if you're looking for a quality California King mattress online — can offer you extended trials up to one year. And many of them also have a lifetime warranty; or, at least 10-year coverage, which is more than enough before you decide to replace your mattress.
Quality of Materials
Again, when you're investing a lot of money in your sleep, you need to be sure to choose the best of the best. And in the case of materials, the recommendations are the following:
Wrapping Up
Even though California King mattresses have a lower market demand than other sizes, you can easily find the one that will provide you with a peaceful sleep.
The models I've presented to you above can suit literally any demand and make a great fit for your master bedroom.
And I'm ready to announce my favorite. It's the Botanical Bliss. I really love the adjustable firmness and well-made construction this bed has. Not to mention that natural latex offers you nearly the same cradling as memory foam but doesn't restrict your motions and doesn't make you sleep hot.
However, if you want a more traditional foam feel, you may go for the Nolah Signature. It's also very cradling, and it sleeps cooler than many other foam beds.
So, what made you consider buying a Cal King mattress for your bedroom? Which of the reviewed mattresses has caught your eye? Share your thoughts in the comment section!
Product links on Happysleepyhead are referral. We get a commission on purchases made through our links at no additional cost to you. More information in my disclosures.