6 Best Cheap Mattresses to Save Your Money and Get Good Sleep
by | Last Updated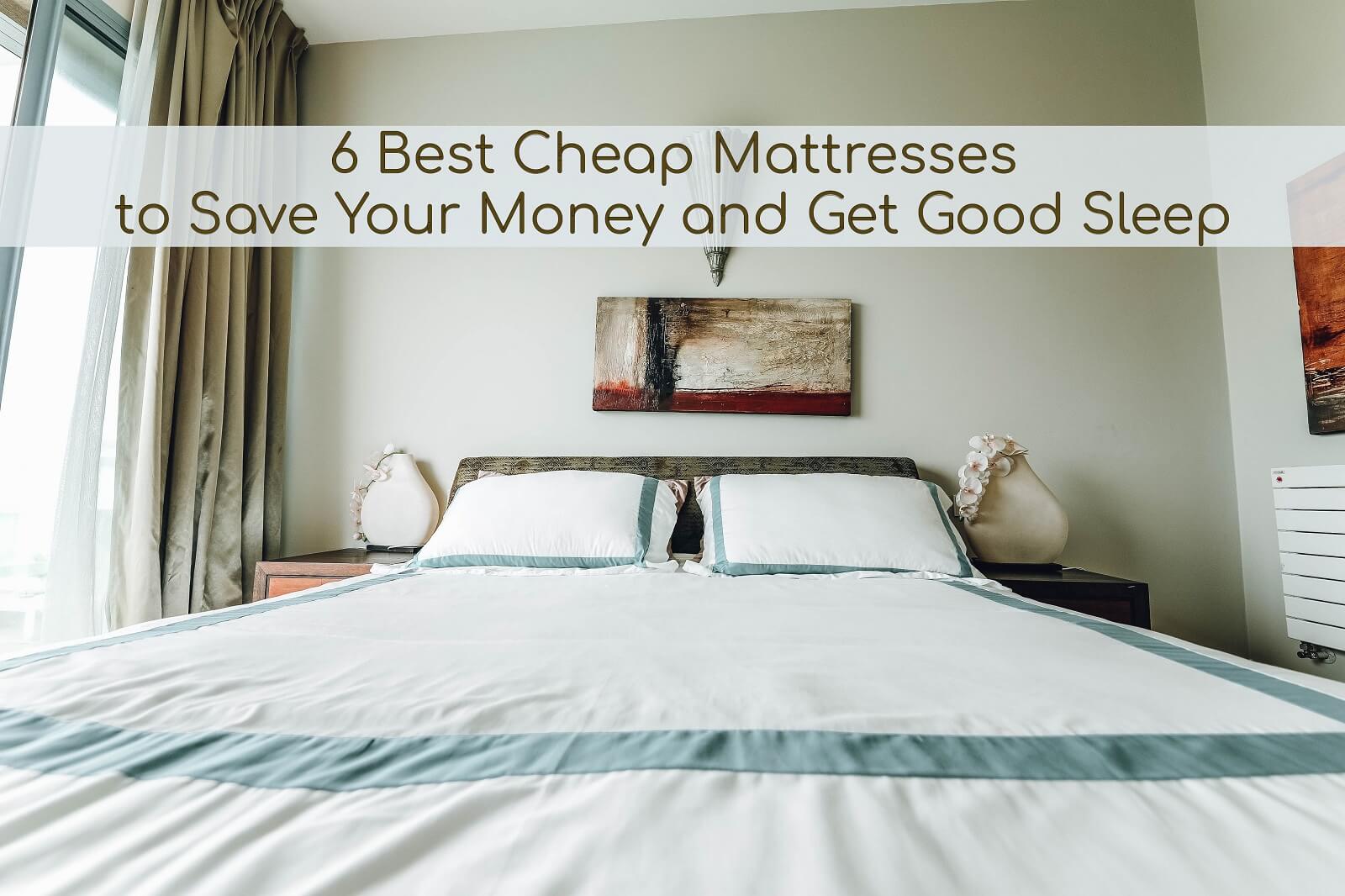 A mattress is essential for high-quality sleep. Typically, we buy a new bed every 8-10 years, that's why it's necessary to do thorough research before making a purchase.
But guess what?
You don't have to spend thousands of bucks to get five-star comfort!
I've reviewed 6 best cheap mattresses for a good shut-eye and ensure you that 'cheap' isn't always equal to poorly made.
So, scroll down and prepare to save your money!
Model
Type
Layers
Trial & Warranty
Rating
Nectar
Memory foam
Tencel cover quilted with gel memory foam;
gel-infused memory foam;
adaptive memory foam;
high-density foam base.
365-day trial,
lifetime warranty
Nolah Original
Foam
viscose cover;
proprietary AirFoam layer;
high-resilience foam;
high-density foam base.
120-night trial,
15-year warranty
Layla
Memory foam
polyester blend cover infused with ThermoGel;
copper-infused memory foam;
convoluted polyfoam;
high-density foam base;
copper-infused memory foam.
120-night trial,
lifetime warranty
Live and Sleep Classic
Memory foam
stretch knit cover;
memory foam;
high-density foam base.
30-night trial,
20-year warranty
ASPEN by Dreamfoam Bedding
Foam and latex
bamboo cover quilted with foam padding;
Talalay latex;
high-density convoluted foam base.
120-night trial,
10-year warranty
Brooklyn Bowery by Brooklyn Bedding
Foam
cotton blend cover;
Energex foam;
high-resilience foam;
supportive foam base.
120-night trial,
10-year warranty
Our Reviews of 6 Best Cheap Mattresses
Best Cheap Memory Foam Mattress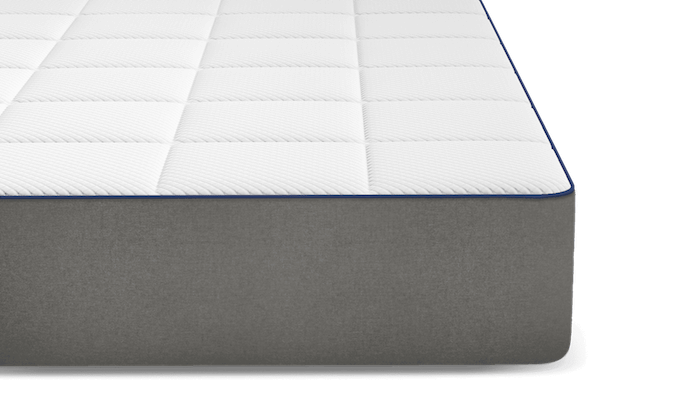 The first model on my list of the best inexpensive mattresses is the Nectar bed. It uses eco-friendly materials with excellent contouring properties and can adapt to any sleeping style.
This cheap memory foam mattress comes in medium firmness, but I believe that it's a little softer than that. Thus, it will work great for side sleepers who seek cradling and for back sleepers who want cushiony support.
Another feature of this bed is its cooling effect. The Tencel breathable cover allows air inside the mattress, while two layers of gel memory foam disperse your body heat for a cooler sleep.
The worst thing about this bed is mediocre edge support. If you prefer using the entire mattress surface, including the edges, this bed might not be good for you.
Top-notch cradling properties are the strongest point of this mattress. With Nectar, you will get an adaptive sleeping surface with great pressure relief for less than $1,000 for a Queen size.
If you're a memory foam fan and love the hug, the Nectar can be your ideal fit. It is comfortably soft but doesn't have that quicksand feel.
Check out nectar mattress on nectarsleep.com
Low-Cost Mattress for Cooler Sleep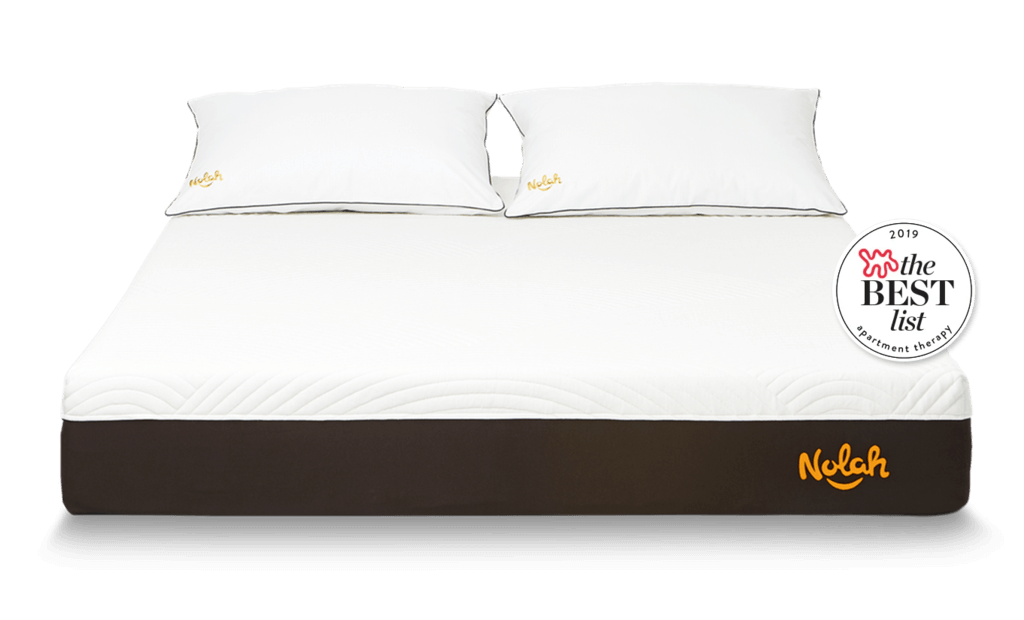 The second contestant on my list of top-rated budget mattresses is the Nolah Original. If you tend to sweat during the night or live in a hot climate, this bed will be your lifesaver.
The cooling effect of the Nolah Original is possible due to two innovative materials. The company uses its patented AirFoam that has a more breathable, open-cell structure to disperse excess heat and cool you down. Also, the natural viscose cover serves as a moisture withdrawal layer, so it will keep you dry as well. Overall, this cheap mattress for a cooler sleep feels incredibly comfortable for almost any user.
The layer of high-resilience foam and the foam base beneath it make the whole construction very sturdy and supportive. They help the upper layer contour your body and relieve the main pressure points.
Unfortunately, this mattress has a flaw. Although it is marketed as medium-firm, which is supposed to be comfortable for all types of sleepers, I believe stomach sleeper will sink too deep into this bed and may wake up with lower back pain or strained neck.
Now, the coolest things about this model are the overall comfort and refreshing effect it provides. I am a side sleeper, and despite the nice, deep sinkage, this mattress didn't make me sweat during the night.
I believe that along with hot sleepers, the Nolah will be a good choice for back pain sufferers and couples. It has everything they need: a decent amount of padding, cooling effect, and great motion isolation.
Check out nolah original mattress on nolahmattress.com
Best Inexpensive Flippable Mattress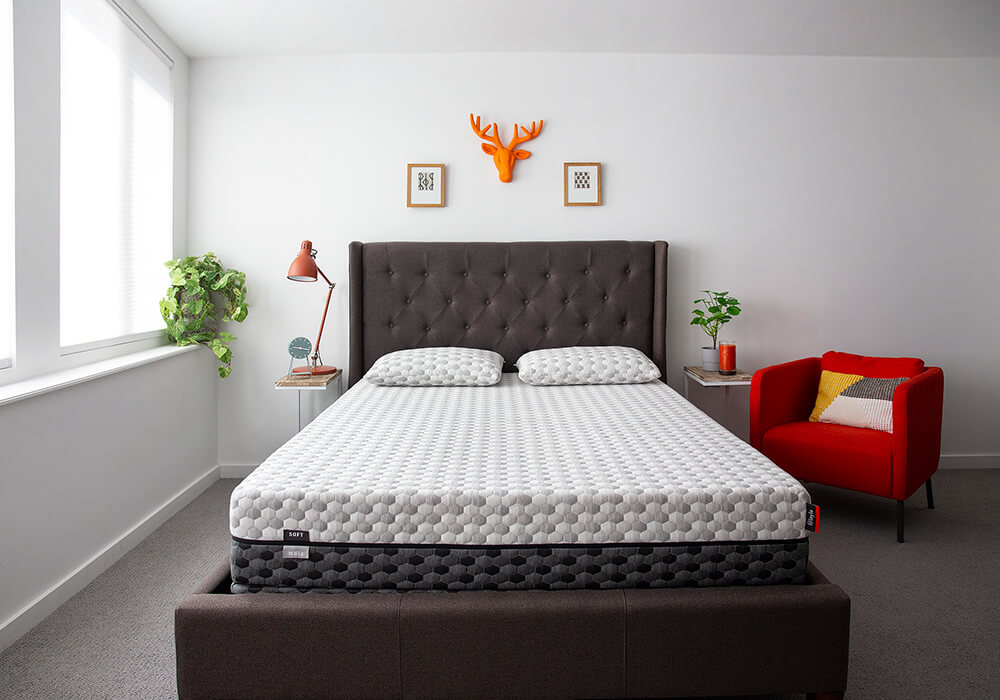 Double-sided mattresses are a new trend, and that's why I included this model by Layla in my review of the best low-cost mattresses. It has a soft and a firm side, so you kind of purchase two beds in one. Isn't it a great deal?
This mattress features two layers of foam infused with copper and gel, which ensures a cooler sleep on both sides. Copper particles have high thermal conductivity and can remove your body heat. Plus, copper is known for its antimicrobial properties, so this bed offers you a cleaner and safer sleeping surface
Also, this cheap flippable mattress is suitable for any sleeper. The soft side is perfect for side and lightweight back sleepers, while the firm side will do best for those who sleep on their stomach and heavier people.
One thing I don't like about this mattress is poor edge support. If you tend to roll close to the edge, you may want to look for a mattress with enhanced support around the perimeter.
What I love about this mattress, though, is its versatility. You can test different firmness levels and choose the side that suits you most. This also makes the Layla a great choice for a guest room, as your guests are likely to have different firmness preferences.
Overall, this mattress is an excellent deal. You get two firmness levels in one bed, which is great for those who appreciate the versatility.
Check out layla mattress on laylasleep.com
Best Affordable Mattress for Couples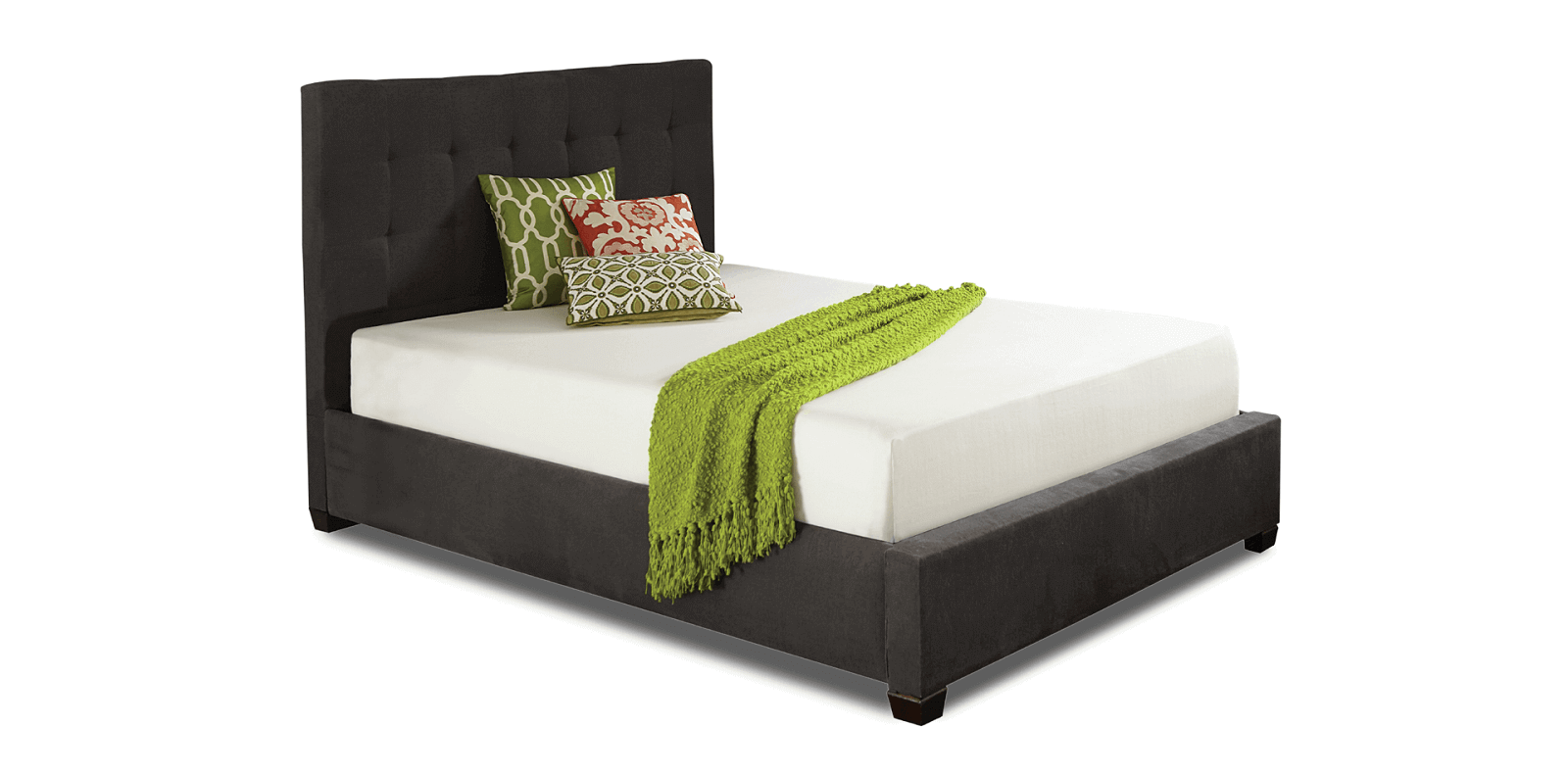 Now, let's talk about solutions for couples. The Live and Sleep Classic model is on my list of the best inexpensive mattresses exactly because it can offer excellent support for both you and your loved one.
Motion control is one of the strong sides of this mattress. The dense foam core absorbs motion, so if your partner is a restless sleeper, they won't disturb your sleep anymore.
Another thing an excellent affordable mattress for couples should have is proper edge support. And this bed can beat many similar and even some more advanced models in this regard. I felt very comfortable and relaxed while testing it with my wife. No sinking, no rolling off, only nice cradling and even support.
The only drawback of this mattress is that it might sleep hot. I didn't get sweaty, but my wife once woke up in the middle of the night because of feeling too hot. So, if sleeping hot is your issue, you'll probably need to invest in a cooling pad to put on top of this mattress.
Now, the best thing about this model is that it is literally made for couples. Great edge support and motion control will give you and your partner plenty of room to move during the night, without waking each other.
The Live and Sleep Classic was a pleasure to test. It's a great option for couples, but if you sleep alone, you should give it a try too.
Check out this mattress on liveandsleep.com
ASPEN by Dreamfoam Bedding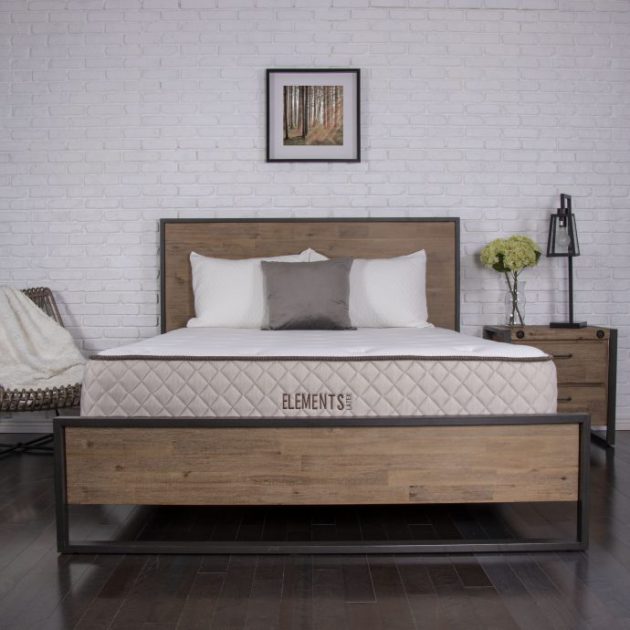 Another item on my list of top-rated affordable mattresses is the ASPEN mattress by Dreamfoam Bedding. With the price tag at about $600 for a Queen size, this bed gives you a balanced feel and luxurious comfort.
First, let me clear one thing:
You won't find an all-latex mattress in a budget segment.
And this bed isn't an exception, as it only has one 3-inch Talalay latex layer. However, I classified it as a budget latex mattress because it can offer you many of the benefits an all-latex mattress would offer, but at a much lower price. One of those benefits is a combo of nice bounce and close conforming.
Along with a balanced feel, this bed has a plush cover with a foam padding for instant cradling for your pressure points. It will contour your body in any position and offer the desired relief.
The biggest downside of this mattress, in my opinion, is that it might be too firm for some users. Latex offers a very specific springy feel, so you may need some time to get used to it, especially if you only slept on all-foam mattresses before.
What I love about this bed is that it's an affordable option for latex fans. Three inches of Talalay latex is more than enough for excellent pressure relief. Plus, it adds some durability to the bed, which is a nice bonus for heavier sleepers.
I believe the ASPEN is good for fans of bouncy mattresses, especially those who want a more eco-friendly option.
Check out this mattress on dreamfoambedding.com
Cheap Mattress for Back Pain
Brooklyn Bowery by Brooklyn Bedding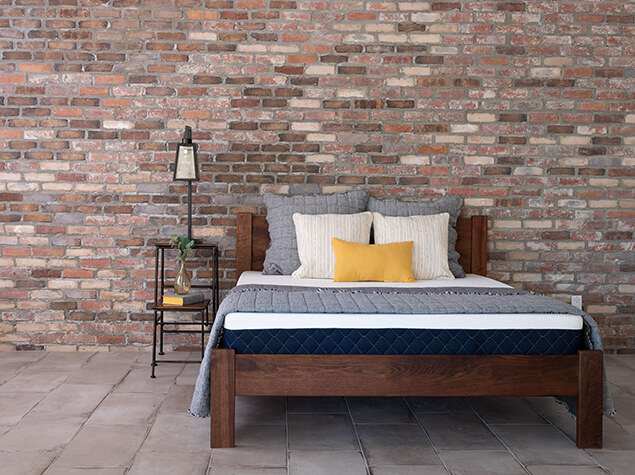 Another option for those who appreciate the bounce. This model by Brooklyn Bowery has made it to my list of the best reasonably-priced mattresses due to the comfort levels and the pain relief it provides, especially for those suffering from back pain.
One of the comfort layers of this mattress is made of Energex foam. Besides giving you a decent hug and contouring — essential properties for pain and pressure relief — this foam also has a quicker response than traditional foam. That means you won't sink and will be able to move freely, which is great for people with pains and aches.
The transition and bottom layers of this cheap mattress for back pain make up a sturdy base for the top comfort layer and ensure you get even support in all areas under your body.
The worst thing about this bed is motion transfer. Due to the layer of bouncy Energex foam on top, you may feel disturbance from your partner moving. If you're a light sleeper, this might be an issue.
The best thing about this mattress is its great pain relieving properties. Whether you're chronic back pain sufferer or an office worker with occasional episodes of a sore lower back, the Bowery mattress can give you the relaxing sleep you need.
Honestly, I feel I can recommend this mattress literally to anyone. It has a balanced feel and great pain relieving properties no matter what type of sleeper you are. Considering its price, that's a real steal!
Check out this mattress on brooklynbedding.com
What to Expect for a Less Than $1,000?
The regular price of a well-made mattress is between $1,000-1,500, so anything that costs less can be considered an affordable option.
Let's clear up what you can expect if you buy a mattress for less than a thousand bucks, regarding the type, construction, and overall value.
$100-300 price tag
Let's begin at the lowest price possible.
Of course, your choice will be limited in this case, but there are several options you may get:
$300-500 price tag
Here, you will still have to do your homework and look harder if your budget is tied to this price, but there must be a great mattress under $500 that will fall into the following categories:
Pure foam mattress.

Mostly made from foams of a lower density, such mattresses may sleep hot. If you're going to buy one, consider pairing it with a cooling mattress topper to eliminate this drawback. This will cost you a little more, but it's still less than you'd pay for a more advanced foam mattress that sleeps cooler on its own.

Hybrid and innerspring mattress

. There are some decent models within this price range, but again, don't expect the same durability as with high-end mattresses. The construction of such beds will typically have some foam padding and a pocketed coil system, resulting in good breathability and a balanced feel.
$500-1,000 price tag
Now, this is the point where you're entering the middle to luxury segment (I'm implying brands selling online, of course). So, there are much more options to choose from:
Memory foam mattress

. The models under $1,000 are typically made from dense foams and may be infused with cooling gel, charcoal, copper and other substances for better cooling. Usually, these models have great value for money and will serve you not worse than a more expensive mattress.

Hybrid mattress

. Although you shouldn't expect the cutting-edge technologies and innovative materials for this price, you can find a configuration to satisfy your needs. Some models in this price range may even have natural latex layers, which is great for additional bounce and natural breathability.

Innerspring

. Traditional spring beds always were on the cheaper side. So, you can actually get a high-end spring mattress for about a thousand bucks, which will have a high coil count for better durability and a cushy pillow top for enhanced comfort.
Latex mattresses typically aren't available in the budget category. The best you can get is a layer of natural latex in a hybrid mattress. Or, a bed with blended latex layers, which isn't a good choice because you can't be sure of all the ingredients added.
Cheap Mattress Risks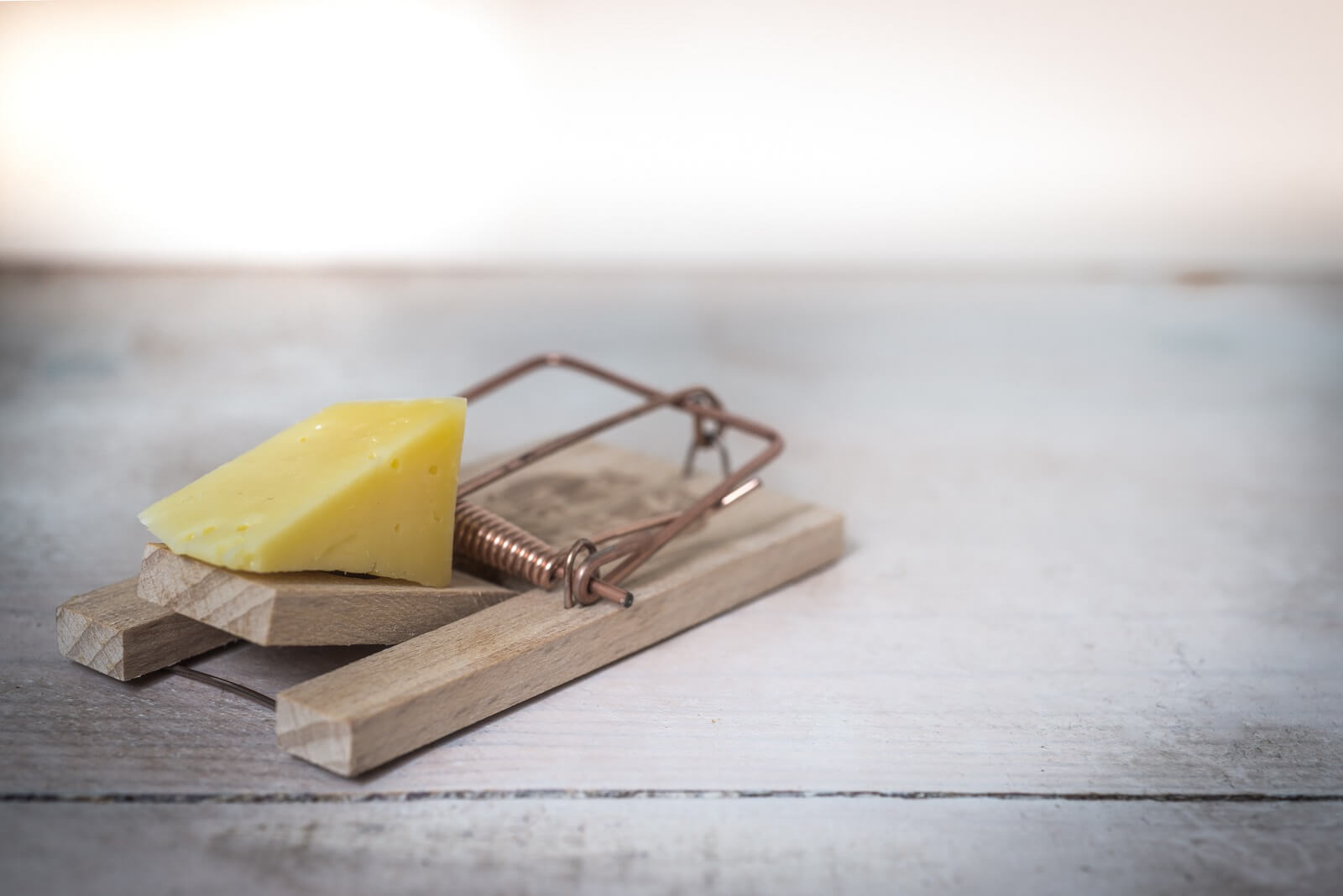 Now, with budget mattresses, the line between 'cheap but good' and 'you get what you pay for' is very fragile.
What risks can be hiding behind a bed with a low price tag?
Made in China
Most high-end mattress brands build their factories in the US. This is usually tied to the fact that mattresses are too bulky to transport them overseas. Thus, it's more reasonable to locate the manufacturing chain in the same country where you plan to sell the product.
However, as it was mentioned above, some brands have production facilities in China. And while their mattresses may have great value for money, the manufacturing standards might differ, which may lead to an increased risk of defects. Some reviews of cheaper mattresses that were imported overseas mention such issues with a mattress as:
never fully expanded;

expanded unevenly;

started to form indentations within the first year of use.
That's why you'd better check the warranty before making a purchase. Also, it's advised to search for reviews that describe the experience with a company's customer support when it comes to returns and replacements.
Durability
The quality of the materials is the primary thing you pay for. But you must already know that in some cases, a higher price doesn't necessarily mean higher quality. Still, the durability of your mattress can be strictly linked to its cost.
According to reviews of inexpensive mattresses, one can conclude that:
Cheaper foams may sag faster due to lower density

. They are less resilient, so they will begin to lose their shape quickly and won't offer you the same supportive properties.

Other less expensive materials, such as coils and cover fabric, will also show the signs of general wear and tear in a shorter time

. External factors — such as heat, moisture, and the friction of the body against the mattress — can speed up this process.
Quick tip: Pay attention to the cover materials and stitching. If they look well-made and durable, the mattress will probably serve for a longer time.
VOCs and Off-Gassing
Here's the thing:
If you're buying a mattress that includes foam layers, it will have a fresh-from-the-factory smell. In some cases, this smell disappears in a couple of hours, but sometimes you may have to leave the bed for a few days to air out.
It's completely normal.
You see, volatile organic compounds (also known as VOCs) are always created during the process of making foam, and they are the reason behind the mattress smell.
However, with a cheaper bed, the risks of harmful VOCs emissions in your bedroom is higher.
To make sure your mattress is safe, you should look for labels of the following organizations:
GreenGuard;
OEKO-Tex

;

GOLS.
Each of them restricts emissions of VOCs, with GreenGuard having the strongest restrictions. Thus, if the mattress has any of these certifications, it means the VOCs are not dangerous and their emissions don't exceed the norm to have a negative impact on your health.
What to Consider When Buying a Budget Bed?
Now, let's talk about the main points to consider before you make a purchase so that you could get the most value for the money and find the best fit.
Sleeper's Weight
Every mattress will feel different for each body type. To choose the bed that will be suitable for you personally, consider the following patterns:
Petite sleepers (150 lbs or less) will feel the most comfortable on a softer mattress

. It won't make them sink and will offer a significant amount of cradling. However, I have good news for the petite fans of firmer beds: you can use them too! If you have a small weight, your body won't press too much against the mattress, so you won't feel stiff.

Large sleepers (250 lbs and more) generally need to look for firmer beds

. The higher the firmness level, the better the mattress will compensate for the pressure of the excess load.

Couples with a significant difference in weight should look for medium firmness and good edge support

. If you're a petite sleeper, I suggest you go for your partner's preferences, because as I said, lightweight people can get comfortable on a broader range of firmness options.
Usage
What's the primary purpose of the mattress? Will it be installed in a guest room or a master bedroom?
Deciding on this will help you determine your budget.
Generally, less expensive mattresses (under $500) will work best in the following situations:
Short-term solution

. An average mattress lasts for 8-10 years. However, with low-cost options, you can subtract 3-4 years from that lifespan. I would say it is reasonable to consider buying an inexpensive mattress, for example, if you plan to completely redesign your home or move to a different home in the nearest future. Thus, risks of a shorter lifespan will not bother you much, and you can invest in a more advanced mattress later.

Guest room bed

. Guest bedrooms are used occasionally, which means the mattress you put there won't have to withstand very active use. So, you can feel free to use a cheaper option, not worrying about sagging and quick wear and tear.

Bed for a kid's room

. Kids or teens typically aren't very selective when it comes to beds so that you can opt for a more affordable option. However, it's still important to make sure the mattress will feel comfortable for them and won't cause any health problems.
Sleeper's Type
Sleeping position is another factor that determines the type of mattress you need. Let me give you some recommendations so that you wouldn't end up being disappointed:
Side sleepers

are the most common among the global population. Their weak points are hips and shoulders, so a softer mattress with upper foam or latex layers and a good conforming ability will do best in this case.

Back sleepers

can feel comfortable on most mattresses. The only requirement is for their mattress to be able to offer uniform support under every part of their body, in order to maintain neutral spine alignment. Depending on the sleeper's weight, the medium firm or firm bed will be the best option.

Stomach sleeping

is the least common and the least healthy position. However, people who sleep this way need support too. If that's you, consider a firmer bed. It will offer you the support you need, without creating a curve in the lower back area, which will prevent you from waking up with soreness.
Where to Buy the Cheapest Bed?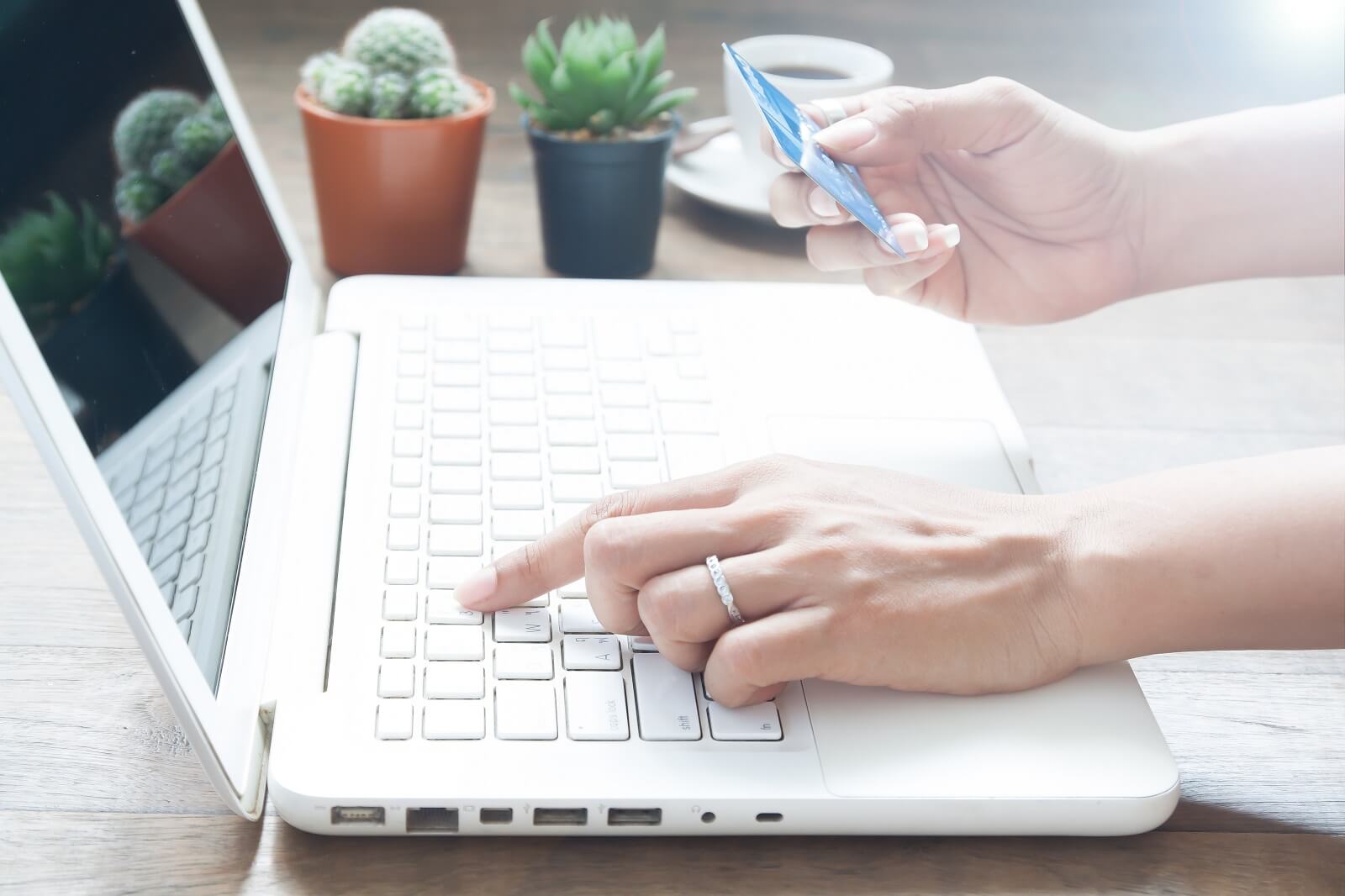 The last but very important thing to consider before you spend your money is:
What's the best place to buy a mattress?
Today, you can upgrade your bedroom by opting for traditional shopping in a mattress store or ordering online. I will list the pros and cons of every method below so that you could choose what suits you best.
So, let's begin with a more traditional option. Offline shopping has several significant advantages:
you can

test the mattress

at the store, meaning you will have an idea of how it feels prior to buying;

offline stores offer other bedding items as well, so you can

upgrade your entire bedroom at once

;

brick-and-mortar mattress stores can be

found in any city around the US

.
But:
there's usually a

limited choice

that includes only best sellers, so if you're looking for a particular model, you may need much more time and effort to find it;

sales assistants may hurry or push you to make

rapid decisions

to close the deal faster;

the

prices in the offline stores are usually higher

, because of utility bills, rent, and salaries.
Visiting a regular mattress store can be great for people who haven't determined which type of mattress they need yet.
Online mattress shopping is experiencing a spike in popularity in recent years. Today, if you're looking for a cheap mattress online, you can research the options on manufacturers' websites, Amazon, eBay, and any other online marketplace.
With this method of shopping, you will get a bunch of advantages:
Lower prices

. Online-focused brands don't have expenses linked to store maintenance. Thus, it's easy to find a high-end mattress for a reasonable price.

Discounts and promo codes.

Most online stores will cut a price during the checkout process by offering you a discount for your first order. And if you subscribe to a brand's newsletter, you may get some attractive deals for bedding items and accessories as well.

Plenty of room for comparison

. Without leaving your house — or even your bed — you can "visit" several stores at once and compare their models and prices.
Now, the only real negative side to online mattress shopping is the inability to test the product before purchasing. However, all major brands compensate for this inconvenience by offering you a long sleep trial (up to a year in some cases!). Thus, you can always return your mattress if you didn't like it.
Cheap mattress reviews with actual photos can become your reliable source of information. You can refer to professional reviewers or Amazon customers to find the answers you need.
Conclusion
Finding an affordable and quality mattress can seem hard. But I believe you are now equipped with all the necessary information.
Hopefully, the models I've reviewed above will serve as an excellent starting point for you.
They all offer great value for money. But one of them appealed to me the most.
I'm talking about the Layla. Because versatility is always right. Each side of this mattress is comfortable for a certain group of sleepers. Plus, this model scores well in providing a cooling effect and pressure relief, which makes it suitable for most users.
Now if you're looking for a more eco-friendly option and don't mind some bounce, go for the ASPEN. Latex is great when it comes to breathability and responsiveness, so this is the option for those who are after the conforming properties of foam without the common drawbacks associated with this material.
What is your budget for a mattress? Does any of these models seem to be worth that sum? Share your thoughts in the comments!
Product links on Happysleepyhead are referral. We get a commission on purchases made through our links at no additional cost to you. More information in my disclosures.