How to Dispose of an Old Mattress: 5 Easiest (and Most Responsible) Ways
by | Last Updated
Despite being one of our favorite pieces of furniture, our beds don't last forever. There comes the time when we need to get rid of them.
But mattress disposal can be a real headache.
We asked 1000 mattress owners about what they do with their old beds, and 530 of them (53%) admitted that despite realizing the mattress is old, they delay getting rid of it because they either don't know the best way to do so (59%) or see it as a very difficult task (41%).
If you can relate to such responses, we are here to help! There are many ways to get rid of your mattress, and we are going to share the easiest of them. Let's dive right in!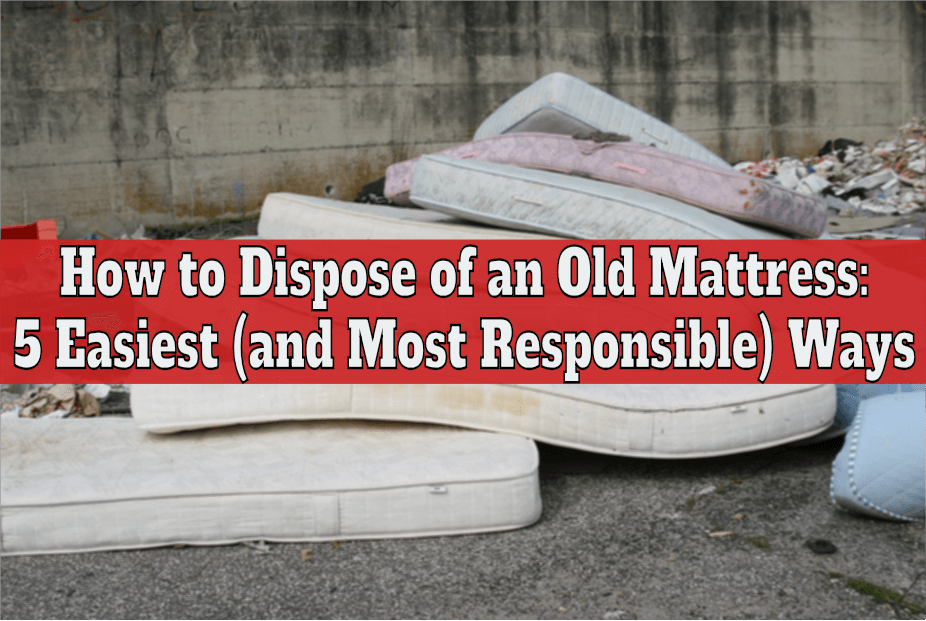 Option #1: Donate It (Or Sell If You Really Need Money)
Even though mattress disposal can seem a massive hassle, if you choose donation as a way to get rid of your old bed, chances are you will feel great. Why? Because doing good things and knowing that your actions might help someone is an awesome feeling.
You're probably wondering how you can find a place to donate your old mattress. The good news is, you have many different options, so you can pick something that would work for you personally. For instance:
The Salvation Army

. This must be the place people address most often when they want to donate something. The Salvation Army has numerous locations across the country, so chances are there's one in your town or city too. The organization offers free furniture pickup, which means you won't have to do anything yourself to

dispose of an old mattress

. However, the pickup service is not available in all locations, so you will need to

find your local Salvation Army office

and inquire about that or

call the pickup service 1-800-SA-TRUCK (1-800-728-7825)

.
"Keep in mind that Salvation Army donations are tax-deductible. Usually, to donate one Single/Twin mattress will cost you around $15-35. Larger beds are taxed higher."
Furniture Bank Association of America

. This organization provides furniture at little or no cost to people who live in poverty. There are around 80 donation centers all across North America. You can arrange for your

mattress removal

and pickup, but keep in mind that the Bank's pickup service is quite limited. The representatives will drive only within the 15-20 mile radius to pick up the donations. Alternatively, you can deliver your mattress yourself if you feel like it.

Local thrift stores

. This is probably the simplest way since it isn't hard to find a thrift store in any town or city. You can talk to the owner and arrange for a pickup or deliver your mattress yourself. The good news is because this is a local site, you won't have to drive far.

Habitat for Humanity International

. This international organization provides furnishing and living accommodations for those in need. There are many HFHI centers across the country called ReStores. Many of them offer a free furniture pickup. So, you can contact them and offer your old mattress as a donation.

Homeless shelters

. Again, they are present in almost any town or city, so you won't have problems trying to

dispose of an old mattress this way

.

You can also

post an ad online

saying that you are giving the mattress for free or selling it at a low price. It's up to you to decide whether you really need the money or can give your mattress to someone for free.
"Goodwill, another well-known charitable organization, does not currently accept old mattress. However, they accept used bed frames, mattress pads, linens, and bedding."
Helpful Links:
https://www.habitat.org/emea/about – More about the Habitat for Humanity International and what they do.
https://www.homelessshelterdirectory.org/ – A quick way to find homeless shelters in your area.
http://www.sell.com/ – Here's where you can post an ad about selling (or giving away) your mattress.
Option #2: Recycle It
Mattress recycling is another popular, simple, and responsible way to get rid of your old bed. You see, around 80% of a mattress can be recycled, which means its materials will be used elsewhere, preserving the resources of our planet and reducing the amount of trash on it.
Now, once you have decided to get rid of your mattress, all you have to do is find a local recycling center. Not all states have mattress recycling programs, so you will need to use your ZIP code to find an appropriate service in your area. For example, here – ByeByeMattress.com offers a large database of mattress facilities.
Once you have found a recycling center, you will need to figure out how to deal with the mattress removal. Just like charity organizations, many recycling centers offer a pickup service. Or, you can drop your mattress off using your own car.
Here's the thing, though:
Recycling is not a free mattress disposal, so you will need to pay a fee for it. Using a center's pickup service, expect to pay around $20-40 for 1 mattress. Transporting it yourself, you will need to pay around $10-20. These are the fees established by each state, so they may vary depending on your location.
"Keep in mind that different recycling centers have different criteria for accepting donations. Many places do not accept stained or wet mattresses. The majority of them also do not allow people to donate mattresses that have bed bugs. At the same time, broken mattresses can still be donated in the majority of cases."
Helpful Links:
https://search.earth911.com/ – Search for a recycling center in your area using your ZIP code.
https://www.epa.gov/recycle – More helpful info on recycling.
https://www.bedbugcentral.com/bedbugs101/what-should-i-do-my-bed – What to do before recycling if your mattress has bed bugs.
https://www.wm.com/us/facility-locator – Trash and recycling service facility finder.
Option #3: Dump It (But Do It Properly)
In our recent surveys, 73% of responders admitted that they would prefer simply throwing their old mattress away since this seems like the easiest option. And while that can be true, you need to remember that dumping your mattress also requires specific actions.
If there are no mattress recycling centers, thrift stores, or charities in your area, simply throwing your old bed away may be the only option you have.
But here's the deal:
Because mattresses are large and heavy, not all municipal waste collection services will accept them.
Don't worry, you still have a few alternatives:
Local dump

. The majority of town and city landfills allow people to drop their mattresses off directly. So, if your car allows for it (or you can borrow one from a friend) and you have the strength (or, again, the help from your friends) to load your mattress, you can transport it to your local dump and get rid of it.

Junk removal service

. They are available in many towns and cities, so simply search for one online. Mind that this isn't a

free mattress disposal

method. You will need to pay around $100-200 for your old bed. The good news is, this is one of the most effort-free ways: people from the company will come, collect your old mattress, and take it away, so you don't have to do a thing.

Dumpster rental

. This option is the most suited for people who need to get rid of a lot of stuff at once. For instance, you are in the middle of a renovation or trying to clear your home of all the unused items you keep. Dumpster rental will allow you to take your mattress and the rest of your junk away. Again, some fees are applicable depending on your location. In the majority of cases, you will have to pay from $20 to $100 for each large item, including your mattress.

You can also

inquire your local municipality

about the regular trash pickup and whether they will accept your old mattress. Some cities organize special pickups every week or so aimed specifically towards larger, bulkier stuff people leave near their trash cans. If your town or city does the same, you can simply leave your mattress outside on the day of the pickup.
"If your mattress has bed bugs, you need to label it. Chances are it may be recycled after being transported to the dump, so the recycling service needs to be aware of such issue as bed bugs. Simply write "Contains bed bugs" on a sheet of paper, cover it with a clear plastic, and secure everything using tape."
Helpful Links:
https://www.1800gotjunk.com/us_en/what-we-take/mattress_disposal – A junk removal service with many offices across the country.
https://1-800-junk-relief.com/ – Another junk removal service.
https://www.homeadvisor.com/cost/cleaning-services/rent-a-dumpster/ – More information on dumpster rental services.
https://www.thumbtack.com/k/junk-removal/near-me/ – Find a junk removal service in your area using your ZIP code.
Option #4: Tear Your Mattress Apart and Reuse It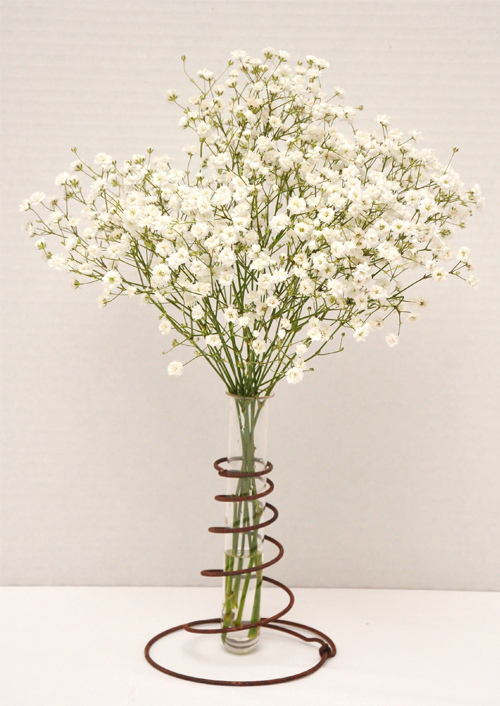 I know, this seems like a lot of work. But in many cases, this is totally worth the effort. You see, most parts of your old mattresses can come in handy in your household. Here are some examples:
The steel springs can be sold for scrap, which means some extra money for you.

The foam parts of your old mattress can be used for carpeting,

pet bedding

, car seat cushions, pillows (for your patio furniture, for example), etc.

The wooden parts can serve as firewood (if you have a fireplace or love camping, for instance). They can also be shredded and used as garden mulch.

The cover and other fibers of the mattress can be used for padding or insulation.
"When taking your mattress apart, you need to be very careful. There are many metal and sharp parts that can injure you. It's always a good idea to watch a couple of tutorials on YouTube first."
Buttons, clips, or decorative pieces of your old mattress can find a new life in DIY projects, sewing designs, etc.

Screws, nails, and other metal parts can obviously come in handy in your household too.

The mattress springs can be used to make holiday wreaths, plant holders, tree ornaments, and so on.

If you have an old all-foam mattress, you can shred the foam and turn it into a large, comfy

beanbag

.

The mattress cover can be used as a canvas, especially if it's clean and doesn't have any patterns. You can attach it to a wooden frame (which can also be made with the mattress's wooden parts) and paint over it.
When it comes to reusing your old mattress and its parts, you are only limited by your own imagination. Be creative and let your imagination run wild. You might come up with a super helpful household DIY design.
"An average innerspring mattress contains around 25 pounds of steel. That's a lot. And that can be used for countless DIY home projects."
Helpful Links:
https://www.youtube.com/watch?v=BtACuB5Wtmw – A short video on how to take apart a mattress.
https://www.diyncrafts.com/18146/repurpose/15-brilliant-ways-repurpose-old-bed-springs-trash-treasure – Ways to repurpose old bed springs.
https://www.pinterest.com/bbedcentre/craft-ideas-for-old-mattresses-beds/?lp=true – A Pinterest board with DIY ideas on how to use different parts of your old mattress to create new items in your home.
Option #5: Give It Back to the Manufacturer
Now, let me warn you right away:
This option is not for all, as not all manufacturers are ready to take their mattresses from the customers and recycle them. Still, you should definitely give it a try if, for any reason, the previous methods do not work for you.
Just contact the mattress company you have bought your bed from and inquire about their current recycling program. Some companies even offer a pickup service, which definitely makes the task much easier.
Helpful Links:
https://earth911.com/business-policy/10-sustainable-mattress-companies/ – Find out which mattress companies offer old mattress pick-up and recycling services.
So, how old is your mattress? Are you planning to get rid of it? How exactly do you want to do that? Let us know in the comments below!