8 Best Mattress Brands in 2020 – Reviews and Ratings
by | Last Updated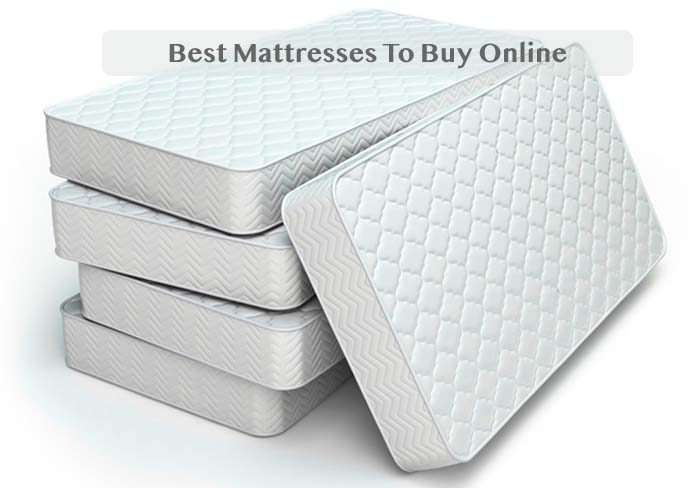 Please be so kind to admit the fact that there a plenty of varied types of mattresses on the market now.
What is a coincidence that you are looking a new one as an old version is not suitable for you anymore, right?
What should you do if you are confused with such a high number of proposals from different producers?
Today is your lucky day! I have collected valuable information about the best mattresses on the market which can be suitable exactly for YOU. I am confident that one of our TOP 8 mattresses will be able to make your dream colorful and sleep uninterrupted.
Do not hesitate to follow me further to explore mattress reviews mentioned below. You will see reviews of eight best mattresses, one best from each category and even three best memory foam mattresses as it is the best type ever.
I recommend you from the bottom of my heart considering these reviews before you make your proper choice.
Company
Type
Layers
Trial
Rating
Dreamcloud
Hybrid
0.5" memory foam
1.75" quilted memory foam
0.5" natural latex
0.25" memory foam
0.5" dense memory foam
10" pocketed coil layer
1.5" foam base
365 nights
WinkBed
Hybrid
1" comfort foam
1" gel-infused foam layer
2.4" pocketed microcoils
0.75" lumbar pad
8" pocketed steel coils
2" foam base
120 nights
Loom and Leaf
Foam
5" base layer
2" transition layer
2.5" top memory foam
cooling gel layer
120 nights
Casper
Foam
1.5″Poly foam
1.5″Memory foam
1.5″Poly transitional foam
5.0″Base foam
100 nights
Botanical Bliss by Plushbeds
Latex
Joma wool layer
3" Aprico Dunlop latex
3" Dunlop latex
3" Dunlop latex
100 nights
Saatva
Innerspring
4″ Memory foam
7″ Coils in foam
0.5″ Steel coils
5″ Support foam

120 nights
Brooklyn Bedding

Latex
2″TitanFlex foam
2″TitanFlex foam
6″Support foam

120 nights

Avocado
Hybrid
cotton cover tufted with organic wool
2" Dunlop latex
8" upcycled coils
2" latex base
365 nights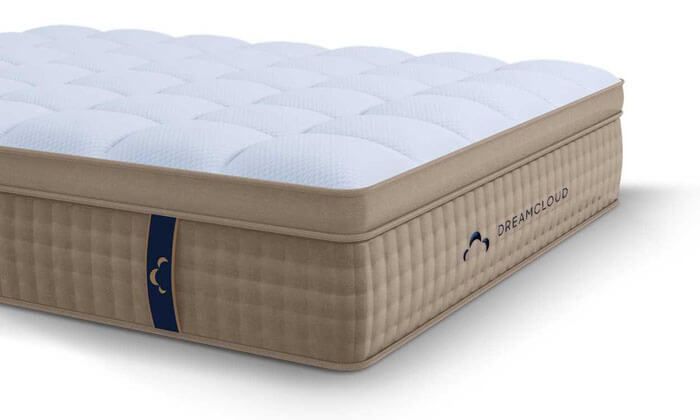 So, I would like to begin my review of the best mattresses with the Dreamcloud. This 15-inch thick bed has an incredibly luxurious look and can give you a truly royal sleep.
The Dreamcloud mattress scores 6.5 out of 10 on a firmness scale, which means it can suit average-weight sleepers of any kind.
Now, let's take a look at layers:
cashmere euro top

quilted with soft memory foam for a plush feel;

gel-foam comfort laye

r to keep you cool and comfy;

memory foam transition layer

to distribute the load from your body;

supportive coil system

for edge support and breathability;

dense foam base

that keeps the whole mattress sturdy.
What is really great with that mattress?
As you can see, this mattress has a really thoughtful construction. The combination of sturdy coils, plush foam, and cashmere results in a balanced feel that can meet the demands of literally any sleeper.
What is wrong with that mattress?
Many layers add up to the weight. The Dreamcloud is very difficult to move around after it expands, so if you need to rotate it, you'll probably have to recruit someone to help you.
check out dreamcloud mattress on dreamcloudsleep.com
Best Mattress for Back Pain Sufferers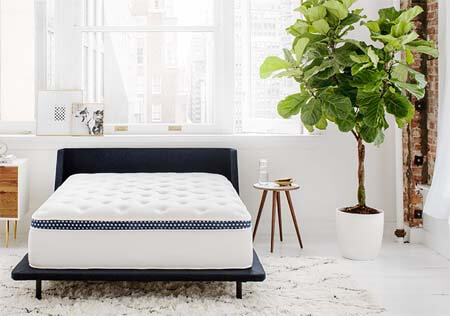 Another highly rated mattress is the WinkBed. And I should say it will be a lifesaver for people who struggle with chronic aches and pains thanks to its 'coil-on-coil' construction and a lumbar pad for more precise lower back support.
Also, the WinkBed mattress is available in four firmness options, including the WinkBed Plus designed specifically for heavy sleepers.
But let's look inside a regular WinkBed and see its layers:
Tencel quilted top

for better moisture absorption and cooler feel;

a combo of

Hypersoft foam and gel-infused foam

for better contouring properties;

a layer of microcoils

for precise weight distribution;

a lumbar pad

for spine support and pressure relief;

a layer of steel coils

for overall breathability and sturdy perimeter;

dense foam base

for absorbing shock impulses and promoting undisturbed sleep.
What is really great with that mattress?
The Winkbed is literally designed for those who have back pain. It can help you get pain relief and muscle relaxation while maintaining proper spine alignment throughout the night.
What is wrong with that mattress?
I think that two layers of coils may feel too rigid for lightweight side sleepers. They may resist your shoulders and hips harder, thus contributing to soreness. I actually felt a bit sore even though I was testing the Luxury Firm option which is about 6.5 on the universal scale.
check out winkbed mattress on winkbeds.com
Best Mattress for Mixed Sleepers
The Loom and Leaf by Saatva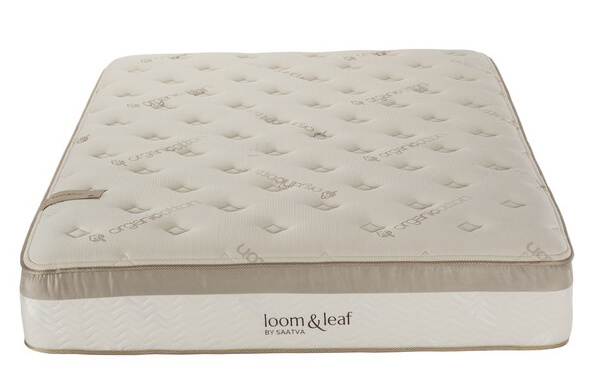 Saatva has done all their best with the mattress from series Loom and Leaf. That's why I have included it in the list of the best mattress 2020.
Here you will be convinced with their faithful reputation following my mattress review.
Let's start with essential characteristics – layers.
The first layer which is noticeable to you is gel foam layer. It provides the required cooling effect.
Desirable comfort is achievable thanks to Visco memory foam.
Next layer provides with transition support.
The last layer is destined to play the crucial role and central support.
Stylish in design cover obtain breathable and aesthetic functionality for sleepers who need low back support as well as with torso.
Here is the deal:
Please welcome 5,5 out of 10 firmness scale It is intended for most of sleeping positions. Next variant – 8,5 out of 10 scale – is for those who prefer firm mattresses (for back sleepers for example).
What is really great with that mattress?
All three sleeping positions will be satisfied by such characteristic of this mattress as firmness. You will enjoy the cotton cover, combination of versatile foam layers are designed for the placid and comfortable dream.
What is wrong with that mattress?
It is not ideal edge support if you sit there. You are not to be able to meet here any organic materials. It can be too firm for those who like when mattress "hugs" them.
check out loom and leaf mattress on loomandleaf.com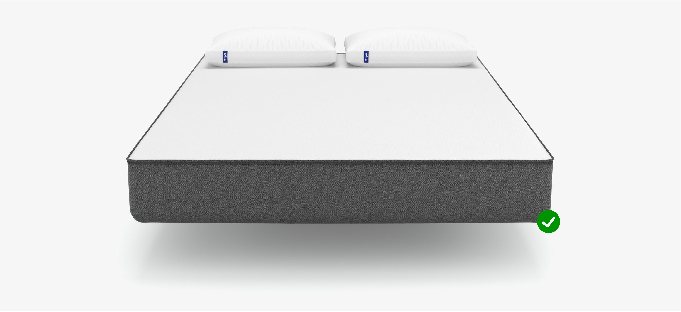 The company has launched their mattress to the market not so long time ago, in 2014. Due to massive commercials, it has become popular quite quickly.
However, you will discover further – is its popularity really trustworthy? Below there are some factors which allow to include this mattress to our list best of the best from memory foam mattresses.
Here is the deal: Layers
Top layer plays the crucial role as it is the first one you feel while you are sleeping. Responsive poly foam is able to provide the required cooling effect as it should temperature balance at night.
Next layer provides pressure relief. Any heat retention will be avoided due to it placed under the first layer.
The transitional layer is made of polyfoam also.
Base foam is vital due to its support characteristics. It provides support for all above layers.
The cover looks simple but can gladden you by its softness and stretchy effect. Thin and pleasant with white color is made in Belgium and the USA.
Casper mattress has 6 out of 10 scale of firmness. It means it is able to suit to most sleepers who prefer medium firm mattress.
What is really great with that mattress?
Casper has found the balance between quality and affordable price. Such crucial factor is able to satisfy the wide audience of versatile sleepers.
What is wrong with that mattress?
The Casper bed is delivered tightly shrink-wrapped in a relatively small box.
check out this mattress on amazon
Best Innerspring Mattress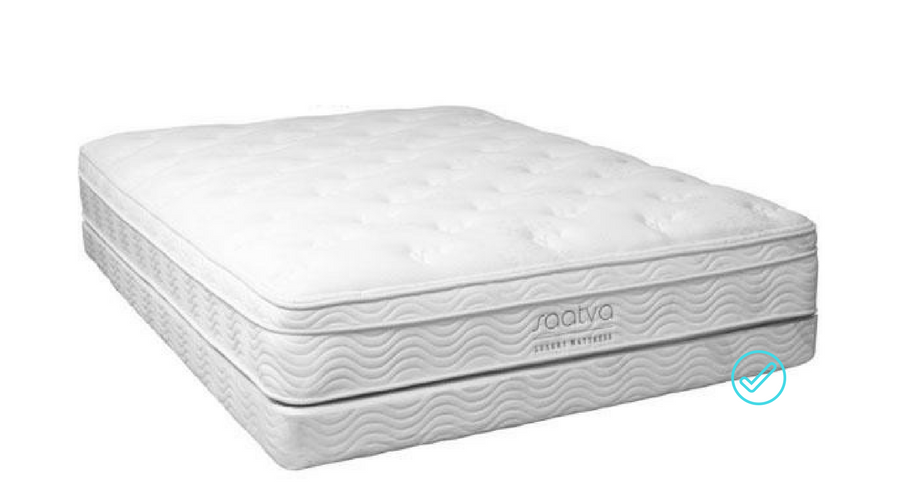 Most of above companies are able to propose you mattresses made of foam totally. Now you are meeting with a producer who set themselves up like an ultra-premium brand with a coil-on-coil system incorporating memory foam. Let's look closer on differences of Saatva mattress from other ones and how this brand has become the best mattress 2020 from innerspring mattresses.
Now: Layers
Top layer plays the crucial role and makes 2 functions – due to organic material, it is able to breathe and has the smooth feeling. Excellent comfort is that you are expected to get deservedly.
The second layer which is made of thin memory foam provides support for the most vulnerable part – lumbar.
Next layer, the third one, makes this mattress not just good, but best of the best in the respective category. The thing is that there are 884 coils individually wrapped with foam which contour your body gently. All of these factors provide required fantastic support. Despite your sleeping position, you will be satisfied fully.
The last layer exists only for primary support. 416 steel coils are specially designed from traditional hourglass and play the foundational role.
There is one more layer which protects the coils and assures support even on the edges while you are sleeping or sitting on them. It is made of foam.
Saatva knows their stuff and looks after about their customer. The proof lies in the cover. It is smooth, and it can breathe thanks to high-quality organic cotton. You feel beautiful and luxurious texture that relevant to luxury versions of their foam mattresses.
One more great advantage that stands out Saatva from other producers is pillow top made in Euro-style. What does it mean? Firstly, it is entirely seamless at the edge and implemented to organic cover. It is completely different from large pillows produced by other companies.
You can be guaranteed by their durability. After re-design in 2016, the cover looks prettier due to its fantastic pattern and moreover, support for the lumbar area.
Here is the deal:
Saatva can suggest you three variants of firmness:
soft mattress with 3,5 out of 10 scales on the firmness scale;
the middle version with 6 out of 10;
and the firmest option (8 out of 10).
Such great wide proposal means that all these variants are able to satisfy all kinds of possible sleepers. If you prefer when mattress "hugs" you and you are the side sleeper, then a soft option is for you. In case you prefer balance and like to switch your positions throughout the night, then please choose a medium option. If your sleeping position is on the stomach or on the back, and you adore "floating" on the top, you are lucky, you have the firmest ever option.
What is really great with that mattress?
There a few great advantages which differ Saatva mattress from other ones: it is suitable for all sleeping positions, you are guaranteed by edge support, cooling effect and luxurious feeling of high-quality organic materials including euro-style top pillow.
What is wrong with that mattress?
I constantly disturbed my partner when I was changing a position.
check out saatva mattress on saatvamattress.com
Best Hypoallergenic Mattress
Botanical Bliss by Plushbeds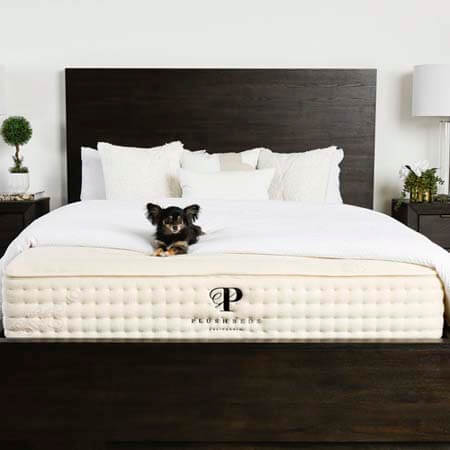 The next top-rated mattress in my review is the Botanical Bliss. It is made entirely of natural latex, which is naturally immune to mold and dust mites, so allergies won't bother you anymore! Unless you're allergic to latex, of course.
Now, the mattress comes in two firmness options, Medium and Medium-Firm. The manufacturer also offers 9, 10, and 12-inch thicknesses to choose from.
The construction of the mattress is pretty straightforward:
cotton pillow top

quilted with Joma wool for a plush feel;

soft Aprico Dunlop latex

for cradling;

medium Dunlop latex

for better body load distribution;

firm and dense Dunlop latex

base for durability and support.
The mattress sleeps cool and can provide very close conforming whichever sleeping position you choose.
What is really great with that mattress?
I would say that the Botanical Bliss stands out for its hypoallergenic, natural materials. I was testing it while suffering from rhinitis and slept way better, as no odors were irritating my nose.
What is wrong with that mattress?
Natural latex is quite expensive, and that's a drawback. The 12-inch Queen-sized mattress will cost you slightly over $2,000, which definitely isn't the sum anyone is ready to spend.
check out Botanical Bliss mattress on plushbeds.com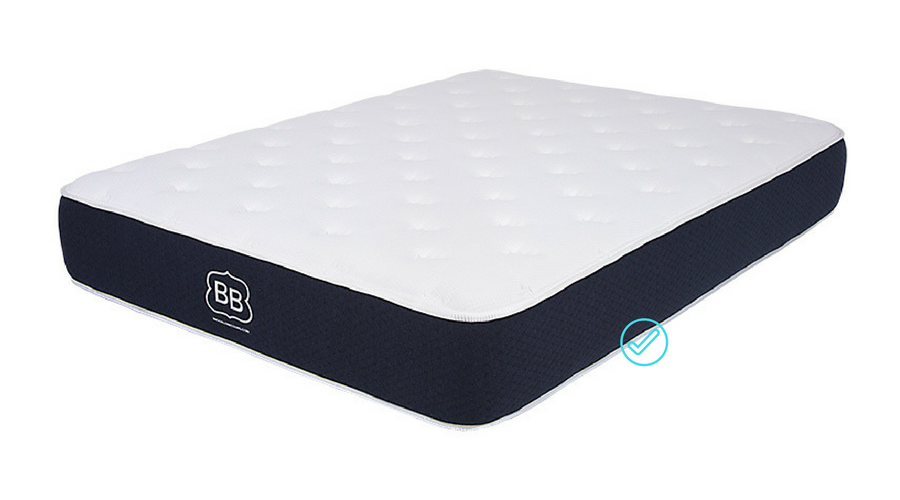 Of course, you can't pass by latex mattress designed by Brooklyn Bedding as this company has already been on the market for 20 years! This year they presented the renewed design and here you will explore is this model worth such reward like "best mattress ever".
Please let me remind you that Brooklyn Bedding is one of those producers who really own their own factory (not just have relationships with manufacturers). It allows them to design about 1600 mattresses per day, an amazing number, aren't they? Moreover, it is the freedom of all actions connected with costs, respective price and quality of the material. Therefore, customers can be confident in more attractive price for them.
You might be wondering about construction, please follow me:
Please salute TitanFlex foam which is the great substitute of latex in the top layer. It helps you to feel desirable comfort and required cooling effect at night.
A middle layer made of the same material as the top one is firmer and able to provide you with excellent bounce.
Foundational foam in base layer gives you necessary support, and it is 3 times higher.
The cover which is made of quilted cotton polyester in two pleasant colors – white and blue – gives breathable effect and extreme smoothness.
Brooklyn Bedding suggests you three variants of firmness:
soft mattress with 4 out of 10 scales on the firmness scale;
the middle version with 6 out of 10;
and the firmest option (8 out of 10).
It means that producer takes care about all sleeping positions and you can be confident in proper support no matter what kind of firmness you will choose. Thanks to their own technology designed this year, a TitanFlex foam is able to propose you more durability and better cooling effect compared to latex.
What is really great with that mattress?
Brooklyn Bedding can guarantees you balanced body contour, great response, and bounce and impressive low price for high-quality materials.
What is wrong with that mattress?
Unpleasant surprise for me as a side sleeper as it is not comfortable.
check out brooklyn bedding on nestbedding.com
Best Eco-Friendly Mattress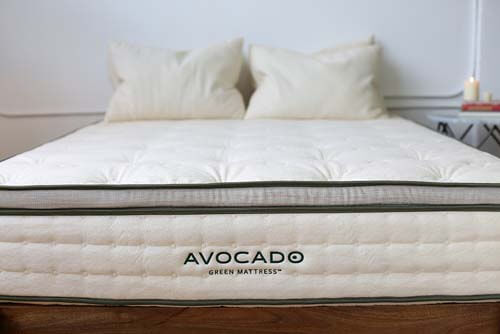 Let's keep moving down my list of the best mattresses on the market. The Avocado is a mattress that literally has the best of both worlds: coils and latex. This is a hybrid bed with an eco-friendly construction that can make sure you have your portion of peaceful sleep on your own plushy cloud.
This mattress is available in two configurations: the standard one, which I'll review here, and the one with an additional pillow-top layer.
So, let's peek inside the standard option and see what we have here:
organic cotton top

with hand-tufted natural wool rosettes;

natural Dunlop latex

comfort layer, bouncy but very cradling;

pocketed coils

made from upcycled steel;

Dunlop latex base layer

that supports the entire construction.
Note that latex meets the GOLS standards, and the cotton cover is approved by the GOTS certificate. A total eco-conscious combo!
What is really great with that mattress?
Well, I think the answer is obvious: the Avocado has a balanced feel that can suit any sleeper and is made without a single harmful component in its layers!
What is wrong with that mattress?
Made of latex and coils, this mattress will obviously not make a great choice for those who owned a foam bed before. It may appear too bouncy for them, especially if they share a bed with a restless partner.
check out avocado mattress on avocadogreenmattress.com
What type of mattress is the best?
If you start to think about changing of your old mattress, then you will probably need to know how to choose a new bed, especially nowadays, at time of a wide range of varied types.
Below I will help you to consider all crucial factors before you make proper choice fit right for you. Factors can be the following:
The durability of a mattress.
Type of the mattress.
Planned funds.
The firmness of a mattress.
Your sleeping position.
Let's start from durability, lifetime for mattress depends on its type. Latex type has the most lifetime comparing to other types -12 years. Memory foam and hybrid are able to live about 10 years. And 8 years is the common lifetime for innerspring mattresses.
Now you will explore about versatile types to define what kind of mattress is suitable for you.
Innerspring mattresses are widespread and still famous thanks to the structure of coils supporting you properly and affordable price. Their firmness is enough for support even of overweight people. So doesn't matter how many coils are inside, you can be confident in their proper work. My best choice from innerspring mattresses is Saatva.
Memory foam mattresses are becoming more and more popular due to different width of foam layers which can give you comfort. The contour of your body is in perfect condition. Moreover, you can forget about the pain in the back, and your partner will not disturb you anymore at night due to mattress' possibility to absorb any movement. Of course, they have some disadvantages such as heat increases during the night and possibility to emanate a discernible smell. But here I have collected the cream of the crop from memory mattresses (you can even choose from three of them), so I'm confident that you will not have such problems.
As you have found out, latex mattresses have the most extended durability. Moreover, due to characteristics of a material, you will be amazed by its excellent support and soft comfort. Latex material provides quite strong firmness, so if you don't like such feeling, maybe, then, it is not for you.
Hybrid mattresses are perfect for a person, who desires to combine advantages of memory foam and innerspring mattresses. Such brand as Nest Bedding has done all possible to provide these pros into life.
One more type which I have outlined before is still a new one on the market. I'm sure it will become more popular thanks to similarity to latex material advantages but costs a bit cheaper. I'm talking about elastic polymer mattresses, which suggest great bounce, breathable and cooling effect, rounded contour and minimal motion transfer.
You might be wondering:
After you have defined the type which will be suitable for you and even selected preliminary some brands which you liked, you can face the problem of money invested. I mean that you are obligatory to divert a sum for these needs. Good news is that you don't have to overpay thanks to generous proposals of various online shops. Companies with online business understand the importance of further development and try to make their mattresses better and better. It means that you have an opportunity to purchase the mattress with excellent characteristics for affordable price nowadays.
Moreover, you should make small, but crucial notice for yourself that quality is not connected only with high price. Mattresses with the cost around one thousand dollars can satisfy almost all your needs. In the same time, please don't spend less than six hundred dollars as you will not get high quality and will receive even some toxic materials instead. You know that there is no such thing as a free lunch.
Next above-mentioned factor is firmness. What do you need to know about it? What influence does it have to your sleep?
Crucial understanding lies in your feeling of how selected mattress soft or firm for you.
Firmness is connected directly with respective comfort while you are sleeping. Such feeling is quite individual. Please do not mix up with required support. If you don't feel pain in the morning, then your mattress can provide with good support (when your spine is in proper condition without any pressure points). It doesn't matter is the mattress either soft or hard or middle, all variants of firmness can give you proper support.
Preferred firmness satisfying all sleeping positions is usually from 4 to 7 out of 10 scales, where
is 10 is the firmest option.
Sleeping position is also vital to point in the searching process. If you know your personal position (side, back or stomach), it will be much easier for you to be oriented in respective firmness and own needs.
For example, firmness with 3-6 range out of 10 (from soft till medium) is the ideal variant for side sleepers as the mattress is able to provide excellent support for your neck and back.
Mattress with such firmness can contour to the shape of their body.
Also Read: Best Mattresses For Side Sleepers – Buyer's Guide And Top Picks
A firmness level with 4-7 range is suitable for back sleepers as they can count on enough softness and at the same time, great support.
Stomach sleepers are needed in equal support of their body. That's why mattress in the 5-7 range is a beautiful option for them.
Also Read: Best Mattresses For Stomach Sleepers – Buyer's Guide And Our Picks
Types of Mattresses to Avoid
Now, along with the selection of the best mattresses,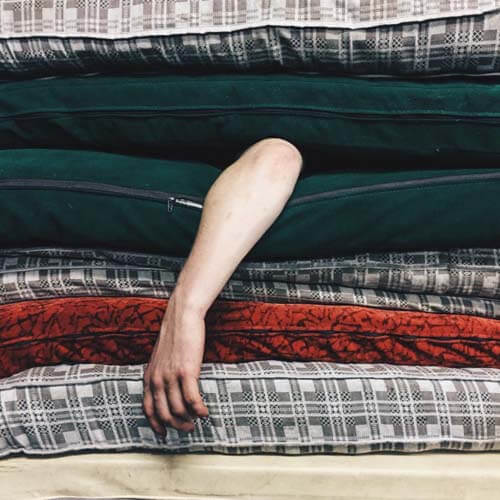 I would also like to mention a few types of mattresses you'd better avoid so that they won't ruin your sleep.
So, here they are:
Extremely cheap beds

. I don't doubt anyone can find a decent mattress for less than $500 for a Queen, but this can take a lot of research. Good cheap beds are hard to find. And they still tend to wear out more quickly, so you need to replace them more often as well.

Low-density foam mattresses.

Low-density foams require fewer ingredients and time for production, which makes them more affordable. However, this shortens their lifespan too. Mattresses made from low-density foams tend to lose their shape and sag faster compared to high-density ones.

Brands with no return policy or warranty

. You won't be able to return or repair your mattress if the manufacturer has no return or warranty policies. This is still a surprisingly common thing among mattress brands, so again, be sure to do your research or check expert reviews.
And never buy a used mattress, ever.
Because no one will tell you about the previous owner's health and how the mattress was used. Also, you put yourself at risk of getting a bed filled with bed bugs.
Conclusion
I hope that after reading this guide, shopping for a new mattress won't seem too overwhelming for you anymore.
All the models I've presented are great in terms of durability and comfort and can offer you a heaven-like sleep.
And now, I'm ready to announce my favorites.
I really loved sleeping on the Dreamcloud mattress. It hugged my body pretty well and relaxed the pressure points no matter how I changed positions during the night.
Also, I was impressed by the WinkBed, even though it has some minor flaws. This mattress offers you a uniform sleeping surface and sturdy construction that will serve you for years.
Finally, sleepers with allergies or troubled breathing may want to choose the Botanical Bliss. This mattress will make a great investment for your sleep quality and your health.
What model from this review are you willing to try? Share your thoughts in the comment section!
Additional Resources:
Product links on Happysleepyhead are referral. We get a commission on purchases made through our links at no additional cost to you. More information in my disclosures.