Brooklyn Bedding Mattress Review
by | Last Updated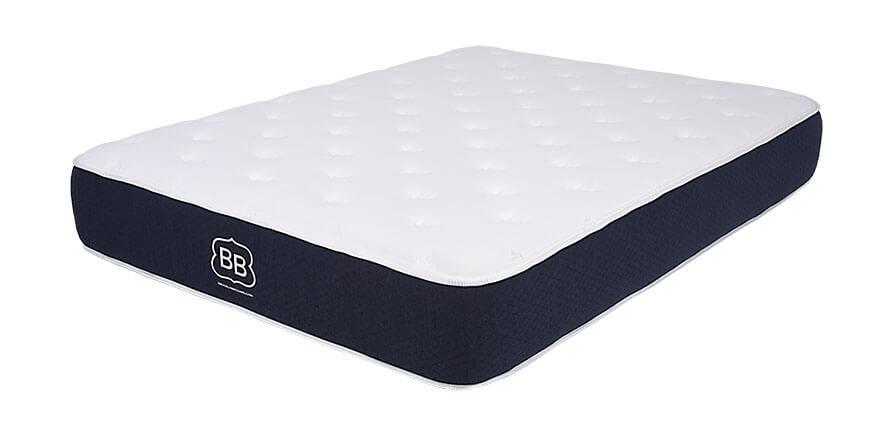 How Do You Know It's Time for a New Mattress?
Actually, it's pretty simple!
If you're:
Waking up each morning with shoulder, back, or neck pain …

Waking up hot and sweaty…

Experiencing numbness in your arms and legs when you
wake up…
Tossing and turning all night and wake up feeling drained…
…that's when you know it's time for a new mattress!
In this review of the Brooklyn Bedding Mattress, I will explain how their brilliant, patented technology, Titan-Flex™, provides you the proper spine support, thereby allowing you to experience longer periods of REM sleep for healthier neurological functions, as well as deep recuperative sleep, helping your body to rejuvenate and repair itself.
The Brooklyn Bedding Mattress Review-Is it the Right Mattress for You?
Discover the difference: I did! Hopefully, this review of the Brooklyn Bedding Mattress will help you discover the same comfort products, from mattresses to sheets, to pillows that help sleep through the night and wake up feeling refreshed!
Chronic sleep deprivation can have a significant impact on your focus, health, mood, attitude and many other aspects of your daily life. The repercussions can range from annoying to devastating.
This brief, no-nonsense review of the Brooklyn Bedding Latex Mattress explains their newest mattress technology, Titan FLex ™, and how it helps solve these problems – it is unlike anything else! Each product was designed using pure science.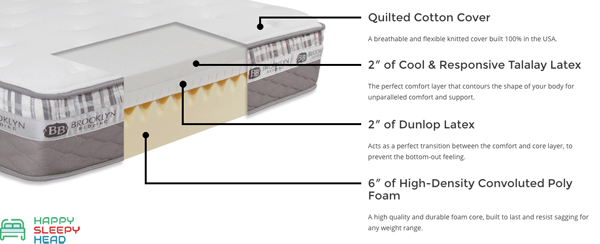 Construction & Layered Foam
Now, you may be wondering: How does the construction of a mattress actually work to help me sleep better?
To tell you the truth: It's all about what's under the cover!
According to Brooklyn Bedding Mattress:
"Building the best mattresses ever begins with innovative technology…using the best quality materials on the market…to bring to life mattresses and products that are engineered …for all of us…[We] are upgrading from latex to a newly innovated TitanFlex™ foam….TitanFlex™ is more durable than latex, featuring Titanium-Gel™ which has been … proven to sleep cooler than latex."
The Brooklyn Mattress has 10" of foam that provides perfect spinal alignment on both your back and side:
Layer 1: 2″ of TitanFlex™ Comfort – contours to the shape of your body for unsurpassed comfort
Layer 2: 2″ of TitanFlex™ Support – The perfect support layer that contours the shape of your body for additional incomparable support.
Layer 3: 6″ of High-Density Base Foam – A high-quality durable foam core, "that resists sagging for any weight range."
Quilted Breathable Cover
The breathable, quilted pillow top cover sleeps cool, offering total all-over comfort. Although the cover doesn't come off, I use a breathable mattress protector to keep it clean. When I'm not using the Brooklyn Bed Sheets, I use breathable cotton sheets.
Brooklyn Mattress is one of the only foam mattress companies that offer 3 different levels of firmness to meet your individual preferences!
Check out this table!
SOFT
MEDIUM
FIRM
SOFT comfort level hugs your body without sacrificing support
Our MEDIUM is our most popular firmness-luxuriously-firm support
FIRM comfort level is much more supportive with minimal sinkage
Perfect For…
· Side Sleepers
· Stomach Sleepers

Perfect For…
· Side Sleepers
· Back Sleepers
· Stomach Sleepers

Perfect For…
· Back Sleepers
· Stomach Sleepers

CHOOSE SOFT IF YOU:
Sleep mainly on your side
Occasionally sleep on back/stomach
Need pressure relief to stop limbs falling asleep
Need to be "hugged" by your mattress

CHOOSE MEDIUM IF YOU:
Sleep in all positions
Prefer medium to firmer support
Prefer to sleep "on top" of the mattress, with just slight sinkage
Are a couple who meet in the middle

CHOOSE FIRM IF YOU:
Sleep on your back or stomach
Prefers no sinkage
Requires additional lumbar support
Prefer a flat, smooth sleeping surface

Firmness Range: 8/10

Firmness Range: 6/10

Firmness Range: 3/10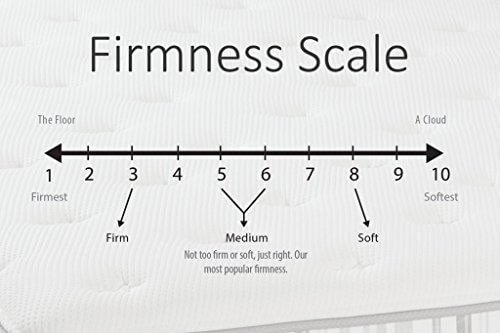 Your mattress needs the proper support in order to achieve the best results. You can use your own platform, slat or box spring. If you will be purchasing a platform anyway, and to ensure you are getting the proper support, you may consider purchasing the whole setup from Brooklyn Bedding.
You can order the properly sized companion tri-fold foundation that you need ranging in price from $199 – $299, the all-steel frame stationary model foundation ranging in price from $99-$159, as well as a whisper-quiet adjustable model, ranging in price $299-$598.
I went all out for the split king adjustable model and I'm glad I did! Both sides are independently adjustable-well worth the additional investment! Brooklyn Bedding made it so easy!
By the way: I financed the whole package through AFFIRM.
The Pillow Top quilted mattress cover of the Brooklyn Mattress is made with quality materials. The Titan Flex™ open cell material in the second layer includes Titanium Gel™ that helps alleviate any body heat before it becomes trapped.
Combined with Poly Foam Base Core that preserves the durability and longevity of the mattress, motion transfer is at the barest minimum-no matter the weight range; this mattress is engineered not to sag. This is an important feature for couples as some mattresses tend to sag, causing someone to roll into the middle.
I didn't know what to expect the sinkage to be since this was an online order. So, with the help of a friend, here are the results of my sinkage test. Keep in mind that I am 6'0' and weigh 205 lbs. I purchased the medium firmness. Your results will vary depending on your size, weight, and firmness of the mattress you choose.
Laying on my back -1.25"
Laying on my side -1.50"
Laying on my stomach -1.25"
Sitting on edge -3.50"
One thing was obviously missing: When I opened the box with my Brooklyn Mattress I was pleasantly surprised at the lack of any odor or off-gassing. I was expecting to have to "air out" the mattress for a week. Not so! The setup instructions were so easy to follow; I set up and slept in my new bed that same night.
I enjoy LOTS of space when I sleep – mine is the Split CA King model-worth every penny!
TWIN $425
Mattress Dimensions: 39″ × 75″ × 10″
Mattress Weight: 58lbs
TWIN XL $475
Mattress Dimensions: 39″ × 80″ × 10″
Mattress Weight: 60lbs
Shipping Box Dimensions: 19″ × 19″ × 45″
FULL $625
Mattress Dimensions: 54″ × 75″ × 10″
Mattress Weight: 85lbs

FULL XL $700
Mattress Dimensions: 54″ × 80″ × 10″
Mattress Weight: 90lbs

QUEEN $750
Mattress Dimensions: 60″ × 80″ × 10″
Mattress Weight: 100lbs

QUEEN SHORT $750
Mattress Dimensions: 60″ × 74″ × 10″
Mattress Weight: 100lbs

KING $900
Mattress Dimensions: 76″ × 80″ × 10″
Mattress Weight: 120 lbs

CA KING $900
Mattress Dimensions: 72″ × 84″ × 10″
Mattress Weight: 120 lbs

SPLIT CA KING $1050
Mattress Dimensions: (2) 36″ × 84″ × 10″
Mattress Weight: 120 lbs

check brooklyn signature mattress on brooklynbedding.com
Free FedEx Ground Shipping to 48 US states!
Shipping to Hawaii or Alaska starts at $250/mattress.

Shipping to Canada ship via UPS, starts at $270 per mattress.

All accessories shipping to HI, AK or CAN require a custom quote.
I want to take a moment to recognize the generosity of this company in this review of Brooklyn Bedding Mattress. They believe in supporting people in need and giving back to the community; they actively donate to such programs as the Larry Fitzgerald Fund and the Arizona Children's Association. Additionally, they donate all returned mattresses to thrift stores.
Guarantee – Brooklyn Bedding offers a standard 10 year non-prorated warranty on all their mattresses.
This is phenomenal! 120 days to try out the Brooklyn Bedding Mattress free! If you have any reservations about keeping the mattress and wish to return it within the 120 days, simply get in touch with customer support! No questions asked!
REASONS I RECOMMEND THE BROOKLYN BEDDING MATTRESS
TitanFlex™ /Titanium Gel™ is just cooler than latex

Amazing support-I get the best of both worlds –

Pressure-Relieving Comfort & Support

Mattress is designed to last 20 years

When compared with latex, TitanFlex™ has greater moisture wicking-

Free Air Flow

No-Feel Motion Transfer

Hypoallergenic & Non-Toxic antimicrobial

A mattress made in America

More energy during the day

A clearer mind

A better life without those aches and pains

No pushy sales people

A simple online ordering system
Why suffer any longer? You owe it to yourself to take care of #1!
Hopefully, my review of the Brooklyn Bedding Mattress has helped you determine if it's the right choice for you, too. Go ahead and order your Brooklyn Bedding Mattress – you get 120 days to sleep pain-free. Then if you don't like it for whatever reason, your refund is only a phone call away.
So, is Brooklyn Bedding mattress for you?
Besides being a really comfortable mattress, here are some pros & cons to consider:
Click here to learn more and shop the Brooklyn Bedding mattress.
Comfort

Materials

Support

Motion transfer

Cooling

Smell

Company reputation

Delivery

Warranty
Summary
The Brooklyn Mattress has 10" of foam that provides perfect spinal alignment on both your back and side.
Product links on Happysleepyhead are referral. We get a commission on purchases made through our links at no additional cost to you. More information in my disclosures.