The 6 Best Mattresses For Sex in 2020 – Buyer's Guide And Reviews
by | Last Updated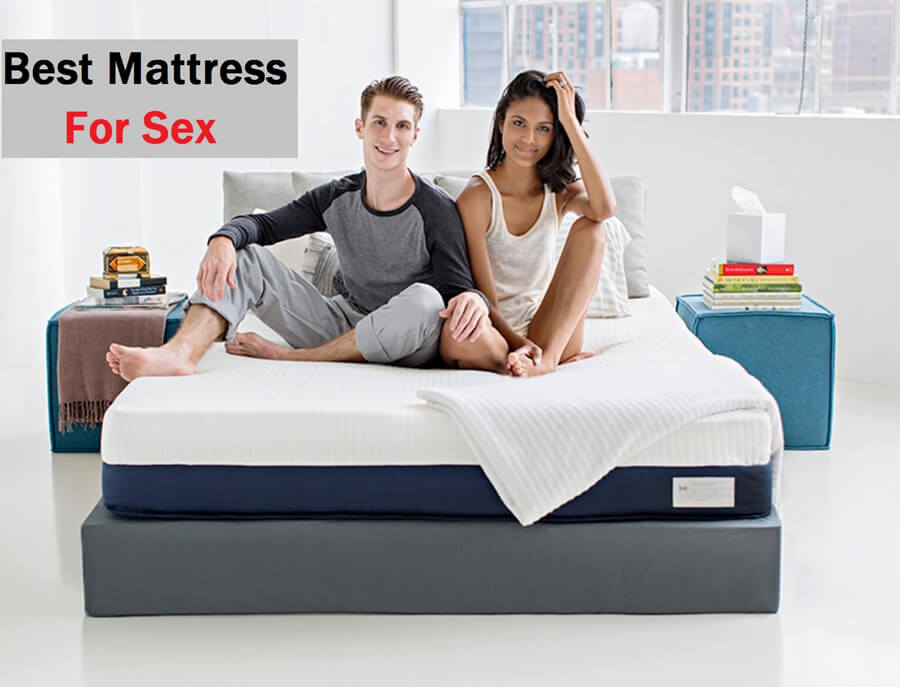 What makes great sex? Aside from the right choice of partner, the mattress is the crucial part of the equation. It determines how comfortable you feel and how long the experience remains pleasant.
What is the best mattress for sex? Let's take a look at the features that make the best beds in the market different from the average ones.
Factors we look at
Durability – one of the primary factors to consider. The best mattress for sex must be long-lived for an amorous experience.
Responsiveness – a wonderful mattress for sex must adjust to body movement and numerous positions you may prefer.
Noise – it is sometimes important to retain a certain degree of discretion. A perfect mattress for sex doesn't make much noise.
Bounce – nice bounce makes a mattress rebound. It gives the opportunity to have a serial rhythm for your enjoyable and unforgettable moments.
Edge support – top rated mattresses for sex should provide stable edge and withstand weight and pressure that may be applied.
Comfort – a good mattress must provide ultimate comfort for sex. It prevents pressure in any positions.
We've gathered a list of mattresses that offer a great combination of high quality and reasonable pricing for you. Let's get straight to the subject!
Best Mattress For Sex
Brand
Type
Layers
Warranty and
trial

Rating (from 0% to 100%)
Dreamcloud
Hybrid
Six layers (euro top, comfort layer, support layer, pocketed coils, base support layer, bottom mattress cover)
10-year warranty, 365 night trial period
Winkbed
'Coil-on-coil'
hybrid
mattress
Five layers (euro-style
pillow top, foam-encased coils, edge
support, steel coil, foam foundation)
10-year warranty, 101-day trial period
Saatva
'Coil-on-coil'
construction
Four layers (comfort, lumbar support, comfort + support, support)
15-year warranty, non-prorated, 120-night trial period
Helix
Foam
combination
mattress
Three layers of polyfoam and a layer of micro coils
10-year warranty, 100-night trial
Brooklyn
Bedding
Responsive
foam mattress
Three layers (comfort,
comfort+support, support)
10-year warranty, 120-day trial period
Novosbed
Memory foam
Four layers (cover, comfort, transition, foam foundation)
15-year warranty,
120-night trial
Loom and Leaf
Memory foam
mattress
Four layers (cooling +
comfort, comfort, transitional support, support)
15-year warranty, 120-day trial period
Superb Luxury Hybrid Mattress for Sex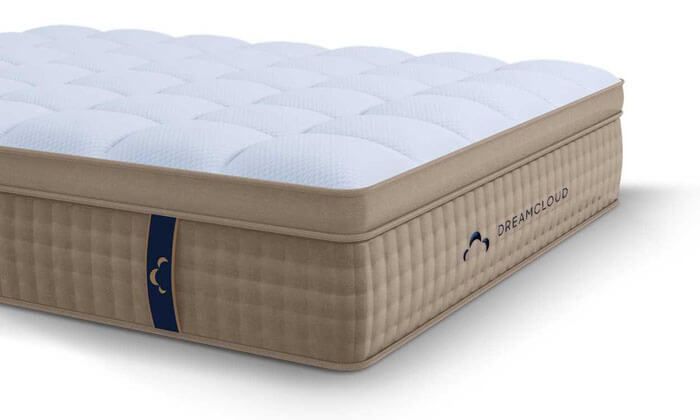 This top-rated mattress for sex can really improve your love life. Being a luxurious hybrid model, it has a very balanced and bouncy feel, allows for an easy shifting, and offers great support levels. This mattress is a medium-firm model. It features a combination of supportive coils, resilient latex, and cradling but dense foam.
Additionally, DreamCloud is very nicely made. Because the coils are foam-encased, they will not disturb you and your partner, no matter how hot the things get. This model also offers great edge support, providing a larger area for you and your significant other.
What is really great with that mattress?
DreamCloud is very supportive and bouncy. It allows for shifting and moving without an effort, which means you don't have to fight the mattress while enjoying the time with your partner.
The combination of latex and breathable materials helps with temperature regulation.
It comes with a 365-night trial. So, if you and your partner find the new bed not comfortable enough, you have a lot of time to return it.
What is wrong with that mattress?
There is only one firmness level available.
This isn't the cheapest model, which means it isn't suitable for some users.
It is rather tall and thick. This mattress might not fit your bed frame.
check out dreamcloud mattress on dreamcloudsleep.com
Super Supportive Mattress for Sex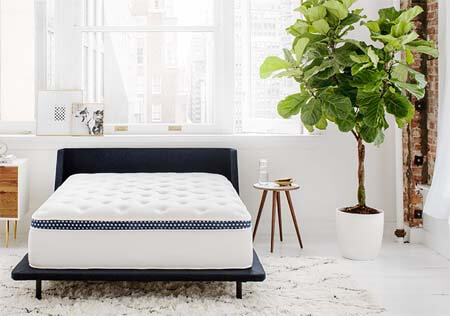 This high-quality hybrid mattress boasts strong edge support which makes it the best mattress for sex for people who are into experiments in the bedroom . It is available in soft, medium and firm types and is delivered fully decompressed to your home. Coil-on-coil construction makes sure that the lovers feel comfortable on it in any position.
Winkbed is rightfully considered to be a significant upgrade for the traditional widespread innerspring mattresses. It looks modern and feels so with coil-on-coil construction and edge support system.
This brand is an excellent fit for most sleepers, and thanks to the lean aesthetics the item fits in well in any bedroom. If you are looking for a balanced feel, this is your number one choice. Good quality at a fair price.
What is really great with that mattress?
The bounce is great – keep the rhythm going!
It boasts well-balanced pillow top that ensures good night sleep.
Consistent support for every body part.
What is wrong with that mattress?
It is pretty thick and heavy . You should consider white glove service if you don't have anyone to help you with the delivery. It also means that the sleeper is located a bit higher than usual.
The mattress may start sagging in the middle which means you'll have to turn it over approximately every two weeks.
check out winkbed on winkbeds.com
Top-rated Cooling Mattress for Sex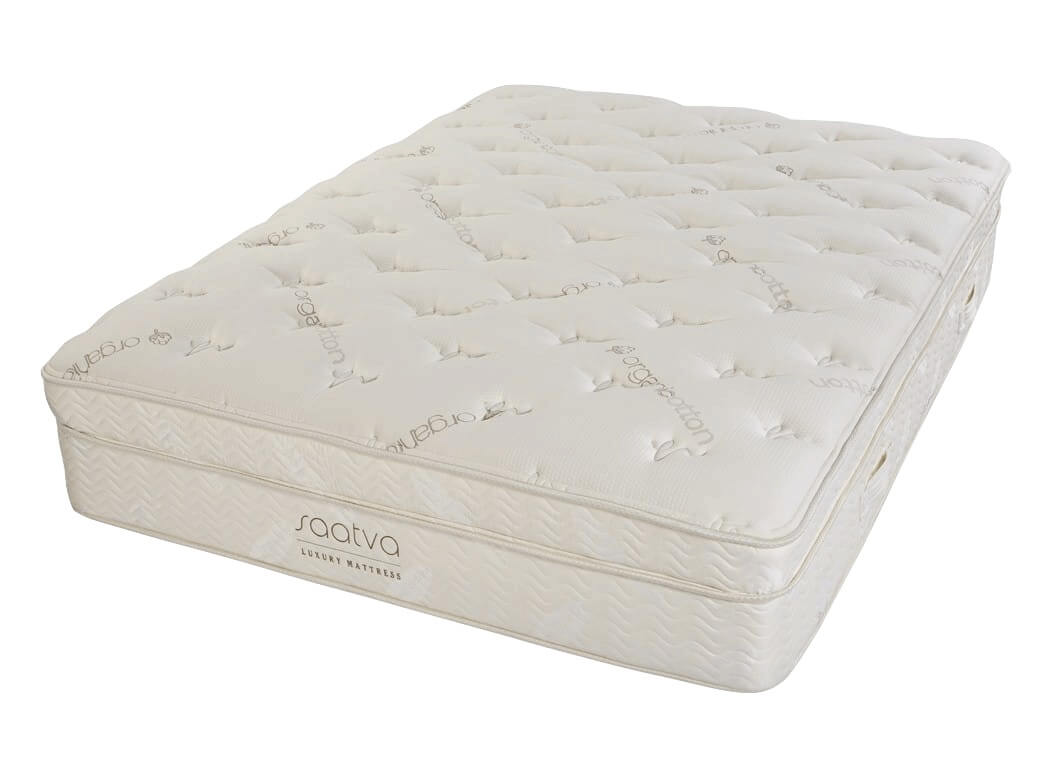 The Saatva mattress is considered to be a piece of luxury and rightfully so, the best mattress for sex for couples who want their experience to be outstanding . With a soft and comfortable European pillow top and coil-on-coil construction, it provides an ultimately relaxing experience. It also comes in 3 options – soft, medium and firm.
It is one of the few high-end spring mattresses available online and thus the item is fairly unique, especially in this price range.
Saatva offers some pretty unique features since it is one of the few high-end brands that actually use coils. Make up your mind as to what level of firmness you want and give it a try! It is definitely worth the
price.
What is really great with that mattress?
Natural and healthy components are used to produce the mattress.
Great cooling – no sweating even when it's hot!
Outstanding edge support.
What is wrong with that mattress?
It may be a bit too firm for some customers (especially if you prefer the 'soft' option). You might want to use a memory foam pad for a better experience.
check out saatva mattress on saatvamattress.com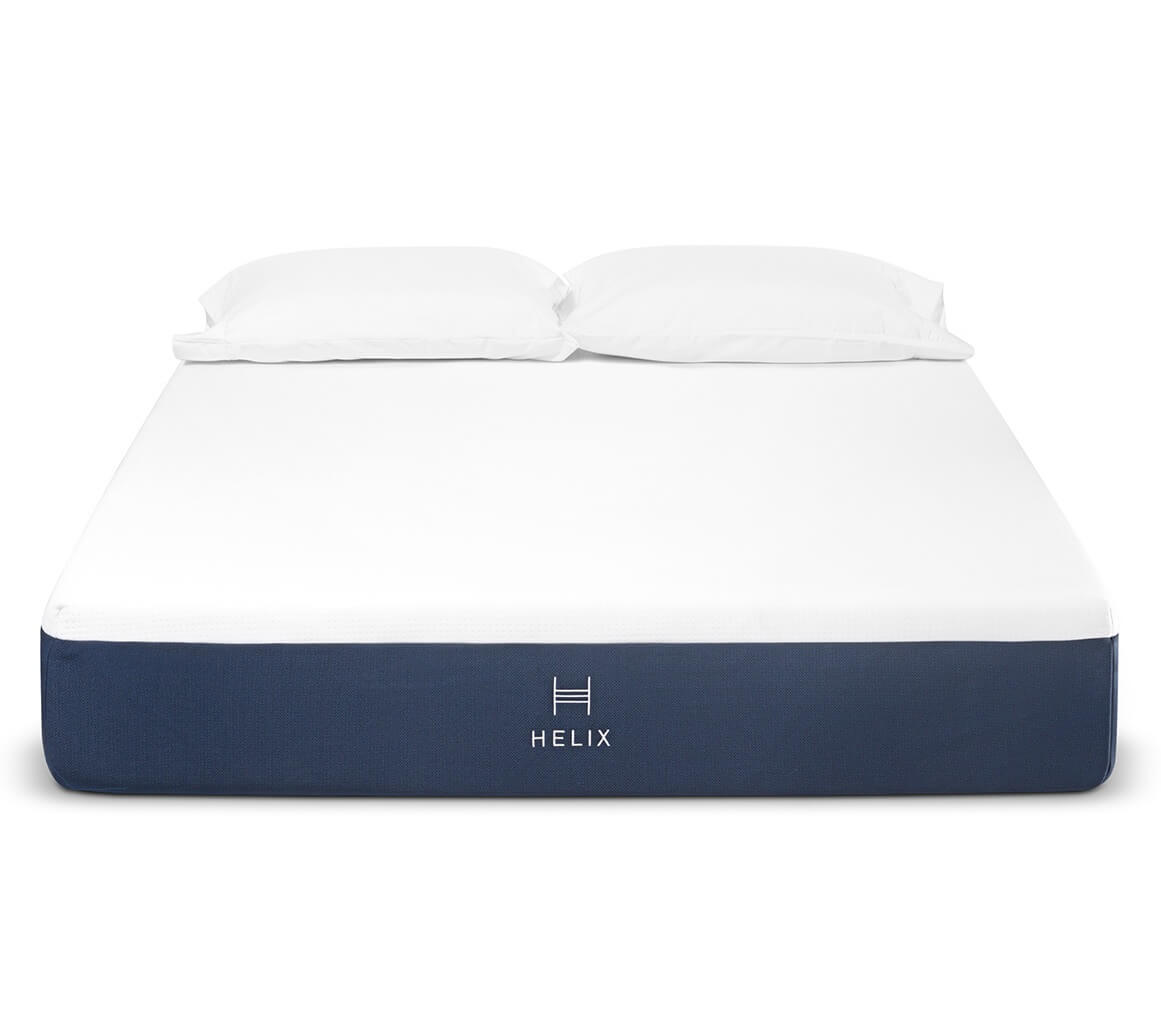 A fully customizable mattress allows lovers to adjust the performance of this mattress in their bedrooms. This item offers some responsive and 'bouncy' experience that makes sex even more enjoyable. Responsible polymer foam is used as filling component, a high-tech solution that ensures maximum comfort. It is a solid contestant in the run for the best mattress for sex.
Above average material quality along with custom design and ultimate customizability make it one of the most flexible choices the market has to offer.
It is your sure bet if you aren't entirely sure what you are looking for or just like custom solutions.
Give it a try!
What is really great with that mattress?
The main selling point is, of course, its full customizability . If you are not completely sure what you want, this is your chance to try out different options.
If you and your partner have different needs, this item can fit both.
The ideal level of cooling thanks to material selection.
What is wrong with that mattress?
Edge support could be a bit better, but it's still rather good.
The foam tends to get stiff over several months but not too critical.
check out helix mattress on helixsleep.com
Best Affordable Bed for Sex
Brooklyn Bedding Mattress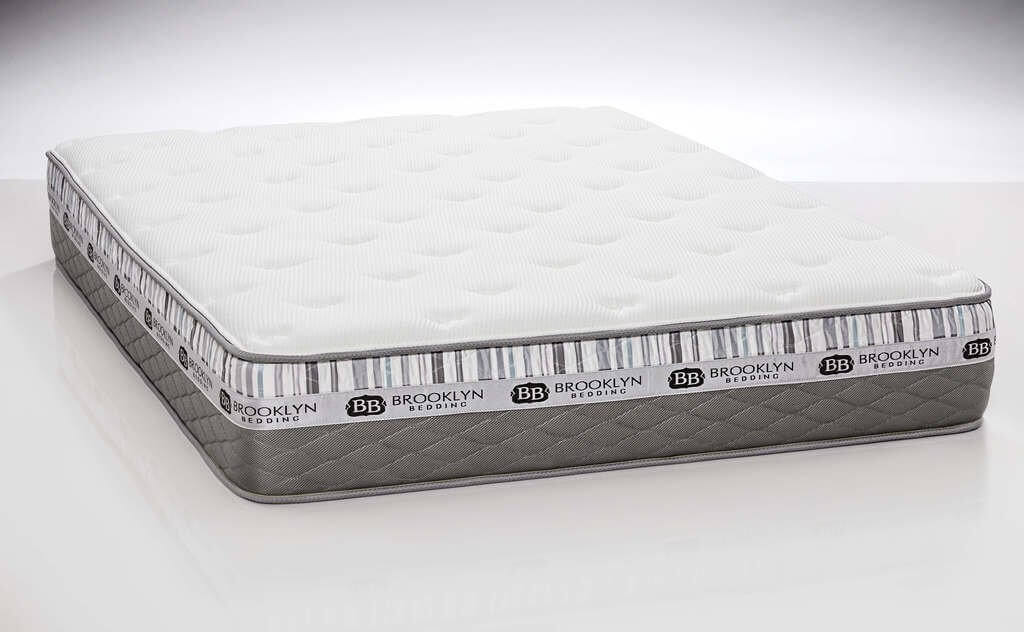 The Brooklyn Bedding foam mattresses boast nice pushback , which makes sex enjoyable. Another awesome feature is above average edge support that ensures 'firm' experience.
This brand has its own manufacturing facilities which allow them to procure high-end items at a fair price and opens up vast opportunities for customization.
It's an overall great mattress both for sex and sleep that boasts excellent quality and a long term of service. This is your sure bet if you are looking for a combination of affordable price and solid value.
What is really great with that mattress?
Great bounce – catch the rhythm and keep moving!
Rapid response – when you adjust your position, so does the sheet.
Balanced feel – it is hard enough to provide excellent support but comfortable for a good night sleep.
What is wrong with that mattress?
It has worse smell erosion . Yet it's by far the only thing you may complain about.
check out brooklyn signature mattress on brooklynbedding.com
Best Responsive Mattress for Sex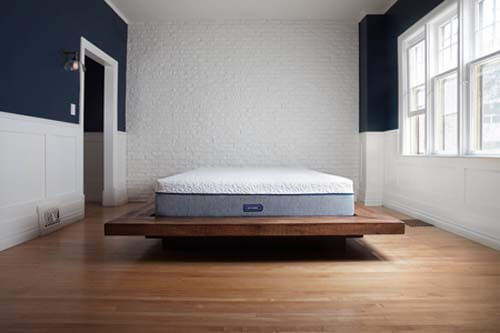 I've included the Novosbed in my review of the best mattresses for sex because it has one pretty unusual feature for a memory foam mattress. I'm speaking about the high rebound in the firm option I was testing. High rebound means that the mattress offers little sinkage, so you won't feel like you're trapped in quicksand in the middle of your romantic activity.
Aside from that, less pronounced sinkage ensures a better cooling effect because of the decreased area of contact between your body and the mattress surface. So, you're unlikely to sleep hot on this bed even after furious nighttime.
What is really great about that mattress?
Made of high-grade materials.
It can offer you surprisingly good edge support, so there's more room for both of you to stretch.
The mattress sleeps cooler than most foam mattresses on the market.
Despite the firm feel, the Novosbed can ensure proper pressure relief and spine support.
What is wrong with that mattress?
Might have a slight foam smell after unpacking.
May feel a bit too rigid for sleeping if you're a petite user.
check out novosbed mattress on novosbed.com
Best Memory Foam Mattress for Sex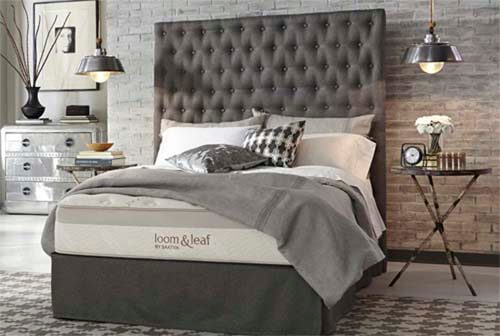 This memory foam mattress is chosen by many lovers, as they are comfortable and responsive. Balanced feel and multiple firmness levels that the best bed for sex ought to have are also an advantage for those looking for an extremely satisfying experience.
A good choice for every sleeper, this item looks expensive and has a luxurious feel to it thanks to the quality of build and high-end materials of this mattress make it a really great purchase for the price. The manufacturer pays extreme attention to every detail.
It is an excellent choice for sex as well as good night sleep that you may want to test over the 120 days trial period.
What is really great with that mattress?
Great memory foam effect – the sheet embraces your body and keeps you comfortable.
Built mostly from natural materials that have a pleasant feel to them.
Solid value for the price.
What is wrong with that mattress?
It may be a 'heat trap' if you live in a hot area.
Edge support could be better but it is still quite good and doesn't spoil the overall feel.
check out Loom & Leaf mattress on loomandleaf.com
Best Bed for Sex: Pros and Cons of Different Materials
Memory Foam
A memory foam mattress will hardly become the best mattress for sexually active couples. The thing is, it makes it quite hard for you and your partner to set the rhythm. So, if you prefer a very quick tempo and lots of movement, this material is not a great pick. However, in such positions as woman-on-top or missionary, the lack of bounciness might be a winning feature, as it offers more traction.
Overall, this is not a universal option. But some couples may find it better than their current mattress.
Latex
Latex is believed to be one of the most eco-friendly and natural fabrics. It is supportive enough to offer you and your partner comfort during your lovemaking sessions so that the one who's on the bottom wouldn't feel the frame bed because of pressure. Besides, excellent levels of bounciness and durability make this material a great choice for restless couples.
Overall, this type of beds is a reasonable choice if you're looking for a mattress that will be equally comfortable for both sleep and sex.
Innerspring
Although innerspring mattresses have been the most conventional choice for sleep for decades, today they start losing their popularity. However, they can still do great as models for sex. They provide excellent resilience and allow for a predictable bounce. Besides, they are easy to move around on and switch positions.
Overall, innerspring models are probably the best for sex, yet they not always perform as good for sleep.
"If you choose the wrong bed, your sex can become a workout instead of a fun pastime."
All the pros and cons mentioned above are just general characteristics of every material. With the increased competition on the market, most manufacturers are continuously trying to improve their product, mixing different materials, adding new layers, etc. Thus, new decent models keep appearing, and you'd better carefully study the one you consider before buying it.
Quick note: Make sure your mattress is good for sleep too because getting enough sleep is important for sex life.
A Few Upgrades to Make Your Sex Life Even Better
A quality mattress that will be bouncy, quiet, supportive, durable, and will keep you cool is, no doubt, a great addition to your bedroom. However, there are several few things you can add in order to take your sexual experiences to the next level:
White cotton sheets. Cotton is a natural material with moisture wicking properties. Soft and breathable, cotton sheets can keep you and your partner cool during and after sex. Why white, you might ask? Because what can be sexier and more inviting than white sheets on a large, new mattress?
"Thread count is one of the main factors defining the softness of sheets. The higher the thread count, the softer your linens will feel. Usually, 200-600 threads are considered a perfect range."
Topper. When it comes to lovemaking, it can get really dirty. Literally. If you don't want your body's natural fluids, sweat, or a spilled lube stain your mattress, get a topper. A foam one will help you keep your bedroom activities discreet, while a latex one will benefit you with its antibacterial and hypoallergenic properties.

Memory Foam Pillow. A wedge-shaped foam pillow can become your favorite tool for sex. It allows a different angle of penetration, which might completely change the way you and your partner feel.
What About Sleep?
Are you going to sleep on your mattress after sex?
I hope you are.
You need to consider a few more factors then.
"A good mattress for sex can turn out to be a bad mattress for sleep if you don't consider your weight, sleep position, health issues, allergies, and other factors."
Now, the link between sex and sleep might be stronger than you think. In this article, I explained how sleep deprivation affects sex drive in both men and women. If you have read it, you understand that you should get enough of quality sleep to perform well in bed. And for that, you totally need a good mattress. So, here's what makes a good mattress for sleep:
Pressure relieving properties.

Generally, memory foam beds are said to stand out in this aspect. But note that foam is not equal to memory foam. There are different types of this material, but only the "memory" type is able to provide that famous cradling feeling and hug your pressure points.

Firmness that matches your sleeping position.

I have mentioned this in different posts across our website, and I will do it again here — the way you sleep matters in your choice of a mattress. Side sleepers should consider softer beds, while stomach and back sleepers should look for a firmer surface.

Natural materials.

Unfortunately, not everyone today is looking for a green mattress and many people just skip reading labels on the products they purchase. But it's easier to prevent health issues than to treat them, right? So, be smart and get a natural bed for you and your partner. This will reduce the chance of annoying odors, skin irritations, allergies, and other unpleasant issues.

Great warranty and trial conditions.

Before you settle your choice on one model, you'd better make sure it comes under good warranty and trial conditions. This way you safeguard your purchase, which is especially important when shopping online.
Now, all you need to do is combine these considerations with factors I have mentioned at the top of this article, and voila — you will receive an ideal bed for both sex and sleep.
Conclusion
While all of the mattresses mentioned above are great for sex, the Winkbed brand stands out thanks to its value and features and is the best mattress for sex in our opinion. If it is your first high-end mattress, it is also a good idea to start with a DreamCloud. You should also consider Saatva if you are a fan of a natural component. Sleep tight and have a nice day!
Do you agree that your mattress quality plays a huge role not only in your sleep regime but in your love life as well? Tell us what you think in the comments!
Product links on Happysleepyhead are referral. We get a commission on purchases made through our links at no additional cost to you. More information in my disclosures.