Helix Sleep Mattress Review
by | Last Updated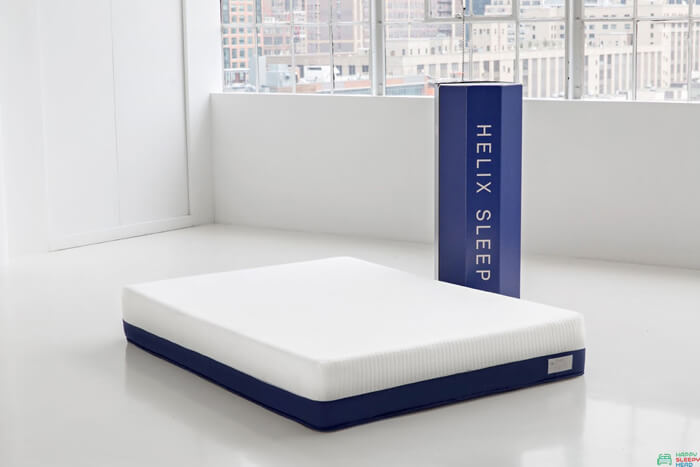 Getting a GREAT night's sleep is important, right?
But if you need help choosing the right mattress for you, then this Helix Mattress review is a must-read for you!
Here I share my first-hand experience with you…providing you with good, detailed information about the Helix Mattress so you can make an informed decision.
Get the inside scoop! Read about performance quality details and ratings on support, firmness, comfort, motion transfer, sinkage…and much more! You too will be convinced to give it a try!
Following is a comprehensive review of the Helix Mattress, based on my personal experience, covering almost every aspect; you can use this as a guide.
While most customers provide a short review of the Helix Mattress and give it a quick rating, I have attempted to provide you with a detailed, honest review to give you both the good points as well as the not-so-good ones.
Construction and Layered foams
Individual preferences are the most important factor in determining which mattress is best for you. By answering a few basic questions, Helix takes your responses and converts them into metrics that compare your preferences to their standards. In this Helix Mattress review, I cover the 10 most important aspects in detail for your consideration.
Here's the thing: Helix's no-questions-asked policy guarantees you'll be completely satisfied with your purchase within the first 100-day trial period or you get a FULL refund.
The Helix Foam Mattress consists of 4-Layer 10" Construction!
Top Layer: 2" of Helix Dynamic Foam


Uniquely cooling–restively comfortable. The foams used in the construction are adaptable foams that move and sleep with you
Pocketed Micro-coils: 2.4" of Pocketed Micro-coil Spring Unit


For a light springiness, there are hundreds of miniature coils that provide pressure relief and balanced weight distribution

High-Grade Polyfoam: 2" Comfort Layer


High density, high-quality foams allow for durability & support in the base & comfort layers
4" Base Layer of High-Grade Polyfoam –A range of high quality, high-density foams allow for support and durability in the comfort and base layers Combined with the Helix Foundation, your sleep quality has never been better!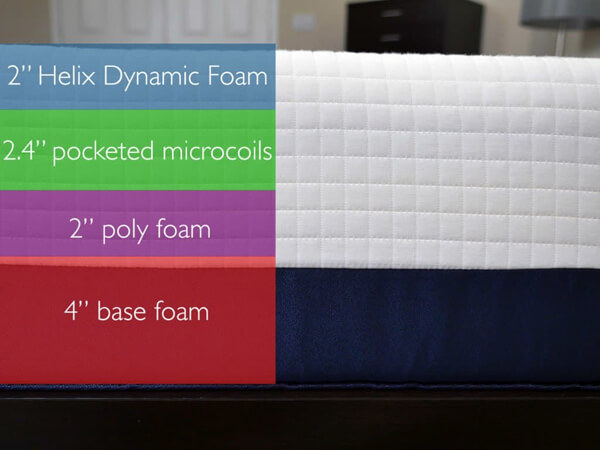 The Woven Cover is constructed of premium Polyester/Polypropylene materials and zips off for easy care. The top is a white, breathable fabric and the sides are grey – basic, yet classic.
Firmness – Support – Comfort
The Helix Mattress was developed with "just the right" feel, meeting the comfort, firmness and support needs of most people.
Please Note: the right surface to support your Helix mattress is important; for best results, I would highly recommend the Helix foundation and frame. It can affect the way it feels and responds.
Helix recommends you set the mattress on a solid or slatted base, providing the sturdiness needed. Anything else can cause the mattress to feel too soft. Mine sits on the Helix Foundation and frame.
Couples typically take care not to disturb their partner when turning or getting out of bed: this is an important feature when considering purchasing a mattress. I find the motion transfer to be minimal, allowing me to sleep comfortably with relatively no disruption and wake up pain-free; I come home exhausted at the end of the day and look forward to getting my rest.
I like a lot of room when I sleep. Even though I am not one of those "active" sleepers; however, I do tend to "travel" a little and find myself at the foot of the bed quite often. I find the motion transfer to be almost non-existent. Couples would enjoy the consistent support with just enough of a "bouncy" feel.
Here are my findings on sinkage. I am 6'2", 190 lbs.
Lying on back

– 1.50″ sinkage
Lying on side

– 1.25

Sit on edge

– 4" sinkage

Stand in the center

– 2.5″ sinkage
Your numbers may vary dependent on your size, weight, and type of support base you install. Regardless, you will find that the Helix foam mattress retains its structural integrity and will not collapse.
Most new mattresses will off-gas to some degree. There didn't seem to be any significant smell other than "new" foam after I finished setting up. I wanted to get a frame that was perfectly matched up with the Helix, so I purchased the complete package: frame, sheets, and pillows – it looked AMAZING!
Pricing of Helix Mattress
Helix mattress is competitively priced.
Size
Dimensions
Selling
Price

Twin


39"x75"x10"
$ 600.00

Twin XL
39"x80"x10"

$ 700.00

Full


54"x75"x10"
$ 850.00

Queen



60"x80"x10"
$ 995.00
King



76"x80"x10"
$ 1,195.00
CAL King



72"X84"x10"
$ 1,195.00
CHECK AVAILABILITY ON helixsleep.com
Remember- Free Shipping! Your Helix mattress will ship directly to you within 3-10 days. Set up is very easy!
Giving Back to the Community
Helix is committed to giving back and helping communities. Helix donates all returned mattresses to shelters for the homeless and those in need. I found their community-mindedness to be worthy of mention and as such I include it in my Helix Mattress Review, demonstrating their benevolence and charitable side.
100-day, in-home trial period! 10 Year full replacement limited warranty,
If it doesn't work for you, it doesn't work! Helix's return policy makes it easy. If for ANY reason you are not 100% satisfied with your mattress, simply drop Helix's customer service an email within the first 100 day trial period. Done! Refund is on the way!
No worries about returning the mattress; Helix helps arrange for a recycling or donation center to pick up the mattress. YOU PAY NOTHING!
Here's the deal: When you are in the market to buy a mattress, you consider temperature, support, durability, & comfort as well as other factors. Getting your sleep is important to your overall health. This is not the place to settle or compromise.
I find that I am less irritable and more tolerant now that I am getting adequate rest. I am back to being my old "self" again!
In terms of overall comfort and support, AND value for your money, I found the Helix Foam Mattress hard to beat.
Buying a mattress is an investment
Most people keep their mattresses 8-10 years. So, investing in a quality mattress, such as the Helix, will far outweigh the cost of a new, cheap mattress that will wear out in no time, causing restlessness, a return of those pesky aches & pains, as well as non-recuperative sleep. We work hard for our money – be sure you select the right mattress the first time around.
Before I discovered the Helix Mattress, there wasn't a single place I could sleep since my motorcycle wreck last year – not on my back, my side or my stomach! But the very same day the bed arrived and was set up, I was ready to check it out! The firmness was just right for me. I am so comfortable with my Helix, I wouldn't trade it for the world!
I was impressed with the fact that you could customize your mattress for a small upcharge of $150.The "split mattress", dual comfort feature allows you to customize each side that is tailored to each person's sleeping habits– individually you will experience the best quality in firmness, support, and comfort. Yet it is still one mattress with the same return policy and warranty!
They offer a "Blended" and "Dual Comfort" version. I opted for the Blended Comfort: based on my experience with this mattress, I would venture to say that the upgrade to a Dual Comfort would be worth every penny as well!
Memory foam has a tendency to "sleep hot". However, the materials used in the Helix are engineered to minimize this. I sleep on the "hot" side, regardless of the mattress-I always have. A one-stop shopping experience! They helped tremendously: they are made with Pima cotton and add another layer of comfort, wicking, and cooling as you sleep. However, if you are by nature a super-hot sleeper, this mattress may not be the right choice for you.
Although I find the Helix to be the right firmness and it holds the right temp through the night, some may find it a little firmer than anticipated and that it sleeps a little hotter than one might expect.
What is really GREAT about this mattress is the elasticity and immediate re-contouring from when I turn over or get up!. I never feel like I'm falling out of bed anymore! No more achy joints or twinges in my lower back! I just feel like dancing I feel so good!
What is wrong with this mattress: The edges I find a 4" sinkage is just enough to throw me off-balance when I try to tie my shoes. This can be rather annoying, especially if I am in a hurry. Unlike some other foam mattresses, it has some reinforcement around the edges but not enough to handle someone of my height and weight. I may have to buy a chair to go in the room!
Here are some of the best features of Helix Mattress
100 day Trial Period

Low VOCs

Minimal off-gassing

Direct from the manufacturer -no middleman to run up the costs!

It allows you to sleep in any position- perfect firmness to sleep on your back, sides or stomach

Motion transfer is minimal-I get up often through the night

Value Priced & Affordable -I financed mine through

Affirm Financing

Free Shipping!

Great warranty!

Made in the USA

10-year limited warranty.

Denser foams: longer lifespan/ firmer support

Hypo-allergenic

100% recyclable

No lead or other heavy metals

No

PBDE

flame retardants

No formaldehyde, mercury or ozone depleters

Fire retardant is non-chemical

Holds up well through humid conditions

Manufacturing process is eco-friendly

CertiPUR-US Certified
So, is Helix mattress for you?
I highly recommend the Helix mattress if:
Convinced yet? Did you find this Review of the Helix Mattress helpful?
Click here to find out more and how to order YOUR Helix Mattress!
Construction - Reason: Not enough reinforcement around the outer edge

Support & Firmness - Reason: Meets expectations

Comfort - Reason: When over-tired, mattress seems almost too firm

Motion Transfer & Sinkage - Reason: Very minimal

Price - Reason: A little pricey - worth the money

Warranty - Reason: 10 years!

Trial Period - Reason: More than adequate!

Cover - Reason: The fact that the cover comes completely off to wash is one of the biggest selling points!

Off-Gassing - Reason: It was obvious the first day and sometimes on humid days. Not noticeable the rest of the time.
Summary
It gets better: According to my research, everything I read indicated that other latex and foam mattresses consist of 1-1 1/2" inches in the top 2 layers compared to Helix's 2" and 2.4" inches, as well as an additional 2" of memory foam in the second layer and the micro-coil layer! But remember, the top layer is not plain memory foam; it is engineered foam that will provide you some of the most restful sleep ever.
The 10" of foam, combined with the engineering of these mattresses make for a better night's sleep. I find the mattress to be super-reactive (returns to original shape very quickly) to getting up in the middle-of-night and I fall back asleep very quickly.
Are you ready to make a decision? Will you give the Helix mattress a try? Give me your opinion in the comment section below.
Product links on Happysleepyhead are referral. We get a commission on purchases made through our links at no additional cost to you. More information in my disclosures.