The 9 Best Waterproof Mattress Protectors To Keep Your Bed Clean in 2020
by | Last Updated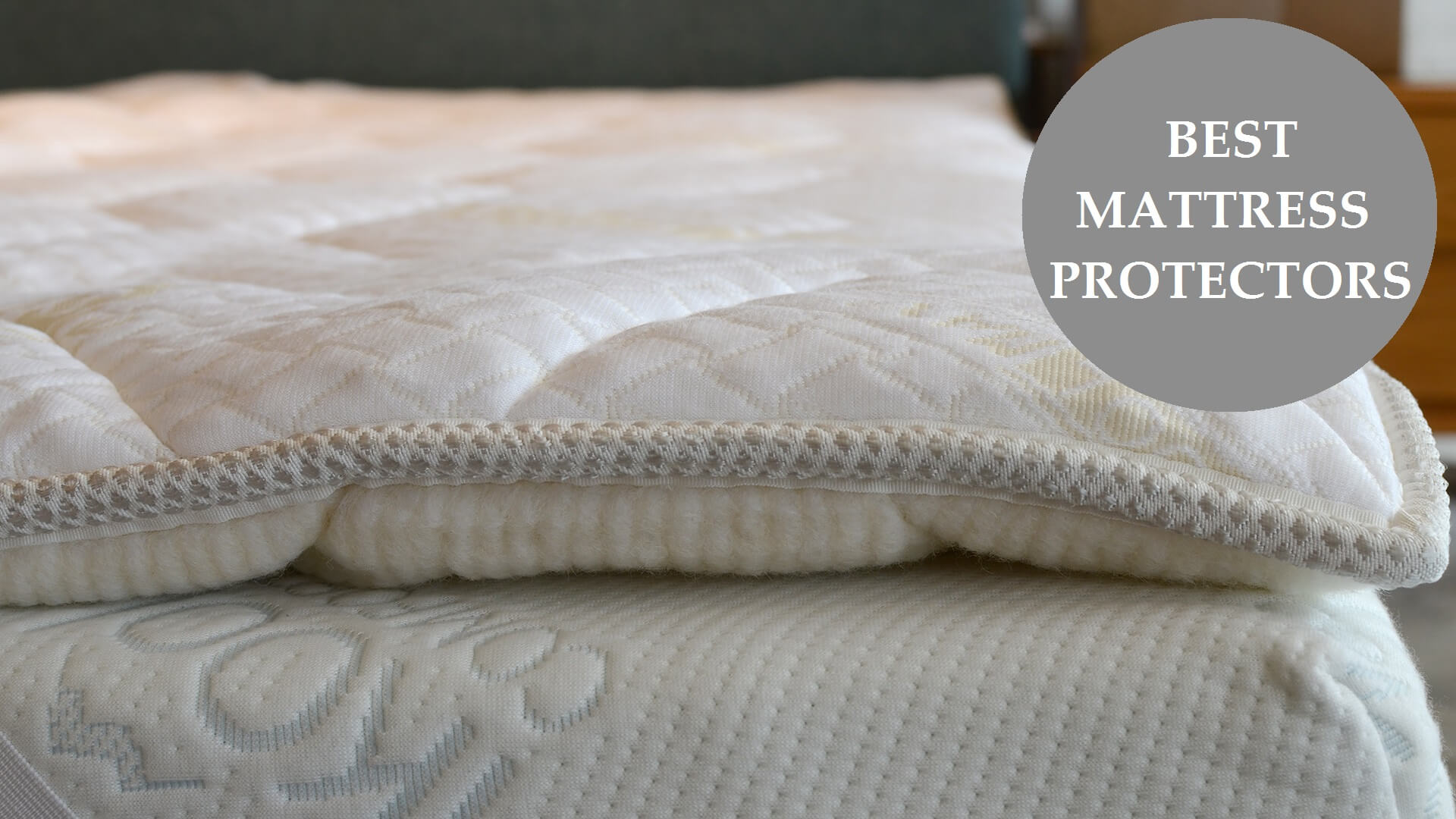 Ah, who doesn't love a nice, delicious breakfast in bed, with a cup of hot coffee and a glass of orange juice?
Sounds lovely, right?
And who doesn't love trying to remove juice stains from a mattress costing $2,000?
No one. No one loves that.
So, to save your mattress from being soaked and you from emptying your wallet when buying a new one, I've gathered 9 top mattress protectors. Let's see, which one can become the best safeguard for your bed.
"A mattress protector, especially when it's a waterproof one, will prolong the life of your mattress and prevent it from gathering dead skin cells, sweat, and other unpleasant bits and liquids. This way, you will also protect your mattress from mold, bacteria, or mildew, and will sleep in a clean and safe environment."
[table id=61 responsive=collapse datatables_row_details=true datatables_row_details_columns="A-G" /]
Excellent Natural Waterproof Mattress Protector
Plushbeds Organic Cotton Mattress Protector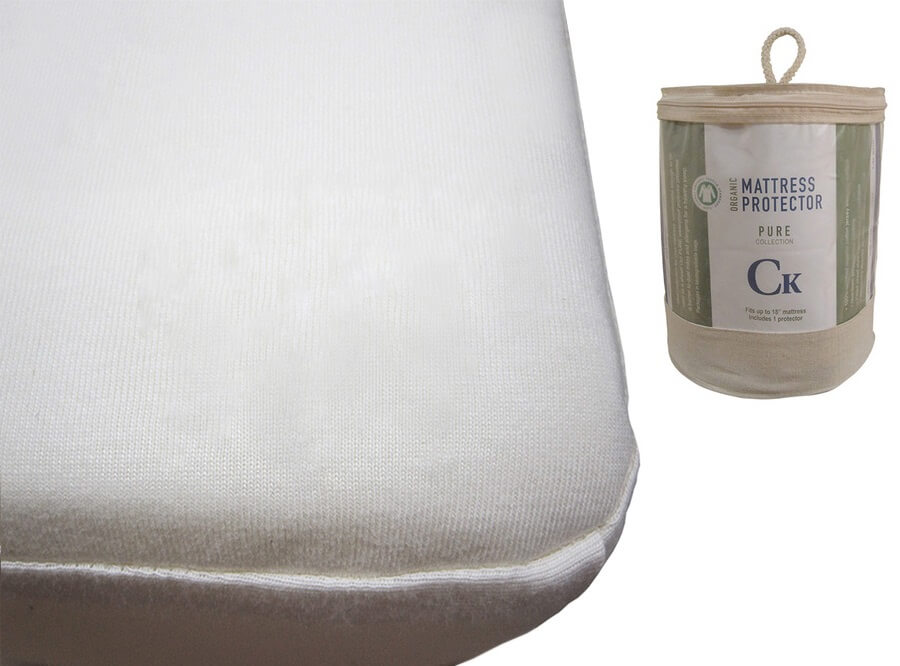 This protector is safe to use, very pleasant to the touch, and waterproof. This item is suitable for people who have sensitive noses or allergy-prone users. Additionally, it is a great option for those who want a waterproof protector, which does not make that annoying crinkly sound.
Let's consider its main characteristics:
The top layer and the skirting are made of organic

cotton

, which is GOTS (Global Organic Textile Standard) certified and super soft to the touch.

The waterproof layer is made of

polyurethane

, which is very thin and doesn't make any noise.

It can fit mattresses

up to 14 inches

thick.
The manufacturer offers a 5-year warranty.
What is really great with that model?
The best thing about this mattress protector is how safe it is to use. There are no dyes, chemicals, or any other harmful components. It doesn't smell like plastic. And yet, it effectively prevents the liquids from soaking the mattress. In my opinion, that's all you could wish for in a mattress cover.
What is wrong with that model?
The worst thing about this cover is the fact that its sides aren't waterproof. It's not really a huge issue, but some people might find it disappointing.
This is official: I am now a fan of this model. It is very effective, safe to use, smooth to the touch, and odorless. I'm sure you will love it as much as I do.
check out organic cotton mattress protector on plushbeds.com
SureGuard Mattress Encasement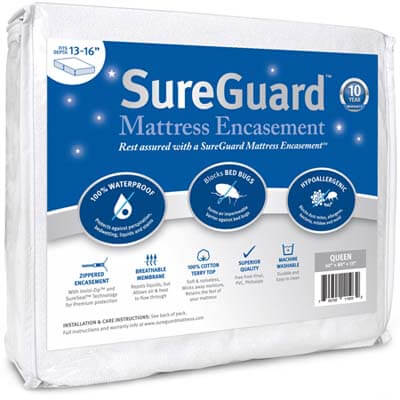 If you're looking for a waterproof mattress protector that will keep your mattress safe from spills and stains along with prolonging its lifespan, choose the SureGuard. It's very pleasant and soft to the touch, as the cover layer is made from cotton terry. Also, it protects your mattress from all sides, so along with liquids, your bed will be protected from dust, allergens, and bed bugs. The latter is especially important for those who live in apartments.
So, the main features of this protector are the following:
The cotton terry top effectively

wicks away moisture

and keeps you cool;

The Queen-size mattress protector will fit mattresses

from 13 to 16 inches high

;

There are

no harmful chemicals

and phthalates;
The protector is washable for easy maintenance.
What is really great about this model?
The most prominent feature of this mattress is the comfy and quiet feel it provides. Unlike most mattress protectors, this one doesn't make any noises during your sleep and doesn't feel like it's made of plastic or has plastic inserts.
What is wrong with that model?
Zipping this mattress protector might be a bit annoying, as the zipper may get stuck, especially after washing. I encountered this with my topper and some users report this as well, so keep that in mind.
This mattress protector would be my universal recommendation for everyone. It's waterproof, comfortable to use and will fit most mattresses.
check out this mattress protector on amazon
Best Quiet Mattress Protector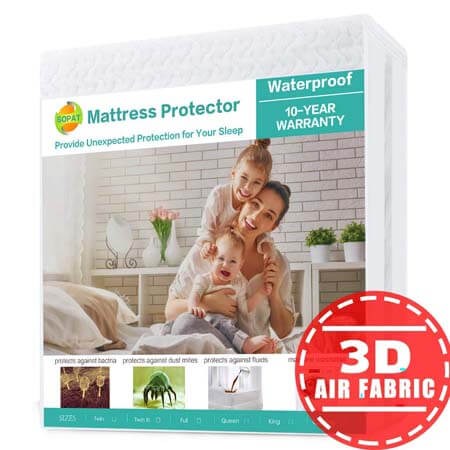 Most waterproof mattress protectors have this annoying problem: they may feel like plastic and make plastic-like noises that can disrupt your sleep. This model by Sopat is different: its top layer feels more like microfiber and doesn't make any crinkling noises at all!
Let's look at its features:
The 3D Air Fibers (that feel more like microfiber though) are

very pleasant to the touch

and don't irritate your skin.

The polyurethane layer

locks out any spills, stains, and odors

while still allowing the air and heat to escape from mattress layers.

The deep pockets easily

fit mattresses up to 18 inches high

.
The Sopat mattress protector comes with a 10-year warranty against the manufacturing defects.
What I loved the most about this product is that it's literally noiseless. The microfiber-like cover and well-made polyurethane layer don't make crinkling sounds and keep your sleep peaceful.
The downside of this mattress protector is that it doesn't encase the bottom of the mattress, leaving it unprotected from dust mites and debris buildup.
I think that the Sopat protector will make a great purchase for sensitive sleepers who may be easily awakened by any noise. It's a waterproof but breathable model that doesn't have a plastic-like feel.
Check out this mattress protector on amazon
Top-rated Value for Money
Brooklyn Bedding Mattress Protector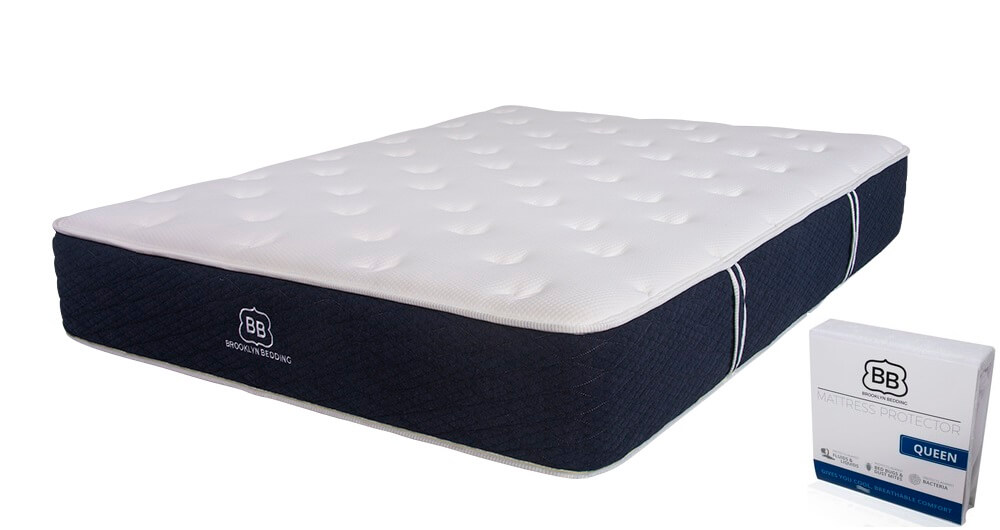 Another product that can be called the greatest mattress cover is this model by Brooklyn Bedding. It is soft, breathable, and waterproof, which is more than enough for a good protector. Its cotton terry top is great at moisture wicking and super pleasant to the touch. And because the mattress protector comes in various sizes, there's definitely an option for the particular mattress model you are using.
Let's look at its characteristics:
The cover

fits

the majority of mattresses perfectly.

The surface of the cover is made of

cotton terry

, which is soft to the touch and breathable.

The

waterproof layer

doesn't crinkle or make any other noises.
It is machine washable and won't be hard to clean.
"A mattress protector can also increase the comfort level of your bed. For instance, if you are sleeping on a foam mattress, which makes you feel hot every night, a breathable protector can help you with temperature regulation during sleep."
The coolest thing about this model is, of course, the value for money that it offers. Being very reasonably priced ($37 for the Queen size), it comes with a set of nice features. It is waterproof, easy to fit onto the mattress, flexible in terms of mattress sizes and thickness, and even hypoallergenic.
What is wrong with that mattress protector?
The worst thing I've noticed about this model is the feel of the material. First of all, it's rather thin, so if you're expecting some sort of padding or cushioning, you won't get it. Moreover, the top cotton layer feels a bit harsh, almost paper-like. Maybe it will become softer after the first wash, but for now, it's not that plushy.
Despite some minor complaints, I am quite happy with this cover. It does its job well, so I'm sure it won't disappoint you either.
check out brooklyn mattress protector on brooklynbedding.com
Best Waterproof Mattress Protector
Ultra Luxe Waterproof Mattress Protector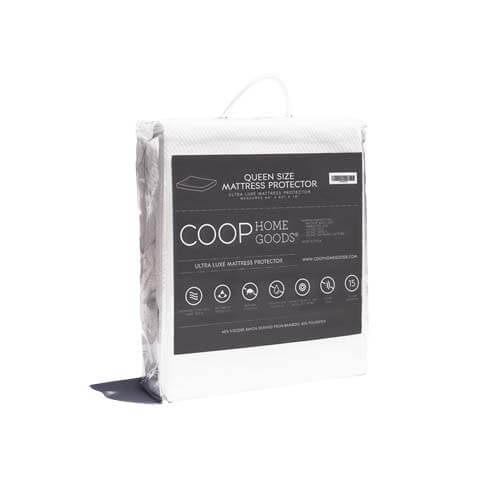 If you are looking for a waterproof mattress protector, you should definitely consider this item. It features an effective combination of materials, which results in it being 100% waterproof without feeling too thick and having that unpleasant plastic feel.
Let's look at the main characteristics:
Blended polyester and

bamboo

viscose top;

Waterproof

polyurethane layer;

Does not contain

PVC

, vinyl, and phthalates;

Hypoallergenic;
Machine washable and suitable for tumble dry.
The best thing about this product is that, while being 100% waterproof, it doesn't feel like it. This mattress protector doesn't make any crinkly noises and doesn't feel like plastic. It is soft and pleasant to the touch, which means you won't even notice it's there.
As for the drawbacks, the biggest one is that this mattress protector might make you sleep hot. Even though bamboo viscose is breathable and the manufacturer promises a cooling effect, somehow this mattress protector only adds warmth to the bed, which means it's not suitable for people who hate sleeping hot (and for foam mattresses, for that matter).
Let's see the rest of the pros and cons:
Despite some flaws, this mattress protector is a real lifesaver when it comes to accidental spills. It will definitely keep your mattress fresh and clean for years to come.
check out ultra luxe mattress protector on coophomegoods.com
Best Vinyl-Free Waterproof Mattress Protector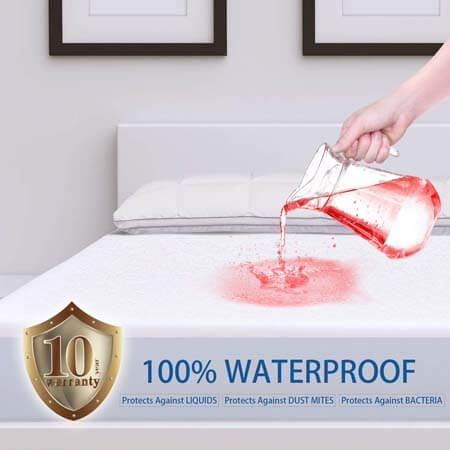 Many mattress protectors use vinyl or PVC film as a waterproof layer, even though they are considered harmful for your health. Zamat offers a healthier alternative and uses fabrics treated with safe chemicals for the waterproof effect — that's why it's on my list of the best mattress protectors.
This model comes in 6 common mattress sizes, including Twin XL and California King, so you can easily find a fit for your bed.
But there are some other features:
It has pockets deep enough to

fit mattresses up to 18 inches high

.

The materials are

OEKO-TEX certified

and effectively protect your mattress from dust mites and debris build-up.

A tight elastic band around the perimeter makes sure the protector

stays in place

.

The protector has a completely washable design for

easy maintenance

.
So, the most prominent feature of this product is its vinyl-free construction. So, you can make sure that it won't harm your health while still remaining waterproof and comfortable.
The drawback of this mattress protector is that it might alter the temperature regulation of your mattress and make you sleep hot. If you're prone to hot sleeping, keep this in mind.
I think this mattress protector can make a good purchase for literally anyone. It's easy to maintain and does a great job of keeping your mattress clean and dry.
Check out this mattress protector on amazon
High-rated Cheap Waterproof Mattress Protector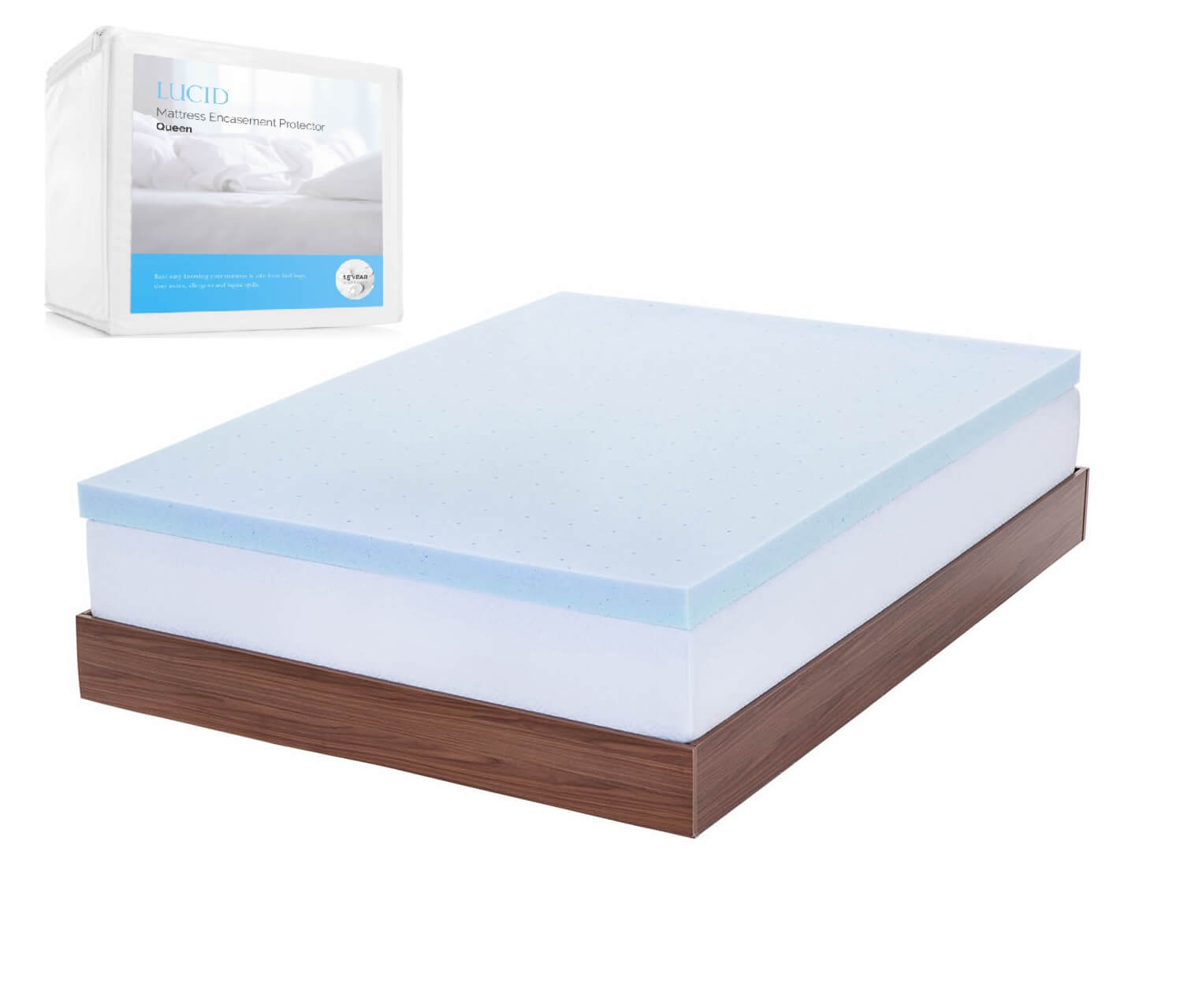 Here are its main characteristics:
It is made of

cotton terry

and waterproof

Stratosmart Barrier

(polyurethane).

It can fit the mattresses

up to 22 inches

thick.

It is

machine washable

.
The manufacturer offers a 15-year warranty.
If you are looking for a good mattress protector but don't feel like investing too much in it, you should definitely consider Lucid. It works with the majority of mattresses, so you will not be disappointed with your purchase. Additionally, the protector has a breathable cotton top and a waterproof lining, which means it is soft to the touch but can effectively protect your mattress from the accidental spills.
Here's what you need to know about it:
The blanket comes in 9 sizes

.

It is made of soft and plush

polyester

.
What is really great with that model?
The absolute best thing about this cover is the fact that it really works. It just doesn't let the liquid go through. And it gets better: while being 100% waterproof, it doesn't feel like plastic and doesn't make that crinkly sound. To me, it's a win-win!
What is wrong with that model?
The worst thing that I've noticed about this bed protector is the fact that its sides aren't waterproof. This can become a big deal for people whose pets sometimes cause "accidents" or, for instance, whose small children like to crawl into the bed with their juice or water.
In general, I am pretty happy with this cover's performance. I'm sure it will effectively protect your mattress from major spills as long as those occur on the top of the protector.
check out this protector on amazon
The most suitable Waterproof Mattress Protector for Allergies
BreatheCool Mattress Protector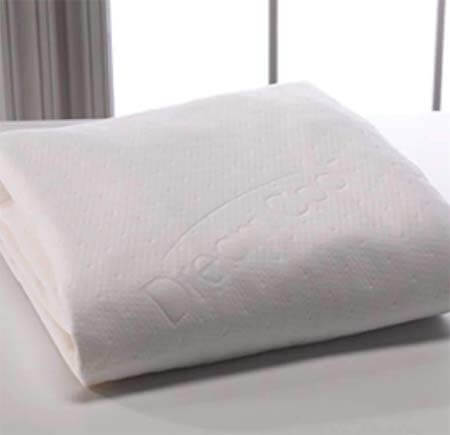 The next item on our list deserves to be called the most appropriate mattress protector for allergies. It is safe for people with sensitive noses thanks to its natural cotton top and bacteria resistant materials. Additionally, it is soft and smooth to the touch, which means this mattress protector will not annoy you or irritate your skin.
Here are the specs you need to know:
It features a

fitted sheet design

, plus there are corner anchor bands for all four corners, which keep the protector in place;

It comes in all

regular sizes

as well as in the Split King and Cal King;

The top layer is made of natural

cotton

;

It is 100%

waterproof

;
It works with deep pocket mattresses up to 15 inches tall.
Obviously, the coolest thing about this model is that it's safe for allergy-prone people. Its top layer is 100% natural, breathable, and allergen-free. Additionally, this mattress protector doesn't have any odor or unpleasant off-gassing, which means it is safe for your sensitive nose.
The absolute worst thing about this cover is that is doesn't really sleep cool, despite what the manufacturer promises. This mattress protector is neutral or even warm, but not cool. Therefore, when using it, you might want to turn your AC on if you hate sleeping hot.
Moving on to the pros and cons:
Even though this model is not perfect, I am sure it is suited for many users, especially allergy-prone people.
"Investing in a mattress protector can help you keep the warranty intact. If your mattress becomes stained, the manufacturer might refuse to carry out the warranty obligations since a stained mattress means you didn't care for it properly. Therefore, a protector can do both keep the warranty valid and prolong the mattress's life."
check out breathecool mattress protector on winkbeds.com
Factors We Look At
Some people might think that picking a waterproof mattress protector isn't that hard and does not require you to be meticulous. However, we believe that a mattress protector is a very important accessory that can play a huge difference when it comes to preserving your expensive mattress. Therefore, we are extra attentive when picking the most suitable items for you.
Here are the aspects we look at:
Available sizes

. Not all protectors offer a wide range of available sizes. We try to pick only the ones that offer flexibility in use and come in all the common mattress sizes so that you could find a suitable model for your particular bed.

Fit and design

. Some covers are styled like fitted sheets, others come in a full-encasement form. Some models even feature some extra straps or strings to keep the protector in one place and prevent it from slipping off your mattress. Whatever the case is, we always pay our attention to the way a mattress protector is

designed

and how it fits different mattresses.
Materials

. The quality of the materials determines the protector's durability, the way it feels, and how it performs. We try to pick only the time-tested, reliable materials.

Noise levels

. Some people don't care whether their protector makes a crinkly noise, others want to sleep on a silent surface. We try to pick only the quietest or completely noise-free items, which will not disturb your sleep.

Washing and care

. Because a bed cover serves to keep the liquids and dirt away from your bed, it needs to be easily cleaned. We give our preference to machine washable protectors since they offer the easiest, most fuss-free cleaning process.
Why Use a Mattress Protector?
If you think that buying a mattress protector is an unnecessary expense, think again. This simple accessory can offer you many benefits.
A mattress protector can:
Keep the mattress fresh and clean

. This one reason should be enough for you to invest in this thing. It will keep the liquids, dust, and other dirt away from your mattress materials. Whether you enjoy breakfasts in bed or have little kids or pets, a good bed protector will keep your bed fresh and feeling like new for a long time. Besides, with a mattress protector, cleaning is so much easier.

Prevent the dust mite allergies

(and other allergy types). If you are prone to allergies, investing in a hypoallergenic mattress protector will prevent the dust mites or debris from building up inside your mattress materials, thus saving you from those nasty allergy symptoms.

Enhance the comfort

of your mattress. Of course, this will depend on each separate protector type. However, keep in mind that, for example, a quilted mattress protector can add an extra layer of softness to your bed if you need your mattress to have a more plush feel.

Protect the warranty

. If your mattress gets stained (or even worse, moldy), this can make the warranty become invalid, which means your bed will not be protected by the warranty conditions anymore.
Something You Should Be on the Alert For
Listen, I know: shopping can either be pleasant or drive you insane. With the mattress covers, the second one is more possible. The number of the mattress protector reviews, specifications, and loud advertisements can overwhelm and even mislead you.
So, while filtering through all that information, pay attention to the most important factors you should consider when looking for a superior bed protector:
Size

. This criterion is obvious but nonetheless important. Some manufacturers make covers different in size, so, instead of simply ordering a Queen protector for a Queen mattress, read the measurements first. Just to be on the safe side.

Breathability

. Waterproof covers tend to sleep hot because of that liquid retaining layer. However, some of them allow more breathability than the others. For instance, polyurethane protectors, especially when combined with the cotton or bamboo top layer, are more breathable than the vinyl ones.

Design

. Mattress protectors can be full encasements or styled like a fitted sheet. If you want protection from bed bugs, an encasement style is the one for you. However, if being waterproof is all you're expecting from this thing, the fitted sheet type will be more than enough.

Washing method

. Since a mattress cover is supposed to protect the mattress from stains, it will collect all of them, therefore requiring to be washed regularly. If the materials of the cover don't allow you to use a washing machine, the cleaning process can turn into a real headache.
Polyurethane VS. Vinyl: Which One Is Better?
I think you won't be surprised when I say that the most popular materials for mattress protectors are vinyl and polyurethane. Both of them have their benefits and drawbacks. Let's take a look at the most important ones, and, hopefully, this will help you make up your mind:
Vinyl protectors

are super reliable, as this material is rather thick and doesn't allow any liquid leakage. It is also very effective when it comes to stopping the dust mites and the bed bugs. However, vinyl is a rather loud material, which makes a crinkly noise every time you touch it. It's also not really breathable, so it might make you sleep hot.

Polyurethane

is thin and noiseless. It is breathable and effectively stops the liquid from leaking. However, being a super thin material, it might allow some leakage after being washed a couple of times.
Conclusion
After testing out more than a dozen of mattress covers, I feel like my mattress has never been more protected. To make you feel the same way, I'm ready to announce the best waterproof protector, which will certainly increase the lifespan of your mattress.
And the most effective one, in my opinion, is the Plushbeds Organic Cotton Mattress Protector. Are you wondering why? It's simple: this mattress cover is safe to use, has a really pleasant feel, and excellently does its job at protecting the mattress from liquids and stains. With this mattress cover, you don't have to worry about breakfasts in bed getting out of hand.
Now, what about you? Have you chosen your personal favorite yet? Please share your opinion in the comments.
Product links on Happysleepyhead are referral. We get a commission on purchases made through our links at no additional cost to you. More information in my disclosures.