Best Futon Frames: Reviews and Buying Guide
by | Last Updated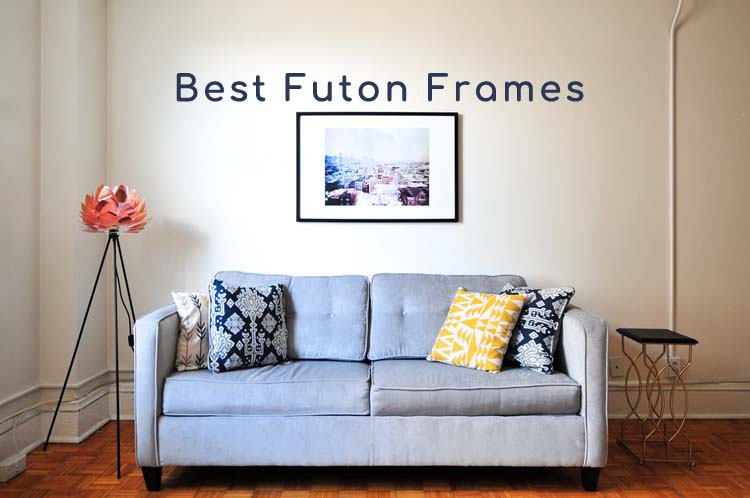 Let's admit it:
Even the most expensive futon mattress is not as good when used without a frame.
I mean, you can sleep on it and even feel comfortable, but a proper futon frame will unlock many more benefits!
Now, how do you find a frame that will work for your futon?
Well, I suggest you take a look at the five best futon frames I've reviewed below and a detailed buying guide to help you find the one to your liking!
Our Reviews of 5 Best Futon Frames
Best Futon Frame — Editor's Choice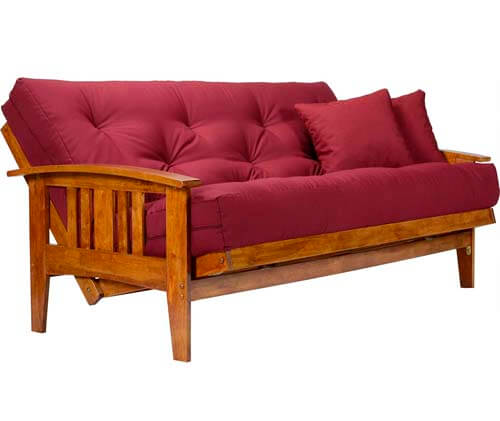 So, let's open this review of the best futon frames with the Nirvana Futons model. The Westfield is a well-made hardwood frame that can turn your futon mattress into a comfy cradle and ensure you'll get a heaven-like sleep.
The frame has three positions — sofa, lounger, and bed. You can easily switch between each of them depending on your activities and mood.
When fully reclined, the Westfield frame can accommodate a Queen mattress, which is wide enough to support two adults, although you can also purchase a Full-size version for a smaller apartment.
I also noticed that the wood frame has a quality finish resistant to scratches. So you can be sure that your bed frame will keep its new look for a long time.
The best thing about the Westfield futon frame is that it's built to last. The frame features heavy-duty materials and sturdy construction, so it can serve you for years without breaking or losing its supportive properties.
The thing that disappointed me a bit was that there were no assembly instructions included with the frame, so we had to figure this out by ourselves. Some users have reported this issue too. Even though the assembly process is fairly easy, it's still a bit frustrating.
Overall, I can easily recommend this futon frame for everyone who wants something comfortable and long-lasting. The Westfield doesn't pack any extra features — it simply does its job well.
Check out this frame on amazon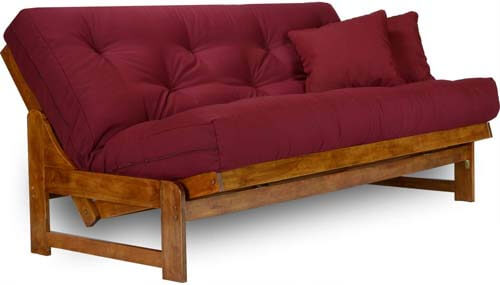 The next contestant on my list is also by Nirvana Futons. Things that make the Arden the best Queen futon frame are sturdy construction, even support for your mattress, and a weight capacity of 500 lbs.
The frame features three possible reclining positions — sofa, lounger, and bed — and can smoothly switch between them. So, whether you want to sleep or have a cup of coffee with your guests, this bed frame can satisfy any need.
Another great part about the Arden is fairly easy assembly. A single person can do it in two hours simply by following the instructions provided by the manufacturer.
Now, this Queen futon frame is made of quality hardwood. You won't find cheap particle board here — only sturdy wood pieces that are incredibly durable and can ensure proper support for years to come.
What I love the most about the Arden is a simple but efficient design. It can accommodate a Queen-size mattress and support two average adults, which makes it a good pick for both bedrooms and living rooms.
The only problem could be the finish. Although it looks really great, it can easily scratch off if you accidentally scrape the frame with something sharp — for example, with a screwdriver during assembly. So, you have to be careful.
I think that the Arden is a decent futon frame. It's pretty basic yet offers good support for your futon and combines three pieces of furniture in one, which is a total win for multifunctional rooms.
Check out this frame on amazon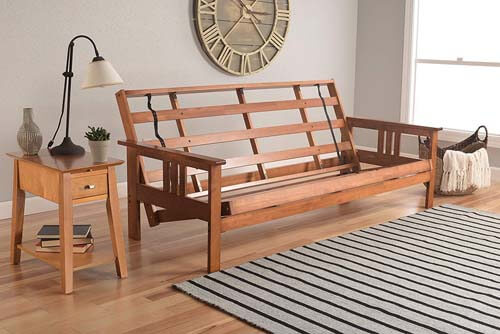 I've put the Monterey by Kodiak Futons in my review of the best futon frames because it's basically one of the best wooden options you can find on the market. It's made of solid hardwood and features a minimalistic construction with an impressive weight capacity of 500 lbs. And it's also quite affordable.
The frame can accommodate a Full-size mattress and has two positions: a sofa and a bed. This is perfect for owners of small apartments or those who look for a budget way to create a sleeping spot in the guest room.
The Monterey comes with all the tools and hardware required for assembly, so you don't have to search for bolts and nuts. The assembly is pretty straightforward and shouldn't take you more than an hour.
The thing that makes the Kodiak the best wood futon frame is how it is constructed. I mean, it is literally built to last even under active exploitation. Plus, its minimalistic design will make a good fit for any interior.
As for the drawbacks, I'd like to mention a glossy wood finish. Even though it looks great, it offers little to no grip and can make your futon mattress slide off, especially in the sofa position. So, it's highly recommended to purchase a non-skid tape to keep your mattress fixed.
Despite the minor flaws, the Monterey by Kodiak Futons will make a great purchase for those who want a wooden futon frame that looks nice and will work for years.
Check out this frame on amazon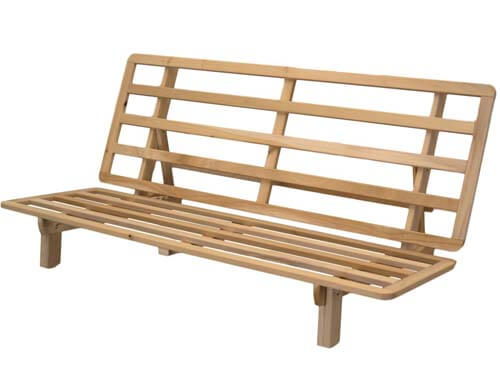 When reviewing top-rated futon frames, I noticed that Queen is the most common size. But what about those who have a Full-size futon? Well, they could get this incredibly minimalistic and budget-friendly futon frame by KD Frames.
The first thing I want to mention about this frame is that it has five reclining positions: sofa, bed, and three reclining loungers — so you can easily adjust the incline to your preferences.
Second, this model comes with two small wheels on its rear legs. The wheels can help you easily rotate the frame or move it to another corner of the room.
Finally, as one of the best Full-size futon frames, this model is made of sturdy wood and has a natural finish. You can paint it with the varnish of your choice, but I'd recommend leaving it as it is, as natural wood has a good grip and can prevent your futon mattress from sliding off.
So, the coolest thing about this futon frame is that it's literally made for small apartments and multifunctional rooms. The Full size is large enough to accommodate two adults for both occasional and regular sleeping, and sturdy wood will ensure good durability.
The thing that I didn't like was the assembly. I mean, it is simple in theory, but the frame consists of so many details that it can be a real challenge to put them all together. So, you may want to ask someone for help to do it faster.
To sum it up, I think that this Studio Bifold futon frame could make a great pick for those who need a futon frame with basic features and universal design that will fit into any interior.
Check out this frame on amazon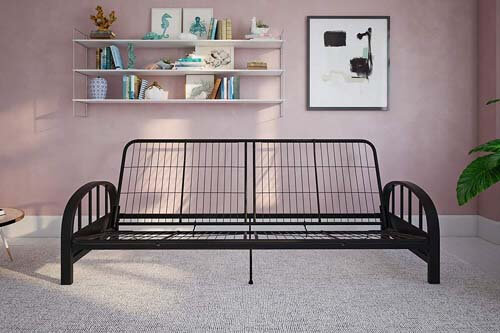 I thought that my review of the best futon frames wouldn't be complete without a metal frame, so here it comes. The DHP Aiden features contemporary design and can hold up to 600 lbs weight — I think it's a pretty good option to consider.
So, the frame can accommodate any Full-size mattresses, even thicker and heavier ones. The mesh construction will guarantee even support for two average-weight adults.
Despite the polished steel, the Aiden won't make your futon travel around the frame. In fact, it has retainer clips that will help you secure the mattress in place and keep it fixed throughout the night.
Along with that, steel is often more durable than wood, so if you need a futon frame that is made to last, the DHP can easily satisfy this demand and provide great support for years. I mean, this model has everything that you could possibly look for in a good metal futon frame, doesn't it?
So, I really loved the construction of the Aiden by DHP. This frame seems very long-lasting and may improve the supportive properties of your futon mattress thanks to the mesh-wire design.
The downside, however, is tied to construction as well. According to my experience with mesh-wire bed frames, thin wires might start to squeak over time, so you need to regularly check and grease them to prevent this.
I can definitely recommend the DHP metal futon frame for all who need something that can withstand years of active exploitation and remain sleek-looking.
Check out this frame on amazon
Benefits of Having a Futon Frame
Futons are incredibly popular, it's a fact.
But not all futon owners use futon frames.
Some of us simply throw their futon mattress on the floor and either leave it like that around the clock or remove it during the day.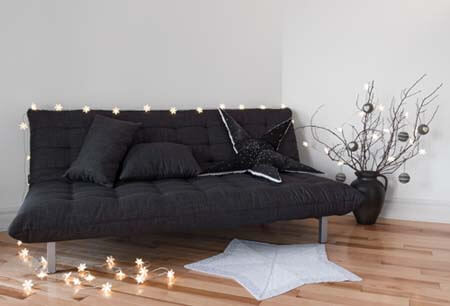 Now, while I totally encourage a minimalist lifestyle, I cannot support this decision. If you're considering getting a futon frame for your mattress, you're doing the right thing. Because here's what a suitable futon frame can offer:
Promotes aeration.

Numerous guides on

how to properly store a futon

are agreed on one thing: you should keep your mattress away from moisture. And the best way to prevent moisture build-up is to promote airflow that will help the condensate dissipate. A futon frame with slats allows the air to circulate through the mattress layers and hence, helps keep it dry.

Prevents sagging

. Surprisingly, the hard floor surface won't save a futon mattress from sagging. Despite being uniform, it has no bounce. And when you continuously put the pressure on certain points of the soft futon, the hard floor doesn't respond, thereby contributing to sagging. A futon frame with slats can offer some amount of bounce and thus support futons better.

Protects from debris

. Even if you maintain lab-like cleanliness in your room, tiny dust particles still settle on the floor and can migrate into your mattress layers, turning it into a dust mite colony. The frame that elevates your futon from the ground can significantly slow down this process.
And a great bonus to all of that is that most futon frames can turn into a compact sofa and make your leisure time more comfortable along with saving some room space.
Types of Futon Frames Explained
Now, the diversity of the modern furniture market allows you to choose a futon frame of any design and type you like.
Speaking of the materials used, there are three types of futon frames — those made of wood, metal ones, and frames that use both wood and metal.
So, let's take a look at how each type performs.
Wooden Futon Frames
Many manufacturers use solid hardwood rather than softwood to make their futon frames, which is great as this material has several benefits: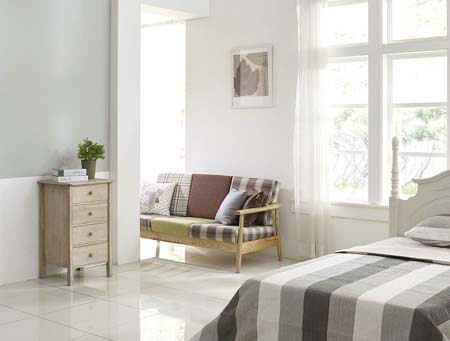 it is less prone to any kind of damage;

it is durable and able to withstand years of active use;

it has a nice rustic look.
Along with that, hardwood with a natural finish usually has a good grip and can prevent your mattress from sliding off.
Metal Futon Frames
Metal frames can be made of either steel or metal alloys. Metals are more durable and can withstand active use longer than wood. Also, the metal tubes that make the frame typically have a hollow structure, which makes metal frames lightweight and easy to move around the room.
The only issue you may encounter with a polished metal is that it has little to no grip with futon fabric. Some metal frames come with clips that will help you solve this problem, but if your model doesn't have them, a good old velcro tape or anti-slip tape can also work as a way to prevent your futon mattress from sliding.
Composite Futon Frames
These are a good pick for those who want the best of both worlds. Usually, composite models feature steel mesh-wired seating and headrest sections and wooden armrests. Since everything except the armrests will be hidden under the mattress, there's no need to opt for more expensive all-wood frames if you want a fancy design. A composite futon frame can offer a nice design and balanced value for money.
Checks to Make When Choosing a Quality Futon Frame
If there was a futon frame that could meet everyone's needs, you wouldn't be browsing through the guides on how to choose the best one, right?
So, let me give you some more recommendations on what else you should consider to make the right purchase:
Size

. It's a crucial characteristic for small spaces. Most futon frames are available in either Queen or Full, and while the

difference in the mattress dimensions

might not seem dramatic, it might turn out to be a deciding factor. So, measure the space you can allocate to your futon frame and keep the dimensions in mind when shopping. Mind that most futon frames need to be moved forward a bit when you recline them into the bed position. That's why it's important to check the frame's dimensions in all positions and make sure they will fit into your room comfortably.

Design

. A futon frame with a low-seating design can look nice and trendy, but if you use it as a sleeping spot for older sleepers, they might encounter difficulties with getting in and out of the bed. So, before choosing a fancy construction, think about how you will use the futon in the first place.

Reclining options

. Most futon frames can be used as both a sofa and a bed. But some models can offer you something in between — a lounger option. However, the more reclining positions your frame has, the pricier it will be, so if you have a limited budget, you probably don't want to overpay for the reclining positions you likely won't use.
Wrapping Up
A properly chosen futon frame can enhance the properties of your mattress and prolong its lifespan. That's why it's important to find a quality model, such as the five I've reviewed for you above.
My most favorite among them is the Westfield by Nirvana Futons. I love that this futon frame has all you need: it features three reclining positions and wide hardwood slats that can support your mattress for years. Also, I'm quite delighted with the design that can make a good fit for any home.
Is it your first time shopping for a futon frame, or are you replacing your old one? What factors are important for you to make a choice? You're welcome to share below!
Product links on Happysleepyhead are referral. We get a commission on purchases made through our links at no additional cost to you. More information in my disclosures.