The 7 Best Twin Mattresses for Adults in 2020
by | Last Updated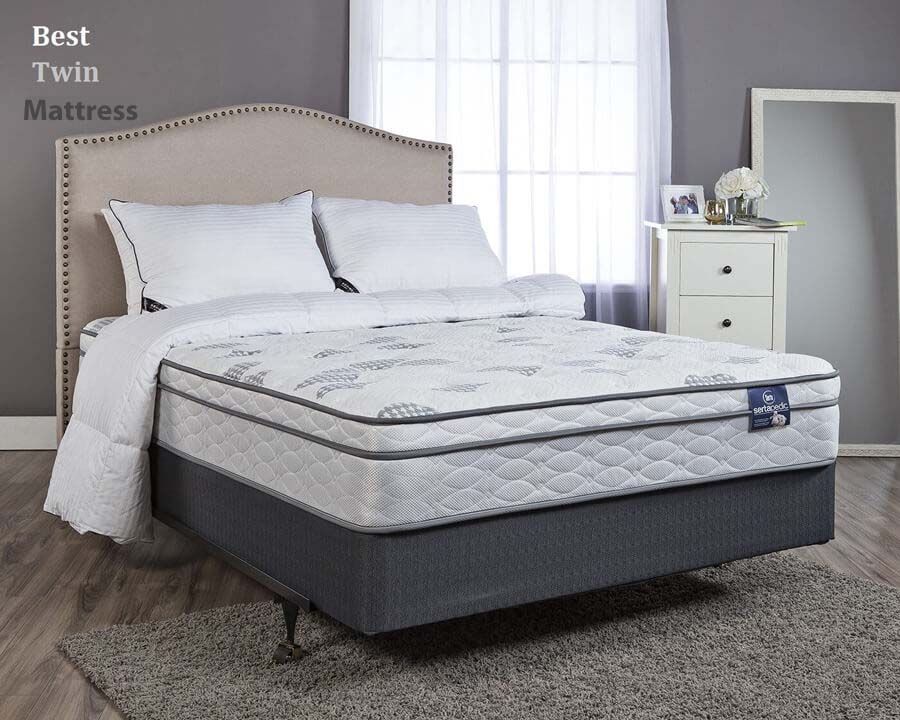 With an increasingly wide variety of twin mattresses available on the market, it for sure is hard to choose the best twin mattress. It is a very responsible decision and you certainly need comprehensive information on the subject. Yet where can you obtain it? The manufacturer's website contains an advertisement and the only way to know the truth is from someone else's experience.
Guess what? We've got you covered! Our team has tested the most popular mattresses on the market, and we will share the insight with you right now!
In this article, you will find a detailed review of every entry along with pros, cons and special features.
Let's get straight to the subject!
[table id=21 responsive=collapse datatables_row_details=true datatables_row_details_columns="A-G" /]
If you need something plush and cradling to sleep on, then this top-rated Twin mattress by Zinus is worth a try. It has all-foam construction and features a layer of green-tea infused memory foam for a more refreshing sleep.
Other features of the Zinus include:
firmness level –

7 out of 10

(Firm), so you can expect moderate give and solid support;

surprisingly good motion control;

proper contouring and pressure relief.
As for the flaws, I must say that almost all Zinus beds arrive with a significant odor. In the case of this particular model, the fresh foam smell pairs with a green tea scent, which might become a challenging combo for sensitive individuals.
However, all foams used in this mattress are CertiPUR-US certified, so you can be sure there are no harsh chemicals you may breathe in. Just allow some time for aeration, and your mattress will be fine.
Overall, this Zinus bed offers exceptional value for money and will be a perfect option for those who prefer a firmer mattress and are on a budget.
Check out this mattress on amazon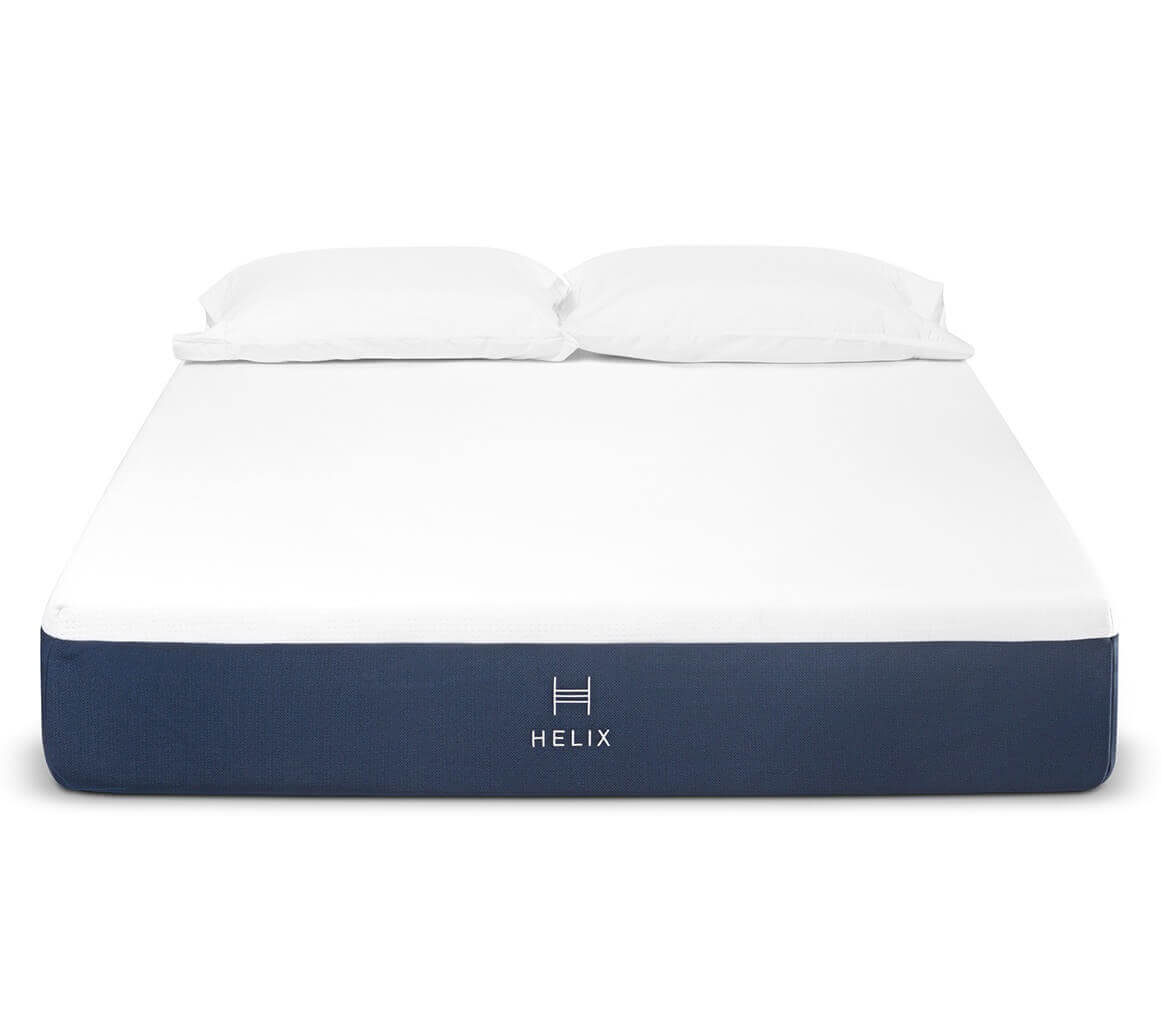 As one of the premium brands in the market, Helix takes great pride in producing their mattresses from high quality, environmentally friendly materials. Every piece is certified, and there is no off-gassing period. With most critical approach and meticulous attention to details, Helix presents one of the most high-end products available in the price range. Additionally, this mattress offers probably the widest range of comfort options, which makes it the best versatile twin bed. You can pick among 6 different models, each of which has a different feel and different firmness levels. This means there is a perfect option for every user.
What are the advantages of this mattress?
The reactive structure that is ultimately adaptable thanks to the use of pocketed micro coils.
Incredible airflow. It's never too hot with proper air circulation.
Proper pressure relief.
These mattresses are generally a bit more firm than what you would expect which means you might require an overlay to make you feel comfortable. Varying density allows for fine adjustment of layers and ultimate comfort.
If the item does not suit you for some reason, then Helix will arrange a free pick up and full refund during the trial period.
The signature feature of the Helix mattresses is they use of trademark dynamic foam. Your mattress can be customized and personalized to fit your exact needs. The Helix mattresses will not be deformed over a long period of time and perfectly tolerate any transportation.
Helix mattresses have become popular worldwide thanks to great pressure relief they provide during rest. This reliable and comfy mattress will definitely improve your quality of sleep and life.
check out Helix Twin Mattress on helixsleep.com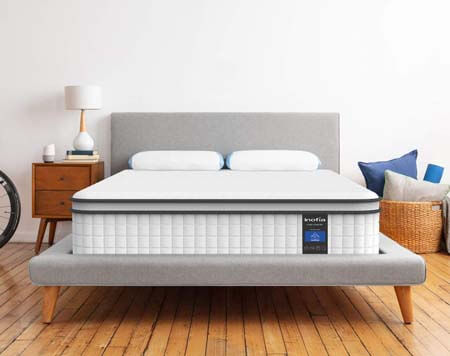 The Inofia proudly holds the place in my review of the best twin mattresses because of its great cooling properties. The mattress has a hybrid construction that allows good airflow between the layers. Top it with a cushioning memory foam layer — and you get the best sleep of your life!
The Inofia is available in two thicknesses — 10 and 12 inches — and has a medium to medium-firm feel, which can make a good pick for almost any users.
Now, let's take a look at its main features:
The mattress has

sturdy edges and anti-sagging design

.

The layer of convoluted foam is used for better air circulation and enhanced cooling effect.

The dual-layer polyester cover wicks away moisture and

has a non-slip bottom

for a better grip.
The only thing that bothered me a bit was the pronounced bounciness of this mattress. However, this is a common issue for beds with springs. Even though pocketed coils create less disturbance than a solid spring unit, they might still feel overly bouncy for some.
Despite this minor issue, the Inofia pleased me with its supportive qualities and a cooling effect, so I can definitely recommend it to all hot sleepers out there.
Check out this mattress on amazon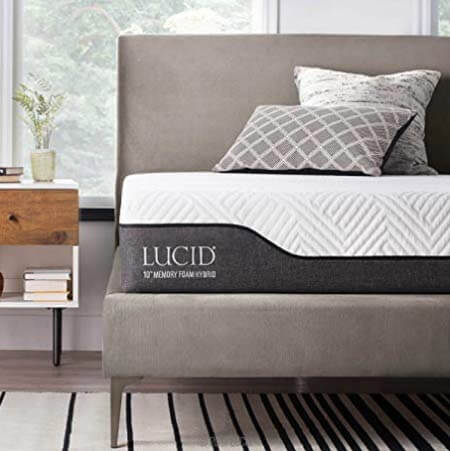 This option by LUCID combines innovative and traditional materials. Above the layer of pocketed coils, you'll find the layer of charcoal-infused memory foam as well as the aloe vera infused layer. Both of them prevent your mattress from developing mold, eliminating the risks of allergies and breathing infections.
This LUCID mattress is 10 inches high and has a medium firm feel with a decent amount of sinkage. So, if you prefer drowning inside your bed, it's your go-to option.
Other great things about this bed are the following:
balanced support

and great pain-relieving properties;

excellent motion control

— no more sleep disruptions because of your restless partner;

remarkable value for money

and long-lasting materials.
The only drawback I found is that the LUCID bed feels firmer than advertised. That's possibly due to the coil base. So, don't expect too much give from this mattress.
Despite this flaw, this model is one of the best Twin mattresses on the market. It's a decent choice for anyone who doesn't mind a bit of bounce and isn't looking for an overly soft surface to sleep on.
Check out this mattress on amazon
Superb Versatile Twin Mattress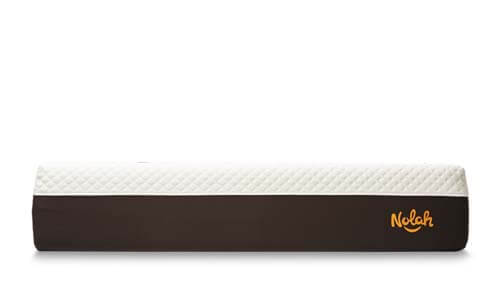 What makes Nolah stand out from the competitors is… more than one thing, to be honest. This is a flexible mattress, which offers two firmness options in one. Additionally, it is very nicely made and has a luxurious feel to it. And to top that, Nolah donates money from each purchased mattress to the charitable organization called the Defenders of Wildlife, which works towards saving the wild species of North America and their natural habitat.
Other benefits this mattress offers include:
The softer side offers great pressure relief.

The firmer side is awesome at distributing your body weight and supporting it properly.

This mattress sleeps cool.

It comes with little to no off-gassing whatsoever.

It allows for cradling without making you feel stuck inside the foam.
As for the flaws, you should know about the price, first of all. A twin option usually costs $999 but is currently on sale and is sold for $699. This isn't the cheapest model on the market, so not all users might want to buy it. However, you should know that the quality of this mattress is worth every penny. Another thing to consider is that, just like in almost any other foam mattress, Nolah offers a rather mediocre edge support.
Aside from that, this mattress is a worthy exemplar. It is suitable for different body types and sleeping positions, can withstand a lot of weight, and offers flexibility in use. The company uses their special cooling Nolah AirFoam, which is rather hugging and serves to provide both a cooling effect and pressure relief.
The cover is made of organic cotton. It is breathable and very pleasant to the touch. Additionally, it is hypoallergenic, which means you can comfortably sleep on it even if you are allergy-prone.
Such a combination of quality, top-grade materials, and flexibility in use makes Nolah Signature 12 one of the best twin mattresses on the market. It definitely has the potential to improve your sleep.
check out nolah signature 12 mattress on nolahmattress.com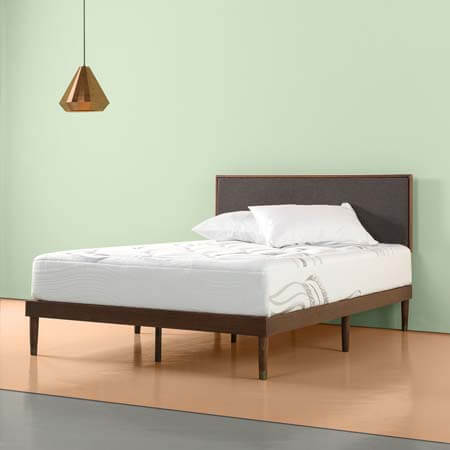 Back to all-foam options, here's another Zinus mattress in my review. In this model, the brand focused on creating a cloud-like, plush feel, and it turned out pretty well. A knitted Jacquard cover quilted with foam offers soft but responsive contouring. And an additional comfort layer of green tea-infused memory foam will cradle you like a baby and offer the most peaceful sleep.
Here are some other great things about this model:
the natural

plant oil in foam layers

prevents mold and funky odors;

the dense foam base

absorbs motion

and promotes uninterrupted sleep;

the pressure-relieving properties of this mattress are off the charts.
Of course, the Zinus isn't perfect. According to user reviews, this model takes too much time to expand fully, and in my experience, it lasted for 4 days. The manufacturer says it's just the specifics of the materials, so you shouldn't worry too fast. Also, note that if you live in colder climates, the expansion process may take even longer, so make sure you have a place to sleep while waiting.
All in all, this particular model by Zinus has a nice soft feel and excellent pressure relieving properties. If you're a fan of the memory foam 'hugging' feel, you may stop right there.
Check out this mattress on amazon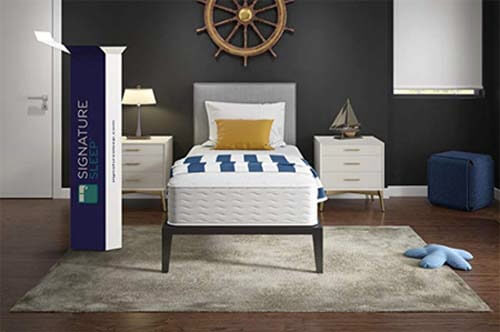 Signature Sleep set out on a mission to help you prolong the life of your mattress through a reversible design. Literally, you can flip this mattress from time to time to slow down the process of sagging that eventually starts with all beds.
The mattress has an innerspring block in the middle and two 2.5-inch layers of medium-firm foam, one on the bottom and one on the top side. This simple construction results in the following advantages:
temperature neutrality

— great for hot sleepers;

works well for heavy sleepers

and can compensate for larger loads;

uniform support that will last for years.
One issue I have faced, however, is typical for most innerspring beds. Even though the Signature Sleep uses encased coils, it still has a very bouncy and responsive feel, which might be a turn-off for those who aren't used to it.
Overall, Signature Sleep is a great brand. If you are looking for something durable yet affordable, you should go for this top-rated Twin bed. The idea to make a reversible design is simply brilliant, as it allows your mattress to last much longer.
Check out this mattress on amazon
Now, how exactly did we build this rating? What influenced our choice?
Factors we look at
There is a large variety of items available on the market, and we have to choose carefully to highlight the best items for you. In the end, it boils down to your personal experience, yet we can break down the advantages of the mattress in a proper scheme.
So, here is a list of factors we will be paying attention to in our quest for the highest-rated twin mattress :
The quality of build. How well woven the fabric is, how noticeable the seams are and how long-lasting they are without losing initial exterior.
Durability . It is closely connected to the previous bullet point, yet stands out. Can the mattress hold weight without sagging
Longevity. The term of service for the high-end mattresses are generally rather long, however, there is a difference between different brands. Given that the price is rather high, you would
expect it to serve you for an extended period of time.
Edge support. How does the mattress withstand the applied pressure?
Body contouring. In our point of view, the most suitable twin mattress embraces the sleeper and
provides a comfortable 'custom tailored' experience.
Each offered mattress is manufactured by a reliable brand and tested by years of service. For this reason, buyers are always pleased with the excellent quality and impeccable appearance of the product. Please see the characteristics and photos to make up your mind.
Our rating is also influenced by the customer service and support the brands provide. While it doesn't directly influence the quality of sleep, it is an important part of the customer experience, and we couldn't ignore it.
Checklist for Choosing a Perfect Twin Mattress
So, having read all of the above, you might probably need a little recap on how to choose your perfect twin bed.
Here it is!
Number of Layers
The more layers the mattress has, the softer it will be. Firm beds, on the other hand, often have only one or two comfort layers above the base construction, and these layers typically are quite thin.
The height of a Twin mattress is also a safety concern. If you use it in your kids' bedroom, particularly in bunk beds, a high mattress may be unsafe for the kid who sleeps on the upper bed.
Firmness
Firmness will determine the overall comfort you get from the mattress. To make the right decision, consider choosing the mattress firmness based on a sleeper's weight and sleeping position.
For example, if you are looking for a mattress for a kid, you may go with medium options, as their spine is still developing and needs less cushioning during sleep.
A firm bed will also work great for heavier individuals, as it can compensate for their weight without making them sink and creating pressure points.
Petite adults and side sleepers, on the other hand, will benefit from softer beds.
Materials
The quality of materials and their combination affect many features of a mattress, including its lifespan, comfort level, supportive properties, motion transfer, etc.
No matter what mattress construction you choose, it's recommended to check the following options:
Quality of all parts

. Check how uniform the mattress surface is, as well as whether seams and cover fabric are well-made.

Certification

. A stamp of a certified organization means that the mattress is safe for your health and uses no toxic substances.

Trial and return policy

. Even a luxurious mattress might turn out to be uncomfortable for you. In this case, you may use your trial period to get a refund or switch your bed to a more suitable model of the same brand. But note that different manufacturers offer this on different conditions.
Also read: Best King Size Mattresses
Best California King Mattresses On The Market — Reviews And Essential Information
Where Does a Twin Bed Belong?
Twin-sized mattresses typically work well for both kids and adults. Although, according to this survey, it is very far from being the most popular bed size, there are lots of spaces where Twin would fit perfectly. This includes: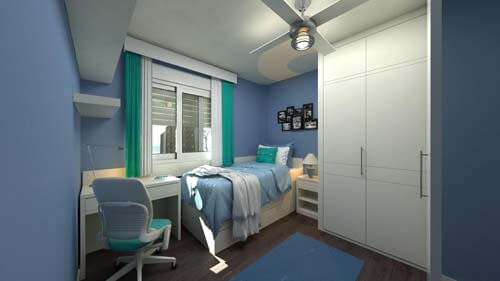 Kid's bedroom.

A Twin-sized bed is usually the next bed a child sleeps in when he or she is too big for a crib.

Adult bedroom.

You know, if I were single, I would still sleep in my King bed. But this is not an option for some adults, either due to a limited space in their bedroom or due to a tight budget.

Guest room.

The same reasons, I mean space and budget, drive people to use Twin beds for guests. It's a more comfortable option than a water mattress or an air one, but more affordable than a Queen or King bed.

Hotel room.

If you're traveling alone or with someone you typically don't share one bed with, prepare to sleep on a Twin-sized bed. Single, double, and triple hotel rooms are usually equipped with such beds.

Travel trailer.

Twin is also a good fit for sleeping on the road. However, there are some other RV mattress sizes that work for campers and similar vehicles.
"Twin and Twin XL are a common choice for partners who have different sleeping preferences. Since two Twin/Twin XL mattresses put side by side equal the width of the King size, they can make up a comfortable bed for two. One mattress can be firmer and the other one can be softer to suit the needs of both partners."
Twin vs Twin XL vs Full
Measuring at 39" x 75", Twin is the smallest mattress size and the least expensive option on the market due to that. It isn't designed for sharing, which makes it good for teens and single adults. But here's a problem:
If you tend to toss and turn a lot during sleep, you'll likely be uncomfortable when sleeping on a Twin mattress and feel a lack of space.
If that's the case, you should consider upgrading to a Full size, as it will give you extra 15" in width for tossing.
People who are okay with the 39" width of their Twin bed might experience yet another problem:
Twin might feel too small for taller people.
If you are tall, you will probably feel more comfortable on a Twin XL bed. It is the same 39" wide but offers extra 5" in length. Note here that opting for Twin XL rather than Twin is reasonable if you're shopping for a teenager. Kids, especially boys, grow so fast that you won't even notice how they'll need a larger bed in just a year or two.
Also read: Best Full Size Mattresses
How to Choose Linens for a Twin Bed
When shopping for bedding, your mattress's size is one of the key factors to keep in mind. If you're looking for a flat sheet, things are pretty simple: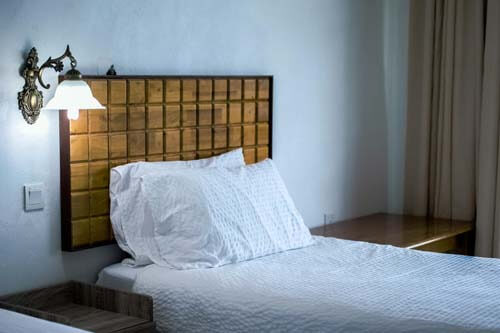 A standard Twin flat sheet measures 66" x 96".
Sometimes, you may see longer sheets, like 66"x104". This almost always means the sheet features a few-inch long hem. Some manufacturers add such hems to make their sheets look more elegant and stylish, while others just want to ensure the item will fit all Twin beds, even if those are slightly oversized.
Now, with a fitted sheet, it gets a bit difficult. Here's the thing:
You need to know the pocket depth.
A size of a Twin fitted sheet is the same as a Twin mattress – 39" x 75". These dimensions are what you will see in all fitted sheet descriptions when shopping. However, the pocket depth will be different in each case. It can be anywhere from 5" and up to 20". There are sheets with even bigger pockets designed for people who use a topper, a mattress protector, or a featherbed.
"Be careful when measuring the depth of your bed. You should include the thickness of a mattress and all the accessories you use on your bed."
As for a pillowcase, a standard Twin size measures at 20" x 30". But make sure you are using a standard Twin pillow rather than a pillow of a different size or an unusually shaped one.
Summary
From our point of view, the Helix Mattress is the definition of comfort and a great pick for people who prefer the most luxurious best twin mattress. If you are looking for a mix of decent quality and affordable pricing, you should consider buying a Zinus Green Tea.
What are your thoughts on the Twin size? Do you think it can be enough for a good night's sleep? Or do you prefer larger mattresses, like Queen and King? Let us know down below!
Product links on Happysleepyhead are referral. We get a commission on purchases made through our links at no additional cost to you. More information in my disclosures.