5 Best Mattresses That Won't Sag — Buyer's Guide and Reviews
by | Last Updated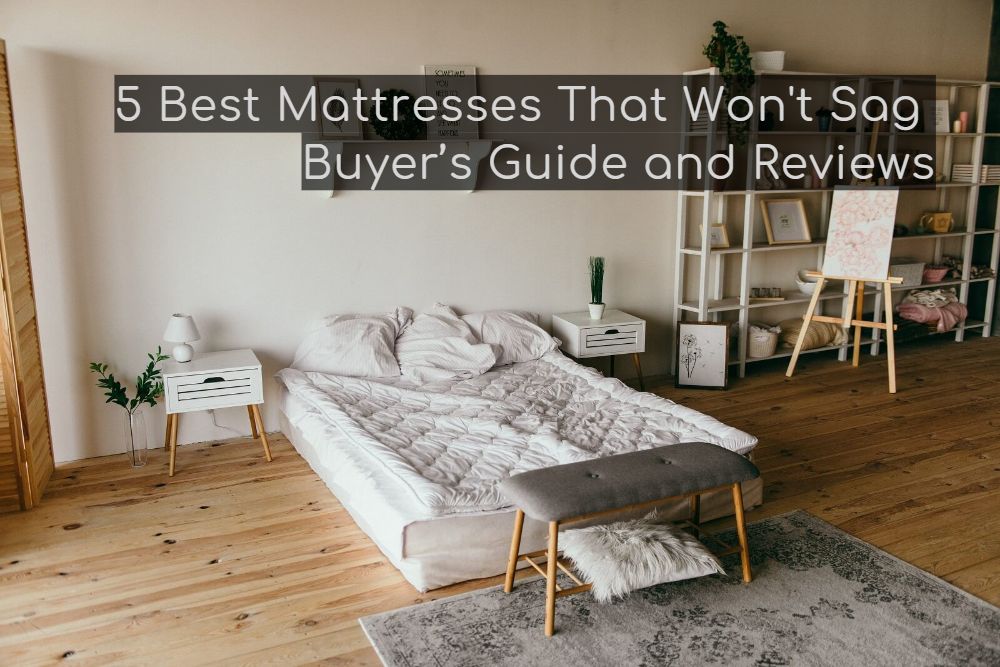 Lying in a hammock between palm trees and slowly dozing off to the waves crashing on the beach sounds like a dream.
But when your bedroom mattress turns into a hammock, no wave sounds will help you get a good night's sleep.
Unfortunately, sagging is one of the most common complaints users have about their mattress, and it has a proven negative impact on your body and health.
Thankfully, some models are more durable than others. And today I want to share my reviews of 5 best mattresses that won't sag and will support your sleep for years to come.
So, let's dive right in!
[table id=105 responsive=collapse datatables_row_details=true datatables_row_details_columns="A-G" /]
Our Reviews of 5 Mattresses That Won't Sag
Editor's Choice — Best Mattress That Won't Sag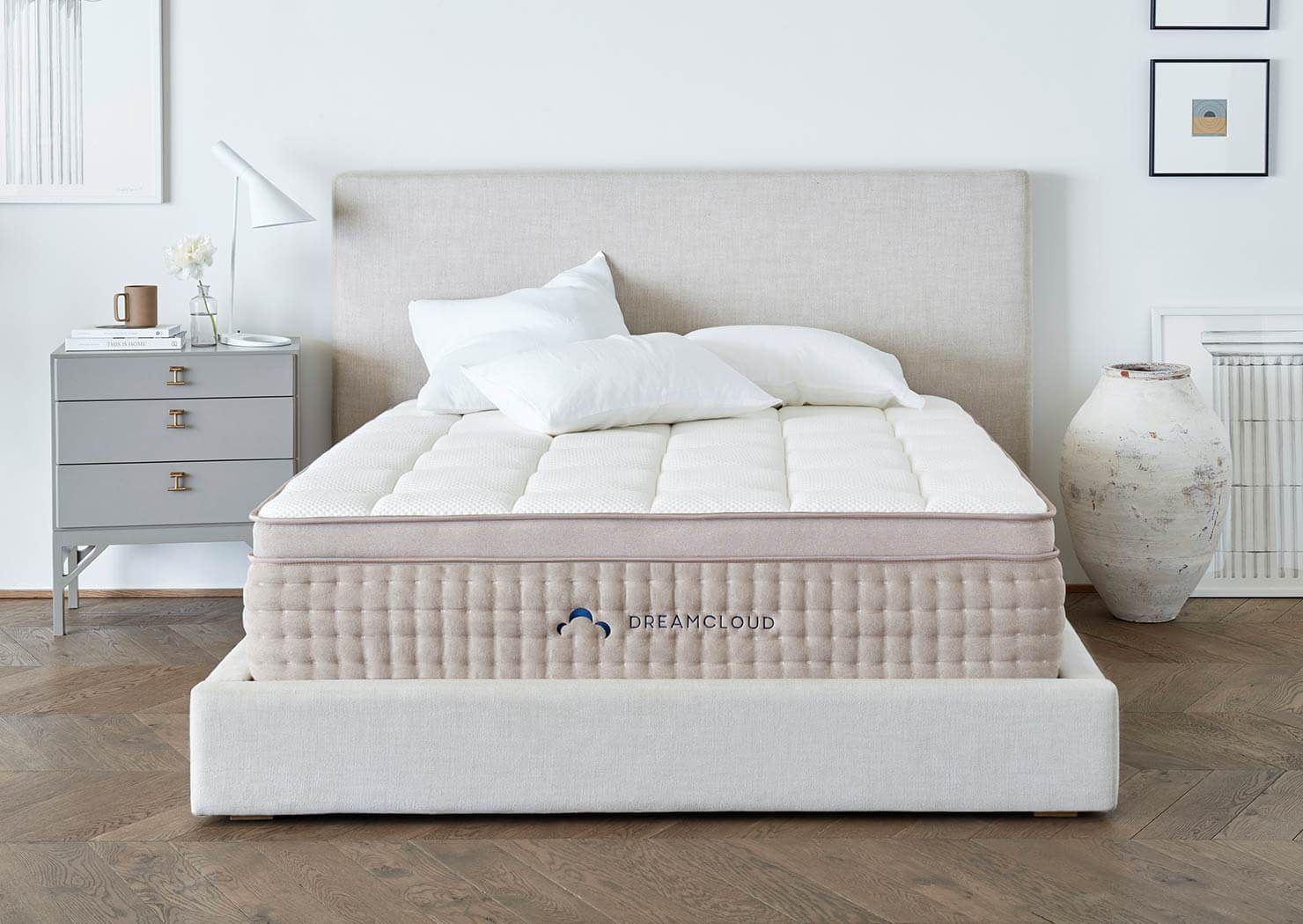 Dreamcloud mattress should not sag because of its eight-layered construction with medium firmness not only prevents sagging in the long term but also offers you support and comfort that are off the charts.
This mattress is a hybrid. Its base is a layer of pocketed coils with quick motion response for fans of a bouncy feel. The coils promote breathability and add to the anti-sagging design and durability of this mattress.
Under the nice, cashmere pillow top, there are several comfort layers offering you some good amount of cradling and excellent pressure relief. One of these layers is made of natural latex for a more pronounced cooling effect and enhanced air circulation between layers.
My only complaint about this bed is that it may lack edge support. It's a bit unusual for mattresses with coils inside, but somehow it is what I felt when testing this model. I think lightweight couples won't notice any discomfort, but if your weight is heavier than average, you may want to look for another model.
The coolest part about the Dreamcloud is the value for money it offers. See for yourself: this mattress is made of high-end materials, packs eight different layers, and can offer you a heaven-like sleep. You would have to pay at least $2,000 for a similar model at a mattress store, but with Dreamcloud, you'll spend only $1,300 for the Queen size!
If you're on the market for a valuable investment and want a luxury bed that will do its job for years, this model will be great for you.
Check out dreamcloud mattress on dreamcloudsleep.com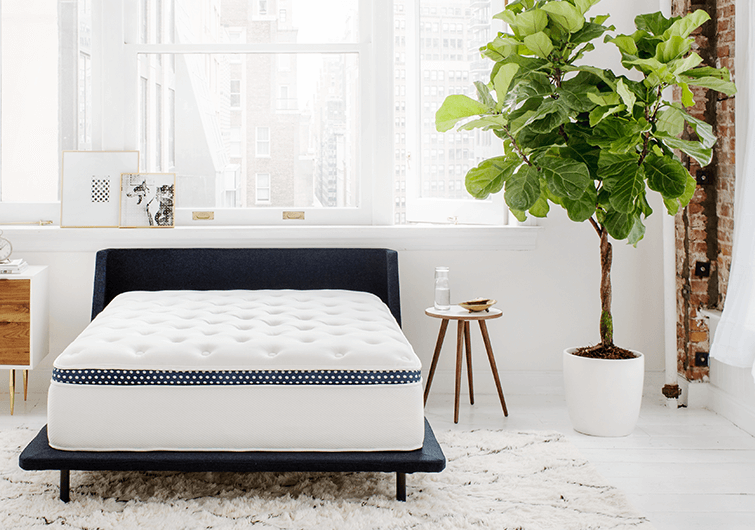 Another hybrid model on my list, the Winkbeds Plus is actually one of the best mattresses that won't sag even under heavier sleepers. Initially designed with them in mind, this bed packs a bunch of features and can ensure you a truly comfortable sleep.
Sturdy construction and a decent amount of cushioning are the signature features of this mattress. It feels quite firm (7.5 out of 10, to be precise) and may work great for average back and stomach sleepers, as well as for most heavy sleepers.
One of the comfort layers of the WinkBeds Plus is latex. Not only it is breathable and cool, but it also is pretty responsive, which means that you won't sink in your bed while trying to get up or turn around.
Now, the Winkbeds Plus is totally unsuitable for side sleepers, even the heavier ones. I tried to lie on my side and started feeling a bit of strain on my shoulders and hips after an hour. If you are a side sleeper, this is not a good choice for you.
The greatest thing about this bed is that it can easily compensate for heavier loads without sagging or losing its supportive properties. The mattress has a firm feel, but large sleepers will feel comfortable and relaxed.
Overall, I feel that the Winkbeds Plus will make an excellent investment not only for heavy sleepers but also for those who prefer a firm mattress. Just make sure you don't mind the bounce.
Check out winkbed mattress on winkbeds.com
Best for Organic and Eco-Friendly Materials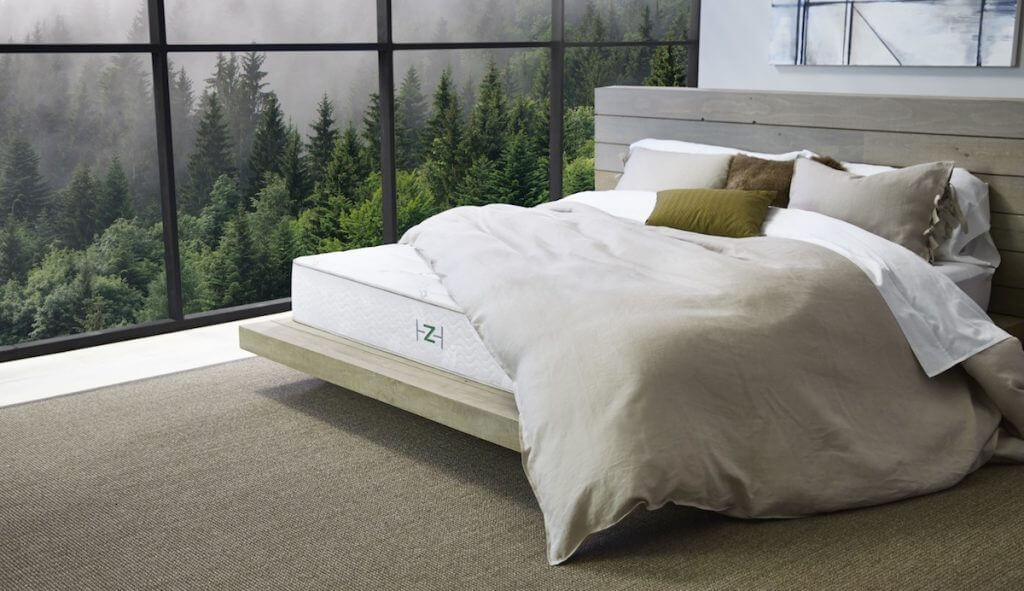 My dear eco-enthusiasts, I didn't forget about you either. This model has made it to my list of top-rated mattresses that won't sag because it's made from natural Talalay latex from top to bottom. Doesn't that make it one of the most eco-friendly options?
Now, this mattress has two sides — the softer one (4-5 out of 10) and the firmer one (7 out of 10) — so you can choose what feels most comfortable for you. Add to this the outstanding conforming properties of latex, and you get a mattress that can cover the needs of many types of sleepers.
Both sides have an organic wool layer, which serves as a natural flame retardant and an additional layer of padding. Plus, wool is known for its ability to balance temperature and help you sleep cool throughout the night.
The drawback of this mattress is obvious: a natural cotton cover, organic wool, and Talalay latex make a pricey combo. The Queen sized bed will cost you almost $1,900 and will definitely burn your pocket if you're on a budget.
The most significant advantage of this mattress is its latex construction. I mean, this material is eco-friendly, hypoallergenic and naturally fireproof and will last for years while performing well in terms of support and cradling.
If you're willing to spend more to get an eco-friendly latex mattress that will serve you for years, the Zenhaven is your ideal bed!
Check out zenhaven mattress on zenhaven.com
Best for Flippable Design
Now, I believe that the Nolah Signature needs to be mentioned in my review of mattresses that won't sag because of the foam comfort and versatility it offers.
Here's the thing:
The Nolah Signature is flippable and comes with a different firmness level on each side. One side is softer (4-5 out of 10) and the other is firmer (7-8 out of 10). Basically, this mattress has high chances of satisfying any sleeper in any sleeping position.
Another impressive feature is that the manufacturer uses their patented Nolah AirFoam to provide you with top-notch cradling and make sure you can move around your mattress without feeling like you're trapped in quicksand. AirFoam also performs well in terms of cooling and keeps you dry and comfy throughout the night.
It pains me to say this, but yes, this bed has a flaw. Although it's made of certified materials, it still has a specific smell, which in my particular case took two days to disappear completely.
The most prominent feature of this bed is its flippable design, which will work great with almost any sleeping position and weight. Plus, unlike many competitors, the Nolah Signature is not too heavy, so you won't find it difficult to flip it over.
So, if you're looking for versatility or just haven't found your preferable firmness yet, the Nolah Signature will work great for you.
Check out nolah mattress on nolahmattress.com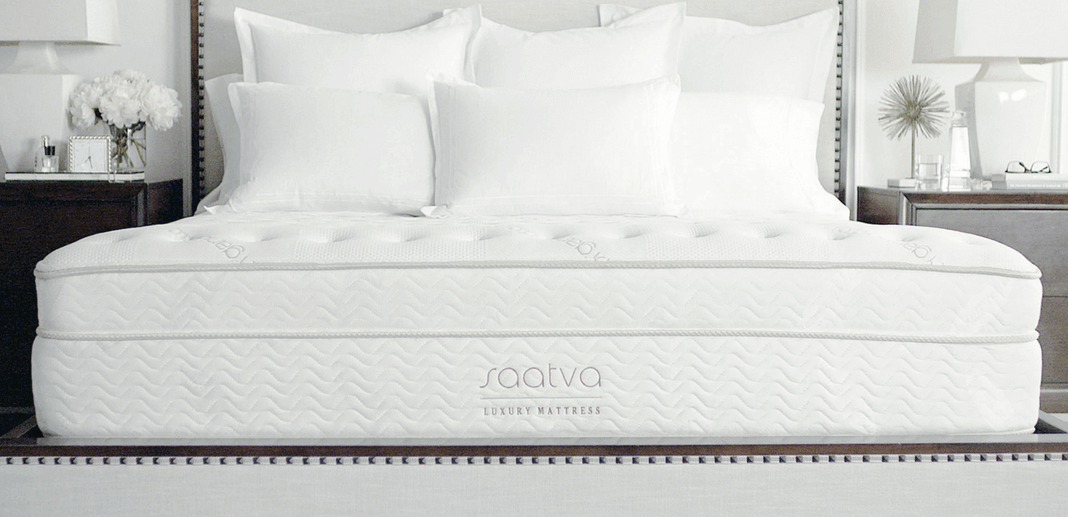 One more model in my review of top-rated non-sagging mattresses is the Saatva, and it's here because it's made from luxury materials and can cool down even a burning hot sleeper! Not mentioning that it all comes at a very affordable price.
This mattress is more than just an innerspring. The Saatva is famous for its coil-on-coil construction: the layer of individually wrapped coils is placed atop of a solid steel block for more precise contouring and enhanced durability.
This support system performs excellently in keeping your spine properly aligned. Top it with three firmness options it's available in, and you will have a bed for any sleeping style. Moreover, the spring block allows the air to freely circulate between the layers, which means this mattress won't make you sweat.
My only complaint about this bed is motion transfer. Even though there are a few foam layers on top of the coils in this mattress, it still has a lot of bounce, which may lead to disturbed sleep if you share a bed with a restless partner.
But I believe that the cooling properties of this mattress can beat even some hybrid beds and gel foams. So, if you tend to get sweaty at night or live in a hot climate, this bed will work great for you.
Overall, I think that fans of innerspring beds and hot sleepers will appreciate the Saatva most of all, for its bouncy feel and breathable construction.
Check out saatva mattress on saatvamattress.com
Cheap Mattress for Back Pain
Brooklyn Bowery by Brooklyn Bedding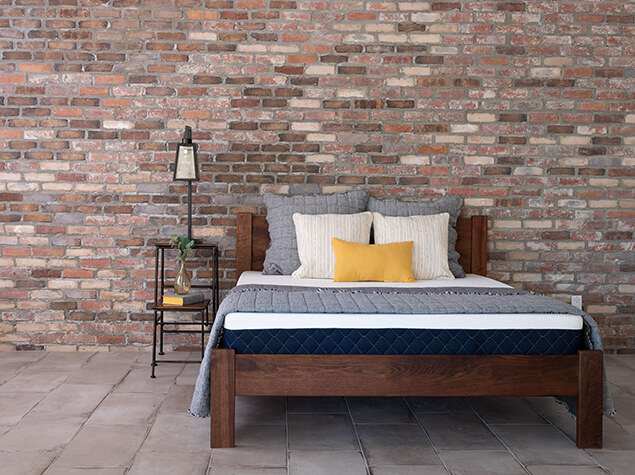 Another option for those who appreciate the bounce. This model by Brooklyn Bowery has made it to my list of the best reasonably-priced mattresses due to the comfort levels and the pain relief it provides, especially for those suffering from back pain.
One of the comfort layers of this mattress is made of Energex foam. Besides giving you a decent hug and contouring — essential properties for pain and pressure relief — this foam also has a quicker response than traditional foam. That means you won't sink and will be able to move freely, which is great for people with pains and aches.
The transition and bottom layers of this cheap mattress for back pain make up a sturdy base for the top comfort layer and ensure you get even support in all areas under your body.
The worst thing about this bed is motion transfer. Due to the layer of bouncy Energex foam on top, you may feel disturbance from your partner moving. If you're a light sleeper, this might be an issue.
The best thing about this mattress is its great pain relieving properties. Whether you're chronic back pain sufferer or an office worker with occasional episodes of a sore lower back, the Bowery mattress can give you the relaxing sleep you need.
Honestly, I feel I can recommend this mattress literally to anyone. It has a balanced feel and great pain relieving properties no matter what type of sleeper you are. Considering its price, that's a real steal!
Check out this mattress on brooklynbedding.com
Why Does a Mattress Sag?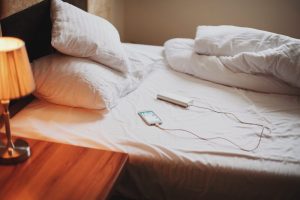 Sagging is one of the most common mattress defects. Usually, indentations appear in the middle of the mattress, but saggy edges are also possible.
But why does it happen?
Here are a few reasons why your mattress may lose its shape:
Your mattress is old

.

All mattresses have a certain lifespan

, meaning all of them tend to lose their supportive properties just because the time has come. However, some external factors can contribute to sagging as well. For example, if you use a heater near your foam mattress, it can become softer and less resilient a lot sooner than it's supposed to.

You share a bed with a partner

. If you love to sleep in a spooning position, this can be the main reason why your

mattress is sagging in the middle

. Yet, if you sleep on separate sides of the bed for years, then several indentations will appear sooner or later.

You sleep with pets

. Seems a bit weird, but yes, if you have a large dog and allow him to sleep on your bed, he can also leave a small, sagging spot, for example, in your leg area.

Your mattress is poorly made

. Now, there's a big difference between a

good budget mattress

and cheaply made one. The latter usually uses low-quality materials that aren't designed to withstand even an average weight sleeper for long. Cheap foams in foam mattresses, as well as the absence of reinforced frame in innerspring beds or the use of blended latex in latex mattresses, will definitely contribute to your

mattress sagging on the edges

and in the middle.
Flipping and rotating your mattress regularly can slow down the sagging process. Note that some mattresses are not designed to be flipped, though. You'd better inquire the manufacturer about it before actually doing it.
Is Sleeping on a Saggy Mattress Really That Bad?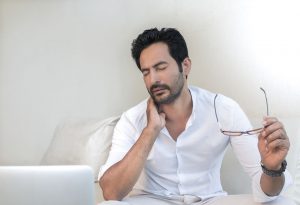 Well, shortly speaking, yes.
A saggy mattress can wreck your health in a lot of ways and I will list some of them below.
Aches and Pains
A sagging mattress and back pain is a common combo. Besides putting a healthy spine out of alignment — which will result in soreness and episodes of acute pain the next morning — an uncomfortable mattress can aggravate the existing health conditions.
But how do you know it's your saggy mattress that causes you pain?
Look for these signs:
the pain

appears upon awakening in the morning

and goes away after an hour or two;

the stiff feeling

may completely disappear after quick stretching

or a yoga session;

if you get a chance to

switch a bed for a night

— for example, when staying at a friend's house or a hotel — you will wake up well-rested and painless.
Poor Sleep and Insomnia
Lack of support from a saggy mattress may result in disrupted sleep.
Here are the signs:
you

need more time to find a comfortable position

to fall asleep;

you wake up in the middle of the night with

numb hands or legs

.
If you ignore these signs and continue sleeping on a sagging mattress, your brain might begin to associate your bed with poor rest and sleepiness the next day, which will likely give you a hard time falling asleep, if you manage to do this at all.
Dust Accumulation
Since sagging is most often linked to an old mattress, it may pose a few more threats to your health (apart from discomfort and disrupted sleep):
dust mites;

mold;

bed bugs.
Mattresses accumulate dust and organic particles — such as your skin, hairs, and sweat — which make up a perfect habitat for dust mites. These creatures are the most common cause of allergies. And mold allergy is also quite common.
As for bed bugs, along with just being gross, they can cause skin rashes and spread some dangerous diseases.
So, if you began to feel any of the typical allergy symptoms, then, rather than trying to fix a sagging mattress, throw it away and finally buy a new one!
Does Mattress Warranty Cover Sagging?
Typically, the saggy spots appear after your trial has expired. Which may lead you to a reasonable question:
Does my mattress warranty cover sagging?
Because if yes, then fill in a warranty claim and — poof! — you can get rid of the old mattress and get a new one.
However, it's not that simple.
To consider sagging as a defect, the indentation must reach below a certain level. Some brands name the range between ½" and 2". But to know for sure, check the warranty conditions for your particular model.
Now, the most accurate way to measure the depth of a saggy spot in order to know if it is covered by the warranty is the following:
remove all the bedding (including a mattress protector or pad, if you have one);

take a thick string or thread and stretch it along the mattress surface, above the indentations;

use pins to hold the string in place;

take a ruler or tape and measure the distance between the string and the deepest point of your indentations.
Once you have a figure in inches, see if it's below the level of sagging mentioned in the warranty conditions. If it is, go on contact the manufacturer. Chances are, you won't need to buy a new bed.
Which Types of Mattresses Won't Sag?
I hate to break it to you, but if there were a non-sagging mattress formula, the whole mattress industry would go bankrupt. Because why purchase a new bed if your old one is eternal?
However, some types of mattresses perform better than others in terms of sagging.
Pillow top mattress sagging usually occurs because the soft filling forms small lumps while the rest of the mattress construction remains uniform. In this case, it may be enough just to replace the pillow top.
How to Choose the Best Mattress That Won't Sag?
Now, I understand that you might be a bit lost, given all the information provided.
That's why I've pointed out the key things you should consider:
Foam density

. In foam mattresses, the denser the foam, the more durable it is. A good rule of thumb is to look for the density of 1.5-2 lbs./ft³ for polyfoam and 3.5-5 lbs./ft³ for memory foam.

Latex type

. Latex mattresses can be made either from Dunlop or from Talalay latex. Generally, the former is considered as a more durable option.

Coils specs

. In hybrids and innersprings, steel gauge and coil count are the deal breakers. The former indicates the thickness of the steel wires, and a lower steel gauge means thicker and more durable coils. As for the coil count, it shows how many coils were used. Obviously, the more, the better, especially if you're a heavier sleeper.

Foundation

. You may be surprised, but the wrong mattress foundation can lead to quicker sagging, even if your mattress is well-made. To avoid this, learn about compatible bed bases for your mattress model and make sure to switch to a more suitable one if necessary.
Conclusion
Now you're equipped with all you need to know to find a mattress that won't sag.
Hopefully, the models I've reviewed were a good starting point for you. They really are some of the most durable and supportive beds on the market.
But my absolute favorite was the Dreamcloud. It has eight levels of different materials, which, I believe, should perform well in terms of support and comfort for years to come. Having a medium firmness, it can offer a night of cool and refreshing sleep to most users.
But, as I said, it might not work for side sleepers. If that's who you are — or if you just want more cushioning — there's no better model for you than the Nolah Signature. Both sides of this bed have unbeatable contouring properties and can support your spine in different sleeping positions.
So, how old is your mattress, what is its type, and when did you start noticing the sagging? Tell us in the comments below!
Product links on Happysleepyhead are referral. We get a commission on purchases made through our links at no additional cost to you. More information in my disclosures.