Homelessness in the USA: Statistics and Accommodation Directory
by | Last Updated
Imagine you wake up homeless.
What would you do and where would you go?
You'd need to find food and shelter in the first place, which definitely isn't easy.
For people who've been homeless for a while, though, a constant struggle for food and a safe place to sleep is how their every day looks like. And there are other struggles too. Below are some statistics and facts for you to get a better idea of what life is for the homeless.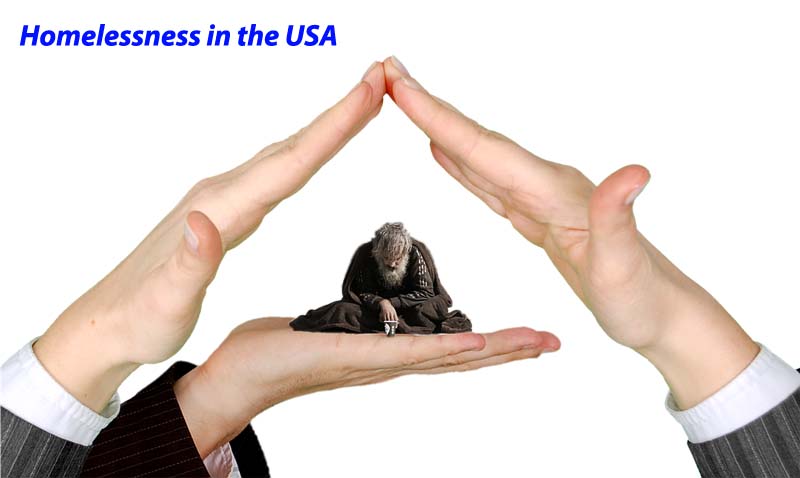 What Is the Current State of Homelessness in the US?
The US Department of Housing and Urban Development is a government agency that supports homeownership and community development. One of its main goals is reducing homelessness, which is why they constantly monitor the current situation and create programs to improve it. In 2017, their annual report showed the following statistics on homelessness:
On a single night in 2017,

550,996 people

were homeless (which is 14.9% less than the estimates in 2007).

65.5% of them were staying at special shelters for homeless, while the rest (34.5%) were unsheltered.

33.5% of all homeless people were families with children.

9.1% of the homeless were veterans.

7% of the total homeless population were unaccompanied young people (under 25).

States with the highest rate of homelessness in 2017 were California (24.1%) and New York (16.4%), while 26 of all states had less than 1% of all homeless population.

Overall, in 2017, there were 1,416,908 people registered in homeless shelters (which is 10.8% less than the estimates in 2007).

44.4% of those sheltered homeless adults had a disability.

22.5% of all people who experienced sheltered homelessness in one point or another during 2017 were children under 18.

Homeless people stayed at a shelter for about 27 nights on average.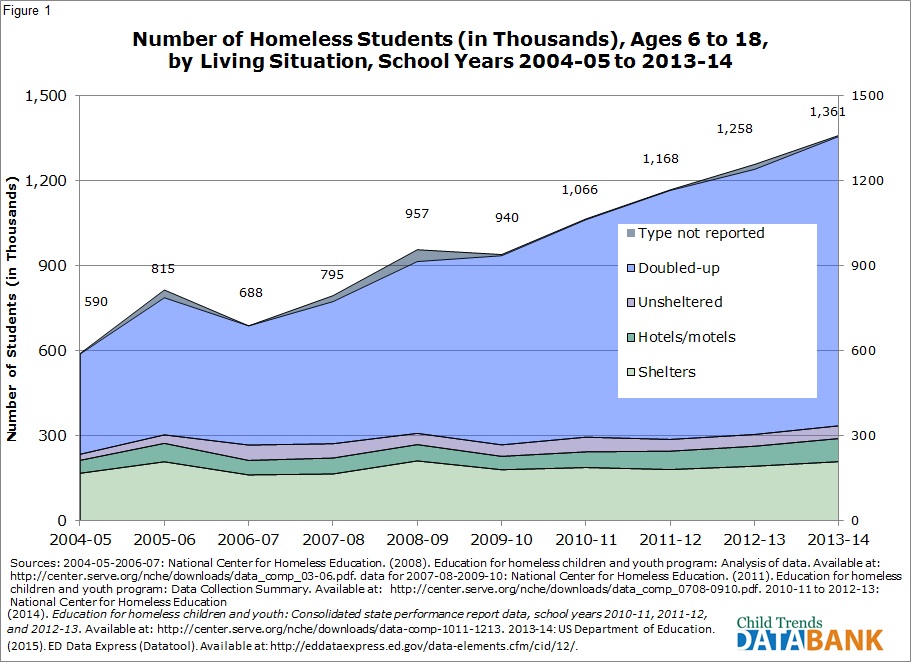 Source: https://www.childtrends.org/indicators/homeless-children-and-youth
Just think of it:
About half a million people are out there every night with no place to call a home!
Such numbers are intimidating, but they do show that the problem of homelessness is improving, thankfully, compared to previous years.
Why Do People Become Homeless?
The factors below are listed by how much they contribute to the problem.
Lack of Affordable Housing
Rents in the US are very high and keep rising quite fast. Especially in larger cities. Research shows that 26% of renters pay half of their salary for their rental homes, which puts them at a very high risk of becoming homeless somewhere soon in the future. Such low-income households often have only one family member employed full-time.
Why so, you might ask?
Well, the possible reasons include a lack of education, bad work history, disability or health issues, a criminal record, etc. You should agree that it's hard to do something about any of these reasons. This makes it clear that such families are just an incident away from moving out to the streets.
Health Issues and Disability
Health conditions, either physical or mental, are a number two factor leading to homelessness. And homelessness in turn often leads to serious health conditions. It's a vicious circle that is very hard to break.
"In 2006, the National Alliance to End Homelessness provided the percentage of HIV-positive people among the homeless population. It was 3.4% as compared to 0.4% among the general population."
It's obvious that major incidents, diseases, and disabilities requiring special care and expensive treatment might leave people with debts, especially if their income is below average. While in some cases this homelessness is a temporary condition, it can become a chronic issue in others, meaning a lot of time will pass before a person manages to get out of this situation (if it ever happens at all).
Mental health issues can lead to homelessness too. Schizophrenia and Post-Traumatic Stress Disorder (PTSD) are the most common conditions. Interestingly enough, the latter might also be caused by homelessness itself.
Addictions
Homeless people are often seen as all alcoholics and junkies. The truth is substanceabuse happens to be among the most common causes of homelessness, but it's an illness and a great challenge for people, so it requires special treatment and support rather than condemnation.
Two in three homeless people report alcohol and other drugs as one of the major reasons for becoming homeless in the first place, according to research. Obviously, poor living conditions don't help but only make it worse, leading to drug overdose deaths, alcohol poisoning, as well as overall high mortality rates due to different health conditions caused by addictions (e.g. cancer or heart disease).
"As of 2015, 70% of homeless veterans reported having substance use problems."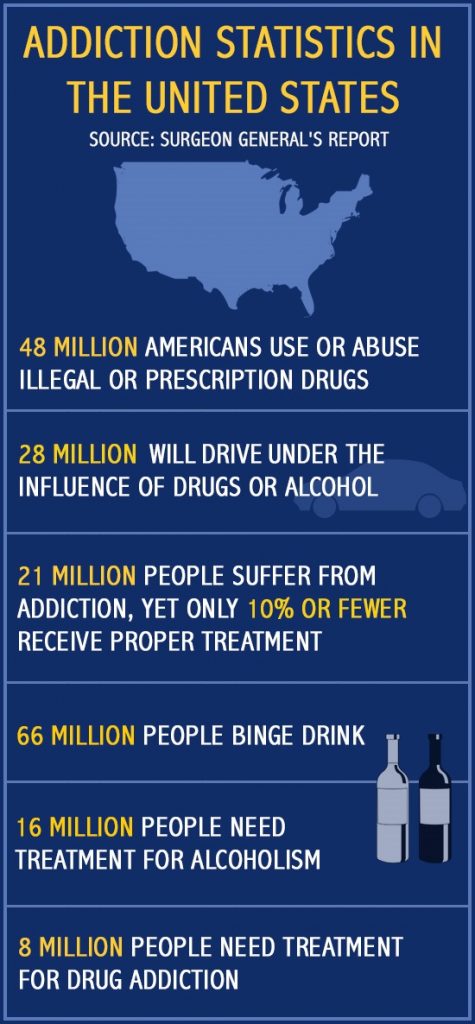 Source: https://www.inspiremalibu.com/blog/drug-addiction/public-health-crisis-of-addiction-surgeon-general/
Lack of Support
When major incidents happen, most of us can always seek help withinour family and friends circle or even address our local communities. But some people can't afford that. They might have lost contacts with any close people or all their family members might have died. Whatever the case, this leaves people alone with their challenges.
"Kids are at a rather high risk of becoming homeless after they age out of foster care. One study has shown that more than a third of former foster youth have at least one incident of homelessness by the time they turn 26."
Domestic Violence and Physical Abuse
The NISVS state report shows that more than 10 million Americans, both men and women, experience different forms of domestic violence and physical abuse every year. It equals to about 20 people per minute! Many of them find themselves on the streets, trying to escape that. The most recent statistics show that more than 15% of the homeless are victims of domestic violence.
It might be really hard to provide for yourself (and your family), as well as find a new place to live, after leaving the abusive environment. The lack of affordable housing and the lack of a support network are only a few factors contributing to this situation.
Illegal Past
For people who are fresh out of jail, it is very hard to find a job, even if they are willing to change their lives and make real efforts for that. For many of them, it's also difficult (sometimes, even impossible) to reunite with their family. It's not surprising then that each year about 50,000 people returning from incarceration enter shelters.
And here's the worst thing:
It's funny and sad at the same time how homelessness is becoming criminalized around the country.
There are laws that prohibit sleeping, begging, camping, loitering in public places, as well as sleeping in vehicles. Some cities even prohibit sharing food with the homeless! So, it's so easy for people with a criminal record to get back to prison if they have nowhere to go after exiting the system.
LGBTQ Harassment and Discrimination
LGBTQ community members often fall victims to harassment, domestic violence, and different forms of discrimination, which makes it really hard for them to live a normal life. According to this survey conducted by the Williams Institute, the most common reasons young members of the LGBT community become homeless are:
they

are forced to leave

home (i.e. kicked out by parents);

they

run away themselves

after being rejected by their family or because of some form of abuse at home.
The same research reveals that as many as 30% of homeless youth who take part in housing programs identify as LGBT.
The life of lesbian, gay, bisexual, and transgender people gets even more complicated because of the lack of LGBT-friendly homeless shelters. According to this brief, LGBT community members are very likely to be either not allowed to enter shelters or allowed but treated with indignity and violence there.
Natural Disasters
Earthquakes, hurricanes, floods, tsunami, and other natural disasters might cause immense destruction. They ruin houses, so homeowners and their families are left homeless, sometimes with large mortgage loans yet to pay. They ruin industrial buildings and offices, leaving people jobless. They are responsible for the increase in rents, so it becomes harder for victims to afford new housing.
Here's a recent example:
After Hurricane Harvey, which made two major landfalls in Texas and one in Louisiana in August 2017, the number of homeless people in Houston, Texas has increased by 13% compared to the previous year. Almost 20% of all homeless in this city and its surrounding areas have reported the hurricane was to blame for their homelessness. Harvey has made it to the list of the costliest natural disasters in the US, along with Hurricane Katrina of 2015, which was responsible for 60% of homelessness that year.
"There's a group of people, consisting mostly of youth, for whom homelessness is a personal choice that supports their ideology of staying out of the system. It's hard to provide any numbers as to how small or large this group is because these people usually refuse to interact with any governmental agencies offering assistance."
Homelessness and Sleep
Whether it's on the street, in a car, in an abandoned building, on a bench, at a homeless shelter, or in any other places where homeless people can sleep, they will hardly manage to get what we are used to calling "quality sleep".
Here's the deal: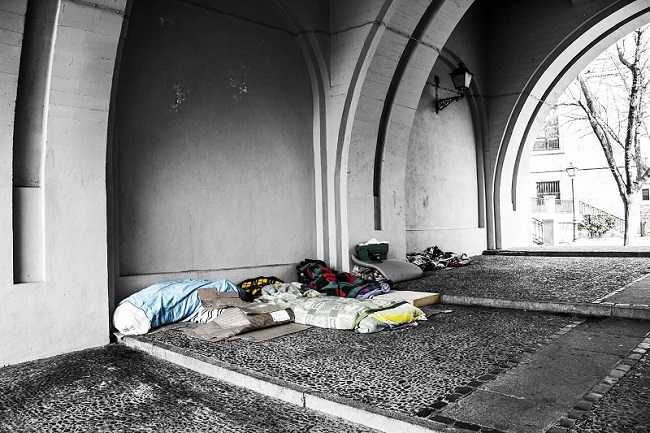 A small study in Boston revealed that the average duration of sleep among homeless is 6.28 hours per night, while the lowest reported was 3.5 hours.
But it's not only that they get insufficient amounts sleep. It's also that the sleep they get is not good.
As you might know, the best environment for sleep is quiet, dark, and somewhat cold. It's almost impossible to find or create such an environment when homeless. Noise from streets, sunlight or streetlight, unsanitary conditions, bad weather, as well as the need to always be alert are the main factors that leave people without proper sleep.
Sleeping in a shelter is not always a real alternative. There are fewer beds in shelters than there are homeless people, and it actually seems there will never be enough to accommodate everyone in need. In many facilities, a person is allowed to stay only overnight and will be forced to leave early in the morning. Besides, shelters are often overcrowded and loud and, despite the idea of being safe in the first place, many are not safe at all.
Interestingly enough, a lot of homeless shelters have a number of requirements for a person to be accepted. They include:
taking a drug test and being sober;

having a job;

no pets;

no LGBT (especially T).
Even when finally housed, some homeless people don't feel secure and simply can't relax to get a good night's sleep. For those who have had no permanent housing for a long time, a normal bed might seem uncomfortable and the overall setting might be unusually quiet.
With all of that being said, it's clear that sleep deprivation with all of its consequences is a common issue for homeless people. Many of them start taking such drugs as methamphetamine to stay awake at night and alcohol or other drugs with a sedative effect to quickly fall asleep in the morning. This may be linked to the fear of being robbed, killed, or assaulted at night or to a job with night shifts.
"Sleep deprivation leaves people unfocused and exhausted, which makes it quite hard to find a way to earn money or get some food. And without food and money to spend on necessities, it gets almost impossible to ever get out of homelessness."
Accommodation Directory for Homeless: The Largest Shelters by State
Although the number of homeless shelters around the country is not enough to accommodate each and every homeless person, there still are lots of organizations and facilities in every state. We have compiled the largest ones below, with the basic information about each shelter.
Alabama
Salvation Army Montgomery
for men, women, and families

food and clothing provided

furniture vouchers

hygiene kits

educational and support programs for kids and women

rent pay assistance for employed

free 14-day stay
900 Maxwell Boulevard
Montgomery, AL 36104
(334) 269-2018
Alaska
Glory Hole
serves everyone over 18 y.o. and accompanied minors

food, phone, clothing, laundry, and shower provided

support programs and referrals

survival kits available

counseling and mental health services

free first night, $10 for every consequent night or free for helping with facility chores
247 S Franklin Street
Juneau, AK 99801
(907) 586-4159
Arizona
Phoenix Rescue Mission
emergency overnight men's shelter

community kitchen for everyone

clothing and hygiene items provided

educational assistance and job referrals

counseling services

spiritual care and addiction recovery services
1801 S 35th Avenue
Phoenix, AZ 85009
(602) 233-3000
Arkansas
Our House
for men, women, and children

food, clothing, and supplies provided

mental health and medical referrals

transition programs

prison re-entry programs for women

case management

job skill training

on-site childcare facility

up to two-year stay allowed
302 E Roosevelt Road
Little Rock, AR 72206
(501) 374-7383
California
Union Gospel Mission
men's shelter

on-site computer room, media center, and much more available to everyone

clothing, haircuts, shower, and laundry provided

vocational programs and referrals

rehab programs for men
400 Bannon Street
Sacramento, CA 95814
(916) 447-3268
Colorado
Catholic Samaritan House
for men, women, and families

clothing and food provided

medical care

employment assistance

case management

support programs for teens and families
2301 Lawrence Street
Denver, CO 80205
(303) 294-0241
Connecticut
South Park Inn
for single adults and families with children 1+

meals and hygiene items provided

health services

case management

substance abuse groups
75 Main Street
Hartford, CT 06106
(860) 724-0071
Delaware
The Shepherd Place
for women and families

up to 30 days stay allowed

food, clothing, household supplies provided

case management

counseling and job assistance
1362 S. Governors Avenue
Dover, DE 19904
(302) 678-1909
Florida
The Kearney Center
emergency shelter for adult men and women

food, laundry, storage, and shower provided

phone and computer access

health services

case management
2650 Municipal Way
Tallahassee, FL 32304
(850) 792-9000
Georgia
Gateway Center
for men, women, and families

meals, shower, storage, clothing closet, phone access, laundry provided

health services

on-site chapel

career help and referrals
275 Pryor Street, SW
Atlanta, GA 30303
(404) 215-6600
Hawaii
The Institute for Human Services
for men, women, and families

food, mail service, lockers, showers, and laundry provided

case management

job counseling

medical services
546 Ka'aahi Street
Honolulu, HI 96817
(808) 447-2800
Idaho
River of Life
men's shelter

food and clothing provided

mental health services

educational help and job referrals

addiction recovery programs
575 S. 13th Street
Boise, ID 83702
(208) 389-9840
Illinois
Contact Ministries
for women with children

laundry, clothing, food, personal care items, and phone access provided

transportation services

job assistance and skill training

counseling and case management
1100 East Adams Street
Springfield, IL 62703
(217) 753-3939
Indiana
Wheeler Mission Ministries
emergency shelter for men and women

shower, food, and clothing provided

chapel services

addiction recovery programs

health services

case management

residential programs
205 East New York Street
Indianapolis, IN 46204
(317) 635-3575
Iowa
Central Iowa Shelter & Services
for men and women

clothing closet, meals, shower, and laundry provided

medical help

employment assistance

case management and referrals to social services
1420 Mulberry Street
Des Moines, IA 1420
(515) 284-5719
Kansas
Topeka Rescue Mission
for single men and women, as well as families

food and clothing provided

skill training and career assistance

chapel service

mental and physical health help

housing assistance
600 N. Kansas Avenue
Topeka, KS 66608
(785) 354-1744
Kentucky
Access Shelter
men's shelter

meals, clothing, and toiletries provided

educational assistance

counseling and case management
311 West Second Street
Frankfort, KY 40601
(502) 223-5179
Louisiana
Bishop Ott Shelter and Day Center
for men, women, and families

food, clothing, laundry, and shower provided

life and career skills training

substance abuse help

dental services

case management
1623 Convention Street
Baton Rouge, LA 70802
(225) 383-7343
Maine
Bread of Life Ministries Shelter
serves men, women, and families

clothing, food, shower, laundry, and storage provided

case management

employment help

permanent housing
155 Hospital Street
Augusta, ME 04330
(207) 626-3479
Maryland
Light House Shelter
for men, women, and families

food, shower, laundry, toiletries, clothing, and personal care items provided

financial help

medical help

life skills and job training

substance abuse support groups

case management
206 West Street
Annapolis, MD 21401
(410) 263-1835
Massachusetts
Southampton Street Shelter
men's shelter

clothing, laundry, shower, and food provided

medical services

substance abuse help

case management
112 Southampton Street
Boston, MA 02118
(617) 534-6100
Michigan
City Rescue Mission of Lansing
for women and children

shower, laundry, toiletries, food, and clothing provided

case management

counseling and educational assistance
2216 S Cedar Street
Lansing, MI 48910
(517) 485-0145
Minnesota
Union Gospel Mission Twin Cities
for men, women, and families

meals provided

case management

mental health care and dental care

faith-based recovery programs for men and women
435 East University Avenue
St. Paul, MN 55101
(612) 292-1721
Mississippi
Salvation Army Center of Hope
for men and women

laundry, shower, meals, and clothing provided

job training and employment help

case management
110 Presto Lane
Jackson, MS 39206
(601) 982-1828
Missouri
Salvation Army Center of Hope
for single adults and families

clothing, food, shower, laundry, and toiletries provided

case management

life and job skill training

referrals
907 Jefferson Street
Jefferson City, MO 65101
(573) 635-1975
Montana
The Friendship Center
for domestic violence victims (only women and children)

food and clothing provided

support programs

case management

legal counseling
1503 Gallatin Avenue
Helena, MT 59601
(406) 442-6800
Nebraska
People's City Mission
for men, women, and families

laundry, shower, meals, personal hygiene items, clothing, and mail services provided

chapel services

case management

life skills classes

educational and employment assistance

healthcare services
110 Q Street
Lincoln, NE 68501
(402) 475-1303
Nevada
Friends In Service Helping
for single adults and families

clothing, food, hygiene items, and on-site amenities provided

medical help

skill training

referrals
138 East Long Street
Carson City, NV 89706
(775) 882-3474
New Hampshire
McKenna House
for everyone over 18 y.o.

food, clothing, and shower provided

case management

recovery programs

legal advocacy
100 S Fruit Street
Concord, NH 03301
(603) 228-3505
New Jersey
Rescue Mission of Trenton
serves single men and women

food, clothing, on-site amenities, and hygiene necessities provided

medical help and referrals

career assistance

addiction recovery programs
98 Carroll Street
Trenton, NJ 08609
(609) 695-1436
New Mexico
Interfaith Community Shelter
for women and children all year round, for men during winter months only

shower, toiletries, clothing, and food provided

haircut and trim available

medical and mental health and referrals

substance support groups

employment assistance
2801 Cerrillos Road
Santa Fe, NM 87505
(505) 795-7494
New York
Capital City Rescue Mission
emergency shelter for men, short-term shelter program for women

food and clothing provided

addiction recovery programs

primary medical help

chapel services

educational and transitional living programs
259 South Pearl Street
Albany, NY 12202
(518) 462-0459
North Carolina
South Wilmington Street Shelter
men's shelter

meals provided

case management

mental health care

skill training

addiction recovery programs
1420 S Wilmington Street
Raleigh, NC 27603
(919) 857-9428
North Dakota
Ruth Meiers Hospitality House
men's shelter

food, bathing facilities, and clothing provided

job training and referrals

case management

legal advocacy

$14 per week
1800 E Broadway Ave
Bismarck, ND 58501
(701) 222-2108
Ohio
YMCA Van Buren Center
for men, women, and families

foo and on-site amenities provided

substance abuse treatment

health services

counseling and case management
595 Van Buren Drive
Columbus, OH 43223
(614) 715-2515
Oklahoma
City Rescue Mission
for men, women, and families

clothing, food, bathing facilities, and hygiene items provided

medical assistance

counseling and job help

case management
800 W California Ave
Oklahoma City, OK 73106
(405) 232-2709
Oregon
Union Gospel Mission of Salem
for men, women, and families

clothing, food, personal care items, and shower provided

employment assistance

counseling and case management
345 Commercial Street NE
Salem, OR 97301
(503) 362-3983
Pennsylvania
Bethesda Mission Men's Shelter
men's shelter

meals and clothing provided

physical and mental health care

recovery programs and support groups

employment help and referrals
611 Reilly Street
Harrisburg, PA 17102
(717) 257-4440
Rhode Island
Providence Rescue Mission
for single men and women

shower facilities and meals provided

dental services

career training

substance abuse recovery programs
627 Cranston Street
Providence, RI 02907
(401) 274-8861
South Carolina
Transitions Homeless Recovery Center
for men and women

shower, laundry, food, clothing, and computer access provided

medical care and mental health services

career assistance and life skills training

drug and alcohol abuse treatment
2025 Main Street
Columbia, SC 29201
(803) 708-4861
South Dakota
Missouri Shores Domestic Violence Center
for victims of domestic violence

food and laundry provided

support groups for women and children

legal assistance
398 S Pierre Street
Pierre, SD 57501
(605) 224-0256
Tennessee
Room at the Inn
day shelter and emergency winter shelter

food, transportation, supplies, shower, and laundry provided

mail services and internet access

spiritual programs

life and job skills training

recovery programs
705 Drexel Street
Nashville, TN 37203
(615) 251-9791
Texas
Austin Resource Center for the Homeless
for men and women

meals, shower, and clothing provided

healthcare clinic

transitional housing programs

case management
500 E. 7th Street
Austin, TX 78701
(512) 305-4100
Utah
The Road Home
for men and women

shower, toiletries, food, and clothing provided

mental health treatment

case management

career help
210 Rio Grande Street
Salt Lake City, UT 84101
(801) 359-4142
Vermont
Good Samaritan Haven
for men and women

personal care items, food, and clothing provided

case management

housing programs
105 North Seminary Street
Barre, VT 05641
(802) 479-2294
Virginia
CARITAS
for single adults and families

meals and bathing facilities provided

case management

substance use disorder treatment

wellness programs
1532 High Street
Richmond, VA 23220
(804) 358-0964
Washington
Interfaith Works Overnight Shelter
for adult men and women

clothing, meals, storage, bathing amenities, mail, and phone access provided

pet-friendly

medical help and referrals
701 Franklin Street
Olympia, WA 98501
(360) 918-8424
West Virginia
Union Mission Crossroads
men's shelter

meals, clothing, toiletries, and shower provided

chapel services

employment help
700 South Park Road
Charleston, WV 25321
(304) 925-0366
Wisconsin
Salvation Army Single Women's Shelter
for single women

shower, laundry, food, and clothing provided

case management

skill training workshops
630 East Washington Avenue
Madison, WI 53703
(608) 250-2226
Wyoming
Comea House
for men, women, and families

food, clothing, bathing, and toiletries provided

employment help programs

case management
1504 Stinson Ave
Cheyenne, WY 82001
(307) 632-3174