Honest Layla Mattress Review
by | Last Updated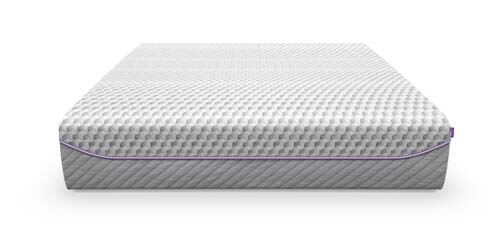 Layla is here to save the day (and night).
At least that's what the manufacturer promises.
But can this mattress actually leave up to the expectations?
That's what we are about to find out. In today's Layla mattress review, we will take a closer look at this model and see how good it really is. Let's dive right in!
Construction
Now, the first thing I want to mention in my review of Layla mattress is the fact that this is a flippable bed. This means you can sleep on both of its sides, depending on what firmness level you need. Obviously, one side is softer and the other one is firm.
You may be wondering "How does it work? How come there are two firmness levels?" Well, the secret is in the construction and the combination of layers, of course. Let's take a closer look at them:
The firm side

features a 1-inch copper-infused memory foam layer. It is quite dense and offers great support levels. Additionally, the copper component helps with the heat dispersion and allows users to sleep cool (even though it's a foam mattress).

The base support foam layer

. Measuring 4.5 inches tall, this layer is the densest one. It serves as the foundation of the bed and provides support for your body.

The convoluted support foam

. This layer has a jagged design, which improves the ventilation and contributes to the mattress's breathability.

The soft side

features a 3-inch copper-infused memory foam layer. It is plush and offers generous cradling and good levels of sinkage. It also doesn't sleep hot thanks to the copper component.
As you can see, Layla is an all-foam mattress. Because it has two firmness levels, it's more flexible in terms of use. But we still need to find out how comfortable this mattress really is.

Cover
The next thing I want to mention in my Layla mattress review is the cover. Not only because this mattress's layer is the closest to you but also because Layla uses a very interesting cover. Featuring a Thermogel technology, it reacts to your body heat and helps disperse it, providing a cooling effect.
The cover is made of a combination of different materials. It includes 66% polyester, 30% viscose, 4% lycra, and is woven with the Thermogel agent. The bottom part of the cover is 100% polyester. Some people might not like the fact that there are synthetic fibers in the cover.
However, I just want you to know:
It feels very smooth and pleasant, does not irritate the skin, and allows for breathability.
And it gets better:
The cover is zipped and removable. You can use the zipper when flipping the mattress or when you need to clean your cover.
Keep in mind that you can't just flip the mattress without taking it out of the cover if you want to take advantage of that Thermogel technology. It's used only in the top section of the cover, which means the bottom part isn't cooling.
"Because Layla's cover is quite special, you can't just wash it. It can only be dry-cleaned. This might be a big drawback for some users, but that's the price you have to pay if you want to use the Thermogel technology. However, you can always get a waterproof mattress protector and eliminate the need to clean the actual mattress cover. Also, the manufacturer sells additional and replacement covers separately, in case you need to toss the old one."
Firmness and How It Feels
This part of my Layla mattress review is very important, as the way your bed feels will directly influence your comfort and the quality of your sleep.
Now, as you already know, Layla is a flippable mattress, which means it feels differently on two sides. So, let's talk about each of them.
The soft side rates around 4-5 on the firmness scale (from 1 to 10). It is very cradling and feels plush. This side is great for side sleepers with shoulder pain since it offers a lot of hugging for the pressure points and the protruding parts of the body: shoulders, hips, and even knees.
As for the firm side, it is quite stiff. It rates around 8 on the firmness scale and feels very supportive, with a modest amount of hugging. It's a perfect option for stomach and back sleepers.
Support
Let me tell you right away:
If you are a heavier sleeper and need proper support, Layla will work for you. Its base layer is rather dense and can hold larger users easily. Of course, if you lie on the soft side, you will experience a lot of sinkage, which might even feel like you are a bit stuck. But you will still be supported from the underneath by that base core.
As for the edge support, this is where Layla doesn't really have to offer anything special. Being a memory foam mattress, it doesn't have a strong edge support. The foam just gives in under the weight of your body. So, if you tend to sleep on the edge, Layla (and foam mattresses in general, to be honest) isn't the best option for you.
Motion Transfer
Good news for couples!
No matter what side you sleep on, the motion isolation levels will be good.
Because Layla is a foam mattress, it effectively absorbs the movement. Of course, you might still feel a little bit of your partner's motion, but it will be minimal. Layla isn't bouncy or resilient, therefore all of the movements are effectively "swallowed" by the foam.
"To flip you Layla mattress, you first need to unzip the cover. Then, carefully pick the mattress and turn it to the other side. It's not very heavy, so chances are you will be able to do it by yourself. However, make sure you are extra careful. If your pinch-grab the foam and tear it, such damage will not be covered by the warranty."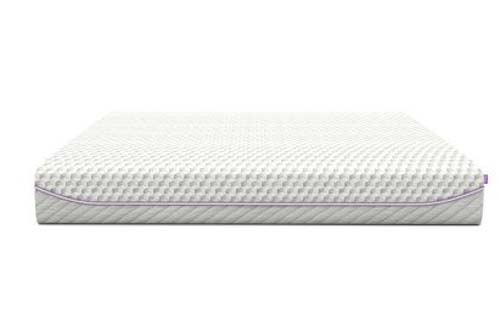 Sinkage
A lot of people neglect this factor, but I believe that sinkage levels are important, so I advise you to pay attention to this part of my Layla mattress review.
Now, the level of sinkage contributes to the general feel of a mattress. It determines whether you are going to sleep "in" the foam or on top of it. Some people prefer a more hugging feel, others want to "float" on top of their bed.
With Layla, you will definitely be lying "in" the foam. The soft side allows for a more generous amount of sinkage, obviously. When lying on it, you will experience around 6-7 inches of sinkage (at least). This makes the soft side ideal for pressure relief. It will nicely cradle your pressure points, allowing them to relax fully.
As for the firm side, it allows for a good amount of sinkage too (at least 5-6 inches). Even though it's stiffer, the top layer is still a foam one, which is why it cradles and hugs your body, adapting to its shape. Keep in mind that when sinking too deep into the firmer foam, you will hit that next support layer, which is also rather stiff. This makes this side more suitable for stomach and back sleepers.
Smell and Off-Gassing
Off-gassing is typical for memory foam mattresses, especially the models, which are delivered compressed and vacuum sealed in a box. And Layla is one of them.
So, it does have a noticeable odor when you open it up. The scent isn't chemical, so you don't have to worry about that. Layla does not use petroleum-based foams, for the odor of your new mattress will not be toxic.
However, it might linger longer than in some other models, which may be a bit disappointing for some users. Your new mattress will need quite some time to air out (usually the whole night, sometimes more than a day). Opening your room's windows and door will create a fresh breeze and help with ventilation.
Something You Should Know
Not warning you about this factor wouldn't be fair. So, I want to mention it in my review of Layla mattress.
The thing is, Layla is a rather young company. It was launched in 2015, which means there are no long-term reviews concerning the durability of the mattress. Of course, young doesn't mean bad. But this factor might alert some users, especially those who prefer buying only from well-tried companies.
The good news is, Layla comes with a lifetime warranty. This really shows the manufacturer's belief in their product's quality. Additionally, this protects you and your purchase and allows you to feel safe using your mattress for years to come.
"Rotating your foam mattress regularly is always a good idea. I don't mean switching the firmer side to the softer one and vice versa. I mean rotating the mattress clockwise (or counter-clockwise, you get the idea). This will help prevent the sagging with time. Experts recommend rotating your foam mattress at least once a month."
The Best Thing About This Mattress
I think you won't argue with me when I say: the coolest thing about Layla is its versatility. Offering two firmness levels, this mattress can be used by different sleepers and for different occasions. You can use it as a guest bed or flip it to find out, which firmness level works the best for you. Whatever the case is, Layla has a lot to offer.
The Worst Thing About This Mattress
I'm not sure this can be considered as a drawback (since different people have different requirements), but I feel like Layla might be a disappointment for those who need their mattress to have a medium feel.
Let me explain: when purchasing the Layla mattress, you get a very plush surface and a very stiff one. The two sides are like the opposites of each other, and none of them offers something in between. Therefore, if you need a medium-soft or a medium-firm mattress with an equal balance of support and cradling, Layla will not work for you.
The Good and the Bad: Overview
I suggest we look at the list of the most important pros and cons of this mattress. Because only by considering both the flaws and the positive aspects, you can get the full picture.
Prices
Layla offers a good value for money. It comes with two firmness levels in one and doesn't cost that much. Additionally, the mattresses are currently on sale. Here's a list of the prices:
| Size | Price |
| --- | --- |
| Twin | $399 |
| Twin XL | $499 |
| Full | $699 |
| Queen | $799 |
| King | $899 |
| Cal King | $899 |
Check Availability on Laylasleep.com
"Layla is not the cheapest mattress. However, you can still get it even if you are on a tight budget. The company offers a financing option via Affirm. You can get the rates from 0% to 30%, depending on your credit check."
Shipping, Returns, and Guarantees
Here's the deal:
Layla is sold exclusively online, which is why the company tries to make the shopping experience as fuss-free as possible for its customers.
The mattress is shipped compressed and vacuum sealed in a box, which means you will easily carry it to your bedroom and set it up without a problem. The shipping is free and available for 48 states. The shipping to Alaska, Hawaii, and Canada is possible, but only for an extra fee.
Now, the company also offers a trial period for its clients. You can use the mattress and return it within 120 days in case you don't like it. You will get a full refund, of course. The company will arrange a free pick-up from your home, after which the mattress will be donated to a local charity.
As for the warranty, it's pretty clear. You get a lifetime coverage, which I call "Don't Worry, Sleep Tight" warranty. You can read all of the conditions on the manufacturer's website, but remember: if you rip a piece of foam off when flipping the mattress, it will not be covered by the warranty. You have been warned.
Whom Is This Mattress the Most Suitable For?
Now, I realize that one mattress cannot satisfy everyone. Unless it's a transformer, which can change its construction with a click of a button. But those do not exist (yet).
As for Layla, this is a rather flexible mattress, which can work for many sleepers. So, you are going to love this model if you:
need great pressure relief and generous cradling;

are a side or stomach/back sleeper;

want a firm bed with decent sinkage levels;

hate sleeping hot and want a cooling effect;

don't mind buying a mattress online without a chance to test it in the store;

want a 2-in-1 mattress;

don't tend to sleep on the edge of your bed;

need good motion isolation levels;

love the hugging feel of the foam;

want a good value for money;

don't mind the lingering "new mattress" smell;

are ready to buy from a relatively young company.
Whom Is This Mattress Not Suited For?
Despite being suitable for many different users, Layla cannot please all. So, it won't be the best option for you if you:
need a medium-firm mattress;

buy only from time-tested companies;

don't like the cradling feel of the foam;

absolutely have to test the mattress in the store before making a purchase;

can't stand the off-gassing of a new bed;

tend to sleep on the edge of your mattress.
Check Layla Mattress on Laylasleep.com
Materials and quality

Support

Cradling

Edge support

Motion isolation

Cooling

Warranty and trial

Off-gassing

Company reputation

Value for money
Summary
To be honest, I feel like Layla is a really good find. This mattress is versatile in use, nicely made, and features smart components and construction. Yes, it will not work for everyone, especially people who need something in the middle. However, if you want a soft or firm mattress, this 2-in-1 model might really surprise you. It offers a good value for money and great comfort levels. To me, that's a win-win!
Product links on Happysleepyhead are referral. We get a commission on purchases made through our links at no additional cost to you. More information in my disclosures.