5 Best Egg-Crate Mattress Toppers for Therapeutic Sleep
by | Last Updated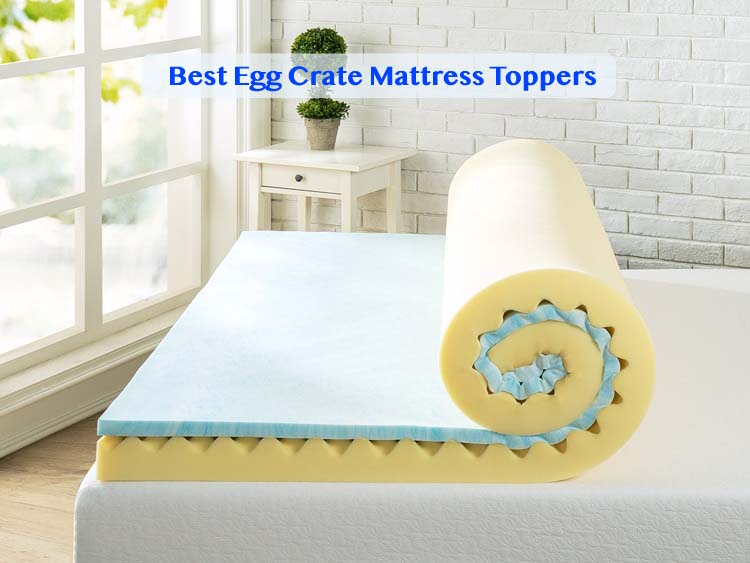 Good sleep depends on many factors. One of them is the surface you sleep on.
If your bed is old and saggy, sleeping on it can cause you more harm than good, contributing to different aches and pains instead of helping you restore.
The good news is, I've got the solution for you — level up your bed with an egg-crate mattress topper.
The egg-crate — also known as convoluted — design has many benefits compared to the traditional one, so it can definitely help you sleep soundly.
Sounds interesting? Then check out my reviews of 5 best egg crate mattress toppers just below and find the model to your liking!
[table id=123 responsive=collapse datatables_row_details=true datatables_row_details_columns="A-G" /]
Our Reviews of 5 Best Egg-Crate Mattress Toppers
Budget Pick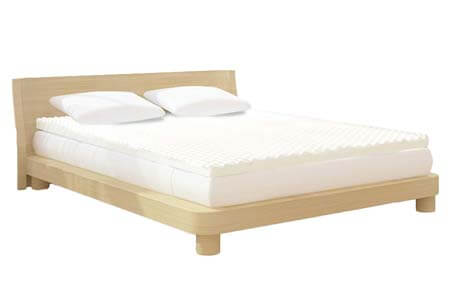 I will begin my selection of top-rated egg crate mattress toppers with the most affordable option, offered by Milliard. It's two inches thick and is available in the four most popular mattress sizes, so it won't be challenging to pick the one for yourself.
The topper is made from memory foam with an open-cell structure that retains less heat and sleeps cooler than other memory foams. Along with that, the foam feels pretty dense and supportive, providing excellent pain relief for an average-weight sleeper.
Good news for allergies and people with asthma as well: the Milliard topper is certified by Greenguard and doesn't hide anything harmful inside. Mine didn't even have any smell!
Now, the worst thing about the Milliard is its inconsistency in dimensions. The Queen size that I was testing measures a couple of inches short on each side. For some users, this may be an annoying inconvenience.
But the best thing about this mattress topper is definitely the price tag. Despite the issues with sizing, the Milliard has everything a worthy mattress topper should have, and you won't have to spend all the money in the world to get that.
Overall, I think that this is a good topper to refresh an old mattress or help you get rid of back stiffness after a tough working day.
Check out this mattress topper on amazon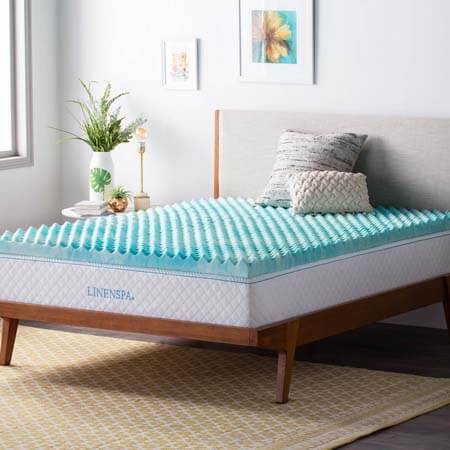 The next position in my review of the best egg crate mattress toppers is dedicated to hot sleepers. This model by Linenspa is designed to sleep cool on any occasion. I tested the 3-inch thick option, and it was really refreshing.
So, this topper offers you the same egg-crate design, except that the foam peaks are a bit more pointy compared to other models on the market. This creates more airflow between you and the mattress, promoting heat dissipation.
The three-inch thickness will work great for mixed sleepers and larger individuals. It has a decent hug and will cradle your body without creating pressure points.
But the most significant disadvantage also lies in the convoluted design. Although the foam feels quite soft, the pointy edges can feel irritating for sensitive sleepers at first, meaning a couple of nights may pass before one gets used to a new feel.
The most prominent feature of this topper, though, is its heat removing properties. I've tested many foam mattress toppers, and I can say that this one sleeps much cooler than similar models on the market.
So, if you need a comfy mattress topper that won't make you drown in your sweat, choose this model by Linenspa. It will literally suit any sleeping style.
Check out this mattress topper on amazon
Best for People with a Sensitive Nose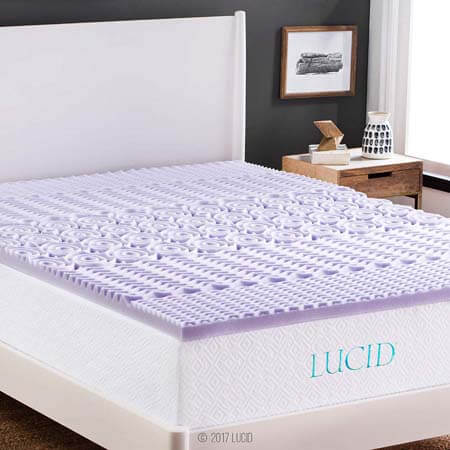 The main problem with most all-foam sleep products is their sharp odor that can be quite annoying. LUCID solves this issue by replacing the chemical foam odor with a soothing lavender scent, thereby putting this model on my list of the best egg-crate mattress toppers.
Another prominent feature of this model is zoned support. The LUCID topper has five differently textured zones that will compensate for the load from your body and relieve the tension in the hip and shoulder area.
The two-inch thickness is suitable for back and stomach sleepers of average weight. The foam has a soft to medium feel and can offer you a slight massage effect for additional relaxation.
The most noticeable drawback of the LUCID is that all these textured zones take quite a lot of time to expand completely, so you have to be patient before you actually get to sleep on this topper.
But the best thing about it is the lavender scent. It kills two birds with one stone by masking the foam odor pretty well and leaving you relaxed so that you can fall asleep faster.
Overall, this is a great choice for people who are sensitive to odors. But this topper offers outstanding pressure relief, too, so it can work for literally anyone.
Check out this mattress topper on amazon
Let's move further through my reviews of the best egg crate mattress toppers. Here comes this great model by Best Mattress Price. It is made of copper-infused memory foam — although there's also a lavender-infused option available — and now I will tell you why this material is great.
First, just like cooling gel, copper particles excel at withdrawing excess heat. Given the three-inch thickness of this topper, which is suitable even for a heavy side sleeper, the ability to sleep cool definitely puts this topper higher than similar models.
Second, copper has an anti-static effect, which contributes to additional relaxation and pain relief. Combine it with excellent cradling properties of memory foam, and you will receive your perfect sleeping cloud.
The downside of this topper lies in the materials. The foam feels quite springy and dense and might be a bit too firm for petite sleepers. So, they may want to go with another option that has more cradling.
The most impressive feature of this topper, though, is the uniform support it can provide. If you're suffering from chronic pain, the Best Price Mattress can give you relief and relaxation you're looking for.
If you want a simple topper without any bells and whistles, opt for the Best Mattress Price. It does its job pretty well and offers you just enough comfort to sleep soundly.
Check out this mattress topper on amazon
The Most Versatile Option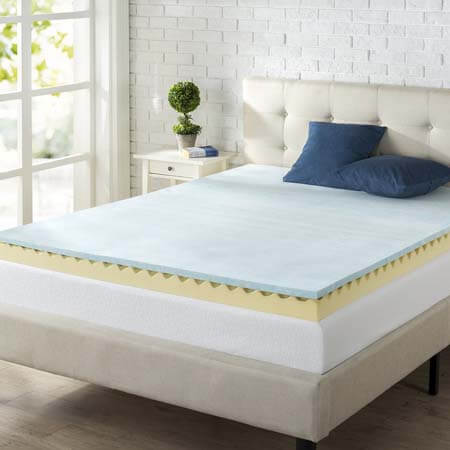 And the last candidate in my selection of top-rated egg crate mattress toppers is designed by Zinus. It will best suit heavier sleepers or those who want to mask indentations in their mattress.
This model by Zinus is a dual-layered mattress topper with a total thickness measuring four inches. The upper layer is made from gel memory foam and meant to help you sleep cool. The second layer has a convoluted design, which additionally enhances breathability and reduces the chances of hot flashes. However, you can remove the upper layer if you want a more pronounced massage effect.
Also, this mattress topper has a feature typical of all the foam products by Zinus — it is infused with green tea extract and castor oil for eliminating risks of bacteria growth and preventing odors.
And this could also be a turn-off for individuals who are sensitive to smells. Instead of the sharp foam odor, you'll feel the strong smell of green tea, which can also disrupt your sleep.
The absolute best thing about this mattress topper is that it can serve as a small but effective upgrade for your old and saggy bed, offering you decent cradling while remaining cool.
This model by Zinus is a great choice for those who want versatility experimenting with the feel and thickness, as well as a good amount of cradling. You can adjust it to your liking and sleep soundly.
Check out this mattress topper on amazon
Why Do You Need an Egg-Crate Mattress Topper?
The modern market can offer you literally thousands of options when it comes to mattress toppers.
So, why should you choose the one with the convoluted design?
I will name only the main reasons for this:
Cooler sleep

. Most

mattress toppers with a cooling effect

have an egg-crate design. This construction allows the air to circulate between you and the mattress and promotes better airflow. So, if you're prone to night sweats, you may find this feature to be beneficial for your sleep quality.

Pressure relief.

The convoluted design has a slight massage effect that can contribute to relaxation. Also, it performs better when it comes to contouring and adapting to your body shape.

Noiseless construction

. All egg-crate pads are made of foam, which is a quiet material, so, you can be sure that nothing will disrupt your sleep.
Also read: Best Mattress Toppers For Lower Back Pain Relief And Sound Sleep — Our Top Picks And Buyer's Guide
Best RV Mattress Toppers For Camping Devotees
"Mattress toppers are available in different firmness levels and thicknesses. If you own an old memory foam mattress and want to rejuvenate its feel, getting a mattress topper with a firm feel can be a solution."
The Pros and Cons of Using a Convoluted Mattress Topper
Now, I would like to outline the main pros and cons of a mattress pad with the convoluted design compared to other types.
So, let's begin with the good:
Smaller weight

. Flat foam toppers might be bulky and heavy, but you're unlikely to encounter this issue with an egg-crate model.

Little to no maintenance

. Since convoluted toppers typically come as one piece, you don't need to fluff or flip them regularly to maintain their integrity and shape.

Affordability

. Convoluted toppers generally are the least expensive type of toppers on the market. They can be even cheaper than the most budget-friendly memory foam pad with a flat surface.
But convoluted toppers surely aren't perfect and come with the following drawbacks:
Lower resilience

. Typically made from softer foams, egg-crate toppers may have a shorter lifespan. Also, the convoluted design and uneven surface may be less able to withstand large loads for a long time.

Odors

. The wavy design increases the area of contact with air. This can result in a more pronounced foam odor compared with foam toppers with a smooth surface.

Limited choice.

Egg-crate mattress toppers have a limited choice of thickness options due to design. Also, not all modern brands offer less-common sizes, such as Twin XL or California King.
"If your mattress pad appears to be slightly bigger than your mattress, you can trim it with a sharp knife or scissors. Keep in mind that this will likely void the warranty."
The Most Common Materials for Convoluted Toppers
When it comes to materials, the choice is quite limited here. Basically,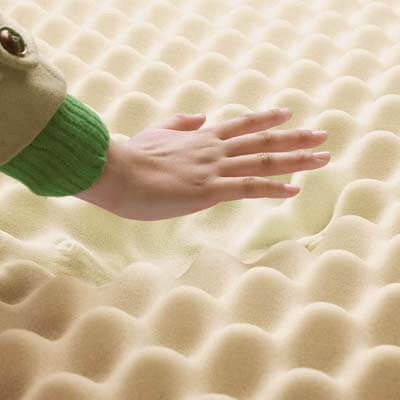 all convoluted mattress toppers are made of foam, but there still can be some subtypes distinguished:
Memory foam

. Memory foam, or viscoelastic foam, is famous for its contouring properties. This material has a closed-cell structure, which makes it more durable but contributes to hot sleeping. The convoluted design can alleviate this issue a bit, but if the manufacturer doesn't use gel beads or other cooling materials, you might still sleep hot.

Polyfoam

. Polyurethane foam is the second most common material for egg-crate toppers. Unlike memory foam, it has an open-cell structure, which allows it to retain less heat and hence sleep cooler. However, open cells cope with big loads less efficiently, so polyfoam toppers might not be the right choice for heavy individuals.

Infused foams

. This group includes all options involving infusion with additional materials — for example, gel beads, copper, graphite, and essential oils. These additions aim to cope with two main drawbacks of foam, odors and hot sleeping. But the addition of other materials may lower the overall durability and shorten lifespan.
What to Consider When Buying an Egg-Crate Topper
Finally, I want to share with you a list of other details you should consider when looking for the best mattress topper.
These are based on my experience, so you may refer to them as a general guideline:
Size

. Obviously, your mattress topper should match the size of your mattress. A slightly shorter or bigger pad may begin to travel around your bed when you move, and this is a huge disruptive factor. So please, check the size before purchasing, and make sure it will fit right.

Firmness

. Most egg-crate mattress toppers come with a medium or medium-firm firmness, which may technically suit most sleepers. It's important to keep your weight in mind when choosing the right firmness. Heavy sleepers typically need a firmer pad that can cope with increased load, whereas petite sleepers will feel better on a softer one.

Thickness

. Thickness is an essential factor to consider when you have some health issues. For example, a good

mattress topper for hip pain relief

should be thicker and more cradling than the one that helps relieve arthritis symptoms.
Your preferred sleeping position is another important factor to consider when choosing a mattress topper. Side sleepers typically need more cradling in the hip and shoulder areas, so they should opt for a thicker pad. At the same time, stomach sleepers may develop a sore lower back with a cushy topper, which is why 1.5 or 2-inch models could be more beneficial for them.
Also read: Best Mattress Toppers For Side Sleepers: Top 5 Picks For The Best Sleep Of Your Life
Conclusion
A convoluted mattress topper can make a great addition to any bed, actually, not only to the old and saggy ones.
This guide has given you five excellent options to choose from. I did my best to select models with good value for money and high performance overall so that you wouldn't be disappointed with your purchase.
Now, I'll point out my favorite. I really loved the LUCID topper. It's made from high-quality materials and adjusts to your body in any sleeping position. Plus, the idea of adding a lavender scent is so simple but adds more value to the product.
But if you're looking for an option that is friendly to your sensitive nose, try the Milliard. This topper doesn't have any smell at all, and its supportive properties are off the charts. Being two inches thick, it won't alternate the feel of your bed very much, while still being able to relieve pain and tension.
Have you tried convoluted foam toppers or are you a fan of the ones with a flat surface? Tell us below. We'd love to know your opinion!
Product links on Happysleepyhead are referral. We get a commission on purchases made through our links at no additional cost to you. More information in my disclosures.