Best Firm Mattress Toppers for Uniform Support — Top Picks and Buying Tips
by | Last Updated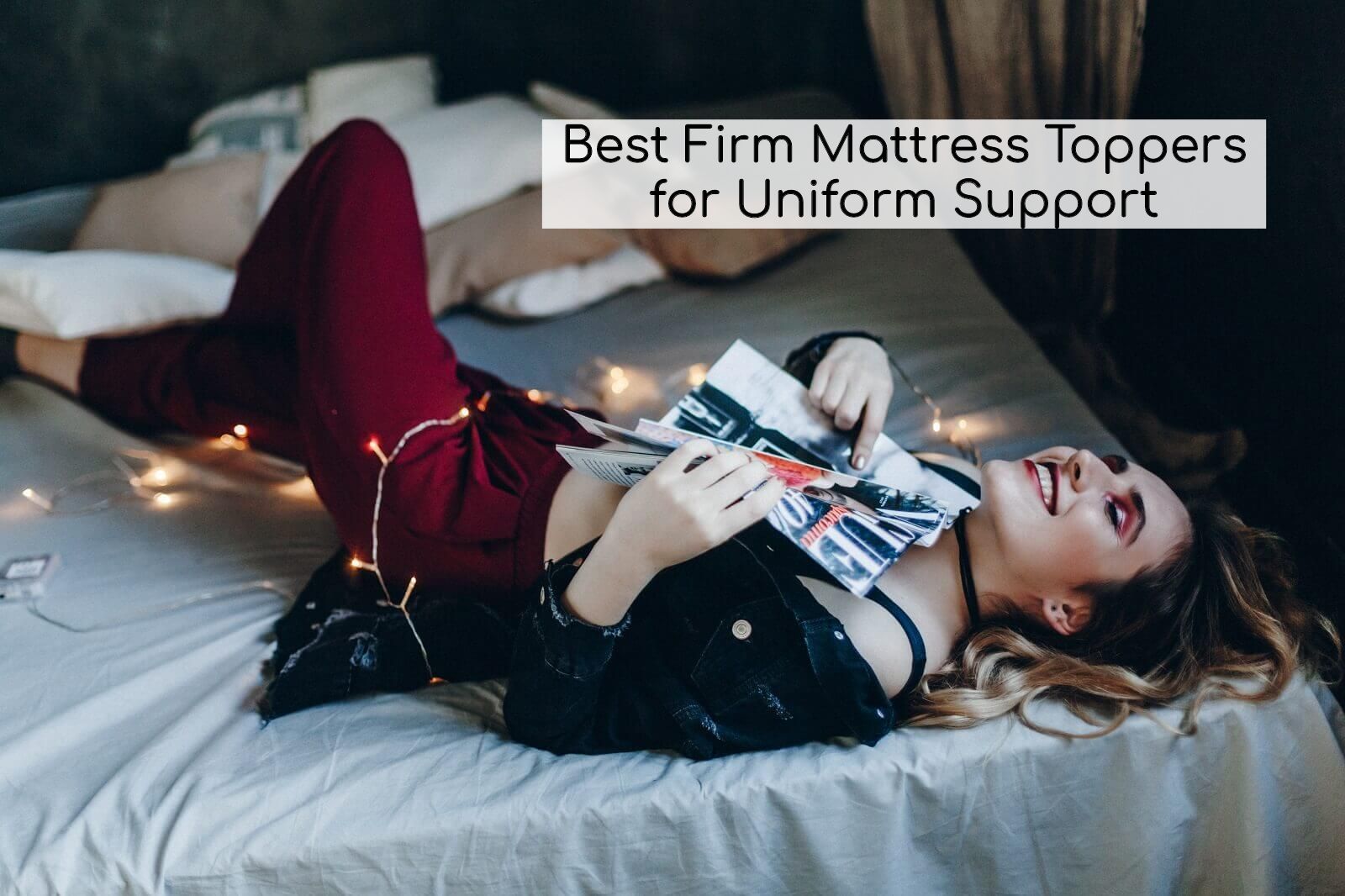 Any mattress will lose its supportive properties over time. It's a fact.
This means that you will begin tossing all night long before finding a comfortable position, or may even develop back pain.
One of the things you can do to avoid this experience is to invest in a good firm mattress topper that will maintain a uniform sleeping surface.
And I can help you make a worthy purchase.
In this guide, I will share my reviews of 5 best firm mattress toppers for your bed and will summarize some tips that you should consider before making a choice.
Our Reviews of Top 5 Best Firm Mattress Toppers on the Market
Best for Natural Materials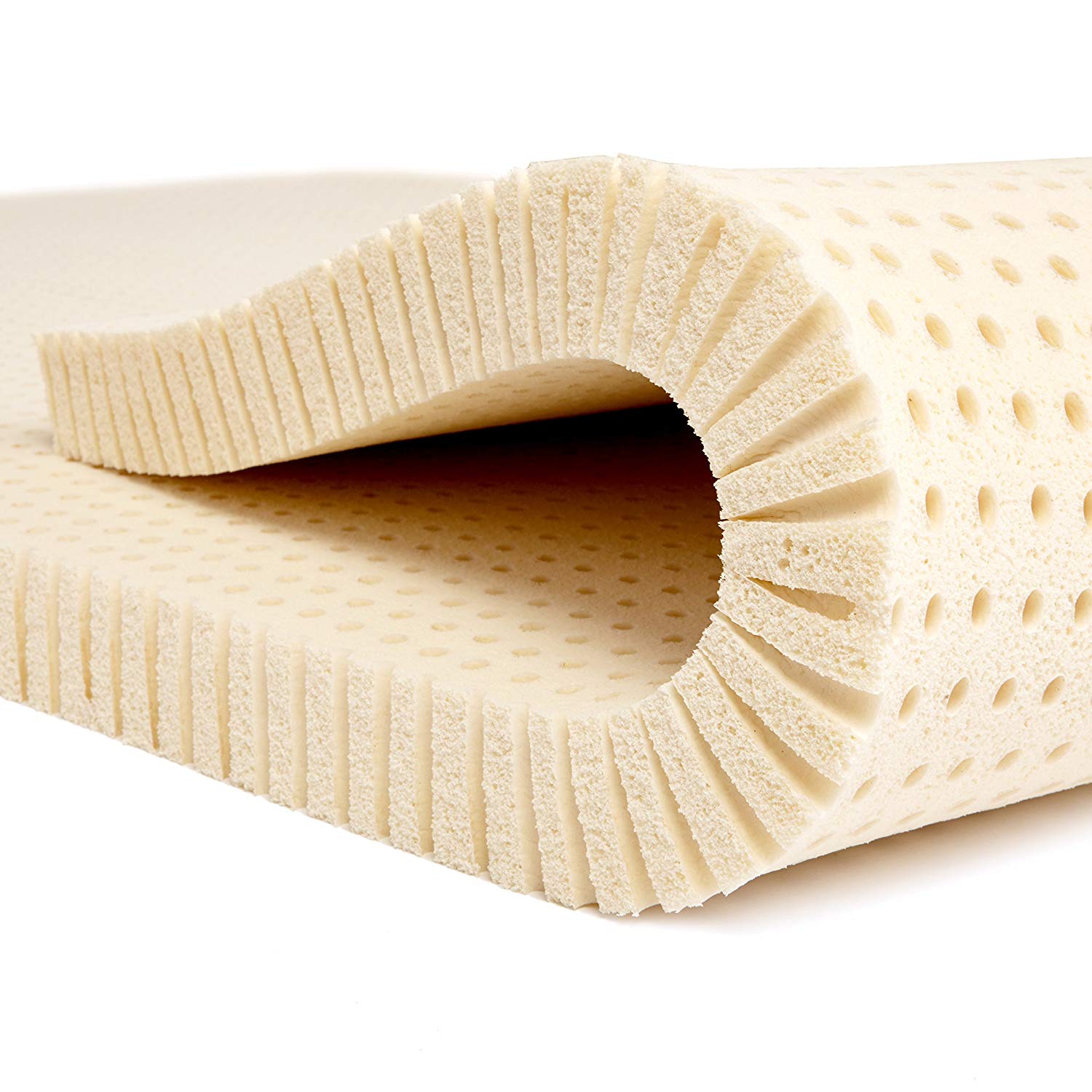 I would like to begin my review of the best firm mattress toppers with this eco-friendly option by Sleep on Latex. This topper is made of natural latex and will work great for those who need a durable and breathable sleeping surface.
The density of latex in this topper is 5.9 pounds per cubic foot, which can be considered extra-firm. Also, this topper has high Indentation Load Deflection index, meaning it's not only firm but also exceptionally durable and will hold its shape for longer.
Now, latex is well-known for its cooling properties, so with this topper, you will actually get a breathable pad between you and the mattress, which will help you stay cool through the night.
The only issue I want to mention is that the Sleep on Latex has a significant odor. This is what exactly latex smells like, but the intensity of the smell can aggravate headaches in sensitive individuals, so you need to give it enough time to dissipate.
But despite this, I loved this model for natural materials it is made of. If you are prone to allergies or concerned about the environment, you will definitely love this topper. It can offer you cool sleep while conforming closely to your body and keeping your spine relaxed.
So, if you are a fan of the spongy latex feel and look for natural materials, go with this topper by Sleep on Latex.
Check out this mattress topper on amazon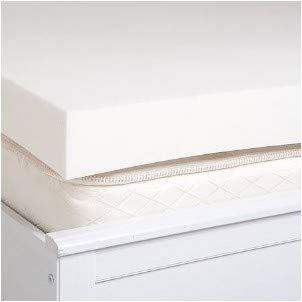 This item is in my review of firm mattress pads because of its value for money. This topper is made from traditional polyurethane foam and is available in all standard mattress sizes. For less than $70 for a Queen, you will get a lifesaver for your old mattress and your spine.
So, this topper by American Made is 2 inches thick, which is enough to provide support to an average weight back or stomach sleeper. The manufacturer also has a 3-inch option, which, I believe, would work for couples or heavy users.
Now, polyfoam is usually more springy compared to memory foam, but this topper surprised me with precise conforming and uniform support. Moreover, it also offers great motion isolation, so you won't be really disturbed by your partner's moving.
What I didn't like about this model is that it may not work well for heavy sleepers. Polyfoam has comparatively low density and tends to lose its ability to spring back quite fast, which might lead to sagging.
The coolest thing about this topper, however, is its price. You don't have to invest too much to get a great additional layer to your mattress, which will score you some time before you decide to replace your mattress.
Overall, if you're a petite or average weight sleeper and aren't looking for the traditional memory foam feel, then the American Made may be an excellent choice for you.
Check out this mattress topper on amazon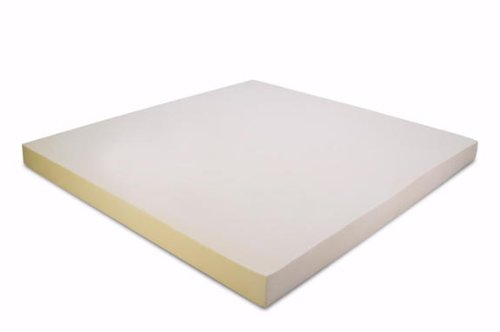 The next contestant on my list of top-rated firm mattress toppers may become a perfect option for those who suffer from acute or chronic back pain. Memory Foam Solutions provide you with three inches of dense memory foam for ideal spine support and decent contouring.
The manufacturer claims that their foam has a density of 5 pounds per cubic foot, so I believe it would work for heavy sleepers and even heavy couples, offering them the support that they need.
Also, this topper can work for individuals that are prone to allergies, as the company uses harmless components to make their foams and produces them via an environmentally friendly process.
Although the brand claims that this foam has gel particles incorporated, the topper still sleeps a bit hot. I mean, you won't be excessively sweaty (because you don't sink too deep, at the least), but I woke up a little groggy on the first night of testing. Just something to keep in mind.
Now, what I love the most is the ability of this topper to relieve any pain, whether it's just stiff shoulders after a tight day at the office or strained lower back after an intense workout. Add the top-notch durability, and you will get a lifesaver for your sleep and health.
So, if you need a topper that can relax your spine and align each of your vertebrae, go for this option by Memory Foam Solutions — you won't be disappointed.
Check out this mattress topper on amazon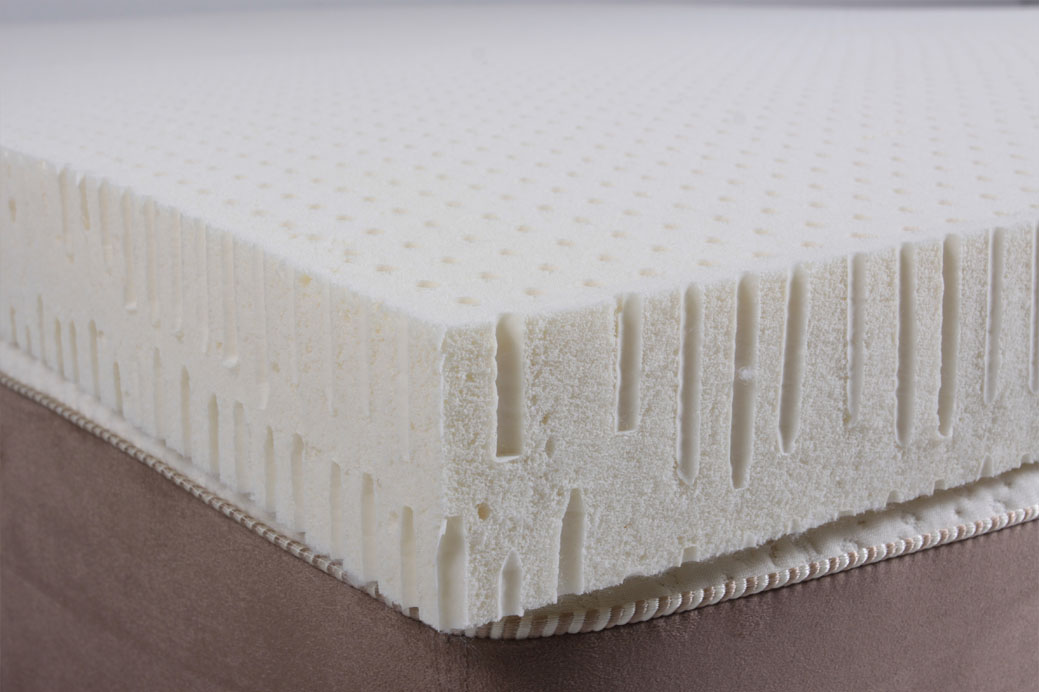 Here goes another latex option in my review of the best firm mattress pads for uniform support. The Plushbeds is made from natural Talalay latex and can offer you refreshing sleep even if you live somewhere around Arizona.
Talalay latex is very cradling but at the same time quite springy, so this topper has excellent pressure relieving properties and may support back or stomach sleeping without making you feel stuck. My wife is a stomach sleeper, and she admits she felt completely relaxed during testing.
Now, although PlushBeds states that their topper is extra firm, it doesn't feel like sleeping on a rock. Yes, it surely provides you with a floating feeling while remaining comfortable at the same time.
The main problem with latex products is that they are rarely cheap, and this topper by PlushBeds is no exception. So, if you're looking for a budget solution, this model may not be the best option for you.
The coolest thing about the Plushbeds is that it doesn't make you sleep hot. Besides being initially cool, the breathability of this mattress topper is enhanced by perforation, which promotes airflow and helps disperse body heat.
Overall, I enjoyed sleeping on the topper by PlushBeds. I think it's the best choice for individuals who live in hot climates and don't mind spending more money.
Check out this mattress topper on plushbeds.com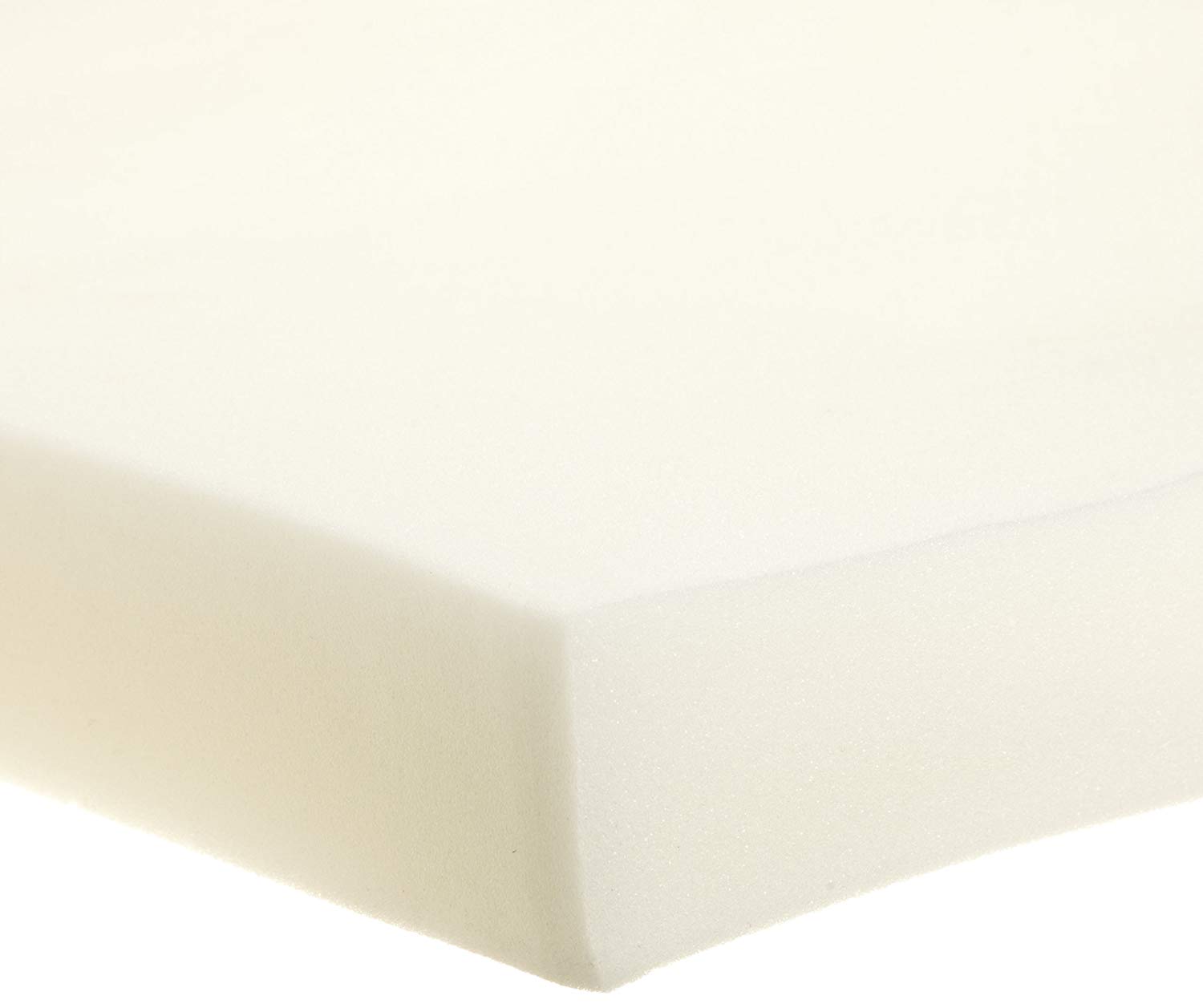 And the last item in this review of the best firm mattress toppers is this polyurethane foam model by SleepBetter. It features three inches of extra-firm polyfoam, which is more than enough to provide you with uniform support and body contouring during the night.
This SleepBetter model is available in two firmness levels, firm and extra firm, so you can choose what suits you best according to your sleeping needs. Both options offer great durability and rebound and allow you to shift and turn without disturbing your partner.
Another great feature of this foam topper is that it is easy to maintain. You can spot clean it with warm water and mild soap.
What I didn't like about this topper is that it might not fully decompress when you take it out of the box. This means it can feel a bit flat. However, this will probably have little to no impact on the quality of your sleep.
And that's the superb thing about this topper. I didn't feel a lack of support and contouring even though it was thinner than I expected. The SleepBetter really does an excellent job in cradling your spine. I believe that it's due to the foam density and resiliency.
So, I can recommend the SleepBetter topper literally to anyone. It will work great as an added layer to a softer mattress and will help you get your portion of sound sleep every night.
Check out this mattress topper on amazon
Why Use a Mattress Topper?
A mattress topper is a layer of material you can purchase to enhance your comfort or alter the feel of your mattress.
But why would one want to add one more layer to their bed?
Well, there are at least two possible reasons:
To change the feel

. As mentioned at the beginning of this article, the way your mattress feels is very likely to change over time. This is especially true for foam beds, the most popular option on the market today. They typically become softer and are more prone to sagging than other materials. Thus, investing in a mattress topper might be one of the ways to

make your old mattress firmer and more uniform

while you aren't ready to replace it yet.

To sleep cool.

Mattress sagging and the loss of resilience may result in hot sleeping, as you will start to sink more deeply into the layers. In this case, a firmer topper will help you remain on the surface so that you will sleep on top of the bed rather than sink into it.
Heavier sleepers will also benefit from firm mattress toppers, as they can support higher loads and distribute weight around the sleeping surface more evenly.
Is a Firm Mattress Topper Better for Back Pain Relief?
When testing different mattress toppers for lower back pain relief, I have found that there approximately are just as many softer models as there are firmer ones. That's because they both can alleviate back pain; it's just that each of them works better in particular cases, depending on the type of pain and health conditions.
Here are the benefits of firmer mattress toppers when it comes to back pain relief:
Uniform support

. A firm topper allows little to no sinkage, thereby providing you with an even surface to sleep on. It is also more likely to hide the sagging spots in your mattress than the softer pad.

Moving without effort

. Softer models tend to compress under your weight more deeply, so switching positions during sleep may become challenging for people with pain. With firmer pads, on the contrary, you can easily move around or get up without much effort.

Improved posture

. A surface that has little give under your body may help you maintain your spine in a more natural position and relax the deep muscles. This is especially great for people with scoliosis.
Heavy-duty mattress toppers can withstand more weight than regular ones, so they might be suitable for couples and larger sleepers who love to float atop the bed.
Also Read: Best Egg-Crate Mattress Toppers
What Material Is the Best for a Firm Topper?
Today, most mattress toppers on the market are made from either latex or different foams.
Here are the main pros and cons of each of them:
Latex

. Latex is a natural material with hypoallergenic and dust mite resistant properties. Regardless of whether you're buying Dunlop and Talalay latex, you will get the material with a porous yet dense structure and a specific 'rubbery' feel. It not only may give you a firmer feel but will also keep you cool throughout the night. Yet, some users just don't like the springy feel.

Memory foam

. Memory foam is the most popular material for making mattresses and mattress toppers. Its main feature is the ability to conform to your body shape, and even extra firm models do this pretty well. The only drawback of memory foam toppers is their closed-cell structure, which means that they retain more heat.

Polyfoam

. Unlike memory foam, polyurethane foam has an open-cell structure, so it sleeps a bit cooler. But open pores are a drawback of this material as well, as they impact the durability and resiliency; polyfoam mattress pads typically have a shorter lifespan compared to other foam types.
Gel-infused foam is often used in mattress toppers with a cooling effect, but due to gel particles inside it, the structure is less resilient compared to other types of foams, which results in a softer feel.
Also Read: Best Mattress Toppers For Side Sleepers: Top 5 Picks For The Best Sleep Of Your Life
Things to Look For Before You Buy a Firm Mattress Topper
Now, to make your search even more refined, I've prepared a list of crucial characteristics you need to look for to find the best firm mattress topper:
Density

. Density is the main parameter of quality for memory foam and latex. The denser the material is, the heavier it will be, and hence the better it can withstand your body weight. Density is measured in pounds per cubic foot (PCF). The lowest measurement you want to look for in polyfoam is 1.8 PCF, in memory foam — 5 PCF, and in latex — 5.3 PCF.

ILD score

. ILD stands for Indentation Load Deflection. It's the characteristic that shows how much weight you need to apply on a test foam piece before it forms a 25% indentation. The ILD rating may vary from 1 to 50, with 50 referring to the firmest feel. Comfortable but firm is somewhere about 30 out of 50.

Mattress firmness

. The firmness of your mattress should be considered when choosing a mattress topper. For example, a softer mattress is more likely to require a firm mattress pad to balance the feel, whereas

medium-firm or firm mattresses

, on the contrary, will pair with a soft topper. But of course, it all comes down to why you are buying a mattress topper and what you expect from it.

Thickness

. Thickness is a concern for people with excess weight. If you are a heavy sleeper who wants to mask the sagging of your current mattress with the help of a new topper, you should opt for a thicker model (at least 3 inches thick). Otherwise, you may feel the indentations through the pad.
The average lifespan of a mattress topper is around 3-5 years. So, you should order from manufacturers that offer at least 3 years of warranty so that you would be protected throughout the entire period of use.
Final Word
Buying a firm mattress topper may make or break your sleep.
That's why it's important to consult with a specialist and make sure that higher firmness is good for you. Once you do, you're welcome to choose any model of the ones reviewed above. I am sure each of them can provide a uniform and supportive surface and can help you get better sleep every night.
As for me, I loved the Plushbeds the most. This is a dense and breathable topper that can cool down any hot sleeper out there. Top it with natural materials and excellent durability, and you will get the deal of the century.
But if you have a limited budget, then the American Made mattress pad may become a worthy alternative. Despite being only 2 inches thick, its springy polyfoam can conform to your back and promote natural alignment.
Why do you want to get a firm mattress topper? Do you think it will help you sleep better? Let us know in the comments below!
Product links on Happysleepyhead are referral. We get a commission on purchases made through our links at no additional cost to you. More information in my disclosures.