Best Mattresses for Side Sleepers with Hip Pain — Reviews and Comprehensive Guide
by | Last Updated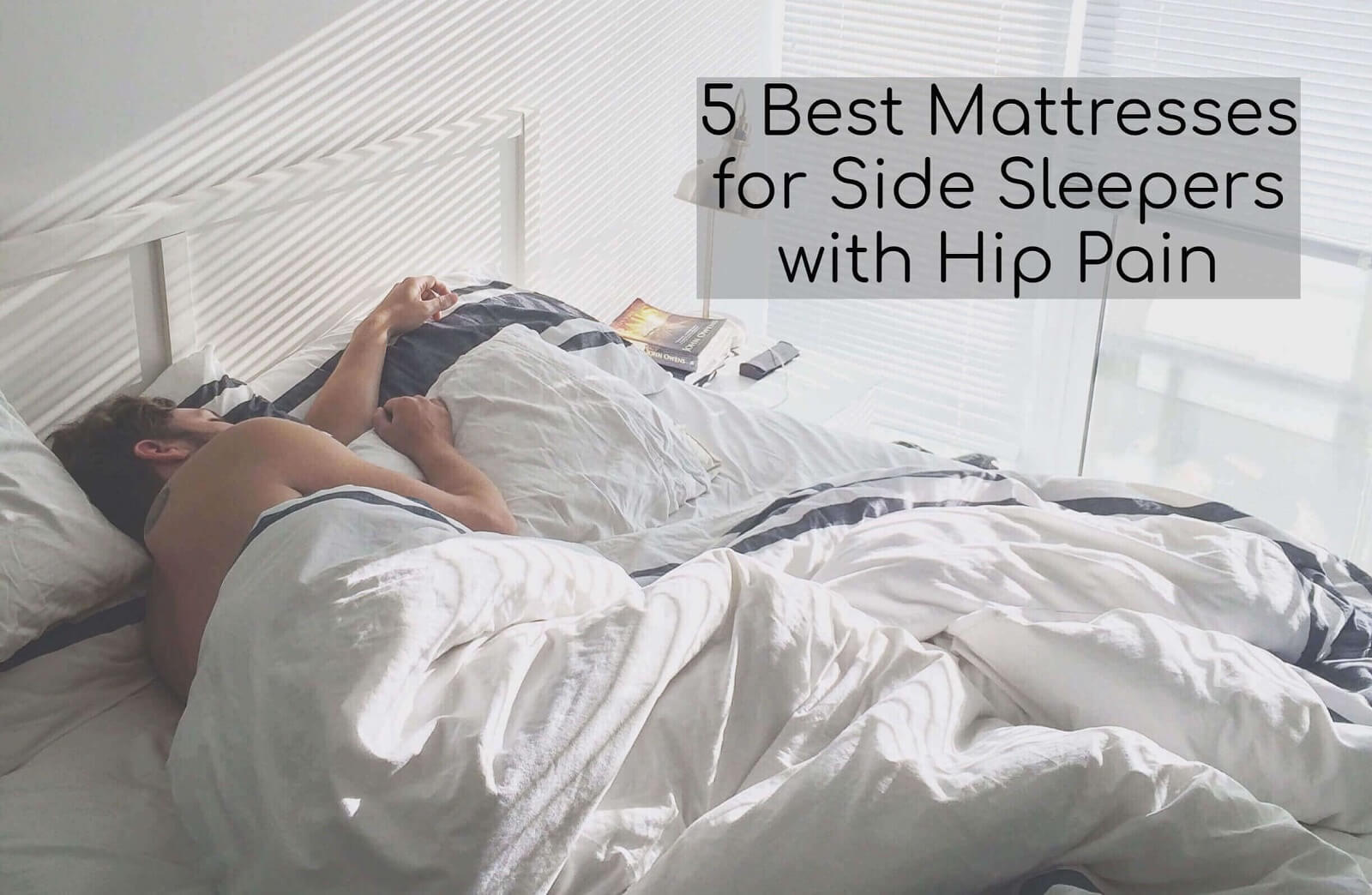 Hip pain can be caused by numerous things. Muscle strains, old illnesses and excessive weight are the most common of them.
Along with getting proper treatment, it's essential to allow your body to heal itself during sleep, which can become challenging if you sleep on the wrong mattress.
That's why I'd like to share my reviews of 5 best mattresses for side sleepers with hip pain. Hopefully, they will ease your struggle and give you the desired relief.
So, get cozy and continue reading!
Model
Type
Layers
Trial & Warranty
Rating
Nolah Original 10
Foam
natural viscose cover;
AirFoam comfort layer;
high-resilience foam support layer;
high-density foam base.
120-night trial;
lifetime warranty
DreamCloud
Hybrid
cashmere cover;
gel-infused memory foam layer;
soft quilted memory foam layer;
latex layer;
plush memory foam support layer;
dense memory foam support layer;
BestRest pocketed coils;
high-density memory foam base.
365-night trial;
lifetime warranty

Winkbeds
Hybrid
Differs depending on the firmness level
120-night trial;
lifetime warranty
Avocado
Hybrid
organic cotton cover tufted with wool;
Dunlop latex layer;
pocketed steel coils;
high-density Dunlop latex base.
100-night trial;
25-year warranty
Bear
Memory Foam
Celliant cover;
graphite gel-infused memory foam layer;
foam transition layer;
high-density foam base.
100-night trial;
10-year warranty

Our Reviews of 5 Best Mattresses for Side Sleepers with Hip Pain
Best Mattress For Side Sleepers with Hip Pain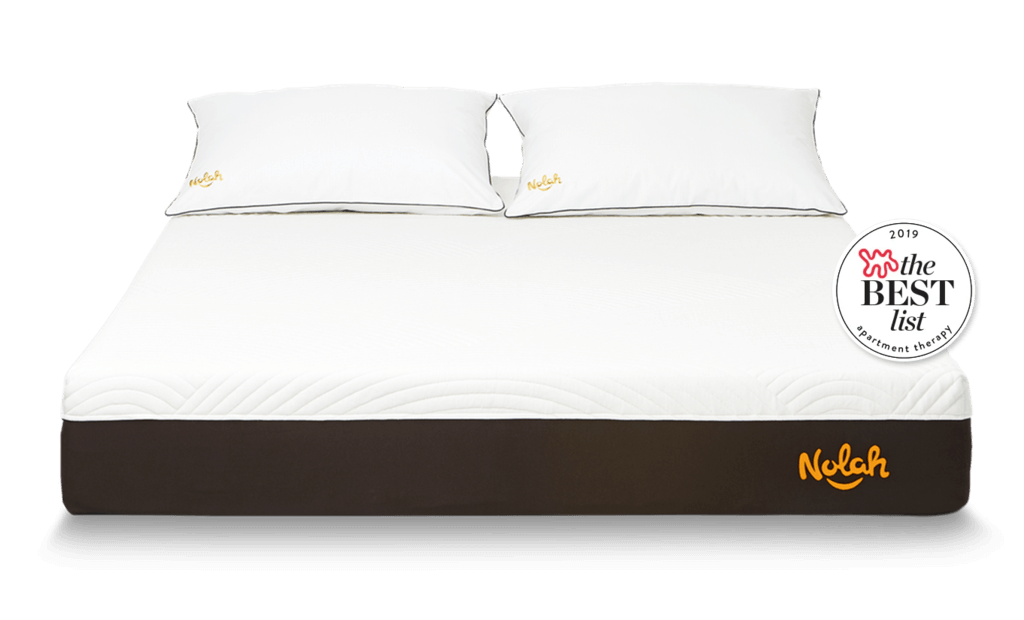 Foams of any kind are the best materials in terms of cradling and pressure relief, and that's why I've put Nolah on my list of the best mattresses for side sleepers with hip pain.
Now, the manufacturer used its own patented material called Airfoam. This type of foam perfectly combines a decent amount of cradling and moderate breathability. Plus, it can easily alleviate all your aches and pains.
The second layer right under the AirFoam has high resiliency and helps maintain your spine in the neutral alignment so that you could sleep relaxed throughout the night.
The potential drawback of the mattress is that its medium firmness might be a limitation for heavier side sleepers with hip pain. Since heavier users typically sink deeper, they are advised to use firmer surfaces that won't cause misalignment.
But the pronounced foam feel and the ability to cradle your every curve are the strongest points of this mattress. Among all the models I've tested, this bed ranks very high in terms of pain relief and relaxation.
I believe that the Nolah will suit best the fans of foam mattresses and older sleepers, who aren't prone to sleeping hot.
check out nolah mattress on nolahmattress.com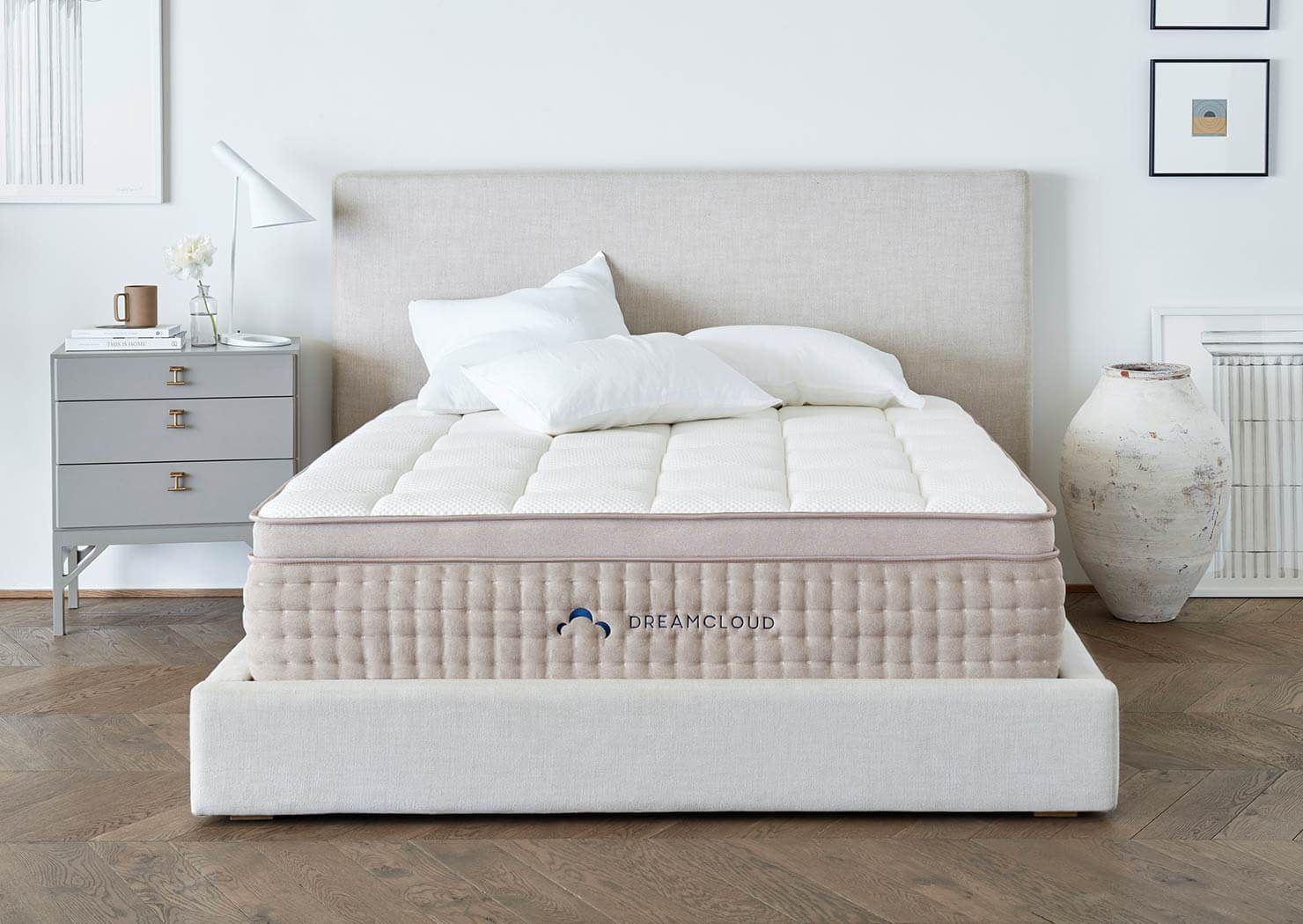 My review of mattresses for side sleepers with hip pain begins with the Dreamcloud. This is a hybrid mattress with an incredible construction that will alleviate your soreness and relieve all pressure points that may appear during sleep.
This bed packs eight layers, including tufted cashmere, gel-infused foam, and soft quilted foam. These layers are gently cradling your body, so once you lie on them, you will knock off in seconds.
Hybrid construction and the pocketed coil core offer you balanced motion control and are pretty responsive, meaning it's easier to move around even despite the foam top.
The only problem I've encountered with the Dreamcloud is mediocre edge support. I share a bed with my wife, and during testing this mattress, I felt like I might roll off. And she felt the same, as she loves to sleep closer to the edge.
But the eight-layer construction is definitely a plus. The combo of coils, foam, and natural latex results in a balanced feel and decent cradling for all your sore areas.
I believe that the Dreamcloud will work great for all average weight sleepers who don't look for outstanding edge support.
check out dreamcloud mattress on dreamcloudsleep.com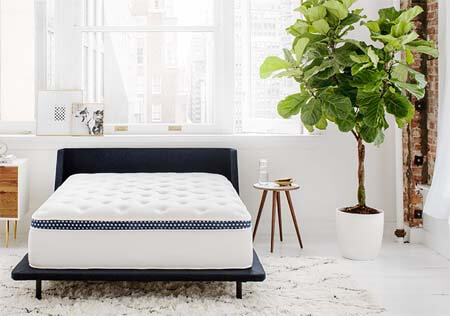 The Winkbeds is on my list of top-rated mattresses for side sleepers with hip pain because it has a coil system with seven different zones for more targeted support and pressure relief. Also, the manufacturer cares about big sleepers and offers them a separate model, Winkbeds Plus, which has an additional lumbar pad.
The upper layer of the mattress comes in the form of a pillow top made from breathable Tencel fabric and quilted gel-infused foam. This pillow top is enough to cradle a big sleeper without making them sweaty or overheated.
Right under the pillow top, there's a layer of microcoils. They enhance the overall breathability and offer you pressure relief in any sleeping position, even on your side.
However, I have to warn you that the Winkbeds may not be suitable for petite sleepers. My wife said that the bed felt somewhat firm and caused her sore shoulders. Thus, if you weigh less than 125 lbs, you may want to consider another bed.
What I loved the most about this mattress is how supportive it is in different sleeping positions. Thus, if you're the one with sore hips from sleeping on the side and your partner sleeps in a different position, the Winkbeds can still provide both of you with precise contouring and pressure relief.
Overall, if you're in the market for a long-lasting and durable bed with even support, you won't regret choosing the Winkbeds.
check out winkbed mattress on winkbeds.com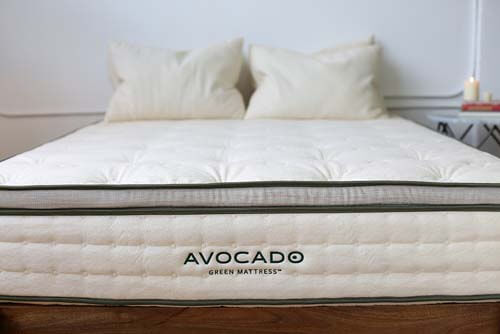 The Avocado bed is in this review of top-rated mattresses for side sleepers with hip pain for one simple reason: it's made of natural and organic materials from top to bottom. Whether you have allergies or are just concerned about the ecology, the Avocado might become a great option for you.
This mattress has two configurations: one is standard, and the other features an additional latex pillow top for a more comfortable sleep. Both of them come with a hybrid construction that includes a layer of pocketed springs for a balanced feel and reasonable motion control.
For enhanced thermoregulation during the year, the Avocado provides you with a hand-tufted wool layer under the organic cotton cover. However, if you're vegan, you can choose an animal-free mattress from this brand, where the top layer is made from the same organic cotton for increased puffiness.
All this goodness, however, will cost you a pretty penny. Natural latex and organic materials have never been cheap, and this mattress is no exception. Definitely not an option for people on a tight budget.
But I was totally impressed by the refreshing sleep this bed can provide. The combo of breathable pocketed spring, natural latex, wool, and cotton makes an excellent mattress that will certainly cool down even a chronic hot sleeper without sacrificing comfort.
If you're in the market for a durable bed that sleeps cool, and if you aren't concerned about the money, just buy the Avocado and you're good to go.
Check out avocado mattress on Avocadogreenmattress.com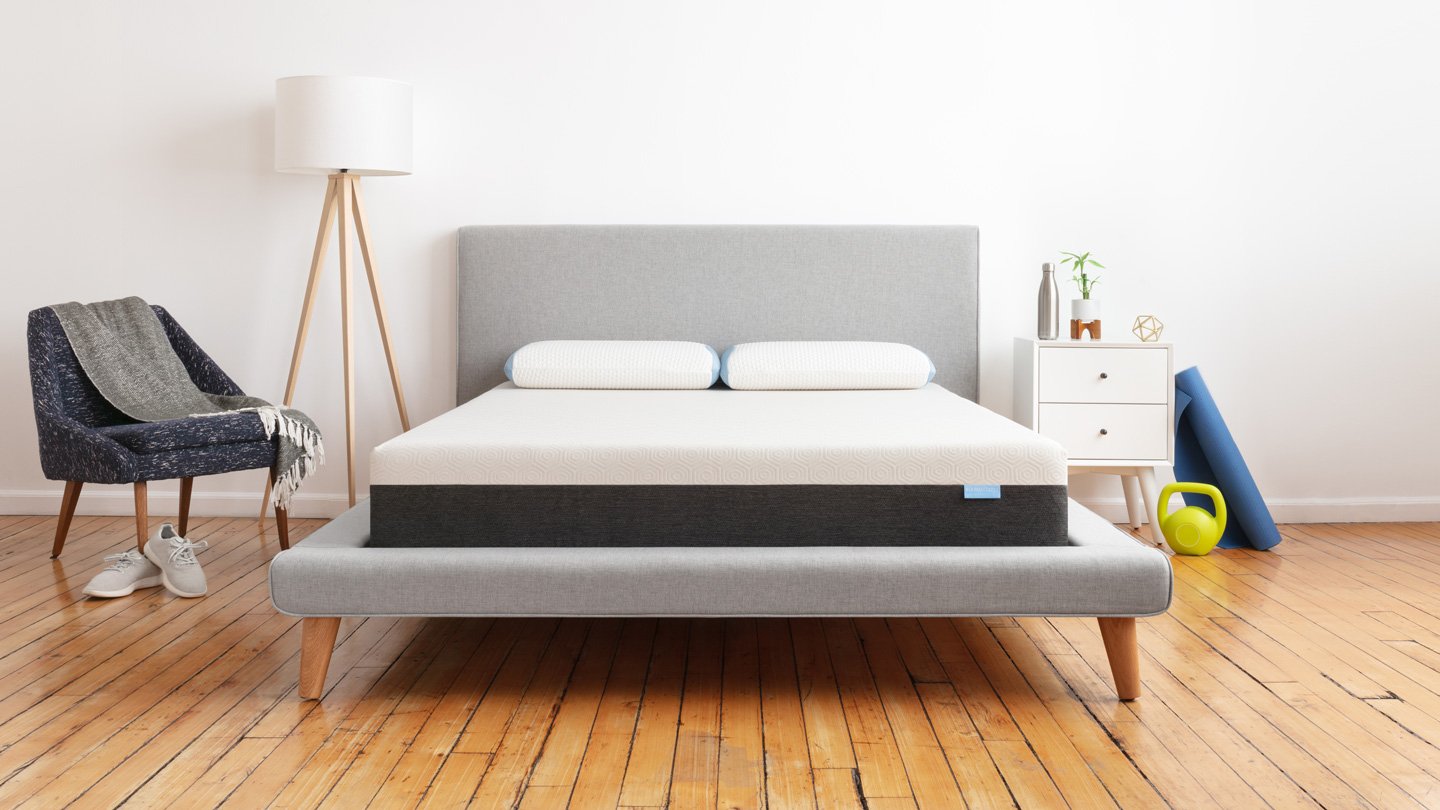 And the last item in my review of mattresses for side sleepers with hip pain is this budget bed from the Bear. At the moment of writing, the Queen size costs less than $800, which makes it a good deal.
The Bear is an all-foam mattress, meaning you can expect good cradling and motion absorption. I believe that its construction has the Medium-Firm feel (6 out of 10), which is technically suitable for almost any sleeper.
For a cooler sleep, the Bear provides you with a layer of graphite-infused memory foam. Graphite particles effectively remove the excess heat and keep you cool and dry throughout the night. A layer of high-resiliency transition foam lies right under. It aids in maintaining anatomical spine position and provides the so-much-needed pain relief for side sleepers.
The only problem with all-foam beds is that they have a noticeable odor, and the Bear is no exception. If you have a sensitive nose, you may want to give this bed a couple of days to aerate before you sleep on it.
But the most prominent feature of this mattress is its great value for the money. The Bear is made of high-quality materials that can offer you support and a decent amount of cradling for years to come.
I believe that the Bear will be an excellent choice for fans of memory foam beds who love to sink in their mattress a bit.
check out bear mattress on bearmattress.com
What Causes Hip Pain?
As mentioned at the beginning of this article, your hip pain while sleeping can have many causes. While some of them have episodic nature, others are chronic and may significantly affect the quality of your sleep:
Strained muscles

. Muscle strains are the most common cause of

sore hips

and lower back pain. They can happen if you have excess weight that is distributed around the tummy area. Another thing causing muscle strains is sleeping on an old or unsuitable bed; if this is the case, it's probably time to replace it with a

mattress that will help alleviate sore back

and hip pain altogether.

Structural changes

. Fractures, joint twists, and other injuries can make the bones more sensitive while taking away their flexibility. Thus, you may start experiencing discomfort and pain in the positions that were comfortable for you earlier.

Chronic Illness

. Arthritis, osteoporosis, and hip dysplasia are the most common illnesses that contribute to hip pain. The inflammation process may increase during weather changes, physical work, or weakened immunity, causing you pain and limiting your overall mobility.
Pregnant women also suffer from hip pain more often. Their pelvic bones come apart while preparing to give birth, and this is typically accompanied by pain. Also, during the last trimester, the uterus puts a load on a lower back area and may cause strains.
How Does Your Sleeping Position Affect Hip Pain?
If you are a side sleeper who's constantly waking up from acute hip pain, you may want to consider learning to sleep in a different position. Here's how sleep positions affect your hip and lower back areas.
Side Sleeping
While side sleeping is considered the most common sleeping position among the global population, it also contributes to hip pain the most. While on the side, your hips and shoulders create pressure points, as they resist the most to your mattress area. And if you have excess weight or sleep on a firm mattress, the stiffness and pain can aggravate even more.
However, there are some recommendations you can follow to make your sleep on the side more comfortable and relaxing.
Choose the right positioning

. While sleeping, you can bring your knees slightly towards to torso and resemble a fetal position in some way. The fetal position puts less load on your hip area.

Use additional pillows

. By putting a thin pillow between your knees, you can also remove a load from your hips and keep your spine aligned correctly with the pelvic area.
Get a new mattress

. Opt for a

mattress suitable for side sleepers with shoulder pain

and sore hips. They typically have enough comfort layers to cradle your body without creating awkward curves and provide a balanced overall feel. Or, you can refer to

beds for side sleepers with lower back pain

. These models often have reinforced support in lumbar area to compensate for the pressure.
Back Sleeping
Back sleeping is recommended by most specialists for hip and lower back pain relief, as this is the most anatomically correct position for your spine. Sleeping on the back helps distribute the load from your body evenly around the mattress surface and prevent the pressure points from appearing.
Sleepers who experience the worsening of pain symptoms can use an additional thin pillow and put it under the thighs. This will create a slight angle and relax the pelvic muscles by elevating the hip joints.
Stomach Sleeping
Stomach sleeping is the least healthy position for your spine, as it creates awkward angles and twists in the neck and lower back area. So, it is not the position you want to switch to after side sleeping. However, you may try and see if you continue feeling that discomfort in your hips when lying on your belly.
Note, though, that stomach sleepers are not recommended to sleep on soft beds with lots of cushioning, as this promotes too much sinkage, putting their spine out of alignment. So, make sure you are trying this position on a firmer bed and, preferably, with a thin pillow under your lower back area (to relieve the tension in the hips).
Types of Mattresses for Side Sleepers with Hip Pain
So, you've decided to get rid of hip pain by purchasing a new bed? Great! But what if even having read a ton of reviews of mattresses for side sleepers with hip pain you still haven't determined the best mattress type for your issues?
That's okay. Let me guide you through the most common mattress types, starting from the best mattress for relieving hip pain:
Memory foam.

Memory foam beds

are the best for cradling and adjusting to your body shape during sleep. They create no tension in your hip joints at all and are totally acceptable for side sleepers of any shape and size. Be sure to choose denser foams (at least 3 pounds per cubic foot) so that they will serve you longer.

Latex

. Latex is an eco-friendly material that combines decent cradling and good rebound. The latter is needed for older sleepers or any people with chronic pain, as it allows them to put less effort while trying to switch sides or get up from the bed.

Airbed.

No, I'm not joking, airbeds are an excellent option for comfortable sleep and pain relief. First, they allow you to adjust the firmness by adding or removing some air. Second, the luxury models are high and sometimes come with a sewn-in memory foam topper to ensure you will get a more pronounced cradling during the night. Top it with the fact that the

best airbed on the market

will rarely cost you more than 300-350 dollars, and you will understand why this might be a perfect deal.

Hybrid

.

Hybrid beds

that allow for at least three comfort layers over the coil block are technically able to provide you with hip pain relief. However, this is more of an option for large sleepers and couples, because hybrids may generally feel firmer for lightweight users.
Now, here's one more thing to note:
The type of mattress that will undoubtedly provoke hip pain at night when lying on the side is innerspring. The problem with these beds is that they often utilize solid coil blocks that resist your body curves and create pressure in the areas you wouldn't even know about. Of course, you can alternate the overall feel of this bed by investing in a mattress topper for side sleeping, but this is more of a temporary solution.
Checks to Make Before the Purchase
Knowing your needs and choosing the mattress type is only half of the deal because it is specific features that will make a mattress perfect personally for you.
To help you here, I've gathered the specific features you should consider:
Layers

. The number of layers and their overall feel will determine the amount of cradling you will get from the mattress. Opt for latex, dense yet soft foams or natural materials, such as wool or cotton, as they easily mold to your body and compensate for the pressure.

Your weight

. Your weight is the main factor that will help point out the firmness you need to feel comfortable. For example, heavy sleepers may sink too deeply into soft beds, and their spine can become misaligned with pelvic bones; so, they need to choose a firmer mattress that will be able to cope with increased loads. But the same soft bed will work perfectly fine for petite sleepers, as it can offer the right amount of cushioning for their bodies.

Breathability.

Side sleepers typically sink quite deeply into the mattress, which can result in overheating, especially if the bed has foam layers. To avoid hot sleeping, opt for gel pads or gel-infused foams or switch to natural materials like cotton, latex, and wool.

Clear return policy

. Whether it is caused by sleeping wrong or by some chronic issues, pains increase your demands and expectations from your bed. The best way to find out if your mattress meets those demands is to actually test it. Thankfully, many brands today offer long trial periods and hassle-free returns for their customers. But you should always clear up the conditions before buying.
Make the most of user reviews if you have any particular model in mind. This will allow you to see how your chosen bed will perform in terms of meeting the demands of people with a similar condition.
Conclusion
Although choosing a mattress is more of a matter of personal preference, any pain will limit your choice to some extent. Hopefully, the reviewed models will help you with making the choice.
I believe that all five of them may help relieve hip pain in any sleeper, regardless of their weight and preferred position.
The mattress I found to be the most relaxing to sleep on is the Avocado. I loved the combo of soft wool and bouncy latex. And the overall construction worked great for my sleeping style.
But if you need a budget option with decent cradling, then you may go for the Bear. This mattress can offer you incredible cushioning. Plus, it perfectly adjusts to your body curves while maintaining the correсt alignment of your spine.
And what do you think? Which model from the ones reviewed above will work best for alleviating your hip pain? Share your thoughts with me below!
Product links on Happysleepyhead are referral. We get a commission on purchases made through our links at no additional cost to you. More information in my disclosures.