Best Mattresses Under $300: 5 Unbiased Reviews and Buying Guide
by | Last Updated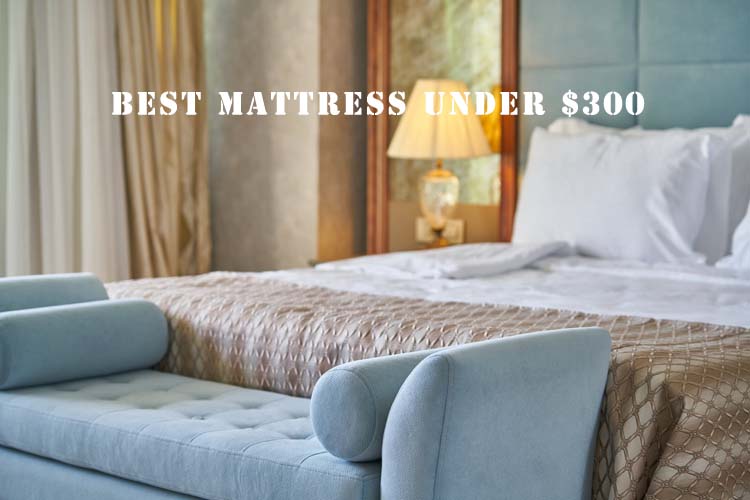 Your mattress is an essential item in your bedroom. So, it just has to be good, right?
But guess what?
'Good' doesn't mean 'four-figure price tag'!
In fact, finding a decent low-cost mattress is easier than it may seem. And if you succeed, it will perform no worse than expensive models, guiding you to the Land of Nod in no time.
Still skeptical? Then I invite you to take a look at 5 best mattresses under $300 that I've reviewed for you below. You'll surely find an option that suits you the most.
Model
Type
Layers
Thickness
Rating
Dreamfoam Bedding Spring Dreams
Innerspring
quilted foam pillow-top;
dense foam layer;
individually wrapped coils;
dense layer;
quilted foam pillow-top
9 inches
Signature Design
Memory foam
stretch knit cover;
memory foam;
transition foam layer;
foam foundation
8, 10, and 12 inches
Olee Sleep Galaxy
Hybrid
polyester cover quilted with fiber padding;
memory foam comfort layer;
gel-infused memory foam;
foam transition layer;
pocketed coils encased in dense foam
13 inches
Zinus Ultima Comfort
Memory foam
jacquard cover;
green tea-infused memory foam;
foam comfort layer;
foam foundation
6, 8, 10, and 12 inches
Inofia
Hybrid
knitted cover;
foam comfort layer;
AirFlow Wave foam;
fiber flame retardant barrier;
individually wrapped coils;
foam base
8 inches
Our Reviews of 5 Best Mattresses Under $300
Best for Reversible Design
Dreamfoam Bedding Spring Dreams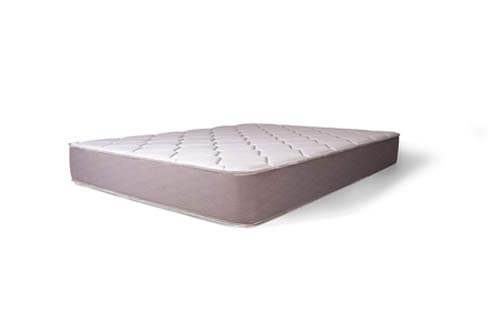 One of the main problems with cheap beds is their lifespan, which is quite short. Dreamfoam Bedding offers a solution to this problem — a mattress with a reversible design. You can flip it and use both sides interchangeably to reduce wear and tear, which is more than enough to include it in my review of the best mattresses under $300.
So, the Spring Dreams features symmetrical construction with a spring core layer in the center. This results in pretty sturdy edges and a uniform surface with a medium-firm feel. The mattress can be a great pick for back and stomach sleepers, as well as heavier users.
Now, the coil unit also ensures pretty cool sleep by promoting airflow between the mattress layers. So, if you're a hot sleeper, the Spring Dreams will help you out, even on hot summer nights.
Now, there are four foam layers to add some cushioning — two above and two under the coils, measuring 3 inches total. They adjust to your body curves and can relax your muscles in the lower back and neck.
The best thing about this mattress, in my opinion, is its dual-sided construction, which is rare even among expensive beds. So, the fact that the manufacturer cares about the durability in such a way is impressive.
A downside, however, is pretty common for innerspring beds. The Spring Dreams has high motion transfer and can be overly responsive. Not the best thing if you share a bed with an active sleeper.
I was a bit skeptical about this bed at first, but the Spring Dreams turned out to be a very decent mattress. It's well-made, supportive, and will last you for years thanks to its dual-sided design.
Check out this mattress on amazon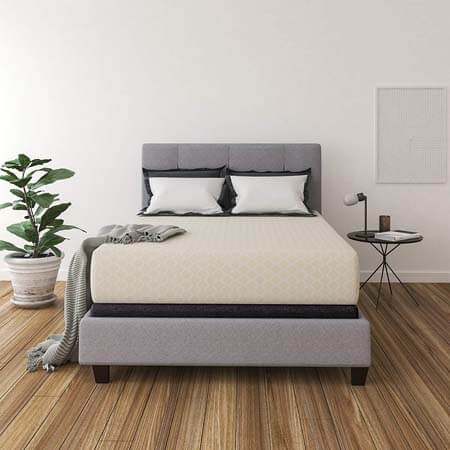 The next product I've reviewed is the Signature Design. It's one of the best memory foam mattresses under $300, and it has made it to this list due to one simple reason. It doesn't transfer movements from one side of the bed to the other and it has quite strong edges, which makes it a perfect pick for couples.
The Signature Design is a memory foam mattress, so this is the reason why it absorbs motion so well. I've tested the 12-inch option — although there are also 8 and 10-inch models available — and I should say its cradling properties are outstanding. No wonder why everyone loves memory foam!
Now, the comfort layers of the mattress have a plush feel, so the bed can make a great pick for side sleepers, especially petite ones.
Surprisingly, I didn't sleep hot during testing, even though the mattress doesn't feature materials with potent cooling properties. I believe that if you're not prone to hot sleeping, it will work for you.
So, what I loved about the Signature Design is that it perfectly works for couples. The bed literally swallows any movements without feeling like quicksand, which is great if you shift between positions often. Besides, its edges are pretty strong for a memory foam bed, it will offer enough space for a couple.
As for the drawbacks, the foam odor could be really bothersome at first. If you have a sensitive nose, it's better to give the mattress at least 48 hours to air out before you can sleep on it.
If you're looking for a mattress that can support two sleepers, even if one of them is very active during sleep, the Signature Design is your ideal pick.
Check out this mattress on amazon
Best for All Sleep Positions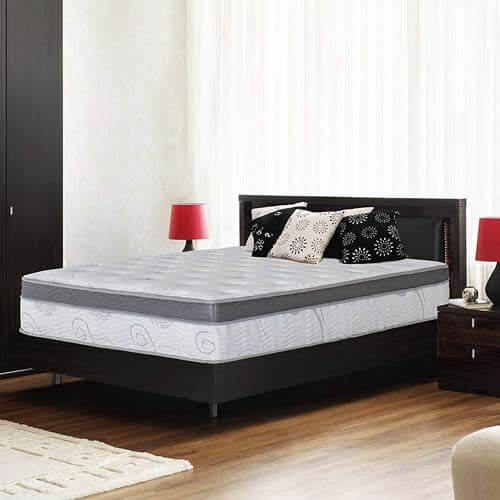 The Olee Sleep Galaxy proudly holds its place in my review of the best mattresses under $300 for one simple reason — it has medium firmness, meaning it can support all sleep positions equally well.
It's a hybrid bed with a thick layer of individually encased coils serving as the supportive core. There also are several foam layers atop the coils, which altogether results in a uniform surface and sturdy edges. This makes the mattress a great pick for couples and individuals who love to stretch on the bed.
But that's not it. The hybrid design makes the Galaxy sleep cool. This effect is additionally enhanced by the gel-infused foam comfort layer, so you can expect great contouring and proper spine support along with good breathability.
The most significant advantage of the Galaxy is that it's universally comfortable in all positions. I'm a side and back sleeper and my wife sleeps on her stomach. While testing this bed, we both had refreshing sleep and no muscle stiffness.
What I didn't like, though, is that the coils might start to squeak pretty soon. This was one of the most common complaints other users had about the Galaxy.
Despite some minor flaws, the Galaxy is a great hybrid bed for those on a budget. It combines the cradling of the foam with the support and breathability of the coil block, thus giving you all you need in a mattress.
Check out this mattress on amazon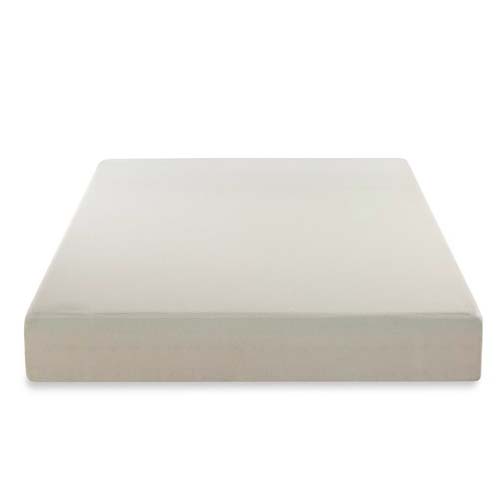 Now, getting a top-rated mattress under $300 is definitely a good deal. But what if I told you that you may find a decent mattress under $200? This would be the deal of the century, right? Well, then meet the Zinus Ultima Comfort — a low-cost mattress that performs no worse than more expensive models and can literally offer you ultimate comfort.
So, this is an all-foam mattress with a medium feel. I chose the 8-inch option for this review and honestly, I was quite skeptical about it. But to my surprise, the Ultima Comfort did offer great contouring and proper spine support. It also had good motion isolation.
It's worth mentioning that the Zinus mattress is infused with green tea, which helps mask the specific foam smell. Plus, it makes the bed more immune to mold development, thereby enhancing its durability.
The most significant advantage of the Ultima Comfort mattress is the value for money it offers. A durable and supportive mattress that can lull you to sleep in minutes is what you get under $200 only!
The thing that bothered me a bit was that this mattress might sleep hot. All Zinus mattresses are made of foam, which is more likely to trap your body heat. I don't mean that the Ultima Comfort will make you overly sweaty, but you should keep this in mind, especially if you live in hot climates.
To sum it up, the Zinus Ultima Comfort is an amazing deal. Even though it's not perfect, it's still able to give you the comfy sleep you deserve.
Check out this mattress on amazon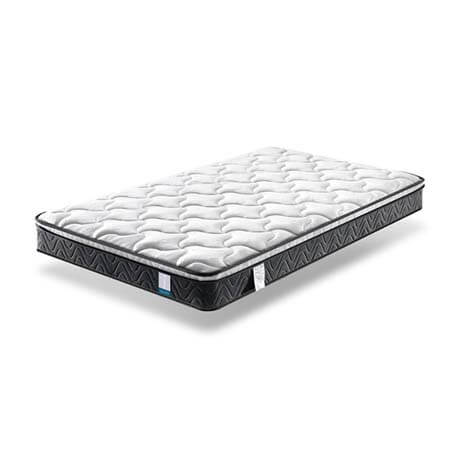 And the last candidate in my review of best mattresses under $300 is the Inofia. This hybrid bed-in-a-box has unbeatable cooling properties and can help deal even with chronic hot sleeping.
To start with, it features pocketed coils as a supportive core. This ensures a uniform surface and sturdy edges, which can be a determining factor for couples. Aside from that, the coils promote airflow inside the mattress and effectively dissipate your body heat into the air.
The mattress has a medium-firm feel and is the most comfortable for back and stomach sleepers. Foam layers on top of the coils have a bit of a plush feel and can give in under your body weight, helping your muscles relax and relieving stiffness in no time.
The Inofia doesn't feel like quicksand and allows you to switch positions easily. Still, it might be too bouncy for an active sleeper.
Now, I think that the strongest point of the mattress is its cooling properties. The Inofia not only promotes proper spine alignment but also easily keeps you cool throughout the night.
The thing I didn't like about this bed is that it might feel too firm for some, petite individuals and side sleepers in particular. Even though the mattress has cradling foam layers, they do not fully compensate for the rigidity of coils, which may result in pressure points and morning stiffness.
Overall, I can recommend this budget mattress to those who sleep hot and prefer the floating feel over sinking.
Check out this mattress on amazon
What to Expect from a Mattress Under $300?
There are many different factors that form the price of a mattress. Speaking of cheap mattresses, their affordability comes with certain limitations you should be aware of:
Less resilient foams. The foam is a compound material, and its production process involves various chemical reactions. Cheaper foams cut down some additives to reduce the price, which may result in lower resilience and hence, a shorter lifespan.
More chances of hot sleeping

. Low-cost mattresses generally use first-generation foams with a closed-cell structure. These foams tend to retain more heat than those with an open-cell structure and increase your chances of hot sleeping.

Strong odors

. Cheap materials are more prone to having unpleasant odors because they tend to use synthetic fabrics and chemical additives of lower quality. Airing your mattress out for 24-48 hours is likely to reduce the smell — or you might just get used to it and stop noticing. Still, note that you should always check mattress certifications to make sure the chemicals your mattress might emit into the air are not harmful.
"The average mattress lifespan is about 7-10 years, but a budget bed may start sagging much sooner."
What Materials Do Low-Cost Mattresses Use?
The modern mattress market is pretty diverse, which is totally great because you can find various mattress types in any price segment. So, what materials are the most common among the low-cost beds and what are their main features?
Let's see!
Also, you can find a great inflatable mattress under the $300 price tag.
No, I'm not joking.
An airbed with a price tag around $300 will be almost as comfortable as a regular bed, and you can sleep on it nightly or use it for your guests.
Tips for Choosing a Good Mattress Under $300
Finding a good cheap mattress isn't limited to defining the right type. You still need to do your research to avoid some gimmicks and marketing tricks.
So, let's add some final touches to help you make the right choice:
Look for the brand's history and reputation.

You should do this even when you're considering more expensive options, but with budget beds, it's crucial. Some manufacturers focus on making cheap beds only, while the others have a separate line-up of budget-friendly mattresses along with higher-priced options. In both cases, it's important to check how long the brand has been on the market and how clean their reputation is.

Check the reviews

. There's no better way to learn how the given mattress performs than checking the reviews of users who have already tried it.

Choose the right firmness.

Okay, the perception of firmness is subjective, I get it. But I still suggest you choose a slightly firmer bed than you normally would, especially if it's made of foam. The thing is, cheap foams tend to become softer pretty fast, so if you pick a mattress that is initially soft, it might lose support more quickly than a firmer bed.
Final Word
For some of us, a low-cost mattress might be the only solution for getting decent sleep. However, thanks to modern technologies, 'cheap' doesn't equal 'bad' anymore. All the budget beds I've reviewed here offer great value for money and can support you no worse than highly-priced mattresses.
Speaking of my favorite model, I'd name the Signature Design mattress. It has some minor flaws, but overall, it's a comfortable mattress that can contour to your body and provide the needed pressure relief.
In case you want a model with coils inside, go with the Inofia. This hybrid bed can offer you proper spine support for years to come and would make a great purchase for those who don't like sinking in the mattress.
So, do you have any concerns about mattresses that cost less than $300? Feel free to share below and we'll try to help you resolve them!
Product links on Happysleepyhead are referral. We get a commission on purchases made through our links at no additional cost to you. More information in my disclosures.