The 7 Best Pillows For Neck and Headaches in 2020 – Reviews & Information
by | Last Updated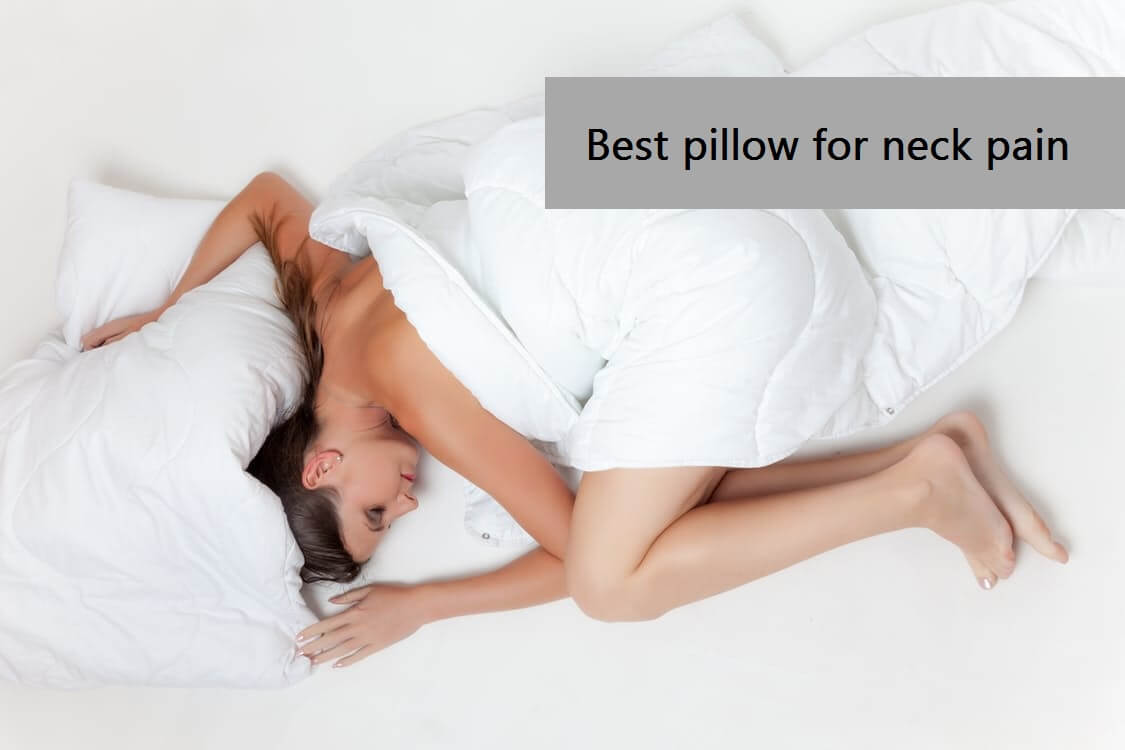 Trying to get a perfect 8-hour sleep is such a pain in the… neck.
Guess what?
There is something you can do to sleep better and wake up every morning without feeling that annoying neck stiffness.
Brace yourself, as you're about to find the solution to your problems. I've found 7 best pillows for neck pain that can transform your sleeping experience from unbearable to incredible. Let's get started!
[table id=47 responsive=collapse datatables_row_details=true datatables_row_details_columns="A-G" /]
Pillow for Neck Pain Sufferers Who Sleep on the Side
Ultra-Luxury Bamboo Shredded Memory Foam Pillow by Snuggle-Pedic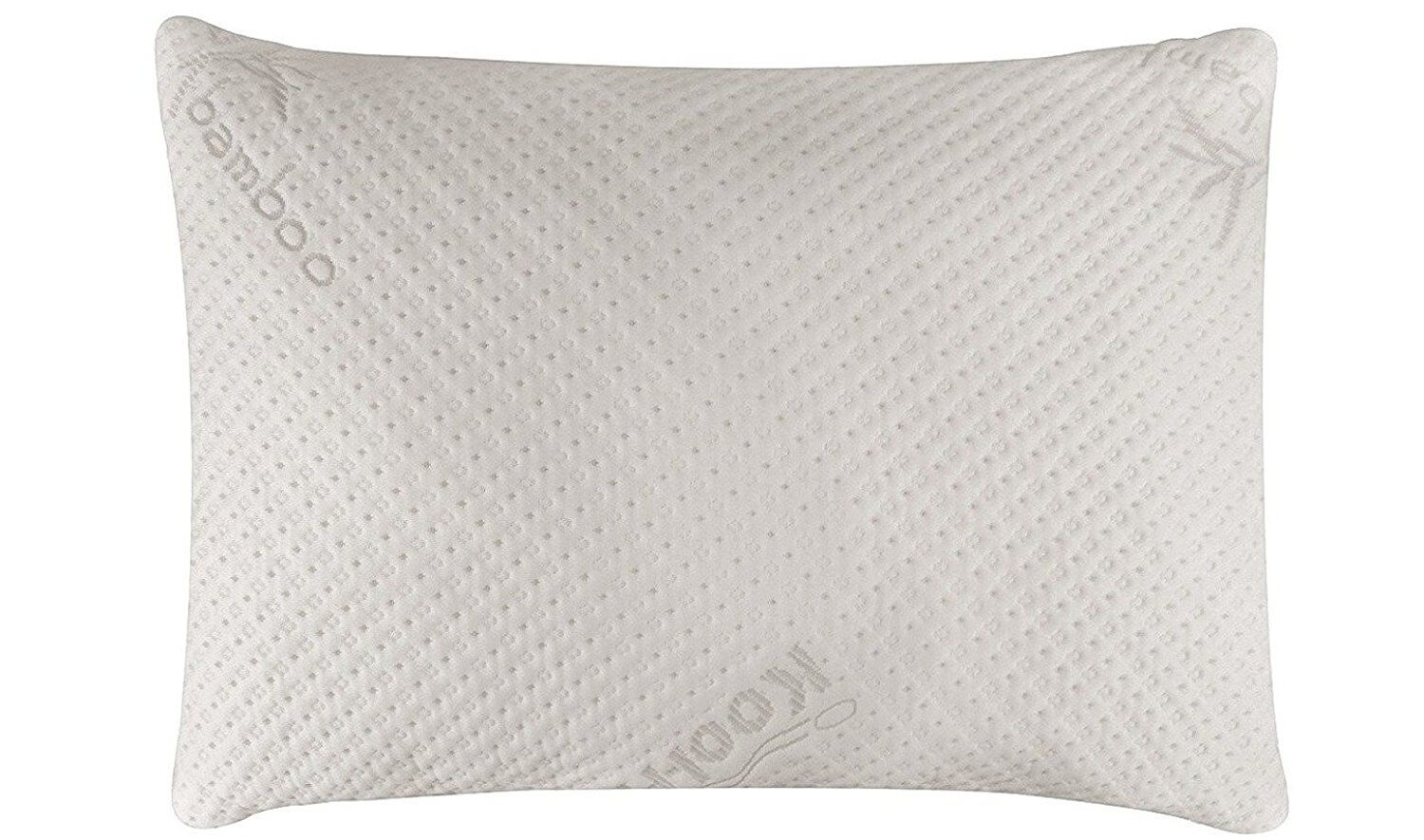 Want to know why this model can be called the best neck support pillow? I will tell you: it is breathable, adjustable, and simply comfortable. As Snuggle-Pedic is more on the firmer side, it will work especially great as a pillow for neck pain side sleepers. They probably won't even need to make any adjustments and remove any filling to make the pillow comfortable in this sleeping position. Besides, this pillow will be almost equally comfortable for sleepers with different weights.
Let's take a look at its characteristics:
The pillow comes in

three different sizes

– standard, queen, and king.

It features a zipper removable cover, which allows you to remove or add filling to

adjust the thickness

to your preferences.

It is filled with

shredded memory foam

, which is supportive and cradling.

The foam is

hypoallergenic and CertiPUR-US certified

, which means it doesn't contain any harmful chemicals.
The company offers a 90-day money back guarantee.
What is really great with that pillow?
The coolest thing about this pillow is the pain relief it provides. It's not just that the pillow is comfortable (which it is). And it's not that it is able to cradle your head and align the neck and the spine (which it does quite well). It's also firm enough to provide a bit of resistance to your neck. And that allows your neck muscles to relax completely and you to feel perfectly comfortable and rested.
What is wrong with that pillow?
The worst thing I've noticed about this pillow (and I had to be very attentive to detect this) is the lumps of shredded foam. They are rather small and I didn't feel them at all, however, I understand that all people are different and some users might find those lumps to be rather irritating.
I must admit: with this pillow, I slept like a baby. And I felt zero neck stiffness in the morning. What else is there to say?
check out this pillow on amazon
The Most Suitable Pillow for Neck Pain Sufferers Who Sleep on the Stomach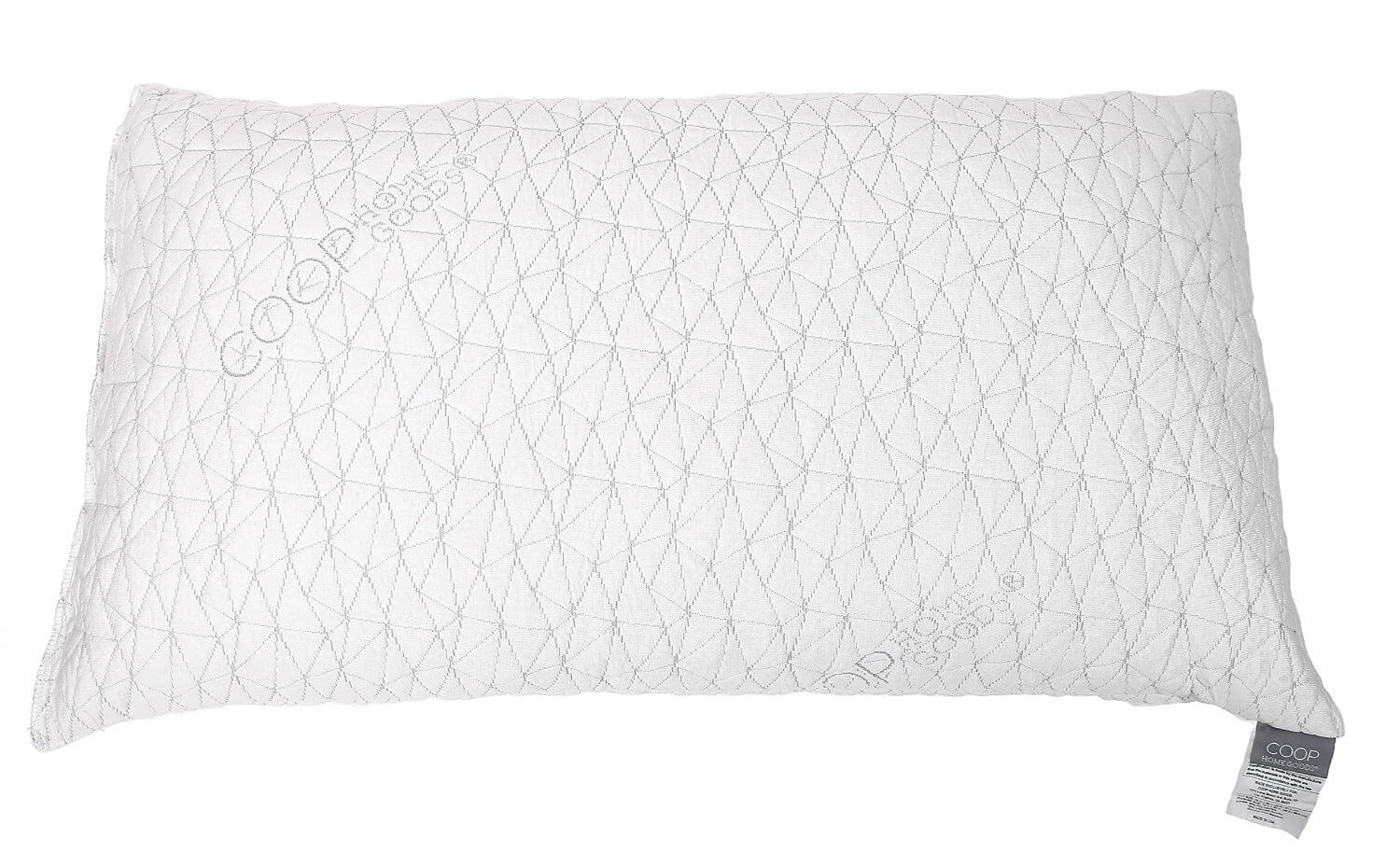 Pillows are what Coop Home Goods specializes in, and their premium pillow model called Eden seems to be currently hitting the top. Cool and breathable, it allows for customization to suit your sleeping preferences and help you forget about waking up with neck pain forever.
And that's not it:
Eden is so soft that it makes you feel you are literally sleeping in the garden of Eden. Because of its softness, it can be a great pillow for stomach sleepers with neck pain.
Here's an overview of its features:
The pillow comes in

standard, queen, and king sizes

, all offering only one firmness option –

medium soft

.

The bamboo-derived cover is

breathable

and

hypoallergenic

.

The filling consists of

CertiPUR-US certified shredded memory foam

, which also is gel-infused to provide a cooling effect for hot sleepers. The inner material is of high quality and doesn't require frequent fluffing to maintain its supportive shape.

You can

remove the filling

to adjust the height of your pillow. And even more, you can order some extra filling separately in case you want your pillow to be thicker, or to give it a fresher feel.
The company offers a 100-night trial period and a 5-year warranty.
The best thing about this pillow is its shape retention properties, which means it doesn't get flat over time. While many other pillows might need constant readjustments and fluffing, this one will keep its shape and stay supportive for years.
The most annoying thing about this pillow is, ironically, one of its best features – its softness. As a back sleeper, I personally found the support level to be just fine, but I feel some side sleepers might find it insufficient. This is not a big problem, as you can easily solve it by purchasing additional filling for your pillow. But this means more expenses, so it might be not an option for everyone. Just keep this in mind.
Here are the main pros and cons:
Despite its minor flaws, this pillow has quite a lot to offer to every user, regardless of their sleeping preferences. But thanks to its softness and adjustable thickness, it's the best choice for stomach sleepers suffering from neck pain.
Best High-Loft Pillow for Neck Pain
Meoflaw Pillows for Sleeping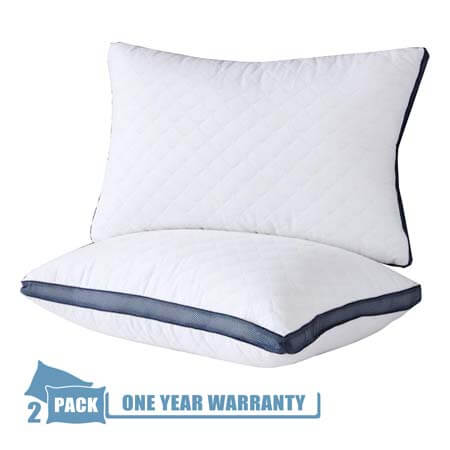 According to experts, sleepers with chronic neck pain can benefit the most from pillows that properly cradle their cervical area. I cannot agree more with this statement, which is why I've placed the Meoflaw pillow on my list of the best pillows for neck pain. Its high loft is great for contouring even a heavy sleeper and giving them pain relief.
So, here are the main features:
The manufacturer states that the

pillow contains more filling compared to other models

, so it can offer a better hug, even for a side sleeper.

The filling itself is made of poly gel fiber, which

sleeps cool and has a great rebound

, meaning your pillow will maintain its shape for longer.
The cover is made of microfiber and has a luxurious plush feel. Plus, it can effectively wick moisture away during your sleep.
So, the most significant advantage of this pillow is its high loft. It makes the Meoflaw more moldable and allows it to support even side sleepers.
The downside of the pillow is the slight off-gassing. It's pretty common in gel-infused materials. But you still have to air out the pillow if you have a sensitive nose, and this might take a while.
I loved sleeping on the Meoflaw pillow. It's thick and comfortable, which is great for side sleepers. And it doesn't make you sleep hot.
Check out this pillow on amazon
Best Pillow for Neck Pain for Mixed Sleepers
Sleep Innovations Contour Memory Foam Pillow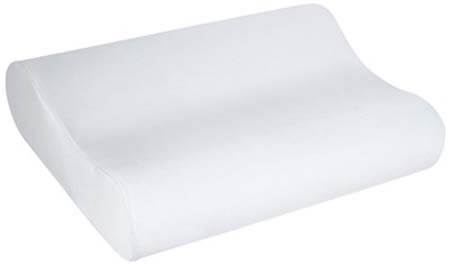 Another candidate that can help you get painless sleep is this contoured pillow by Sleep Innovations. Its smooth design can gently contour your head and relax neck muscles, so your shut-eye will have therapeutic effects.
You can turn the pillow to try sleeping on both the higher and the lower end to determine which is more suitable for your needs. They are about 5 and 3 inches thick respectively.
The pillow is made from dense polyurethane foam and can give you a decent amount of cradling while remaining supportive. Also, polyfoam retains less heat, so the pillow feels cooler compared to other similar models.
So, let's see the main features:
The pillow has a

wave-shaped design

for better contouring.

It is available in three sizes, including a

travel option

.

The polyfoam is cradling and supportive.

The pillowcase is breathable and

temperature-neutral

.
So, the best thing about this pillow is its shape. I tested it with a stiff neck and woke up feeling no stiffness at all. This pillow really helps you keep your cervical area aligned. Plus, memory foam is very conforming, so this pillow can easily suit all types of sleepers.
What I didn't like is that the cover is not removable. This can make the maintenance a bit more complicated. You can still purchase the cover separately, but this means more expenses.
This pillow is a great budget pick for all neck pain sufferers. It can support your neck and cradle your head without sleeping hot.
check out this pillow on amazon
Best Pillow for Neck Pain with Coil Support
Vesgantti Orthopedic Pillow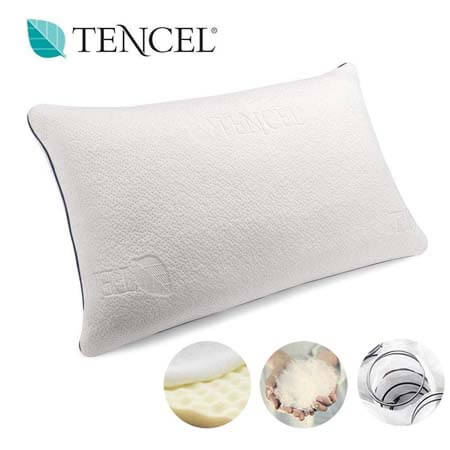 Strains and squeezed nerves in the cervical region can be really annoying. You need something sturdy and supportive to avoid and relieve tension in your muscles. That's why this top-rated orthopedic pillow for neck pain by Vesgantti is on this list.
See for yourself:
The pillow has

50 pocketed coils packed inside

, so it can support your head and neck without creating awkward curves.

For a more moldable design, the pillow's filling combines

cradling memory foam and fluffy fibers

.

The cover is made of

Tencel fabric, polyester and cotton

and has an excellent cooling effect.
The Vesgantti pillow has a medium-firm to firm feel and will suit back and mixed sleepers the most.
The coolest feature of this pillow is its construction. Combining the best of coils, foam, and fluffy fibers, it supports proper alignment of your neck and relaxes the cervical area, eliminating all painful sensations in and around it.
What I didn't like about this pillow is that it takes a while to expand after you unpack it. The manufacturer states that it should take several hours. But I was able to start testing it only the next day, so you might have to wait as well.
If you're skeptical about pillows with coils, don't be: the Vesgantti pillow is incredible. It molds to your head and neck and effectively relieves your neck pain.
Check out this pillow on amazon
Best Contour Pillow for Neck Pain
Hypoallergenic Bamboo Memory Foam Contour Pillow by Comfylife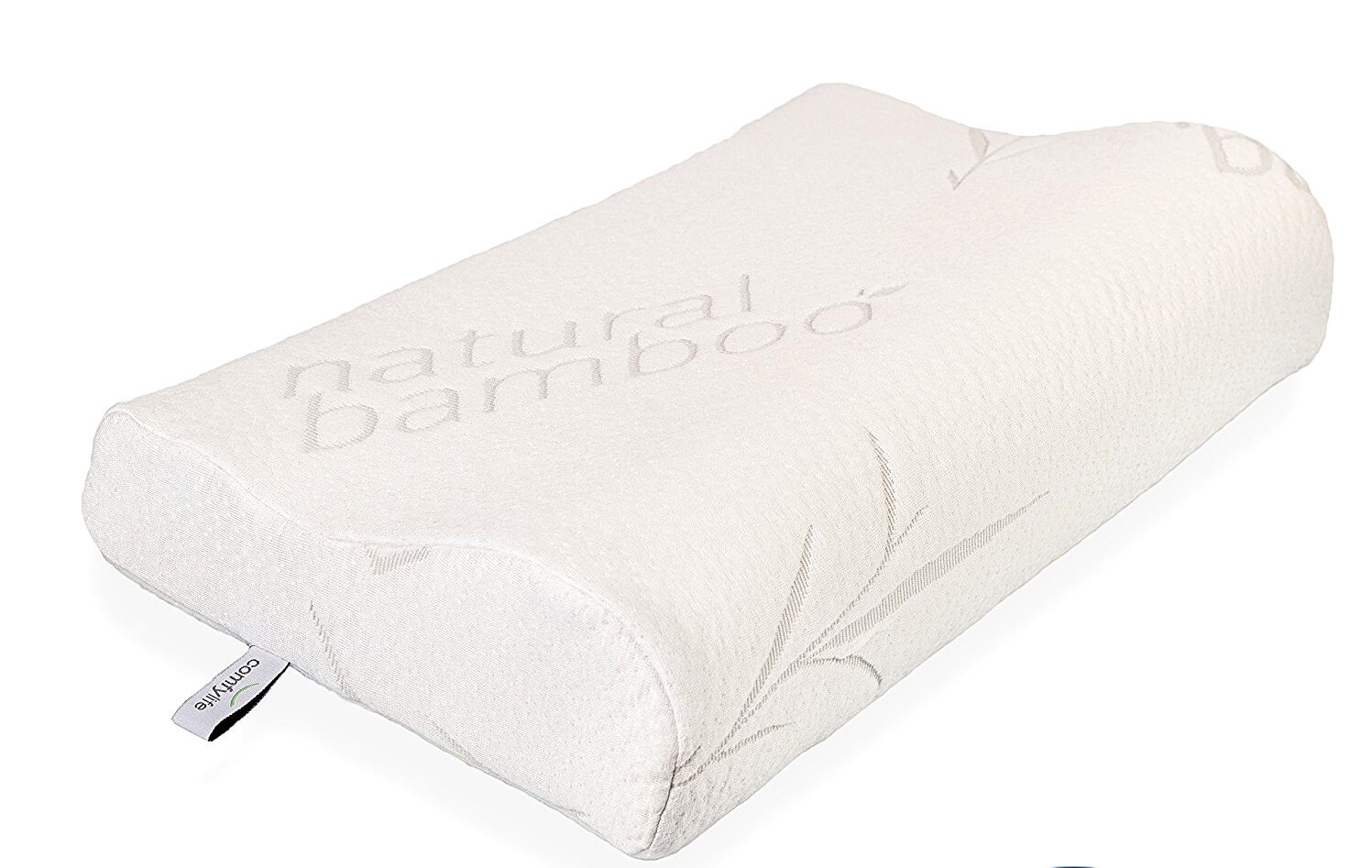 This model deserves to be on this list for a number of reasons: it is comfortably firm, supportive, and keeps its shape all through the night. Designed as a wave, the pillow's top surface is soft to the touch and able to cradle your head, helping you relax and sleep better. It promotes your head's alignment with the rest of your body, which makes it a great contour pillow for neck pain sufferers. You will definitely forget about any stiffness in your neck with this item. "The pillow you choose should also be suitable for your sleeping position. For instance, back sleepers need a thinner pillow, as it will allow the spine and neck to stay aligned during the night. Side sleepers should go with a thicker and a firmer pillow, as it has to fill in the space between the ear and the shoulder in order to cradle the neck properly."
Here are its main characteristics:
It features a

wave

design to support and to cradle the neck more effectively.

The filling is 100%

memory foam

, which is supportive but doesn't feel too firm.

The cover is made from

bamboo

, which is great for breathability and temperature regulation.

The company offers the no-questions-asked

money back guarantee

.
What is really great with that pillow?
The best thing about this pillow is the support it provides. Because the memory foam is quite dense, your head and neck won't sink into it too deeply. At the same time, it is soft enough to contour the head and to keep the neck positioned correctly.
What is wrong with that pillow?
The worst thing about this cervical pillow is the smell. A slight odor is common for the memory foam, and this pillow is not an exception. It took around 2 days for my pillow to air out, only after that I was unable to feel the off-gassing.
To tell you the truth, I was a bit skeptical about this top-rated cervical pillow before trying it out. All the praising reviews seemed to be too good to be true. However, I am now another fan of this pillow.
check out this pillow on amazon
Best Pillow for Neck Pain with a Cooling Effect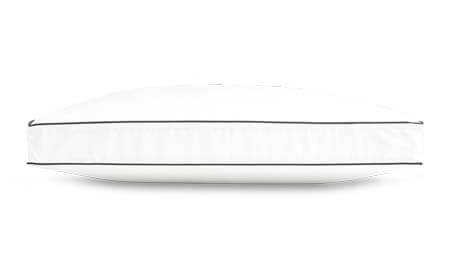 While most pillows on this list are made of shredded memory foam, Nolah AirFoam is a one-piece pillow. Despite that, it can be really effective in helping you get rid of neck pain.
Now, what makes it stand out from similar one-piece memory foam pillows is the breathability and cooling effect, which are possible due to a special material mixed into the pillow's cover.
Here are its main characteristics in brief:
The pillow is

standard sized

and

medium firm

.

Made from

100% cotton

, the pillow's cover is infused with a cooling material for

improved air circulation

and

temperature regulation

. It features a zipper, so it can be removed if it requires washing.

The AirFoam is a proprietary blend of

high-resilience memory foam

inside the Nolah pillow, which is a softer version of the material they use for their mattresses.
The company offers a 120-night trial and a 2-year warranty. A 30-night break-in period is required to get a refund.
The best thing about this pillow is the hugging feel it offers. Being a 100% memory foam pillow, Nolah AirFoam contours to your neck and head perfectly. But unlike many competitors, this pillow doesn't make you feel sunk in the foam.
The worst thing about this pillow is the lack of versatility. With only one size and one firmness option, it definitely won't suit everyone. For example, some side sleepers might feel this pillow is too low for them, while some people sleeping on their stomach might, by contrast, find it to be too high. However, you can't know for sure until you try it, and the company offers great trial conditions to let you do that.
Here are the main pros and cons:
To tell you the truth, I am more into adjustable pillows that can fit different sleeping preferences. However, this pillow is both soft and supportive enough to conform to your head and neck and help your muscles relax whatever position you sleep in.
Want to see it for yourself? Purchase your Nolah pillow here!
Factors We Look At
The range of pillows available on the market today is very wide and versatile, including low-quality cheap models, pillows offering mediocre comfort, decent quality products, and luxury items. Here's what we consider when choosing the best of them to help you get rid of neck pain:
Firmness

. Basically, there are 10 firmness levels that define how a pillow feels. For it to be decently comfortable, the firmness should be around 5-7 out of 10. Such pillows provide a balanced feel, being both soft and supportive at the same time.

Shape

. The pillow's ability to relieve neck pain is connected with its shape. Cervical and contoured pillows have a special design, which provides a better alignment of your head and body. However, many pillows of a regular shape are able to conform to your head and neck extremely well and help them relax during the night so that you could wake up with no pain.

Ease of cleaning

. Pillows with a removable and washable cover are always our favorites. Purchasing one eliminates the need to purchase a pillowcase or protector. However, many models with non-washable covers today are made with stain-resistant materials, which makes spot cleaning quite a fuss-free process.

Inner filling features

. The best pillows for neck pain are made from memory foam, either completely or partially. But there are other options too. Whatever the material is, we consider its main characteristics (e.g. moldability, off-gassing, shape retention, temperature control, breathability, weight).

Safety

. We recommend only safe products that improve your sleep and, consequently, health and wellbeing instead of harming you. If it's a foam pillow, it must be

CertiPUR-US certified

. If it's made from latex, then it must have GOTS and GOLS certificates.

Trial and warranty conditions

. These factors allow users to feel safe when purchasing a new pillow, especially online, without a possibility to try it out in a brick-and-mortar store.

Customer satisfaction

. Even if we try and like the product, we always check customer reviews across different review platforms to make sure we are not alone. If the vast majority of users report their satisfaction, chances are you will love the pillow too.
What's the Role of Your Sleeping Preferences in Choosing a Pillow for Neck Pain?
Your sleeping position is one of the key criteria in a search for a proper pillow.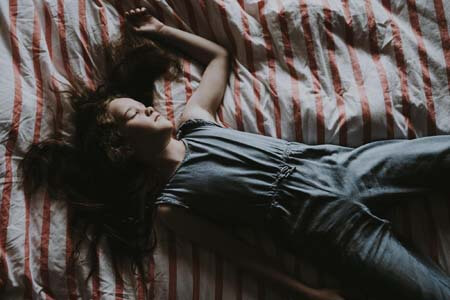 Back sleepers need medium firmness (6 out of 10) and medium thickness (3-5 inches). Side sleepers need thicker (5 inches and more) and firmer (7 out of 10) pillows. And stomach sleepers need softer (4 out of 10) and thinner (3 inches and less) pillows.
But here's the deal:
A sleeping position is not the only thing that determines your pick. You'll need to know answers to the following questions too:
Do you switch positions during the night (e.g. turning from one side to another or from side to back)?

Do you like

snuggling with your pillow

?

Do you usually rest your head in the center of the pillow or on one of the sides?

Is your head placed on the pillow entirely or only partially?
"Neck pain can become an ongoing issue if you travel frequently and, as a result, sleep in a sitting position. Therefore, a proper travel pillow is recommended."
What Causes Neck Pain at Night
The reasons behind neck pain might be obvious: arthritis, old (and new) injuries, surgeries, and other health conditions. But what if you're perfectly healthy and still wake up every day with a sore neck? The cause for your neck pain might be so simple that you won't even have to go to the doctor's to figure it out. Just consider these factors:
Sleeping on the wrong pillow

. This bedroom item is what directly influences your neck condition. It is supposed to keep it in a neutral position, without making your head fall back or bend upwards.

Sleeping on your stomach

. It might feel great and super comfortable, but this sleeping position doesn't do any good for your neck. When lying on the stomach, you have to turn your head to the side, twisting the neck and creating an unnecessary pressure and an unhealthy position for it. It's hard, but consider changing this sleeping habit. Your neck will thank you for that.
Sleeping on a bad mattress. Let's face it: a mattress is as important as the other factors. If it's old, unsupportive, and saggy, it can give you nothing but health issues. Consider investing in a new mattress if yours is too old or doesn't feel as comfortable as it used to, and save yourself from hurting all over, not just in your neck.
Shape Matters
Choosing the appropriate pillow shape is essential when you suffer from regular pain and stiffness. And the market has quite a lot to offer, but these are the most common designs:
Regular

. The traditional rectangular shape is the classics. It is suitable for any sleeping position and even for people with health issues, as long as the pillow is high-quality and supportive.

Cervical

. This shape might remind you of a cat bed: a hollow in the center for the head and the raised edges for the neck support. This pillow type is often recommended by chiropractors for the neck pain and some spine issues.

Contoured

. These pillows are also great for neck stiffness, as they have raised edges for the neck support and the recess for the head.

Bolster

. These are cylindrical pillows, which are more popular among those people who need an extra pillow for their legs or arms. However, some enjoy using a smaller bolster pillow instead of the regular one, as those pillows are able to provide great support for the neck.
"The size of your pillow should depend on your height and weight. It is better for larger sleepers to go with thicker and wider pillows, as they are able to support heavier users."
Choosing the Filling
When looking for the great pillow for neck pain, the filling is another important criterion you have to consider. Let's take a look at the most popular types of filling:
Memory foam

, which is great at providing excellent head and neck support.

Feather

, which is soft and natural but doesn't really offer enough support.

Synthetic fibers

, which are suitable for all sleeping positions and can be very comfortable.

Latex

, which is very bouncy and supportive but doesn't offer any adjustment options.
Cotton, which is natural and can provide a decent level of support but might get too lumpy with time. Also, you have to consider some lifestyle changes to prevent neck pain. More about it read here.
Product links on Happysleepyhead are referral. We get a commission on purchases made through our links at no additional cost to you. More information in my disclosures.