3 Best CPAP Masks for Beards
by | Last Updated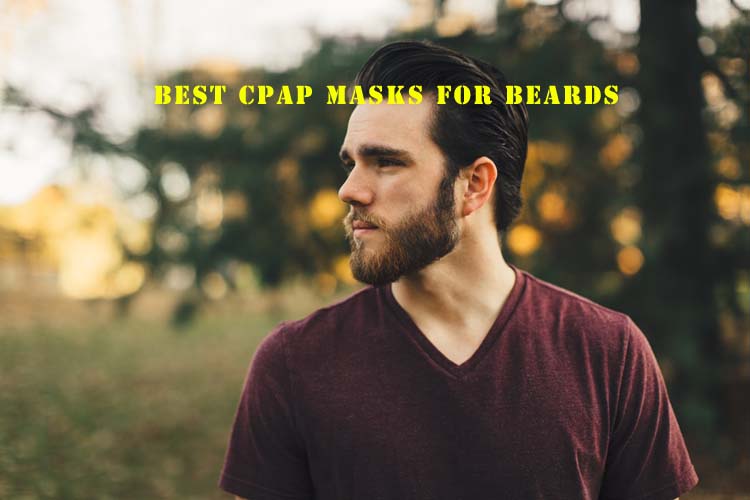 One of the essential criteria for choosing a CPAP mask is its ability to create a tight seal without leaking and ensure proper airflow.
But it's easier said than done for those who have a beard.
The good news is, you don't have to get rid of all your facial hair for the sake of therapy!
Instead, take a look at the three best CPAP masks for beards I've reviewed today and check out the short buying guide below in order to choose the right one!
Our Reviews of Top 3 Beard-Friendly CPAP Masks
Best for Beard Owners Who Breathe Through Their Mouth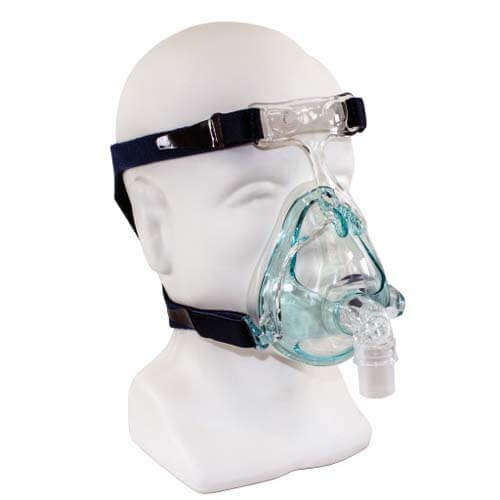 If you breathe through your mouth during sleep, you'll need a full-face CPAP mask in most cases. And turns out, the Sapphire might be the right pick for you: it's compact and has a comfortable 3D cushion that won't rub against your facial hair and will adjust to your sleeping position without breaking the seal. That's why I've placed the Sapphire on my list of the best CPAP masks for beards.
Also, this mask comes with a forehead pad that has five adjustment levels. This helps you control the level of support and partially removes the pressure from the areas around the nose and mouth, preventing the irritation.
The mask is compatible with any pressure settings, so it can suit individuals with severe sleep apnea. The adjustable headgear has a quick release option, so you can easily remove it and put it back on without having to readjust the mask.
So, the most significant advantage of the Sapphire is that it can help mouth breathers with beards receive all the therapeutic benefits without getting rid of their facial hair.
My only complaint about the Sapphire is that the air vents may release the air too loudly sometimes. This might be a turn-off for sensitive individuals.
I can surely recommend this CPAP mask for beard owners with nasal congestions, allergies, or weak jaw muscles. It will maintain a perfect seal and deliver steady airflow in any position.
check out this cpap mask on cheapcpapsupplies.com
Best for Long and Thick Beards
ResMed AirFit P10 Nasal Pillow System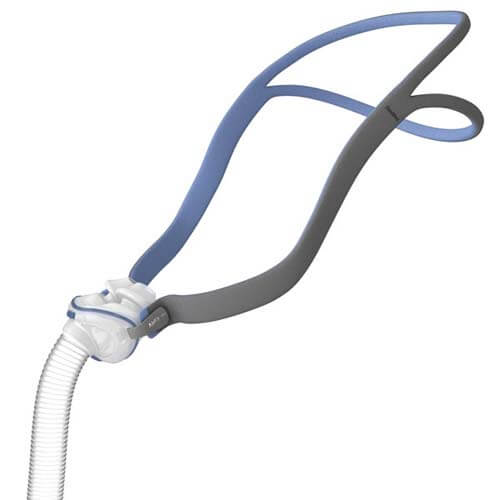 The reason I've included the AirFit F10 by ResMed in my review of the best CPAP masks for beards is its minimal design. Thanks to that, the mask becomes barely noticeable as soon as you put it on. So, if you have a long and thick beard, this mask can become a good pick for you and ensure that your therapy will remain effective.
Now, the mask consists of a simple headgear available in the 'one-size-fits-all' option. It's made of elastic straps and adjusts to your head without feeling too tight. Also, you can remove the headgear in one move with the key-clips on both sides.
The frame is available in four sizes, starting from extra small, so any user can find the right fit. The nasal pillows are made of soft silicone and ensure steady air delivery right into your upper airways. Also, they're incredibly easy to clean and maintain.
The mask has woven-mesh air vents on the bottom of the frame. They allow the air you exhale to escape quietly without waking up your partner.
I was really impressed with the minimal design of the ResMed mask. It's comfortable to wear even if you have a wizard's beard and it adjusts to any sleeping style without breaking the seal.
The biggest drawback is common for all nasal pillow systems, though. The ResMed may leak if you use your CPAP device on high-pressure settings. So, individuals with severe sleep apnea may want to consider other options.
Overall, I think that the ResMed AirFit P10 will make a good purchase for beard owners with mild to moderate sleep apnea. It adjusts to your head shape and doesn't mess with facial hair while delivering a steady airflow.
check out this cpap mask on cheapcpapsupplies.com
Best for Users with Beard and Mustache
Philips Respironics Pico Nasal Mask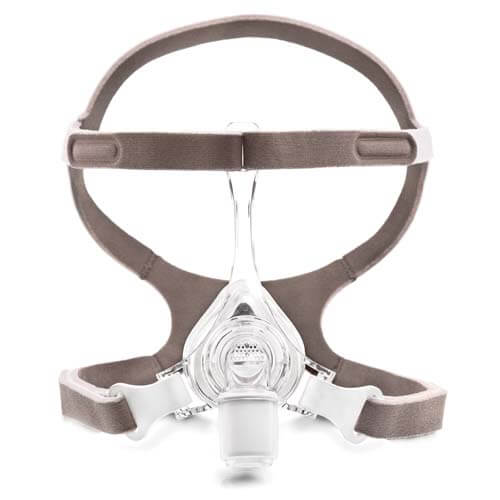 Many of the beard owners I know wear mustache as well, which can make the choice of a sleep apnea mask even more challenging. That's why another top-rated CPAP mask for beards by Philips Respironics is here: its small cushion covers only the nostrils and creates a tight seal without messing with your facial hair.
Moreover, the cushion features the dual-wall design to prevent leaks during the night without putting too much pressure on the nose bridge. Also, the cushion easily adjusts to your facial structure, so you can forget about red marks and irritations.
The headgear is fully adjustable thanks to velcro tabs. It has quick-release clips and a removable swivel that allow the patient to quickly take off the mask without having to readjust it each time.
So, the thing I loved the most about the Pico mask is that it can suit individuals with literally any amount of facial hair. The compact nasal cushion will maintain a good seal no matter what, ensuring stable air delivery.
What I didn't like, though, is that the velcro tape on the headgear feels a bit too weak and may start to lose its grip over time, making the mask slide off. It's not a big turn-off but still something to keep in mind.
To sum up, the Pico by Philips Respironics is a good choice. It doesn't feel too tight, it maintains the proper seal, and it can suit any sleep apnea patient with facial hair.
check out this cpap mask on cheapcpapsupplies.com
Types of CPAP Masks Compatible with Facial Hair
Choosing the right CPAP mask always begins with the type, but for those with beards, things can get tricky right from the start.
Because not all CPAP masks may work with facial hair.
So, let's break down the three most common types on the market — full-face, nasal, and nasal cradle masks — and see how they will perform for beard owners.
Full-Face CPAP Mask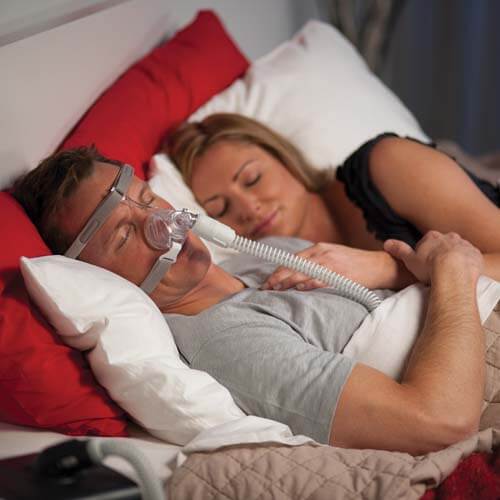 A full-face sleep apnea mask covers both the nose and the mouth and is a great pick for mouth breathers or those who sleep with their mouth open. However, a full-face mask may not always work for a beard owner because a coarse or long beard may prevent the tight seal.
Despite that, you can still use this type of mask if you just follow these tips:
Choose the under-chin design.

Choose models with the under-chin design that can wrap over your beard thereby creating a tighter seal.

Get additional headgear straps

. An additional strap that goes under your chin will help the mask stay fixed while you sleep, especially if you have weak jaw muscles or breathe through the mouth.

Prefer gel cushions

. The gel is softer and more moldable than silicone or memory foam, so it won't rub against your facial hair and create discomfort.
"Note that your doctor may still recommend that you trim your beard and keep it short so that it can fit under the mask."
Also read: Best CPAP Masks For Open Mouth Breathers, According To Experts
Nasal CPAP Mask
Nasal masks, as the name implies, only cover your nose. So, if you have a long and thick beard, they can be a solution. Choose the models that rest slightly higher on the upper lip than your mustache line, and you can be sure about the tight seal.
The main problem with nasal masks is that they can put too much pressure on your nose bridge, resulting in red marks and painful sensations. You can alleviate this issue by choosing the model with a forehead support pad, as it will remove some pressure, making the mask more comfortable.
Nasal Pillow System
Finally, there are nasal pillow systems, that consist of a compact frame placed under your nose and two tubes that go directly into your nostrils. This type of mask is the smallest option you can get and it can suit individuals with any amount of facial hair.
However, nasal air delivery through tubes has a downside. If your CPAP device doesn't have a humidifier, your nasal membranes may dry out really quickly. This may result in nosebleeds and increased risk of infections like rhinitis, which can make utilizing the mask impossible.
Other Important Checks to Make when looking for a suitable CPAP mask for a beard
When looking for a suitable CPAP mask for a beard, not only the type matters. There are dozens of masks out there, and what works for one beard owner can turn into a complete nightmare for the other.
So, take a look at some other factors you should take into account in order to find your perfect fit:
Pressure settings on your CPAP device

. If you have severe sleep apnea, your doctor will likely prescribe you high-pressure CPAP therapy. This may limit your choice significantly. Yet, most full-face and nasal masks are compatible with high-pressure settings and won't mess with your facial hair.

Type of cushion.

There are three common cushion types: silicone, memory foam, and gel. They work similarly in terms of creating the seal. However, if you have a beard, a cushion should be firm enough to keep it flat without rubbing against your face at the same time. I recommend you choose memory foam and gel cushions if your beard is coarse: they're more moldable. Silicone cushions, on the other hand, can work well if you have a trimmed or short beard.

Type of headgear

. Like cushions, the headgear might catch your beard hairs and pull them, causing you discomfort. Opt for elastic straps that better adjust to your facial structure; or, choose models made of softer materials so that they don't feel too harsh.
Conclusion
The medical industry is developing. Thanks to that, we now can treat sleep apnea symptoms with ease. And no, you don't have to shave your beard if you want to get all the therapeutic benefits of CPAP therapy.
The CPAP masks I've reviewed above can work with facial hair well, ensuring that you'll have a steady airflow without leaks.
The one I liked the most is the ResMed AirFit F10. The minimal design of this nasal pillow system can suit individuals even with long and thick beards. And four frame sizes will allow you to find the best fit to ensure a tight seal and comfort.
And what about you? What model among the three do you think could make a great pick for your needs? Tell us below!
Product links on Happysleepyhead are referral. We get a commission on purchases made through our links at no additional cost to you. More information in my disclosures.