5 Best Cooling Weighted Blankets for Restful Sleep — Reviews and Detailed Buyer's Guide
by | Last Updated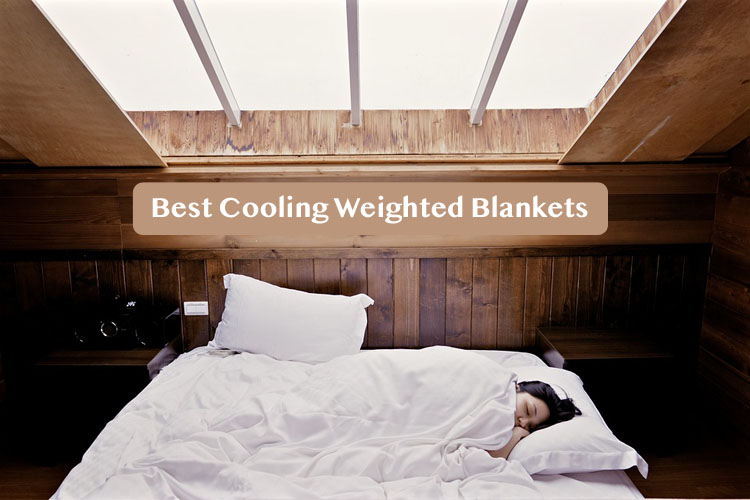 What is common between someone who sleeps hot and someone with anxiety?
The answer is easier than you think!
They both need a cool and breathable weighted blanket to solve their sleeping issues. This type of blanket makes your sleep environment comfortable and relaxing and will help you travel to the Land of Nod in no time.
That's why I've prepared reviews of 5 best cooling weighted blankets that can cool down even the most hot-blooded sleeper and provide them with anxiety-free sleeping experience.
Model
Material
Sizes
Weight
Rating
Dr.Hart's
microplush removable cover;
cotton inner blanket;
quartz microbeads
60" x 80"
15, 20, and 25 pounds
Degrees of Comfort
fleece (or microfiber) duvet cover;
ceramic nanobeads
36" x 48"; 41" x 60"; 48" x 72"; 60" x 80"; 80" x 87"
5, 6, 8, 10, 12, 15, 18, 20, 25, and 30 pounds
Amy Garden
Inner cotton layer;
glass microbeads
36" x 48"; 48" x 72"; 60" x 80"; 68" x 86"
5, 12, 15, and 20 pounds
Quility
cotton outer layer;
polyester inner lining;
glass beads
36" x 48"; 41" x 60"; 48" x 72"; 60" x 80"; 86" x 92"
5, 7, 10, 15, 20, and 25 pounds
CuteKing
cotton cover;
glass beads and fiber blend
41" x 60"; 60" x 80";
80" x 87"
10, 15, 20, and 25 pounds
Our Reviews of 5 Top-Rated Cooling Weighted Blankets on the Market
Best for Quiet Design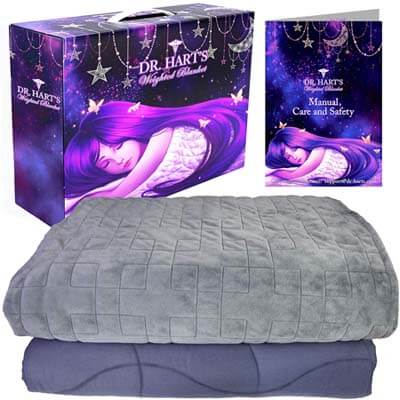 I want to begin my review of top-rated cooling weighted blankets with the model that will not only provide you with cool and relaxed shut-eye but will also remain silent. Because there's nothing worse than the rattling of the glass beads when you're trying to switch positions at night, right?
This blanket is basically an inner cotton case filled with quartz beads, which are entirely noiseless and lighter compared to glass beads. So, lightweight sleepers won't feel stuck and will be able to move freely.
The outer cover is made from microplush and can provide you with a soft and luxurious feel. However, the manufacturer also sells a separate cotton cover you can purchase for an even more refreshing sleep.
What I love is that the Dr.Hart's blanket is noiseless. It's the quietest model among the ones that I've reviewed here. If you're sensitive to sounds, I believe that you will enjoy sleeping with this blanket just like I did.
The only annoying thing I want to mention is that the distribution of the beads inside this blanket is a bit uneven at the beginning. I've been testing this model for four nights and the feeling of real comfort came only by the third night. What I mean is that it may need some time to adjust and spread out.
Overall, if you want to improve your sleeping experience, this blanket will be a worthy purchase, especially if you're a sensitive sleeper.
check out this blanket on amazon
Best for All-Year-Round Use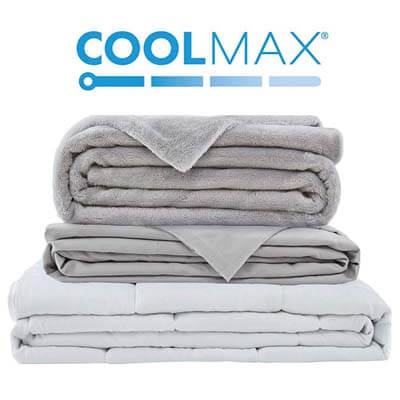 The next product in my review of the best cooling weighted blankets is this model by Degrees of Comfort. This blanket is not only cooling. You can actually use it throughout the year, including cold winter nights, as it comes with two duvet covers suitable for different seasons.
So, the most exciting feature of the Degrees of Comfort blanket is that it uses ceramic nano-beads. These beads are smaller compared to glass; they actually feel like rough sand. Thus, they distribute more evenly inside the cover and make you feel comfortable inside such a cocoon.
As mentioned, there are two duvet covers included in the package. One is made of fleece, and it's great for the colder months, while the other is breathable microfiber that ensures you will sleep cooler during the hottest summer nights.
What I really love is the thoughtful design of this blanket. Now you won't need to spend money buying separate duvet covers for different temperatures outside. You will just need to swap the included covers to your liking.
What I didn't like about this model is that the materials it's made of are synthetic. This means that they're prone to creating static, especially if your bedroom air is dry. It's a minor inconvenience, though.
So, if you want to save some money and buy a really multifunctional cooling weighted blanket, go for this model.
check out this blanket on amazon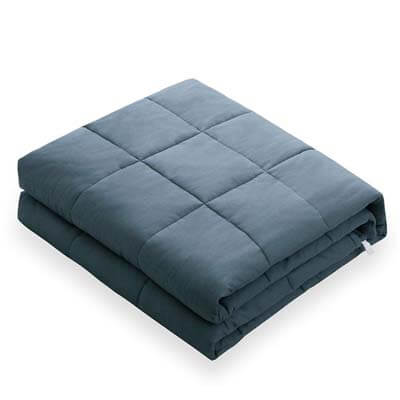 The next option on my list of the best cooling weighted blankets is for those who are on a budget or just don't want to spend extra. The Amy Garden weighted blanket has excellent value for money and is no worse than the luxury options when it comes to comfort.
The blanket has a quilted construction, and each small compartment of the inner cotton encasement is filled with glass beads. That's a basic construction in all weighted blankets.
However, this blanket offers you seven-layer construction — the layer of glass beads in the middle and three layers of fabrics on both sides. So you can forget about waking up and shaking out the beads from your sheets every morning.
Still, with a price tag like this, you won't spend that much overall. Which is great considering that the Amy Garden's blanket has the same features as more expensive models do.
The main drawback of this blanket is that the duvet cover is sold separately. So, if you haven't got a duvet cover that could fit this blanket at home, prepare for additional spendings.
Overall, I believe that this will be a great blanket for literally anyone who wants to save money. It's durable, comfortable, and affordable.
check out this blanket on amazon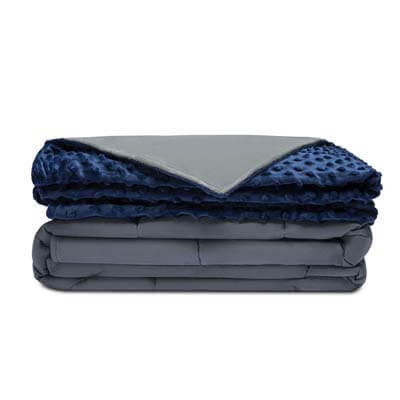 The next model I've reviewed as the best cooling weighted blanket is the Quility. This blanket will make a great purchase if you're a big sleeper or share a bed with someone who has the same needs as yours.
The Quility blanket is one of the few models available in King size. Also, it comes in seven different weight options, so you can choose a heavier or lighter blanket based on your own weight, to make sure you'll feel comfortable.
The blanket has a removable minky cover, which you can save for colder months. And for preventing beads from coming out, the manufacturer packed them into additional layers of polyester padding, so they remain in place without sacrificing contouring properties.
What I love is that the manufacturer cares about large sleepers and couples. An opportunity to buy a King-sized cooling weighted blanket might be a clincher for some users.
The thing that bugged me during testing, however, was the noise. The glass beads were regularly making quite an unpleasant sound. I'm not a very sensitive sleeper, so it didn't cause me to wake up. But I tend to toss a lot before I fall asleep, so the noises triggered by my tossing made it a bit harder than usual to fall asleep.
The Quility is a great pick for those looking for a larger size, although it's available in many other sizes too. So, if you don't mind some rattling during your sleep, grab this blanket and rest well.
check out this blanket on amazon
Best for Moisture Removal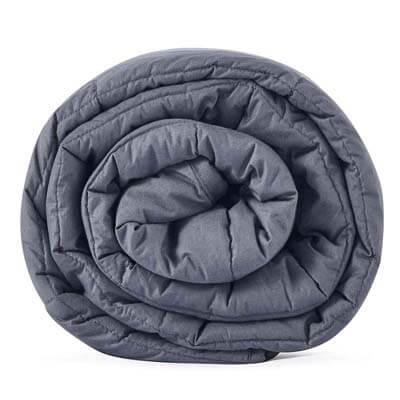 And the last option in my selection of top-rated cooling weighted blankets is the Cuteking. Besides having a funny brand name, this blanket will offer you really cool and dry sleep, especially if you're prone to hot flashes or sweat a lot during sleep.
The blanket is made from cotton, which excels at moisture removal and keeps you cool throughout the night. Thus, even if you're a big guy or girl, don't hesitate to opt for a larger weight — the Cuteking will still provide you with a refreshing sleep.
The manufacturer sews smaller compartments so that the weight would be distributed evenly. Plus, they claim that the layer of beads is covered with six more layers — three on each side — so the beads couldn't get into your bed.
What I'm really impressed with is the moisture removal properties of this blanket. During my testing, the weather was hot and humid here — a perfect combo for sweating 24/7. However, all my testing nights were dry and comfy, so this blanket performs great in terms of absorbing moisture.
The reality is a bit different, though. The beads do leak from the blanket. Some other users had the same complaint, so there may have been a defective batch. However, the customer support is very helpful, so you won't have problems returning or replacing your blanket if it turns out to be defective as well.
So, if you want a cooling weighted blanket with great moisture removing properties, then I would certainly recommend that you purchase the Cuteking blanket.
check out this blanket on amazon
Why Staying Cool Throughout the Night Can Help You Sleep Better?
The quality of our sleep depends on numerous factors, with one of them being temperature.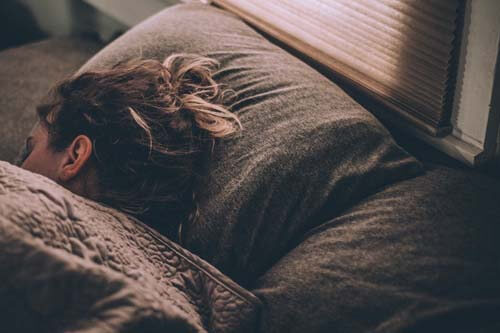 When we are preparing to fall asleep, our temperature begins to drop, which promotes the production of melatonin and human growth hormone. These two substances contribute to the sleepy state and ensure that we will get our portion of sound sleep during the night.
A higher body temperature, on the contrary, inhibits the production of melatonin and may even contribute to insomnia, which is why individuals who are prone to getting hot at night usually have sleep issues.
"Your mattress type can influence the microclimate of your bed and the ability of your body to maintain a neutral temperature. Foam beds typically sleep hotter compared to latex, hybrid, and innerspring mattresses."
Along with hormones that can help you fall asleep, there are some with the opposite effect.
Cortisol, adrenaline, and other stimulating hormones and neurotransmitters can induce the 'fight-or-flight' reaction. It can increase your body temperature by speeding up the heart rate, thereby making you sleepless.
So, sleeping under a cooling weighted blanket is beneficial because it helps your body regulate your temperature, which is important for quality sleep.
How Do Weighted Blankets Work?
To answer this question, I must refer to physiology once again.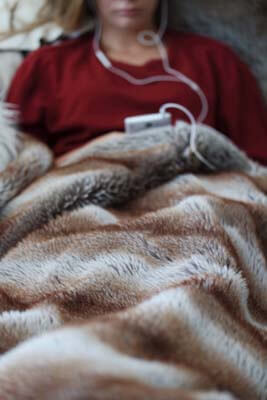 Along with the sympathetic nervous system that keeps us alert and mobilizes our body systems during different activities, we also have the parasympathetic nervous system. It puts us into the state of relaxation and conserves our energy while we rest.
A weighted blanket kind of keeps you closer to the ground by putting some weight on you. This triggers the parasympathetic nervous system and promotes the hormonal response similar to the one that appears when we're falling asleep.
Thus, a weighted blanket can shorten the sleep onset and make your shut-eye deeper and more restorative.
Some users benefit from using a weighted blanket more than others. This includes:
People with sensory disorders

. Kids with autism or ADHD often have an overly agitated nervous system, and a weighted blanket can significantly improve their sleep.

People with anxiety

. Sleeping under a weighted blanket may make you feel as if you're in your mother's hug. This inhibits the production of stress hormones, reducing anxiety and insomnia episodes.
"Note that individuals with respiratory diseases need to consult a doctor before using a weighted blanket. The reason is, it can put too much weight on their chest and make it difficult for them to breathe."
What's Inside a Cooling Weighted Blanket? A Peek at the Materials
Now, I want to briefly walk you through the conventional materials of an average cooling weighted blanket.
This bedding item typically has quilted construction. Each small compartment is filled with microbeads that can be made of glass, plastic resin, ceramic, quartz, or other materials.
The blanket itself is generally made from durable fabrics, such as cotton, polyester, or bamboo. Durability is the key feature here because the material should withstand the weight of the beads without tearing and letting them out.
To prevent the beads from bunching up, most manufacturers use multiple additional layers. This means that each compartment will look like a layer cake if you cut it open. This results in a cozier feel and eliminates the noise that beads can make.
Things to Look For in the Best Cooling Weighted Blanket
Now, let's summarize all the details you should consider before buying a new cooling weighted blanket.
Durability
Not only the fabrics themselves but also the overall construction of your weighted blanket should be durable.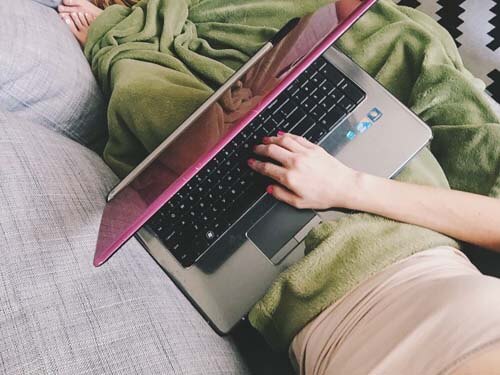 That's why you should pay attention to the following elements:
Seams

. These are the weakest points of any blanket, and if they come loose, the beads will appear in your bed. So, opt for models with well-made seams that will be more durable.

Pockets

. Each compartment of a blanket should have layered construction. This will, again, prevent the beads from coming out and ensure their even distribution around your body.
"To make your sleeping experience even more refreshing, you can invest in a cooling mattress topper. It will create an additional breathable layer between you and your mattress, which can be especially beneficial if your mattress is old and saggy."
Your Weight
Your body weight also plays a role in how comfortable you will feel under your blanket. The rule of thumb here is to choose a blanket that weighs 5-10% of your body weight. For example, if you weigh 200 lbs, like me, then the perfect weighted blanket for you would weigh 10-20 lbs.
Heavier users typically need more massive blankets. But don't worry, finding them shouldn't be a problem, as many brands offer 25 and 30-pound options.
Duvet Cover
A duvet cover serves as an additional layer to keep the beads that may have come out of the blanket inside. Plus, it prolongs the lifespan of your bedding too. Some brands offer a duvet cover and a blanket as one set, whereas others don't, so it makes sense to check this before making a purchase.
Conclusion
A cooling weighted blanket can be a lifesaver for some. By comfortably wrapping around you, it may help relieve anxiety and stress so that you could fall asleep faster.
I tried to choose the most functional models with excellent value for money that could work well for any sleeper. But for me, the Dr.Hart's blanket worked best. It has a universal size and is really quiet. Its only issue — the uneven distribution of beads — was temporary and resolved by itself.
In case you want to save some bucks, the Amy Garden could be the most suitable pick. Yes, you may have to purchase a duvet cover separately, but this blanket is just as great as the Dr.Hart's and other more expensive options.
Have you tried sleeping with a cooling weighted blanket as a solution to your sleeping issues? What were the effects? Share your experience below!
Product links on Happysleepyhead are referral. We get a commission on purchases made through our links at no additional cost to you. More information in my disclosures.