Best Warmest Blankets for Winter Nights and Cozy Sleep
by | Last Updated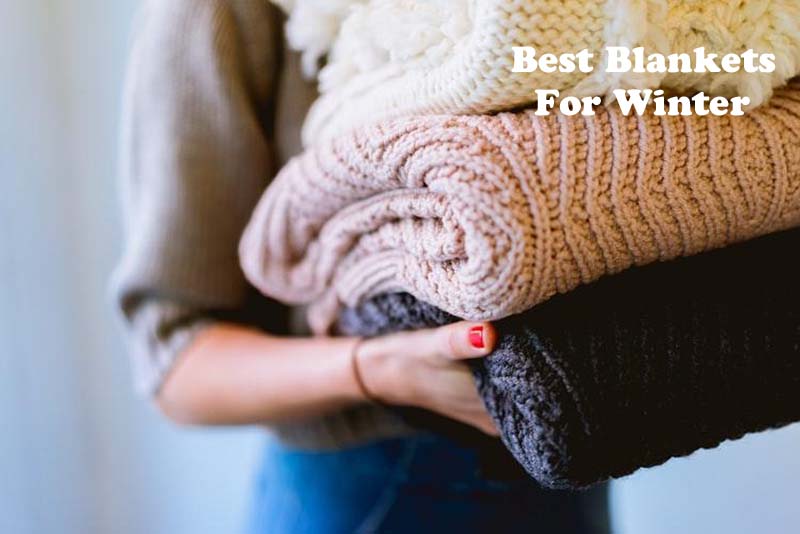 What can be better than wrapping in a cozy blanket and sipping on hot cocoa with marshmallows?
Literally nothing, exactly.
Blankets are associated with something warm and comforting from childhood, and it's okay to want to replicate this comfort as we get older.
That's why I've prepared reviews of 5 best warmest blankets for winter — or any other cold time, actually — and all you need to know to choose the right one for yourself.
Model
Material
Sizes
Weight
Rating
Home Fashion Designs
Berber fleece and velvet plush
Twin (66" x 90")
Full/Queen (90" x 90")
King (102" x 90")
Throw (50" x 60")
4 pounds
Pine and River
Microfiber polyester
Queen (60" x 80")
15, 20, and 22 pounds
Wooly Mammoth Woolen Co.
Merino wool
66" x 90"
4 pounds
All the Feels
Polyester
Twin (66" x 88")
Full/Queen (88" x 92")
King (92" x 106")
Throw (50" x 60")
5.2 pounds
Eikei
Knitted acrylic and cotton blend, polyester fleece
Extra Large: 55" x 70"
2 pounds
Our Reviews of 5 Best Warmest Blankets for Winter
Best for Versatility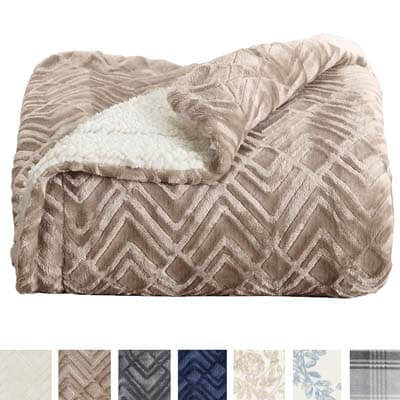 So, the first model I can truly consider the best blanket for winter is offered by Home Fashion Design. This blanket has a 2-in-1 reversible design allowing you to use it depending on your preferences. Also, the blanket is available in 17 different pattern variations, so you won't experience the difficulty to fit it into your interior.
Now, the front side of the blanket is made of velvet plush and adds to that luxurious look, while the backside comes as a thick layer of Berber fleece for a cozy feel. Both materials retain heat very well, so you won't freeze even during the coldest nights.
Also, the blanket can be washed in a washing machine on a gentle cycle, so the maintenance is easy as pie.
What I really loved, however, is the reversible design of this blanket. Fleece and plush have slightly different effects when it comes to temperature regulation, so you can choose whichever suits your sleep needs the most.
My only problem with this blanket was that it's prone to generating static electricity when the weather is cold and dry. You can alleviate this issue by investing in a humidifier for your bedroom, though.
I think that the Home Fashion Design blanket will work best for individuals who want an incredibly soft blanket that will surely fit into their interior. Just grab the pattern you love the most, and you're good to go!
Check out this blanket on amazon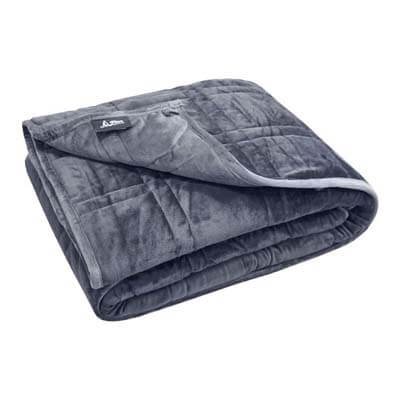 Another top-rated blanket for winter I've reviewed is designed by Pine and River. This model can put your sleep to a whole new level: it's made from incredibly soft mink fabric and feels very cozy and comfy.
The Pine and River is a weighted blanket and is available in 15, 20, and 22-pound weight options. Weighted blankets are initially designed for children, but adults with anxiety or restless legs syndrome can benefit from them as well. They create a feeling of a mother's hug and trigger the mechanisms of calm and relaxation.
Also, unlike other weighted blankets, this one uses a proprietary silica fill, which is noiseless and allows to retain more heat compared to glass beads. This means you will feel warmer during sleep.
What I was totally impressed with is the ability of the Pine and River blanket to set you in the sleepy mood. Once you wrap in it, you start feeling relaxed and drift off easily.
There's the only downside of this blanket I want to mention. Some of these silica grains are tiny and might go through the fabric and make you sleep like Princess and the Pea. But this rather seems to be an exception than a common issue.
Overall, I enjoyed using this blanket. I would recommend it to anyone with insomnia, sleep-related disorders and anxiety.
Check out this blanket on amazon
Best for Natural Materials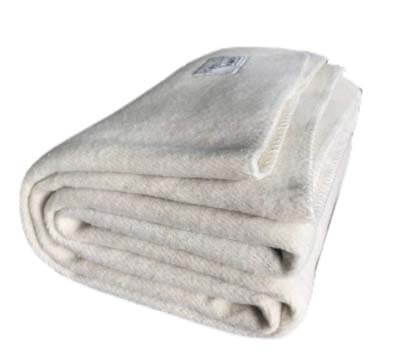 My next option among the warmest blankets for winter will be a perfect fit for those who prefer more natural materials in their life — and in their bed. The Wooly Mammoth blanket, as the name implies, is made from a merino wool blend (80% wool, 20% acrylic) and can serve as a nice and warm cloud for those chilly winter nights.
Wool is unbeatable when it comes to thermoregulation. Wool fibers have a hollow structure, so they can retain heat and help keep your body warm.
The manufacturer uses acrylic in their wool blend in order to reinforce wool fibers and make them more durable and even. This results in a longer lifespan and a more expensive look.
The thing I really liked, though, is the overall feel of this blanket. Wool keeps you warm but not sweaty. Plus, it is very lightweight, so you can easily switch sides without feeling trapped inside a cocoon.
The worst thing I could find about the Wooly Mammoth blanket is that it's about 50% pricier than other blankets of the same size. But it's quite natural, as this item is made of mostly natural materials.
I think that this blanket will suit everyone who is ready to pay a bit extra for a long-lasting and warm blanket made of natural materials.
Check out this blanket on amazon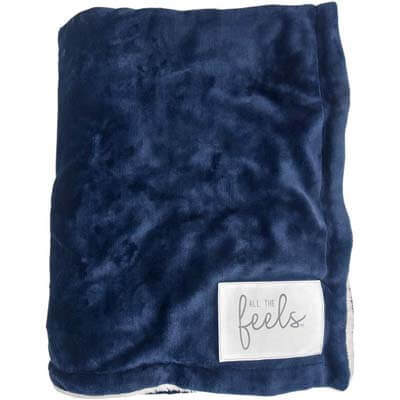 My review of the best blankets for winter wouldn't be full without an option offering the best value for money. The All the Feels blanket perfectly meets this requirement. Besides, for every blanket purchased, they donate either one blanket or its money equivalent to people in need, so it's actually a way to do something good both for yourself and for others.
So, All the Feels makes their blankets from polyester with a plush finish. This material does a good job at keeping you warm and cozy not only during winter nights but throughout the year.
Along with that, this blanket has a reversible design, with one side being fuzzy and the other being smooth and plush. It seems this design is also made with all-year-round use in mind.
What I like most of all, of course, is the value for money this blanket offers. This model has all the things to make your sleep warm and cozy.
The only issue with this blanket is that dust or small debris may cling on it because polyester fibers tend to be pretty tenacious. So, if you have a furry friend, be sure to get a sticky roller to clean up this blanket regularly.
I think that the All the Feels blanket, besides being an affordable option, will really make a good purchase for those who want to make this world a little better.
Check out this blanket on amazon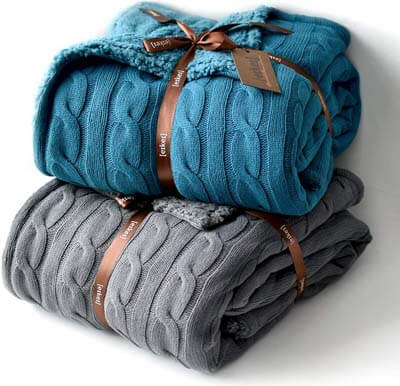 Finally, for the fans of sweater weather, here's the Eikei blanket. I've included it in my list of the best warmest blankets for winter not only because it resembles the actual grandma's sweater by design but also because it's extremely comfy.
So, the knitted side of the blanket is made of a cotton and acrylic blend, which results in a smooth look and great breathability, as both cotton and acrylic help balance your body temperature throughout the night.
The fuzzy side provides you with a layer of faux sheepskin made of microfiber for a really comfy sleep. This material feels incredibly soft to the touch and creates a layer of warmth around you.
The best thing about this blanket is its amazing design. I start feeling more comfortable just by looking at it because it reminds me of childhood times.
The biggest drawback of this blanket, just like with any item made of cotton and acrylic blends, is that it's prone to lint. So, if you don't want your blanket to lose its sleek look, you'll have to invest in a fabric shaver or at least use mild softener while washing it.
So, if you're feeling nostalgic like me, or if you just need a warm and functional blanket for a reasonable price, the Eikei will be a great choice.
Check out this blanket on amazon
Why Do You Need a Blanket?
I'm sure many of you already have a duvet or a fluffy down alternative comforter.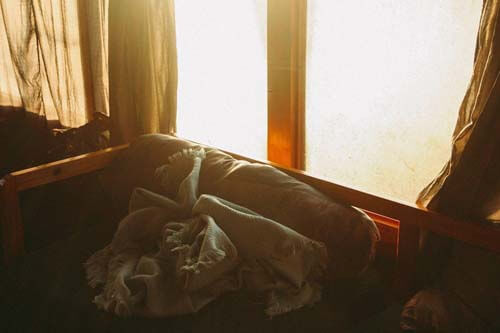 Or even both. So, you may be wondering:
Do I really need that blanket?
To help you answer that question, let me simply list the biggest advantages of blankets compared to similar bedding items:
Blankets are versatile

. Duvets and comforters are generally limited to be used in beds only, although no one can stop you from using it while sleeping on a sofa. Still, a blanket can be used in numerous ways: as an additional decorative layer over your couch or on a

sleeping recliner for your guests

. Moreover, you can take it outdoors to feel cozy and warm in your backyard or even on a hiking trip.

Blankets take little space

. They usually are compact because they have no fill, unlike duvets or comforters, and are made of initially warm and heat-preserving materials.

Blankets are perfect to use on their own

. Again, the materials used for making blankets feel great on their own, so you don't need to buy an extra cover. In other words, a blanket can help you save some money.
"Many blankets can be used all year round, which improves their utility as well."
The Warmest Materials for a Winter Blanket Explained
When choosing a really comfortable blanket, the main factor you should consider is material.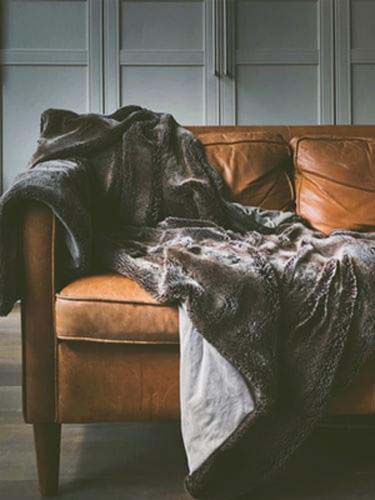 Although there's no universal material that would work for everyone, some will perform better than others in terms of keeping you warm and providing a cozy feel.
Isn't that precisely what you're looking for?
So, the most common materials for winter blankets include:
Wool

. A high-quality

wool blanket

can be easily used throughout the year, not only in winter. The structure of wool fibers allows them to easily create a layer of warm air around your body and maintain optimal temperature throughout the night. However, for some individuals, especially those with sensitive skin, wool might feel harsh and itchy.

Cashmere

. Natural cashmere is a soft undercoat of cashmere goats; it's typically thinner and lighter than sheep wool. Cashmere is very breathable and retains heat very well, but it's made through a more resourceful production process, which often results in higher prices.

Cotton

. Cotton is rarely used for winter blankets, but it can be an ingredient of the blend. Cotton fibers work great at moisture removal and promote breathability. Thus, if your blanket has some percentage of cotton along with other materials, chances are that you will sleep dry and comfy.

Fleece

. Fleece is a synthetic knitted fabric made from polyester. After weaving, the fleece fibers are brushed to increase their volume. The main advantages of fleece are the combo of small weight and excellent insulating properties (although the latter is present only while the fabric is dry).

Microfiber

. Microfiber is another type of fabric made of polyester fibers, but compared to fleece, its threads are way thinner. Microfiber is very durable, soft to the touch, and performs excellent in terms of moisture removal and keeping you warm during the night.

Acrylic

. Acrylic wool has thicker fibers than microfiber and fleece while remaining soft and pleasant to the touch. However, acrylic blankets may often feel colder than the materials mentioned above. That's why they're commonly used as an additive to make the blankets cheaper and more durable.
"Note that all synthetic materials are made of plastic, so they can generate static electricity, especially if the air in your bedroom is dry."
Different Types of Blankets for Winter
Once you have chosen the materials, you also need to pick a design of your blanket.
Here are the most common options:
Single-layered. The most common of all, this blanket is basically just a piece of fabric compatible with your bed size. The majority of single-layered blankets are made from microfiber, wool, cashmere, or fleece, as these materials are initially warm on their own. Such models are lightweight and can usually be used throughout the whole year.
Double-layered (or reversible).

As the name implies, reversible blankets feature two different sides. They can be made either from the same material or from different ones (e.g. fleece and microfiber). Also, some manufacturers put the fill between the layers, thus making the blanket heavier, which is excellent for individuals that experience trouble falling asleep.

Knitted

. Some blankets come with a knitted design, which not only looks great but also provides increased durability. Moreover, knitted blankets are typically made of wool or other thick fibers, which means that they're pretty warm.

Electric

. Finally, there's a type of blanket with a built-in heater that allows you to keep yourself warm and will be a perfect choice for individuals who are always freezing. There are a lot of things that make

the best electric blanket

, with the main one of them being safety. If you want to try it out, consider investing in a model with an automatic shut-off option.
Things to Look For in the Best Blanket for Winter
Finally, let's cover the remaining details that are important when choosing the coziest and warmest blanket for winter nights:
Size

. The majority of blankets are designed to fit the most common bed sizes: Twin, Full, Queen, and King. Some manufacturers also offer one-size-fits-all models, which are slightly bigger than standard sizes. Don't worry, that's enough to wrap yourself up like a cocoon.

Weave

. Along with the material, the weave of the fabric also defines whether a blanket will keep you warm or not. Loose threads improve breathability and promote moisture removal, but they also leak the heat. Tightly packed fibers, on the other hand, may provide you with so much heat that you will sweat.

Durability

. If you plan to actively utilize your blanket or take it outdoors, be sure to choose a more durable one. Check the fiber volume ratio, weave, and seams (if your blanket has any).

Ease of maintenance

. Typically, most synthetic blankets can be cleaned in the washing machine and even fluffed in a dryer. However, if you choose natural materials, it's better to check the brand's recommendations and follow them through so that you won't ruin your throw.

Color and pattern

. I think you'll agree with me on this: things that are appealing to the eye often enlighten your mood, which might help you get a deeper and more sound sleep. Brands offering a more significant variety of colors and patterns will make your blanket an easy fit for any interior.
"No matter which type of blanket you'll choose, always opt for hypoallergenic and high-quality materials. In this case, your purchase will remain safe for you and your family members."
Conclusion
So, now you know at least five great products that can keep you warm and cozy during winter. I hope you have already chosen the perfect one for yourself because, you know, dig your well before you're thirsty.
As for me, I loved the Home Fashion Design blanket most of all. First, its appearance is awesome. Second, it's cozy and warm and is available in four size variations, so it's easy to choose the most suitable one.
However, if you're looking for a more affordable option, then the one designed by All the Feels might be just right for you. It can offer you lots of warmth and comfort, weighing only 2 pounds, so you won't feel stuck while being wrapped.
So, are you a blanket person? Which of the models described above did you like the most? Share your thoughts in the comments!
Product links on Happysleepyhead are referral. We get a commission on purchases made through our links at no additional cost to you. More information in my disclosures.