5 Best Down Alternative Comforters: A Cheaper, Safer, Better Choice
by | Last Updated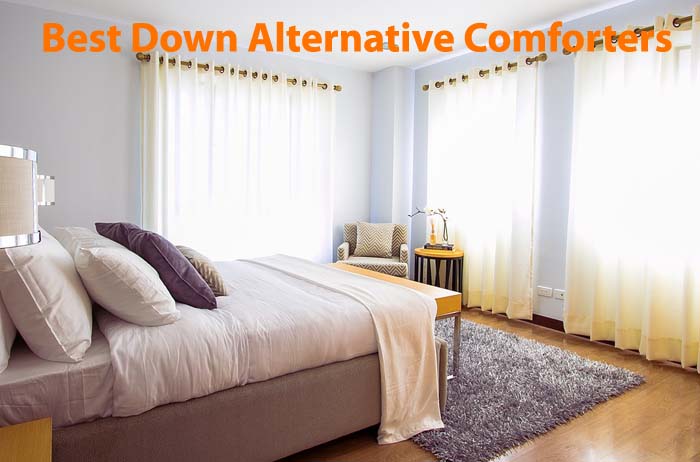 What can be better than crawling under your soft, warm comforter after a long day?
Earlier, down was the most popular choice for comforters. But these days, we have tons of other options, many of them being just as warm and heavenly soft.
So, let's look at 5 best down alternative comforters and see which one you will choose to keep you cozy and warm.
Best Luxurious Down Alternative Comforter
Royal Hotel's Down Alternative Comforter/Duvet Insert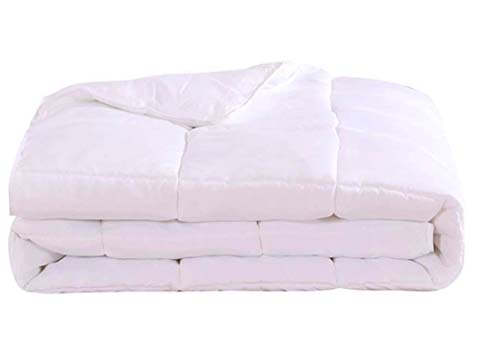 The first item on our list of the best down alternative comforters is this fancy, luxuriously comfy duvet insert by Royal Hotel. It's fluffy, thick, warm, and heavenly soft, which makes it one of the best options you can find.
Now, this item has microfiber filling to mimic the real down. The comforter features the sewn-through square design, which means you won't have to fluff it up often. It's medium-weight and medium-warm, which makes it a great option for all-season use.
The best thing about this duvet insert is its quality. It feels smooth and fluffy, features neat stitching, and keeps a consistent feel throughout its surface even after regular use.
The worst thing about this model is probably its price. While being cozy and nicely made, this comforter might still be too expensive to some users. And because it's only medium-warm, such a price might seem a bit unfair to some sleepers.
If you are looking for a luxurious feel and don't mind spending a bit more, this comforter would be perfect for you. It feels luxurious and can keep you warm all night.
Check out this down alternative comforter on Amazon
Best Cheap Down Alternative Comforter
Utopia Bedding Comforter/Duvet Insert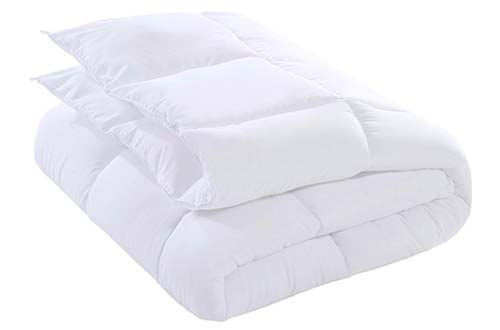 Another best-rated down alternative comforter, this model by Utopia Bedding is super affordable and super soft. It is everything you might want it to be: fluffy, warm, lightweight, and most importantly, cheap. This is an ideal option for people on a tight budget who want something nice and cozy.
Here's the deal:
Both the shell and the filling of this comforter are synthetic. But this doesn't make it less comfortable.
On the contrary, this model is extremely light and feels like a cloud. The cover is silky smooth, while the filling is fluffy and can keep you warm all through the night. To me, that's a perfect combo!
The best part is the price + value combo. While being super cheap, this comforter feels great, almost like real down. It's silky soft, nicely made, and cozy.
What might disappoint you is the lack of fluffiness in this model. Yes, the filling is warm and will not leave you to freeze during the night. Still, this comforter looks and feels quite flat, which might be a huge drawback for some sleepers.
Overall, this is a nice comforter. It might not be as thick and fluffy as its more expensive "brothers", but for such a price, it's a great down alternative.
Check out this down alternative comforter on Amazon
Best All-Season Down Alternative Comforter
Chezmoi Collection White Goose Down Alternative Comforter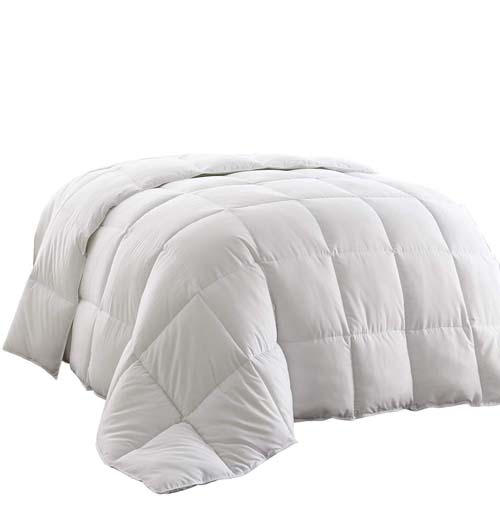 This item might win you over in no time at all. It is soft, fluffy, and nicely made. Besides, it is lightweight and warm, which makes a great combo for all-year use.
The fiber structure of this comforter allows for breathability, which means it will not make you hot. At the same time, the fiber filling retains heat nicely, so you won't feel cold either. The double-stitch design contributes to durability and, again, makes this model a great all-season down alternative comforter. Trust me, it will handle regular use all year round just fine!
"When it comes to your comforter's shell, you might want to take the thread count into consideration as well. This factor signifies the yarn density within 1 square inch of fabric (only when it comes to cotton). A higher thread count usually means softer but more durable cotton fabric. However, some manufacturers tend to exaggerate the thread count by counting the two-ply yarns in double."
The coolest thing about this comforter is its design allowing for all-year use. The comforter is nicely made, durable, not too thin and not overly thick, fluffy enough, lightweight, and medium-warm. All of these features make it ideal for regular use during all seasons.
The worst thing about this model is that it might become lumpy after washing. Of course, this doesn't happen to all users and probably depends on your washing machine and its settings. Still, such an issue is possible, which might really upset some users.
To be honest, there's nothing too impressive about this comforter. Still, it might impress you during the first use. It's soft and heavenly cozy. I'm sure you will want to use it every single night all year long.
Check out this down alternative comforter on Amazon
Superior Solid White Down Alternative Comforter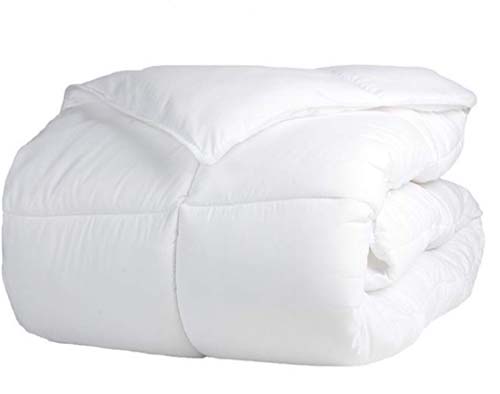 If you are looking for the best value for money, this might be the perfect option. The Superior comforter offers, well, superior feel and design. It is fluffy, warm, and very nicely made. For such a price, this is a perfect set of features.
With its 100 ounces of polyfill, this model is medium-weight and quite thick. The baffle-box double stitching ensures that the filling stays in place. You don't even have to fluff it up to get a consistent feel. And the microfiber shell makes this warm and fluffy down alternative comforter feel super smooth and luxurious, even though it's quite reasonably priced.
"When shopping, you might also come across the term "fill power". It determines the amount of space that is taken up by one ounce of down. Basically, it describes how stuffed a comforter is. And while the term is mostly used for down, you might see it in some descriptions of the alternatives too. The higher the fill power, the loftier the comforter will be."
The absolute best thing about this model is the value for money it offers. If you are looking for something low-cost but high-quality, this is the perfect option for you.
Just like with the majority of polyester filled comforters, this one might come out lumpy after washing. Maybe you can avoid that by using the delicate setting. But even the possibility of lumps is somewhat disappointing.
To be honest, I didn't expect much from this comforter, but it managed to impress me. It is surprisingly well-made, plus feels very cozy and warm. What else is there to wish for?
Check out this down alternative comforter on Amazon
Best Lightweight Down Alternative Comforter
Linenspa All-Season Reversible Down Alternative Quilted Comforter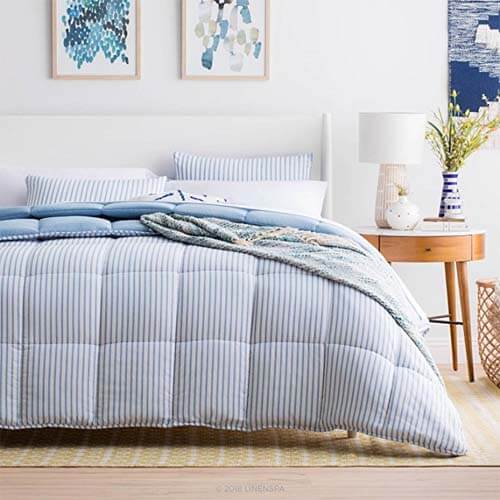 The last item on our list can be fairly named the best lightweight down alternative comforter. In addition to that, this model by Linenspa has a smart design, quality materials, and an incredibly pleasant feel.
Now, what makes it different from competitors is the way this comforter is made. Firstly, it is reversible, which means you can use it as two different blankets (since there are two different colors on two sides). Additionally, it has 8 sewn loops (ob both corners and sides). This will allow you to secure your duvet cover better, which means no shifting during the night and, consequently, a more restful sleep.
The coolest thing about this comforter is its design. Those 8 loops will come in handy when you decide to use a duvet cover. Also, this model is nicely stitched, so chances are it will serve you for a long time.
What can disappoint you about this item are possible issues with cleaning. I used a washing machine, and the comforter held up very well. But some users complain about how it gets ruined after just one wash, which means some items can be defective. But you can always ask for a replacement or a refund.
Despite some small flaws, this comforter really deserves your attention. It has a cool all-in-one design and feels really soft and warm. To me, that's a great combination!
Check out this down alternative comforter on Amazon
What Is Down And Why Would You Want an Alternative?
Down filling is heavenly soft and feels like clouds. This material is found under the feathers of ducks and geese. Although it is widely used as the filling for comforters (as well as for pillows, mattress toppers, etc.) and is very popular among users, there are the reasons why one would want to find a good down alternative. Here are a couple of examples:
The main reason people search for

down alternative comforters

is

allergies

. Down is thought to make people suffer from respiratory issues, rashes, nasal problems, etc. The truth is, though,

down allergy is extremely rare

. In most cases, all those symptoms are triggered by

dust mite allergy

instead. But dust mites do love feathers and down, so it makes sense for allergy-prone people to avoid down. Thus, the reason why down alternatives are a better choice is they are more dust mite resistant.

Down is quite

expensive

. Even if you pick one of the cheapest down comforters, it will still be more expensive than the alternatives. And what if you need to buy a few for your whole family? This can end up in quite a sum. Obviously, down alternatives are much more affordable and, what's more important, they still offer good value and quality.

Down is

a challenge to clean

and maintain. You can't just throw a down comforter into a washing machine, which is a large minus for some. At the same time, most down alternatives are super easy to handle. They can be machine washed and dried.

Animal cruelty

is another issue that makes people switch to down alternatives. You see, during the production process

down is sometimes plucked from live birds

, which, of course, causes them immense pain. Even though live plucking is illegal in the US, Canada, and most of Europe, it doesn't help much, as some countries still use this practice. So, people who do not use any animal products prefer to simply avoid down no matter where it's made.

Down tends to feel quite

heavy

(even though it's super soft). This often makes users feel uncomfortable during the night. Also, down is known to make some people

sleep hot

, which isn't always a good thing. I mean, you want to remain warm during the night, but I doubt you want to sweat. Down alternatives are usually more lightweight and breathable, while still being able to keep you warm at night.
Available Down Alternatives for Comforter Filling
When it comes to down vs. down alternative comforter comparison, specific characteristics of each material are what matters. Let's take a look at the most popular down alternatives for comforter filling and their main features:
Polyester. Probably the cheapest option, polyester is a synthetic fiber made from petroleum. This is also the most popular and common material for comforter filling. Polyester is very flexible, which is why many manufacturers use it to mimic down. They use thin threads and make a filling that is fluffy, soft and warm at the same time. The biggest downside of polyester comforters is their limited durability. With time, the material tends to flatten and lose its lofty fluffiness. But given their affordability, you will easily be able to replace your old comforter when the time comes.
Cotton

. Natural, breathable, and soft, cotton is relatively affordable as well. Depending on their thickness, cotton-filled comforters might have less of insulating capability. That's why they often serve as an extra layer of the bedding, not as the primary blanket/cover.
"An allergic reaction to dust mites living in the down filling is pretty common among many people. One might experience such symptoms as frequent itching, sneezing, coughing, runny nose, itchy eyes, etc. If this happens to you, keep in mind that the actual down allergy is quite rare, and chances are the real problem is dust mites."
Wool

. Another natural material, wool is known for being super warm, which makes such comforters perfect for cool climates or people who easily get cold. It provides enough insulation but still allows for proper airflow. But wool has some drawbacks too, the biggest one being its weight. Wool comforters are quite heavy, which might be an issue for some users. Also, they sometimes feel too warm.

Silk

. Yes, this material is expensive (just like down). But silk has many benefits as a down alternative. It's more dust mite resistant and very lightweight. On the downside, silk isn't that warm and is rather suited to be used as an extra layer of bedding.

Gel fiber

. Not the most widely used material, these fibers are infused with gel, which allows them to retain heat better and keep sleepers warm all through the night. Gel fiber is rather affordable (in most cases) and has pretty much the same feel that polyester does. Yet, it's not very breathable, which means it might not be perfect for people who tend to sleep hot.

Primaloft

. Another synthetic material, Primaloft is designed to mimic the feel and the performance of down. It's very warm and lightweight, and it feels pleasantly fluffy. However, this material belongs to the high-end group of synthetic down alternatives, which means it might not suit everyone's budget.
"When shopping for a down alternative comforter, you might see a filling material called Hypodown. This is actually a blend of real down (80%) and Syriaca fiber clusters (20%), which are derived from the milkweed plants. While such a combination is a bit more resistant to dust mites, it still has 80% of real down, which is still a pretty favorable environment for them. So, my advice is: be careful with Hypodown if you're allergy-prone."
What Makes a Good Down Alternative Comforter?
While we are lucky to have so many options to choose from, this might also be a drawback, as we need to filter through countless items to find that one best comforter. And even though this task might seem complicated at first, you can easily deal with it by simply paying your attention to these factors:
Filling (and its amount).

Different filling materials work differently for different users, so you need to be very attentive to what you are buying. The amount of filling is important too since it can determine the feel and the warmth of the comforter. However, keep in mind that a lot of filling does not always mean good. Often, such comforters turn out to be too warm and might make you sweat all through the night. When shopping online, reading

down alternative comforter reviews

is a smart thing to do to see how "stuffed" your desired comforter is.

Cover (also known as shell) material

. This part of your comforter will be the closest to your body, which is why you totally want the material to be pleasant to the touch, preferably breathable, and nicely stitched. The most popular shell materials are cotton, polyester, and silk. Polyester is cheap and easy to maintain; cotton is natural and breathable; silk is soft and pleasantly cool to the touch, which might balance a bit the warmth of the filling.
"What might really help you keep your comforter clean is using a duvet cover. This way, it will be protected from sweat, excessive dust, accidental spills, wear and tear, your pet's claws, etc. Also, using a nice duvet cover will help you create a fresher look for your bed (and you can change the look every time by getting different bed sheets and duvet covers)."
Stitching

. It determines how much of the filling can move inside the shell. There are 4 main stitching styles:
Sewn-through

. This design involves connecting the top and the bottom of the shell by stitching through them. This results in small compartments (often diamond-shaped) that hold the filling. Such a stitching style keeps the filling in place, so there's no need for users to fluff such comforters: the feel is going to remain consistent anyway. Still, this stitching style does not allow for too much loft, meaning such comforters might not be warm enough for some users.

Gusseted design

. That is when the top and the bottom of the shell are sewn together around the edges of the exterior. Such a style makes it easy for manufacturers to add some extra filling. At the same time, this design does not guarantee the consistent feel all through the comforter, which means users might need to fluff it regularly.

Baffle box

. This style involves an extra piece of fabric to connect the top and the bottom of the shell, creating larger compartments to fill. Such a design allows for more space, which means baffle box comforters can be thicker and more stuffed. But they might still require regular fluffing up.
Durability

. When investing in a new comforter, you want it to be durable, of course (especially when it's a more expensive model). And that's when reading reviews is a good idea too.
How to Wash a Down Alternative Comforter?
I have good news for you straight away:
There isn't much to worry about washing down alternative comforters since the majority of alternatives are machine-washable.
Just make sure you read manufacturer's recommendations first. Chances are, you will need to use the delicate setting and low-heat drying.
Sometimes, it is enough to spot-clean some sections of your comforter. You can use a mild detergent or some soapy water for that and then leave the comforter to air dry. Easy peasy!
Some comforters also need to be fluffed up regularly. This is especially important if you like a consistent feel throughout the surface. Just make it a habit to fluff the comforter up regularly – it doesn't take much time or effort anyway.
Frequently Asked Questions
Is down alternative as fluffy as natural down?
Down alternative comforters are designed to resemble the feel of natural bird down without being heavy and provoking allergies. If the manufacturer uses high-quality materials and doesn't skimp on the fill volume, then your comforter should be just as fluffy as a natural down one.
How long should I use my down alternative comforter before I have to buy a new one?
Down alternative comforters, obviously, are less durable than natural down ones. On average, they can keep you warm and comfy for 3-5 years. However, you can prolong the life of your comforter by putting it in a duvet cover and cleaning regularly.
What is the warmest down alternative comforter?
Models made from wool are the warmest among all down alternatives. Wool is a natural material with excellent thermoregulation. In winter, it will accumulate heat between fibers and keep you warm without sweating.
How do you fluff up a down alternative comforter?
The easiest way to fluff your comforter is to put it in a tumble dryer on a low heat setting. Place a couple of tennis balls inside, too, to prevent the fabric from balling up — and you're all set.
If you don't have a dryer, you can shake your comforter a couple of times to create the space between the fibers. Just put the comforter on your bed and hold one edge with your hands. Then, raise the hands to your eye-level or higher and snap them down with a quick move. Repeat a few times.
Is down alternative safe?
Yes. Down alternatives have hypoallergenic properties and typically are produced without harmful chemicals. To be sure about the quality of the product you're buying, look for certification tags or contact the seller directly.
Can you be allergic to the down alternative?
It's a proven fact that the most common allergen in American bedrooms is dust mites. These creatures digest dead skin and other organic particles that may accumulate inside your bed over the years. Speaking of down alternative comforters, you may develop skin hypersensitivity if your comforter is old and full of dust mites. Also, the fiberfill may start to shed and feel itchy, but this kind of irritation shouldn't be confused with allergies.
Conclusion
I'm not going to lie:
Testing comforters is probably my most favorite thing to do! I mean, they are so cozy, what is there not to like?
And while many of them managed to make me happy, there were some that impressed me the most.
Now, if you appreciate the heavenly soft, luxurious feel, I highly recommend the Royal Hotel's Down Alternative Comforter/Duvet Insert. This model does cost extra, but it's worth the price. It feels silky soft, looks expensive and can keep you warm all night.
However, if you need a more affordable alternative, consider the Superior Solid White Down Alternative Comforter. This model is just as soft, very nicely made, and it doesn't cost that much. This is the luxury option among the affordable models.
Now, which down alternative material do you prefer? What kind of comforters have you used before? Please share your experience in the comments!
Product links on Happysleepyhead are referral. We get a commission on purchases made through our links at no additional cost to you. More information in my disclosures.