Baby Beddings: Everything You Should Know About It
by | Last Updated
As the new parent or parent of a new baby, perhaps one of the trickiest aspects of having a new baby is knowing exactly which bedding is the best choice to keep your little one warm and comfortable throughout the night.
The correct use of bedding is important to keep your baby comfortable and safe as well.
The good news is we've put together a guide, including some simple tips and guidelines to ensure that your baby is warm, comfy, and safe at night or whenever they are laid down to sleep.
What All Comes In A Crib Bedding Set?
When it comes to crib bedding, you have the essentials and accessories.
Essentials are things that you absolutely need to have, and accessories are not really necessary; however, it will make the crib more comfortable for your little one as well as enhance its aesthetics.
Crib Mattress Pad Or Protector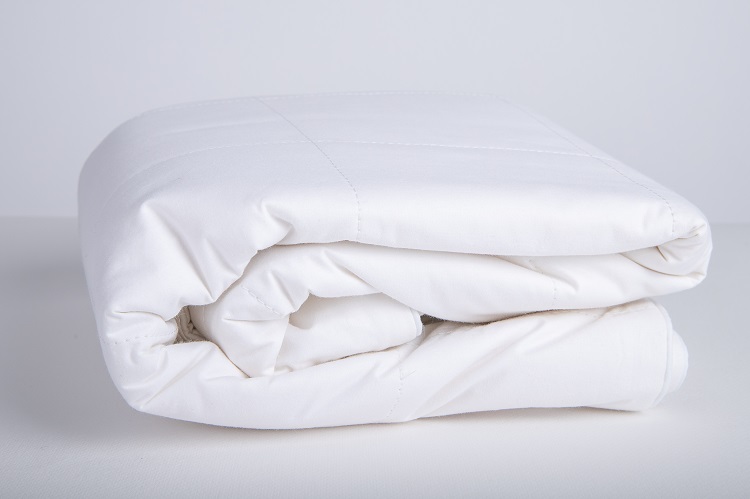 A crib mattress pad or protector would protect the mattress against accidental spills. Both can be hypoallergenic to fight against allergens as well as dust mites that tend to get captured in the mattress.
The Mattress pad should not be thicker than 1 inch and should allow the mattress protector to fit snugly over it. Both can create a comfortable and beautiful sleeping experience for your little one while still working at protecting the mattress against spills.
Fitted Crib Sheet
This is probably the most essential piece of bedding in the crib. Flat crib sheets should never be used in place of fitted sheets.
This is because they will not move out of place since they are fitted snugly over the mattress and will not bunch up or loosen as the baby moves around while sleeping.
Most of these sheets are available in standard sizes, but to be sure, take the shape and size of the crib mattress into consideration when purchasing.
Wearable Blanket
Swaddles or wearable blankets can be used in cribs and are not considered dangerous to babies. In fact. Swaddling simulates the tightness of the womb and can be a helpful transition for your baby.
Swaddling can also significantly reduce the possibility of SIDS and improve neuromuscular development, thereby helping babies to sleep longer.
Additional bedding pieces for the crib, such as comforters, quilts, and pillows, as well as decorative elements, are also available and will improve the appearance of the crib.
However, these pieces should not be in bed when you put your baby down to sleep as they are considered suffocation hazards.
Crib Skirt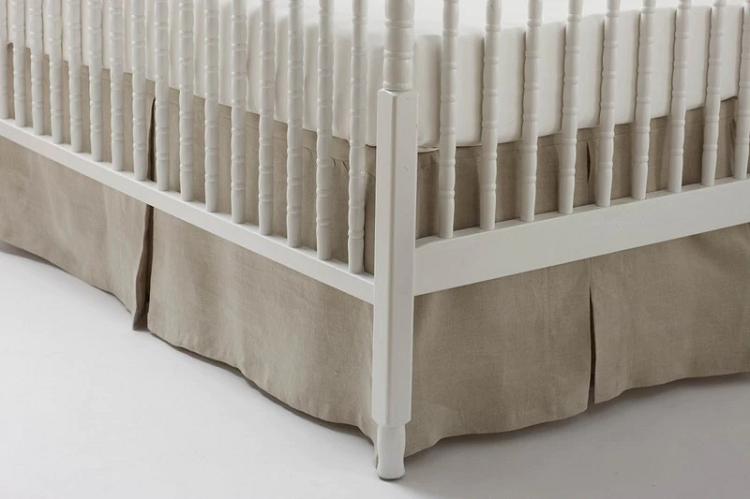 Cub skirts are also referred to as dust ruffles and are not necessary, and therefore optional. They typically hang on the base of the crib and end just above the floor.
Skirts are an excellent way to hide any under crib storage out of sight.
Quilts And Blankets
Quilts can be used once a child can stand up or crawl out of the bed. This is usually when a child transitions to a toddler bed, and they can take the quilt with them.
Other soft baby blankets should not be introduced into the baby's crib until they are at least 12 months old.
Comforters
Like other crib accessories, comforters are not necessary until the child is old enough or a toddler. Until then, swaddling is ideal and will keep the infant warm during the night.
In the meantime, crib comforters can play a decorative role during the day when your child is not sleeping in the crib.
Pillows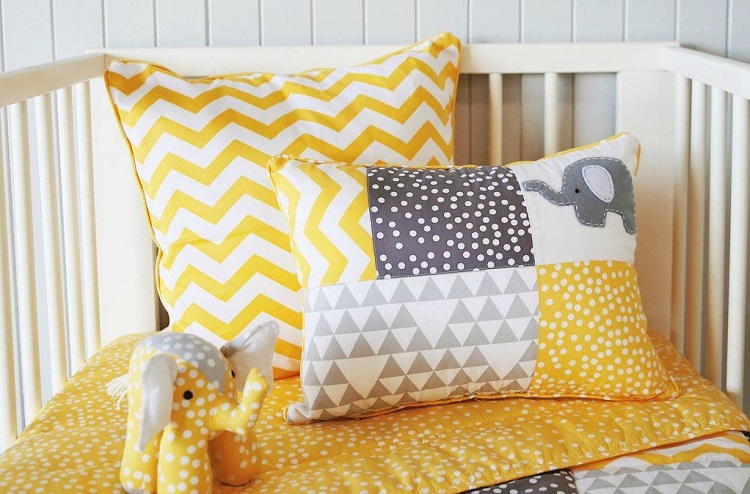 Add a decorative flair to the crib bedding with colorful crib pillows and shams. You can match them with your crib sheets for a uniform look or go bold with exciting colors and patterns to switch things up a bit.
Rail Guard Covers
Rail guard covers stop your little ones from using the railings of the crib as a teething substitute and do not compromise the style in the nursery.
Crib Bedding Sets
Purchasing a crib bedding set has many benefits, and one of them is allowing you to complete nursery all at once. The sets typically include a combination of essentials and accessories.
They can include anywhere from 2 to 13 pieces, and an example crib bedding set might include a fitted sheet, pillowcases, and a crib skirt.
Do Cribs Fit Toddler Bedding?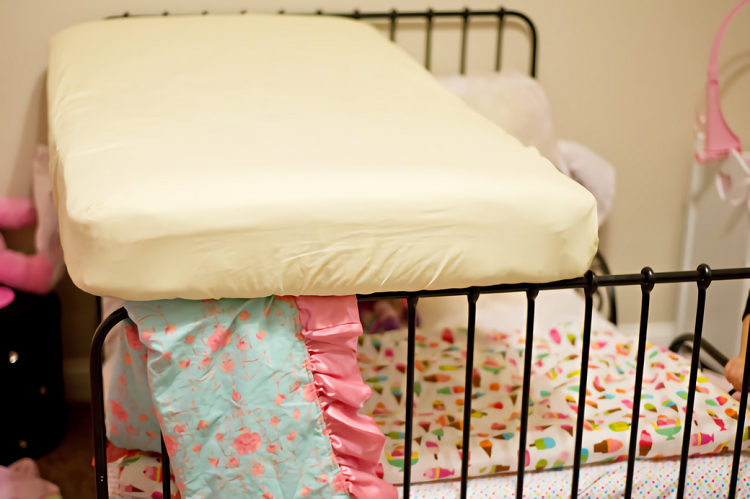 A toddler bed is simply a smaller version of the standard twin bed and is designed specifically with smaller children in mind.
It is much smaller than a standard twin and much lower to the floor as well. This is a great advantage as young children often fall off the bed when they make the transition out of the crib.
So when the bed is closer to the ground, there's less chance of your child sustaining an injury from the fall. Some toddler beds have rail guards to prevent falls from occurring in the first place.
When it comes to crib mattresses fitting toddler beds and beddings, there is no right or wrong answer. Most toddler beds are actually the same size as standard crib mattresses. Standard crib mattresses measured 28″ x 52″.
So ultimately, there is no gap between the mattress and the size of the crib where your baby could potentially get stuck. So your baby's crib mattress should fit the toddler bed in theory.
There is no standard toddler bed size so it's worth double-checking before you make a purchase if you want to continue using the same crib beddings on your toddler bed.
This will also save you money as you will only need to purchase the bed frame once a child moves into the toddler stage.
All the beddings that you used in the crib can simply be transferred onto the toddler bed as they transition.
How Do You Arrange Crib Bedding?
Arranging crib bedding is usually self-explanatory.
In most cases, the crib bedding set will include instructions as well as illustrations showing you exactly where each essential item and accessory should go.
Alternatively, if you are still left wanting to know more, you can always Google a video or search YouTube for videos showing you some tips and tricks and exactly how to arrange your child's crib bedding.
How Often Do You Wash Baby Bedding?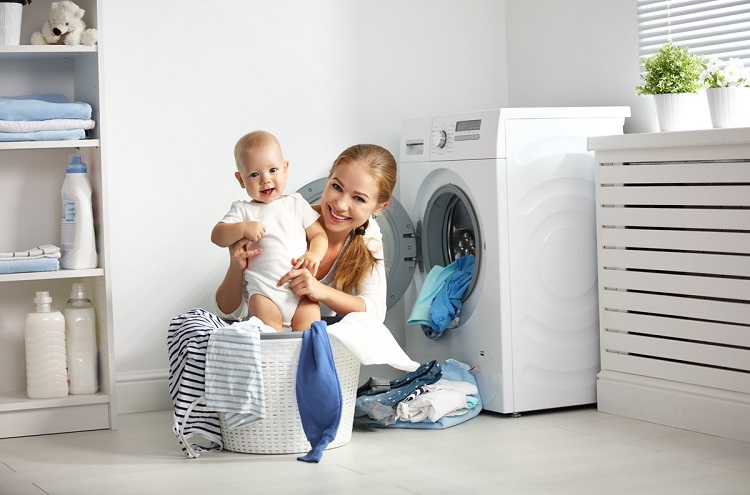 An essential aspect of a baby's health is hygiene.
But when it comes to washing a baby's beddings, how often is "often"? The answer to this question depends on your baby.
Some parents choose to wash their baby's beddings two or three times per week while others have a messier little one and choose to wash it every day.
Certain types of bedding need to be washed more frequently than others, and here are some of them.
Baby Sheets
Your baby's sheets are among the most frequently soiled types of bedding. Food, spills, milk, and even baby's excrement, sweat, and saliva can stain the sheets and turn them into a force to be reckoned with.
Dead skin cells, hair, and dust also get trapped in there over a period of time. Therefore sheets need to be washed at least two times per week.
Pillowcases
Another type of bedding that needs frequent washing is your baby's pillowcase. This is because your baby made drool, vomit or stain the pillowcase turning it into a magnet and breeding ground for germs.
That said, you should remove and wash the pillow cases every few days. If you are using the same pillowcases they should be washed at least twice a week.
Crib Bumper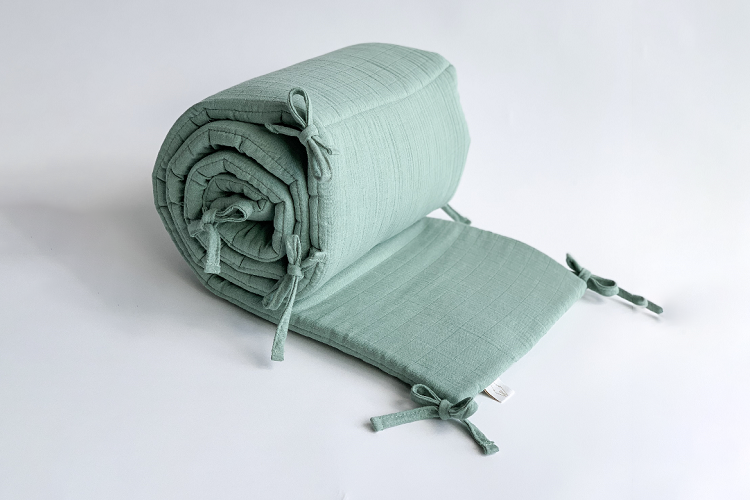 The crib bumper cushions your baby's soft head against hard surfaces. It also keeps the baby steady and prevents them from falling off the crib.
Crib bumpers are, therefore, a matter of safety. However, they can also get stained, just like the sheets.
And leaving the crib bumper dirty for too long is unsanitary for your child. Therefore you should wash it at least once a week.
Blankets And Comforters
Other commonly stained items in your baby's crib is the blanket and comforter. Washing these items every two weeks would be enough.
However, you should use the lowest cycle settings of your washing machine to keep them soft. Too much force can rip the exterior surface. Cold water also protects the fiber from heat denaturation.
Mattress Pad
Your baby's mattress pad is covered by sheets so you don't have to wash them as frequently as you would your sheets. Certain stains may penetrate through the sheets, and the mattress surface gets stained as well.
Dust, dirt, skin, and hair may also get trapped along the seams and accumulate.
For this reason, you need to wash the mattress pad at least once a month to remove potential allergens. The mattress should be taken outside, and you should use a brush to remove the debris.
If the mattress is waterproof, you can simply wash off the stains using water.
What Type Of Materials Are Best For Baby Beddings?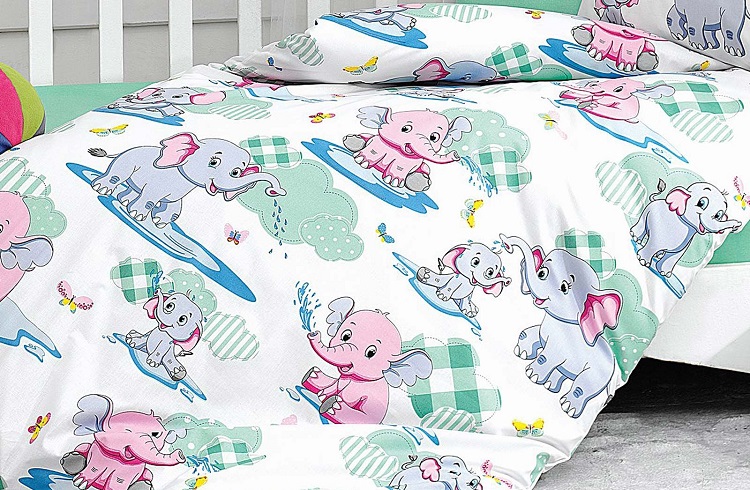 Just as each child is unique, fabrics for babies are also available in a multitude of choices.
These fabrics can be used for baby clothing, beddings, and accessories. However, some fabrics are simply suited to babies better than others. Here are a few of them.
Cotton
Cotton is not only soft and breathable, but it will help to regulate the baby's temperature in any kind of weather. Temperature is essential for babies and can aid or inhibit sleep.
Additionally, natural cotton is free of synthetics and chemicals, and this means it is one of the safest materials to have in your baby's crib.
However, the best part about cotton is that it's affordable and available.
Polyester
Polyester is similar to cotton because it's affordable and generally available, however, there are other factors that you need to consider.
Polyester is a durable material, and it won't shrink like cotton sheets tend to do.
The biggest disadvantage of polyester is that it is not as breathable as cotton, which makes him a poor choice in warmer climates.
Waterproof Sheets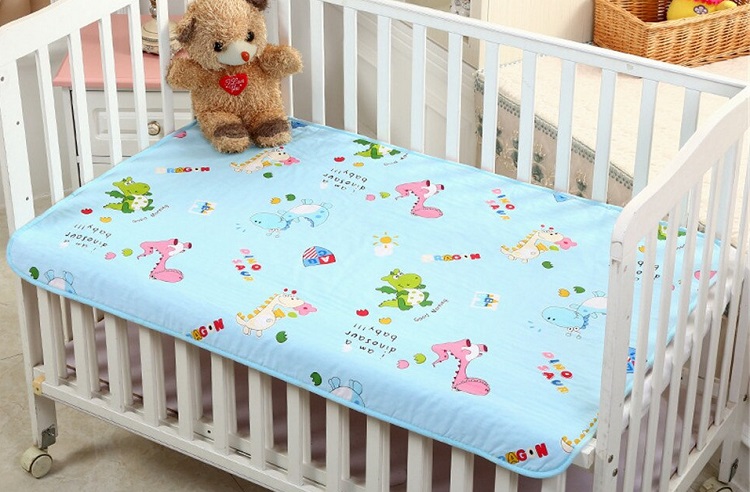 If you're looking for a way to keep stains at bay and avoid messy cleanups, then waterproof sheets are the answer.
Waterproof sheets for babies make for easy cleaning and especially attractive for parents going through the potty training process.
Bedwetting is nothing for your child to be ashamed of; however, waterproof sheets will make cleaning up those accidents much easier for you.
Conclusion
Setting up a nursery for your little one can be one of the most exciting and memorable experiences in your lifetime.
However, knowing how to choose the best type of bedding and the best fabrics for your little one is an advantage.
By choosing the most comfortable and safest fabrics for your little Angel, you will have complete peace of mind knowing that when you put them down to sleep, not only are they comfy and cozy, but they are safe from harm.