Best Toddler Bed Rails & Bumpers for Safe and Cozy Sleep
by | Last Updated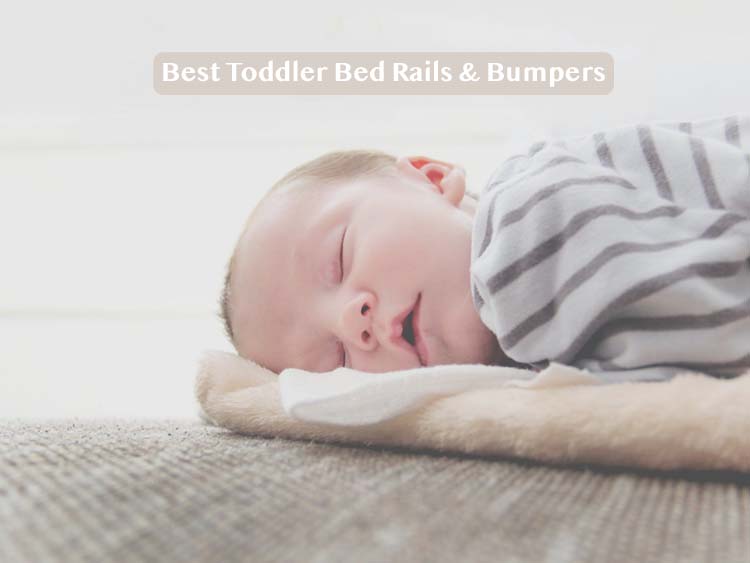 The transition from a cot to a toddler bed or even to a Twin-sized adult bed is an important stage in your child's life.
However, we all know how active toddlers and preschoolers might be in their sleep, so it's crucial to ensure that your little one won't roll off the bed.
And this is where bed bumpers and rails come in.
They serve as a barrier and make your child's transition to a new bed stress-free.
That's why I've tested some models and are willing to share my reviews of 5 best toddler bed rails and bumpers. Check them out below and choose the one that suits you most.
| Model | Materials | Weight | Warranty | Rating |
| --- | --- | --- | --- | --- |
| Hiccapop | Steel frame; polyester mesh fabric | 4.3 pounds | Lifetime | |
| Summer Infanta | Metal frame; polyester fabric | 9 pounds | 1 year | |
| DreamyPanda | Foam bumper; bamboo rayon cover | 1.75 pounds | Not specified | |
| ComfyBumpy | Steel frame; polyester cover | 6 pounds | 1 year | |
| Big Sky Traders | Foam bumper; fabric encasement | 2.2 pounds | Lifetime | |
Our Reviews of 5 Top-Rated Bed Rail Guards and Bumpers
Best for Secure Anchors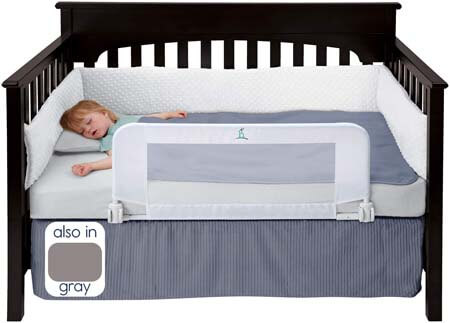 And my selection of top-rated toddler bed rails begins with a model designed by Hiccapop. It will make your kid's sleep as safe as possible — so you can sleep without worries too!
What makes this bed rail stand out is its incredibly safe construction. The manufacturer offers you an anchor system with the clamps made of steel, so the rail will stay in place no matter what. Heavy-duty materials and secure hinges have a tight grip and excellent safety margin.
Also, the Hiccapop rail has a fold-down design, so you can swing it down and feel comfortable reading bedtime stories to your kid.
The encasement is made of polyester mesh and is washing machine-friendly. It allows you to see your kid sleeping instead of checking on them every time. Plus, it's good for air circulation inside and out of the bed.
The thing I didn't like, though, is that the horizontal support bars create a gap so that you can see them under the mattress. This doesn't look very aesthetic.
The most prominent feature of this bed rail is the anchor mount. The anchors sit securely and feel durable, so you can be sure that your baby's sleep will be safe.
Generally, I liked using the Hiccapop bed rail. It's reasonably priced, durable and works really well for toddler beds. But most importantly, it comes with the most secure anchor system one can find out there.
Check out this bed rail on amazon
The second contestant in this review of the best toddler bed rails and bumpers is presented by Summer Infant. This model has it all: durability, easy installation, and double-sided construction for enhanced safety.
One of the rails has a fold-down design. So, changing sheets or spending some time with your little one before they fall asleep won't be a problem.
Another great thing about these bed rails is that they can accommodate mattresses up to 21 inches high and still serve as a safety barrier. This might be helpful if your kid is transitioning to an adult bed with a thicker Twin mattress.
The main drawback of the Summer Infant is that it isn't suitable for toddler beds. Its anchor mechanism simply won't adjust to such a small size, so this rail can only be used for transitioning to a Twin and larger beds.
The coolest thing about this model is, obviously, its double-sided design. It will come in handy if your kid's bed doesn't stand next to a wall and needs to be secured on both sides.
Despite some issues, the Summer Infant bed rails can really be the guardians of your little one's sleep, preventing them from rolling out of the bed on both sides. Just make sure the rails will fit your bed size, before placing an order.
Check out these bed rails on amazon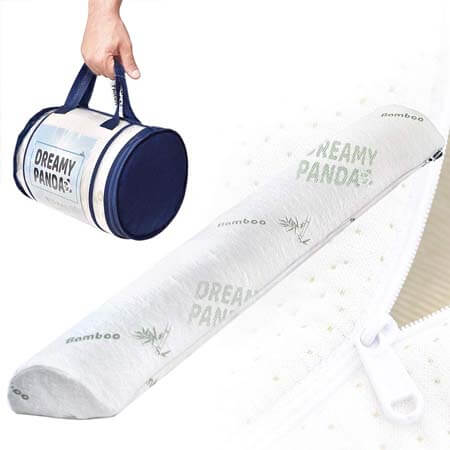 DreamyPanda holds the third position on my list of the best toddler bed bumpers. I love that this model allows for multifunctional use — in both toddler and adult beds — and has more than a reasonable price tag.
So, this bumper is made of foam — polyurethane foam, to be exact, given its lightweight and squishy feel. It comes folded in a carrying bag and inflates in minutes. All you need to do afterward is put it on your mattress and secure it with a fitted sheet. And you're all set.
When not in use, this bumper can be easily rolled and placed in its carrying bag for easy storage or transportation. It measures 52 inches long, so it can be used even on a King-size bed. Also, the bumper has a washable bamboo rayon cover, which looks nice and is machine washable for easy maintenance.
As for downsides, I think that the 7-inch height will work perfectly for toddlers, but older or taller children might be able to climb over it during sleep. Especially if they are restless sleepers.
If I had to point out a single feature about this bed bumper, this would be the value for money. The DreamyPanda is incredibly affordable and performs no worse than those more expensive metal security bars.
Overall, I think this bumper does its job well. It will make a great purchase for those who want something budget-friendly yet working.
Check out this bed bumper on amazon
Best for Compatibility with All Types of Beds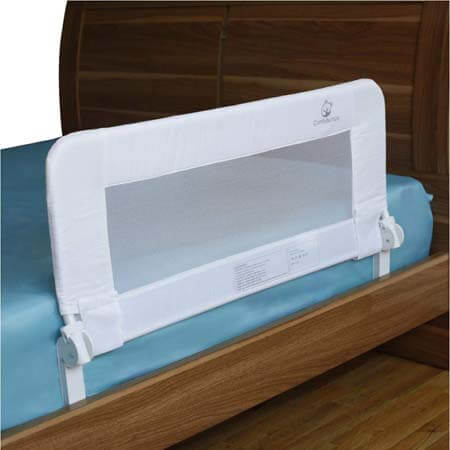 ComfyBumpy is among the best toddler bed rails for its construction that allows it to securely pair with all types of bed foundations and frames without feeling uncomfortable for your little one.
This bed rail anchors to the bed with flat metal bars rather than round ones, so your kid will barely notice them under the mattress, and they won't create gaps.
Another great thing is that the bed rail comes with several adjustment options, so it can be installed on literally any bed. For example, there are velcro straps to attach the bar to the slats, and screws to mount it on a solid wood base.
Also, this model is available in a larger size to prevent older kids from falling off the bed too.
However, the ComfyBumby rail guard isn't perfect. Despite the versatile design, some users report missing hardware, and I, too, had to run to a hardware store to buy some bolts and nuts.
Now, the thing that impressed me the most is that the manufacturer cares about the safety and comfort of your little one, and it shows. Plus, this probably is the most versatile bed rail I've tested, as it can be mounted on any bed.
To sum up, the versatility you get with this bed rail is totally worth it and beats all the minor inconveniences. And you don't have to worry whether it will fit your bed, as it fits all.
Check out this bed rail on amazon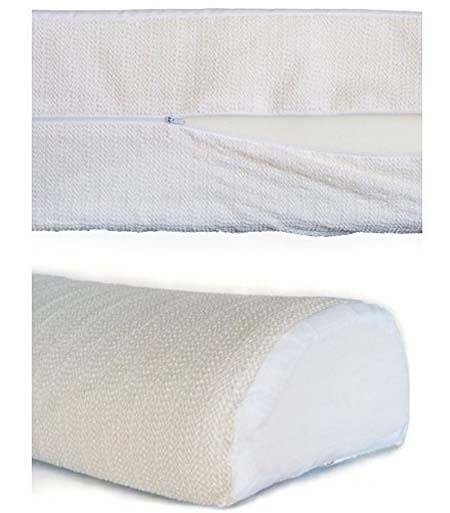 And the last top-rated toddler bed bumper I've reviewed is designed by Big Sky Traders. And it's here for its portability — this bed bumper is very lightweight and can be compressed for traveling.
Now, this model is made of foam. It weighs only 2.2 pounds and is squishy. Plus, it comes with a carrying bag, so you can easily store it when you don't need it, or take it with you on a vacation to ensure your child's sleep is safe wherever you go.
When completely inflated, this bed rail measures 4.5 inches high, which is high enough to secure your kid. It's also pretty firm, so I think that it will create a good obstacle even for wiggliest little sleepers.
My only complaint about this bed bumper is that it is pretty noisy. I mean, when you lie with your little one to get them to sleep, it might be really difficult to sneak away and roll over it yourself without making noise and waking them up.
The coolest feature of this bed bumper is that it's travel-friendly. The foam can be easily squeezed into a tiny ball and placed inside the bag. And it bounces back into its original shape with ease, too!
So, if you're looking for something durable and easy to use during traveling, then this model by Big Sky Traders might make a perfect fit for you.
Check out this bed bumper on amazon
Why Is It Important to Have a Bed Rail or Bumper on Your Toddler's Bed?
So, you've just got a brand new mattress for your 3-year old and bought the cutest sheets to make a perfect bed for your little.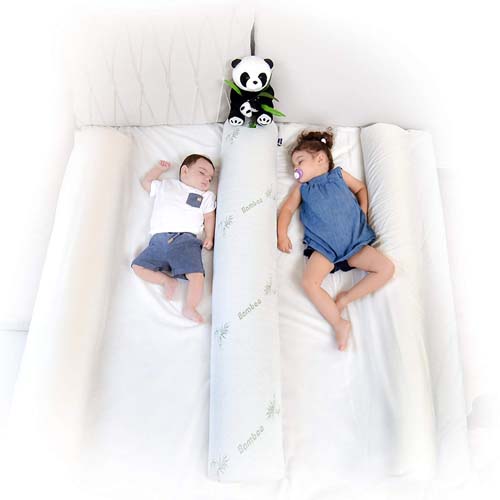 And now you may be wondering whether you really need one of those bed rails.
Or, you may think that your toddler bed or Twin size mattress is wide enough to accommodate your little sleeper, so no bumpers are necessary.
But here's the deal:
You need a quality toddler bed rail or bumper at least to be on the safe side.
Do not underestimate your child's activity during sleep. If they have vivid dreams where they need to chase something or escape from somewhere, they might roll off even when sleeping on a California King mattress!
Also, kids easily become attached to their usual sleep surroundings. And even the small change can easily wreck their sleep. Given the fact that your little one is transitioning from the crib, where they felt secure and were protected on all four sides, sleeping in a regular or toddler's bed could make them vulnerable.
That's where bed rails come in.
"Having a bed rail installed on your kid's bed might help you sleep better as well because you won't have to rush to check on your little one upon every bit of noise."
Types of Bed Rails and Bumpers Explained
Now, I want to briefly walk you through the main types of security constructions that you may consider for your kid's safety during sleep.
Basically, there are two types:
Bed guard rails and bed bumpers.
But there also are subtypes to each of them.
So, let me explain it all below!
Guard Rails
Guard rail is a metal frame with a cover. It requires some assembly — in particular, you need to place and secure the bottom bars onto the bed frame. In most models, this process is very easy, as there's a convenient anchor construction or Velcro straps that you can attach to the slats. With some others, however, you need to use screws and drill them into your bed base.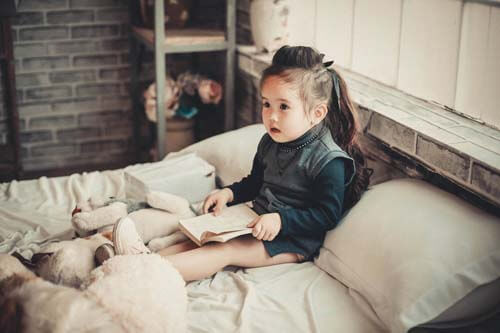 Now, here are the types you may come across when shopping for the best toddler bed rails:
Fixed rails

. This is the cheapest and simplest option you can get. Basically, it's a static construction that you need to place closer to the headboard so that your kid will be able to get out of the bed on their own. This is the perfect choice for bunk beds, as you surely don't want the bed rail to suddenly fold down, allowing your kid to roll out and fall from the upper bunk.

Adjustable rails.

These models allow you to vary their height and length, so you can use it on not only on a toddler bed but on a Queen-sized bed too.

Fold-down rails.

The most common option on the market, a fold-down bed rail can be easily pulled down and resemble an adult bed. Thus, it will help your kid get used to new surroundings. Also, it allows you to change the bedding more quickly in case of accidents.
"Some guard rails have a double design with one of the rails folding down and the other being fixed. These models will help you secure your kid if their bed isn't located next to the wall."
Also read: Best Mattresses For Kids
Bed Bumpers
A bed bumper kind of looks like a large bolster pillow. It creates a soft barrier along the edge of the bed while giving you easy access to the child.
Bed bumpers are generally less traumatic and more comfortable, but they also may be too soft to hold a very vigorous sleeper. Usually, they cost less than metal guard rails, making a great budget-friendly alternative.
Now, the main types of bed bumpers are the following:
Foam

. Most of the bed bumpers are made either of polyurethane foam. They sometimes come in a compression bag, so you can squeeze them into a tight bun and store conveniently when not in use.

Inflatable.

These are even more compact. Inflated bed guards can provide a sturdier obstacle for a restless little sleeper because the air under pressure feels firmer compared to foam. Also, they're more convenient for traveling: just deflate them, put them in a carrying bag and re-inflate when needed. Since most of the inflatable bed bumpers are made of PVC, you can also expect good durability.
"Look for certification tags and safety guidelines for both types of bumpers. It's the only way to make sure that there are no harmful chemicals."
Checks to Make Before Purchase
Obviously, the type is not the only thing you should consider to make sure you end up with the right product. So, let's see some other factors that may affect your choice.
Type of Bed Base
When making a transition from a crib, you will most likely upgrade both the bed frame and the mattress. But you should know that not all bed rails can be attached to any surface. Here are the main types of surfaces:
Solid wood base

. A solid foundation makes a uniform supportive layer for a mattress, but it might be unsuitable for bed rails, especially if they have round-shaped bottom bars. Round bars are likely to make the surface uneven, so your child may feel discomfort during sleep. So, if you own a solid wood base, try to find a rail with the flat-shaped bars. Or, switch to bed bumpers instead.

Slats

. Slats can work well with any type of secure construction you want to use. With bed rails, you can just attach them to the outer frame or place the bottom bars on the slats and secure them with Velcro.

Box spring

. Even though most mattresses today don't require a box spring, this type of foundation remains quite popular. Just like a solid wood base, a box spring might not work well with guard rails because of the solid surface. But again, you can use bed bumpers or look for rails that come with straps.
Size
Even though many bed rails are designed to be used on mattresses of different sizes, it's still highly recommended to measure your mattress dimensions. Especially the height, as not all guard rails can be adjusted to fit thicker mattresses. When you know your mattress size and thickness, don't forget to check the size of the bed guard, too.
"Note that some toddler beds are compatible only with bed accessories of the same brand, so it's better to check this beforehand."
Materials
When it comes to materials of the bed rail, I always opt for metal (because of its durability) and mesh fabric covers (because they're easy to maintain and washable).
If you want some rustic look, go for wooden panels. Note that they're usually heavier, though.
Those who want a softer barrier should choose foam options.
Assembly & Installation
If you're anything like me, you will search for something with minimal assembly and simple installation.
Obviously, foam or PVC bed bumpers are the winners here:
Just let them inflate and place them under a fitted sheet or a mattress protector — and you're all set.
However, many guard rails are fuss-free in terms of installation too. Just make sure to choose a model that doesn't have many parts and has intuitive assembly — such as the ones I've reviewed above.
Conclusion
I hope that you now are less worried about the safety of your kid, so you can get some good sleep yourself.
I really loved testing each model in this review, for their performance and durability are outstanding.
My absolute favorite, though, is the ComfyBumpy. This bed rail works great with any type of bed base and is barely noticeable under the mattress.
But if you are more into bed bumpers, then opt for the one designed by DreamyPanda. Even though it's pretty soft, it's still high enough to prevent your toddler from falling. Plus, it's very affordable.
So, is your little one active during sleep? Which type of bed guard do you think will secure them better? You're welcome to share your thoughts below!
Product links on Happysleepyhead are referral. We get a commission on purchases made through our links at no additional cost to you. More information in my disclosures.