Best Mattresses for kids
by | Last Updated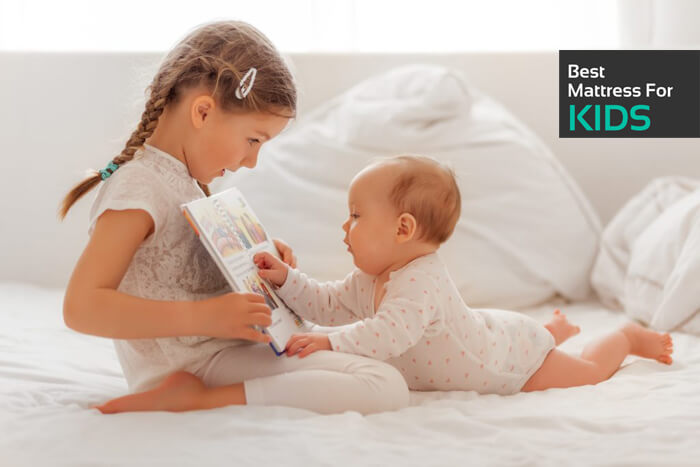 Being a parent means ensuring your kid lives a healthy and happy life. And since quality sleep is one of the keys to that, getting a quality mattress becomes a must.
But what are the criteria?
How do you pick one mattress over the tons of others?
Well, you actually don't have to. We've already done it for you.
So, have a look at the best mattresses for toddlers and older kids yourself. No, wait! Why don't you invite your child to join you and shop together?
Name
Type
Layers
Warranty and trial
Rating
Arctic Dreams Cooling Gel Mattress
Memory foam
convoluted foam base;
Energex gel foam;
soft foam padding;
blended cover (cotton + polyester).
120-night trial, 10-year warranty
Love and Sleep
Memory foam
foam support core;
SmartFlow airflow transitional layer;
Energex foam comfort layer;
phase change cooling cover.
100-night trial, lifetime warranty
Modway Aveline Gel-Infused Memory Foam Mattress
Memory foam
dense foam base layer;
gel-infused memory foam comfort layer;
polyester knit cover.
100-night trial, 10-year warranty
Avocado
Hybrid
latex support pad;
coil system;
latex comfort layer;
optional pillow top latex layer;
wool padding;
cotton cover.
100-night trial, 25-year warranty
Loom & Leaf
Memory foam
dual-layer support memory foam base;
eco-friendly memory foam comfort layer;
convoluted memory foam layer with an integrated cooling lumbar pad;
quilted cotton cover.
120-night trial, 15-year warranty
Best Affordable Mattress for Kids
Arctic Dreams Cooling Gel Mattress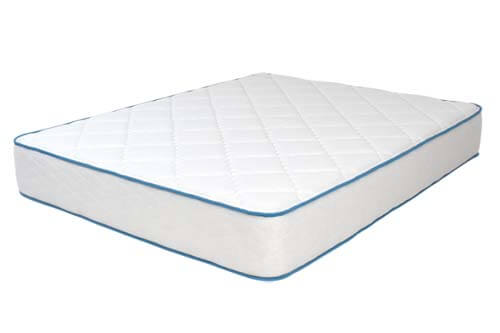 This model by Brooklyn Bedding makes a great mattress for children of different ages. It adapts to the body weight as your kid grows up and provides even support whatever their sleeping position. Besides, this model comes in a medium firmness option, which is considered to be universally comfortable. "Generally, Queen size beds are not a common choice for a kids bedroom. But many people report putting their toddlers straight from a crib to a Queen size bed. There are no restrictions as to why you can't do that except for the price considerations, as larger beds are usually more expensive."
Here's what's inside the Arctic Dreams mattress:
The

6.5-inch high-density foam

layer acts as a core for the mattress's durability and support. It is convoluted for better airflow.

The

3-inch comfort layer

is made from Energex gel foam for improved resilience and better conforming properties. This part of the mattress is also responsible for a cooling effect.
The cover is a fairly breathable and nice-to-the-touch blend of cotton and polyester. A thin layer of foam is quilted for a softer feel of the surface.
The absolute best thing about the Arctic Dreams is its price. With a good cooling effect, excellent support and comfort levels, and the price tag under $200, it's a real steal I should say.
The biggest disappointment about this mattress is the edge support. While it's typical of memory foam mattresses to have that issue, this model performs even lower than expected considering its materials. The edges collapse under pressure, posing a danger of your child rolling off the bed.
Overall, I believe the Arctic Dreams is a great mattress for children and a money-saver for parents. It provides all that your little one may need throughout his or her childhood years.
Are you convinced? Click here to order!
Best Mattress for Kids with Scoliosis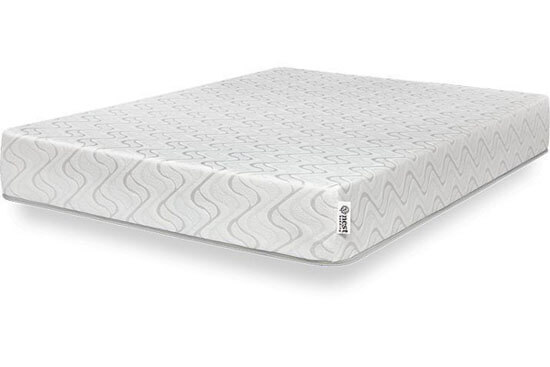 This top-rated mattress for kids has made it to this list because of how supportive yet contouring it is. This bed is especially great for kids with scoliosis, as it provides even weight distribution and cradles your child's body, relieving pain and discomfort.
And it gets even better:
This mattress is very responsive, meaning it quickly responds to movements. And children with scoliosis may move quite a lot during the night, trying to find a comfortable sleeping position.
Have a closer look at the Love and Sleep's layers:
The

6-inch base layer

is made from high-density polyfoam, which is firm and durable.

The

1-inch polyfoam layer

provides a smooth transition between support and comfort layers. It features a convoluted design that ensures better air circulation.

The

3-inch comfort layer

is Energex foam that offers a balance between pressure relief and support, making this model one of the best

mattresses for children

with scoliosis.
The cover is made from phase change material for a cooling effect. Plus, it is rather thin and hence more breathable.
What I liked the most about this mattress was how good it can support a young growing body. It is very responsive and provides close contouring, which ensures your child's body will be properly aligned throughout the night.
The biggest issue you might face with this mattress is its unusual feel. Even though it provides good sinkage, it doesn't have that hugging feel typical of memory foam. And even though it's very resilient and bouncy, it doesn't feel like an innerspring either. So, if your child has been sleeping on one of the mentioned types of mattresses before, the worst case scenario is he or she will need time to get used to the feel of a new bed.
Despite its minor flaws, I feel like this model can become a useful update to your kid's bedrooms. There are two firmness levels available, meaning this mattress can suit the majority of sleepers.
Have you made up your mind about it? Order it here!
Best Low-Profile Mattress for Kids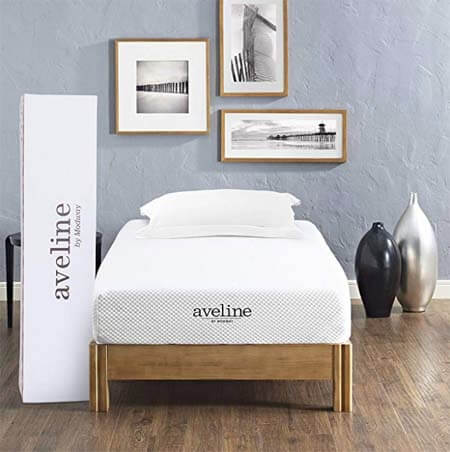 Low-profile mattresses are great if you have two kids and a bunk bed. Their height allows them to remain comfortable for your child's spine without creating a danger of rolling off the bed.
So, the Modway has a simple two-layer construction packed under a soft polyester cover. I would describe the overall feel as medium, meaning that it can suit children at least 3 years of age (because toddlers may need a bit firmer bed).
Now, let's take a look at the layers:
The

6-inch dense foam base

absorbs motion and ensures uniform support.

The

2-inch gel-infused memory foam

has a good cooling effect. This layer adapts to your child's body and relieves tension.
The thing I liked the most about this bed is its height. When you arrange a bedroom for kids, safety is always a primary concern, and this mattress combines both low-profile construction and a good amount of cradling.
What I didn't like, though, is the odor this mattress strikes you with as soon as you unbox it. In my case, it disappeared within a day, but during that day it was quite strong.
Overall, I would recommend Modway for all parents that need a low-profile and simple bed for their kids. This mattress feels comfortable and has a reasonable price.
Check out this mattress on amazon
Best Eco-Friendly Mattress for Kids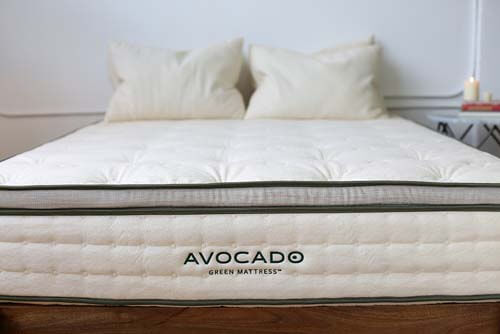 Just like its namesake fruit, the Avocado mattress is green and good for health. It packs a combination of layers that provide support and contouring in all the right areas without that feeling of getting stuck, which makes it one of the best mattresses for kids of bigger weight. "Some people consider air mattresses when looking for a new bed for their child. Although it's a superb option for family trips and vacations, experts recommend that one should avoid using an airbed on a regular basis."
Here's what's inside:
The

1-inch bottom layer

is made from Dunlop latex and serves as a base for springs to stand on.

The

8-inch coil system

is the key component to provide balance and support. Comprised from individually encased coils, it is divided into three zones for lower motion transfer. Besides, the coils are made from recycled steel, which proves the green nature of this bed.

The

2-inch comfort layer

is made from Dunlop latex. This part ensures a responsive and resilient feel and promotes airflow thanks to the perforated structure.

The cotton

cover

is quilted with Joma wool, which enhances its moisture-wicking and hypoallergenic properties.
The company offers you to add a pillow top. By doing this, you can get a softer feel that will make the Avocado a good mattress for toddlers and lightweight preschoolers. Without it, the mattress offers a medium firm feel.
The biggest advantage of the Avocado is the natural materials inside. In fact, it is natural from the top layers, which feature natural wool and cotton, to the bottom ones, which are made from certified latex and recycled steel. So, it's not only comfortable but also safe for your child.
The biggest turn-off point concerning this model is probably the price. The Twin option will cost you almost $1000, or even more if you opt for a pillow top. Given the eco-friendly and natural construction, the price is pretty reasonable. But it's not for everyone's budget, especially if you plan to replace your kid's bed when they grow up a little.
Obviously, the Avocado isn't the most affordable mattress on the market, but it offers quite a lot for the money. If you want to go green, this is a worthy investment.
Feel like this mattress will work for your child? Order it here!
Best Mattress for Kids That Sleeps Cool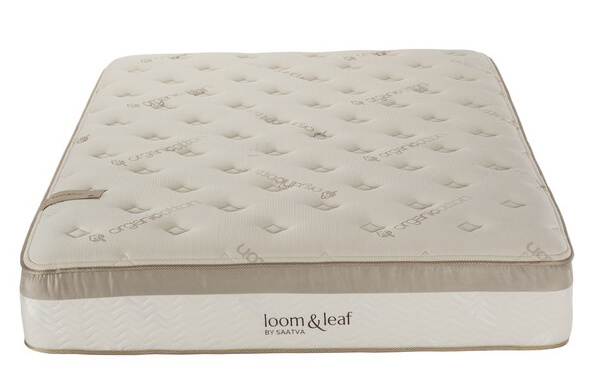 The last item on our list of the best mattresses for kids is this Loom & Leaf model by Saatva. Made from eco-friendly foams, this mattress provides close contouring and pressure relief while remaining very supportive.
And it gets even better:
It does sleep cool!
Here is an overview of its construction:
The

5.5-inch foundation

of this mattress is made from dense memory foam, which ensures stability and durability of the whole construction.

The

2-inch memory foam pad

on top of it serves as a transition layer and adds some contouring.

The

2.5-inch eco-friendly dense memory foam comfort layer

is the main component responsible for how firm the mattress feels.

The

2-inch memory foam top layer

is less dense to provide better contouring. It is convoluted for better air circulation and features a cooling pad in the lumbar area to ensure your kid won't sleep hot.
The cotton cover is quilted with a thin layer of foam to provide a plusher feel.
The best thing about this model is the edge support. While this is usually a weak point for all memory foam mattresses, the Loom & Leaf managed to stand out. Good edge support reduces the chances your child will roll off the bed, which makes this model a good option for parents of restless kids.
The biggest flaw of this model is that it might turn out to feel too stiff for your child. It features foams of 4-5 PCF density, which results in a firmer feel compared to same-firmness models produced by competitors.
I feel like this model can work as a mattress for toddlers and older kids equally well. It will help your little one sleep cool and provide decent support for their growing bones. But note that children sleeping on their side might find this model way too firm.
Ready to make a purchase? Order here!
Factors We Look At
Mattresses for toddlers and older kids are often the same models as those for adults, just in smaller sizes. However, there is a slight difference as to what criteria are most important. The good news is we know exactly what children need in a bed and what parents want in their kid's bed. So, here's what we pay attention to:
Comfort and support levels

. A properly selected, comfortable mattress will support a young body and keep its natural curvature during the night, as compared to a saggy and unsupportive mattress. The models we've reviewed here are able to provide a balance between support and softness for your child's healthy nights.

Durability

. You know what a beating a mattress can take throughout your kid's childhood. We make sure the materials in all products we recommend are of decent quality and able to sustain that.

Construction

. Every mattress consists of several different layers, which define how good is the edge support, how breathable and how noisy is the whole construction, etc. There are quite a few criteria we pay attention to.

Safety

. All our picks for

mattresses for children

meet safety standards or even go beyond by offering an eco-friendly, natural product.

Warranty and trials

. Since you're choosing an item for another person to use, having a trial period is even more important. And warranties are always good, as they show how sure of their product the manufacturer is.
Factors You Should Look At
We can find high-quality, very comfortable models, but we can't guarantee they will work for your child.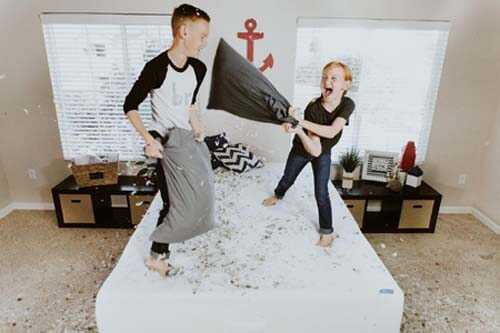 That's why there are some things you yourself should consider in order to be satisfied with your purchase:
A child's body experiences growth in a different tempo depending on the age. If you're looking for a smaller mattress for toddlers, keep in mind that you'll probably have to replace it once your kid outgrows it. But if you want a mattress that will serve all through your kid's childhood, choose a bigger size that will provide more room for growth.
"You may want to consider flippable and adjustable designs if you're buying a mattress for a younger kid. The thing is your little one is likely to change his sleeping preferences over the next years as his or her body grows and undergoes changes. Actually, this may even happen more than once. Flippable and adjustable mattresses will offer several different sleeping surfaces, so your kid will be able to choose the one that suits those changes."
What position does he or she sleep in?
Softer models are recommended for side sleepers. Firmer ones are good for stomach sleepers and heavier sleepers. Kids who sleep on their back will find a medium firm mattress most comfortable.
Do you spend time with them before sleep?
I mean some communication before sleep or reading bedtime stories. If yes, you may want to buy a larger mattress so that it could accommodate the both of you.
Does he or she have a sensitive nose?
While off-gassing is a common issue for literally all mattresses, the initial odors should quickly disappear once you unpack the product. But keep in mind that some materials are thought to have a stronger odor that may last for weeks.
Is your child super active?
Jumping on a mattress is so much fun, isn't it? If your kids are very energetic and love playing this way, a less bouncy memory foam mattress can be a savior. It's just not so fun to jump on, which reduces the risk of kids getting hurt.
Also read: Best Mattresses For Graco Pack N Play
Why Getting the Right Mattress for a Child Is So Important?
A low-quality mattress obviously results in low-quality sleep, and low-quality sleep may result in the following issues:
lack of concentration;

distraction;

lack of energy or hyperactivity;

troubles getting up;

increased emotionality.
"Getting the right amount of sleep is crucial for kids. A comfortable mattress can help a lot here, as it will ensure a better sleep environment and deeper rest."
Of course, a mattress is not a panacea for sleep disorders and sleep problems, but it can surely mitigate symptoms, by providing a cozier and safer sleeping space.
Firm vs Soft: Which Is Best?
Would you agree with me if I say that choosing a perfect bed for yourself is quite hard?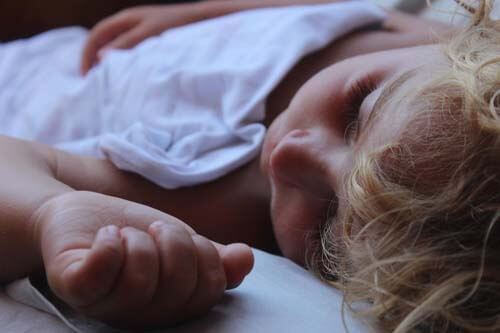 Well, imagine now what it's like to choose a bed for someone else, especially if the end users themselves don't care too much.
Here's the trick:
When it comes to firmness, there's no universally comfortable option for every little human.
But there are suggestions and recommendations from experts, which prove to be correct in most cases. if you're not very knowledgeable about this topic or if it's your first time buying a mattress for your kid, you'd better listen to them:
A medium firm mattress can do a great job at ensuring spinal alignment and supporting a young growing body evenly. This option would do for most kids.
If your child's weight is more than 130 pounds, a firmer mattress is advised.
Stomach and side sleepers might be more comfortable on a softer mattress, especially if their weight is lighter than average.
How to Choose the Size for Your Kid's Mattress?
Basically, there are three mattress sizes that work for children's beds. They include:
Twin (38 x 75 inches) — the most common choice, as it can accommodate most younger children.

Twin XL (38 x 80 inches) — the best for teenagers, as it offers more growing room.

Full (54 x 75 inches) — the best for restless sleepers, as it provides a large sleeping surface.
"The larger the bed, the more expensive it is. So, if you're shopping for a smaller kid and would like to save a bit, pick the Twin option, as it will be the cheapest option."
Creating a Healthy and Safe Sleep Environment for Your Child
A mattress is not the only item that makes or breaks your kid's sleep. The whole bedroom should be properly arranged to provide the best sleep environment. Take a look at the items below and make sure nothing is lacking in your child's room:
Proper pillow

. The choice of a pillow should be defined by the choice of a mattress, depending on how firm or soft it is.

Quality bedding items

. Some parents, trying to satisfy their kids' wishes, purchase themed bedding sets with cartoon characters. While those may look nice and fun, they usually aren't durable and well-made. I suggest finding a classic white option of higher quality.

Waterproof protector. Even if your kid doesn't have accidents at night, buying a mattress protector is still a good idea. After all, there are so many ways a young human can stain a mattress!
Mattress topper. This item will be a lifesaver if you happen to go with a wrong firmness level or if your child changes his or her preferences over time. Mattress toppers are quite inexpensive and come in a variety of firmnesses.
Nightlight

. As many smaller kids go through the stage of being afraid to fall asleep in a dark and empty room, a night light, especially the one with a timer, comes to the rescue. You will be able to set the turn-off time, allowing your child to fall asleep feeling safe.

Curtains

. The most appropriate environment for sleep should be dark. Good curtains can significantly reduce the amount of light that's coming from the outside.

White noise generator

. This helpful gadget will ensure your children won't be disturbed during their sleep. It just masks the sounds of what's going on outside the room.
Quick Parent's Guide to Quality Sleep
Now, kids definitely need your assistance in improving their sleep. Here are just a few things you can do:
Help them maintain a sleep schedule. Consistency is good for both parents and kids, as it promotes the formation of healthy habits in children and reduces their bedtime resistance.
Teach them the proper bedtime routine

. This involves brushing teeth, taking a shower or a bath, preparing clothes for the next day, reading, etc. All of this reduces your child's levels of activity and calms them down before bed.

Limit caffeine use

. Even if you don't let your children drink coffee, it doesn't mean they don't consume caffeine at all. It's actually everywhere,

from chocolate to soft drinks

.

Limit TV and screen time

. Any engagement with screens before bed might make it hard for your little one to fall asleep. If he or she is prone to having nightmares, you should especially avoid scary movies.

Control the last meal before bedtime

. Make sure your children don't overeat just before going to sleep. Ideally, the dinner should be at least three hours before bedtime. But it's acceptable to have a light snack a bit later so that your kids wouldn't go to bed being hungry. Both hunger and overeating lead to disturbed sleep.

Become a role model

. Kids learn by example much more effectively than by words. So, one of the best ways to ensure their quality sleep is to ensure your own.
"Children may not always understand the connection between the levels of energy and the amount of sleep. It's your duty as a parent to educate them about it."
Conclusion
Ensuring your kid has a safe and healthy sleep is one of your primary tasks as a parent.
All the models I mentioned in this review are decent mattresses for children, and they all can give your little one a safe and sound sleep. But to me, the Avocado mattress really stands out.
Given the levels of support and cradling it provides, its durable and natural construction, and two firmness options, it becomes a worthy investment that will follow your kid up into the college years.
For parents who are not willing to spend that much, the Arctic Dreams is a perfect option. It offers amazing value for the money, having great contouring properties and some good bounce and ensuring your child will spend every night in comfort.
In case you're worried about such a low price, let me tell you this:
The Arctic Dreams is a model by the reputable company, Brooklyn Bedding, who's been working in the mattress industry for almost 10 years. They surely know something about making quality products.
So, have you made up your mind? What mattress do you think will be most comfortable and safe for your child? Share your thoughts in the comments!
Additional Resources:
Best Baby Crib Mattresses – Buyer's Guide And Reviews
Parent's Guide To A Healthier Children's Sleep
Product links on Happysleepyhead are referral. We get a commission on purchases made through our links at no additional cost to you. More information in my disclosures.