The 6 Best Baby Crib Mattresses in 2020 – Reviews & Information
by | Last Updated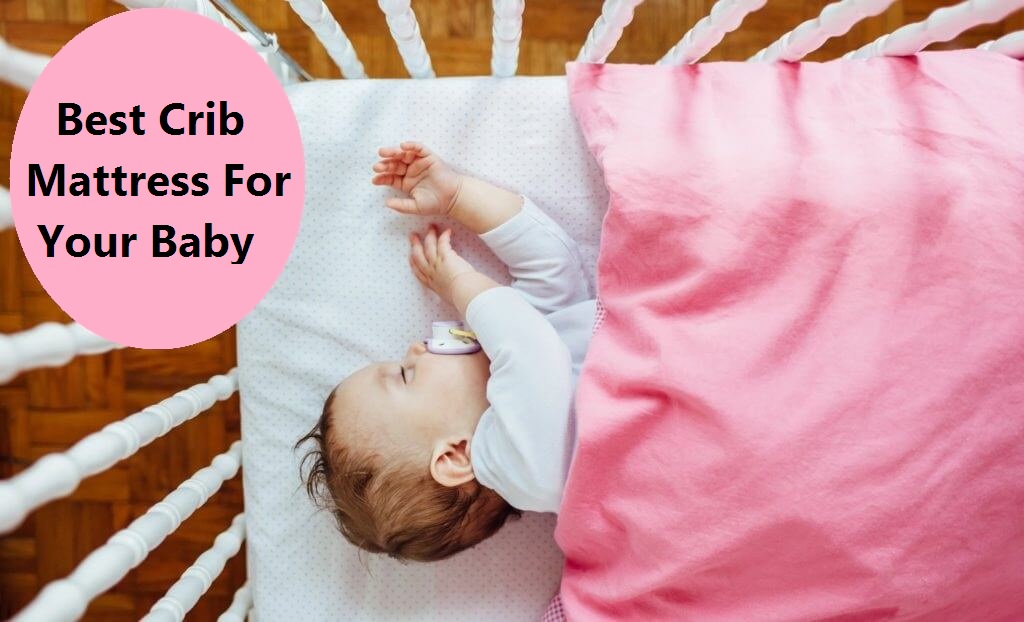 Everybody knows that babies sleep a lot. Naturally, we understand that they need to feel comfortable all this time, which means your baby should sleep on the best crib mattress.
While there are many options on the market (sometimes it feels like too many), it's not easy to find something worthwhile.
Today, we will take a look at 6 awesome baby mattresses. Let's see, which top rated crib mattress can make your baby catch a lot of Z's.
Best Organic Crib Mattress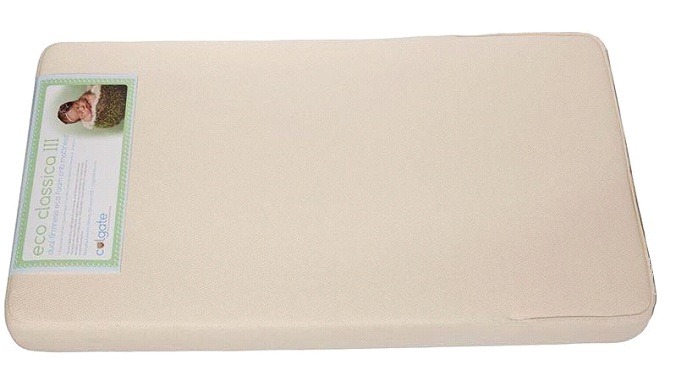 Some mommies call this bed the best organic crib mattress ever and, in my opinion, they're not exaggerating too much. The Colgate Eco Classica III has every right to be on this list because it is natural, supportive, and suitable for both infants and toddlers.
This mattress is a great choice for parents who are into all things organic. Manufactured with plant-based oils substituting for petroleum-based oils, it can be called the best organic crib mattress.
Isn't it what you need to ensure your baby's safe sleep?
Now, the construction is a bit tricky because this mattress is reversible and features two sides – one for infants and one for toddlers:
The cover is pure cotton. It is hypoallergenic and organic.
The natural flammability barrier is also made of cotton.
The layer for infants is a firmer eco foam made of the plant oil based materials.
The layer for toddlers is a bit softer. It is also made of the plant-based foam.
Another layer of the cotton flammability barrier and, of course, the cotton cover.
"Infants need approximately 10-12 of sleep every day in the first year of life. That's why it's important to make sure they feel comfortable every minute of it."
Overall, I can see why so many people love this mattress. It is firm, comfortable, and reasonably priced. And it can serve you even when your baby grows a little and becomes a toddler.
What is really great with that mattress?
What really made me love this mattress is the level of firmness it provides. It is known that kids need good back support but they can't sleep on too hard surfaces. Colgate Classica III is in that golden middle. It is firm enough to provide a comfortable sleep but it also has that softer plush feel.
What is wrong with that mattress?
Hate to disappoint you, but this mattress isn't perfect (none of them are). The worst thing about this model is that it's not 100% organic despite what the manufacturer claims. It didn't have any off-gassing upon arrival, but the packaging stated that the mattress materials include urethane, which is not an organic material.
check out this mattress on amazon
Best Crib Mattress for Uniform Support
Safety 1st Heavenly Dreams White Crib & Toddler Bed Mattress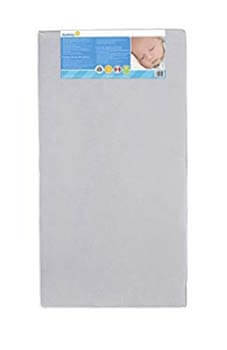 Here's another candidate on this list of top-rated crib mattresses from the creators of the 'Baby on board' sign. These guys know the deal when it comes to infant safety, and their mattress is one of the best beds your baby can sleep on.
This mattress can fit most standard cribs without creating gaps that might be dangerous for your little one. The manufacturer suggests you rotate the mattress every couple of months so it can maintain consistent support, but this is pretty much all the maintenance required.
The cover of the mattress is made from 100% vinyl, and if an accident happens, just wipe it clean with a cloth, and you're all set.
The thing I loved the most about this model is the uniform feel it provides. It feels firm but adapts to a baby's body pretty well and keeps their spine correctly aligned.
Because this mattress is cheaper than its many competitors, it's fair to suggest it is made of less durable materials. Some users report the mattress falling apart after about a year of usage.
Overall, this is a good budget-friendly crib mattress. It can offer your baby uniform support and sound sleep.
check out this mattress on amazon
Excellent Breathable Crib Mattress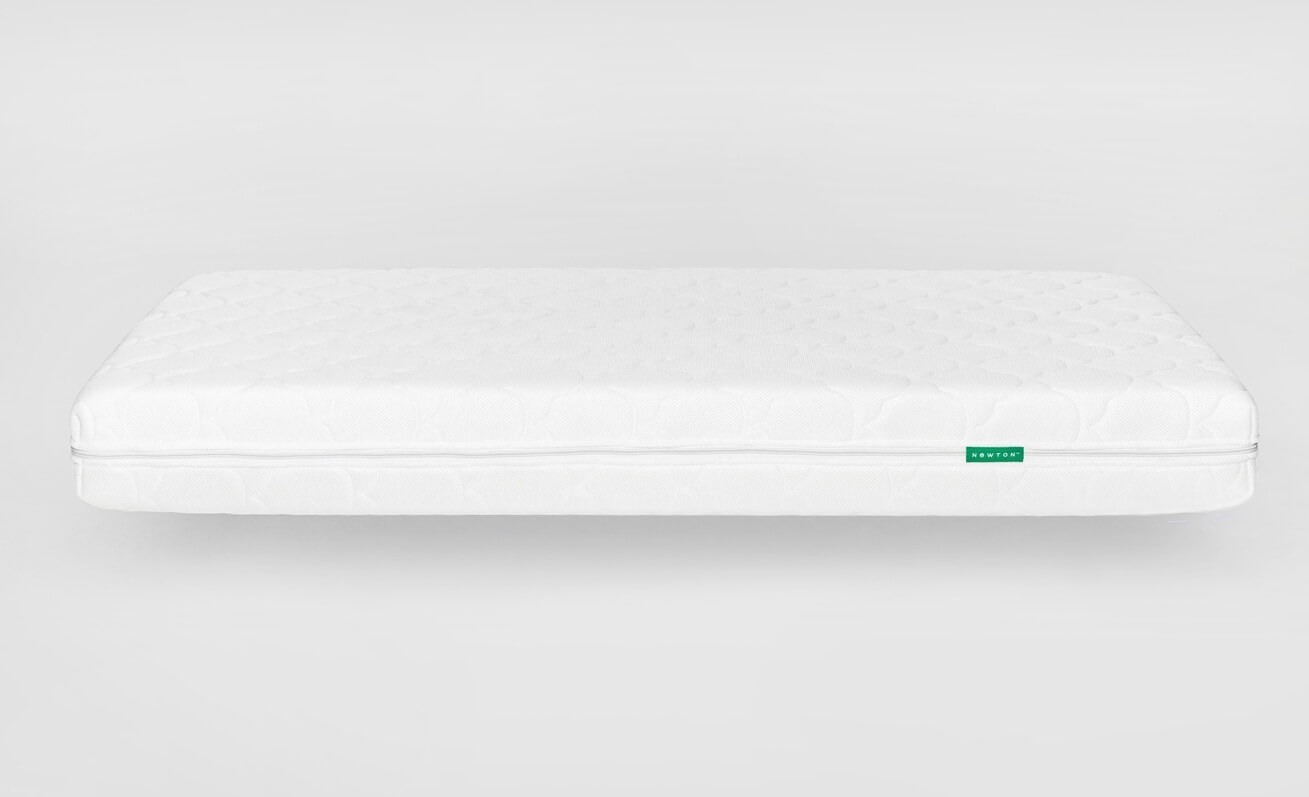 Now, it's too soon to call Newton Wovenaire the rop-rated crib mattress, but it is certainly among my favorites. It has a unique structure, which not only looks cool but also creates a safer sleeping environment for your baby. Plus, it is completely breathable and washable, which is a rare quality for a mattress. Newton Wovenaire is an ideal option for parents whose baby tends to toss and turn at night a lot. Even if your little one happens to roll over to his stomach during sleep, he will have no problem breathing, so there's no risk of suffocation
It is made of food grade polymer and a polyester cover, which are safe for your child's health, breathable, and don't have any off-gassing.
Overall, I feel like this mattress can make pretty much any baby and parent happy. It offers a balanced combination of firmness and softness, a unique design, and safe materials. You can wash it, and I mean all of it, not just the cover, which means there'll be no dust, no debris, no moisture, and no dust mites.
"Regulating your baby's body temperature is a crucial component of the restful sleep. When it's too high, it's almost impossible for your child to fall asleep. A good breathable mattress can help your baby stay cool during sleep, which only contributes to the overall comfort levels."
What is really great with that mattress?
You've probably already guessed that the best thing about this mattress is its innovative construction. Thanks to the trapped-air design, the mattress is 100% breathable, which will allow your baby to sleep cool. Also, it is washable, so you won't have to worry about dust mites, debris, and microbes.
What is wrong with that mattress?
What might upset you about this mattress is that its cover is a bit scratchy, which may cause your baby to feel uncomfortable when tossing and turning. So, you will need to use a sheet.
check out this mattress on amazon
Great Value for the Money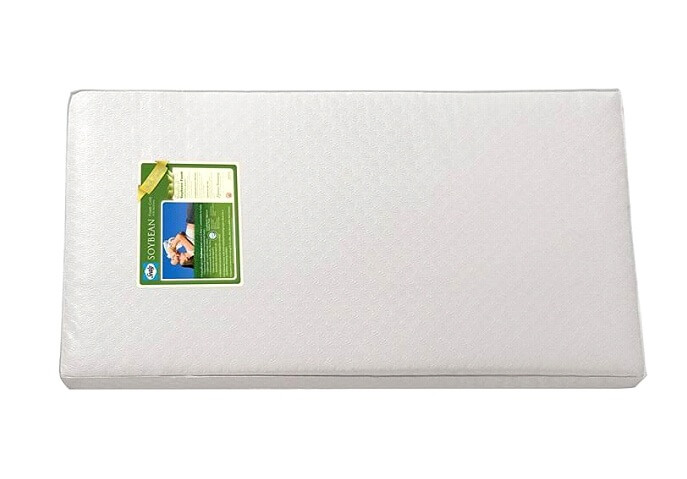 This is probably the best crib mattress in its price category. Its foam is soy based, which means it's a natural material, safe for babies and toddlers. It is firm enough to comfortably support your baby's body. And it is water-resistant, which won't contribute to the debris and dust buildup. You might think that a combination of all these features will cost you a lot. But with Sealy, you can get it for about $150. This mattress is a great option for families on a budget who don't want to save money at the expense of quality, let alone safety. You might think that a combination of all these features will cost you a lot. But with Sealy, you can get it for about $150. This mattress is a great option for families on a budget who don't want to save money at the expense of quality, let alone safety.
Here's what it looks like:
The waterproof pearl embossed cover.
The comfort cotton cushioning layer.
The high-density soybean foam.
The airflow pockets on the sides.
Even though this mattress isn't a perfection, it is definitely good for its money. It's a great option for people who can't spend too much on the mattress but want their baby to feel comfortable during sleep.
"It is known that babies tend to replicate the emotions of their parents and catch their mood rather easily. That's why, if you feel irritated, edgy, or nervous all the time, chances are your baby is going to feel the same. Trying to create a positive atmosphere around your infant can greatly contribute to the sleep schedule and the general well-being of your child."
What is really great with that mattress?
The best thing about this mattress is the combination of its comfort levels and price. It's rather affordable, but, in this case, cheaper doesn't mean worse. On the contrary, the mattress combines enough firmness and softness to make your baby sleep comfortably.
What is wrong with that mattress?
The worst thing about this crib mattress is the fact that it's not 100% natural. Even though there are soybean traces in the foam, it also contains polyurethane. Poly-foam isn't an organic material, and, unfortunately, it can't be considered 100% safe, especially for infants and toddlers.
check out this mattress on amazon
Best Waterproof Crib Mattress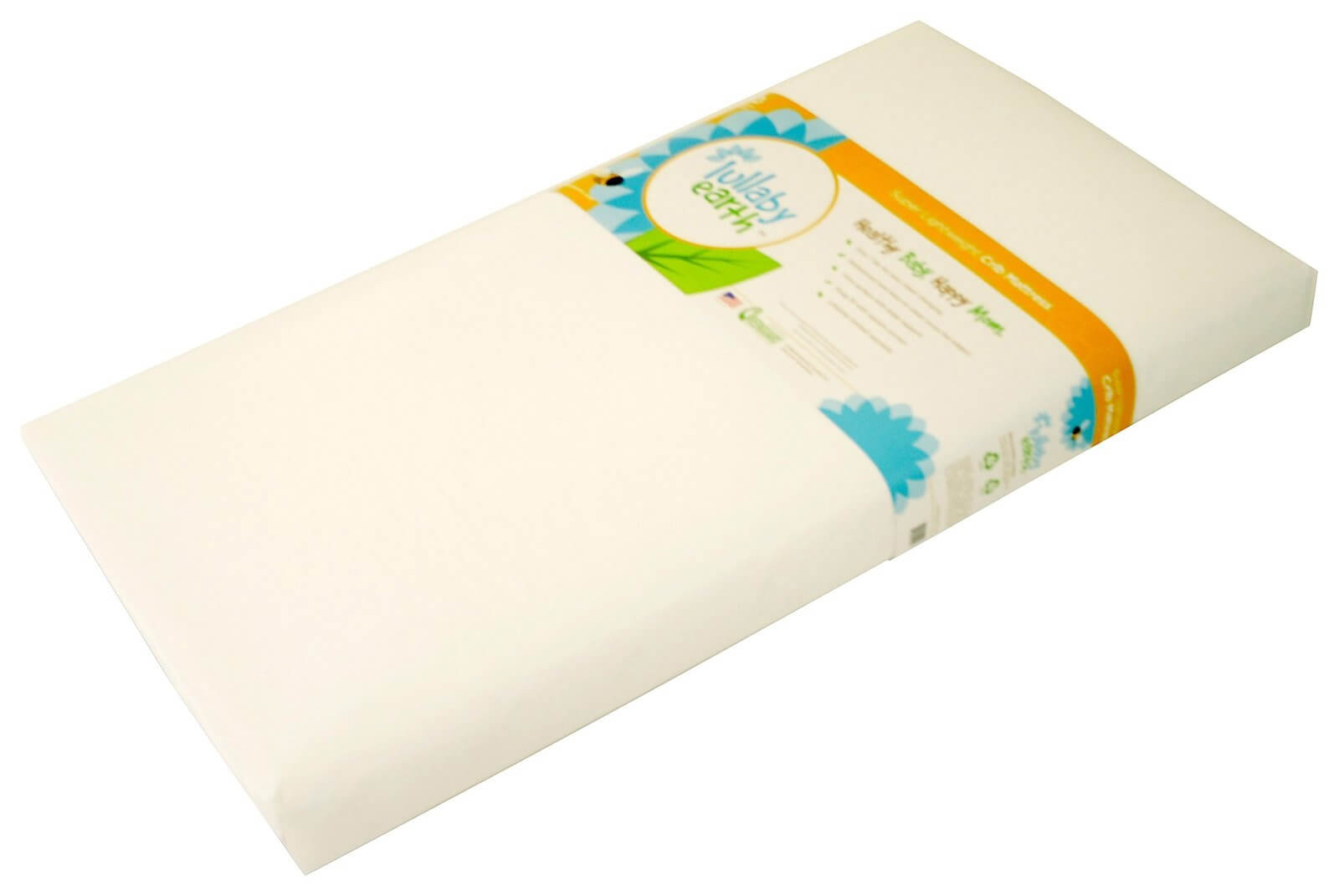 "Healthy baby, happy mom" is the Lullaby Earth's motto, which only proves that this model deserves to be called the best waterproof crib mattress. But there's more:
It is breathable, natural, and very comfortable.
I really liked the firmness level and the moderate amount of cushioning.
And the best part is:
It's waterproof, too!
Not everyone knows that designing a mattress to be both breathable and waterproof at the same time is not that simple. But Lullaby Earth have taken on this challenge and seem to have managed successfully. Now, their product can fairly be called the best waterproof crib mattress.
Let's take a look at its construction:
The cover is made of 100% PETE and features the 3D honeycomb structure, which contributes to the airflow.
The core of the mattress, which is made of 100% food-grade PE, is safe, chemical-free, and supportive.
The cushioning, which is also made of 100% PETE.
"The ideal nap length for your baby is 1.5-2 hours."
I'm sure that this mattress is worth trying out. Despite its minor flaws, it is very comfortable. And the airflow technology it features really works: your baby will be able to breathe freely even when sleeping on the stomach.
What is really great with that mattress?
There are many reasons to love this mattress, but the most important one, in my opinion, is the breathable materials it's made of. It won't make your baby sweat. If your infant sleeps on the stomach, the mattress won't impede the breathing.
What is wrong with that mattress?
The worst thing about this mattress is the sound it makes when the baby moves while sleeping on it. I guess it's the PETE cushioning or maybe the cover itself that makes this crinkly sound. It's not that loud, though, but there's a chance it might irritate you and your baby.
check out this mattress on amazon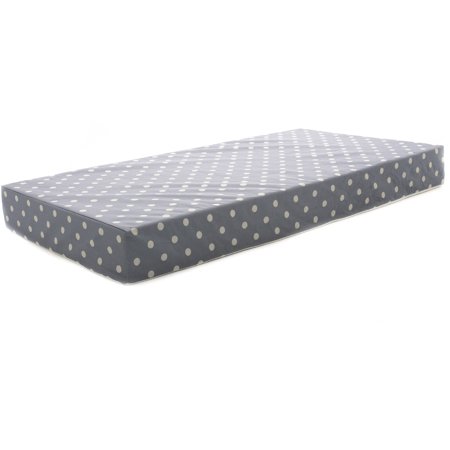 Polka dot is not the only thing that highlights this contestant. Its price will make your jaw drop. But I wouldn't call this mattress a cheap alternative. It definitely deserves the mentioning because its qualities aren't comprised solely of the low price.
Long story short, the construction of this mattress is simple in its nature. It consists of a 5-inch layer of foam and a waterproof cover. The encasement features a water-resistant inner lining only at the top and sides, while the bottom side allows the air to circulate properly.
Now, note this:
There were issues with a waterproof cover, which you can notice in several customer reviews.
Perhaps, there was a batch of defective items. However, the company seems to stand for their product, so getting a replacement shouldn't be a problem. Actually, considering such a low price, purchasing a separate waterproof cover for additional protection shouldn't be a problem either.
The thing you'll love about this mattress is just the right balance between firmness and softness. Your baby won't be able to jump on it when eager to play because it doesn't bounce. All his options will be constrained to sleep. Besides, such a level of firmness will make your child less likely to change the position, which will reduce tossing and improve the overall sleep quality.
Now, with such a low price, you'll have to sacrifice some things. The worst part about this product is its non-organic nature, which is why you may experience some 'fresh foam' smell when unpacking the box.
Don't get me wrong, though:
It is still a quality product. But if you're into all-natural things for your child, this mattress is not an option.
Let's jump to the pros and cons:
Does it matter whether the material is organic? If so, skip this option. But if not, take a closer look at it. This mattress is able to provide a good sleep for your child. It is both firm and soft. And, you've got to admit it, pretty looking.
check out this mattress on amazon
Types of Crib Mattresses
Now, let's see what types of mattresses the market offers for cribs.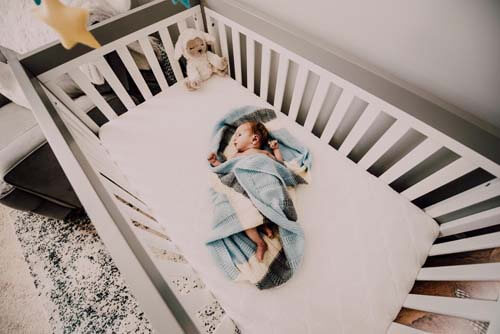 Basically, there are only two:
Foam.

Typically made from polyurethane foam, these mattresses are usually quite affordable. What you should consider is that foam tends to have weaker edge support but is a quieter and lighter material.
"Some models on the market are labeled as partially organic. They can be made from food grade polymers and plant-based memory foam. Although more expensive, they are a reasonable investment if you're into all-natural products"
Innerspring.

These are constructed from a support base, steel coils, and a comfort layer made from foam or cotton. Usually more expensive, they offer better edge support but are a heavier and noisier option.
As you see, each material has benefits and drawbacks, so you must be guided by what matters personally to you. Besides, you should note that every model has individual features. Thus, a quality memory foam mattress may have great edge support, and a quality innerspring one may produce little to no noise.
Factors We Look At
Size

. According to the

SPSC

, the standard size of a crib mattress should be at least 27.25 inches wide and 51.25 inches long, while the recommended thickness is 5-6 inches. A thicker mattress might work for infants but pose the dangers for toddlers, as it makes it easier for taller kids to fall out of the crib.
"It is important that the mattress fits tightly into the crib to reduce the risks of injuries for a baby. You can do a two-finger test to make sure your mattress suits your crib well. Just try to insert two fingers between them. If you can't do this, your mattress is safe. But if you can, it's better to get a larger mattress."
Corners.

There are a few models on the market that feature rounded corners. Such mattresses fit into standard cribs pretty well, just like models with square corners. However, you've just found out that any gaps between the crib side and the mattress side larger than your two fingers are dangerous for your little one. Besides, it's where a toy or a pacifier can get stuck, which can be pretty annoying. So, we are after square corners.

Firmness level. Your baby's developing body needs proper support, which is why firmer mattresses are recommended for infants until they become more active in a crib. This happens at around 12 months old. After that, it's better to switch to a softer sleeping surface (more on this below).
Ease of cleaning

. Here we consider such factors as the weight of a mattress, its water-resistant properties, ability to survive washing, and resistance to stains. Combined together, they not only ease the cleaning process for parents but also provide a safer and more hygienic sleeping space for babies.

Cover materials and features

. Is the cover breathable? Proper air circulation is key for crib mattresses because babies sometimes roll over to their stomach. In this sleeping position they need to be able to breathe freely; otherwise, there's a risk of suffocation.

Safety standards

. Every crib mattress has to get GreenGuard and CertiPUR-US certified to be allowed on the market. In order to be labeled "organic", it should also pass the Global Organic Textile Standard testing.
"Be careful as organic labels are sometimes misleading. For example, the label "organic" doesn't guarantee the product is 100% organic. The official requirement is 95%. Similarly, the label "made with organic ingredients" only guarantees that at least 70% of ingredients are organic."
Value for money

. Having considered all the factors above, we look at the price and decide if a particular item is a worthy investment. Sometimes, we mention really expensive or, by contrast, ridiculously cheap models. But you can rest assured these are decent products either way.
What Is the Recommended Firmness for Baby Mattresses?
The answer to this question depends on your baby's age. As mentioned above, firmer mattresses are a safer choice for newborns and babies up to 9-12 months old.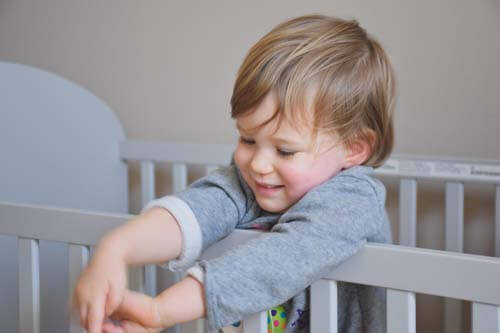 Here's the deal:
The softer the sleeping surface is, the more it hugs your infant's body, inviting him to turn to his side or stomach.
While you may feel pretty comfortable sleeping in these positions, for infants they pose the dangers of suffocation and physical injuries. Besides, tossing and turning at night definitely won't contribute to a peaceful sleep. A firm mattress will help your child sleep comfortably on his back during the whole night.
When a child grows older (9-12 months old) and starts moving actively in his crib, i.e. crawling, trying to sit upright, and eventually stand up, he might not feel that comfortable anymore with a very firm mattress. Therefore, switching to a softer one is advised. It will conform to your growing toddler's body better than a firm one. However, it doesn't mean you should get a super soft mattress that your toddler will sink in. It should be somewhere about 5-6 on the firmness scale.
"Some manufacturers produce models with a dual design, also called convertible or reversible. This means the top and the bottom sides of a mattress will have different levels of firmness. Although such products will be on the more expensive side, getting one can be viewed as a good long-term investment."
SIDS and How It Is Connected to Your Crib Mattress
According to official sources, Sudden Infant Death Syndrome or SIDS is the unexplained death of a healthy baby, usually during sleep.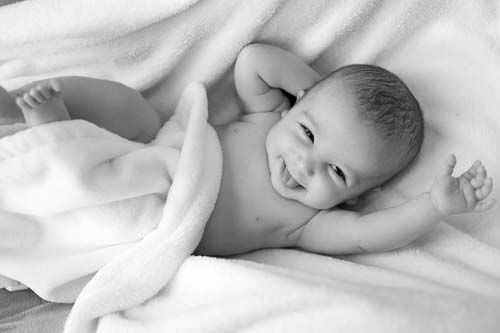 "Boys between two and four months old are at the highest risk of SIDS. However, it's not a reason to start panicking. There are known ways to reduce the dangers."
To me, the most terrifying word in this definition is not "death", as some would suggest, but "unexplained". Scientists still can't find the exact cause of this syndrome, although it has been studied for several decades.
But here's the good thing:
Thanks to the research, we now know several risk factors for SIDS as well as for some other sleep-related causes of infant deaths. And guess what? A few of them are connected to the sleeping environment of your baby.
So, the risks are higher if your infant:
sleeps on his stomach;

sleeps on a soft surface;

sleeps in a hot environment.
All of these risk factors can be avoided if you choose a quality firm crib mattress with good temperature regulation and air circulation properties. Besides, making sure your little one drifts off to sleep lying on his back is your duty as a parent, too.
What Matters
Of course, I can't fit into a crib. But you know what, I used to be a baby once. And when it comes to the mattresses, I trust my instincts and experience. So, here are the points I considered when trying to pick the most suitable crib mattress for your baby:
firmness and overall comfort;
materials;
breathability;
price;
convertibility;
company's reputation.
Important Points to Consider
The first thing I want to teach you:
Warranties don't really matter when it comes to crib mattresses.
Some manufacturers might offer a 1-year warranty, others – a lifetime warranty. But your baby won't use the crib mattress for years, so don't let the warranty conditions buy you over. Pay attention to more important factors: the firmness of the mattress (it is proven that the firmer, the better), the materials used in its construction, whether it's waterproof or not, and how easy it is to clean it.
Another piece of advice I want to offer you:
Stay away from used mattresses. You might save a couple of bucks with them, but it's not worth it. Just trust me. Pre-used mattresses are unsanitary. They can be saggy and not supportive enough. Plus, they might hide dust mites inside. They're just not safe for your baby.
Conclusion
Want to know which crib mattress is the best one? In my opinion, the Newton Wovenaire deserves the right to be called the best baby mattress. It has a unique construction, which will perfectly support your baby's tender bones and allow for free airflow. It's made of natural materials and can be washed, which only makes it safer for your child. I'm sure that both you and your baby are going to love this crib mattress!
Have you already made your choice? What mattress did you pick for your little one? Let us know in the comments!
Additional Resources:
Best Mattresses For Kids – Buyer's Guide And Reviews
Product links on Happysleepyhead are referral. We get a commission on purchases made through our links at no additional cost to you. More information in my disclosures.