Best Crib Mattress for Your Baby
by | Last Updated
Everybody knows that babies sleep a lot. Naturally, we understand that they need to feel comfortable all this time, which means your baby should sleep on the best crib mattress.
While there are many options on the market (sometimes it feels like too many), it's not easy to find something worthwhile.
Today, we will take a look at 5 awesome baby mattresses. Let's see, which top rated crib mattress can make your baby catch a lot of Z's.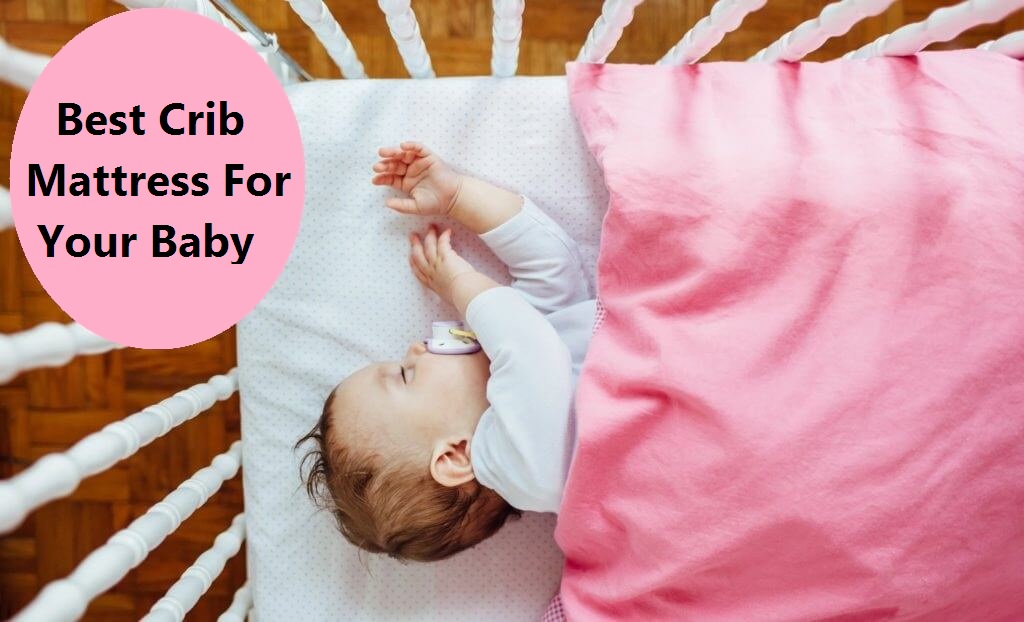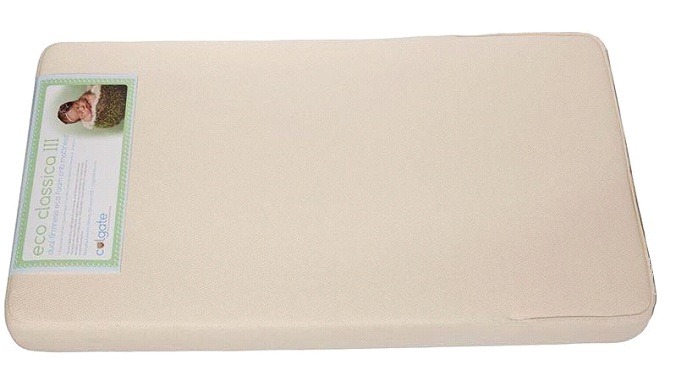 Some mommies call this mattress the best crib mattress ever and, in my opinion, they're not exaggerating too much. Colgate Eco Classica III has all the right to be on this list because it is natural, supportive, and suitable for infants and toddlers.
Now, the construction is a bit tricky because this mattress is reversible and features two sides – one for infants and one for toddlers:
The cover is pure cotton. It is hypoallergenic and organic.
The natural flammability barrier is also made of cotton.
The layer for infants is a firmer eco foam made of the plant oil based materials.
The layer for toddlers is a bit softer. It is also made of the plant-based foam.
Another layer of the cotton flammability barrier and, of course, the cotton cover.
"Infants need approximately 10-12 of sleep every day in the first year of life. That's why it's important to make sure they feel comfortable every minute of it."
Overall, I can see why so many people love this mattress. It is firm, comfortable, and reasonably priced. And it can serve you even when your baby grows a little and becomes a toddler.
What is really great with that mattress?
What really made me love this mattress is the level of firmness it provides. It is known that kids need good back support but they can't sleep on too hard surfaces. Colgate Classica III is in that golden middle. It is firm enough to provide a comfortable sleep but it also has that softer plush feel.
What is wrong with that mattress?
Hate to disappoint you, but this mattress isn't perfect (none of them are). The worst thing about this model is that it's not 100% organic despite what the manufacturer claims. It didn't have any off-gassing upon arrival, but the packaging stated that the mattress materials include urethane, which is not an organic material.
Naturepedic No Compromise Ultra Seamless Crib Mattress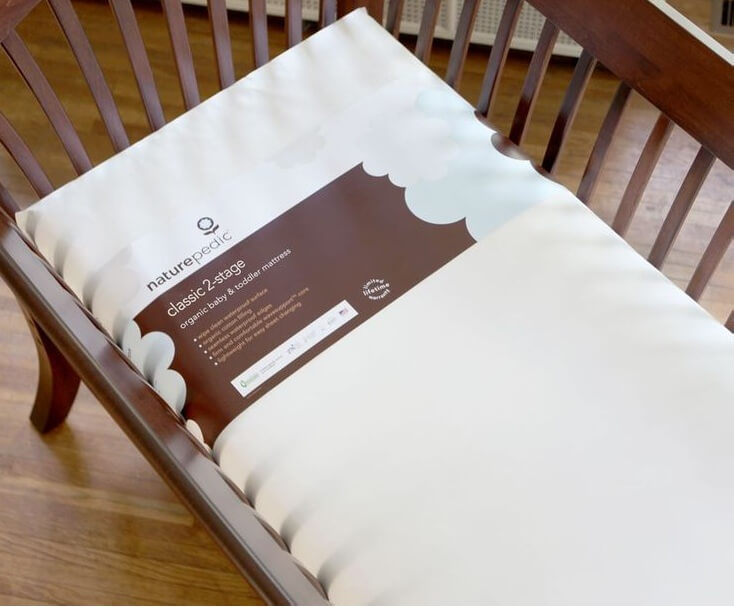 Here's another contestant for the right to be called the best crib mattress, which also managed to surprise me with its materials, construction, and the level of comfort it provides.
But first things first. Here's what's inside:
The organic cotton cover with the added polyethylene layer, which makes the mattress waterproof and easy to clean.
The coil innerspring that consists of 252 coils and the 9-gauge edge support system.
Pure cotton filling and kapok batting.
PE firmness layer.
"It is known that the sleep schedule of infants starts to settle after approximately 3 or 6 months. So, try to be patient and hang on."
I'm not going to lie: I think this mattress is an excellent choice for all parents and their babies. It will serve you longer as it is dual-sided, it's safe for your baby, and it surely is comfortable. Plus, its seamless edges not only look stylish but also can help you protect your baby from dust mites.
What is really great with that mattress?
The coolest thing about this mattress is its seamless edges. This makes the mattress safer for your child. Because the cover is waterproof and seamless, it can't lock in moisture; therefore, it doesn't create a favorable environment for dust mites and other nasty bugs. Your baby will sleep on a clean, dry, and natural mattress.
What is wrong with that mattress?
The biggest fault in this mattress is that it might be too big for your crib. It's a bit larger than the size of the majority of standard cribs (you can see this issue in other crib mattress reviews, I'm not the only one), so make sure you check all the measurements before placing your order.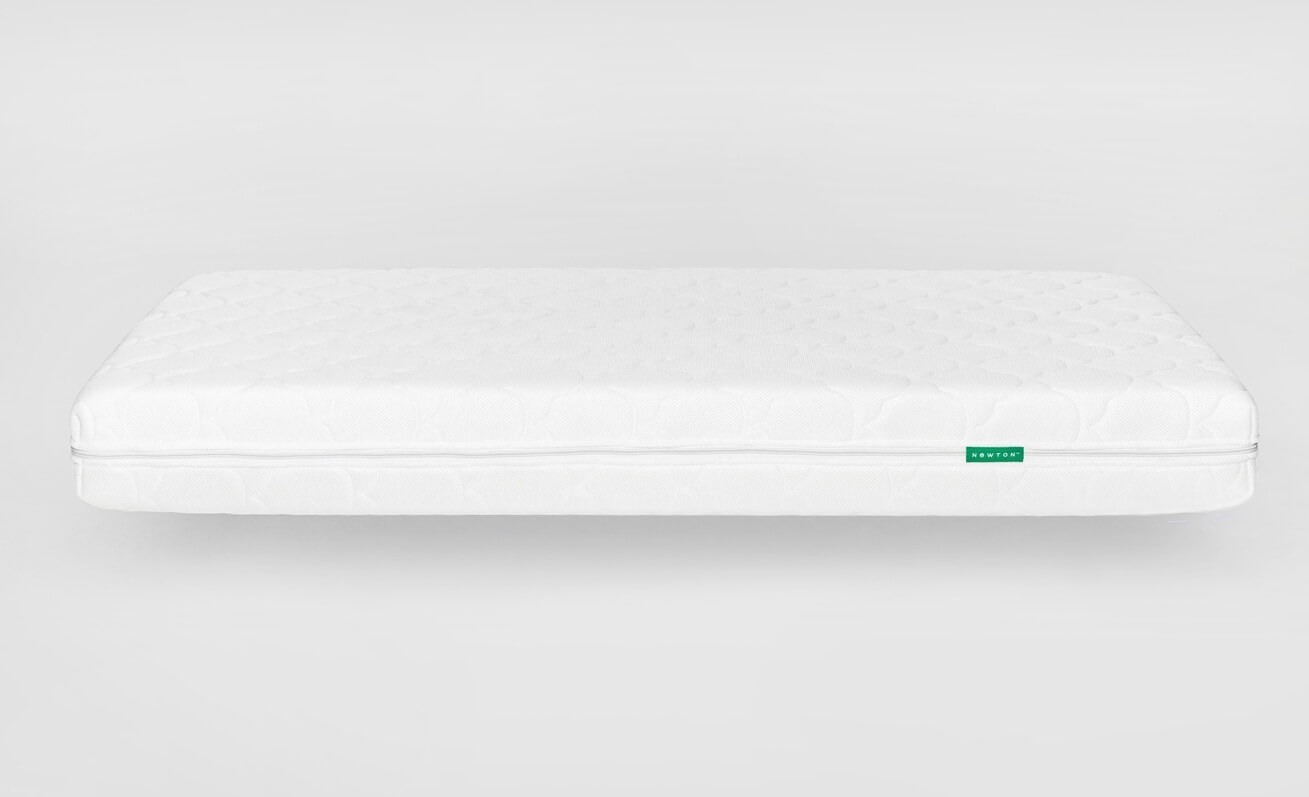 Now, it's too soon to call Newton Wovenaire the best crib mattress, but it is certainly among my favorites. It has a unique structure, which not only looks cool but also creates a safer sleeping environment for your baby. Plus, it is completely breathable and washable, which is a rare quality for a mattress.
It is made of food grade polymer and a polyester cover, which are safe for your child's health, breathable, and don't have any off-gassing.
Overall, I feel like this mattress can make pretty much any baby and parent happy. It offers a balanced combination of firmness and softness, a unique design, and safe materials. You can wash it, and I mean all of it, not just the cover, which means there'll be no dust, no debris, no moisture, and no dust mites.
"Regulating your baby's body temperature is a crucial component of the restful sleep. When it's too high, it's almost impossible for your child to fall asleep. A good breathable mattress can help your baby stay cool during sleep, which only contributes to the overall comfort levels."
What is really great with that mattress?
You've probably already guessed that the best thing about this mattress is its innovative construction. Thanks to the trapped-air design, the mattress is 100% breathable, which will allow your baby to sleep cool. Also, it is washable, so you won't have to worry about dust mites, debris, and microbes.
What is wrong with that mattress?
What might upset you about this mattress is that its cover is a bit scratchy, which may cause your baby to feel uncomfortable when tossing and turning. So, you will need to use a sheet.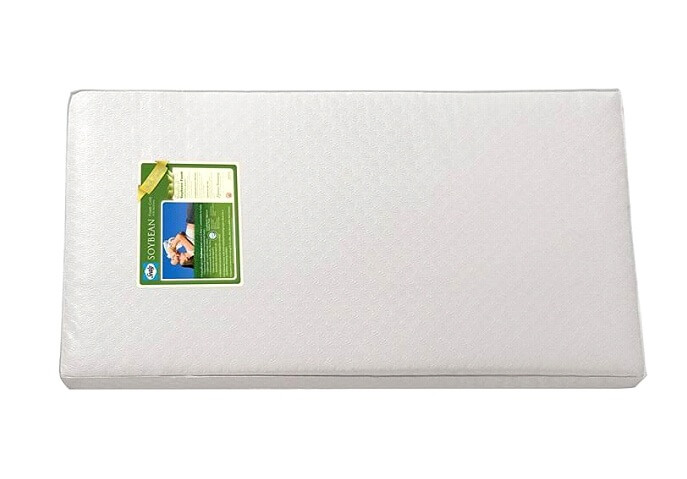 This is probably the best crib mattress in its price category. Its foam is soy based, which means it's a natural material, safe for babies and toddlers. It is firm enough to comfortably support your baby's body. And it is water-resistant, which won't contribute to the debris and dust buildup.
Here's what it looks like:
The waterproof pearl embossed cover.
The comfort cotton cushioning layer.
The high-density soybean foam.
The airflow pockets on the sides.
Even though this mattress isn't a perfection, it is definitely good for its money. It's a great option for people who can't spend too much on the mattress but want their baby to feel comfortable during sleep.
"It is known that babies tend to replicate the emotions of their parents and catch their mood rather easily. That's why, if you feel irritated, edgy, or nervous all the time, chances are your baby is going to feel the same. Trying to create a positive atmosphere around your infant can greatly contribute to the sleep schedule and the general well-being of your child."
What is really great with that mattress?
The best thing about this mattress is the combination of its comfort levels and price. It's rather affordable, but, in this case, cheaper doesn't mean worse. On the contrary, the mattress combines enough firmness and softness to make your baby sleep comfortably.
What is wrong with that mattress?
The worst thing about this crib mattress is the fact that it's not 100% natural. Even though there are soybean traces in the foam, it also contains polyurethane. Poly-foam isn't an organic material, and, unfortunately, it can't be considered 100% safe, especially for infants and toddlers.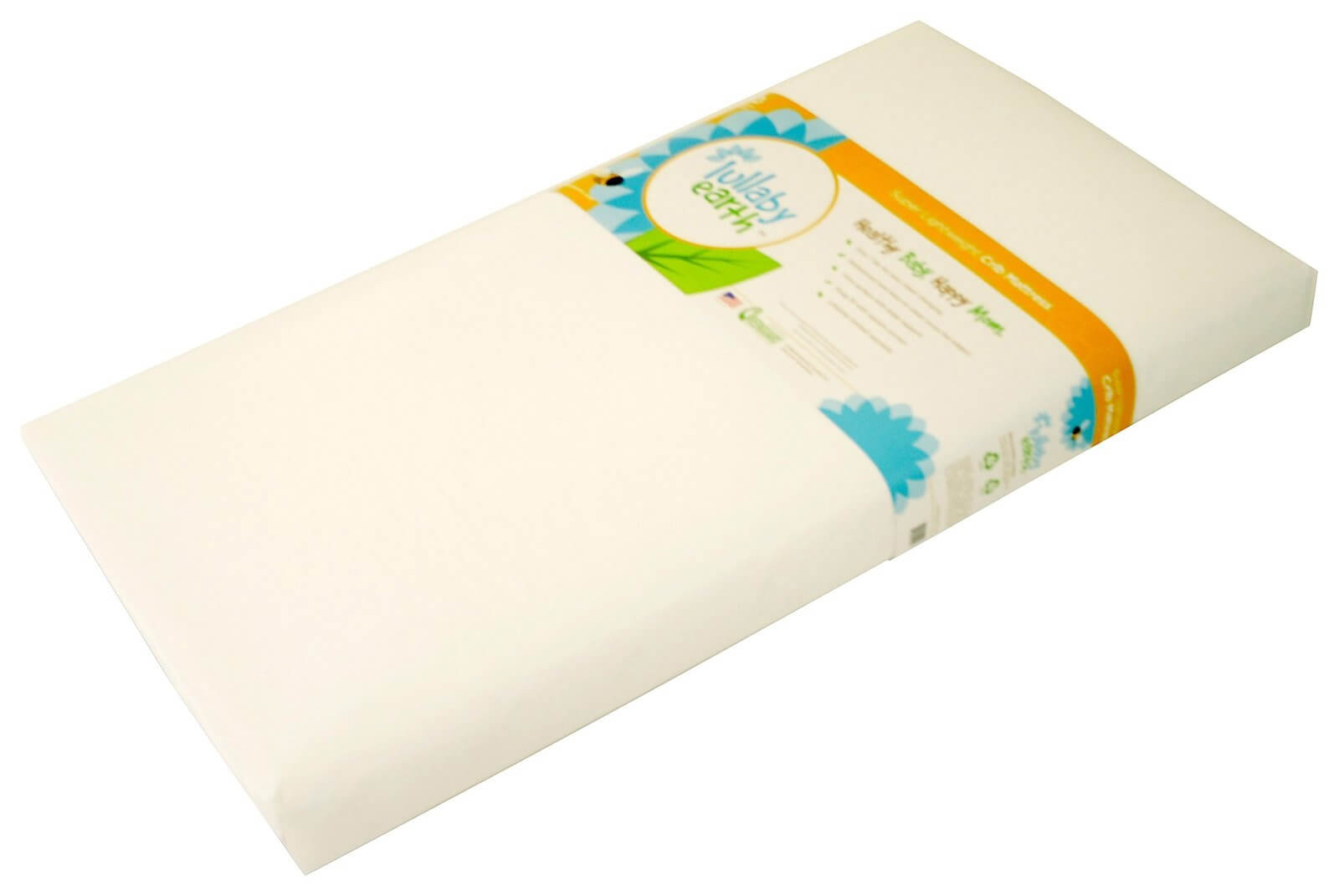 "Healthy baby, happy mom" is the Lullaby Earth's motto, which only proves that this model deserves to be called the best crib mattress. But there's more:
It is breathable, natural, and very comfortable.
I really liked the firmness level and the moderate amount of cushioning.
Let's take a look at its construction:
The cover is made of 100% PETE and features the 3D honeycomb structure, which contributes to the airflow.
The core of the mattress, which is made of 100% food-grade PE, is safe, chemical-free, and supportive.
The cushioning, which is also made of 100% PETE.
"The ideal nap length for your baby is 1.5-2 hours."
I'm sure that this mattress is worth trying out. Despite its minor flaws, it is very comfortable. And the airflow technology it features really works: your baby will be able to breathe freely even when sleeping on the stomach.
What is really great with that mattress?
There are many reasons to love this mattress, but the most important one, in my opinion, is the breathable materials it's made of. It won't make your baby sweat. If your infant sleeps on the stomach, the mattress won't impede the breathing.
What is wrong with that mattress?
The worst thing about this mattress is the sound it makes when the baby moves while sleeping on it. I guess it's the PETE cushioning or maybe the cover itself that makes this crinkly sound. It's not that loud, though, but there's a chance it might irritate you and your baby.
What Matters
Of course, I can't fit into a crib. But you know what, I used to be a baby once. And when it comes to the mattresses, I trust my instincts and experience. So, here are the points I considered when trying to pick the best crib mattress:
firmness and overall comfort;
materials;
breathability;
price;
convertibility;
company's reputation.
Important Points to Consider
The first thing I want to teach you:
Warranties don't really matter when it comes to crib mattresses.
Some manufacturers might offer a 1-year warranty, others – a lifetime warranty. But your baby won't use the crib mattress for years, so don't let the warranty conditions buy you over. Pay attention to more important factors: the firmness of the mattress (it is proven that the firmer, the better), the materials used in its construction, whether it's waterproof or not, and how easy it is to clean it.
Another piece of advice I want to offer you:
Stay away from used mattresses. You might save a couple of bucks with them, but it's not worth it. Just trust me. Pre-used mattresses are unsanitary. They can be saggy and not supportive enough. Plus, they might hide dust mites inside. They're just not safe for your baby.
Conclusion
Want to know which crib mattress is the best one? In my opinion, the Newton Wovenaire deserves the right to be called the best baby mattress. It has a unique construction, which will perfectly support your baby's tender bones and allow for free airflow. It's made of natural materials and can be washed, which only makes it safer for your child. I'm sure that both you and your baby are going to love this crib mattress!
Product links on Happysleepyhead are referral. We get a commission on purchases made through our links. More information in my disclosures.