Best Mattresses for Graco Pack n Play: Level Up Your Baby's Comfort!
by | Last Updated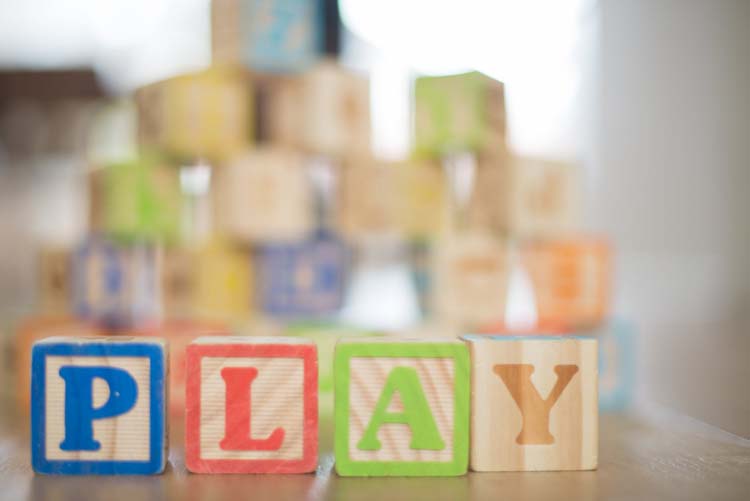 As a parent, you need to do anything to make your little one happy and comfortable.
Pack n Play cribs are great in terms of creating a simple and safe playing place for a baby. But a mattress that is included in a crib quickly becomes damaged, and you have to replace it.
Don't worry; I've got your back!
With my reviews of 5 best mattresses for Graco Pack n Play, you'll quickly find a model that will suit your crib and will be comfy and safe for your little one.
So, let's see what I came up with!
| Model | Type | Dimensions | Warranty | Rating |
| --- | --- | --- | --- | --- |
| Dream On Me | Foam + vinyl cover | 37.5'' x25.5'' x3'' | 3 months | |
| NapYou | Polyfoam + cotton/polyester cover | 37.5'' x 26'' x 1.5'' | Not specified | |
| LA baby | High-density poly-fiber + vinyl cover | 38'' x 24'' x 2'' | 1 year | |
| Hiccapop | Memory foam (soft side) + foam (firm side) + polyester jacquard cover | 38'' x 26'' x 3.2'' | Lifetime | |
| Milliard | High-density foam + fiberglass encasement + polyester cover | 38'' x 26'' x 2.5'' | Not specified | |
Our 5 Best Graco Pack n Play Mattress Picks
Best for Easy Maintenance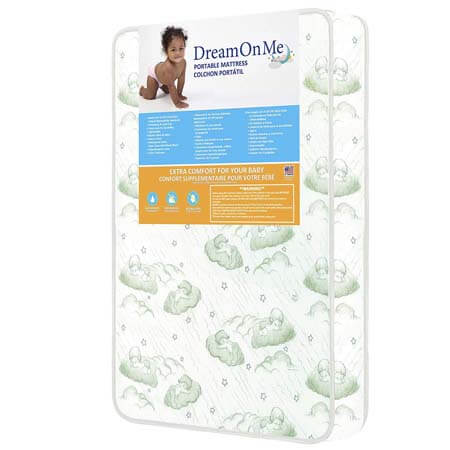 So, the first contestant on my list of top-rated mattresses for Graco Pack and Play is Dream on Me. This model can successfully bear with any accidents that may happen during play or sleep.
The thing is, the cover of this mattress is made from vinyl and is waterproof. So, in case of spilling, just wipe it with warm water and mild soap, and you're good to go. The cover also protects the mattress from mold and unwanted odors.
And look what a cute print it has!
The mattress itself has a tri-fold construction and is made of foam. I believe that it's polyfoam, as it is pretty springy and comfortably firm.
Now, a word about drawbacks. Although the vinyl cover looks pretty well-made, some users report that it may rip and crack at the corners, exposing the foam filling to your little one. So, putting a fitted sheet over the mattress is highly advised.
But I really love that this mattress is so easy to care for. I mean, if you're a parent, you probably have more important things to do rather than spend hours cleaning the mattress.
So, if you need a simple mattress with cute design and good value for money, then Dream On Me is your go-to option.
Check out this mattress on amazon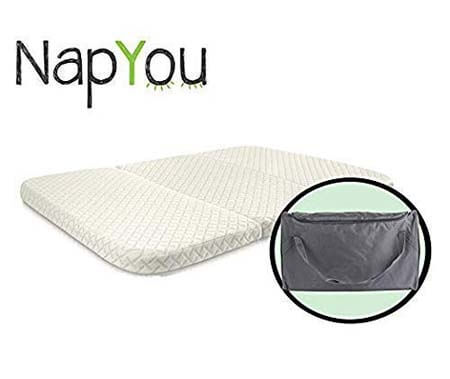 Moving to the second item in my review of the best mattresses for Graco Pack n Play. This model is notable for lightweight design and a convenient carrying bag it comes with, which makes it the best travel-friendly option on our list.
The mattress will help your baby stay warm but not too hot, because its cover is made of a cotton and polyester blend. It feels cool and soft to the touch, so even the infant's sensitive skin won't be irritated.
Along with that, the cover is removable and waterproof. Thus, sudden accidents won't impact the mattress, and you can simply toss the cover in the washer and enjoy a fresh look.
The only issue I want to mention is inconsistent sizing. The mattress we were testing was three inches wider than our P'n'P, so we had to remove the cover and trim the foam a bit. Some other users report this problem too.
What I really love, though, is the fact that you can take this mattress with you anywhere. And a carrying bag solves the problem with storage during traveling.
So, if you're a family traveler and want to arrange the best sleeping or playing spot for your little one, opt for NapYou.
Check out this mattress on amazon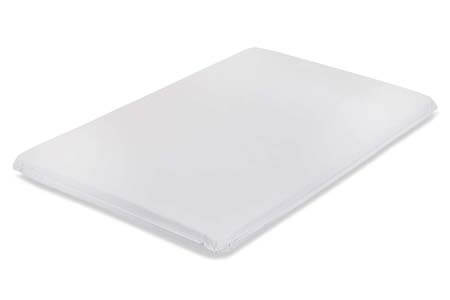 The next candidate in my selection of the best mattresses for Graco Pack n Play won't tear a hole in your pocket because it's the most budget-friendly option here. Combining quality materials and simple construction, this mattress has everything to make your baby comfortable, whether during sleep or play.
The cover is made of vinyl, so if an accident happens, just wipe it away with the damp cloth and a bit of soap. It also protects the mattress from mold, thus preventing unpleasant odors.
The mattress itself is made of poly-fiber. This moldable material can cradle your infant's body and help them sleep cool. Besides, it can serve as a responsive and a bit bouncy surface for his play sessions.
The biggest issue I could find is that as the mattress gets older, some fibers may stick out and irritate the skin of your little one. So, it's better to use the LA Baby mattress with a thick sheet on.
The best thing about this mattress is its price. For as little as $20, you can get a budget-friendly quality mattress, which is easy to maintain and suitable for most pack'n'plays.
So, if you don't want to spend too much — which is quite normal considering the fact that your baby will quickly outgrow the Graco pack and play — go with this model.
Check out this mattress on amazon
Best for Dual-Sided Design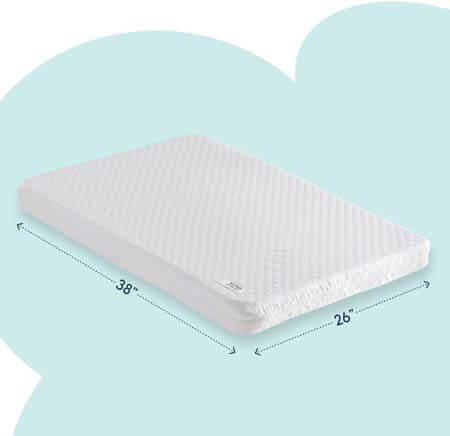 The next model in my review of the best mattresses for Graco Pack n Play can be easily used as your baby gets older. Hiccapop has two sides with different firmness levels, for both infants and toddlers, and can ensure that their sleep will be great.
The infant side is firmer and bouncier to reduce the risk of SIDS and promote proper spine alignment of your newborn. The toddler side has a plusher feel and can cradle your child's body and support anatomical spine position during his sleep.
The mattress is made with memory foam and has a waterproof jacquard cover that feels soft to the touch. The manufacturer also gives you a travel bag for easier transportation and storage.
So, what could be wrong with this mattress? Well, I noticed that after washing, the cover has shrunk in size a bit, so now it takes an effort to get it back on. But that's basically the only issue with this model.
What makes Hiccapop cool is its dual-sided design. Thanks to it, this mattress offers consistent support during sleep and play sessions of your little one through his infancy and early childhood.
So, if you need a durable product you will be able to use as your baby grows up, the Hiccapop mattress with a dual-sided design is definitely a worthy purchase.
Check out this mattress on amazon
Best for Hypoallergenic Materials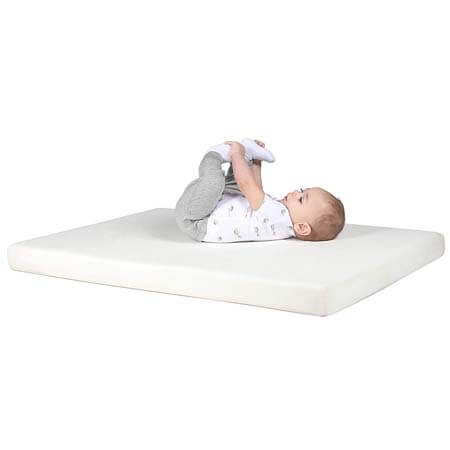 And the last option in my selection of top-rated mattresses for Graco Pack n Play is designed by Milliard. These guys go beyond the standard safety guidelines, so this mattress can suit even allergic or overly sensitive children.
First, Milliard uses a layer of fiberglass as a fire retardant. Fiberglass is CertiPur-US certified and doesn't have any smell at all, so it won't disrupt the sleep of your little one.
Second, the mattress itself is made of dense foam with a comfortably firm feel, which is enough to support an infant without putting them at risk of suffocation. And the cover is made of waterproof polyester jacquard; it's removable and washing-machine friendly.
The only downside of this mattress is poor temperature regulation. If you live in a hot climate, your baby might sleep hot, so the overall sleep quality may suffer.
But the fact that the brand cares about its little users and makes a totally hypoallergenic mattress without any chemical odor is totally a great plus.
Overall, if you're concerned about the VOCs and don't want any potentially disrupting odors to be close to your baby, try the Milliard mattress. Both you and your little one are going to love it.
Check out this mattress on amazon
Why Do You Need a Graco Pack n Play Mattress?
Basically, a Graco playard mattress is not really different from a standard crib mattress. The only difference is their size. Most Graco pack n play mattresses measure 38 x 26 inches, while crib mattresses are 28 x 52 inches. So, if you wanted to use a standard crib mattress, you would have to trim it.
Given the fact that an average crib mattress costs about twice as much as an average playard mattress, chances are you wouldn't want to ruin your purchase.
Now, besides being affordable, a Graco playard mattress can offer other benefits: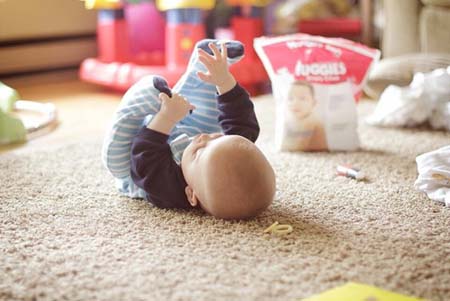 Weight.

Most pack-and-plays are designed to be portable and, obviously, mattresses designed to be used with them are lightweight. This way, you can arrange a sleeping spot for your child wherever you go, without effort.

Compact construction

. Most portable mattresses can fold into three parts, so they do not take much space when not in use. This makes both storage and transportation easy.

Proper support

. A portable crib mattress is a bit thicker compared to a standard pad that comes with a playard, so it can support your little one's spine better during his sleep.
"Many pack-and-play mattresses can be used outside a playpen (e.g. on the floor or grass). This may come in handy if you often travel with your little one but don't want to take the playpen with you."
But why not just use the pad that comes with your pack'n'play?
Well, one reason: safety.
Let me explain:
According to the sleep safety guidelines provided by the Center for Disease Control and Prevention, a portable mattress meets the standards for the safety of newborns' sleep. It can offer uniform support without sinkage and is made without any harmful chemicals.
Besides, the mattress fits most Graco playards without creating dangerous gaps. It also allows for organizing proper space as your little one learns to sit, and prevents him from injuries and tumbles as he explores his ability to crawl.
Materials Used for Graco Mattresses
Now, let's see what materials are used for most quality Graco Pack n Play mattresses today:
Memory foam.

The most common material for crib mattresses, memory foam isn't as common in Graco mattress pads. That's because it's prone to trapping heat, which isn't good for your little one after he had an active play.

Polyfoam

. Polyfoam is a more lightweight material with an open-cell structure. It retains less heat compared to memory foam and is more springy, so it can support a correct spine alignment even in newborns. However, open foam cells have less integrity, which means that polyfoam might be less durable and lose shape faster.

Fiberfill.

This includes natural fibers, such as cotton and wool, and their synthetic alternatives. Although fiberfill feels soft and is incredibly moldable, it's also the least resilient material among these three. A layer of fiberfill can form indentations and become uneven within the first year of use.
Main Checks to Make Before Purchase
Finally, I want to ease your shopping and give you a list of the main features that you should look for in a good Graco pack and play mattress.
Safety Considerations
First things first.
To provide your child with a healthier sleep, you need to make sure that the mattress you chose is safe. Here's how:
Look for certification.
Certification tags from proven organizations mean that:
a mattress doesn't have any harsh chemicals inside;

a mattress is made from hypoallergenic materials;

all possible odors won't affect your child.
Some pack'n'plays can be used as a bassinet so that you could put your little one to sleep after playing. However, because of weight limitations, some manufacturers don't allow using their mattresses in the bassinet position. So, to avoid any danger, let your child sleep right in the playpen.
Size
Although most pack n play and mattress sizes are regulated by the law, the manufacturing process can still result in slight differences even between two products of the same brand. To be sure that your mattress will fit tightly and won't create dangerous gaps, measure your pack n play before purchasing and ask the staff at the store to do the same.
"Some manufacturers will replace your mattress if it appears to have an incorrect sizing. In other cases, assuming a mattress has a removable cover, you can take the cover off and trim the mattress to fit your Graco pack n play."
Intended Use
The way you use your playard will define what construction you should look for.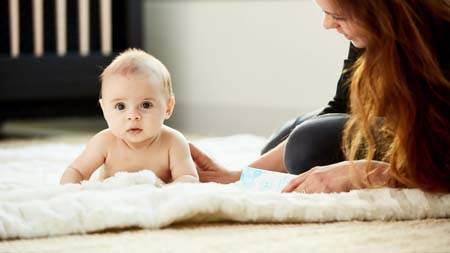 Some parents use their Graco pack'n'plays while traveling or visiting family, for arranging a place for their little one to play and sleep. If that's your case, it's better to opt for a model with foldable construction.
If you're planning to only use your pack'n'play at home, it's better to use a one-piece mattress. It creates a more uniform sleeping surface and has better durability overall.
Ease of Cleaning
With babies, accidents are not uncommon, so your mattress should be able to withstand them with ease. Here's why a waterproof cover is a must:
it's incredibly easy to clean — some mattresses need just a wipe with a damp cloth;

it prevents mold development inside the bed;

it's hypoallergenic, so even very sensitive babies will sleep well.
Also, some models come with a removable cover which you can throw in the washer, so maintenance is easy.
Conclusion
As you can see, a good mattress — assuming it will properly fit the playard — can level up your baby's playing and sleeping experience. It creates a comfy space and provides your little one with enough support for their spine.
All the models I've reviewed above performed just fine in terms of both comfort and support. But I liked the Hiccapop mattress the most, for its double-sided design and excellent durability. Despite the minor flaws, this mattress can suit literally anyone.
And if you want a mattress for occasional use or just don't want to spend much money, go for LA baby. It's lightweight and very supportive. And a waterproof cover is a nice bonus that will ease maintenance.
Do you use your pack'n'play as an occasional sleeping spot for your little one? Which mattress do you think could make a good fit for your playpen? Share your thoughts below!
Product links on Happysleepyhead are referral. We get a commission on purchases made through our links at no additional cost to you. More information in my disclosures.