7 Best Mattresses For People with Scoliosis – Buyer's Guide and Reviews
by | Last Updated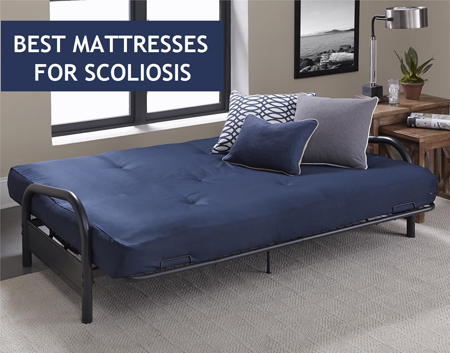 OUCH!
Have you ever said that after getting out of bed?
I have.
This happens because of low-quality mattresses. And when such a serious issue as scoliosis is present, the situation with your old mattress gets too serious.
To save you from further back issues and hurting all over, I've prepared 7 best mattresses for scoliosis suffers. Let's see, which one turns out to be the perfect one for you.
Name

Type
Layers
Warranty and trial
Rating (from 0% to 100%)
DreamCloud
Hybrid
High-density memory foam base layer;
Foam-encased pocketed micro coils;
Dense memory foam layer;
Supportive memory foam;
Natural latex layer;
Soft quilted memory foam;
Gel-infused memory foam layer;
Cashmere blend cover.
Lifetime warranty, 365-night trial
LUCID
Memory foam
High-density foam base;
Gel memory foam support layer;
Charcoal-infused memory foam layer;
Tencel cover;
10-year warranty, trial isn't specified
Botanical Bliss by Plushbeds
Latex
ARPICO latex base;
Talalay latex layer;
Wool comfort layer.
25-year warranty, 100-night sleep trial, 100-night comfort level exchange.
Loom & Leaf by Saatva
Memory Foam
Dual support layer;
5-lb memory foam layer;
Cooling gel layer;
Quilted cotton cover.
15-year warranty, 120-day in-home trial.
Puffy
Memory Foam
Firm core support foam;
Cooling cloud foam layer;
Polyester cover.
Lifetime warranty, 101-night trial
Avocado
Hybrid
Dunlop latex base
Pocketed upcycled steel coils;
Dunlop latex comfort layer;
Organic cotton cover hand-tufted with wool;
25-year warranty, 365-night trial
Alexander Signature Series by Nest Bedding
Memory Foam
Solid edge support base foam layer;
SmartFlow foam;
Visco memory foam layer;
Gel memory foam;
quilted Cool Stretch cover.
Lifetime warranty, 100-night trial
Best Hybrid Mattress for Scoliosis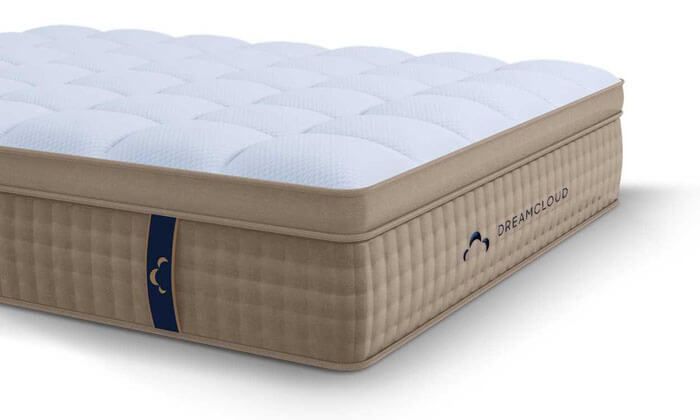 The first item on our list of the best mattresses for scoliosis is this hybrid model by DreamCloud. It has a very luxurious feel and features a smart combination of layers, which results in superb comfort and great support.
Now, DreamCloud uses foam, latex, and coils in this mattress. The coils are foam-encased, which means more cradling and less noise when you move on the mattress. The latex layer provides a cooling effect, a good amount of bounce, and some gentle cradling. And the foam comfort layers feature different density and offer both pressure relief and support.
The absolute best thing about this top-rated mattress for scoliosis patients is, of course, its construction and the comfort it results in. It has eight (!) different layers, each of which has its own role in the ensemble. The manufacturer has put a lot of thought into this model and made it very supportive with a decent amount of cradling, which makes it ideal for people with scoliosis.
The worst thing about the DreamCloud mattress is the fact that it comes in only one firmness level, which might not be suitable for side sleepers. The top of the mattress feels rather bouncy and resilient. It doesn't allow too much sinkage. Therefore, side sleepers might find this mattress too stiff for their pressure points.
"Scoliosis oftentimes causes back pain, especially if you do not exercise to keep your spine flexible. Investing in a new, high-quality mattress can really help you deal with that pain. However, you can do some other things if you want to take a couple of extra steps. For instance, placing a small pillow (or a rolled towel) below your lower back or under your knees can help reduce pressure from the spine and keep it in a relaxed, neutral state."
Now, let's move on to the pros and cons:
Overall, DreamCloud is a great hybrid mattress, which comes with a couple of nice surprises. It's not a universally comfortable mattress, but it is suited for so many users, especially the scoliosis patients.
check out dreamcloud mattress on dreamcloudsleep.com
The Best Cheap Mattress for People with Scoliosis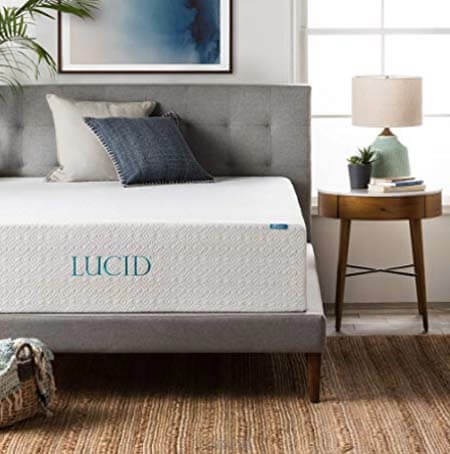 If you need a comfortable mattress that can relieve your pain without tearing a hole in your pocket, here's the LUCID. Available in two firmness options, Medium and Medium-Plush, it can offer a decent hug for almost any type of sleeper.
The mattress has three layers packed under a cool Tencel cover. The layer of charcoal-infused foam works as a moisture-removing pad and prevents the development of mold.
The second layer is made of gel-infused memory foam and helps transit the load from your body to the dense foam base. Also, gel-infused foam enhances the airflow between layers and keeps the construction breathable.
The most prominent feature of this mattress is the combo between innovative materials and a really affordable price. The LUCID excels at supporting your spine alignment during sleep and relieving tension in the shoulder areas.
But it has a drawback as well. My LUCID took two days to expand completely. Although it's a common issue with cheaper foam beds, the fact that you may not be able to sleep on it immediately might be frustrating.
Consider the following pros and cons:
Overall, I enjoyed sleeping on the LUCID. It's a comfortable and supportive mattress that can reduce pain and stiffness linked to your condition.
Check out this mattress on amazon
Excellent Organic Mattress for Scoliosis
Botanical Bliss by Plushbeds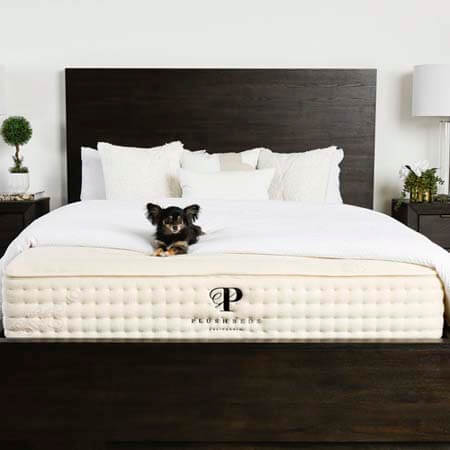 If you're looking for the best bed for scoliosis and want it to be safe and natural, you should definitely consider Botanical Bliss. This mattress uses only natural components and provides great comfort levels, even for people with back issues.
Now, this model is a 100% latex mattress. It comes in three thickness and three firmness levels. You can pick a 9-inch, a 10-inch, or a tall 13-inch mattress depending on your personal preferences. You can also choose between soft, medium, and medium-firm options, which means there is a mattress model suitable for any sleeping position.
The best thing about Botanical Bliss is the quality of the materials used. It features certified organic latex, a natural wool lining, and a non-woven organic cotton cover. Such a combo results in both safety and great comfort levels.
The worst part is the fact that this mattress is rather expensive. Of course, this is natural given the quality of its materials. Still, this factor makes Botanical Bliss unsuitable for some users, especially people who are on a tight budget.
"A quick note: the Plushbeds company offers financing to its customers. You can even get 0% if you pay the full sum within 6 or 12 months. This can be done using the Klarna offer, which you can pick at checkout when buying your mattress."
Now, let's look at some of the pros and cons:
Despite some minor flaws, Botanical Bliss is definitely worth your attention. It is natural, comfortable, and even comes in different firmness and thickness options.
check out botanical bliss mattress on plushbeds.com
The greatest Luxury Bed for Scoliosis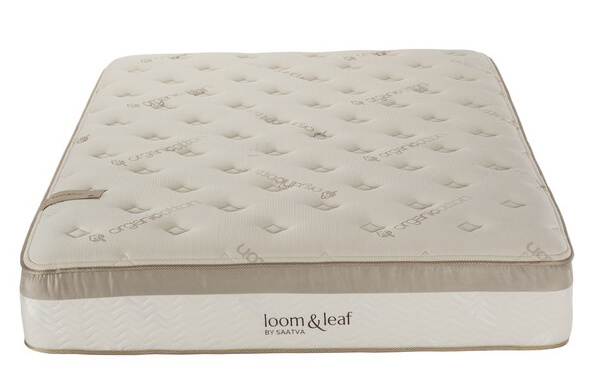 This model deserves to be called the best luxury mattress for scoliosis for a number of reasons. It offers great pressure relieving properties and has a very luxurious feel, even though it doesn't cost too much.
Loom and Leaf is a pure foam mattress. It has two base layers, which serve to support your body and keep your spine properly aligned (which is crucial for scoliosis patients). The comfort layer provides cradling, ideal for pressure relief. And the top gel layer ensures that you will not sleep hot.
The coolest thing about this model is its balanced feel. It has just the right amount of cradling, which is exactly what makes it feel so soft and comfy. However, it also supports you nicely and doesn't let you sink in too deep. It's ideal for scoliosis patients and can easily keep your spine in a neutral state.
As for the worst thing, I think this mattress's edge support might really disappoint you. Especially if you need a larger sleeping space or tend to roll over to the edge during the night.
Moving on to the pros and cons:
To be honest, I really feel like Loom and Leaf is an affordable luxury. It feels and looks like an expensive high-end model while being sold at a relatively reasonable price. Moreover, it is very comfortable!
check out Loom & Leaf on loomandleaf.com
The Most Suitable Memory Foam Mattress for Scoliosis patients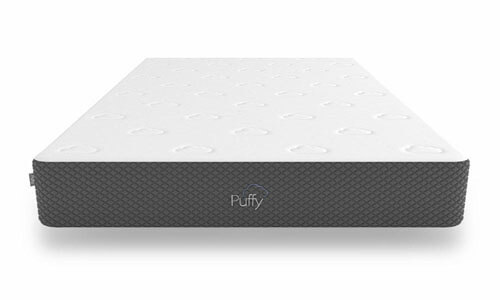 Puffy has the potential to become the best bed for scoliosis. It is comfortable and simplistic. It's a perfect option for people who aren't looking for models with bells and whistles and simply want good pressure relief and support.
Here's the deal:
This is a foam mattress, which means it offers enough cradling for your pressure points.
The base layer is quite dense and adds more support to the whole construction. The top layer has a cooling effect thanks to its Cooling Cloud technology. It also provides some extra softness and a gentle hugging effect.
The absolute best thing about this top-rated mattress for scoliosis patients is the pressure relief that it provides. Puffy is cradling and adjusts easily to your body, gently hugging the pressure points and providing pressure relief. It is especially good for side sleepers.
As for the bad stuff, Puffy might be too soft for two categories of users: heavier sleepers and back/stomach sleepers. Because it's rather cradling, it will allow too much sinkage for heavier users. As for the stomach/back sleepers, this mattress is just not stiff enough.
Consider the following pros and cons:
Despite some flaws, Puffy is a great mattress. It is plush and offers superb pressure relief, which so many users will appreciate.
check out puffy mattress on puffy.com
Alexander Signature Series by Nest Bedding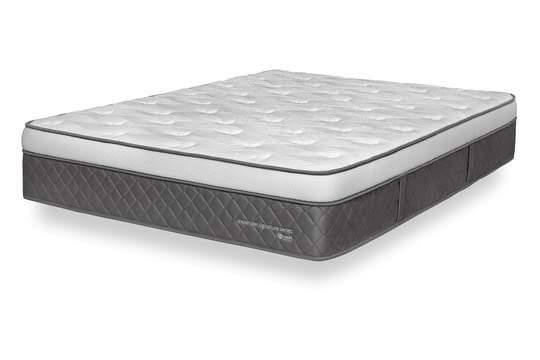 Why does this mattress offer the best value for money? Let me explain. First of all, it is very nicely made. It also has a smart and effective construction, which makes this mattress super comfortable.
And it gets better:
This model has a very luxurious feel while being sold at a relatively reasonable price.
Now, there are 4 different foam layers. The top one is gel-infused, which means this mattress has good cooling properties. Additionally, there is a SmartFlow foam layer. It also adds breathability. This mattress comes in 2 firmness levels, medium and luxury firm. So, no matter what your favorite sleeping position is, you can get a suitable bed for yourself. You can also get the split King and Cal Kings sizes for you and your partner.
What makes this mattress great is, again, the value for money that it offers. The combination of the materials, layers, comfort levels, and the option to choose between two firmness levels is a really great deal, in my opinion. Usually, such a mattress would cost around $3,000. But Nest Bedding sells it for $1,199 (Queen), which, in my opinion, is almost a bargain.
The worst thing about this model is its edge support. The foam is just too soft around the edges, which means you won't be able to comfortably lie there. This limits your sleeping area, which might be a huge drawback for some users.
Let's see the main pros and cons:
Even though this mattress has a couple of drawbacks, it still has the potential to become your most favorite and comfortable bed. It's great for scoliosis and different sleeping positions. Just pick the firmness level and enjoy your restful sleep.
check out alexander signature mattress on nestbedding.com
The Most Eco-Friendly Mattress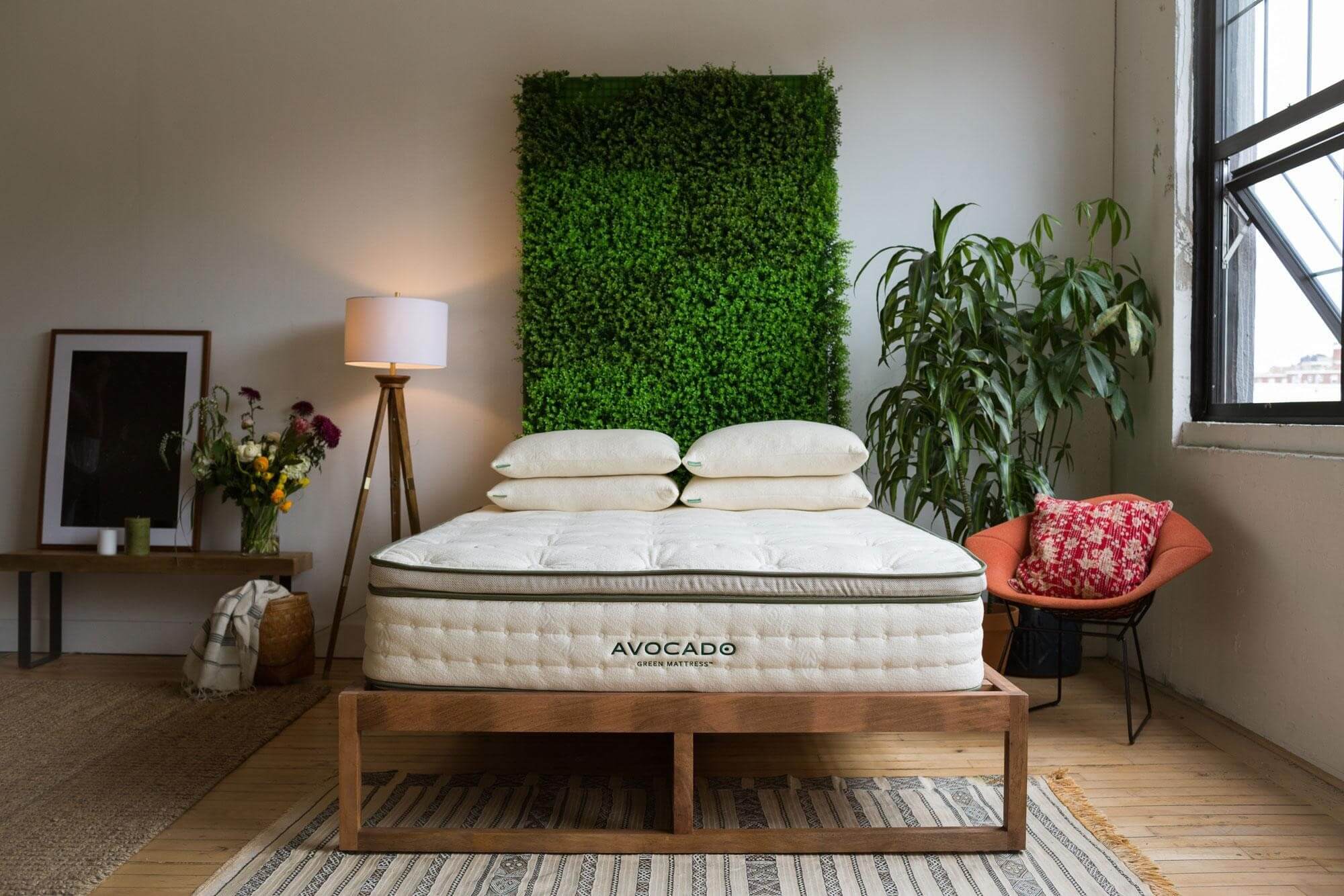 Yet another option in this selection of the best beds for people with scoliosis. However, the title of the most eco-friendly mattress of all time may even suit it better because the company follows its eco mission to reduce carbon footprint during the production process.
Avocado refused to use adhesives and replaced them with good old binding. Hand-tufted wool rosettes on the top actually go all the way through the bottom and hold the latex layers and coils together.
The second feature is upcycled steel coils. They offer the same precise contouring and spine support but require much fewer resources to be produced.
And finally, there's natural Dunlop latex as a comfort layer. This material has great pressure-relieving properties and keeps you cool in any position.
So, what I really like is the fact that by purchasing the Avocado green mattress, you're actually going green. Sleeping on this bed will be the most eco-friendly and restorative sleep in your life.
The only issue I've found is the price you have to pay for making your life greener. The combo of high-quality and natural materials will cost you a pretty penny. And if you aren't ready to spend more for a mattress, it makes sense to consider budget options.
Take a look at the pros and cons:
The Avocado is simply awesome and definitely worth every dollar spent. If you don't mind to invest quite a sum, I would definitely recommend you purchase it.
check out avocado mattress on avocadogreenmattress.com
Studying the Essence: Which Material Is the Best?
Listen to me: what you sleep on is important, especially if you have back issues. And before buying a mattress, you should learn about the most common materials used in them:
Memory foam

. This one, by far, is the most popular choice for millions of people. It is contouring, responsive, and is able to easily adjust to your body shape, which makes it great for the pressure relief.

Innerspring

. Oftentimes being combined with foam, the coil systems in mattresses provide bounciness and support. Plus, such mattresses are usually more affordable.

Latex

. This material is great for sleeping cool but also provides moderate cradling and decent levels of support.

Hybrid

. Being a combination of the three aforementioned types of materials, hybrid beds are able to give you the best of memory foam, latex, and coils. Their properties differ depending on the construction and layers, but there are many models that can work great for people with scoliosis.
Listen to Your Body and Mind Your Sleeping Position
Here's the deal:
This rule applies to all mattresses, not only the ones for someone with scoliosis. Your favorite sleeping position is one of the most important factors.
Now, if you're a back sleeper, your mattress shouldn't be soft. No matter how comfortable, plush, and cloud-like it feels, a soft mattress won't be able to support your body properly. It won't help you with the correct spine alignment either. You should give your preference to the firm models, the ones that can keep your body in a neutral position.
As for the side sleepers, you might feel more comfortable on a medium firm mattress with a bit of padding. You see, when we lay on our side, we require the mattress to contour our bodies in order to "hug" the pressure points and relieve their stiffness.
Sleeping on your stomach is not recommended, especially when you have scoliosis. Now, I realize that changing your favorite sleeping position is hard, but you should seriously consider doing that since sleeping on your stomach can actually aggravate your condition.
Other Points to Consider
Now, aside from materials and firmness levels, your choice of a mattress should be based on other factors too. For scoliosis patients, some of those factors have the highest importance:
Support

. If you don't want to make your back issues even worse, you should concentrate on finding a sleeping surface that will be able to support your body equally from head to toes. Mind that cheaper mattresses tend to sag over time, and the worst thing is that you might not even notice at first because it happens gradually. Sagging means the surface you sleep on becomes unlevel and changes in your spine begin.

Conforming and pressure relief ability

. While some beds have the ability to contour your body, cradling your pressure points and thus reducing pain, others have no conforming properties at all, which means you not only get no pain relief but also might give you new pains and aches in the parts of your body that didn't disturb you before.

Motion isolation

. Another factor to consider for people with scoliosis, motion isolation stands for the ability of a mattress to absorb movement. People who suffer from pains at night might be more sensitive to their partner's moving in their sleep and hence they are easier to wake up. If that's about you, pay attention to memory foam and foam mattresses, as they usually respond to movement slowly and therefore provide better motion isolation.

Noise

. Similarly to the previous point, you might want to get a bed that doesn't make noise when you or your partner move at night. Be careful with innerspring and hybrid mattresses, as they have a coil base that might be squeaky.

Trial and warranty

. I encourage you to always check the conditions under which you can return the mattress, whether it's because it didn't work for you or because it was defective. Sleep trial conditions provided by different brands may allow you to test your new bed during the period from one month to one year. As for the warranty, it is usually at least five years and up to a lifetime. Please, before you make a purchase, take time to read the conditions carefully to understand what is considered a defect and what is not.
Conclusion
People with scoliosis suffer from different symptoms, have different pain points, and deal with various back issues. Therefore, there isn't a universally comfortable mattress for all. However, I have a couple of good ones to recommend to different users.
If you are a back/stomach sleeper and need great support with a moderate amount of cradling, consider Loom & Leaf by Saatva. This mattress is more on the firmer side, which means it will keep your spine properly aligned while offering moderate padding for superb comfort.
However, if you are a side sleeper and need something softer, Alexander Signature Series by Nest Bedding might work the best for you. It is cradling and plush, with a decent level of support.
Have you picked your favorite? Which one is it? Let us know in the comment section down below!
Additional Resources:
Best Mattresses For Back Pain Sufferers – Buyer's Guide And Our Top Picks
Best Mattresses For Arthritis And Fibromyalgia Sufferers – Buyer's Guide And Reviews
Product links on Happysleepyhead are referral. We get a commission on purchases made through our links at no additional cost to you. More information in my disclosures.