Alexander Hybrid Mattress Review
by | Last Updated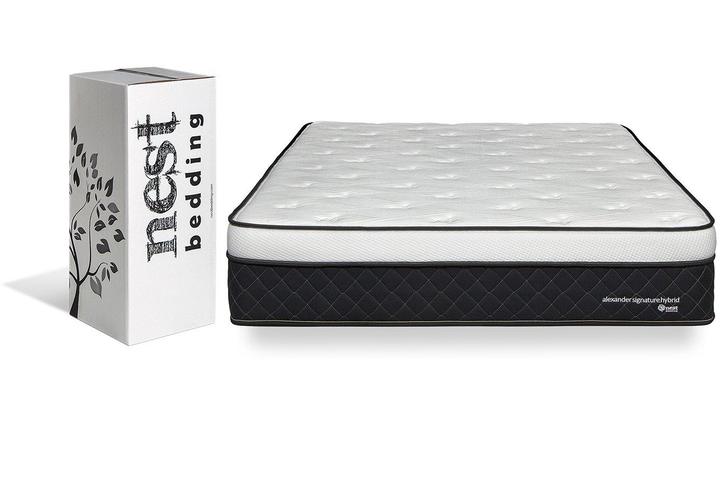 Nest Bedding is one of the most famous and successful mattress brands on the US market today.
Their Alexander Signature Hybrid mattress is their best-selling model.
I set out on a quest to find out why it's so popular, what makes it special, and if it's really worth the money. In today's Alexander Signature Hybrid review, you're about to learn what I've found.
Construction and Layers
To start this Alexander Hybrid review, let's peek inside the mattress to see the materials used and their characteristics:
Pocketed coils

. Measuring 8 inches thick, the coil system is zoned to provide better support in the areas where your hips and shoulders will be placed. Also, the coils are pocketed, which ensures even weight distribution and minimized motion transfer.

SmartFlow Support Foam

. This 1-inch layer serves to isolate the coils and provide a smoother transition to comfort layers. It's not a solid piece of polyfoam but is — how they call it at Nest Bedding — "punched", meaning the material has holes designed for improved airflow.

Energex Foam

. Energex, as one of the most recent innovations in the world of foams, is known for its bouncy feel resembling latex and decent pressure relieving ability similar to memory foam. It doesn't trap heat like memory foam, plus it's infused with copper, which helps the material to pull heat away from your body. This layer is 1.5 inches thick.

TitanChil Endurance Foam

. The upper comfort layer is made of a 1.5-inch piece of convoluted foam. Such design promotes air circulation inside the mattress. Besides, this layer offers great conforming and pressure relieving properties.
As you see, this model is made of different foam layers lying on top of a coil base. As a true hybrid, this mattress is supposed to combine the best of all the used materials, eliminating their drawbacks.
Did the company manage to turn this idea into reality?
Do all the layers work together well to offer you the ultimate sleeping experience?
That's what we're about to find out in this Alexander Signature Hybrid mattress review.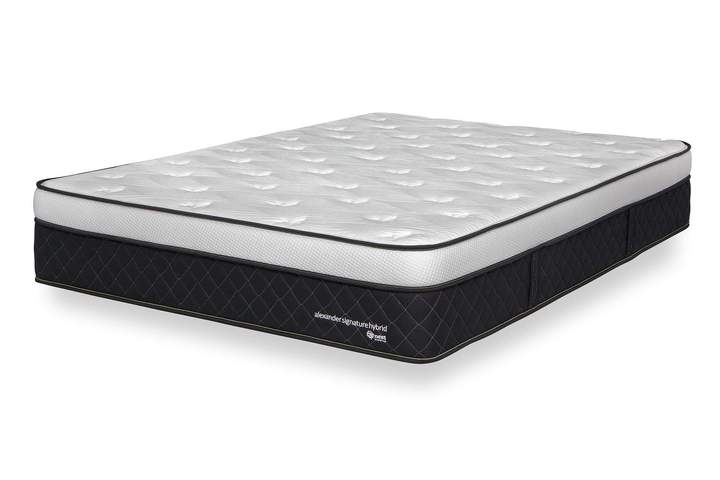 Cover
Let's move on to the cover. I was honestly surprised to see what the Alexander Hybrid uses to wrap up all the layers. It's a soft fabric quilted with 1.5 inches of memory foam.
What makes it unique?
The fact that this fabric is a phase-change material, which means it's very good at maintaining stable temperatures. Plus, the memory foam is infused with cooling gel. These two special features allow the cover to remain thermally neutral, which perfectly suits people who tend to sleep hot.
Another thing I loved about this cover is its soft feel and premium look.
BUT there was a drawback too. The cover is not removable, so getting rid of spills, as well as regular cleaning, might be challenging. I recommend using a mattress protector to avoid the fuss of spot cleaning.
"Please, always get familiar with the warranty conditions on the company's website so that you didn't accidentally violate them. Pay special attention to such things as what bed frame the manufacturer recommends, or what cleaning solutions they approve, etc."
Firmness and How It Feels
I chose a medium Alexander Hybrid mattress to review, but this model is also avail
able in two more firmness options — plush and luxury firm.
It's worth to note here:
People with different body weight have a different perception of firmness.
I am an average sleeper (200 lbs, 6.4 feet) and I found this mattress to be just as firm as advertised, which is about 6 out of 10. But heavier people might feel it's slightly softer than that, while lighter sleepers, on the contrary, could rank it firmer.
Now, the quilted memory foam top made me feel as if the Alexander Signature Hybrid was a pillow-top mattress. As soon as I lie down on it, it softly cradles my whole body, providing excellent pressure relief.
As I have mentioned above, the company uses Energex foam and pocketed coils, which altogether make it more responsive than mattresses comprised of memory foam layers only. When I apply some pressure with my hand, the surface quickly springs back. This makes me think the Alexander Hybrid will work great as a mattress for sex.
Edge Support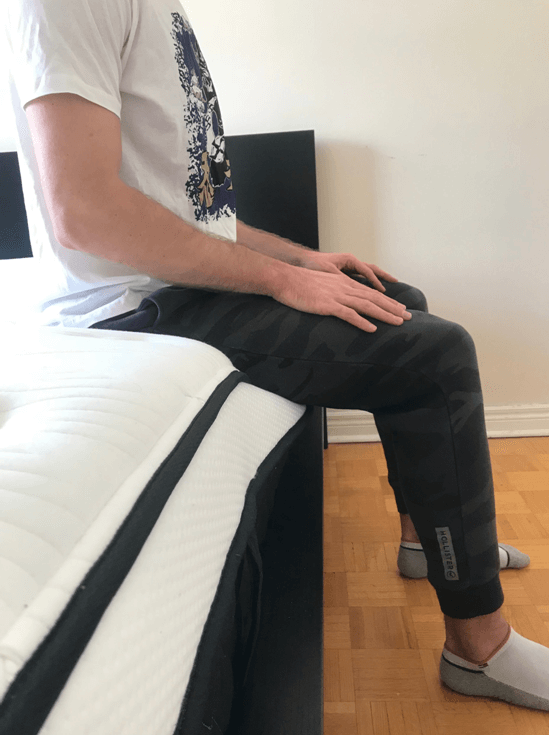 When it comes to edge support, this model by Nest Bedding showed better performance than I expected given the fact that it has three foam layers.
In case you don't know, foam beds generally offer weak edge support. But the Alexander Signature Hybrid has a coil foundation with strong edges, which makes it more effective in this aspect.
Here's how it works:
The pocketed springs are reinforced around the perimeter of a mattress so that when you lie on the edge, you don't feel like falling as long as you are supported by those edge coils. However, the foam layers do compress to some extent under your weight.
"If your partner loves cheating you out of your half of the bed, the Alexander Hybrid's reinforced edges won't let you find yourself falling on the floor."
If you are a heavier user (weighing more than 250 lbs) who wants decent edge support, you should consider a firmer option. The medium option I was testing would probably compress too much at the edges under the weight of 250 lbs and more. You might want to check out my review of mattresses for heavy sleepers.
Another important thing to mention, with the edge support the Alexander Hybrid provides, it's easy to get in and out of bed, which is a plus for elderly people and someone with back issues or pain.
Motion Transfer
If you're going to share this mattress with your partner, this section of my Alexander mattress review
will be useful for you.
Whether it's you or them who moves a lot at night, with this bed disturbance is minimal. The mattress will absorb movement quite well, even though it features springs at its base, because the quilted cover and the top comfort layer are made of foam.
Note that if your partner and you have a noticeable difference in weight, the disturbance will be more noticeable too. But overall, the motion isolation levels are more than decent.
Sinkage Tests
Now, if you expect this mattress to provide you with a generous amount of sinkage just like all-memory-foam mattresses do, I have to disappoint you. It won't.
Here's why:
This model uses Energex and polyfoam, which don't offer that hugging effect typical of memory foam.
BUT, in a combination with the memory foam quilted in the cover, these layers will offer enough sinkage for you to feel pressure and pain relief. You will sink but won't feel stuck and will be able to move around the surface freely. I should say, the Alexander Signature Hybrid offers an ideal balance between being responsive and being cradling.
Obviously, your weight is important here again. Lighter sleepers will stay more on top of the mattress, while heavier ones will fall a little deeper.
Smell and Off-Gassing
I know that off-gassing can literally ruin the impression about a new mattress. Let alone how alloying it can be for people who are more sensitive to smells.
So, here's the good news for all of us:
The Alexander Hybrid doesn't omit chemical odors.
"Nest Bedding makes natural products from certified materials only, which is why the chances of your smelling any chemicals are minimal."
When unboxing, I didn't even notice off-gassing typical of all fresh-from-the-factory products, so I slept on it the day I had it delivered.
Alexander Signature Hybrid for Different Sleeping Positions
Unlike many reviewers, we do sleep on the reviewed mattresses at least three consecutive nights, which allows us to give you experience-based impressions about each model and explain how they perform in real life more accurately.
My wife and I were sleeping on the Alexander Hybrid mattress for 4 nights in a row. The day we started she had mild lower back pain, which was caused by the mattress we'd been testing before. In case you're wondering, it was a seven-year-old memory foam bed we were testing for a whole week in order to see how sagging affects sleep quality. And since I've touched this topic already, I must warn you:
Don't try to save on such thing as a mattress.
No memory foam mattress can live as long as seven years and remain supportive. So, if you notice any sagging, get a new bed and save your health.
Now, I am a combo sleeper, but most of the night I sleep on my side. For the purpose of this review, I tried to sleep in different positions to understand how the Alexander Signature Hybrid would work for different people. Here are my thoughts:
Because your body is distributed and supported evenly on the surface, this mattress works great for back sleepers (especially the ones with health issues like upper back pain, lower back pain, scoliosis). When you're lying on this bed, your spine is aligned naturally, which reduces aches and ensures a restful sleep.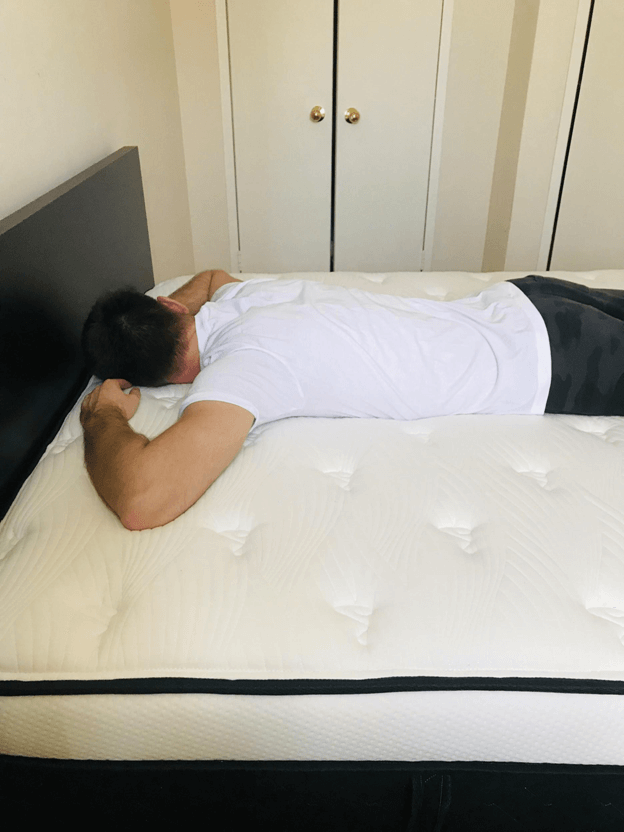 Two out of four nights I tried to sleep on my stomach and, I should say, felt supported pretty well in all parts of my body. There definitely weren't any unnatural curves in my spine. However, I feel that a firmer Alexander Hybrid option might work for stomach sleepers better, especially if they weigh more than 250 lbs. Also, on one of these two nights on my stomach, I slept without a pillow. The mattress easily conformed to my head and shoulders and allowed the neck to quickly find a comfortable, relaxed position.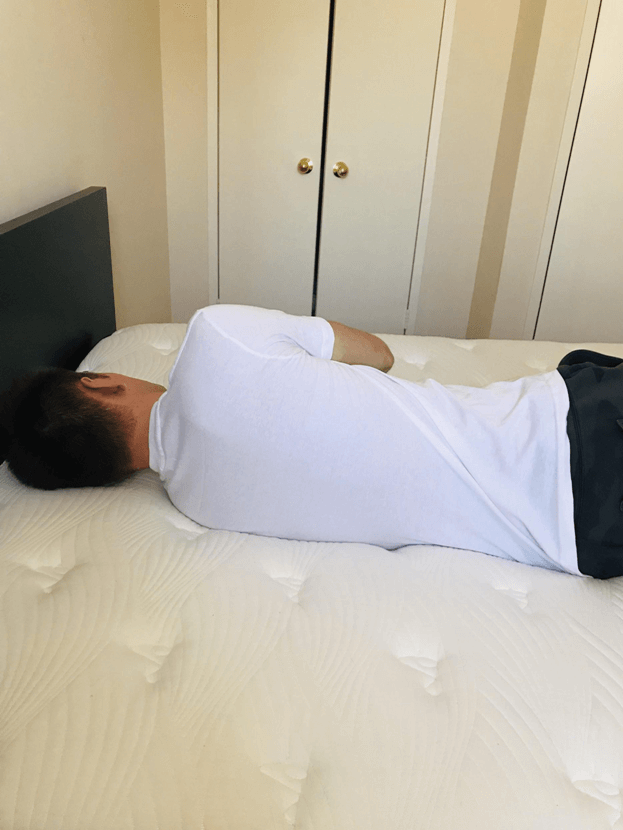 Again addressing the ability of this mattress to contour to your body, I must admit that you will feel comfortable sleeping on your side. The most problematic areas — shoulders and hips — sink in deeper, which reduces the pressure. That's the property of the top foam layers.
Something You Should Know
If you're a couple with different favorite sleeping positions and weight, here are the good news for you:
You can get a dual-sided version of the Alexander Hybrid in King and Cal King sizes!
Dual-sided mattresses are growing in popularity today, being a real lifesaver for couples with different needs and preferences. For example, if you're an average side sleeper, a medium firm option would work great for you. And if your partner is a heavier stomach sleeper, they might be more comfortable on a firmer option. With Nest Bedding, you can have two firmness levels in one mattress. Isn't it great?
The Good and the Bad: Overview
This mattress does perform outstandingly well in different aspects, but there surely are some weak points too. Have a look at the all side to side:
| Size | Price |
| --- | --- |
| Twin | $799 |
| Twin XL | $899 |
| Full | $1,099 |
| Queen | $1,199 |
| King | $1,499 |
| Cal King | $1,499 |
| Split King (both sides) | $1,799 |
| Split King (one side) | $899 |
| Split Cal King (both sides) | $1,799 |
Check Availability on Nestbedding.com
Compared to other hybrid models, the Alexander Signature Hybrid is very reasonably priced. But if you don't want to spend much money on a new mattress right away, you can check if you qualify for financing. In case you do, you will be able to pay as little as $67 a month (during 18 months for the Queen bed).
And the best thing is:
You won't have to pay any interest. It's 0% commission!
Shipping, Returns, Guarantees, and Trial
Nest Bedding delivers their mattresses compressed in a box. The shipping is free, except for Alaska and Hawaii, and may take up to 5 days (for the shipping itself) plus a few more (for the company to build your bed). In most cases, you will receive your order within a week.
Now, in case the size, firmness level, or any other characteristic of your new mattress doesn't work for you, you can file a return and get your money back. Generally, 2 months is enough to understand if the mattress matches your expectations. Nest Bedding gives you 100 days for that.
"Just like most companies selling mattresses online, Nest Bedding requires you to wait for 30 days for the mattress to break in before you can claim that it doesn't suit you. But unlike its competitors, it allows you to still return the mattress before the 30th day if you pay a restocking fee, which is 25% of the purchase."
All Nest Bedding mattresses come under a lifetime warranty, which ensures you are protected in case of receiving a defective item.
But that's not it:
If the 100-night trial is over but you realize your bed isn't perfect for you in terms of firmness, which is not covered by the warranty, Nest Bedding offers you to replace the top layers of your mattress.
You will still have to pay 50% of the original purchase, though. But you won't have to buy a whole new mattress, which is a plus.
Recommendations and Takeaways
Having analyzed the Alexander Hybrid by different criteria, let's sum up who will feel most comfortable on this bed:
Couples. With a decent level of motion isolation and improved edge support, this mattress is a great choice for couples. It's quite bouncy and doesn't suck you in, so it can serve as a great bed for sex. Plus, in case you and your partner have different body parameters and personal preferences, you can get a dual-sided option.
People who want a balance between cradling and bounce. This bed does provide sinkage to some level, which is enough to ensure pressure relief, but it doesn't make you feel stuck. It offers a very balanced feel, that's for sure.
Someone who wants the best value for money. The Alexander Signature Hybrid comes in three firmness options, but the medium model I was testing showed almost equal effectiveness in all sleeping positions. I was impressed by the versatility of this mattress, quality build, smart construction, luxury look, and the fact that it all comes at a very affordable price compared to other hybrid mattresses.
Check Alexander Signature Hybrid Mattress on Nestbedding.com
About Nest Bedding
The company began operation in 2011, meaning it's been around for almost a decade.
Unlike many competitors, Nest Bedding has their own factory in the USA. Plus, there are eight showrooms in different states, where you can see the mattresses with your own eyes and touch them with your own hands.
Judging by reviews, the company's customer service is outstanding. If you decide to return your mattress, they will arrange a fuss-free pickup and assist you all the way, whether you want to get a full refund or a replacement.
You can contact the company via email [email protected] or by phone 1-888-992-2001
Or, find the needed information at nestbedding.com
Other Nest Bedding Mattresses
Apart from the Alexander Signature Hybrid, Nest Bedding has a few more models in their lineup, which all differ in their construction to cater to the needs of different people:
Alexander Signature — This one is the second most favorite choice of Nest Bedding customers after the Alexander Hybrid. It's an all-foam mattress that comes in medium and luxury firm options. This series has appeared in our top memory foam mattresses, best firm mattresses, and best mattresses for scoliosis.
Love & Sleep — This one must be the most basic model in Nest Bedding's lineup. Available in medium and firm options, this a foam mattress that features an Energex foam top layer for better bounce than typical memory foam beds. It has appeared in our best mattresses for arthritis and fibromyalgia sufferers, best King mattresses under $1,000, and best mattresses for stomach sleepers.
Latex mattress series — We haven't tried mattresses from this series yet, but judging by customer reviews, they look quite promising. There are a few different construction options here — hybrid latex (which has coils, foam, and Dunlop latex layers) and all-latex (which has Dunlop and Talalay latex layers). They all come in different firmness options.
BKB Kid's Mattress for kids — With our kids' safe and comfortable sleep in mind, Nest Bedding has designed a special kids mattress. Although it's quite simplistic, featuring only two foam layers, this mattress does perform well. No wonder it has taken its place in our review of best mattresses for kids.
Materials and quality

Support

Cradling

Edge support

Motion isolation

Cooling

Warranty and trial

Off-gassing

Company reputation

Value for money
Product links on Happysleepyhead are referral. We get a commission on purchases made through our links at no additional cost to you. More information in my disclosures.