The 7 Best Mattresses For Heavy People in 2020 – Reviews and Buyer's Guide
by | Last Updated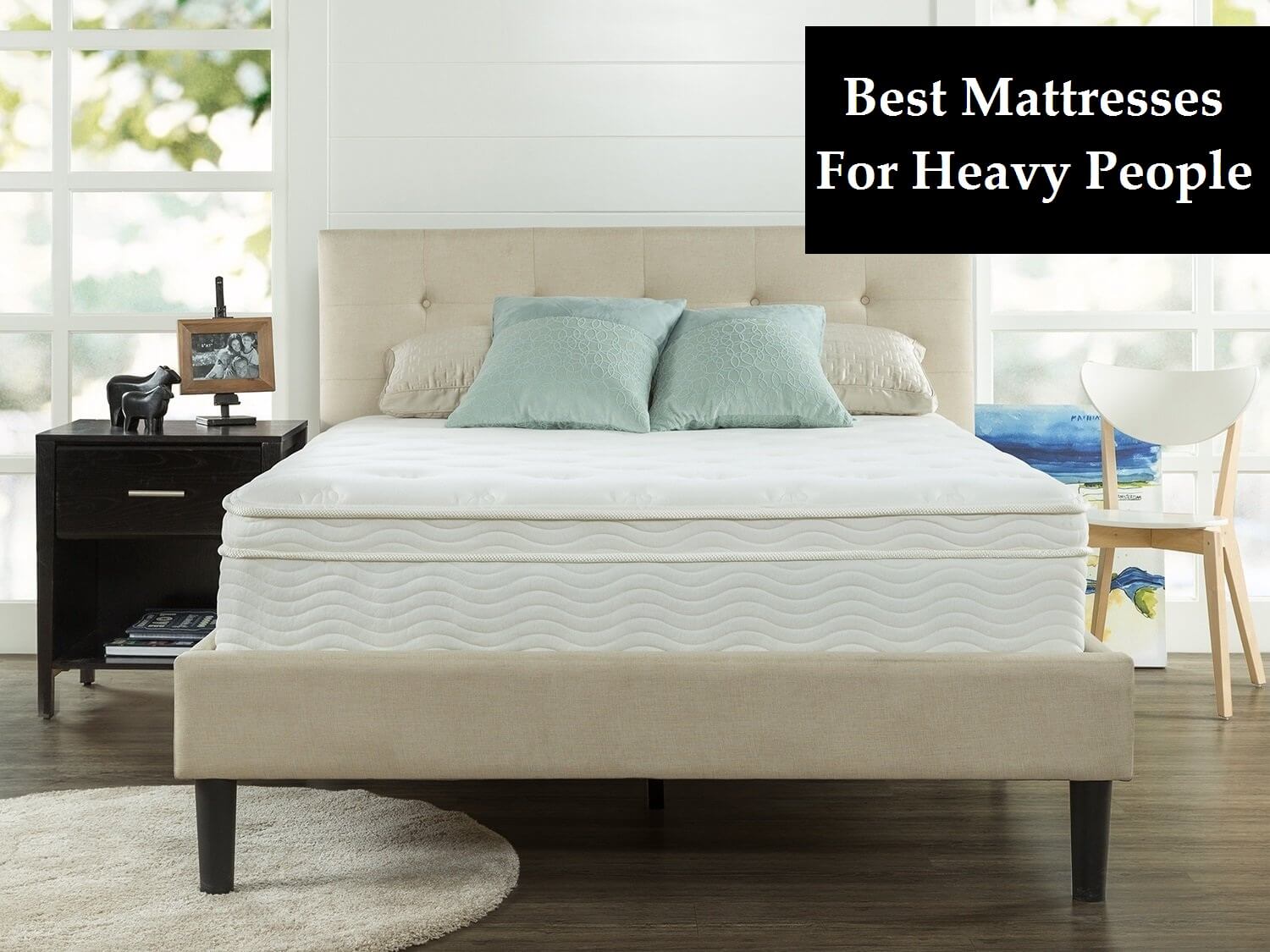 Being a heavier person, have you ever woken up from that unpleasant feeling of sagging into your mattress?
Or with a backache or even a headache?
If the answer is yes, your mattress is probably not good for you.
But worry no more: I've prepared 7 best mattresses for heavy people. Each of them offers great comfort and support levels, so start reading and pick your perfect bed!
Company name

Type
Layers
Warranty
Trial
Rating
Avocado
Hybrid
1,2" New Zeland Wool
4" Dunlop Latex
8" Innerspring Unit
1" Dunlop Latex
10 years
100 nights

ZenHaven
Latex
1.5″ Talalay latex
3″ Talalay latex
3″ Talalay latex
1.5″ Talalay latex
20 years
120 nights
Sleep Innovations
Memory foam
Quilted microfiber cover;
Memory foam comfort layer;
Dense foam base
10 years
100 days
Winkbeds
'Coil-on-coil' hybrid mattress
Five layers (euro-style pillow top, foam-encased coils, edge support, steel coil, foam foundation)
10 years
101 days
DreamCloud
Hybrid
High-density memory foam base layer;
Foam-encased pocketed micro coils;
Dense memory foam layer;
Supportive memory foam;
Natural latex layer;
Soft quilted memory foam;
Gel-infused memory foam layer;
Cashmere blend cover.
Lifetime warranty
365-night trial
Titan
Hybrid
Tencel cooling cover;
Gel memory foam comfort layer;
Titanflex foam comfort layer;
Pocketed coils system;
High-density foam base
10 years
120 days
Saatva
'Coil-on-coil' construction
Four layers (comfort, lumbar support, comfort + support, support)
15 years
120 nights
Superb Natural Mattress for Heavy People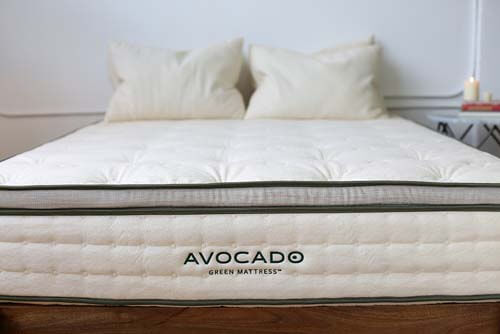 Please accept my recommendations regarding mattress designed by Avocado. It suggests you the luxurious feeling of cress for heavy people.
Avocado has all the right to be called the best and the safest mattress for plus-sized sleepers. It offers a great support level and a proper spinal alignment, which promise the benefits for your well-being and a superb comfort. Additionally, this is a green mattress, which means it is made of natural and safe materials. To me, that's an awesome combo of features.
Now: Layers
GOTS-certificate proves high quality of natural material used in the cover. Airflow allows it to breathe easily and give you a smooth feeling.
Construction of the layers is the following:
Joma® New Zealand Wool. It is specially designed to avoid any heat retention.

Dunlop Latex layer suggests you required and constant support throughout the night.

Coil system is constructed specially to provide obligatory support for spine alignment. Motion isolation is on the high-level thanks to coils location.

Base Dunlop Latex plays a foundational role and improves the firmness necessary for comfortable sleep.
What is really great with that mattress?
Thanks to non-toxic and 100% natural materials, my dream was uninterrupted and bright. Latex proved by American certificate provides soft comfort. Coils pocketed in zones guarantee proper support to your tired spine.
What is wrong with that mattress?
Not everyone likes too firm option during the sleep. I didn't like as I am a side sleeper. I prefer when mattress contours my body.
check out avocado mattress on avocadogreenmattress.com
Best Latex Mattress for Overweight Sleepers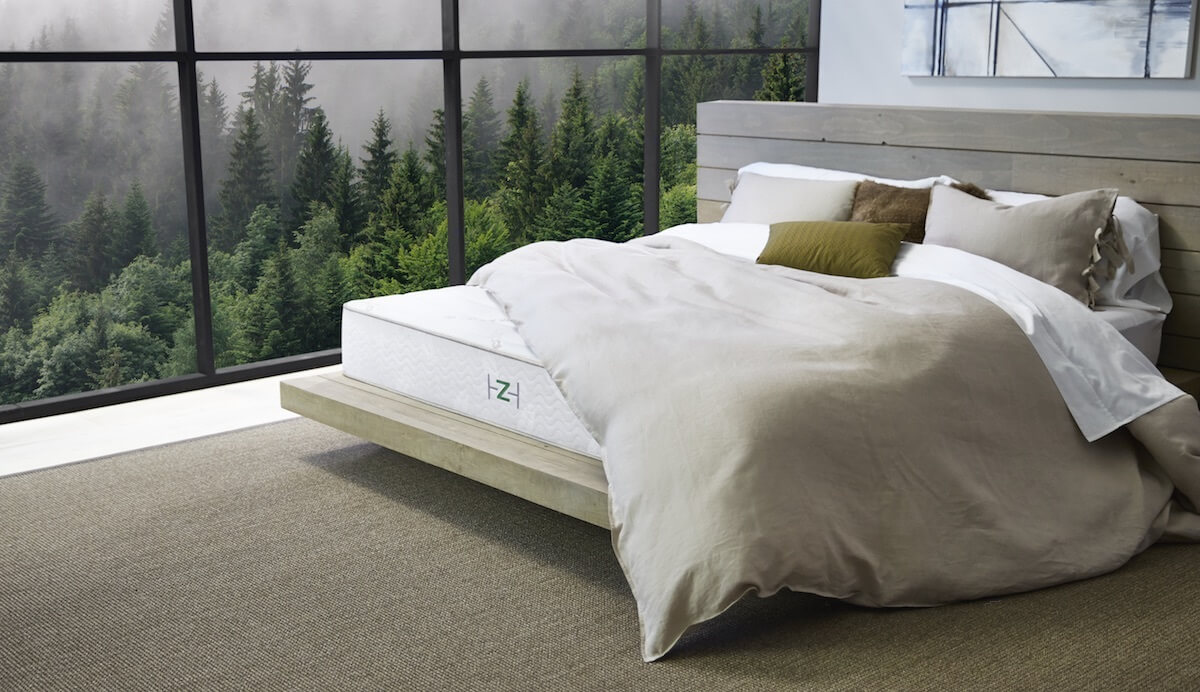 What makes this model the greatest latex mattress for overweight people is, of course, its construction. Because this is a 100% latex model, it is very bouncy, resilient, and supportive, which makes it ideal for different sleeping positions. Additionally, it offers a decent amount of sinkage, offering some pressure relief and superb relaxation.
Construction of the layers is the following:
Talalay latex is designed specially in order to give you cooling feeling and required comfortable sleep thanks to five zones.

Thicker next layer of the same latex is constructed to provide a high level of pressure relief and support.

One more Talalay layer acts as a transitional support and at the same time, it is created to guarantee immediate push support and respective firmness.

The base layer is usually great support for above layers, and, in case of the flip, it can be comfortable as a top layer.
Organic cotton is the material of the cover, which guarantees breathability and smooth and pleasant feeling. Joma wool is on each side of the cover and it is able to pull heat away while you are sleeping. Moreover, such wool has hypoallergenic facilities.
Latex tends to contour to the area around your body with less of a defined hug. ZenHaven can propose you two option of firmness: plush (4.5-5 out of 10) and firm one (6.5 out of 10).
What is really great with that mattress?
I have tested both versions of firmness and explored that 100% latex is able to guarantee more bounce with the best cooling effect. Due to implemented five zoned system you can be confident in support of your spine, especially if you have not standard weight.
What is wrong with that mattress?
It was really hard to me to sit on the edge. Motion isolation is not on the best level. You should take it into account if you plan to purchase it for couples. This mattress will not give sinking feeling as memory foam.
check out zenhaven mattress on zenhaven.com
The Best Budget Option for Heavy Sleepers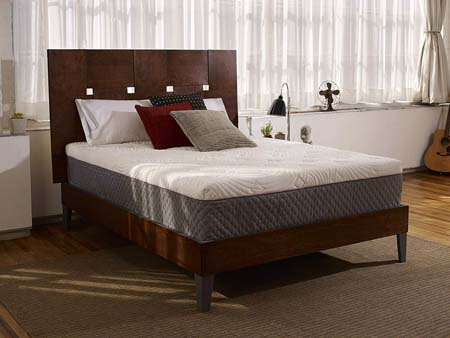 Even though it's a budget-friendly option, the Sleep Innovation mattress is no worse than luxury beds. It has a simple yet thoughtful construction resulting in the medium feel. It can help heavy side sleepers relieve their stiff hips and shoulders while supporting natural spine alignment.
Let's outline the construction of this model:
soft

quilted cover fabric

with a plush feel;

a layer of

Sure Temp memory foam

that sleeps cooler compared to traditional memory foam;

dense and

supportive foam base

that absorbs motion and provides consistent support.
The best thing is that you get all these features topped with good durability for a very appealing price. So, if you're short on budget, this is your go-to option.
The main drawback is that this bed may sleep hot. Despite the innovative materials, it still isn't a good choice for hot sleepers.
Check out this mattress on amazon
The Most Suitable Firm Mattress for Overweight Sleepers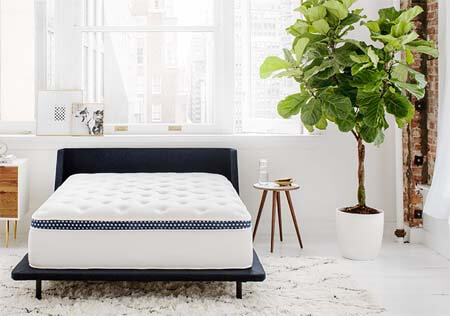 What makes Winkbeds Plus stand out from the competitors is the firmness level it offers and a smart construction it features. Ideal for heavy people, this mattress is supportive enough to hold even obese couples. It is also rather bouncy and responsive thanks to its latex layer. And don't worry, it doesn't feel like a brick wall: the top foam cushion provides enough padding and contouring for you to feel comfortable.
Now, let's look at some of the specs you should know:
The

support base

features the patented 3-zone TexasQUAD coil system (individually wrapped);

The

latex layer

features 7 zones for proper support;

The

foam

is divided into

3 layers

for improved ventilation and a cooling effect;

The mattress features a special ExtraEDGE Support System, which provides users with a larger sleeping area.
The absolute best thing about this mattress is its ability to withstand a lot of weight. I mean, A LOT. You, your partner, and even your doggy (St. Bernard, for instance). The Plus model offers some extra firmness and superb support, which is so important, especially if you weigh more than average.
As for the drawbacks, the biggest one is the noise level. It's not that extreme, don't worry. But it's still rather noticeable, even though the coils are individually encased. This might annoy some users, and I understand them completely.
check out winkbed on winkbeds.com
Best Hybrid Mattress for Big Guys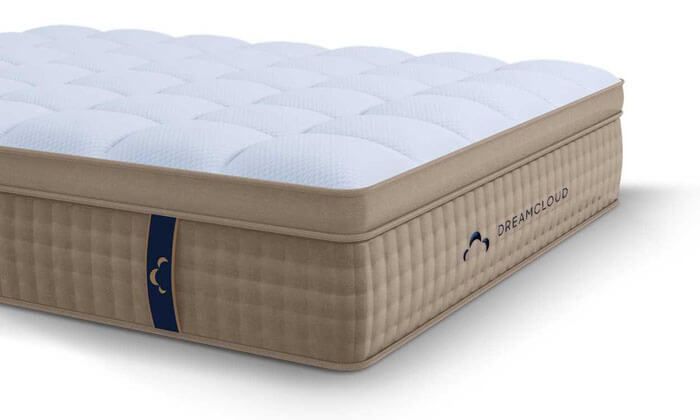 If you are looking for the best hybrid bed for large people, then DremCloud might be the perfect option for you. It is very nicely made, features a smart combination of layers, offers great support levels, and allows for a comfy restful sleep. And in case you still have doubts, the company offers a 365-night trial, which means you will have a whole year to see whether this mattress works for you or not.
Here are some features you should consider:
The mattress features a

combination

of a coil system, multiple layers of memory foam, and latex;

The

cover

is a cashmere + polyester blend, which is super soft and plush to the touch;

The mattress comes with a

lifetime warranty

;
The coils feature a 5-zone support system for an enhanced comfort.
The coolest thing about the DreamCloud mattress is, of course, its hybrid construction. This model offers just the right amount of padding (courtesy of the memory foam), a great support level from the coils, and a good responsiveness from latex. So, just know this: such a construction makes DreamCloud very comfortable.
The worst thing about this mattress is that it might not be suited for side sleepers. You see, DreamCloud is rather bouncy and offers a fast response, which means it might not offer enough cradling for side sleepers and their protruding pressure points.
check out dreamcloud mattress on dreamcloudsleep.com
Best Excellent Edge Support for Heavy People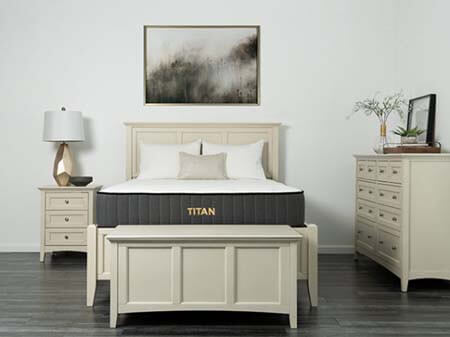 The Titan is a hybrid mattress with pocketed coil system used as a supportive core. Thanks to this construction, the mattress can offer you precise contouring and uniform edge support. This makes the Titan suitable for couples and those who prefer to snooze closer to the side.
Thanks to the firmer feel, the mattress can suit literally all heavy sleepers, as it can withstand the load from their body and evenly distribute it throughout the surface.
Now, let's take a look what's inside:
a layer of proprietary

Titanflex foam

for better cradling;

952 TitanCaliber coils

for exceptional contouring;

overall

breathable construction

that can keep you cool;

an

optional cooling panel

that you can place atop of the mattress to enhance its breathability and cooling properties.
Now, the most prominent feature of this mattress is the edge support it provides. The rigid coil system keeps the sleeping surface uniform and prevents the feeling as if you're rolling off.
The main drawback of this mattress is a pretty strong motion response. In other words, the mattress is really bouncy, and if you share a bed with someone who tosses and turns a lot, this might be disruptive for both of you.
check out titan mattress on titanmattress.com
Innerspring Mattress for a Heavy Person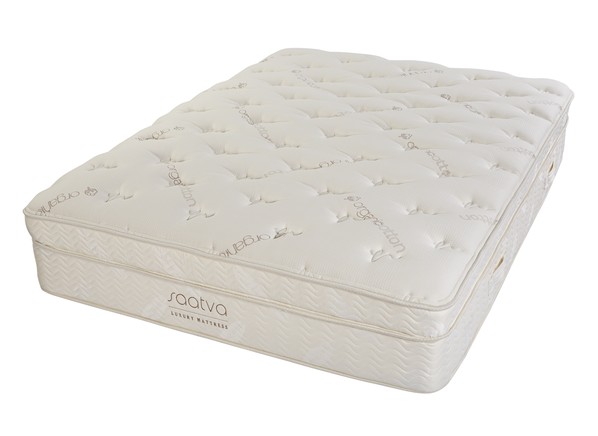 Saatva really is a great find. And what makes it the top-rated innerspring mattress for a heavy man is the quality of its materials and construction. This mattress has everything you might need for a comfortable sleep: great support core, reinforced edges, organic and breathable cover, and even a lumbar support layer. It offers just the right amount of all: pressure relief, cradling, and support.
Here are some other features you should know about:
There are

three firmness levels

available: Plush Soft, Luxury Firm, and Firm;

The

cover

is made of pure cotton;

The mattress is

safety certified

and has a

chiropractic

Seal of Approval;
The coils are made from recycled steel.
The absolute best thing about Saatva is its quality. It is clear that a lot of thought was put into its design. This mattress has all the best from innerspring and memory foam; it is comfortable and it's very nicely made. That's what makes it so great for heavier users: its quality means the mattress will withstand pressure for years.
As for the drawbacks, the biggest one is that this mattress isn't very cradling. I mean, there is some foam padding, but it doesn't provide too much sinkage, which might be a disappointment for people who love the slow-hugging feel of the foam.
"Sleeping hot is common for overweight users. However, there are ways to deal with this issue. You can try getting either a latex or an innerspring mattress since they tend to sleep cooler than foam models. However, there are many foam mattresses these days that use gels or the air cell technology in the foam layers, which leads to them having a cooling effect."
check out saatva mattress on saatvamattress.com
Factors We Look At
Let me just tell you this:
We understand the importance of a good mattress.
I myself struggled for years when I was younger, sleeping on a saggy, soft bed, which didn't support my body weight and made me feel like a sack of potatoes every morning.
That's why when it comes to picking the best mattresses for obese sleepers, we pay our attention to many different factors. The most important of them are:
Quality of the materials

. Obviously, this aspect is very important. The quality of a mattress and the way it is made will determine both its comfort levels and durability. Therefore, we pick only the tested models that show the best results.

Firmness levels and support

. This one is a must if you are a heavier sleeper. More body weight needs more support and proper weight distribution during sleep. We pick mattresses with firmness levels not less than 5-6 on the firmness scale (medium and medium-firm), with a strong core layer that can handle a lot of weight being put on it regularly.

Thickness

. If you weigh more than 200 pounds, a thin mattress will not be able to support you properly. So, to find the

best mattress for big guys

and girls, we usually pick models that are at least 12 inches tall.

Temperature regulation

. Getting hot during sleep is one of the most common issues overweight people have to deal with. We always search for mattresses that have good moisture wicking properties and use breathable materials. Such factors will help with temperature regulation immensely and

improve your sleep quality

.

Durability and warranty

. Obviously, you don't want a mattress that will be good only for a short amount of time. Therefore, getting a good mattress with a long warranty period is always a good idea, and we recommend only durable models covered by great warranty conditions.

Edge support

. This factor is important for those who tend to roll over to the edge of the bed or for people who share a bed with a partner and need a larger sleeping surface. Whatever the case is, good edge support is always a nice bonus, so we pay our attention to this aspect as well.

Pressure relief

. A good mattress has to have great pressure relieving properties. Why? Because when you get proper pressure relief, you are able to relax more. There is less tension on your joints, your body is in a neutral position, and your muscles experience a deeper relaxation. And all of these factors result in a better sleep quality.

Value

. Obviously, a good value for money is always a nice bonus. Just know this: if we recommend an expensive mattress, it is worth every penny. If we offer a cheap option, it's still comfortable and nicely made. Only the best for you, my friend.
Most Common Mattress Types
There are many different mattresses for heavy sleepers. They vary in firmness levels, thickness, and, of course, materials used. Here are the most common types for you to pick from:
Memory foam. Foam mattresses offer superb pressure relief, which really makes them suitable for almost any user. Additionally, memory foam comes in different density options, which means there are firmer and more supportive models for heavy users.
Innerspring

. Spring mattresses are very popular among heavier sleepers. They are oftentimes considered to be the

best-rated mattresses for obese couples

thanks to their firmness, resilience, and good edge support.

Latex

. This material is very bouncy and offers immediate response, which makes it a great option for overweight people. It can provide you with a good support level and a decent pressure relief.

Hybrid

. Such mattresses are a real find, in my opinion. They can feature different combinations of materials, and each user can find something suitable for them. There are combos like spring + foam, foam + latex, spring + gel + latex, etc. Hybrid mattresses give you the freedom to experiment with different materials and find the perfect combo suited for your particular needs.
Which One Is the Best? (Pros and Cons)
Different mattress materials have their special properties and peculiarities. That's why, while one material might work well for some users, it can also be unsuitable for others.
Let's take a look at those types and their benefits and drawbacks. Hopefully, this will help you determine what you need exactly.
I suggest we start with the most popular one, memory foam. Here are the pros:
Excellent pressure relief;

Good support;

Superb motion isolation;

Many options available in a very wide price range;

Rather durable.
As for the cons, here they are:
Tends to sleep hot;

Offers a lot of cradling and good sinkage levels, which some users do not like;

Might sag with time;

Potential off-gassing.
Now, moving on to latex. Here are the benefits it can offer:
Great contouring;

Supportive, bouncy, and responsive;

Good pressure relief;

Tends to sleep cool;

Natural (in the majority of cases) and doesn't have an off-gassing;

Usually comes in a wide variety of firmness levels.
There are some cons as well:
Latex mattresses tend to be more expensive than other types;

Don't provide that hugging feel, which some users prefer.
Innerspring beds are also very popular, especially among larger sleepers. Here are the benefits they bring:
Very supportive;

Do not sleep hot;

Come in many different firmness levels;

Good edge support.
Moving on to the cons:
Tend to sag with time;

Mediocre motion isolation;

Oftentimes, coils are noisy, which can annoy some users.
Finally, let's look at the hybrid beds. The pros include:
Numerous material and layer combinations, so there is definitely an option for everyone;

Don't sleep hot in the majority of cases;

Plenty to choose from.
As for the cons, they include:
Tend to be among the most expensive models;

Still might sag with time, depending on the materials.
Your Pillow Matters Too
Even if you already have a suitable mattress (or have picked the one you are planning to buy), there are some other factors you need to consider. Particularly, your pillow. You see, it directly influences your comfort. Yet, a proper pillow does a bit more than that.
It helps with the proper spinal alignment, which is very important for your health. Additionally, since heavier people tend to suffer from sleep apnea, a good pillow can help with this issue.
Here's the main piece of advice I want to share with you:
Choose your pillow according to your regular sleeping position.
For instance, if you are a side sleeper, you need a thicker pillow, which will be able to fill the space between your neck and shoulder and support your head properly. And if you are a stomach or back sleeper, a thinner pillow will work better for you. Sleeping on such a pillow will allow for a proper spine alignment and will keep your airways unobstructed.
So, which of the reviewed items seems the most comfortable for you? Share your thoughts in the comment section down below!
What type of mattress is recommended for heavy people?
A few factors are crucial and should be considered for overweight or large sleepers. The mattresses observed above are able to give necessary support up to 300 pounds, some versions – to 350-450 pounds.
Let's look closer to the following factors, which help you to choose the most suitable bed for heavy people:
Firmness.

Generally, the mattress is intended to have three versions of firmness: soft, medium and firm. These versions are useful in order to choose the mattress depends on your sleeping positions. In our case, the mattresses which have firmness scale from 4 to 7, for example, are the great choice for overweight people as their weight has a tend to give additional sinking. The mattress with proper firm feeling gives sufficient support throughout the night.

Thickness.

This factor seems to be obvious, but it is worth your attention. Thickness scale should be enough in order to sustain weight over than normal. Usually, 12 inches is balance point for obtainment of deep compression support. The thicker profile is able to provide it to you.

If you have a tendency to sleep near the edge of the mattress or like to spend time on the mattress during the day, sufficient

edge support

should be another crucial point for you if you have weight more than normal. Consistent edges are able to prevent additional sagging.

Heat retention

is a problem for every type of sleeper. But heavy people suffer from it throughout the night, most of all. Please avoid cheap foam mattresses in this case as sleeping experience on them is awful. I recommend looking attentively at foams which feel like latex or latex or hybrid versions which are able to give you required cooling effect and support at the same time.
Conclusion
It is wonderful when producers are able to take into account crucial requirements of their customers. One of such demands is a comfort and proper support for people who have weight more than normal. Reviews of the best mattress for heavy people have been analyzed above and presented to you in five options. You are free to choose the right mattress only for you.
After detailed exploration of versatile mattresses, I propose you to look upon DreamCloud Mattress. Their hybrid version is worth your attention thanks to an overwhelming combination of individual pocketed coils system, which with foam subcomponent gives sufficient support for your weight. In the same time, your sleep will be comfortable and pleasant. If you prefer only organic material, then Avocado hybrid mattress is suitable right for you.
Have you ever experienced back issues due to sleeping on a mattress that's not suited for your body type? How did you deal with them? Let us know in the comments!
Product links on Happysleepyhead are referral. We get a commission on purchases made through our links at no additional cost to you. More information in my disclosures.