6 Best Mattresses for Sleep Apnea — Reviews & Information
by | Last Updated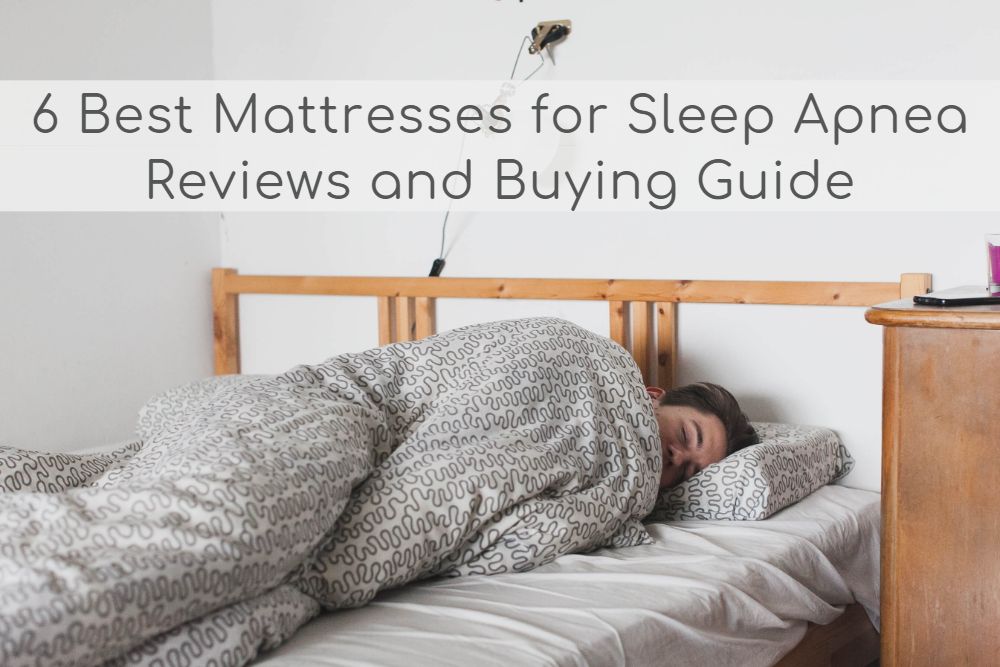 If you, or someone close to you, suffer from sleep apnea, this can be tough for both.
Besides being an unpleasant condition in itself, apnea may pose a lot of threats to your health and even your life.
But don't freak out, because you can treat this condition or at least decrease its symptoms. And buying the right mattress is one of the ways to do that.
That's why I want to share my reviews of the best mattresses for sleep apnea. Let's see which one you will love. If none, there's a guide below to help you find the one you'll love on your own.
Model
Type
Layers
Trial & Warranty
Rating
Dreamcloud
Hybrid
tufted cashmere cover;
gel memory foam comfort layer;
quilted memory foam comfort layer;
natural latex layer;
plush memory foam support layer;
dense memory foam support layer;
BestRest pocketed coils;
dense foam base.
365-night trial,
lifetime warranty
Loom and Leaf by Saatva
Memory Foam
organic cotton knit cover;
convoluted foam comfort layer with gel pad;
memory foam comfort layer;
foam transition layer;
high-density foam base.
120-night trial;
15-year warranty
Zenhaven by Saatva
Latex
organic cotton cover;
natural wool layer (soft side);
natural latex comfort layer;
natural latex double-layer support base;
natural latex comfort layer (firm side).
120-night trial;
20-year warranty
Helix Twilight
Hybrid
two-touch Tencel cover;
memory foam comfort layer;
polyfoam transition layer;
pocketed coils;
dense foam base.
100-night trial;
10-year warranty
Ocean Mist by Plushbeds
Memory Foam
polyester blend cover;
open-cell gel memory foam comfort layer;
polyfoam support base.
100-night trial;
25-year warranty
Voila
Hybrid
stretch polyester cover;
gel memory foam comfort layer;
latex foam comfort layer;
edge support foam top layer;
foam support layer with fiber insulation pad;
pocketed coils;
edge support foam bottom layer;
high-density foam base.

100-night trial;
10-year warranty
Our Reviews of 6 Best Mattresses For Sleep Apnea
Best for High-Profile Construction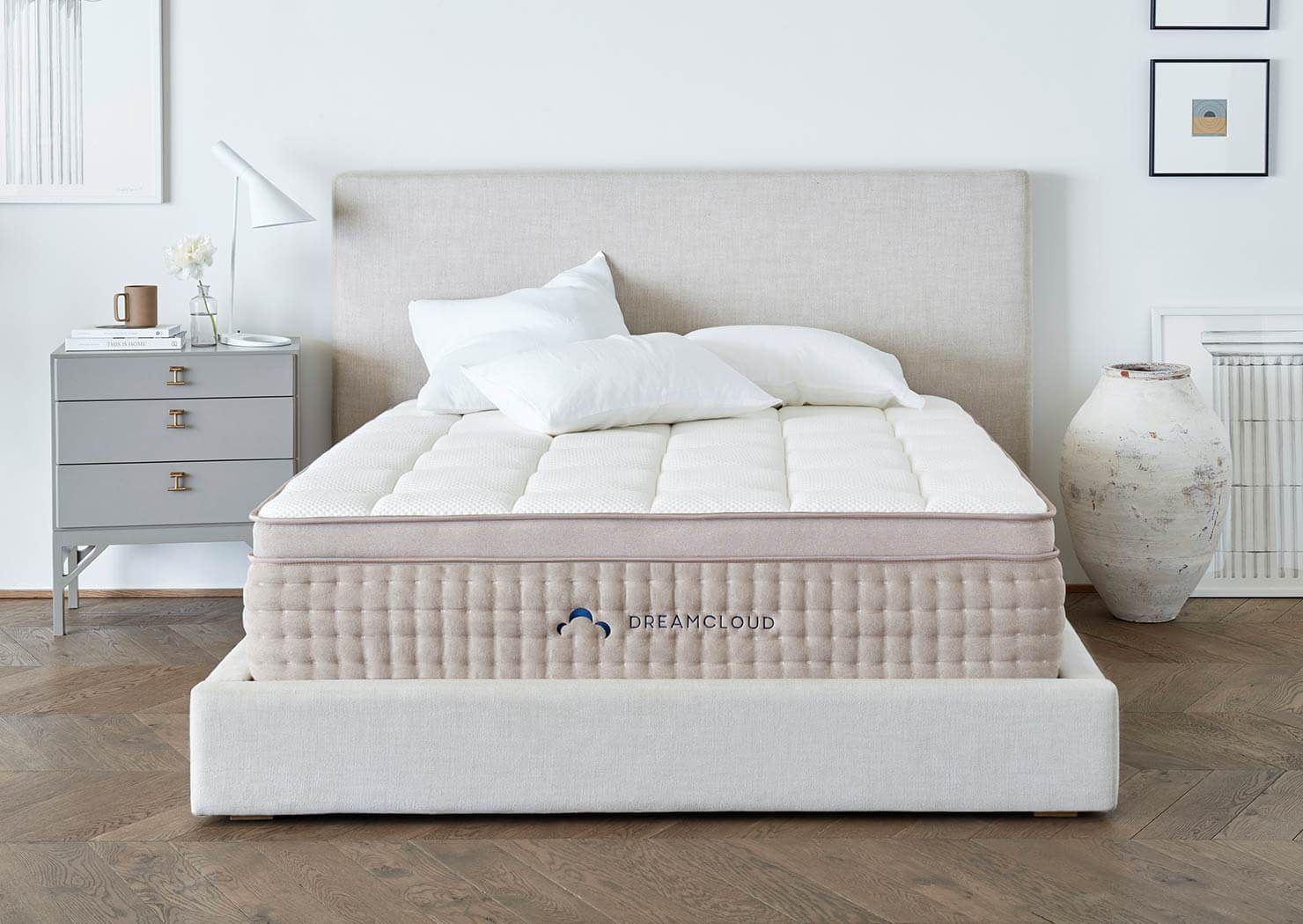 My list of the best mattresses for sleep apnea begins with the Dreamcloud. I believe that this is one of the best high-profile beds on the market because right under the cover you will wind a whopping eight layers designed to provide you with heaven-like comfort.
The luxury begins from the cover fabric. It's cashmere, and besides being incredibly soft by itself, it's padded with plush foam for instant cradling. Once you lie on this mattress, it will gently hug you, relieving pain and pressure points.
Now, if you think that this plush mattress will make you overheat, you're wrong. The Dreamcloud has a pack of layers that will aid in getting a cooler sleep — the gel-infused foam wicks away excess body heat, while the layer of natural latex allows the air to circulate inside the mattress. You're literally sleeping on a cloud.
The thing that may make you switch to other models is that if you're a petite sleeper, this bed may be too firm for you, despite all the plushness it offers.
The best part about the Dreamcloud is its height. I mean, a 15-inch mattress would be enough not only for average sleepers but also for heavier sleepers, who happen to be more likely to suffer from sleep apnea.
Overall, if you need a thick and durable mattress that offers a balance between cradling foam and bouncy coils, the Dreamcloud will work for you.
Check out dreamcloud mattress on dreamcloudsleep.com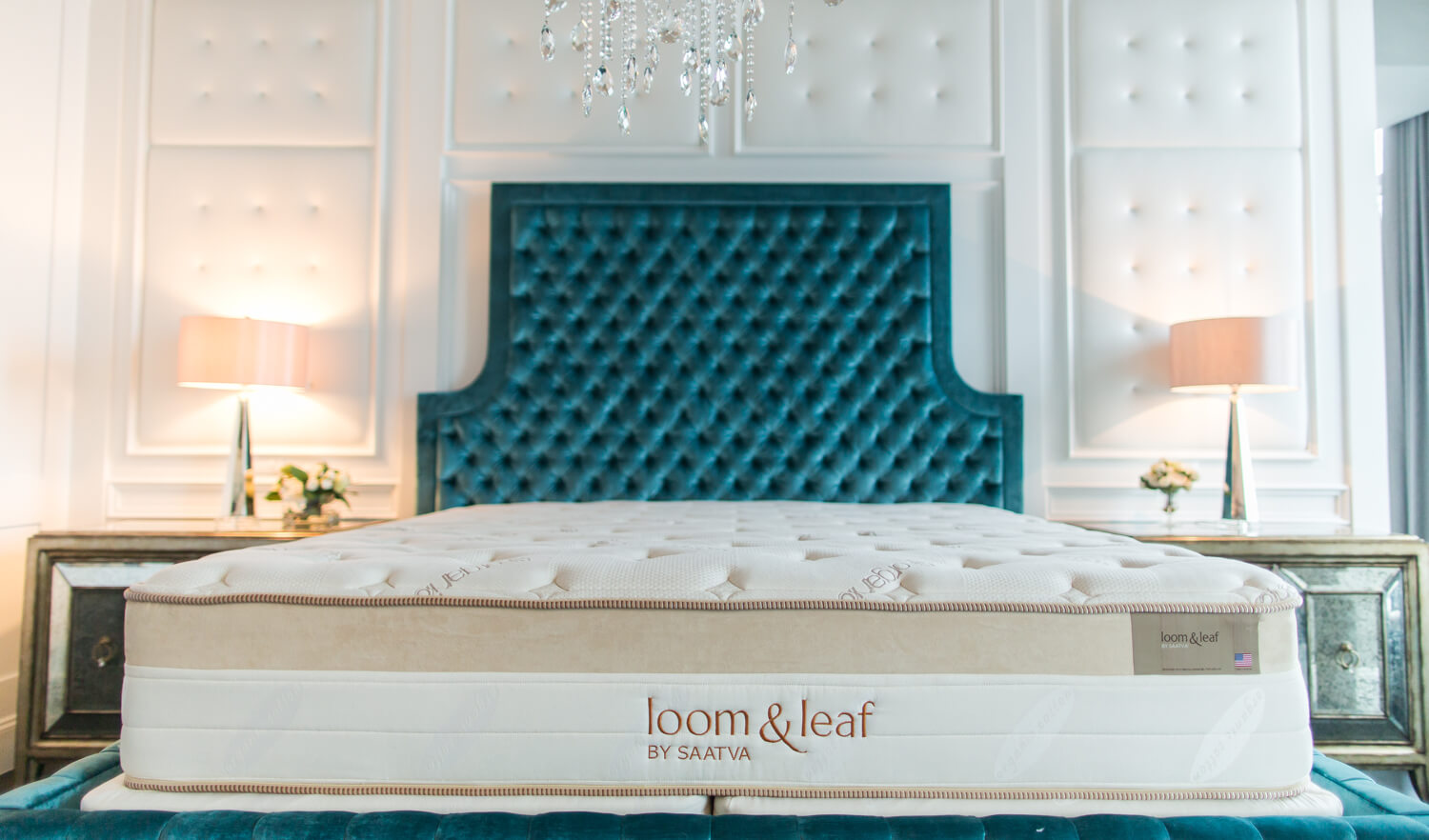 And here goes a great option for larger people. The Loom and Leaf mattress deserves to take place on my list of top-rated mattresses for sleep apnea thanks to a sturdy construction able to provide you with peaceful sleep.
The Loom and Leaf mattress consists of several layers of foams, which altogether offer you a good amount of cradling in different sleeping positions. I'm a combo sleeper (side and back), and I was testing the Relaxed Firm option for three nights; I should say I woke up refreshed with no stiffness each morning.
The mattress also has reinforced lumbar area to support your lower back, which is crucial for heavy sleepers. So, this bed can do its job at supporting heavier people very well.
The only drawback I noticed is that the Loom and Leaf may sleep a bit hot. Although it has open-cell foams among the layers, I feel that it might be not enough for some users.
The thing I liked the most, though, is the supportive properties. This mattress will be great for heavy sleepers, but it can also be comfortable for people with average weight, like me.
Despite the flaws, I still like the Loom and Leaf. Moreover, I think that those who live in cold regions can actually turn its drawback into an advantage, so do not hesitate to purchase it anyway.
Check out Loom and Leaf mattress on loomandleaf.com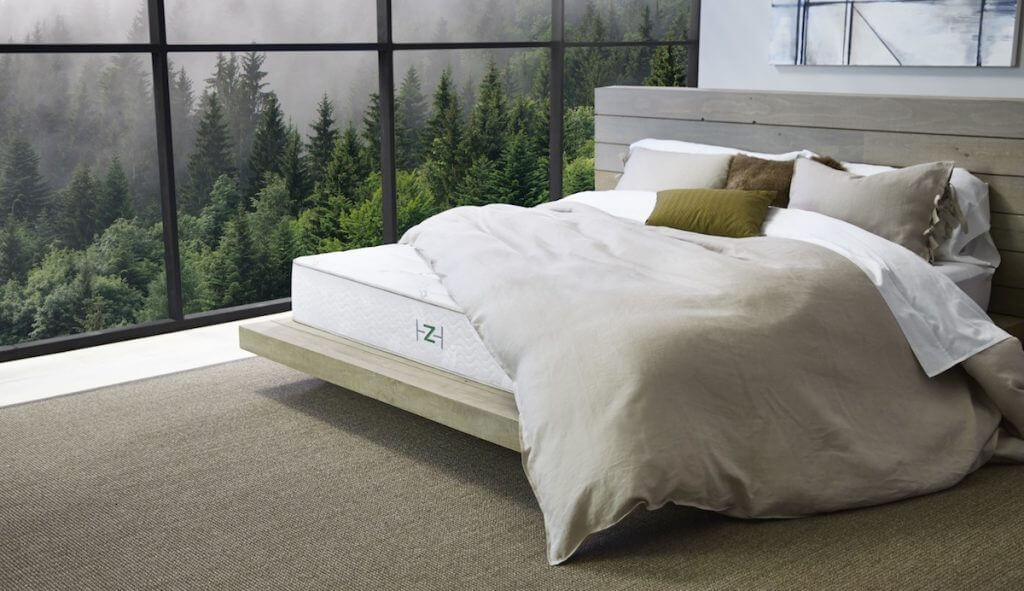 If you're concerned about the environment, you'll probably love this bed. The Zenhaven is made from natural latex from top to bottom, and I believe that this is enough to include it in my review of the best mattresses for sleep apnea.
First, latex is naturally resistant to mold and dust mites. Along with that, it also doesn't have toxic VOCs and flame retardants that can additionally disturb your breath and hence your sleep.
Another great feature of the Zenhaven is that it's flippable. The mattress has a softer and a firmer side so that you could choose what suits you best. The cotton cover and a wool layer underneath it help this mattress support a balanced microclimate under your body.
Despite all these features, the Zenhaven isn't perfect. You probably know that natural materials cost higher than synthetic ones, and this natural latex mattress is no exception, although it's still cheaper than similar models you can find in a retail store.
However, the 100% organic materials inside the Zenhaven are also its most significant advantage. If you can afford a latex mattress like this one, you should totally buy it and watch it create a safe environment in your bedroom.
Honestly, I thought this mattress is overpriced. Before I tested it myself. Now I'm sure that it's worth every dollar and will be a particularly great investment for people with breathing disorders and those who seek cooler sleep.
Check out zenhaven mattress on zenhaven.com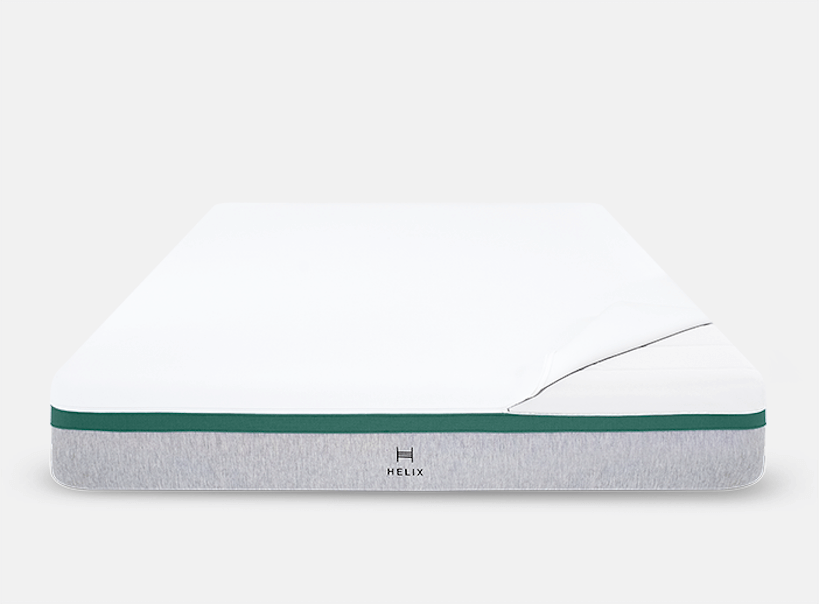 Another hybrid model on my list of top-rated mattresses for sleep apnea will be great for those who search for a really firm bed. The construction of the Helix Twilight can ensure that you won't sink in a mattress but will still be comfortably hugged from all sides.
Helix uses its patented Memory Plus Foam as one of the top layers in this mattress. This material can cradle your body and relieve pressure points without sucking you in. Thus, your spine will be relaxed through the night.
The supportive core of the mattress is comprised of a pocketed coil system and a foam base layer. This makes the Twilight great for couples and fans of moderate bounce. Also, since the coils don't trap heat and hence are more breathable, you can sleep cool even in summer nights.
However, this hybrid construction has a little downside — it does lack motion absorption. Thus, if you or your partner are active sleepers or can be easily disturbed by movements, this might become an issue.
But the overall firmness of this bed is its most prominent feature. The Twilight makes a firm and sturdy sleeping surface, and those who sleep on their back and stomach will appreciate it.
I believe that this mattress is great for heavier individuals, couples, and people who want an affordable firm bed.
Check out this mattress on helixsleep.com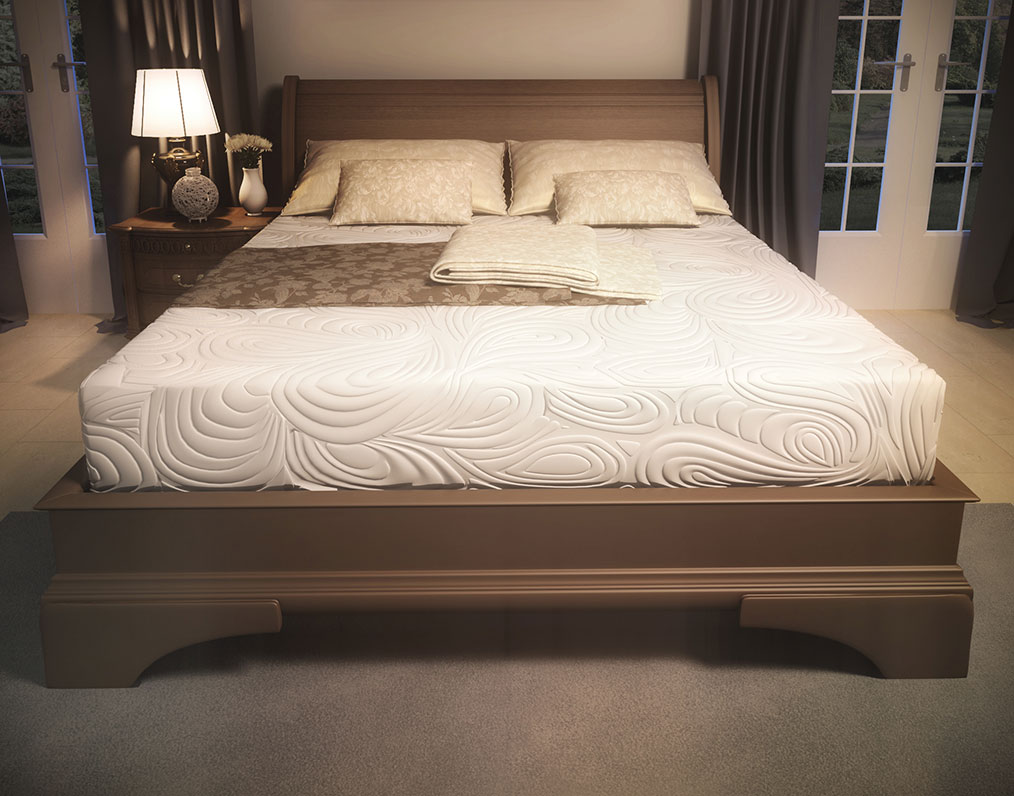 My review of the best mattresses for sleep apnea wouldn't be complete without a budget option, which is the Ocean Mist by Plushbeds. This all-foam mattress has everything you need to get great sleep, and you don't have to empty your wallet for that.
So, Ocean Mist. The name sounds cool, right? And it sleeps cool too, compared to similar all-foam mattresses. That's because of a layer of gel-infused foam right under the cover. Note that the effect may be not that noticeable for someone who tends to get really hot at night.
This bed also offers excellent support for literally anyone. While the manufacturer says that the Ocean Mist is medium-firm (which should be equal to 6-7 out of 10), I feel that it's a bit softer (maybe 5 out of 10). I've spent the whole night sleeping on my side and didn't notice any stiffness or numbness in my shoulders as I usually do with firmer beds.
However, there is one thing that I didn't like. I tested this bed on a foundation with bowed slats and found out that it may slide off. At least, when I tried to get up, I noticed a sharp movement away from me. This might happen because of the light weight of this mattress. You should keep this in mind if you have the same foundation.
The best thing about this bed is its affordability. The Queen size (at the moment of writing of this review) will cost you nearly $700, and for this price tag, you will get durable materials and pinpoint support for your body.
If you don't mind the hugging feel of memory foam and need a well-made but affordable mattress, go for the Ocean and enjoy the comfort it offers.
Check out this mattress on plushbeds.com
Editor's Choice — Best Value for Money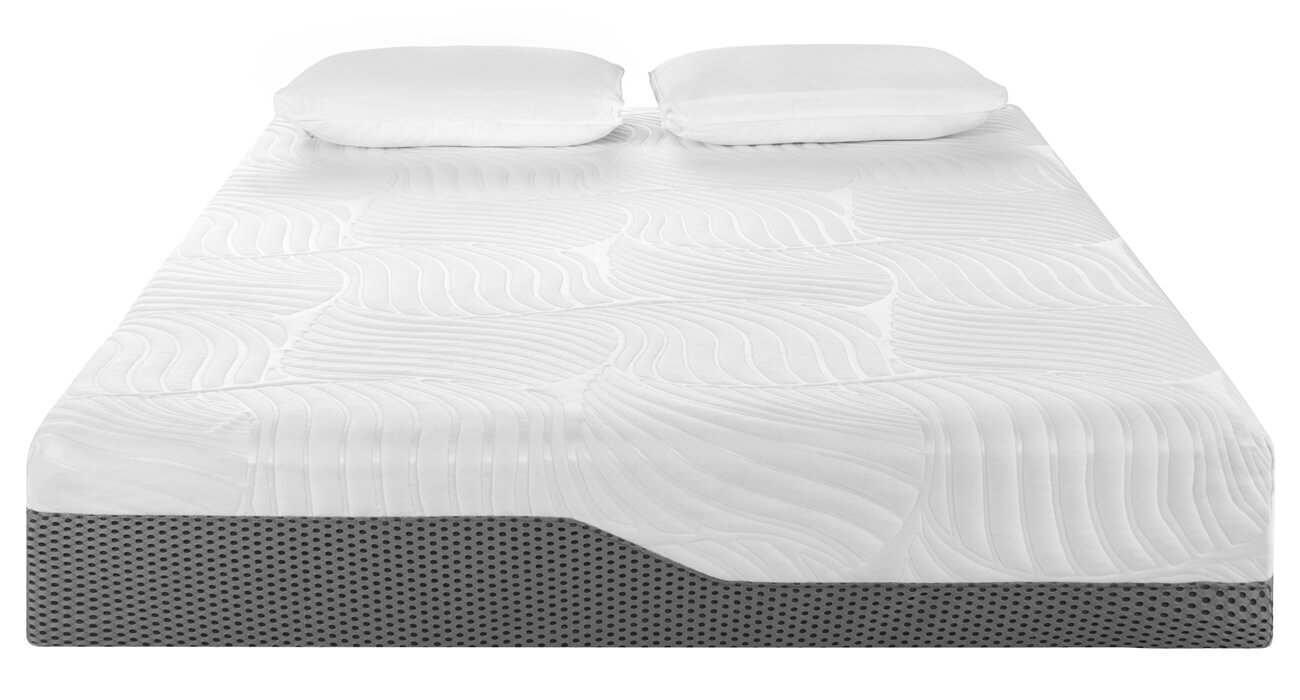 As we're coming to the end of my list of top-rated mattresses for sleep apnea, I'd like to introduce one more hybrid bed. Although the Voila is a rather new brand, it manages to rank pretty high in terms of customer satisfaction. And here's why.
Couples will love this bed for its reinforced edges. This feature means that you and your partner can utilize more of your sleeping surface during sleep.
Another great thing about this bed is that the coil block inside is zoned to provide targeted support and pressure relief in your favorite sleeping position. Top it with three firmness options available, and you will get the perfect mattress for any sleeper.
There's still a noticeable drawback of this bed — its weight. Honestly, when you try to move or lift it, it feels like there are way more than 11 inches to this mattress. This is something to note if you plan to rotate your mattress to prolong its lifespan.
However, great value for money beats all the inconveniences. This mattress is made from high-grade materials and has a thoughtful design that can satisfy even the most demanding sleepers.
So, if you are looking for a durable bed that will offer you support for the nearest decade without ripping you off, the Voila will work great for you.
Check out this mattress on voilabox.com
What Is Sleep Apnea and How Can It Affect Your Life?
Obstructive sleep apnea (OSA) is a sleep-related breathing disorder during which an individual can experience breathing pauses because of the blockage in the upper airways. Typically, the relaxed tongue or tissues of the palate are the main reason causing the obstruction that leads to the apnea event.
Although snoring is one of the most common and noticeable symptoms of OSA, there are some others:
Morning headache.

If you often feel pounding pain in your temples in the morning, this might be the result of hypoxia caused by the apnea events.

High blood pressure.

When you stop breathing, your body will try to do anything to wake you up. The easiest way is to boost the levels of stress hormones, such as adrenaline and cortisol. However, this often comes with a negative consequence in the form of high blood pressure.

Dry mouth.

Jaw muscles also tend to relax during the night. If you have sleep apnea, chances are that you breathe through the mouth during sleep, which may lead to excessive dryness.

Restless sleep

. This is a result of all the points above. When your breathing stops, you wake up. If you have severe sleep apnea, you may wake up about 30-40 times per night without even remembering it. No wonder you feel extremely sleepy during the day.
Sleep apnea is one of the main causes of sudden heart failure and many other diseases, such as hypertension, stroke, ADHD, and diabetes.
How Can You Get Good Sleep with Sleep Apnea?
Although the health risks of sleep apnea may sound intimidating (they really are, actually), I've got some good news for you:
You can live a normal life with sleep apnea if you receive the proper treatment, which consists of the simple recommendation I've listed for you below.
CPAP Therapy
The most common way to treat OSA is to use a CPAP machine during sleep. CPAP stands for 'continuous positive airway pressure.' These machines create a gentle pressurized airflow to prevent your tongue and other tissues from collapsing. CPAP therapy has several advantages:
it eliminates snoring;

it helps combat sleepiness;

it's affordable;

it can diminish possible complications of severe sleep apnea.
Moreover, you can even travel without interrupting your sleep apnea therapy. Many brands sell travel-friendly CPAP models, which won't take much space in your baggage.
Lifestyle Changes
A complex approach is what I love and recommend for solving any issue. Sleep apnea treatment is no exception, and here are some other things you can consider to improve your life:
Choose the right mattress.

Therapists agree that the

best position for sleep apnea

is on your side so that the tongue wouldn't block your airways. That's why if your current mattress isn't suitable for side sleeping, you may consider switching to a new model or at least investing in a more comfortable mattress topper as a temporary solution.

Consider swapping your pillow to a more suitable one

. This is a reasonable point for those who use a

full face CPAP mask

while sleeping on their side and stomach. A face mask in some cases is really bulky, and you may push it out of your face when you move in your sleep. So, in order to feel comfortable, you may want to purchase a CPAP pillow that will help your mask sit tight on your face while remaining supportive for your head.

Quit smoking

. Smokers are two times more likely to suffer from sleep apnea than non-smokers. I believe this is another point to consider when you will be deciding to quit or not to quit.

Exercise

. Physical activity will not only make you leaner; it can also tone all the muscles in your body, including the ones around your throat. So, when exercising regularly, you may notice that your apnea episodes become less severe and frequent.
Wedge-shaped pillows might be helpful when used by back sleepers. They create a slight incline and allow the gravity to do the job in keeping your airways open.
Which Mattress Type Works Best for People with Apnea?
So, you've got your diagnosis and decided to buy a more suitable bed, but you still have that one question remained:
What's the best mattress type for sleep apnea?
Well, no solution will work equally well for everyone; however, based on my experience and reviews of mattresses for sleep apnea across the Web, some types perform better than the others. I'd like to list them:
Memory Foam mattresses.

These are the most common on the market and the most famous for their ability to relieve pressure. That's why if you're trying to switch to side sleeping to alleviate your condition, no material will feel better than memory foam. It will contour your hips and shoulders, making you comfortable in a new sleep position.

Latex mattresses

. Latex models work very well for sleep apnea too. This material is natural and hypoallergenic, meaning it won't trigger any other breathing issues that might make your apnea episodes even worse. Just be sure to choose pure latex over blended one.

Hybrid mattress.

Hybrid mattresses, depending on the construction, can also be suitable for side sleepers and hence help with sleep apnea. However, lightweight users should note that hybrid beds sometimes feel too firm for side sleeping, due to a more pronounced bounce. That's why you'd better test several models at the store before purchasing them.
Occasional reviews of mattresses for sleep apnea praised the ability of waterbeds to help one feel relaxed, especially on one's side. However, there's not enough data to say whether waterbeds should be recommended to patients with sleep apnea.
Choosing the Best Mattress for Sleep Apnea: What to Look For?
To sum it all up, here's the checklist of key things to consider when choosing a mattress for sleep apnea:
Adjustability

. An adjustable bed base can help eliminate the symptoms of sleep apnea by lifting your upper body and supporting it during sleep so that you could continue sleeping on your back. So, if you're a back sleeper, you may want to choose a mattress that is flexible enough to work with this type of base.

Hypoallergenic properties

. Sleep apnea is a breathing disorder, and the last thing you want to do is to make your condition even more difficult. Ideally, your mattress should be made of organic and natural materials that don't contain harmful chemicals in their layers. If you can't afford such a bed (as they are usually quite expensive), at least check for certifications on the brand's website.

Firmness

. Firmness is directly linked to your sleeping position and weight. Petite sleepers usually feel more comfortable on the softer beds, as well as those who like to hug a pillow on their sides. If you're a stomach or back sleeper, you will need a more firm bed to maintain your spine correctly aligned.
Take the most of reviews of mattresses for sleep apnea by other people with this condition. This way you can learn about how a particular model may improve or worsen your sleep, rather than rely on appealing texts on the brand's website.
Conclusion
Getting proper sleep with sleep apnea may be easier than you think, and the mattress is one of the most important things in the complex therapy of this condition.
I believe that all models on my list deserve to take place in your bedroom, and the numerous positive reviews to each model confirm that. But there's one model that totally has my heart.
I'm talking about the Voila. This bed can literally change your sleep. It's suitable for people with any sleeping disorders and chronic pains. Its hybrid construction is breathable and sturdy enough to support you for years to come.
However, if you're a fan of all-foam cradling, I believe that the Loom and Leaf will work great for you. It has all the features to help you get a sound and refreshing sleep. even in your condition.
How long have you been living with sleep apnea? Have your therapist given you any specific recommendations as to what bed may help you in your therapy? Feel free to share below!
Product links on Happysleepyhead are referral. We get a commission on purchases made through our links at no additional cost to you. More information in my disclosures.