Sleepgram Pillow In-Depth Review
by | Last Updated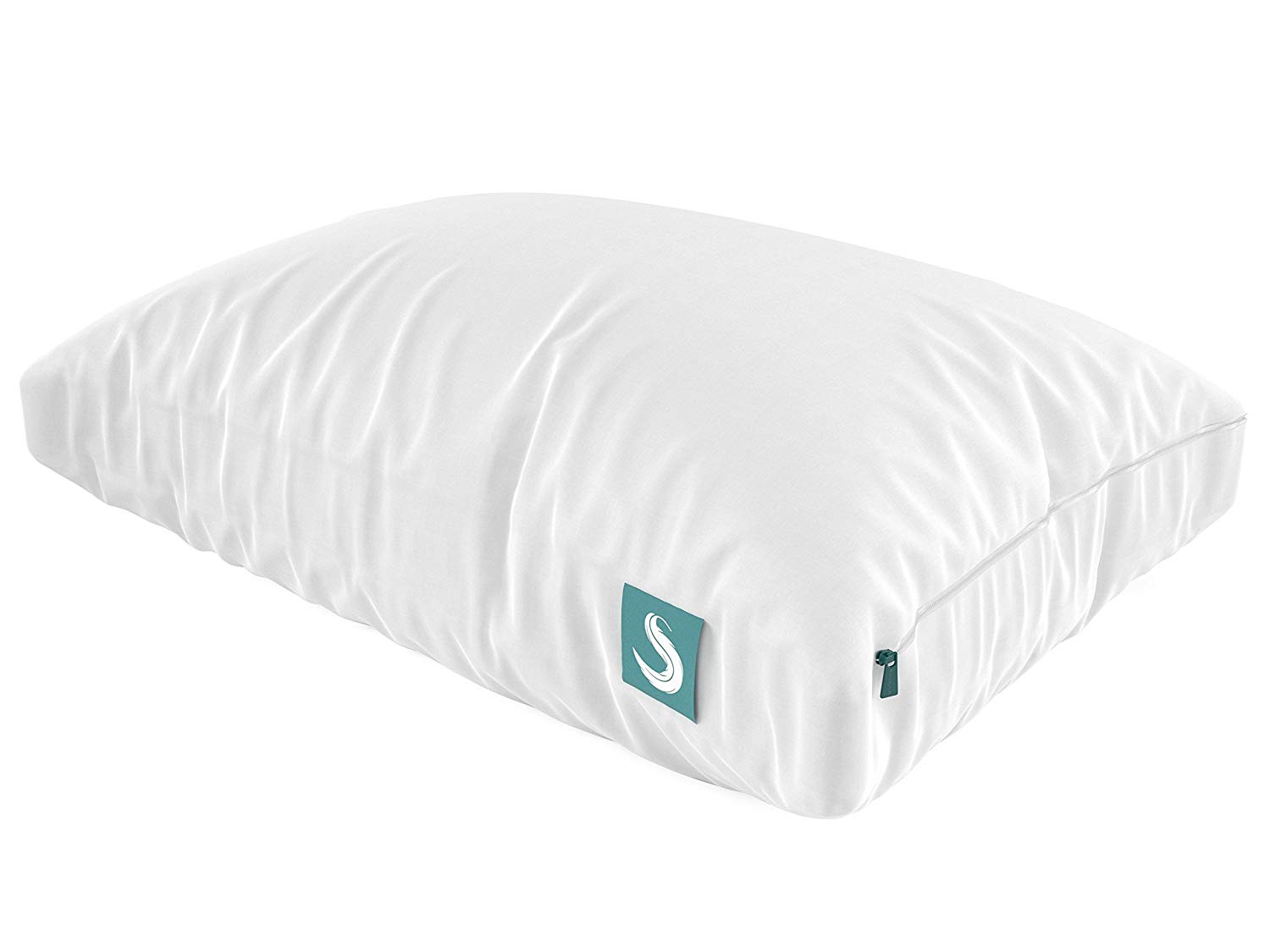 Your pillow is the second most important item in your bedroom (after a mattress, of course). That's why it just has to be good.
But finding the one that will be good personally for you might be a daunting task.
Sleepgram, a newcomer on the pillow market, claims to be able to help you with this. But is it really so, or is it just marketing?
Well, that's what we're about to find out in this Sleepgram pillow review. Let's see what makes this product stand out, who it is most suitable for, and what downsides it has.
First things first.
The best way to find out whether a pillow is of good quality is to take a peek inside.
With the Sleepgram, we have quite a remarkable construction. It includes an encasement and two removable inserts, which allows you to control the pillow's loft and adjust the firmness for your demands.
Filling
The filling of each of two inserts is made from polyester microfiber, also known as 'synthetic down.' This material is:
hypoallergenic;

cruelty-free;

breathable;

fluffy;

supportive.
However, it also has some flaws you should be warned of.
Generally, synthetic down tends to form clumps and lose shape rather fast. Some owners of pillows with this filling mention that the lifespan of their pillow is roughly 12-18 months.
However, we cannot say whether it's true about the Sleepgram, as it's a newcomer on the market and there seems to be no reviews from people who have had this pillow for a long time.
Cover
The outer encasement is made from 100% cotton with polyester lining. I should say it feels so cool and soft! Moreover, natural cotton comes with the following advantages:
excellent breathability;

ability to absorb moisture very well;

hypoallergenic nature.
The encasement has a hidden zipper around the perimeter of its two sides, so you can remove it and throw it in a washing machine.
It is recommended to wash your pillowcase every week. This prevents acne, pimples, and other skin conditions.
Firmness and How It Feels
The next part of my in-depth Sleepgram pillow review is dedicated to firmness and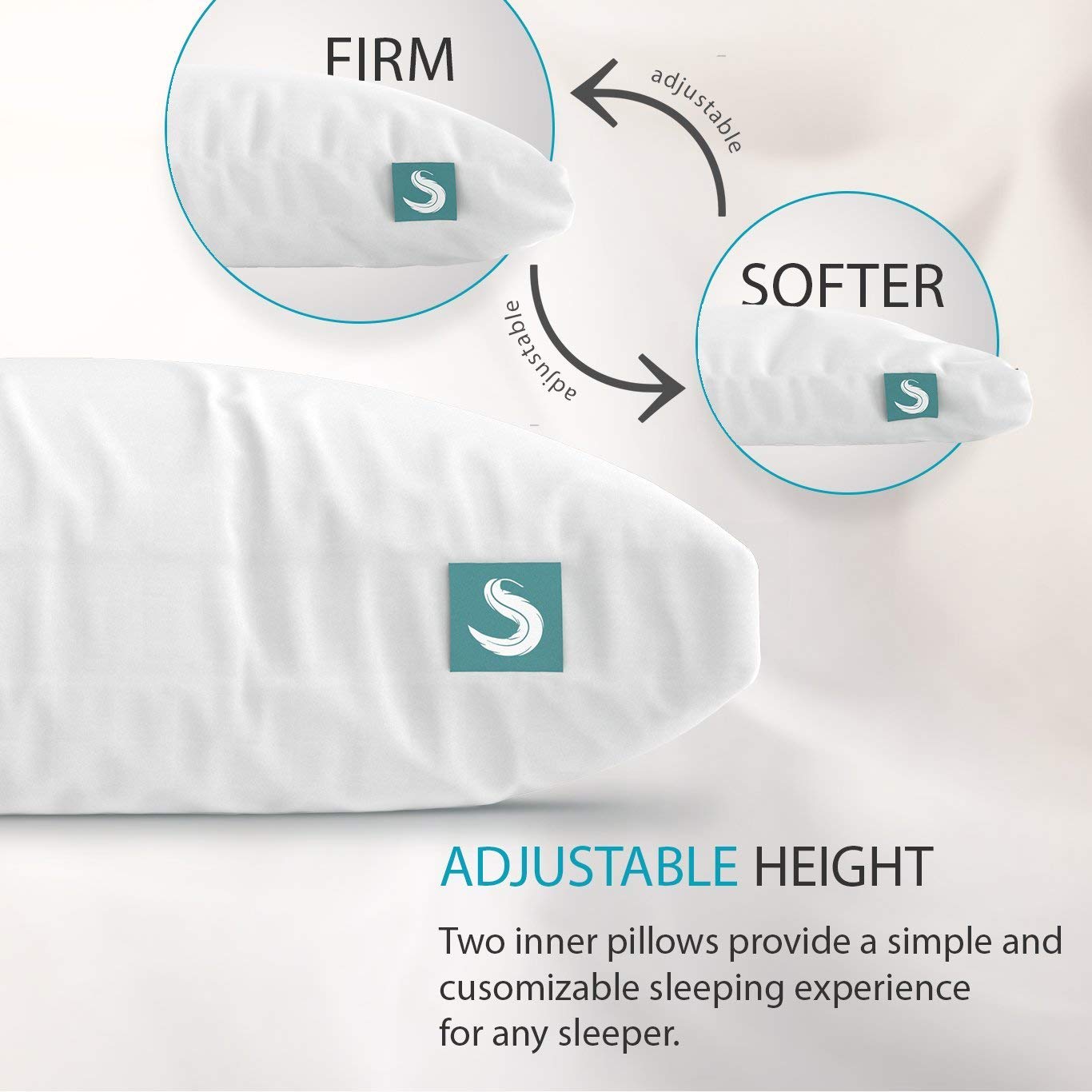 brings us to another outstanding feature of this pillow.
Here's why:
The Sleepgram has three possible firmness options in one model.
Moreover, you can switch from one to the other in less than a minute!
Here's what you need to do to achieve the desired firmness:
Medium Firm/Firm

. Leave both inserts inside the pillow.

Medium

. Remove the smaller pillow (the one that has a blue label on the side).

Soft

. Remove the larger pillow (the one with a red label on the side).
Moreover, the encasement itself has some padding and is pretty thick, so it might be used as a separate pillow. Also, you can just take away the insert you like and use it as a standalone pillow.
I mean, if this isn't the best versatility, then what is?
Now, let's talk about the overall feel.
I am a combo sleeper (side and back), and I felt very comfortable with only the red insert inside the pillow. It had a medium feel and was high enough to fill the space between my head and my mattress, without creating awkward angles and allowing too much sinkage. I used it when sleeping on the side and back, and it performed well in both tests. This configuration is also the most moldable, which means that it can conform to your head and neck right where you need it and provide relief for your shoulders as well.
Stomach sleepers will feel the most comfortable with only the thinner, blue insert inside the pillow. My wife can confirm that. The two other configurations were too thick for her, but she found this one to have just the right amount of filling to support her head and neck without putting a strain on the muscles.
Now, if you put both inserts inside the outer cover, you will get the thickest and firmest option available, although I believe that it might be still not firm enough for some. I felt that it's a lot more supportive than the red pillow alone, so I think that it may work well for folks with broad shoulders, and those sleeping on soft mattresses that tend to have generous sinkage.
As you see, this pillow may satisfy almost any sleeping type. You just need to try different options and give your body some time to adjust.
Check Out Sleepgram Pillow On Amazon
Let's move on to the next important aspect — smell. Since your pillow is going to be very close to your face, a strong odor can quickly become a sleep-disrupting factor or even lead to headaches and other unpleasant symptoms, especially in those with a sensitive nose.
When reviewing the Sleepgram pillow, I didn't notice any specific odor at all.
Now, don't get me wrong:
It does have a slight smell of a new thing, but that smell diminishes right after you put a pillowcase on.
I was testing the Sleepgram for three nights, and there were no weird odors or off-gassing that disturbed my sleep.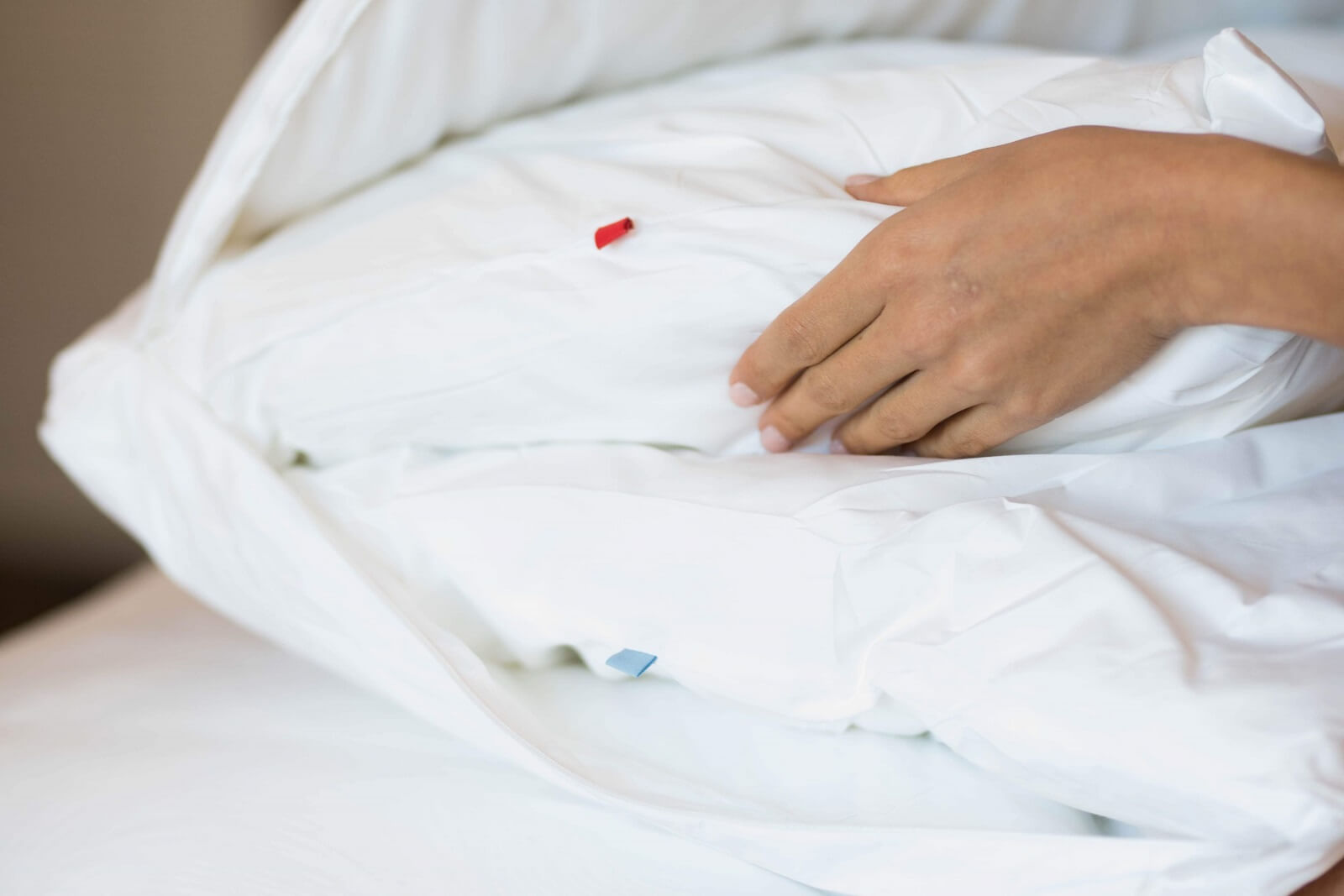 Before making a purchase, most of you would like to make sure the cleaning process won't be a hassle and won't make you hate your pillow. That's what I'm going to tell you about in this part of my Sleepgram luxury pillow review.
Proper care is not as crucial for your pillow's lifespan as it is for your health. You see, no matter what the filling is made of, some disgusting things tend to build up inside, such as:
sweat and moisture;

dead skin cells;

debris and dust particles.
All of this may lead to your bed becoming infested with dust mites.
And I think you'll agree with me:
It's not something you want to be close to your face while you're sleeping.
But here's the good news:
The Sleepgram pillow can be washed in the washing machine. And I mean the whole pillow, including both the cover and the inserts.
To do the laundry, go through the following steps:
Unzip the outer cover.

It's advisable to wash it separately so that it won't collect the fiber particles.

Put two inserts in the washing machine

. Choose a delicate cycle and low to medium heat. Or, launch the pre-installed program for synthetic clothes. You can use a mild detergent or non-phosphate washing powder.

Dry the pillows on low to no heat with dryer balls

. If after one cycle your pillows are still wet, then repeat the cycle until they're completely dry.
The manufacturer recommends to wash your pillows every two months, but I believe that you can do it more often. Especially if you have pets whom you allow on the bed.
Now, the Sleepgram comes in a vacuum-sealed package, so, obviously, you need to fluff it before using. There are two ways on how to do this:
Use your dryer.

Put the pillows inside and launch the dryer for 10-15 minutes on low to no heat. This will allow the fibers to expand.

If you don't have a dryer, you can

fluff the pillows with your hands

. Put them in the outer case and thoroughly shake and fluff them for 2-3 minutes.
Easy as pie. You can repeat this whenever you feel like your pillow is getting flat.
Quick tip: When using the dryer to fluff the pillow, put a scented dryer sheet under the pillowcase. This way it will come out with a fresh and nice smell.
Most of us will admit that price is one of the defining factors when we want to buy something. And bedding items are no exception.
Here's the kicker, though:
The Sleepgram is one of the best pillows for the money.
I think, if you're tight on a budget or don't want to spend too much for a product you will replace in a couple of years, then this pillow is all you need.
One more thing about this pillow I'd love to highlight is that it allows for versatile use.
See, some types of people might need extra support during sleep:
larger individuals;

pregnant women;

owners of an uncomfortable mattress.
If you're one of them, you can use the Sleepgram as an additional pillow. For example, when sleeping on your side, place it between your knees for a more natural alignment, or just hug it so that your hands and shoulders would get additional relaxation.
Also, I noticed that the firmest option is supportive enough for bedtime reading or watching TV, so you can put it behind your lower back when in an upright position. It will provide balanced cradling and won't allow you to sink and strain your muscles.
The Good and the Bad: Overview
This review of Sleepgram pillow won't be full without mentioning the best and the worst parts about this product.
What I didn't like the most:
Although the fiber filling is excellent when it comes to cradling and molding to your head, there's also a drawback to it. Some microfibers can stick out the cover fabric and get itchy. That's why I mentioned that you should wash your outer encasement separately. This will protect you from itching fibers.
What I loved:
But my absolute favorite thing about the Sleepgram is its versatility. I mean, you get three separate pillows in one model, so you can play with loft and firmness as you like. With this pillow, almost any sleeper will get their peaceful and sound shut-eye.
Now, after four nights of testing, I am ready to give you the list of pros and cons of the Sleepgram pillow. However, I'd like you to keep in mind that many of them are based on my own experience, and since we're all different, you may or may not feel the same.
Is This Pillow Right for You?
Before we get to the verdict, let's see who can benefit the most (or the least) from purchasing the Sleepgram luxury pillow.
So, you will probably love this pillow if you:
Care about the environment

. No animals were harmed during the production of this product.

Can't determine the firmness you prefer

. As you can see, versatility is the main strong side of this brand. Thus, you can test all the options available and find the best pillow for your sleeping style.

Suffer from allergies

. Again, polyester and cotton are hypoallergenic materials that won't cause skin rashes or any breathing problems. Just be sure to follow the maintenance instructions provided by the manufacturer to make sure your pillow remains safe and clean.

Need a pillow that sleeps cool

. Cotton is great when it comes to wicking away excess heat and moisture. Plus, a fiber filling traps less heat than the solid foam piece, so you will sleep cool in any climate.

Need a pillow with good value for money.

High-grade certified materials, countless variations of use, adjustability and excellent comfort are available for you at just about 50 dollars for the Queen size. That's a real steal!
On the other hand, you may not like the Sleepgram if you:
Need a firm and solid pillow.

We're all different, and some people just feel more comfortable on pillows that have a solid piece of foam or latex inside. If you expect that this pillow can give you the same feeling, I must disappoint you: it cannot.

Have sleep-related disorders

. If you suffer from sleep apnea, acid reflux, or snoring, then your pillow needs to be high and firm enough to create a slight incline and relieve your condition. The Sleepgram even in its firmest configuration will probably feel too soft for you in this case.

Need a pillow for a lifetime.

Yes, I know that no pillow is eternal. However, some models can withstand the general tear and wear for a longer time. The Sleepgram, unfortunately, is not one of them. It is likely to provide you with great support only for a couple of years, as its fiber filling may lose its shape over time.
Check Out Sleepgram Pillow On Amazon
So, let me point out and give my rating to the most important factors you should consider before deciding whether the Sleepgram is for you:
Support

Comfort

Materials

Cooling effect

Odor

Durability

Cleaning

Value for money

Company reputation
Summary
Overall, the Sleepgram is an excellent solution for the fans of softer and medium-firm pillows. Its firmness range and loft options can satisfy most sleepers out there. If your neck and shoulders require additional comfort, this pillow can give you just that. Plus, many of you will appreciate the ease of maintenance.
Even though there are some weak points to this pillow, I recommend that you try it out. Who knows, maybe it's the pillow that you've been looking for all this time!
Product links on Happysleepyhead are referral. We get a commission on purchases made through our links at no additional cost to you. More information in my disclosures.