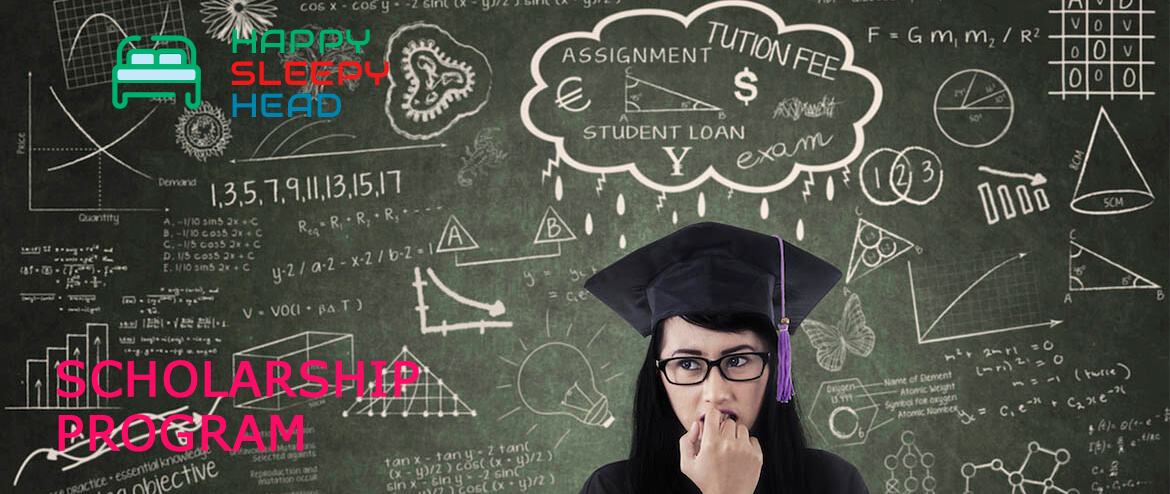 At Happysleepyhead, we understand the importance of education in one's life and want to reward those students who appreciate the meaning of good sleep. Our ambition is to find candidates that excel in their studies and show great potential to become qualified professionals in the future.
We are proud to announce the annual Happysleepyhead Scholarship Program and are looking forward to your applications. The winner of the scholarship will receive $500 to progress in their studies. This sum will be spent either on textbooks or tuition fees for the current academic year. You can find out more about this opportunity below.
Eligibility Criteria
To be eligible for receiving this scholarship the following requirements must be met:
You have to be currently enrolled in a college or university in the United States or Canada.

You have to possess a minimum of 2.8 GPA (or an equivalent average grade).

You have to be U.S. or Canada citizen
You have to be 18 years or older
Application Process
To become a candidate for winning the $500 scholarship, you have to create and upload a 4-5-minute-long video that contains your answers to the following questions:
In your opinion, are modern technologies replacing humans, or are they merely tools in humankind's hands?

How does the Internet shape your perception of your needs and dreams?

How important is a good night's sleep for your productivity?
To have a better chance of winning our scholarship, be as creative and innovative as possible in your video. We value answers that both are honest and demonstrate your wit and passion. Don't be afraid to experiment: show us your energy and share your worldview with us, just remember to stay on the topic!
After you've filmed and edited your video, go ahead and upload it to Youtube.
Important: The title of your video should include the name of our brand "Happysleepyhead" and the year.
Here's all the information you need to type in to complete the application form:
full name;

your college or university name and your major;

e-mail address;

Youtube video link (include it in the message).
To confirm your application, send us an Email to [email protected] with all above-mentioned information. 
We intend to do our best to protect our applicants' personal information by ensuring that only Youtube video can be used for promotional purposes. Personal information such as full name, college or university name and applicant`s major, e-mail address is collected for establishing the applicant`s identity only and will not be used/sold for any other purposes.
Important: Do not use other emails, the Contact page on the Happysleepyhead website or social media to apply for the scholarship program.  
If you have any questions, contact us through email [email protected]
Note: By sending an email to [email protected] you allow Happysleepyhead use your video for promotional purposes on the Happysleepyhead website or/and on social media. 
Note: By sending an email to [email protected] you warrant that you are 18 years of age or older and competent to contract in your own name.
Deadline
Any applications should be sent prior to the 30th every year. The winner of this award will be announced on October 14. The Happysleepyhead Scholarship Program is an annual award, however, the requirements are subject to change.
Additional Information
The application process is completely free of charge and will only take a couple of minutes of your time. At the moment, there is no possible way to send an application by regular mail. All candidates are required to complete this process online.
The winner of the Happysleepyhead program will be a student that provides the best answers in the video and impresses us with a creative approach. 
As mentioned above, the winner will be announced on October 14 and will receive an email informing him or her of this fact. Upon receiving the email, the winner is required to contact us within three days to claim the prize. Otherwise, the scholarship will go to the student that took second place.
Before the winning candidate can get the reward, a verification process will be held, during which we will confirm his or her college enrollment status, GPA accuracy, and other necessary details. Once the verification procedure is completed, $500 will be transferred to the winner's respective college account. 
Note: If you can't find our scholarship program on your college's website, please ask the administration of your institution to add a link to our website to the corresponding page on your college's site.
Good luck with your application!
Read our guides:
Best Futon Mattresses For Sleeping – Our top picks and Buying Guide
The 7 Best Twin Mattresses For Adults
The 7 Best Air Mattresses For Everyday Use
Best Mattress Toppers For Side Sleepers: Top 5 Picks For The Best Sleep Of Your Life
The 7 Best Innerspring Mattresses For Side Sleepers