How To Train Yourself To Sleep On Your Back
by | Last Updated
Why do I need to sleep on my back? Is it important to sleep on the back all the time? I know you have a lot of such questions. Hold on, you'll find an answer to your every question. If you're thinking to train yourself to sleep on your back, you should clear out your every concern about it.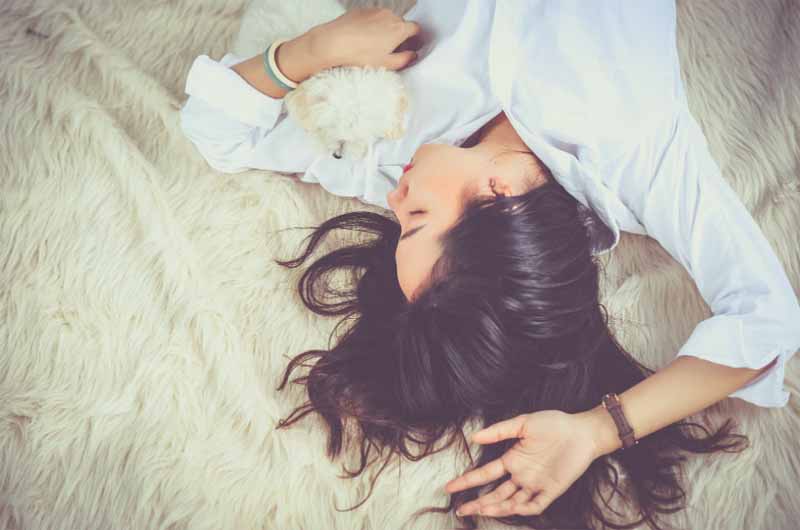 Is sleeping on the back really the perfect position?
Not really, it all depends upon the situation. For example, if you're pregnant and thinking to do this, it's a horrible idea. If you have back pain issue, it won't work for you either. Then how it helps me?
Well, there are also some amazing plus points of these positions as well. What are they? Here we go:
If you want to keep the spine aligned

Reduce the tension headaches, amazing, right?

It helps chronic conditions by minimizing the pressure and compression

It also relieves sinus buildup

If you want to avoid creases and face wrinkles
Thinking to implement and train? Just act upon these five steps and I'm sure you'll be the master soon!
5 Ways To Train Yourself To Sleep On Your Back
Get The Right Mattress Support
Getting the right mattress is very important in this regard. It plays a vital role in reducing the pack pain in your body. You would have experienced that even the best beds come with certain issues just because they aren't using the best mattresses for lowering back pain. You too?
Relaxation is everything we need when we think of sleeping on the bed. So if you want to train yourself to sleep on your back in order to reduce the back pain. Having the right mattresses would be a tremendous idea. Just go for the right one and I guarantee you'll train yourself within a very limited time. Plus, you'll never come across any sort of back pain issues. Sounds amazing, right?
Also Read: Best Mattress Toppers For Lower Back Pain Relief And Sound Sleep — Our Top Picks And Buyer's Guide
Get The Right Support For Your Neck
Always choose the right thing for your neck. If you aren't using a good pillow it will make your journey towards sleeping on the back difficult. To sleep on your back properly is not just about picking the right mattress, but also about picking the right pillow.
What's the right pillow?
A right pillow is one that adjusts properly with your body and isn't too high or too low. You can also use a towel for this purpose. The main objective is to give your neck the maximum comfort and proper support.
Get A Pillow Under Your Knees Or Lower Back
Finding some difficulty in learning to sleep on your back? I know you might be wondering why it's not working when both the mattress and my neck is in the right conditions. Just try to put a pillow under your knees and see the magic. This trick is excellent in implementing the procedure to sleep on your back properly. But, how?
I was also facing this issue, I applied many tricks but all in vain. Then I put a pillow under my knees. It not only lowered my back pain but also stopped my body from rolling over, thus helping me a lot to sleep on my back properly.
Choosing the right pillow or towel is very important; it keeps your neck and spine aligned with your bed. Plus, you won't face any creasing face issues, just do it and you'll feel it.
Spread Your Arms And Legs
Whenever we think of sleeping on the back, it doesn't mean that you have to keep your arms and legs straight all the time. In fact, if you keep doing this practice, it could be very dangerous for you. The best thing to do is to spread your arms and legs out. It helps you have a sound sleep and also reduces the pressure on your body. So always avoid sleeping with arms and legs stiff all night.
Sleep Under A Heavy Blanket
If you are finding it difficult learning to sleep on your back, sleeping under a weighted blanker would help you for sure. It will put enough pressure on your body and will always keep your body in this position. You can also buy special blankets in this regard; they are designed in a way to help you put enough pressure on the body.
If you have decided to go with this way, it's recommended to buy a blanket that weights 10% of the total weight of your body.
If you are not sure which one is the right pillow for your knees? Lie straight on the mattress and let your friend measure the distance between your knees and the mattress.
Final Words:
Stomach sleeping is not a good practice at all; it puts your body at risk to many serious injuries and health problems. However, it will take you quite a long time to train yourself to sleep on your back. As the saying goes, slow and steady always wins the race. So be persistent and never give up. Always tell yourself that you have to do it no matter what. I hope the above steps would help you a lot in this regard.
Got any question?
Do you still have confusion about training yourself? Facing some problems in implementing these steps? Just tell us in the comments below and we'll be quick to respond. Have some recommendations? You're most welcome, just drop your precious recommendations and we'll consider them for sure. Good Luck for with training.