5 Best Bunkie Boards for Supporting Your Sleep Throughout the Night
by | Last Updated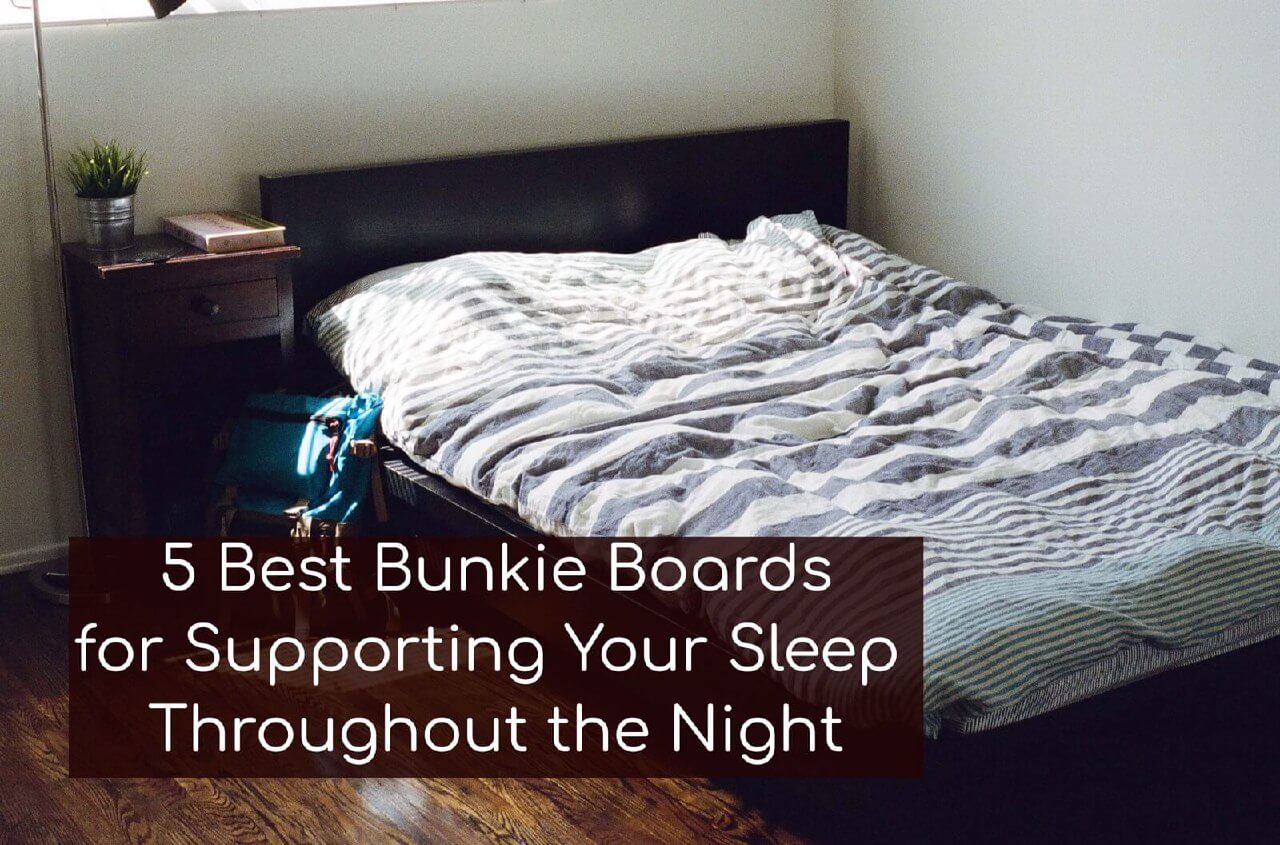 You know that a good mattress is the key element of your sound sleep.
But in order for your mattress to be able to provide you with high-quality shut-eye for a long time, you need to care for it properly. And investing in a good foundation or supportive base is one of the ways to do that.
That's why I came up with reviews of 5 best bunkie boards available today. Let's see which one can give your mattress the best support and allow you to enjoy the most refreshing sleep!
Our 5 Best Bunkie Board Reviews
Best Budget Bunkie Board – Zinus Steel Bunkie Board

So, let's begin our list of the best bunkie boards with this model by Zinus. It definitely deserves to be here because of its sturdy construction and quality materials. And you can own it for as little as $60.
The construction of this board combines a metal frame, a middle support rod, and 14 slats with a built-in lock feature for easy assembly. If you're assembling it by yourself, it will take you 15 minutes maximum. But you can always recruit someone to help you make the process faster.
With 5-inch gaps between the slats, this budget bunkie board will create a great reinforced base for any mattress, especially if placed on a solid plywood board or wooden slats of a platform bed.
The only flaw of this model that I want to mention is that it lacks grip. Thus, your mattress can slide off the bed while you sleep. You may consider buying a non-slip mat, though.
What I love about this board is its value for money. You get a sturdy metal frame that is supportive, easy to assemble, and will last years, for as little as $60! That's a real deal.
So, if you need to reinforce your old wooden or metal base, I think this can be an excellent option for you.
Check out this bunkie board on amazon
Best Wood Bunkie Board – Zinus Wood Bunkie Board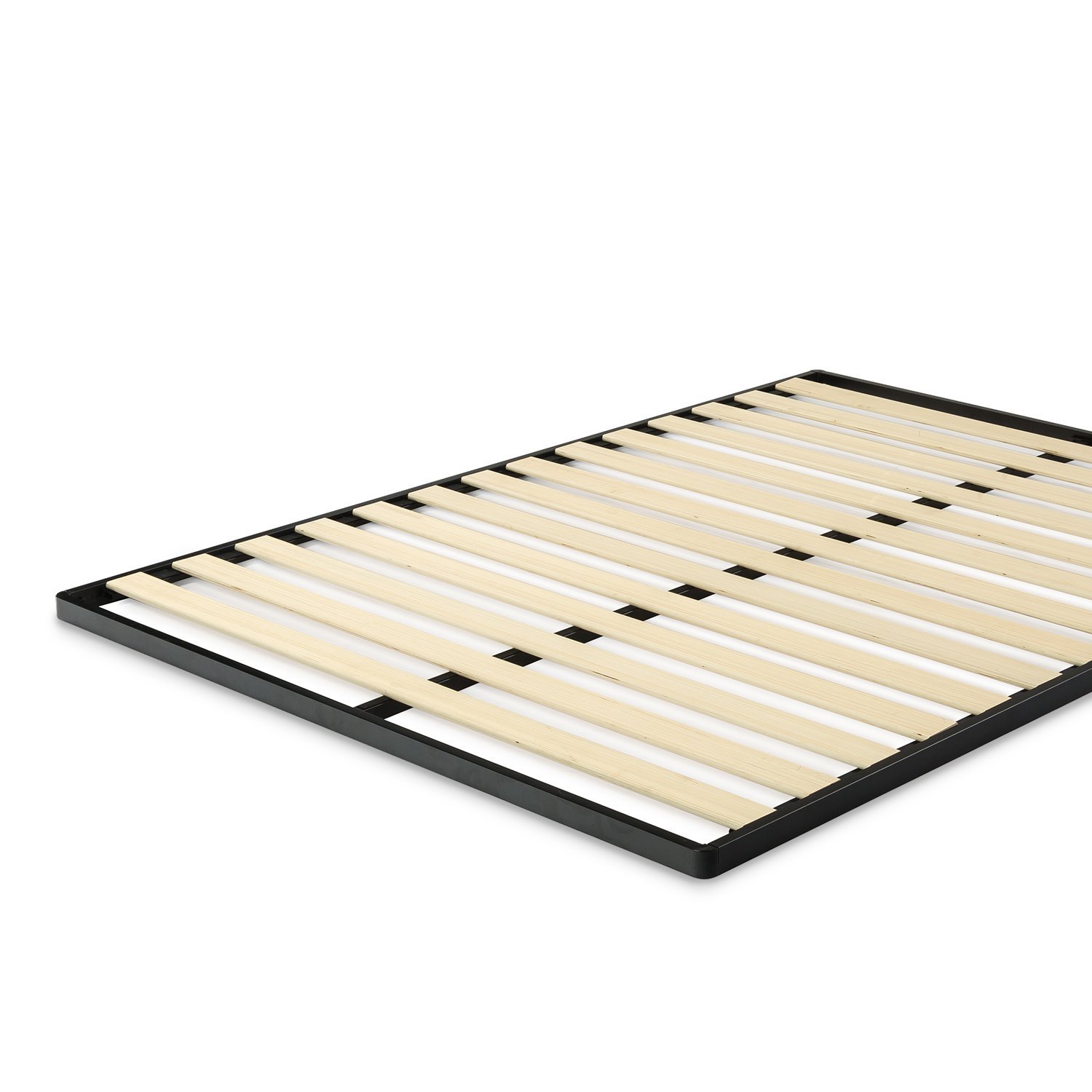 Now, let's talk about wooden options on our list of top-rated bunkie boards. And here comes Zinus, again! I feel that this model is worth every dollar you spend on it and here's why.
First, this wood bunkie board can be used with any mattress to prevent it from sagging and slow the process of wearing out. Another great thing is that this board is noiseless. You may notice the foam padded tape on the inner side of the frame where wooden slats come into contact with metal. This pad blocks any unwanted noise for your comfortable sleep.
What can be a drawback of this model? Well, I didn't encounter this with the model I was testing, but some reviews of this bunkie board mention the inconsistency of size specs. Thus, you'd better measure your bed frame and do not hesitate to contact the brand for finding out the actual sizes of their products.
The best thing about this bunkie board is that the wood, besides being pretty tenacious on its own, is additionally reinforced with non-slip tape for a better grip.
I would recommend this bunkie board for fans of wood and light to average weight sleepers. It can support your mattress very well without sliding off.
Check out this bunkie board on amazon
Best King Bunkie Board – HOMES: Inside + Out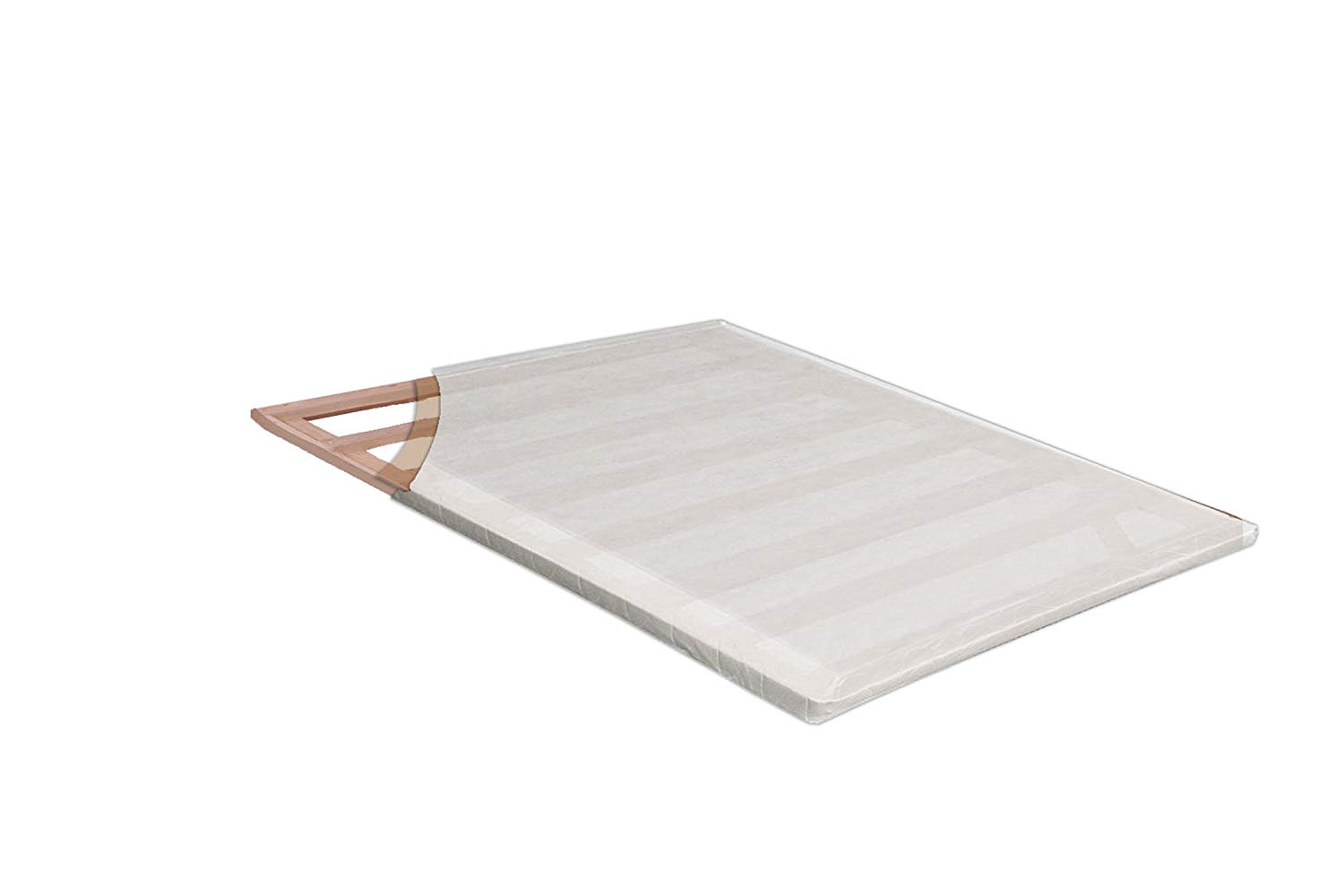 We all know that finding the right setup and bedding items for a King mattress requires a bit more effort. That's why this model by HOMES is on my list of top-rated bunkie boards. It has a quality build and provides even support whatever mattress you put on it.
The first thing you notice is the extreme durability of this King bunkie board. It's made of 2-inch thick lumber slats and can easily serve as a box spring replacement. Another great thing is that you don't need to assemble it. It comes in one piece — or as a split base if you order the California King size — and you just put it in your bed frame.
My only complaint about this item is that the quality of the cover fabric is lower than expected. Given the sturdy and well-made wood base, the cover seems poorly made and cheap. Of course, you won't see it under your mattress, but it's still a bit disappointing.
Availability in large sizes is the highlight of this model. If you own a King mattress or a Cal King one, now you can prolong its life by adding this supportive base for better sleep.
Overall, I loved how well this bunkie board supports my mattress. Whether you have a Full or a King bed, I'm sure you will love this model too.
Check out this bunkie board on amazon
Best Steel Bunkie Board – Signature Sleep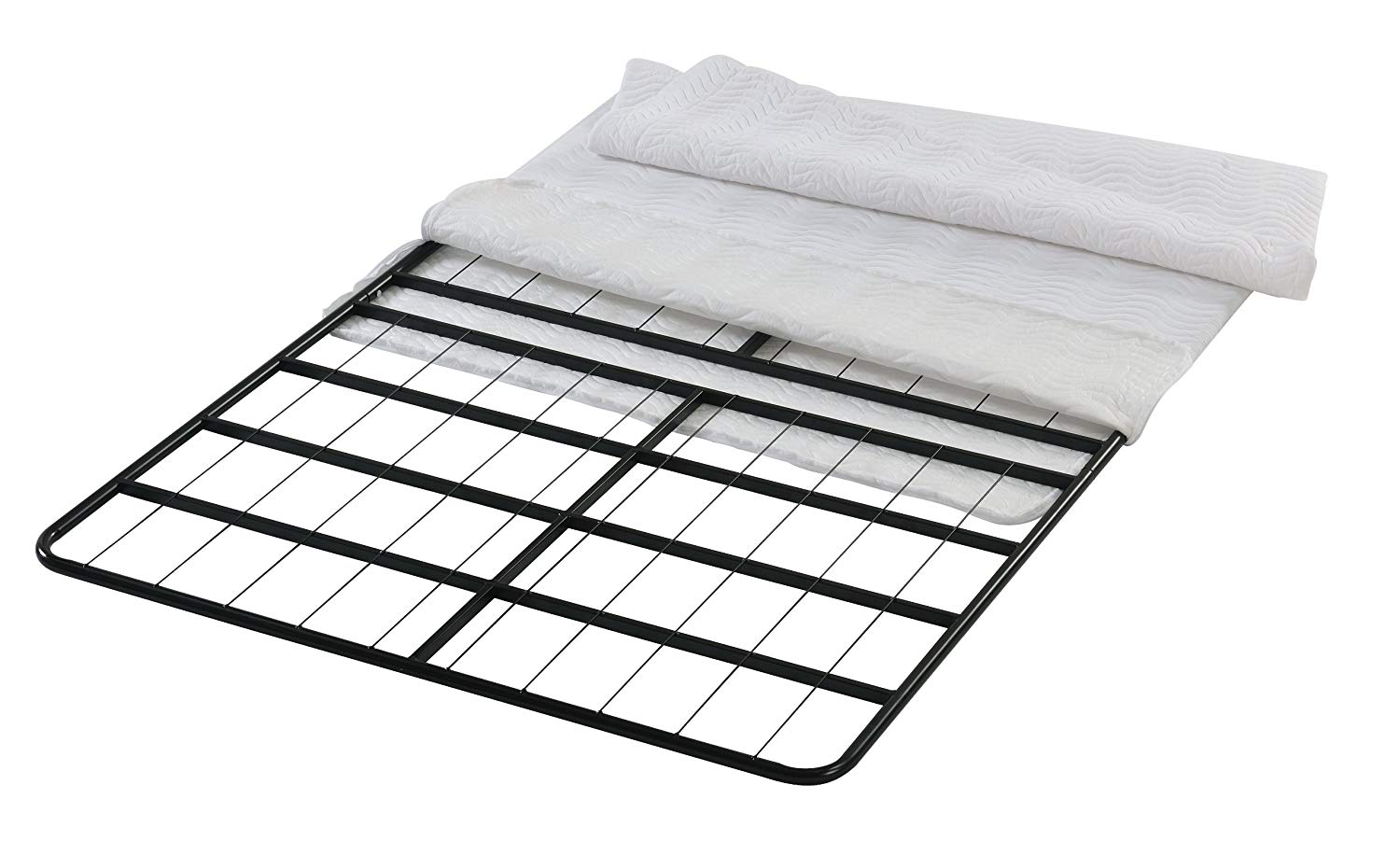 Another option on my list of the best bunkie boards is made by Signature Sleep. Being available in Twin and Full sizes only, it's a true bunky board designed for traditional bunk beds and daybeds. And it's definitely able to serve its main purpose perfectly.
Now, due to the sizes this steel bunkie board comes in, I believe it will work as an excellent reinforcement for toddler and junior bed frames. It comes in two pieces, and you just slide one of them inside the other and put the fabric encasement on. Very easy to assemble!
While testing, I found that the thin metal wires may squeak sometimes. I rearranged the board and changed the sides, but it was still making that noise. It's almost unnoticeable, but if you're a sensitive sleeper, you may feel the difference.
What I love about this bed is that the steel frame is durable and very supportive. This model also offers a good grip due to the mesh construction, so your mattress won't move around the bed while you sleep.
Despite minor flaws, this board can serve as long-lasting support for your mattress. Just make sure to choose the right size, as this model is only available in Twin and Full.
Check out this bunkie board on amazon
Best Twin Bunkie Board – Acme
The last model on my list of top-rated bunkie boards is made by Acme. Despite being very affordable, this model is built with quality materials and is a great option for both kids and adults.
The Acme comes in one piece, so you just need to put it under your mattress, no assembly required.
Now, I was testing the Twin option to see how it works with smaller beds. I should say I felt very supported, even though I'm not a fan of plywood slats. The board is very thin and can hold a mattress with average or lightweight sleepers just fine.
The worst thing about this Twin bunkie board is that it may not fit all Twin beds. It shouldn't be a problem if you have a saw and know how to use it. But it's still something to keep in mind.
Now, I loved how this model allows you to create a durable support base for yours or your kid's bed in no time. The fact that it doesn't need to be assembled may be a great bonus for some users.
Although this bunky board may have some issues, I believe it's an excellent choice for a kid's bed or a Queen-sized mattress if you're on a budget.
Check out this bunkie board on amazon
What Is a Bunkie Board and Why Do You Need It?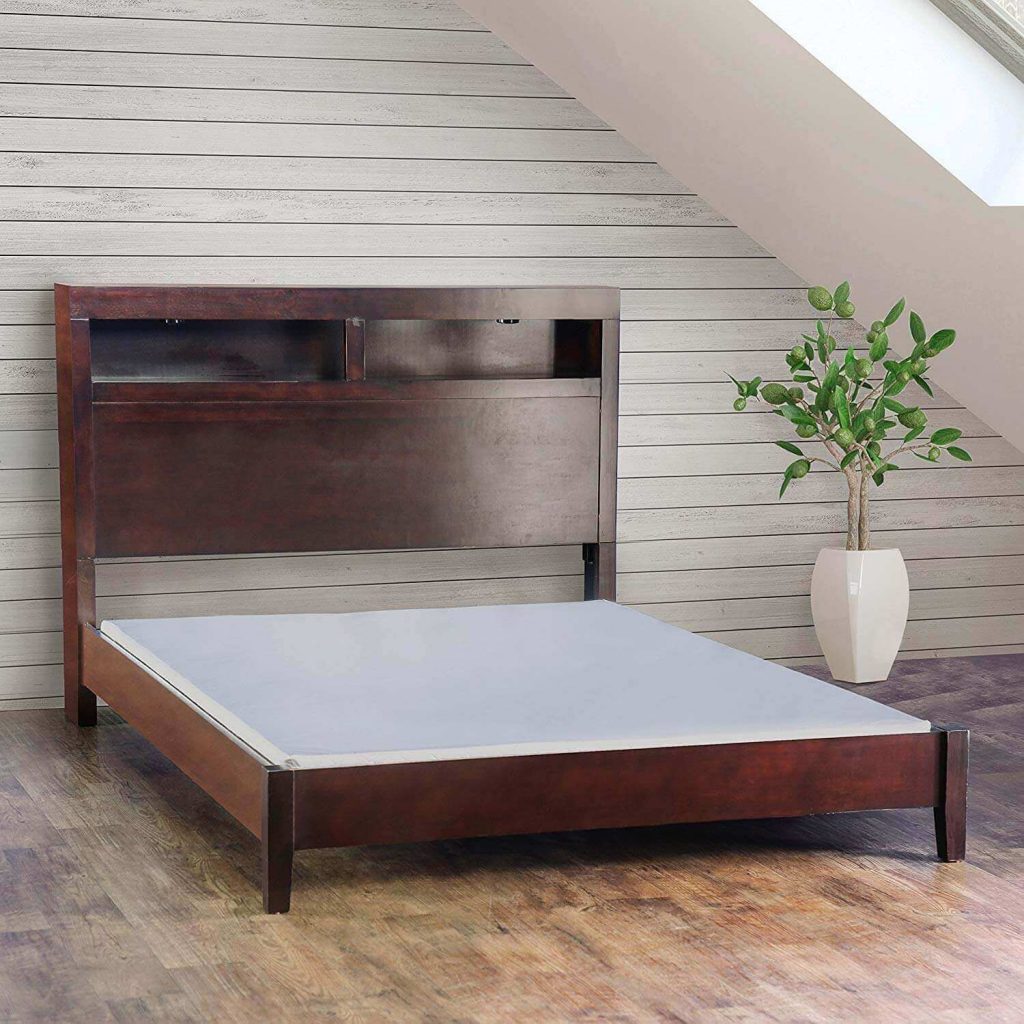 A bunkie board is a mattress support platform. It appeared as a cost-effective box spring alternative that isn't taking too much height. As the name implies, such boards were initially used to support mattresses in bunk beds, where height is critical for your comfort and safety.
Bunkie boards can be made in the form of:
metal frame with metal slats;

metal frame with wood slats;

wood frame with wood slats;

plywood slats without a frame.
First bunkie boards were made from plywood or particle wood sheets cut to the size of the mattress and covered with fabric so that you wouldn't get the splinters while moving it.
Now, why would you need a bunkie board to support your mattress if there are a lot of other alternatives on the market?
Let's see:
It's easy to assemble

. A bunky board requires not more than 15 minutes of your time to be wholly set for use.

It's cheap

. A high-quality metal bunkie board with the same supportive properties as the brand new box spring will cost you $120-150 at maximum and will last for years — definitely a good investment.

It prevents your mattress from sagging

. Although all beds

have a certain lifespan

, they typically begin to underperform their support functions earlier. A saggy mattress is the leading cause of back pain and poor sleep. Investing in a bunky board can save you from these and make your shut-eye great again.

It promotes airflow.

This is a crucial moment for foam and some hybrid beds. Even the

best memory foam mattresses

on the market tend to trap heat between the layers and make you sleep hot. Metal or wooden bunkie boards with slats allow the bottom layer of your mattress to breathe and cool down the upper layers during the night.

It doesn't take much space

. The height of the bunkie board usually is about 1.5-2 inches. So, it won't make your mattress uncomfortably high while being able to provide even support all over the mattress surface.
How Does a Bunkie Board Differ From Other Mattress Bases?
Now, let's compare bunkie boards with other mattress bases available on the market and find out how it performs in different situations.
Bunkie Board vs. Box Spring
The most common question we get from our readers is whether a bunkie board is necessary when one already has a box spring.
To answer it correctly, we need to dive more deeply into what a box spring actually is.
As the name implies, it's a box-shaped foundation filled with springs or coil blocks. This is a one-piece construction to support the weight of the mattress.
You probably need to buy a box spring as a supportive base if:
you need to

make the mattress firmer

;

you need to add some height to your bed.
That's basically two main options where the box spring wins.
However, you should note that this type of mattress foundation was primarily designed for innerspring beds. Most mattresses manufactured today don't really need a box spring.
Also, note that some brands market regular metal bases as box springs, although there may be no springs in their construction at all.
Now, a bunkie board may be your choice if:
you need to prevent sagging;

you need a thin layer of support.
Bunkie Board vs. Plywood Sheet
A plywood sheet trimmed to the size of a bed frame is the most common DIY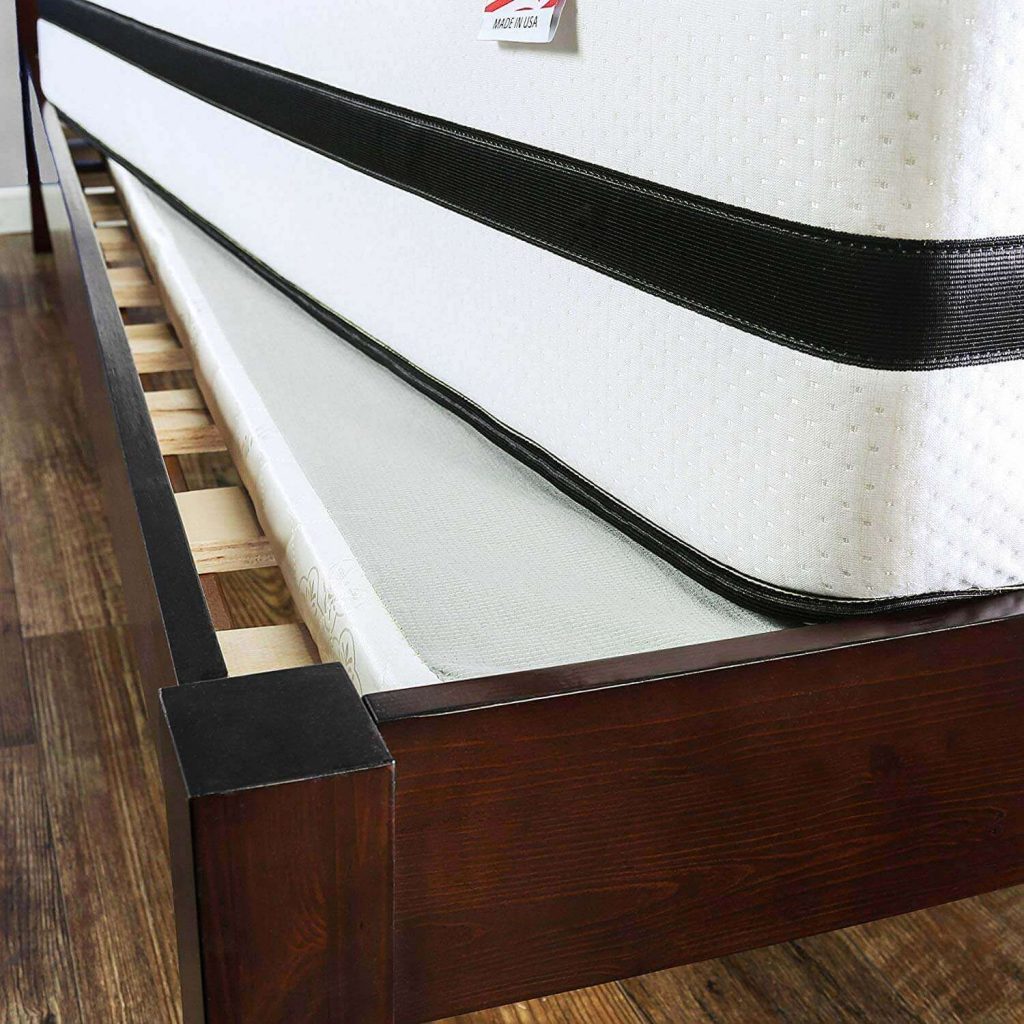 mattress base. It can be the number one option for those who want a one-piece foundation rather than slats, for example, to make their mattress firmer or temporarily eliminate heavy sagging.
Besides being cheap and pretty durable — especially if you choose a thicker sheet — a plywood base has some other features you should know about:
It's very pliable

. That's why it has certain weight limitations. By putting a large mattress and a heavy person on it, you risk having the plywood bent down, which means it may lose its supportive properties.

Plywood is afraid of moisture

. And mattresses tend to accumulate moisture, especially when there's no room for air circulation between the bottom of the mattress and the plywood base. Moreover, if the moisture percentage significantly changes throughout the year, the base may become cracky.
A bunkie board, on the other hand, is not prone to bending and, as mentioned above, allows some airflow to the bottom layer. But some mattresses just can't sit on slats (mostly innerspring ones) and require a solid support surface. That's when a piece of plywood can come in handy, despite its flaws.
Bunkie Board vs. Slats
Wood slats are the default support in most platform beds, and they are actually quite sturdy and durable on their own.
However, they have one major drawback:
These slats may not withstand larger weight, like that of a latex mattress. In case you sleep with your partner and you both are heavier than average, the slats under your mattress may also go concave rather quickly.
So, it's a good idea to reinforce the slats by adding a bunkie board. Besides absorbing the impact, for example, if your kids like to jump on your bed, it will constantly provide enhanced support for the mattress + sleeper weight.
What Makes a Good Bunkie Board?
Finally, we can talk about the things that bring you to the choice of one bunkie board over the other.
Let me list them below.
Durability
If you're searching for a durable mattress support board, opt for a metal one because:
it's literally eternal;

coated metal doesn't seem to be afraid of moisture;

it can offer you excellent support for years (meaning that even the most expensive board eventually pays off);

it's good for heavy sleepers or couples.
Compatibility with Mattress Sizes
The most popular mattress size is Queen. That means you can easily find a suitable Queen bunkie board on the market, or even among the models that I've reviewed for you above.
But what about the other sizes?
Almost all brands offer you their products in all standard sizes. Some of them have less market demand; thus, finding Twin XL, California King, or King bunkie boards might be a challenge sometimes, so keep that in mind. Maybe you need to switch to other bed bases.
Weight Capacity
Weight capacity of a bunkie board is tied to its construction and the material it's made of. For example, a metal frame with metal rods and slats will support large weight better than a metal frame with plywood slats.
Another good example of a sturdy construction is hardwood. This material withstands high loads without bending and is more eco-friendly than metal.
Noise
A bunkie board, especially a wood one, can make creaky sounds if you're a restless sleeper.
To avoid this, opt for models that have a quilted fabric cover. This will muffle noises and ensure quiet sleep.
Uniform Support
Last but not least.
Your bunkie board has to offer uniform support in every corner of the bed.
Because if not, that kind of defeats the whole purpose.
To be sure that your mattress will be completely flat, choose boards made from heavy-duty materials. If you opt for models that require assembly, check the connections and parts after you get it done.
Conclusion
As you can see, creating a supportive bed is easier than you may think and doesn't require you to invest in a new bed frame.
I hope that you've found the answers to all possible questions on how to choose a bunkie board.
Now, let me announce my favorite from today's selection.
Undoubtedly, it is the model by HOMES: Inside+Out. I love its sturdy wooden construction that requires no assembly. Also, larger sizes like King and Cal King are a rare thing in the world of bunkie boards, so this model definitely stands out.
However, if it seems too costly for you, I suggest that you go with the steel board by Zinus. This brand offers a lot of quality products with excellent value for money, and this one is no exception. Besides, it's steel! It will make a great supportive core to your bed.
So, what has made you look for a bunkie board for your mattress anyway? What is the current setup of your bed? Please feel free to share in the comments below!
Product links on Happysleepyhead are referral. We get a commission on purchases made through our links at no additional cost to you. More information in my disclosures.