Purple vs. Casper Mattress Review
by | Last Updated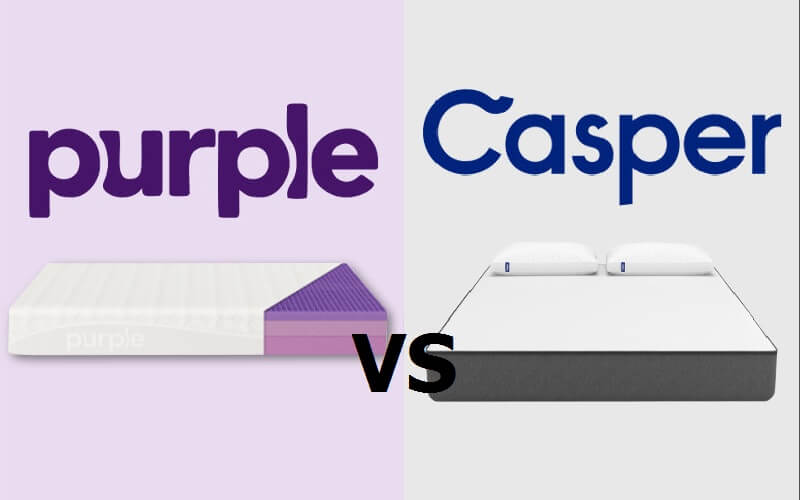 I think you'll agree with me when I say that we all love shopping. But there are moments when this guilty pleasure can turn into a total nightmare. I'm talking about shopping for a new mattress. Let's face it: finding the perfect one for your needs is a real challenge, with all those countless options on the market, false advertisement, and overwhelming lists of specifications.
Still, it's possible to find something worthwhile on that list. And today I'm going to tell you about not one but two mattresses that have the potential to turn your sleep into perfection.
In today's Purple vs. Casper mattress review, we will take a close look at these two mattresses and find out which one is the best option for you.
In my quest of finding the best mattress, what I pay attention to the most is the construction. A mattress can be super stylish, be made of pure organic materials, and come at a very reasonable price, but all those aspects don't matter as much as the filling.
"On average, a person falls asleep in 7-10 minutes. But when the bed is uncomfortable, these minutes can become hours."
So, in this battle Casper vs. Purple, it might be a bit hard to pick a winner, as both of these mattresses have a rather promising construction.
Let's take a closer look and start with Casper:
The base layer is a supportive high-density foam. The foam itself is high-quality and provides great support for both the whole mattress construction and your body.
The transition layer is made of an adaptive polyester foam. It distributes the weight of your body evenly and provides a smooth transition to the harder core part of the mattress – the base.
The responsive layer is a memory foam one and it reduces the pressure from the body's pressure points effectively. It doesn't retain heat like many other foam mattresses because it's placed under the top layer.
The cooling top layer is made of Casper's proprietary open-cell foam. Its role is to use conduction and convection to draw the heat away from your body. This is crazy, but my experience shows that this technology does work!
Do you feel like you've already made your choice? Order your Casper mattress here!

Now, Purple also has quite a lot to offer:
The base layer of the mattress is a supportive poly-foam, which is pretty standard for the majority of foam mattresses.
The comfort layer plays a transition role and allows your body to smoothly go from the top layer to the supportive base of the mattress.
And finally, the coolest part about Purple is the top hyper-elastic polymer layer. It's made in the grid-style, which makes this mattress temperature neutral. It has a unique feel and plays a cooling role (rather effectively, I should say). It's also quite adaptable and manages to release pressure from the body.
Think that this mattress is for you? Click here and get your Purple now!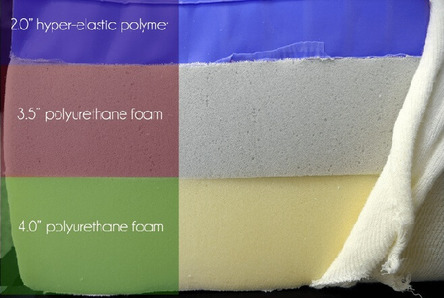 You will find this part of my Purple vs. Casper mattress review interesting if you are prone to allergies. The cover, even being hidden under the sheets, contacts your body, so it must be made of high-quality materials.
The Purple cover isn't actually purple, it's snow-white. It's made of the combination of various materials, including polyester, viscose, and polyester-lycra. These materials are breathable, so they won't retain your body heat. The cover itself is very soft to the touch. However, keep in mind that you'll probably have to buy a mattress protector to avoid staining this beautiful white cover, as it's not removable.
"Even trees sleep at night. They relax their branches and allow them to hang down, and then perk them up before the sunrise."
As for Casper, they've paid a bit more attention to their mattress cover and made it gray and white, plus they've added a zipper, so the cover is removable and can be easily washed. It's stretchy and lightweight, while the textiles are breathable and high-quality.
Firmness and How It Feels
"Sleep deprivation can lead to nightmares, thus making your sleep quality even worse."
As I've already mentioned in my Purple vs. Casper mattress comparison review, both mattresses have the potential to improve your sleep quality. And the way they feel plays a great part in it.
Now, Purple has an unusual feel, which influences its firmness levels. I would say it's 6 or 7 out of 10. However, because of the unusual design of the top layer, it doesn't feel that firm. Also, the level of pressure relief is rather high, which might make you feel like the mattress isn't firm enough.
Check out our in-depth review of Purple mattress.
As for Casper, it's a bouncy mattress that would probably rate 7 or 8 on the firmness scale. It's firmer than the majority of memory foam mattresses, but it won't remind you of a hardwood floor or something like that. It's also very supportive. So, if you're used to sleeping on a cloud-like mattress, Casper is not the best option for you. But if you value great support, you can get your Casper mattress now!


Another important aspect I want to mention in this Purple vs. Casper mattress review is the level of support each mattress can provide.
Let's start with Purple. Overall, it provides good support. The construction of the top layer allows the heavier and larger parts of the body to sink deeper into the mattress (for example, shoulders and hips), keeping the spine supported and properly aligned.
But here's the deal:
Because the top layer is made of a rather soft material, heavier sleepers might feel like the mattress isn't supportive enough.
As for Casper, it surely offers better support. It's a firmer option, so even heavier sleepers will feel comfortable sleeping on it. Still, it's a foam mattress, so it's not able to support properly people who are too overweight. Innerspring mattresses do this job much better.
"The fear of falling asleep is called Somniphobia. And yes, it is real. But with a good mattress, it definitely won't affect you."
If you share your bed with a partner (or your large dog, who knows?), read this part of my Purple vs. Casper mattress review carefully. Motion isolation is an important feature, as it can greatly contribute to your sleep quality or completely ruin your every night.
I didn't know what to expect from Purple and its unique top layer when I was testing it for motion isolation. Want to know the results? They were rather satisfactory. Not great, I'll be honest, but not too bad either. You might get disturbed a little by your partner during the night, so if you're a light sleeper, you should probably consider another option.
But if your partner doesn't toss and turns that much, Purple will be a great option for both of you. Click here to order!
Casper, on the other hand, will be great for people who wake up after the slightest movement of their partner. It's a firm and supportive mattress, and it doesn't allow a motion to transfer too much.
Get your Casper today and enjoy your peaceful sleep!
"40% of Americans have always slept on the same side of the bed all their adult life."
The thing about memory foam mattresses is that they can't support different bodies equally well. That's why both Casper and Purple will show different levels of sinkage, depending on the weight you put on them.
Casper, being a full-foam firmer model, will allow less sinkage than Purple, even for the lightweight sleepers. So, if you want your mattress to contour your body, Purple will be a better option for you.
I want to include this aspect in my Purple vs. Casper mattress comparison because too much off-gassing usually means that the mattress was made with adding chemicals, and that's not a good thing.
But with Purple and Casper, that's not the case. When I unboxed my Casper, it had a slight off-gassing, which disappeared within 24 hours. The smell wasn't harsh or chemical; it was just the smell of a new mattress.
As for Purple, I didn't notice any off-gassing. Again, it just smelled like a new mattress made with new materials, that's all.
So, if you have a sensitive nose, click here to get your Casper, and here to order your Purple mattress!
With both Purple and Casper, shipping is a fairly easy process. Purple delivers their mattresses vacuum-compressed into the vinyl tube. They ship to the 48 states for free. You can also order your Purple if you live in Alaska, Hawaii, and Canada, but you'll have to pay for shipping and the price will depend on the final destination.
Casper ships across the country as well as to Canada, Switzerland, Austria, Germany, and the UK. The free White Glove Delivery is available for people who live in LA, New York, Chicago, and San Francisco. The mattress is being vacuum-sealed into a box for an easy transportation.
The return process is also easy with these two companies. Purple will arrange a pick up for you with your local donation center. As for Casper, their return policy is pretty much the same: they will find a local charity or a recycling organization and will also get someone to pick your mattress up.
We all know that investing in a new mattress can be risky. To save you from worries, both Purple and Casper offer a 100-night sleep trial. It means that you can sleep on the mattress for a couple of weeks (or longer) and see whether you feel comfortable enough. In case you don't like the way you feel about the mattress, you can return it for a full refund. It's that easy.
Also, when buying a mattress from Purple or Casper, you will get a limited 10-year warranty. If there's a defect in your mattress, the manufacturer will repair or replace it for free.
Which One Is Good for You?
If you're still wondering which mattress would be better for you, let me help you make up your mind. Each mattress has its peculiarities, which will be suitable for some people and unacceptable for others.
Now, you will love Casper mattress if you:
And you will enjoy Purple a lot if you:
Purple 4.5 *****
Casper 4.7 *****
In general, both Purple and Casper are great mattresses that can improve your sleep quality. They sleep cool, support the body, and have the potential to become the bed of your dreams. However, I feel like Casper is a bit safer option because it's firmer and can support both lightweight and heavy sleepers. Plus, Purple's top layer has a unique feel, which might seem a bit weird to some people and might be suitable for you only if you're ready to experiment. Casper, on the other hand, is a foam mattress, to which we're all so used to.
So, will you personally go for Casper or for Purple? Feel free to share your opinion in the comments.
Product links on Happysleepyhead are referral. We get a commission on purchases made through our links at no additional cost to you. More information in my disclosures.