Sealy Vs. Serta: Face-to-Face Comparison
by | Last Updated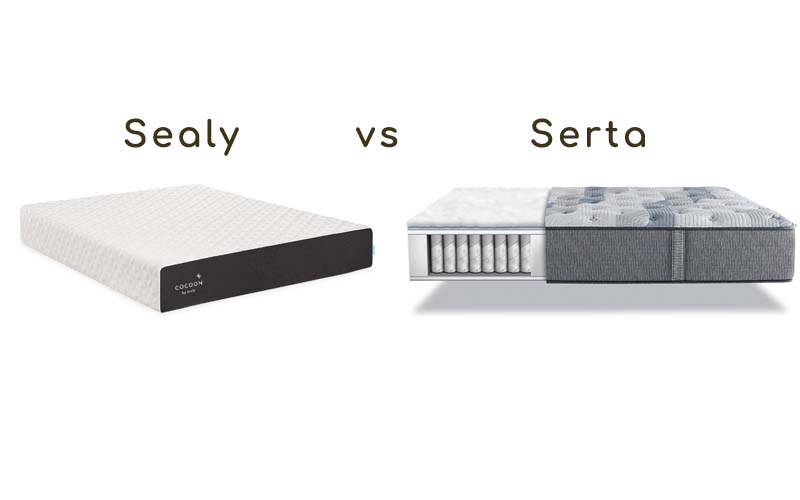 Shopping for a new mattress becomes extremely hard these days. New models appear on the market almost every day, and trying to choose the right one among them might leave you sleepless.
Don't worry, though. We're here to help!
In this article, I'm going to compare two mattresses made by well-known brands — Sealy and Serta. And I invite you to look at my findings! Hopefully, this will help you make a decision.
So, I'd like to begin my comparison of Sealy vs Serta with some key information about the companies.
Both brands have a deep assortment, which includes several types of mattresses and dozens of models, so I'll briefly describe what you can expect from each of them.
Let's begin with Sealy.
This manufacturer offers three mattress types:
innerspring (Response Line);

memory foam (Conform Line);

hybrid (Hybrid line).
Within each product line, you can find various firmness levels and sizes. The company claims to use high-quality materials, which may be the reason why their mattresses are quite expensive yet durable.
Also read: 7 Different Mattress Types Explained
Now, Serta.
This company offers the same mattress types as Sealy, but I believe they took a step forward. If you look at their website, you'll see that all the models are conveniently grouped by their purpose rather than by type. And I think this is great because we typically search for a bed with certain performance characteristics, and many people don't know much about how different characteristics are tied to the mattress type.
So, here's what Serta has to offer:
Perfect Sleeper series

. These mattresses, according to the company, aim to solve all your sleep-related issues, such as hot sleeping, tossing and turning, your partner's movements waking you up, etc. They're available in all types except for latex.

iComfort series

. This is a separate line of

memory foam mattresses

and hybrids made with the proprietary iComfort foam. They are available in different levels of firmness and offer all the benefits of memory foam — a nice hug, precise contouring, and good motion isolation.

iSeries

. This is a collection of hybrid mattresses with great support and quick response. iSeries mattresses have no issues with thermoregulation thanks to the breathable design, so they may suit chronic hot sleepers.
As you can see, Serta's line-up is as diverse as that of Sealy but is much easier to navigate through.
Now, it would be impossible to review and compare side by side every model of each of the two brands. That's why I'm going to do a mattress comparison of two best-selling models:
The Cocoon by Sealy and the Blue Fusion by Serta.
Let's see how they perform!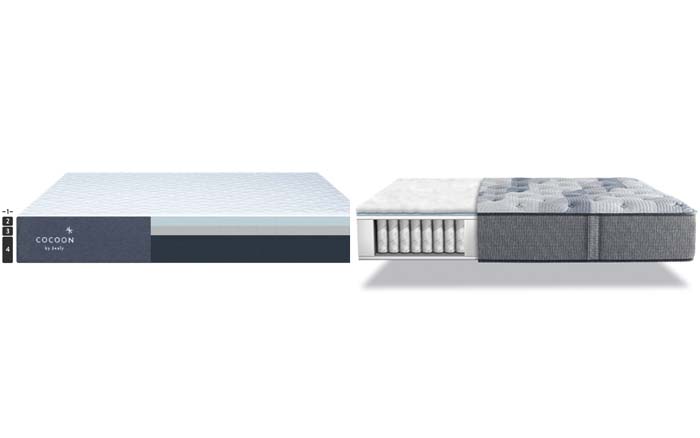 This part of my Serta vs Sealy review is dedicated to the construction.
So, the Cocoon is an all-foam mattress, whereas the Blue Fusion is a hybrid mattress (meaning it uses both coils and foam).
Now, let's take a closer look inside the Cocoon mattress by Sealy:
The supportive core of the mattress is made of dense and resilient foam.

It ensures great motion absorption but has good rebound at the same time. The latter means that the mattress will quickly return to its shape after you get up from the bed.

The transition layer also features dense foam.

According to the brand, you can choose either Firm or Medium Soft option, depending on your preferences.

The top comfort layer is made of gel-infused memory foam.

It offers exceptional cradling in any position and promotes even weight distribution.
The construction is pretty simple, right?
Now, let's see what Serta's Blue Fusion holds for us:
Individually wrapped coils act as the mattress base.

They eliminate the chances of sagging and ensure pinpoint support for all your body curves. Additionally, the perimeter of the coil unit is reinforced with dense foam for sturdier edges.

The transition layer is made of dense supportive foam.

It ensures proper weight distribution and muffles the motion response from the coils.

The top comfort layer is made of gel-infused memory foam.

It can withdraw heat and ensure optimal microclimate in your bed.

There's also a pillow-top right under the cover

. Being thinner than 2 inches, it does add some plushness but doesn't make you sink into the bed.
As you can see, there are some similarities: both Sealy and Serta mattresses have three-layer design and feature gel-infused foam as the upper comfort layer.
The mattress cover is as important as other layers. It protects the bed from dust and debris and improves your comfort by creating an additional breathable layer. So, let's see what each mattress can offer you here.
The Cocoon mattress features a stretch-knit cover with a simple geometric pattern. The brand states that the cover is additionally infused with the phase change material. This material allows the cover fabric to adapt to changes in your body heat and create the optimal temperature in your bed without making you sleep hot.
I have to admit I managed to feel this effect while testing. Sealy's mattress cover really feels cool to the touch and a pleasure to sleep on, especially when combined with a breathable bedding set.
Now, let's talk about Serta.
The Blue Fusion's cover is soft and feels like microfiber. Also, the cover is quilted, and the quilt consists of three layers, thus creating a pillow-top:
fiber flame-retardant layer;

Serta Pillow Soft Aire;

Serta Pillow Soft foam.
The pillow-top adds some cushioning and just looks great.
Neither Sealy's nor Serta's cover is removable, so if you're going for one of these mattresses, I suggest you choose a mattress protector to prolong their lifespan.
Check out Sealy mattress on Amazon
Firmness and How it Feels
Here goes another part of my Serta vs Sealy comparison, and it's dedicated to firmness. I know that firmness perception is subjective, but you still have to know what to expect from each bed.
So, the Cocoon by Sealy is available in two firmness configurations:
Medium Soft, which I'd rate as 5-6 out of 10;

and Extra Firm, which is 7-7.5 out of 10, in my opinion.
I refer to the universal firmness scale, where 1 is the softest surface for sleeping and 10 is the hardest.
"Note that not all mattress brands may use this classification, but most of them do."
So, the Cocoon may please both the fans of sinking in the bed layers and those who love mattresses with the floating feel.
I've tested the Extra Firm option for this review, and here's my verdict:
It supports your spine pretty well in the prone and supine positions, but if you're a side sleeper or prone to shoulder pain or hip pain, you may want to consider the Medium Soft option for deeper sinkage.
Now, Serta's Blue Fusion can only offer you one level of firmness — Firm, which I'd rate as 7 out of 10. It felt good when I slept on the back but lacked some sinkage when I turned to the side. My lovely wife, who is a stomach sleeper, reported sleeping very well on the Blue Fusion. Overall, I find the limited choice of firmness in this particular model a bit disappointing. But there surely are softer mattresses in the brand's line-up.
Now, let's switch to the performance characteristics of each bed.
Because this is what we're here for, right?
So, the Sealy mattress has an all-foam construction, but the choice of denser foam with quicker response played really well here. The edges of the bed are pretty strong and uniform, and if you sleep closer to the edge of the bed, this will definitely please you.
Along with that, a dense foam base contributes to the great support around the whole mattress surface. The mattress adapts to your body shape pretty easily and offers precise contouring.
The Serta mattress — being a hybrid — initially comes with an anti-sagging design and sturdy edges. The coil block maintains its shape well and is more capable of supporting larger weight, so it can suit large sleepers and won't make them sink too deep into the mattress layers.
Also read: The 7 Best Mattresses For Heavy People – Reviews And Buyer's Guide
check out Serta mattress on Amazon
Motion transfer defines how well you will sleep if your partner doesn't sleep well.
Simply speaking, you need to know whether your mattress can muffle the motion coming from the other side of the bed in case you share it with another human being or a pet.
Speaking of the Cocoon mattress, things are pretty simple. All memory foam mattresses have great motion absorption, and this model is no exception.
On the first night of the testing, my dog jumped onto the mattress and slept with us. I found out about it from my wife the next morning, as I didn't feel the dog's presence during the night. So, you can imagine how good this mattress performs.
Now, the Serta is a hybrid, and this impacts its motion-absorbing properties not in a positive way. The coils are quite responsive to movements, and even the foam comfort layers above don't fully isolate the motion. However, this responsiveness might be a plus for couples with active sex life.
Another thing I want to bring up in my Sealy vs Serta review is sinkage. This parameter defines the amount of hug you will get from the mattress.
And this is where both beds actually become pretty similar — because they're firm.
Firm mattresses typically do not offer much give, resulting in the floating feel instead of sinking.
However, both the Cocoon mattress and the Blue Fusion can support your natural spine alignment, especially if you love sleeping on your back or stomach.
"Firm mattresses are a great pick for heavier users because they can give them just the right amount of sinkage without creating awkward curves in the spine."
Olfactory triggers are one of the most disruptive external factors when it comes to sleep.
So, it's totally natural for you to want your mattress to be completely odor-free.
But can these two models satisfy this demand?
Let's see.
Sealy's Cocoon mattress, due to an all-foam design, has a slight odor after unpacking. It dissipates in a couple of hours, though, and when you're ready to sleep, you will barely feel it.
As for Serta's mattress, its hybrid construction allows for better airflow between the layers, so there is little to no odor.
My wife, who tested both mattresses with me, is pretty sensitive when it comes to foam odors, and she didn't feel anything neither from the Sealy nor from the Serta bed.
So, I can conclude that both of them have successfully passed this part of the test.
If you compare Sealy vs Serta in terms of shipping, you'll find that they're pretty different.
Sealy ships its mattresses using standard and free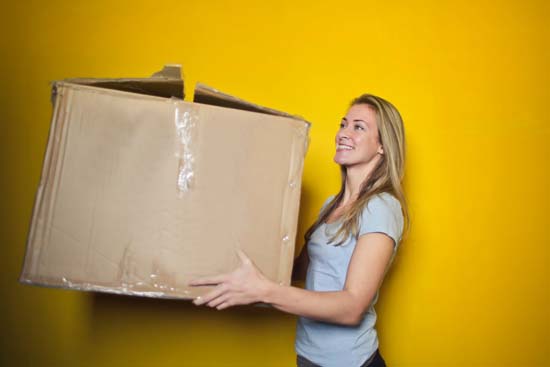 UPS Ground delivery. The manufacturer will give you the tracking number for your purchase and you can expect your order in 5 to 7 business days.
If you want a faster delivery, you can choose among UPS Next Day, UPS Second Day, or UPS Saturday Delivery options, but note that you will be charged additional fees for that.
All the mattresses are shipped from the facility located in Mississippi and can be delivered to any address within the US.
Serta offers you free White Glove Delivery Service for all orders placed through its website. However, you should remember that certain models of this brand are available only in brick-and-mortar stores, so these shipping terms won't apply to them.
Also, Serta delivers orders only within the continental part of the US, so you cannot order if you live in Alaska, Hawaii, or Puerto Rico.
Typically, you can expect your Serta mattress delivered within 10 business days after placing an order. The delivery staff will contact you before dropping the mattress so that you could be home when they arrive.
If you find that your mattress isn't perfect for you, both Sealy and Serta allow you to return it. Note that both companies also suggest you sleep on the mattress for 30 nights as a mandatory break-in period before you can claim a return.
So, here's how a return policy works with Sealy:
If you want to claim your refund, you need to

make a call and get all the details

.

Return options may include

donating to a local charity, recycling, or mattress disposal

, depending on where you live.

After you confirm the return, you will be fully refunded

within 1-2 business days

.
Also, the company offers you the option to exchange the mattress during the trial period if you aren't satisfied with the feel. If you're still unhappy after the exchange, then Sealy will launch the return process.
As for Serta, the company will also offer you a free replacement if you aren't happy with your mattress. However, if you want to claim a refund, note that the company will deduct $200 for shipping and handling along with a 15% disposal fee from the sum, so technically, you won't be refunded fully.
Both Sealy and Serta offer you a 10-year warranty, which is more than enough for a medium-priced mattress. Since the average lifespan of a mattress is about 7-10 years, you can rest assured that you are covered during this period.
As for the sleep trial, Serta leaves you more time to think than Sealy: its trial period lasts 120 days, compared to 100 nights from Sealy.
Although your body will likely adjust to the new feel within the first month of sleeping on a new bed, it feels safe to know that you have more time to claim a refund. At least for me.
Recommendations and Outtakes
Finally, let's recap the main features of each mattress to see who will benefit from using them the most.
So, the Sealy Cocoon mattress can be your go-to option if you:
need a mattress with a decent hug and pressure relief;

share a bed with a restless sleeper and are a sensitive sleeper yourself;

have small or average weight;

suffer from back pain;

want a bed with good value for money.
On the other hand, you may benefit more from the Blue Fusion mattress if you:
are a heavy sleeper;

need a mattress that won't restrict your mobility during the night;

tend to sleep near the edge or share a bed with someone who loves to stretch;

are prone to hot sleeping;

don't mind some bounce and want a really firm feel.
Conclusion
Sealy 4.8 *****
Serta 4.5 *****
I enjoyed testing both mattresses and found them great in terms of comfort and support.
Both Sealy and Serta mattresses performed well in all the parameters I've set to determine. Plus, they have great value for money and good reviews.
However, I liked the Sealy Cocoon mattress a bit more. First, it has two firmness options to choose from, which is great. Second, thanks to the all-foam design, this bed ensures a great amount of support and easily adapts to your body shape and preferred sleeping style. And finally, I found the shipping and return conditions of the brand a bit more satisfying.
Do you agree with me, or do you think that the Serta mattress should be the winner in this comparison? Share your thoughts in the comments!
Product links on Happysleepyhead are referral. We get a commission on purchases made through our links at no additional cost to you. More information in my disclosures.