Foam Vs Spring Mattress: A Quick Comparison
by | Last Updated
With a plethora of choices on the market today, choosing the right mattress can be overwhelming.
However, you can make it easier by identifying your sleep needs and matching them against various mattress types.
Two of the most common mattress categories on the market are foam and spring mattresses. Each of these two types has their own set of pros and cons, depending on the materials used in the construction.
Each mattress also has further subcategories that can easily confuse an average sleeper who just wants to get a nice comfy bed to sleep in peacefully.
In the following article, we'll take a look at some of the pros and cons of foam and spring mattresses and which one suits you best.
Spring Mattress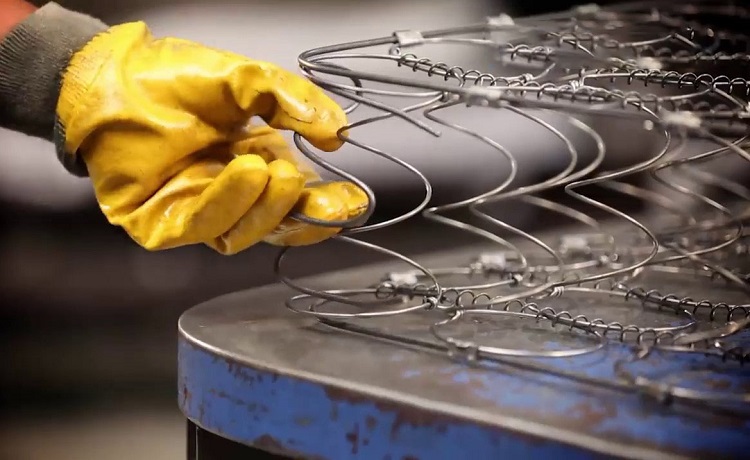 Spring mattresses are known for their traditional feel.
They are also the simplest and most affordable beds on the market.
The first steel coils were developed in 1857; however, it wasn't until 1871 when a German inventor Heinrich Westphal used steel coils to make the world's first innerspring mattress.
Throughout the years, the latest technologies and innovative designs have evolved innerspring mattresses into luxurious products.
Thanks to its unique responsiveness, spring mattresses provide spinal alignment, bounce, and much-needed support appreciated by all sleepers.
The luxury innerspring mattresses on the market today offer a near-perfect balance between comfort and support.
A spring mattress is made up of three basic components:
The comfort core: It's not very practical to sleep on coils only. This is why the core has a thin upholstery layer on top, which is usually made of soft materials like foam and fibers.
The core: This is the main body of the mattress in which steel coils are aligned for support and comfort. The gauge and number of coils varies from one mattress to another.
The foundation: This is the bottom layer and is usually made of wool padding or a thin foam layer to provide support to the coils. The basics of an innerspring mattress remain, but the coil system types vary. The mattress comfort, quality, price, and supports, as well as other features, depend on the coil system that's used in that mattress.
Here are some of the most popular coil types found in spring mattresses today:
Offset Coils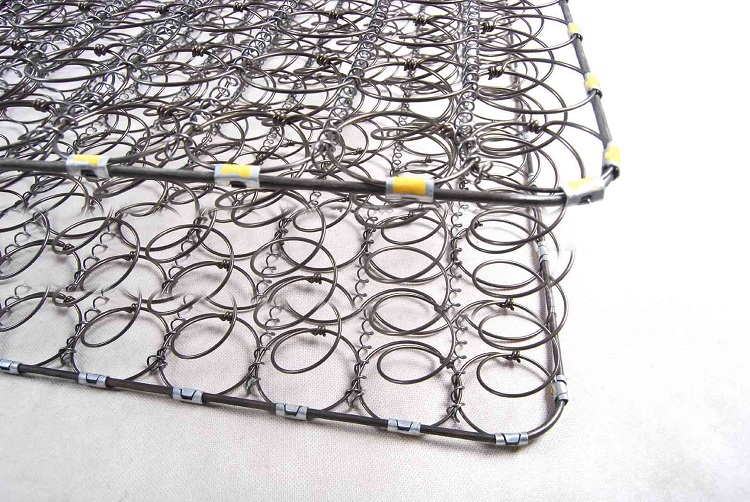 Offset coils, also known as Bonnell coils, are almost similar in their shape and properties. Both are hourglass-shaped coils with the center that is thinner than the edges.
Perhaps the only difference is that offset coils have hexagonal ends and lace together better than Bonnell coils.
Due to the hourglass shape, these coils compress on slight pressure and offer a constant balance in addition to resilient support.
Your weight is held by the flexible pushback force that effectively relieves aching joints, troubled backs, and sore muscles. If you suffer from backache problems, sore muscles, and aching joints, these coils are the best.
Bonnell coils are better at motion control. Both coils, however, are not as efficient as foam motion isolation due to the integrated structure.
That said, spring mattresses stay cool even in the hottest of temperatures, and this is due to the vast empty spaces between the coils.
The ruggedness of these coils depend on their wire gauge, however, offset coils from a more durable structure than Bonnells.
Continuous Coils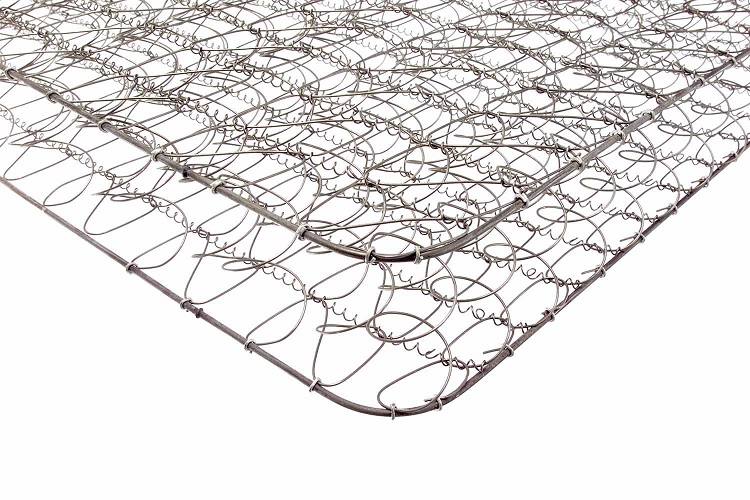 This system was introduced by Leggett and Platt under the name of Miracoil in the mid-1980s. It is a continuous unit with head to toe rows of quality S-shaped coils providing consistent and stable support.
Each row is made of many coils twisted out of a single continuous wire. These rows are interconnected with each other via a helical hinge providing visibility.
Some of these mattresses will have continuous coils crosswise or lengthwise. Ultimately, this system increases wire density and makes it suitable for heavy sleepers.
This support system works well for stomach and back sleepers. Also, the system is more durable and offers better support and transfers fewer motion disturbances as compared to Bonnell coils.
The wire that runs along the mattress perimeter provides good edge support.
The motion isolation, however, does not do a good enough job if your partner, child or pet moves on the bed. The system is used by most high-end and average innerspring mattresses.
Individually Pocketed Coils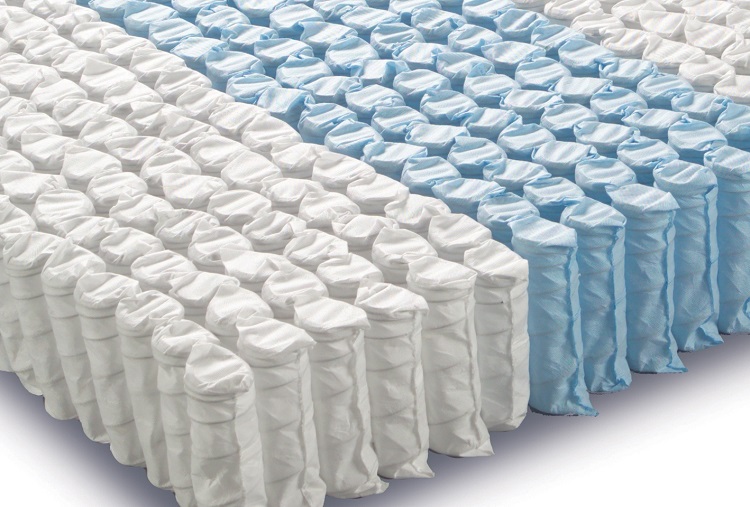 Pocketed coils are known as Marshall coils and were invented by James Marshall in 1899.
The system became popular only in the late 20th century after mass production was possible. Each coil is encased by a fabric cover.
These pocketed coils are not connected to each other so that they move independently.
This is why the mattress is so effective when it comes to isolating movement and ensuring undisturbed sleep even when you are sharing your bed with someone else.
In addition to these benefits, pocketed coils offer extra continuity compared to memory foam. These coils conform to your body's curves and offer targeted support.
They are also able to distribute your weight evenly, and each body part gets the comfort as well as the support that it needs.
Most luxury innerspring mattresses as well as hybrid beds make use of this coil system in their support core.
Some of these mattresses offer zoned support due to the different gauge coils in different sections. Pressure relief and spinal alignment is ensured irrespective of your body type or sleep position.
Pocketed coils offer little support at the edges though most manufacturers use reinforcements such as edge foams to make the mattress perimeter secure.
Foam Mattresses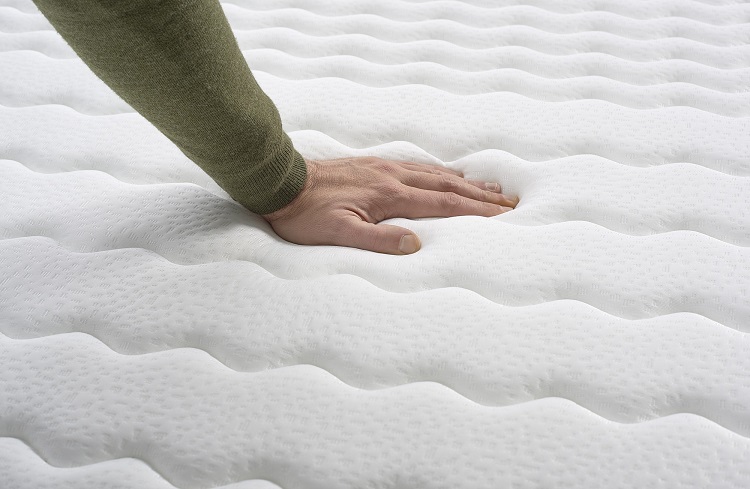 There's no doubt that spring mattresses dominate the mattress industry due to their affordability and resilience.
However, when it comes to excellent contouring and cushion comfort, this is where spring mattresses are lacking.
Many people today prefer foam mattresses because they can enjoy incredible pressure relief and extraordinary spinal alignment.
It wasn't until the 20th century that foam mattresses were being used as a leading mattress material.
In the latter half the 21st-century foam mattresses started becoming increasingly popular thanks to the introduction of the viscoelastic foam.
A typical foam mattress has the following construction design:
The Comfort layer: This is made of soft foam to provide a more cushion to sleeping suffers. It's often one layer of foam, but high-end mattresses can have several layers of this foam insulation as well as transitional support. Quilted foams on top also offer instant comfort and pressure relief.
The support core: This is the foundation of the mattress. It's usually made of high-density foam and prevents sagging as well as increases the longevity of the mattress. However, there are various types of foams used in memory foam mattresses, each with their own benefits, features, prices as well as advantages and disadvantages.
Polyurethane
Polyurethane is also known as polyfoam and is the most common foam used in memory foam mattresses today.
It's a man-made material taken from petroleum and made combining two chemicals, which is polyol and isocyanate.
It conforms to the body curves offering pressure relief, and it's quick to respond and effectively retains its original shape.
Since it's a foam mattress, it isolates motion better than a typical innerspring mattress. It's also resilient and sturdy and used in the support core of foam mattresses too.
Memory Foam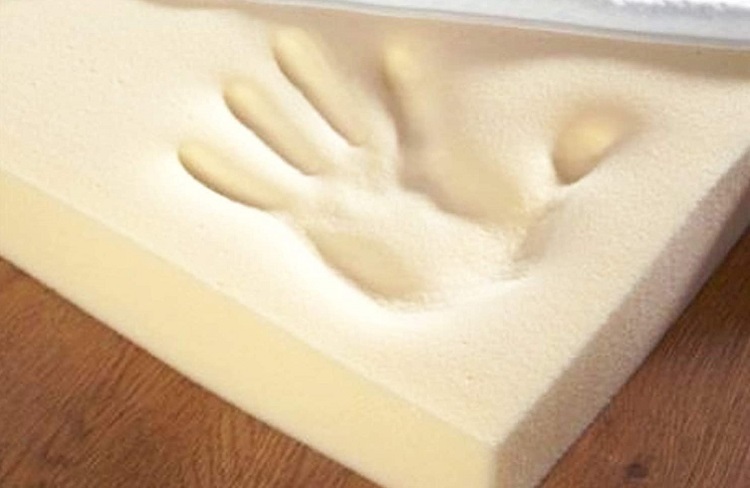 Memory foam reacts to temperature as well as body weight. It also contours your body curves and gives pressure relief.
So if you enjoy healthy spinal alignment and even weight distribution, then a memory foam mattress is the way to go.
Thanks to its dense structure, it isolates movement giving you an undisturbed sleep irrespective of whether you have a restless partner no not.
The hypoallergenic material also deters the breeding of dust mites, bedbugs, and other pests.
Spring vs Foam Mattress
Weight
Due to the fact that memory foam mattresses do not contain any coils, they are, in most cases, lighter than innerspring mattresses.
Longevity
Most people think that spring mattresses would last longer than foam mattresses since metal does not wear out easily. However, metal can break due to wear and tear as well as excessive weight and bounce.
A typical spring mattress may only last you between the 2 to 7 years, depending on the quality and how you use it.
However, when it comes to foam mattresses, they tend to outlast spring mattresses. They don't break down easily, especially if they have a high-density foam core.
Foam mattresses usually last as long as eight years, if not more if maintained properly.
Comfort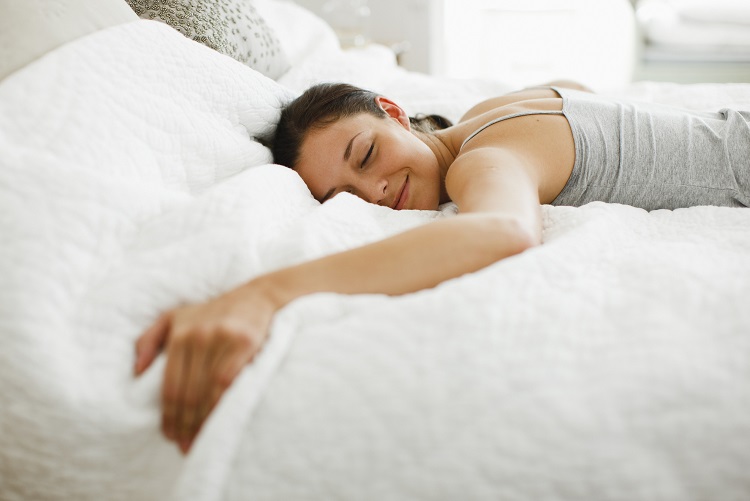 Spring mattresses still do a good job of relieving back aches, especially the ones with the pocketed coils. Some innerspring units may not be as effective and may increase the pain instead of relieving it.
Spring mattresses do also offer good spinal alignment for back and stomach sleepers who require a foam mattress with support.
Foam mattresses, on the other hand, alleviate back pain due to the layers of foam, which offer continued support and do a great job of maintaining healthy spinal alignment.
The foam also helps to keep your back pain free.
Affordability
If you are on a tight budget, an innerspring mattress is usually the best choice. However, you must be able to increase your budget if you want a better mattress.
Alternatively, foam mattresses cost more than spring mattresses due to the heightened comfort and durability. Simple foam mattresses are sometimes more readily available at lower rates than innerspring mattresses.
Conclusion
Both spring and foam mattresses have their advantages and disadvantages.
Ultimately, the type of mattress you choose will depend on your sleeping requirements as well as your personal preference.