Best Sturdy Bed Frames for Sexually Active Couple — Reviews and Detailed Buyer's Guide
by | Last Updated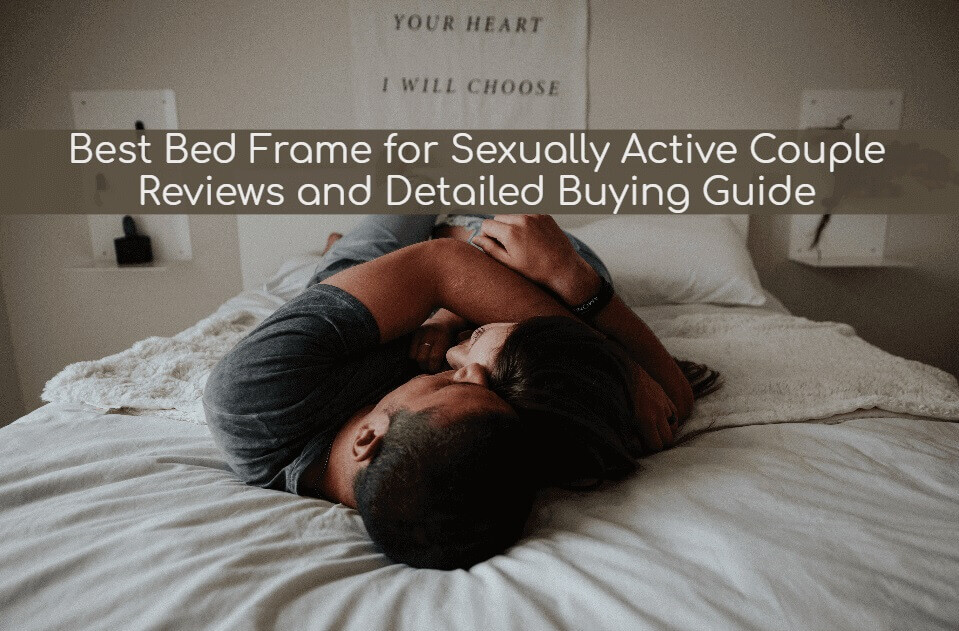 If you have an active sex life, you probably know that besides being pleasant and beneficial for your health, sex is also an extremely loud activity.
Especially if you have an old, squeaky bed.
So, what is the best way to not get exposed by relatives, neighbors, or kids?
The answer is, obviously, to replace a bed frame with a new one that won't reveal your sex life to others.
And if you're reading this guide, you're on the right way, as it contains reviews of 5 best bed frames for sexually active couples, as well as some useful checks to make before you make a purchase.
[table id=110 responsive=collapse datatables_row_details=true datatables_row_details_columns="A-G" /]
Our Reviews of Bed Frames for Sexually Active Couples
Best for Edge Support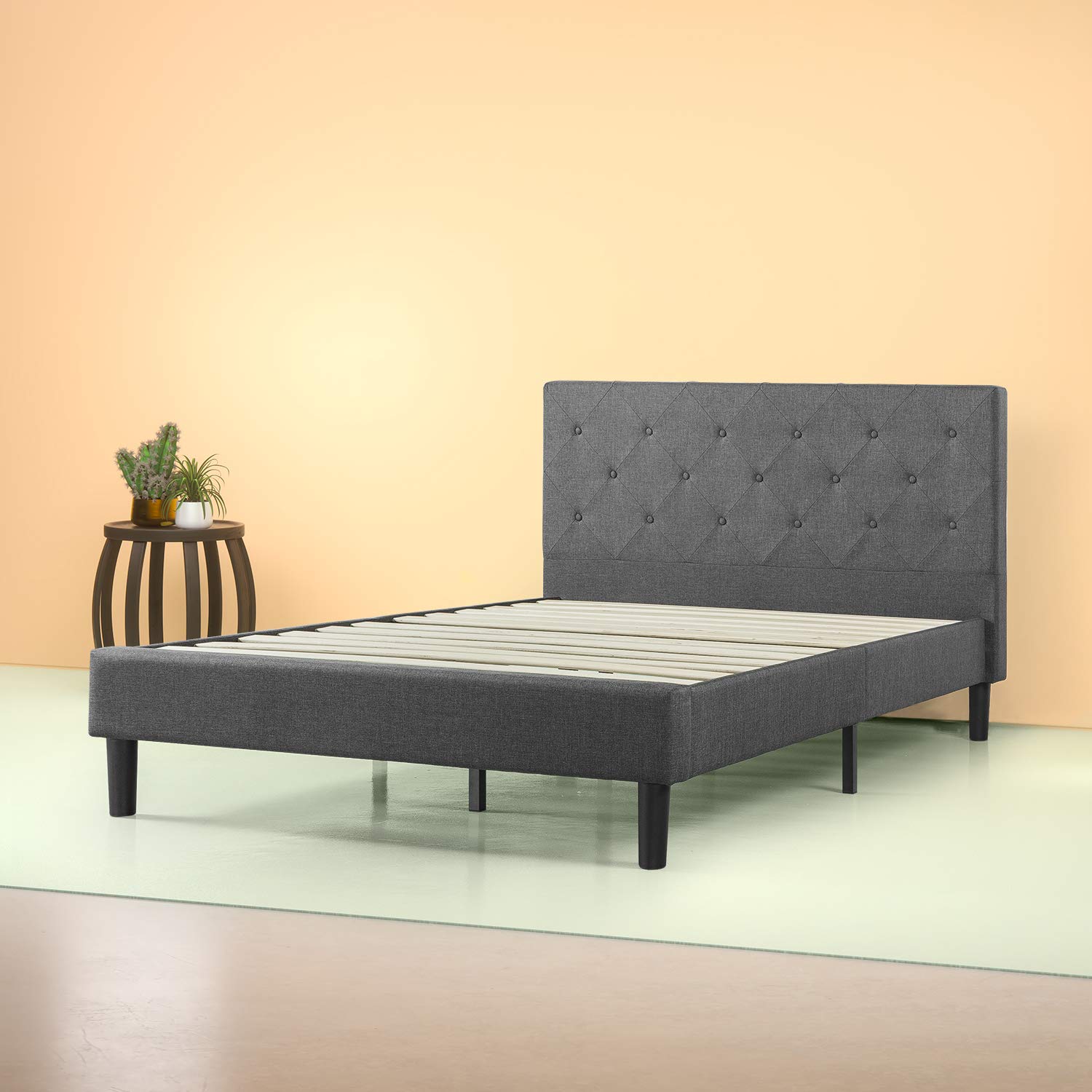 I will begin my review of top-rated bed frames for sexually active couples with the Zinus Shalini wooden frame. It looks pretty stylish and has a noise-free construction that won't reveal your nighttime joy to anybody.
So, this foundation has a metal inner frame and flexible wooden slats that can compensate the rebound of your mattress. Along with that, the inner perimeter is covered by foam padding tape, which can eliminate any unpleasant noises and sounds not only during sex but also while you sleep.
The assembly is pretty easy and fast: all the needed hardware, including the wrench, is stored in a zippered compartment on the back of the headboard.
The only downside of this bed frame is weight. I mean, it's pretty heavy, especially the headboard, so you may require help from your partner or friend to assemble it.
But the most prominent feature of the Zinus Shalini is edge support. This bed frame has reinforced borders that allow you to use the whole surface area for both sleep and sex.
I would recommend this bed frame to anyone who needs a sturdy base with balanced bounce and pronounced edge support to complement a mattress.
check the price on amazon
Best for Steady Construction — Editor's Choice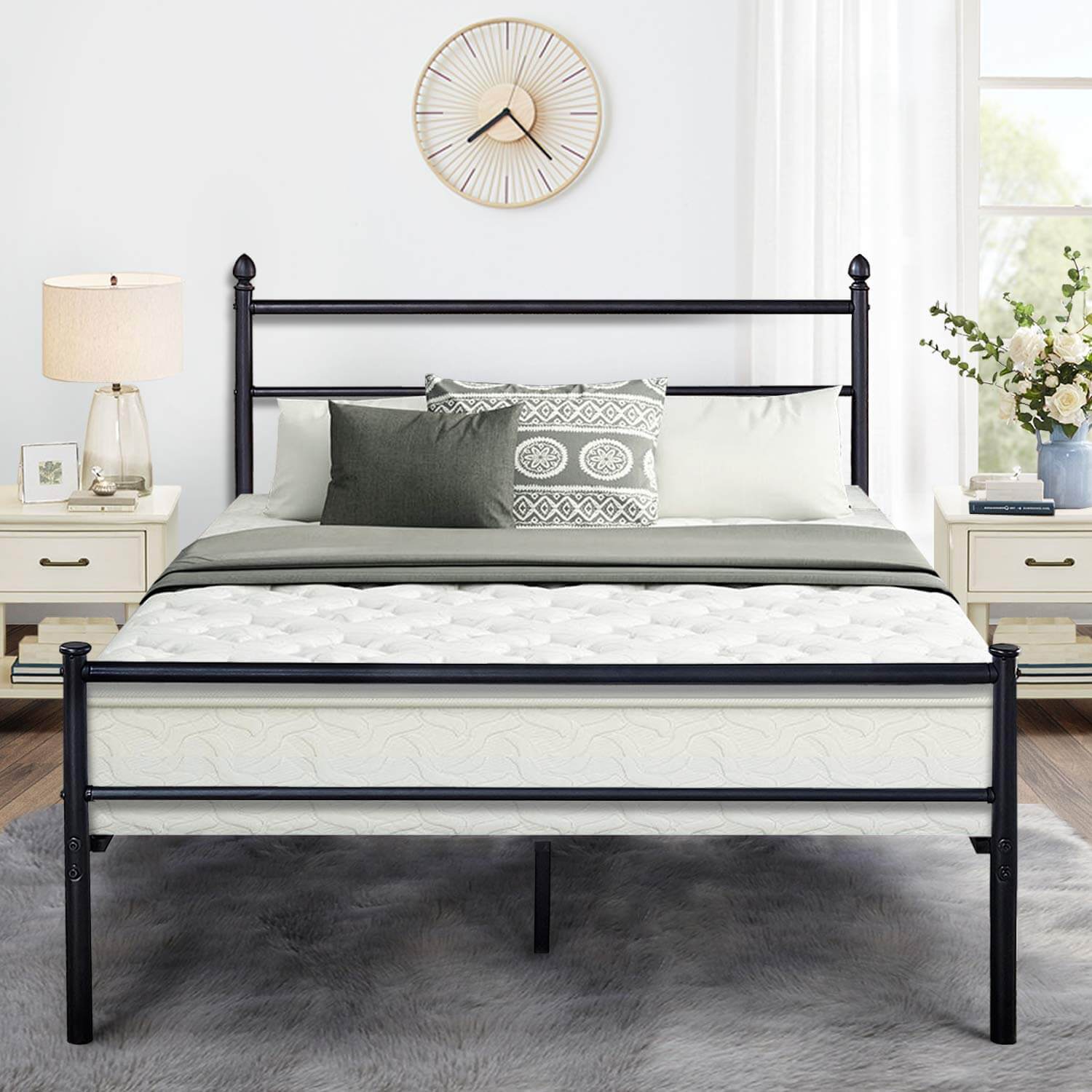 The second item in my review of bed frames for sexually active couples is this metal model by VECELO. It has a simplistic design and is incredibly steady, which is another important feature to look for in sex-friendly beds.
This bed frame has 12 slats, which are placed slightly below the outer border, helping your mattress stay in place no matter what. And the maximum weight capacity of 400 lbs will work great for withstanding any moves and sways along the way.
Still, this bed frame has something I didn't like. I'm talking about the assembly process. Even though the instructions are provided, the disassembled bed contains so many details that it can all get messy and annoying to deal with.
But once it's assembled, you get a very steady bed frame that won't rock, move or bang to the wall during your intimate moments, ensuring that all your actions remain a secret.
So, if you are a fan of minimalism and need a really sturdy bed frame, you've got it. Just be sure to recruit someone to speed up the assembly process.
check the price on amazon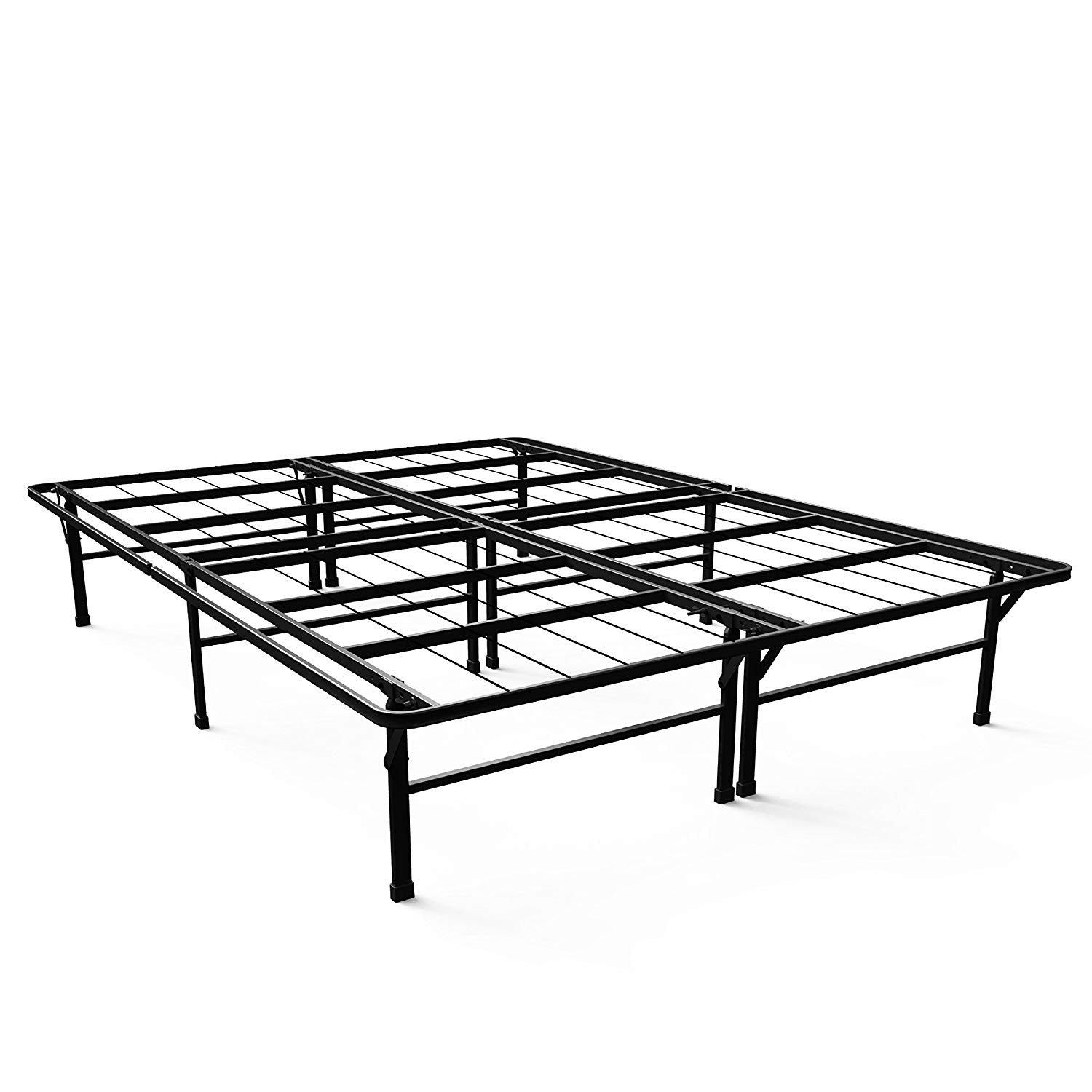 The Zinus Gene is another model I've reviewed for my list of top-rated sturdy bed frames for sexually active couples. First, it has a durable reinforced construction. Second, it's available in every mattress size, including California King and Universal.
Now, this bed frame has T-shaped leg construction, which provides additional stability and makes it very steady. Besides that, the edge and middle bars of the Zinus Gene are doubled to enhance the support of your mattress and create a uniform surface for your act.
Another great feature of this frame is that you can attach the headboard to it, using SmartBase brackets, and make your bed even more convenient.
However, the initial absence of the headboard is actually a flaw, as your mattress may just slide off your bed in any direction when things get really hot. So, if you don't plan to buy it, at least use some straps to hold the mattress in place.
The best thing about this bed frame is its durability. The balanced combination of thick steel rails and mesh wires ensure the anti-sagging properties of Zinus Gene and will serve you for years to come.
If you're in the market for a durable and affordable bed frame, then I recommend you to pay attention to the Zinus Gene.
check the price on amazon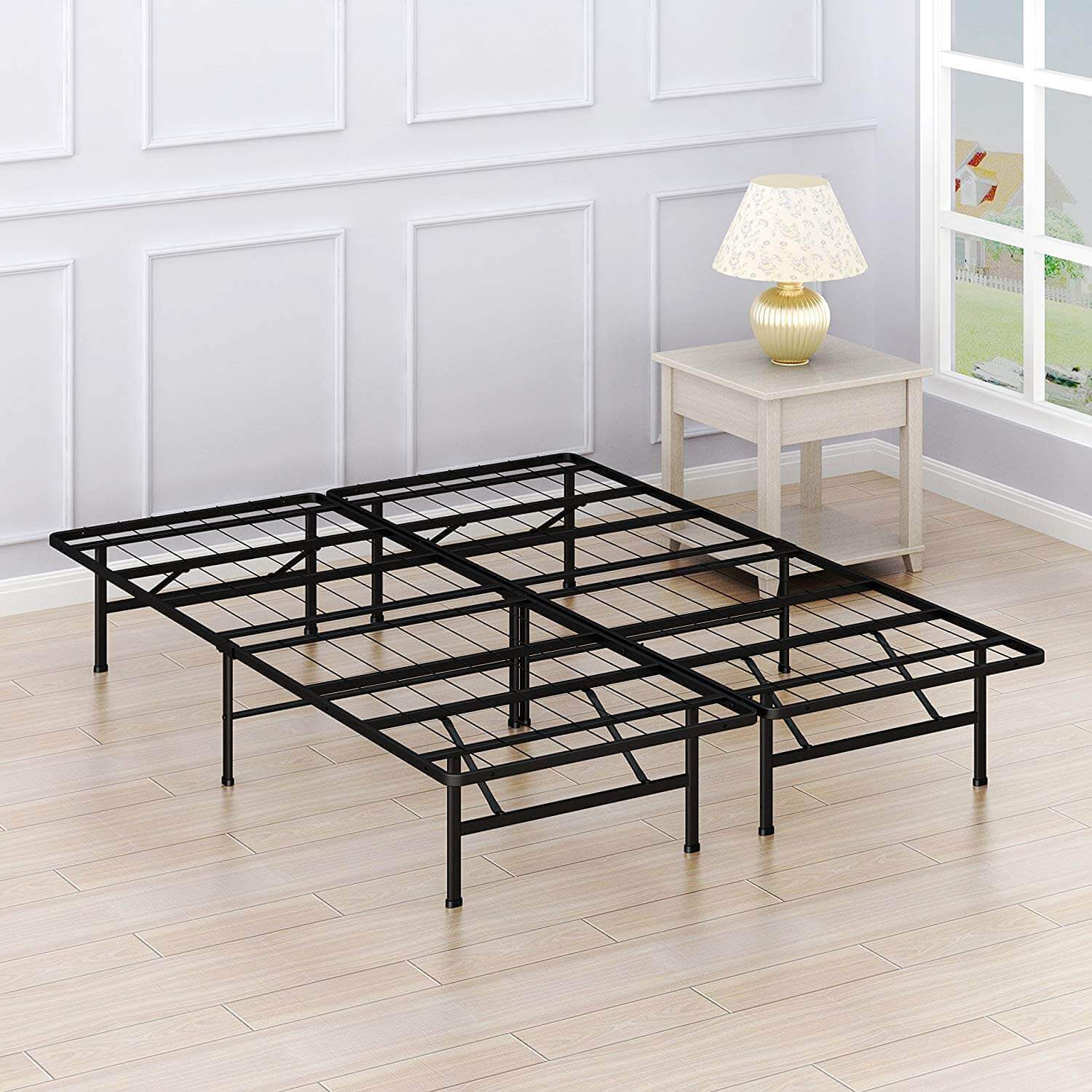 The next candidate on my list may seem very similar to the previous one. But the reason why I marked Simple Houseware as the best bed frame for sexually active couples is its cost. For less than $80, you will get a quiet and sturdy bed frame that will make up a sturdy base for your lovemaking!
Don't be deceived by the looks:
This baby can hold up to 500 lbs and copes with dynamic loads pretty easily, without making unwanted noises.
Also, this bed frame is compatible with any mattress type and eliminates the need to use a box spring or other foundation types. And finally, it's lightweight and easy to transport — just fold it in half, and you're good to go.
So, what could possibly go wrong with this bed frame? Well, even during the first three nights of testing it I've encountered the necessity to tighten up some bolts and nuts. It's not that critical, but might be annoying for some.
But the price of this bed frame beats off all the flaws. I mean, you can get a quiet, durable and portable bed frame for less than $80 on Amazon! Why are you still here?
Couples who have a limited budget but need something long-lasting and sturdy should definitely opt for this model by Simple Houseware.
check the price on amazon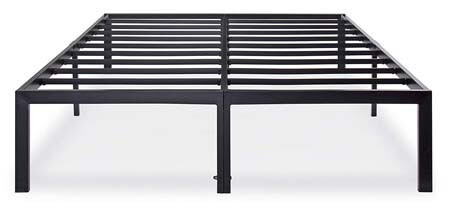 And the final option in this review of best sturdy bed frames for sexually active couples is this simple model by Olee Sleep. Despite the simplicity, it can hold up to 1,200 lbs and copes with dynamic loads pretty well. And the assembly takes minutes, as all the tools are included.
So, the frame consists of the sturdy outer perimeter and ten metal slats that are placed about 7.5 inches apart from each other. If you own a memory foam mattress, you probably should look for another model. But latex and spring mattresses will pair up with this bed frame perfectly!
The slats lie slightly below the outer frame, so your mattress stays in place no matter how active you are. Also, the construction allows for installation of a headboard, but you have to purchase it separately.
But the ease of assembly is definitely great. This frame can be assembled in less than 20 minutes if you're doing it alone, or even faster if you recruit a partner to help you.
So, what could possibly go wrong with this bed frame? Well, it's a bit larger than the standard mattress sizes, so the corners stick out and may make you accidentally stub your toes or hurt other parts of your body.
So, if you need a budget-friendly and durable bed frame that can withstand all types of activities, you should give the Olee Sleep a try.
check the price on amazon
Is There Any Difference Between a Sex-Friendly Bed Frame and a Regular One?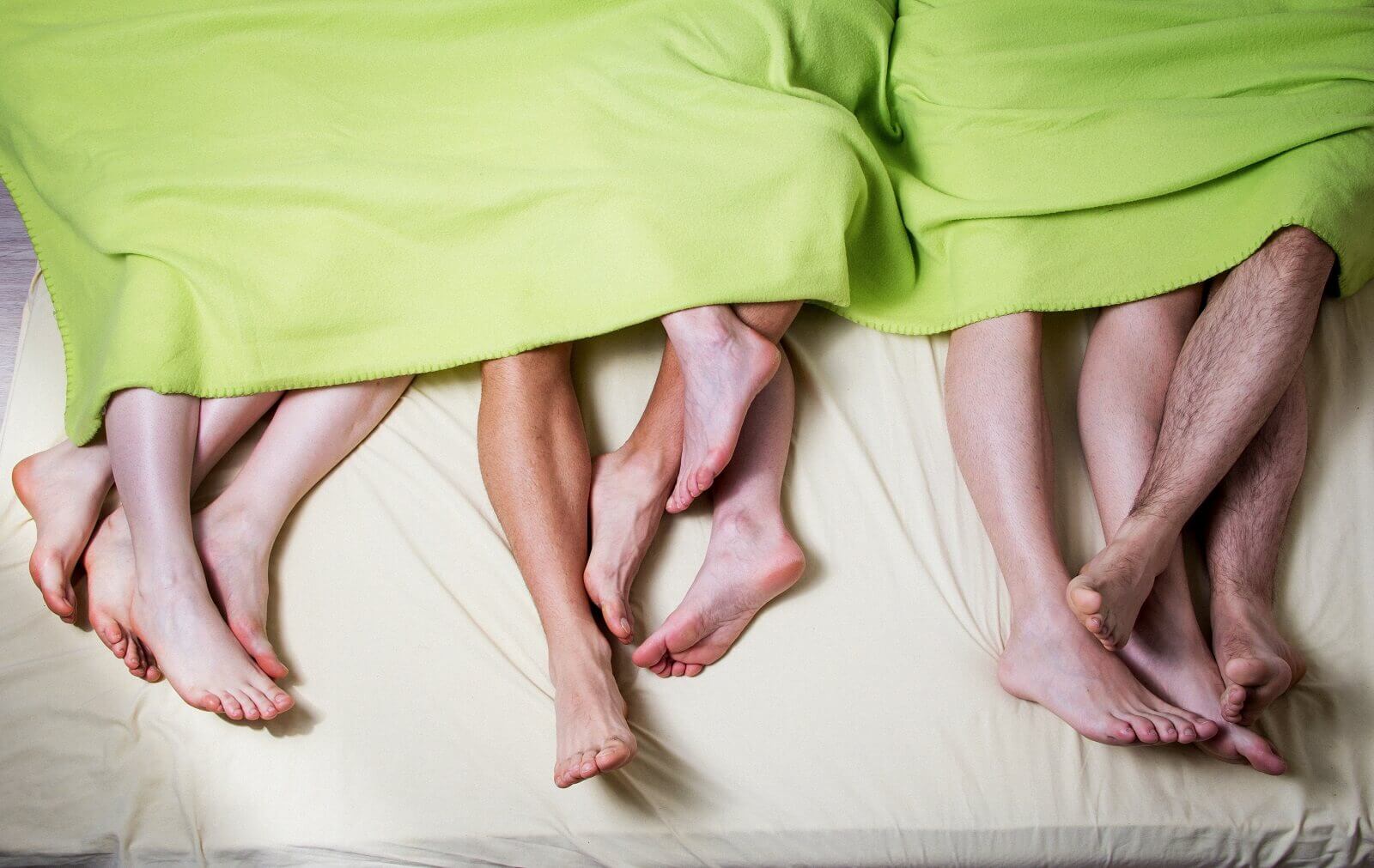 Now, you probably understand the importance of choosing the right mattress for sex, but what's the deal with bed frames?
Couldn't you just purchase any model that comes to your liking?
Well, you can do whatever makes you happy, but the thing is that the right sturdy bed frame can make you even happier.
See for yourself:
More support

. Lovemaking is a dance of love, and it can be pretty intense in some cases. Thus, you need to have a

sturdy bed frame

that will be able to withstand this load without collapsing and provide you with uniform support all over the surface.

No squeaking

. Noises aren't only an irritating signal to your neighbors; they can also become an annoying turn-off for you as well. So, getting a bed frame that makes no unpleasant sounds seems like a great solution for saving the flames of desire.

Room for experiments

. Yes, you've got it right. Some reviews of bed frames for sexually active couples mention that buying a bed frame with additional features, such as headboards or canopy pillars, may expand your fantasy borders and spice up your sex life.
You can also use different types of pillows as a sex tool. A pillow can increase your comfort in certain positions, or change the overall feel in a more pleasant way.
Is a Bed Frame All You Need for a Perfect Love Bed?
The sleep furniture industry is pretty diverse today, so when shopping for a new bed, you may get lost among all the available options.
Let me briefly walk you through the main parts of a bed set and how they perform when it comes to sex.
Platform bed.

The simplest configuration you may have is a platform bed + a mattress. Basically, a platform bed consists of a flat surface (which can be made of either a solid piece of material or a slatted one) and legs. Sometimes head- and footboards are also included. Platform beds work great with nearly any mattress. The ones made from metal can be great for sex. But wood slats may become squeaky very fast, especially if made from soft types of wood.

Bed frame

. A bed frame is literally just a frame with legs where you put slats (a.k.a. a

bunkie board

), a mattress foundation, and then a mattress itself. However, some bed frames — like the ones in this review — initially come with slats, so you don't have to buy them separately. A bed frame can be made from steel, wood, or combine these two materials. Usually, this part of a bed is pretty sturdy and may have additional features — such as foam padding — that eliminate any noises between the frame parts, which is definitely a plus for sexually active couples.

Adjustable base

. This part of a bed allows you to lift separate sections to different levels of height. Typically, it is used for treating some sleep-related disorders, such as heartburn or sleep apnea. But technically, you can also use it for making love, as it generally is made from heavy-duty materials. Besides, you can use the adjustability feature in your sex experiments.

Box spring.

A box spring is a type of a mattress foundation. As the name implies, it is a box filled with springs, which is used as an additional layer of support mostly for

innerspring mattresses

. It is 'additional' because you can do perfectly fine without it. Yes, it is pretty sturdy and increases the amount of bounce, but it also is more prone to making noise, which is not what makes a perfect bed for lovemaking. So, you should probably skip it.
As you can see, a bed frame with slats should be enough to make a perfect bed for sex, so you don't really need to look for anything else, except a good mattress for sex.
Things to Consider Before Buying a Bed Frame for Sex
Now, if you've read some reviews of bed frames, you may have noticed that they only mention two essential things for choosing the right bed frame:
Stable construction and quietness.
The reviewers are certainly right, but there are way more things you should consider before buying a sex-friendly bed frame.
And I've prepared them right below, so you can narrow down your search.
Material
Of course, the material of a bed frame is a matter of personal preference. But if your goal is to get a silent bed frame, you should think about the material in terms of durability:
Softwoods are the least preferable option

. They will easily give in under lots of movement and start to squeak very early, so you shouldn't consider them as an excellent investment at all.

Hardwoods are a golden middle.

Oak, birch, ash and other types perform better, as they can absorb more stress and can compensate for movements better. However, they may also break down eventually. And you will certainly overpay for a more fancy look.

Metals are the best in terms of absorbing excess motion without losing durability

. Go for thicker slats and rails and avoid too many screws and bolts, as these are usually the least durable parts.
If you notice that your metal bed frame squeaks, you can fix this inconvenience by spraying it with WD-40 lube. Just be sure to allow it completely dry before putting your mattress back.
Weight
Generally, you may want to choose a more massive bed frame. Although it will be slightly challenging to assemble, the final result will be more sturdy and won't allow your bed to move around the room during the hottest nights.
Also Read: Best Bed Frames For Heavy Person
Support
The primary goal of every bed frame is to provide support. If you actively make love in your bed, there are three features you should look at:
Horizontal support (a.k.a slats)

. Slats aim to ensure uniform support from side to side and prevent your mattress from sagging. Thus, look for slats that are wide and tightly packed.

Vertical Support (a.k.a rails and legs)

. All vertical parts of your bed frame should be sturdy enough for compensating impulsive motions without spreading them further down to your neighbors.

Edge Support (a.k.a borders)

. Firm edges will prevent you from rolling or sliding down the bed and allow more space to stretch out after the act.
A sex-friendly bed frame should be able to not only cope with a dynamic load but also offer you a uniform sleeping surface so that you won't wake up stiff and sore next morning.
Responsiveness
Now, motion response is more applicable to a mattress, but the right bed frame can actually enhance the bounce and make it smoother.
To achieve this, opt for a bed frame with flexible slats or mesh wirings, as they are more bouncy initially.
Ease of Assembly
Assembly of your bed frame is an essential part because if you do it wrong, you can get screeching or clunking right from the start. To avoid this, you should do the following:
Avoid models with too many details

.

Bed frames that don't squeak

typically have a one-piece outer frame with welded joints, so there's no place for noise to appear. The more bolts your frame has, the higher the chances that it will become squeaky soon.

Do not buy frames where parts need to be slid into each other

. This may seem to be very convenient, but the constant movement and friction in these joints can cause them to loosen up and become squeaky.

Do not apply too much force

. If you screw a bolt too tightly, you can rip the thread on the bolt or the joint, and it will become useless. These weak points may imbalance the whole construction and eventually lead to noise.
Conclusion
Intimacy is an important part of every relationship. Sex strengthens an emotional bond between you and your partner and has plenty of health benefits.
I hope that after reading my guide and reviews of bed frames for sexually active couples you'll end up making a purchase that will bring you joy for years to come.
Now, out of all the bed frames I've tested I enjoyed the VECELO the most. I love its minimalistic look and the durability it provides. Once all the bolts are screwed in their places, you'll get literally indestructible and noiseless construction that will ensure uniform support for both sleep and sex.
But if you need something more affordable, go for the Simple House. Despite some minor flaws, it's a great bed frame that can support you and your partner and won't bother with annoying noises.
So, did you know that the right combo of a mattress and a bed frame can brighten up your sex life? We'd love to read your thoughts in the comments!
Product links on Happysleepyhead are referral. We get a commission on purchases made through our links at no additional cost to you. More information in my disclosures.