The 5 Best Travel Pillows for long haul flights in 2020
by | Last Updated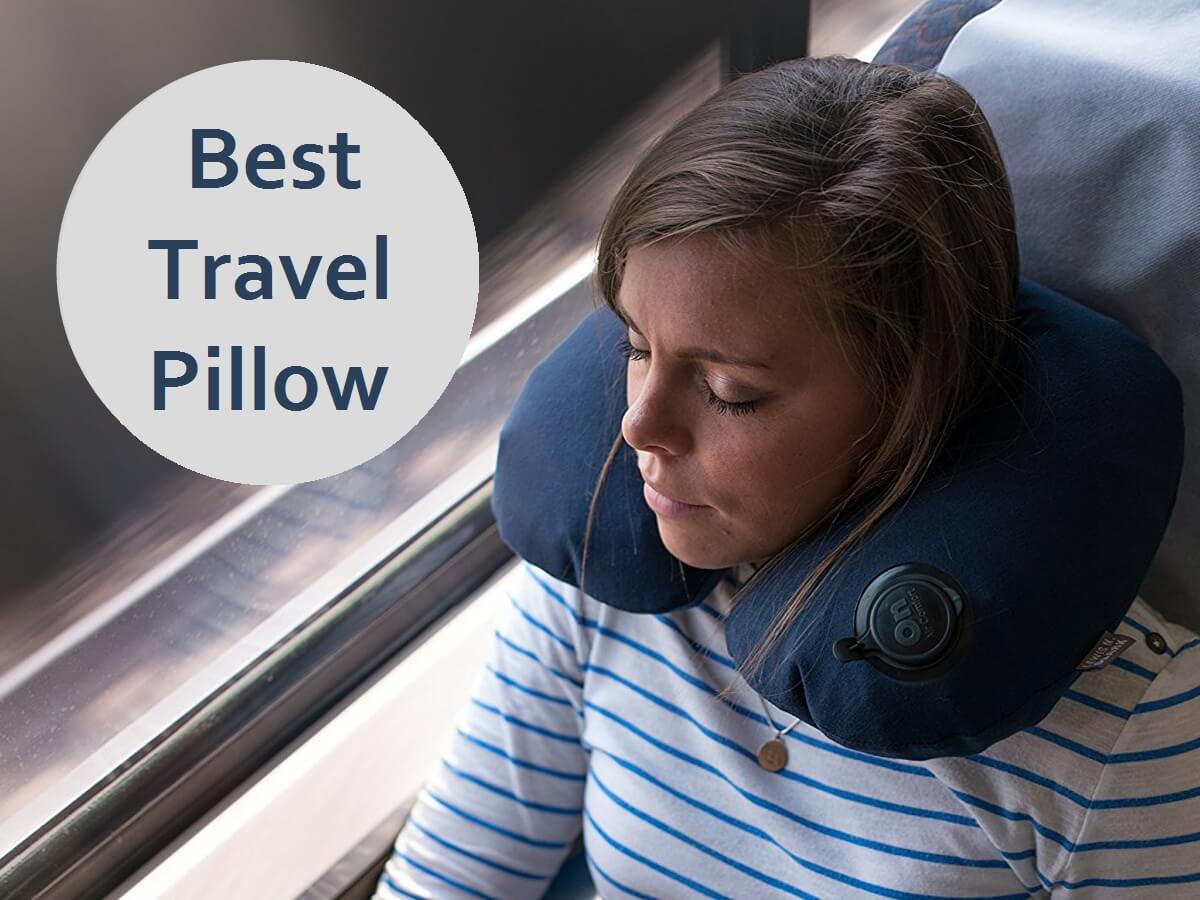 I'm sure the majority of you feel the same way about traveling. It is super fun and exciting but exhausting at the same time.
The good news is that there are little tools we can use to make traveling (even long-distance) a bit more comfortable.
Today, I want to share with you my top 5 neck pillows. Let's see which one turns out to be the best travel pillow for long haul flights and your loyal companion for any distance.
Compact Travel Pillow for long haul flights
Soft Neck Support Trtl Pillow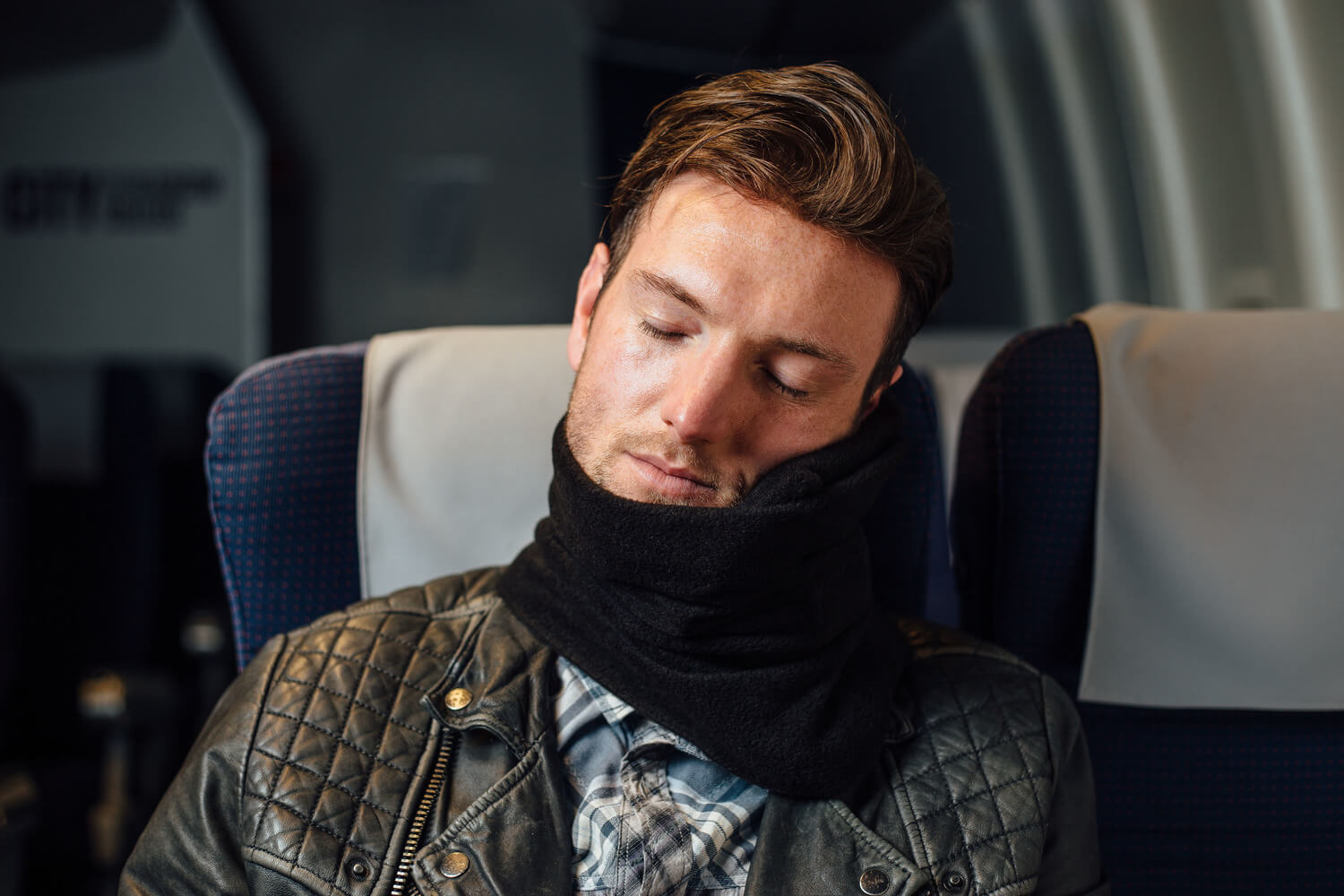 The reason why this model can be called the best travel pillow for long haul flights isn't that the manufacturer claims that its effectiveness is scientifically proven. In my opinion, this pillow deserves to be on the list simply because it's very comfortable. Besides, it won't take much space in your bag because it's half the size of a regular U-shaped travel pillow. And it weighs only 136 grams, which makes it one of the most compact travel pillows on the market.
Here's what you need to know about it:
It is able to hold your

neck

in an

ergonomic position

, allowing you to fall asleep and preventing your neck from

stiffness and pain

.

It is very

small and lightweight

, which makes it perfect for any kind of transport.

It is made of

soft fleece and foam

, which means it is stretchy and adjustable.

The

strengthening plastic ribs

are hidden inside the fleece and provide extra support for the neck.

This neck pillow is

machine washable

, which will make the after-travel cleaning process much

easier

.
What is really great with that pillow?
The best thing about this pillow is the support it provides. When using it, my head wasn't wobbling around, and the neck was fixed and comfortable. It gets better: I slept through the whole 5-hour flight and didn't even wake up for the snacks (and have no regrets).
What is wrong with that pillow?
The worst thing about this model is the fact that you have to adjust it really tightly if you want your head to be fixed. And to some people, that might be too tight, too uncomfortable, and even cause anxiety if those people are claustrophobic.
Overall, I'm rather happy with this neck pillow. I think it is suitable for any kind of transportation and has a potential to become your most favorite, best neck pillow for travel.
check out this pillow on amazon
The Most Suitable Travel Pillow for Chin Support
BCOZZY Chin Supporting Travel Pillow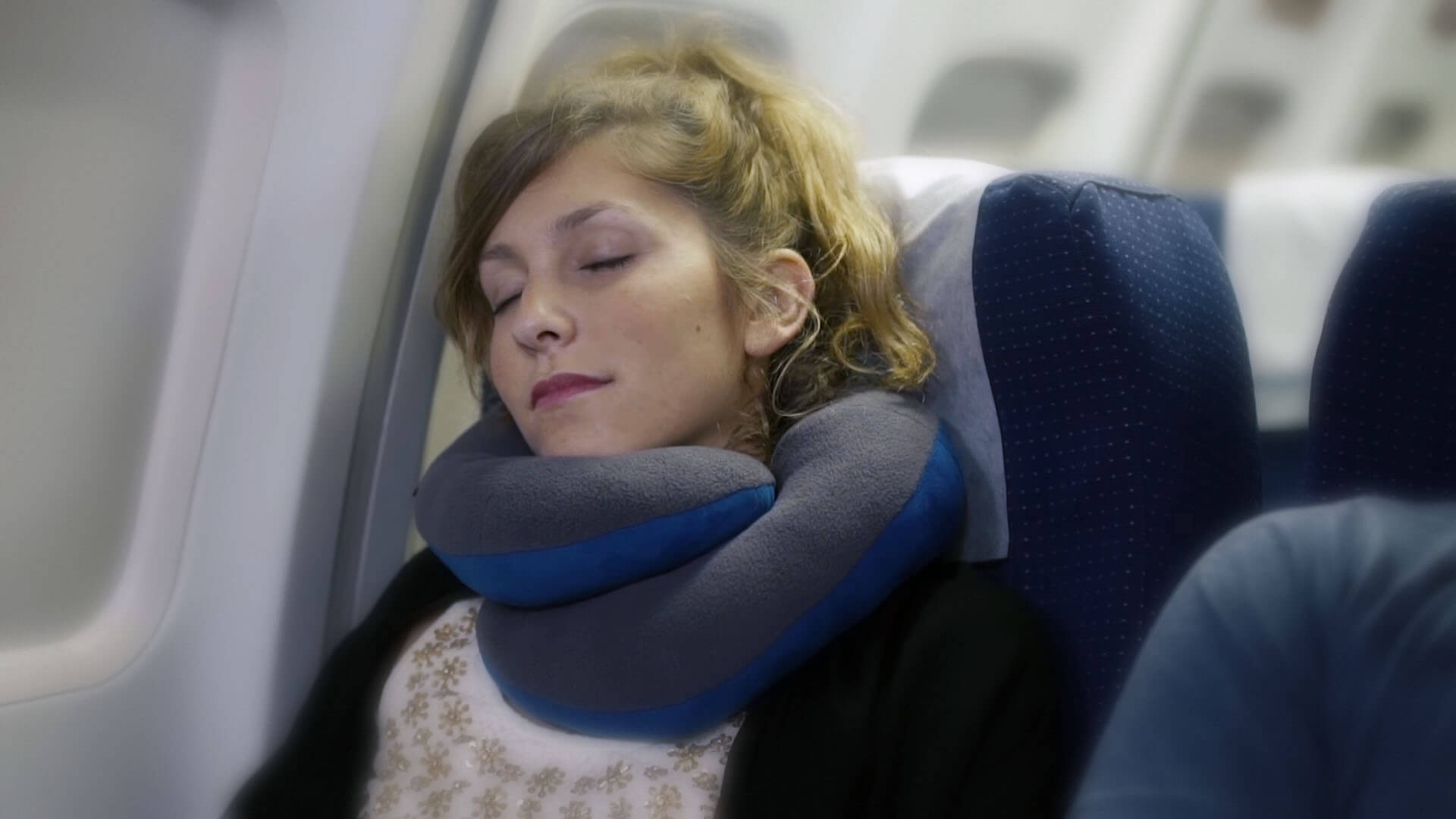 This neck pillow is super soft, comfortable, and adjustable. What makes it stand out among competitors is the enhanced support for the chin that it provides. If you often find yourself waking up because your head falls down, this is a great pillow for you.
Here are its main features:
It can be used in

different positions

and you can control how

tight

it is around your neck.

The

Chin Support system

prevents the head from falling forward.

Comes in

two sizes

, for kids and adults.

It is

machine washable

.

The cover is made of

fleece and suede fabrics

.

The filling is the

conjugated siliconized fiber

.
"Size is one of the most important factors. Your neck pillow should be small enough to allow you to freely carry it around. However, it has to be big enough to support your head and neck."
What is really great with that pillow?
The coolest thing about this neck pillow is the variety of sleeping options it provides. Moreover, they all feel comfortable. You can put it on one shoulder and rest your head on it or, for example, wrap it around your neck and put the chin on the pillow. It is adjustable, which is a great plus, especially when you want to change the sleeping position from time to time.
What is wrong with that pillow?
The worst thing about this pillow is its size, to be more exact – the amount of filling inside. It's quite a thin pillow, compared to the ordinary U-shaped neck pillows we are used to. And I think it might not be suitable for taller people or people with longer necks.
To be honest, I enjoyed traveling and using this pillow. It is easy to adjust and provides great support. I feel like this neck pillow can become a great travel buddy for pretty much anyone.
check out this pillow on amazon
Best Affordable Travel Pillow
Travelmate Memory Foam Neck Pillow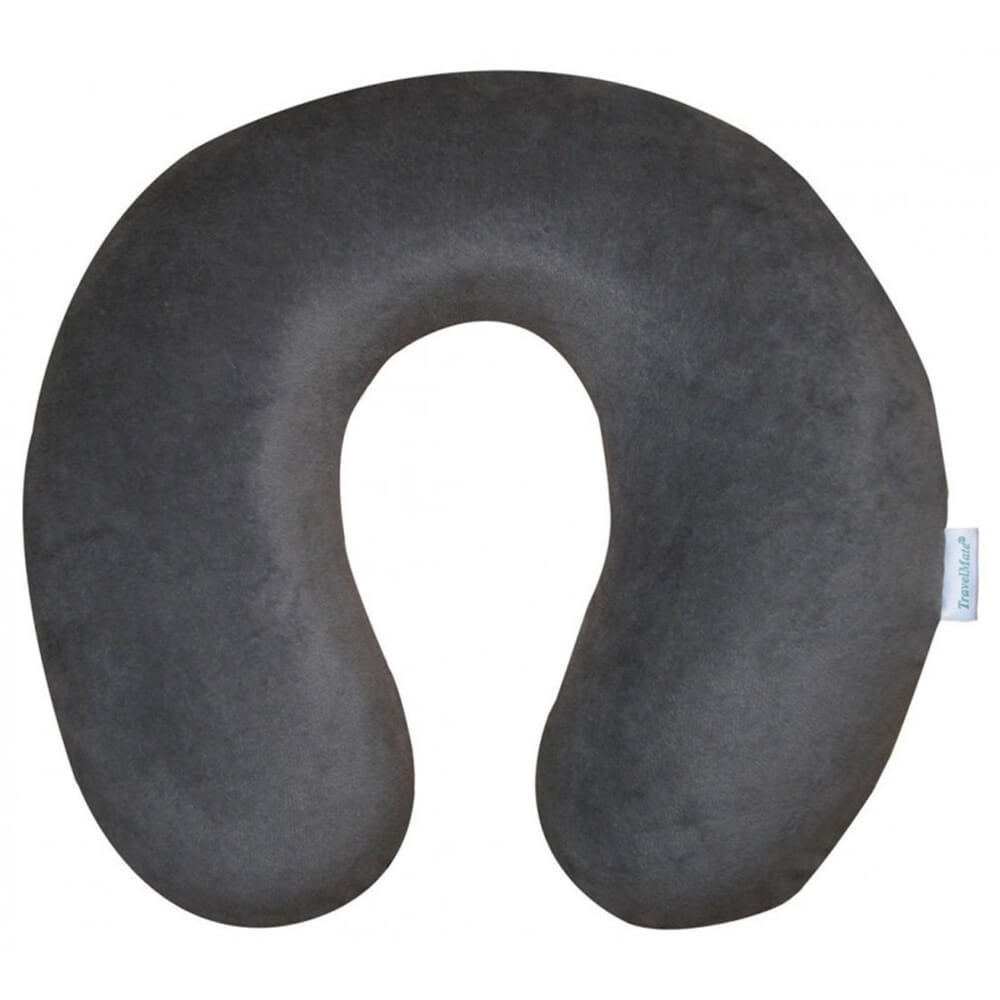 This pillow proves that cheap doesn't always mean bad. The Travelmate Memory Foam Neck Pillow is very reasonably priced, however, it works quite effectively. It can accompany you on your every trip, and it won't require much effort on your side. The thing is, this pillow has an elastic strap that allows you to easily attach it to your luggage without the need to spare the space for it inside the bag.
Here are some main characteristics:
It has a classic

U-shape

, which can support your neck and head.

The foam insert at the back is

removable

, which allows you to regulate the pillow's thickness.
It is filled with memory foam, which provides firm support and a slight cushioning effect.
What is really great with that pillow?
The best thing about this pillow is the combination of its price and quality. Yes, it doesn't feature all those luxurious details, and its shape and filling are rather simple, but it still works.
What is wrong with that pillow?
The worst thing about this model is the stiffness of the filling. If you're used to firm pillows, you might be okay with it. But if not, this neck pillow might seem too hard for you.
This pillow is a perfect model for people who prefer simple things. It offers decent support and can be considered as one the best pillows in this price category.
check out this pillow on amazon
Best Inflatable Travel Pillow for long haul flights
The Ultimate Travel Pillow by Travelrest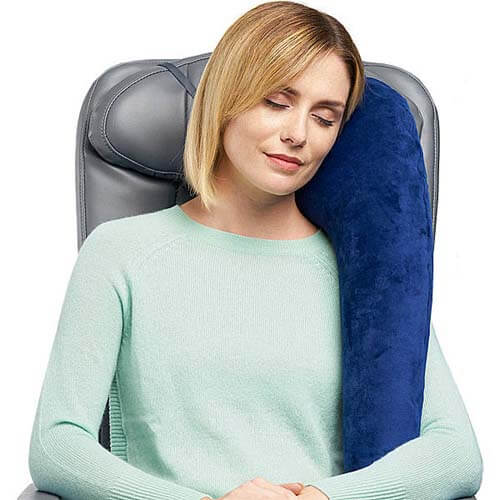 Another contestant for the honor to be called the best travel pillow for long-haul flights is this model by Travelrest. What makes this pillow perfect for long flights is the use options it provides. Being equally comfortable for both adults and kids, this pillow keeps your head, neck, and body in proper alignment. The fact that it doesn't take much space because it's inflatable makes it a very compact and ergonomic option.
Let's take a closer look at it:
This model is

inflatable

, which means you can easily carry it around and use in its full size only when needed.

It is able to provide

lateral support

for the

upper body

, which can help you fall asleep and have some rest on the go.

It does a great job

supporting the neck properly

and feels very comfortable, especially for side sleepers.

You can

twist

it almost any way you want to,

adjusting

the pillow to your seat and position.
It is machine washable, which means you'll have no trouble cleaning it.
What is really great with that pillow?
The absolute best thing about this neck pillow is the fact that it's not exclusively for your neck. You can use it in multiple positions, for example, across your body or down the side of your torso. By offering such versatile use options, this pillow can be comfortable for anyone.
What is wrong with that pillow?
The worst thing I've noticed about this model is the fact that it won't stay in the upright position unless you attach it to your seat. However, some airplane, train, and bus seats don't have a headrest, to which you're supposed to clip the pillow using its stripe. So, it might not work effectively depending on the transport you're using.
To tell you the truth, I had no complaints when using this pillow. I repositioned it once or twice, found the best position, and fell asleep.
check out this pillow on amazon
Cabeau Evolution Memory Foam Travel Pillow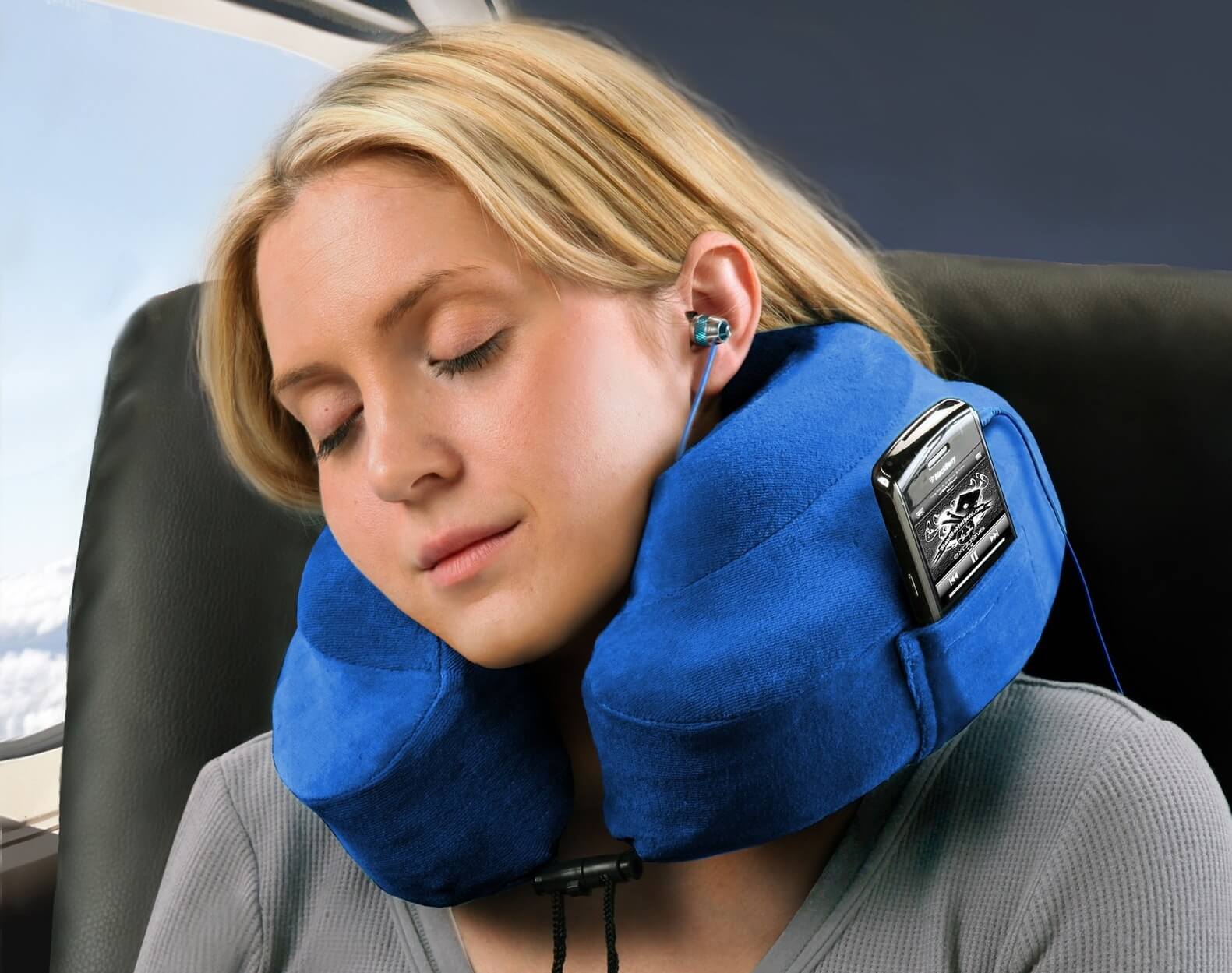 This product is soft and supportive at the same time, which makes it a great option for traveling. The pillow's back part is flatter than that of most other pillows on the market, while the height of each side is higher. Such a design will keep your head in one stable position and allow you to relax more effectively. Besides, there's a pocket on one side, so you won't have to hold your phone or MP3 player in your hands if you prefer to fall asleep listening to something.
Let's look at its main features:
This pillow is filled with

high-quality memory foam

, which is able to support the head and the neck properly.

For an

additional chin support

, you can

rotate

the pillow in 360° and rest your chin on it, preventing your head from falling forward.

It features the

media pocket

for your cell phone or MP3 player.
The pillow's cover is removable and machine washable, for an easier after-travel cleaning.
What is really great with that pillow?
The best thing about this pillow is how comfortable and supportive it is. It is soft and, honestly, feels like a good bed pillow. It supported my head perfectly when I wanted to lean it to the side. Also, I tied the front stripes quite tightly, and it helped me stop moving my chin and my head forward.
What is wrong with that pillow?
The worst thing about this pillow is that its foam filling might make you feel hot. Of course, it's usually chilly on the planes, so the pillow will only make you comfier. But if traveling by train or by bus during the warm season and with no air conditioning, this pillow might be just too hot.
In general, I had a great time traveling and using this pillow. It felt soft, it supported my head and neck perfectly, and it didn't let my head fall forward. I think this is an excellent option not only for travelers but also for people who want to relax at home and provide some additional support for their neck.
check out this pillow on amazon
Factors We Look At
Travel pillows are designed to give you some comfort during traveling, but different models do it in different ways, which in reality might not always be as comfortable as expected. It's important to take into account different factors in order to be completely satisfied with the purchase. Here's what we pay attention to:
Shape

. Although the most common shapes are a U-shape and a ring-shape, there are much more designs available. Some of them are rather unique and unusual, which may cause some doubts in terms of their ability to provide comfort. That's what we're here for. We test pillows of different shapes and recommend only the ones that really work.

Material

. Most travel pillows you can find on the market today are either memory foam or inflatable. The cover may be made from polyester, velour, or fleece. Each of these materials has its own distinct characteristics, which we consider when reviewing a pillow.

Adjustability

. Loft is the most important factor that defines your comfort. The most common complaint from travelers as to their travel pillows is the insufficient support due to a low loft. That's why many manufacturers began designing pillows that can be adjusted depending on your neck's height. Adjustability also refers to the positions in which you can use your pillow.

Compactness

. Size and weight matter for travelers too. Even the most comfortable travel pillow in the world won't be praised too much if it's too bulky and heavy. The most compact models are foldable and inflatable.

Ease of cleaning

. Travel pillows get dirty much faster than bed pillows, and it's obvious, as they travel with you everywhere. Also, drooling is a pretty common (and annoying) issue among people who sleep in a sitting position. That's why we look for fully machine washable models or the ones that can be easily spot cleaned.
"The choice of a pillow is pretty much connected to the type of transport you usually use for traveling. If it's airplane, an inflatable compact pillow is a better pick, as there are certain restrictions as to the amount of carry-on luggage you're allowed to have on board. If you travel by car or train, there are more options, as there are no such restrictions and the space between the passengers allows for a bigger, bulkier pillow."
Some Things You Should Know About Travel Pillows
Here are some things that I believe will be helpful to you when shopping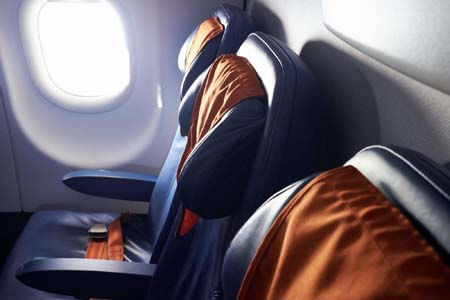 for a new travel pillow and using it:
Some airlines offer pillows to their passengers, but those usually measure 3 inches or less, which is too thin to maintain proper support throughout your trip.

Typically, a travel pillow will cost you $10-$40.

Inflatable pillows don't need to be fully inflated to feel comfortable. In fact, you may feel much more comfortable with a pillow that's 90% inflated if you're used to softer pillows and have a smaller head.

Some inflated pillows will need to you manually inflate them by breathing in oxygen, while others can have an automatic mechanism launched by a button.

Non-inflatable pillows are usually large and bulky so they might seem not convenient for carrying around. However, most modern designs feature a special mechanism that allows you to attach your pillow to your luggage.

Some manufacturers offer travel sets that include a mask and

earplugs

in addition to a pillow.

Most travel pillows are not covered by any warranty. Yet, it doesn't mean the manufacturer has made them low-quality and just doesn't want to have any responsibility for that.
"If you're often on the road, it makes sense to invest in a more expensive pillow that will supposedly serve you for a longer time."
How to Sleep Better When Traveling
Even if you use the world's top travel pillow, sometimes it's not enough. In order to be able to sleep on the go, there are some other things you can do. Here's how you can make yourself more comfortable, fall asleep easier, and sleep longer:
Drink enough water

. Staying hydrated directly affects your sleep.

Wear loose and comfortable clothes

. An airport isn't a fashion podium and you don't have to wear a suit or high heels. Wearing something comfortable will help you sleep better.

Reduce the stimuli

. Turn off your phone or laptop and get those screens away from your face. Wear a sleep mask to eliminate the light. And a pair of good earplugs will block the irritating sounds, allowing you to have a restful sleep.

Don't eat too much

. Feeling heaviness in the stomach won't let you fall asleep easily and might ruin your whole flight.
Conclusion
I must say, trying to pick the best travel pillow made me experience many peaceful hours on the plane. But the one that made me feel the most comfortable was the Cabeau Evolution Memory Foam Travel Pillow. It fits my neck and head perfectly and feels like a real pillow. It managed to keep my head and neck straight and even supported my chin. I think this pillow can improve any travel experience.
Which pillow would you take on your next trip? Share your opinion in the comments!
Product links on Happysleepyhead are referral. We get a commission on purchases made through our links at no additional cost to you. More information in my disclosures.