3 Best IKEA Mattresses Reviewed: Top Picks from the Most Popular Furniture Chain
by | Last Updated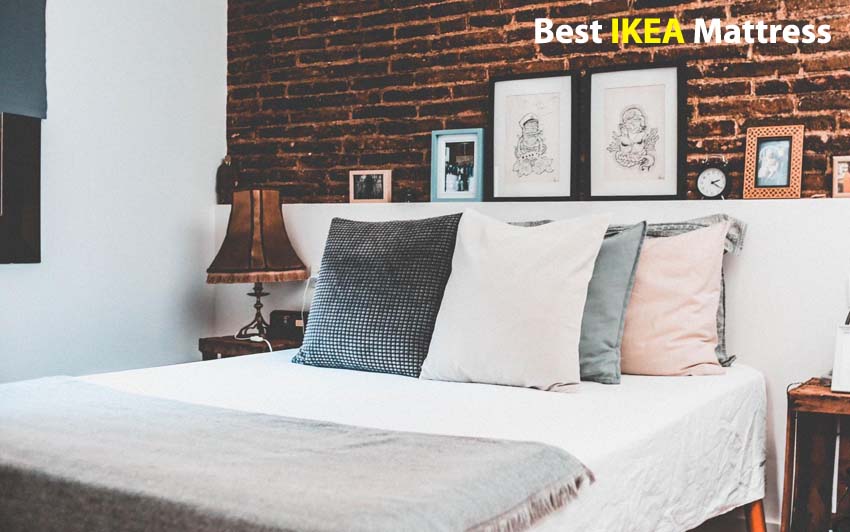 We might be confused with the unpronounceable names, but we sure do love IKEA furniture.
The same goes for their mattresses.
And today, I have prepared 3 best IKEA mattresses for you. Let's see which one has a chance of becoming the most favorite IKEA piece in your home.
[table id=82 responsive=collapse datatables_row_details=true datatables_row_details_columns="A-G" /]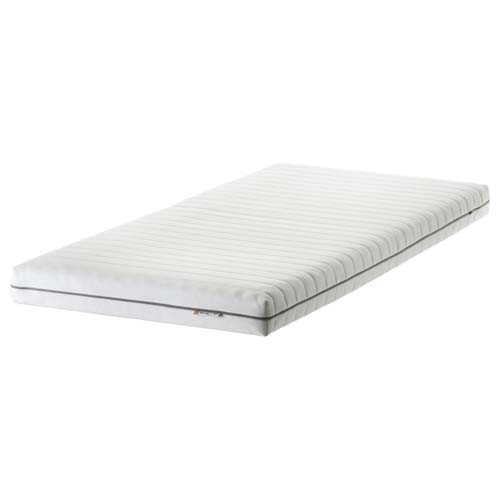 The first item on our list of the best IKEA mattresses is this simple, cheap, yet comfy model from the Minnesund series. This is one of the most affordable beds you can find these days, being only $180 for the Queen.
This is a memory foam mattress. It features resilient polyurethane foam (1.7 lb./cu.ft. dense). There's also comforter filling that consists of 65% viscose, 30% polyester, and 5% modacrylic fiber. The cover is a cotton + polyester blend. It is removable and machine washable, which means easy cleaning.
Here's the deal, though:
This mattress is only 4 inches thick. This means, for an average adult, this bed might not be comfortable enough (at least not when used regularly). It's a very simple foam mattress: there's no supports core and no multiple comfort layers. So, it might be a good option for occasional use (in a guest bedroom, summer house, trailer house, etc.).
"There are many reasons to love IKEA. It's a great store for people who are on a tight budget but want to get a good new bed for the money. It's also a perfect shopping destination for students who need furniture for the dorms. And most importantly, IKEA is for anyone who wants a wide selection of goods at affordable prices."
The price tag on this mattress can probably win almost anyone over. This bed is extremely cheap, which makes it a great option when you have a limited budget (or, again, want something cheap for occasional use only).
The worst part about this model is its simplicity. There's just one layer of polyfoam and some thin padding, which definitely isn't enough to offer you good comfort levels for everyday use.
To be honest, there's not much about this mattress. Still, for such a price, this is a decent option for occasional use. It might not feel luxurious, but it is ridiculously cheap.
Check out this IKEA Mattress on Amazon
Best IKEA Memory Foam Mattress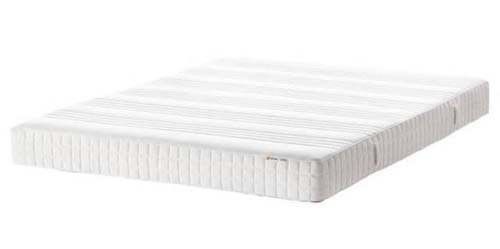 The next model tops the list of the best IKEA memory foam mattresses. Being very reasonably priced, the Matrand comes with multiple foam layers and allows for good contouring and comfort levels.
This particular model has two foam layers. One is denser and serves as the support core. The other one nicely adapts to your body shape and has great pressure relieving properties. There's also a generous amount of soft fiber filling, which gives this bed a more luxurious feel. Smooth and pleasant to the touch, the cover is a cotton and polyester blend common for IKEA mattresses. It is removable and machine washable (another common feature for IKEA that wins so many users over).
"What allows IKEA to sell their products at reasonable prices is the manufacturing process. By producing large quantities of goods, the company saves on manufacturing and can sell each item at a cheaper price."
Now, this bed comes in four sizes: Twin, Full, Queen, and King. It can be used as your main bed or occasionally, whichever you prefer. Being a rather simple model, it offers a firm feel with more than decent pressure relieving properties. However, don't expect this mattress to feel like a cloud.
The absolute best part about this model is the value for money it offers. It's quite hard to find a memory foam mattress for such a price ($399 for a Queen). Plus, this bed is very comfortable. It provides support and pressure relief (even though it's a bit more on a firmer side).
The worst part about using this mattress is its limited lifespan. This Matrand memory foam bed does not serve users for long. It tends to become saggy with time, starting to feel inconsistent throughout its surface and making a sleeper feel uncomfortable. This is normal for cheaper beds but might still disappoint many users.
Overall, this is a good, comfortable bed. It might seem too firm for some users, but it offers excellent support and adequate cradling. You might have to replace this mattress in a few years, but it's definitely worth trying.
Check out this IKEA Mattress on Amazon
Best IKEA Innerspring Mattress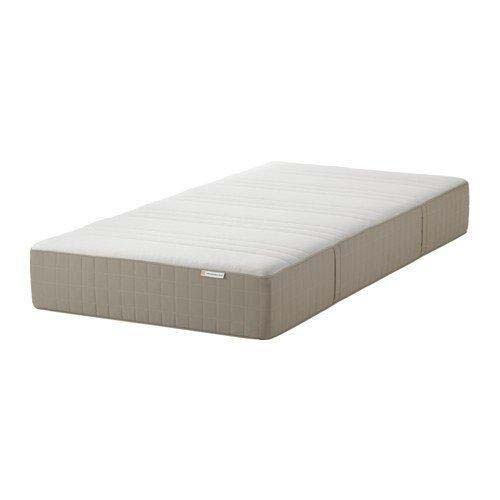 This spring bed can be called one of the best IKEA mattresses for a number of reasons. Another relatively cheap option, the Haugesund features individually wrapped coils, which nicely adapt to your body and provide good comfort levels.
Here's the deal:
This model comes in two firmness options – firm and medium-firm – so you have something to choose from. The construction includes wrapped coils (594 pocket springs for Queen size), polyfoam comfort layers, and some extra padding for a more luxurious feel. The cover is soft and stretchy, so it moves with the sleeper and contributes to the overall comfort of this bed.
Now, featuring the pocket coil system, this mattress nicely adapts to your body and keeps it in a neutral position, offering proper support. At the same time, there's a good amount of cradling thanks to the polyfoam layers allowing for decent pressure relief.
"IKEA saves not only on manufacturing but also on distribution. Distributing large volumes allows the company to offer its products at the right time in multiple places at once, reaching a wider circle of customers."
The coolest thing about this model is probably that it comes in two firmness options. This is a very nice bonus, especially given this mattress's reasonable price. You can pick among firm and medium-firm, whichever suits you better.
What might disappoint you about this mattress is its responsiveness, which results in poor motion isolation. This is a common issue for spring beds. Because the coils are quite bouncy, the motion transfer is very noticeable.
To be honest, I did not expect much from this mattress. And yet it managed to pleasantly surprise me. It is supportive and comfortable, with fair conforming and good edge support. For such a price, it's a great set of features.
Check out this IKEA Mattress on Amazon
Similar Mattress Options
Offering goods with great value for money is one of Ikea's strongest points. Their mattresses use quality materials, perform well in terms of exploitation, and are fairly easy to maintain.
Yet, the US mattress market offers some other great options to choose from. Although they're slightly pricier, they still cost less than $900 and will support you during sleep for years to come.
Here they are.
If you want a budget-friendly bed that will serve you for years, try Zinus. This particular model is an all-foam one, which means it offers a good amount of cradling and may help you relieve your pain if you have any.
Also, the manufacturer uses green-tea infused memory foam. Green tea can mask that 'fresh-from-the-factory' odor and — along with plant oils — can prevent the foam from developing funky smells in the future.
The mattress has a medium firmness and can suit average side and mixed sleepers without any problems. Also, it sleeps cooler compared to similar models, so if you're a hot sleeper, this mattress will work for you as well.
Check out this mattress on amazon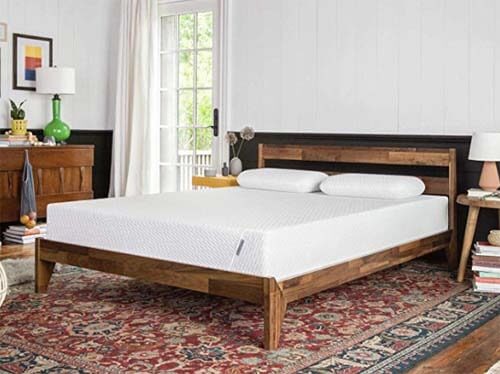 This foam model by Tuft & Needle has a pretty basic construction, but it offers comfort and support no worse than models with a more advanced design.
It has only two layers: a graphite-infused memory foam top and a dense polyfoam base. Nonetheless, the Tuft and Needle mattress perfectly cradles your body curves and is able to adapt to any sleeping position. Back and stomach sleepers will benefit the most, as this mattress has a firmer feel.
Also, this model doesn't sleep hot like many other memory foam mattresses, meaning that even hot sleepers will remain comfortable throughout the night.
Check out this mattress on amazon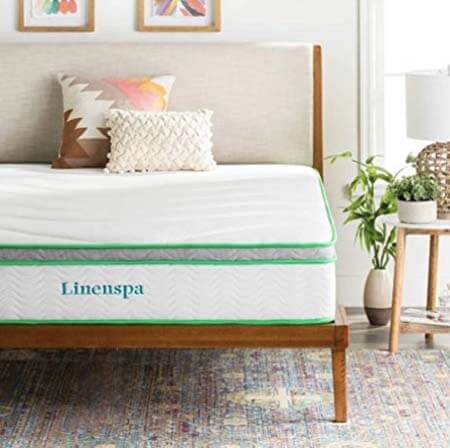 For those who want something special, here's a mattress designed by Linenspa. It has a hybrid construction that combines latex and individually wrapped coils.
The Linenspa has a firm feel, so it is best for heavy individuals and stomach sleepers, as well as those who are dealing with chronic pain or back issues. Latex offers precise contouring and good rebound, creating a uniform and breathable sleeping surface.
Check out this mattress on amazon
A Word on IKEA and What Makes It So Special
IKEA is popular (and loved) all over the world. Founded in 1943 in Sweden, the company opened its first US stores in 1985. The policy was (and still is) simple: to provide a wide range of affordable home products and furnishing to people in order to improve the quality of their life.
That's probably why IKEA is so popular. The chain carries numerous products and styles. And, of course, it offers affordable pricing. As can be seen by lots of positive feedback in IKEA mattress reviews, prices are the number one thing that buys so many customers over. But there's much more to it.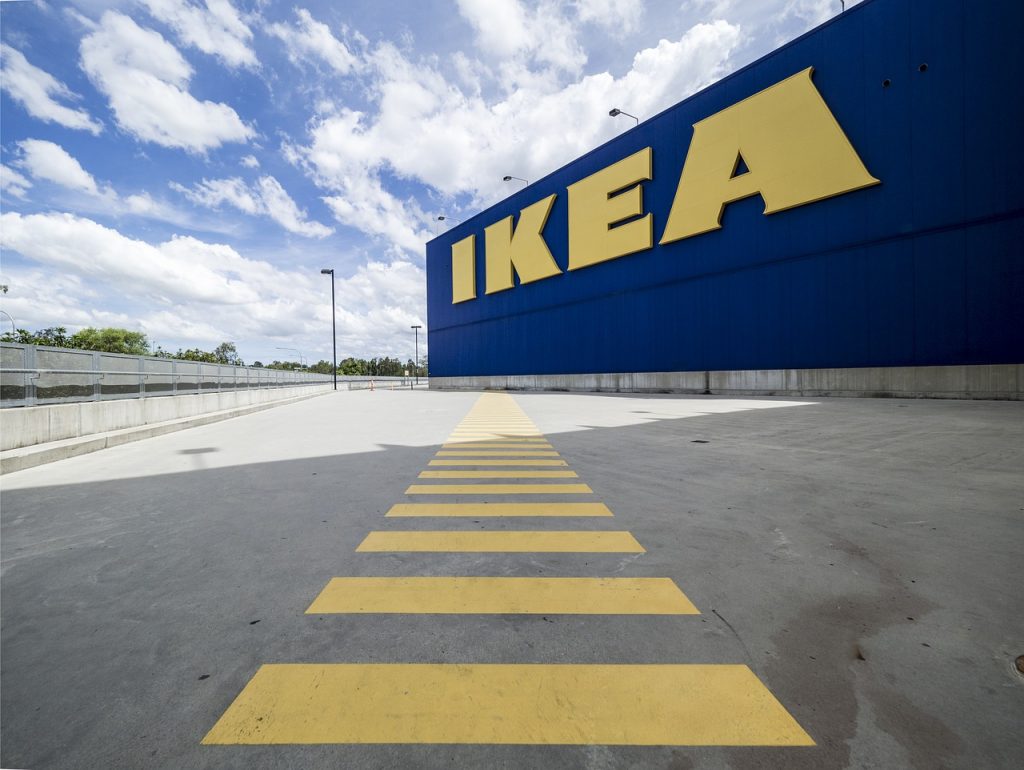 Just to give you a general idea, here are the main cons of shopping at IKEA:
Mediocre durability (including mattresses).

Mass made items, (

which helps achieve lower prices

but means virtually no unique value).

Limited size options for some mattress models.

No soft mattresses available, only medium and up.
However, all of these drawbacks can be balanced out by the pros of shopping at IKEA, which include:
Affordable prices.

365-day sleep trial for mattresses.

A wide range of options to suit any interior.

Simple return policies.

Great warranty on mattresses.

Convenient shopping and delivery.
Shipping
When buying at IKEA, you have two options. You can get your mattress delivered or pick it up at your local store. The delivery rates start at $39 and vary depending on where you live. You can estimate the approximate delivery cost here to see how much you will need to add to your new mattress expenses.
Almost all mattresses are delivered rolled-up and vacuum sealed. This means they can fit into pretty much any vehicle, which allows users to pick their beds up using their own cars. Some larger models (typically, hybrids and some innerspring beds) cannot be rolled up, so you'll need to use delivery services.
When it comes to shipping across the country, IKEA offers delivery to all contiguous 48 states. As for Hawaii and Alaska, only items (mattresses included) under 70 pounds can be shipped there.
"A quick note: IKEA uses third-party delivery services. In most cases, delivery companies allow customers to pick the preferred delivery date and time, which is quite convenient."
Trial and Warranty
IKEA does have great trial and warranty conditions. In fact, even better than those of some well-known, large mattress brands.
For all IKEA mattresses, the company offers a 365-day trial. If you don't find your new bed comfortable enough, you can return it for a full refund (minus the delivery costs). Also, there's a special "Love It or Exchange It" policy, which allows IKEA customers to switch their bed to a different model from the physical store. Some IKEA mattress reviews praise this policy very much.
Here's how you use it:
If you don't like the mattress you've purchased, you can go to your local store, try different beds, and get a new one instead. Keep in mind that you need to keep the original receipt to return or exchange your mattress.
"Because of the peculiarities of their material, memory foam and latex mattresses should be used for at least a month before you decide to return them. Why? Because latex and foam require a break-in period. They need to adapt to your body to provide the highest comfort levels, and this takes time."
Now, moving on to the warranty. This might surprise you, but IKEA offers a 25-year limited warranty with all its mattresses. This means you can get a full refund, a replacement for your mattress, or get it repaired when needed. But there are some aspects the warranty does not cover. They include:
Any damage (including cuts, tears, and scratches) that was not caused during the manufacturing process or delivery.

Damage due to improper storage and installation (for instance, when a mattress is kept or used in a humid environment).

Normal wear and tear.

Damage caused by outside accidents.
"Because IKEA uses the services of third-party delivery companies, it does not offer any old mattress pick-up and recycling programs."
Conclusion
IKEA is popular for a reason. For many reasons, actually. And one of them is their mattresses. This is when you get everything in one: great price, nice materials, and good comfort levels.
Want to know what mattress managed to impress me the most?
Well, I have two favorites, and I'm sure you will love them just as much. Firstly, the Haugesund. Don't mind its innerspring construction, it isn't squeaky. This mattress comes in two firmness options, which means this model can be suitable for different users. Plus, it's very comfy! I love its bouncy support and adequate padding (not too soft, not too much sinkage).
However, if you don't really care for innerspring, you might like the latex Myrbacka bed. It's actually a combo of different materials, including polyfoam and wool padding. This bed isn't as bouncy as innerspring models, but it offers great support. Besides, it's cradling and pressure relieving. To me, that's perfect!
What about you? Do you have any experience with IKEA products? You're welcome to share below!
Product links on Happysleepyhead are referral. We get a commission on purchases made through our links at no additional cost to you. More information in my disclosures.