Leesa vs. Tuft and Needle Mattress Review
by | Last Updated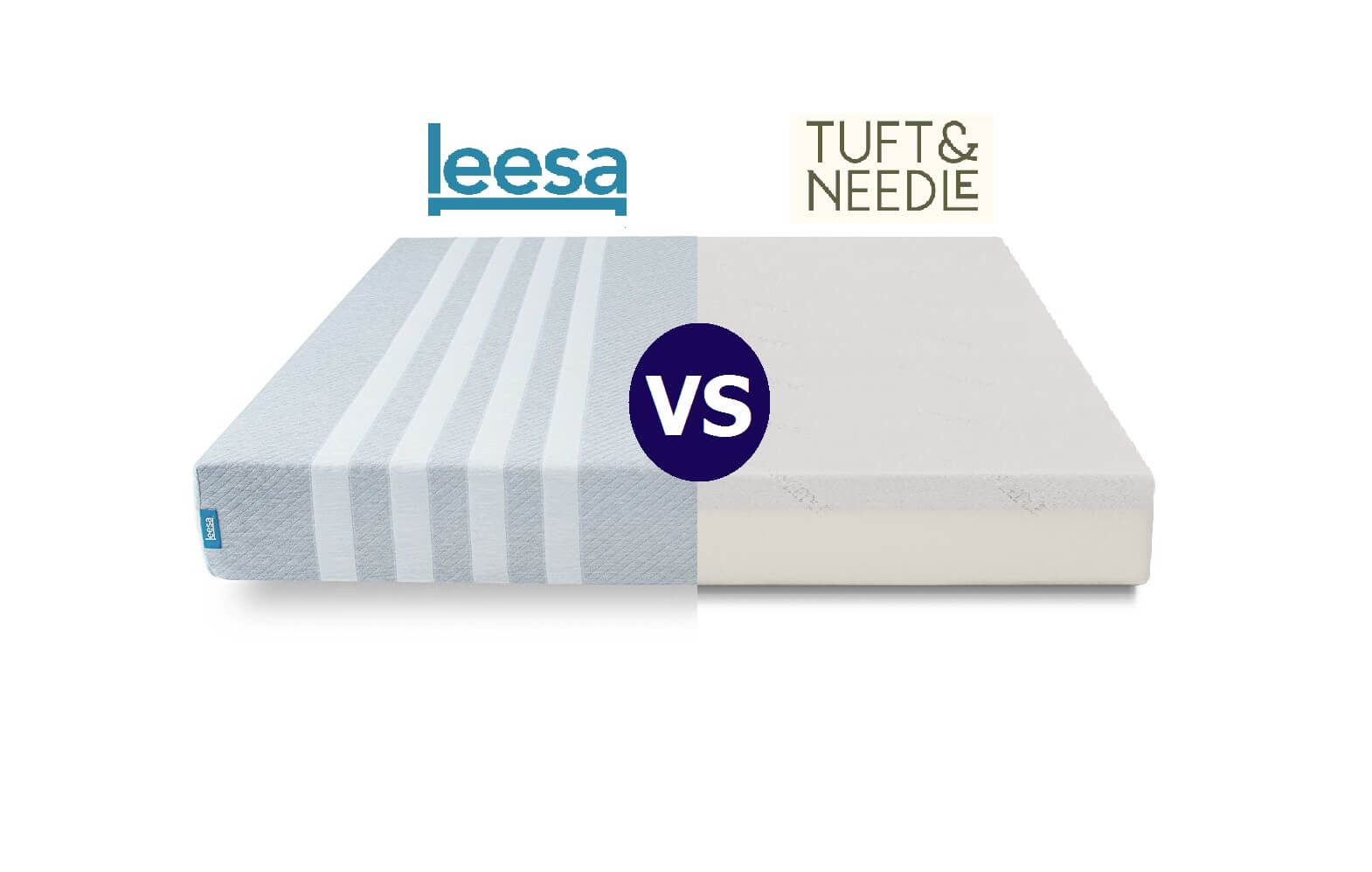 I think you won't argue with me about how hard it sometimes is to choose a nice mattress for your comfortable sleep. It can be confusing, and this indecisive feeling can irritate you.
Today I want to help you make up your mind.
Let's take a look at two popular mattresses and compare them side by side – Leesa vs. Tuft and Needle. Let's see which one is capable of providing you with the best night's sleep .
"People naturally feel the most tired two times a day: at 2 am and 2 pm. With a good mattress, those 2 am naps can really be refreshing and restoring."
I'm sure you realize that the mattress's construction and layered foams are the most important. It's what our sleep quality depends on. It's what we are ready to spend our money on. Get this:
If the mattress foam is low-quality or unsuitable for our weight, it can lead us to sleep deprivation, making us irritated, constantly tired, and unhealthy.
Now, looking at Leesa vs. Tuft and Needle, I can say that they have some differences in construction. Let's see which exactly.
The Leesa company makes their mattresses with 3 layers:
The base layer is 6" thick. It's rather firm and supportive, but you won't actually feel it, as there are two more comfort layers on top of it.
The middle layer is 2" thick and serves as a transition layer. It's a memory foam, which also provides good pressure relief.
The top layer, which is made of Leesa's proprietary Avena foam, has a notched shape and helps you sleep cool. It's a rather bouncy layer, and, in my experience, it does sleep cool.
Already know what you want to buy? Click here to order your Leesa mattress!
Also, check out our in-depth review of Leesa mattress.

As for Tuft and Needle, these guys probably decided that simplicity was the key to success. They make minimalistic mattresses with 2 layers:
The base layer is a high-density poly-foam layer. It works for the pressure relief and support. The manufacturer claims that this foam is very adjustable and the more pressure and weight you put on it, the more it supports your body. I can't say for everyone, as all people have different bodies, but I did experience a decent level of pressure relief and support.
The top layer is the comfort layer , which is made of T&N's proprietary Adaptive Foam. This high-density layer is made with added graphite and gel, which is a very unusual combination. Because of the gel, the top layer is rather bouncy and has a unique feel. Also, the combination of gel and graphite is supposed to keep you cool during the night by drawing the heat into the mattress and dispersing it away from your body. In my experience, it did help reduce the temperature a bit.
Want to try this unusual combination of materials? Order your Tuft & Needle mattress here!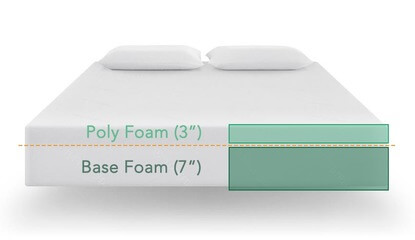 If you often suffer from allergic reactions and feel worried about buying a new mattress, my Leesa vs. Tuft and Needle review will probably help you calm down.
You see, both of these mattresses' covers are made without any added chemicals. Leesa's cover is breathable and soft and comes in their traditional gray design with 4 white stripes. There's another cover option available at the moment, the ArtLifting Limited Edition cover, with which your mattress will cost $50 more.
As for Tuft and Needle, their cover is also very soft. It's made of nylon and polyester and is OEKO-TEX certified. This means that it isn't made with adding any chemicals or other harmful components and is
hypoallergenic. The color of the cover is white, which is a classic choice for the majority of mattress manufacturers.
I would highly recommend getting a mattress protector for both of these mattresses. Give your preference to the breathable and water resistant one to increase the durability of your mattress and to avoid cleaning it too often.
Check out our in-depth review of Tuft and Needle mattress.
Firmness and How It Feels
"Many Tibetan monks sleep in the upright position. It's an old Buddhist tradition, but maybe some of them do this because they don't have a comfortable bed."
Before starting this part of my Leesa vs. Tuft and Needle review, I want to point out that I personally prefer firmer mattresses, as they offer more support. If you're just like me, keep in mind that both of these mattresses are foam ones, and the way they will feel (in terms of firmness) will depend on your weight .
Now, let's talk numbers. On a firmness scale from 0 to 10, Leesa is around 7-7.5. To my surprise, Tuft and Needle feels pretty much the same and would also rate 7 out of 10. Both of them are rather bouncy and supportive, but, again, if you're a heavier sleeper, you will sink deeper into the foam.
I've noticed that T&N was a bit hard for my shoulders and hips, so if you sleep only on your side, you might experience some inconvenience. As for Leesa, it's good for multiple sleeping positions as its top layer allows hips and shoulders to sink a bit deeper reducing pressure from them, probably thanks to its notched design.
You can order your Leesa mattress here, and get your Tuft and Needle by clicking here.


As I've mentioned before in my Tuft and Needle vs. Leesa comparison review, the levels of support in each mattress will depend on the actual weight you put on them.
In general, both Leesa and T&N offer good support. I'm an average sleeper, not too heavy and not tiny, so I didn't feel like sinking in too deep and being enveloped by any of the mattresses. I felt comfortable
and didn't experience any back pain, so I guess my spine was aligned and supported properly.
"The lack of sleep can cause you to gain 2 pounds every week. So, when picking a mattress, remember that it will also influence the way you look."
Let's talk about motion isolation. If you sleep with a partner and are tired of waking up 20 times during the night because of their tossing and turning, this part of my Leesa vs. Tuft and Needle review might interest you.
To make this comparison completely honest, I conducted motion transfer tests by using the same object on both of the mattresses. Here's the result:
Leesa showed decent motion isolation levels, but Tuft and Needle was better. I guess it's because of Leesa's top layer and its notched design.
So, if you can be easily disturbed during the night, Tuft and Needle would be a better option for you. Also, keep in mind that the motion transfer levels will depend on your and your partner's weight. Heavier sleepers cause more motion transfer when sleeping on a foam mattress.
Ready to order? Click here to get your Leesa mattress, and here to buy your Tuft and Needle.
This sinkage section of my Tuft and Needle vs. Leesa comparison is important because some people like sleeping on bouncy surfaces, and others love to feel enveloped by their mattress.
If you're one of those people who want their bed to feel like a cloud, I have to disappoint you. Both Leesa and T&N allow minimal sinkage (around 2 or 3 inches). They won't envelop you during sleep, as they both are rather bouncy . So, they both will be great options for people who prefer a more responsive and bouncy feel of the mattress.
Of course, if you're a heavier sleeper, you'll sink deeper. But keep in mind that your body won't be supported properly in this case.
I want to dedicate this part of my Leesa vs. Tuft and Needle review to the off-gassing issue, as many people suffer from allergic reactions to different scents. And let's admit it: nobody wants to sleep on a
smelly mattress!
Both Leesa and T&N are shipped compressed in a box, so I was expecting them to have the off-gassing. They did have a slight odor, which didn't remind me of any chemical scent. Leesa's off-gassing disappeared in approximately a week, and Tuft and Needle's odor was gone within two days.
Mattress
Size
Price
Leesa
Twin
$425
Twin XL
$525
Full
$690
Queen
$840
King
$970
Cal King
$970
Tuft and Needle
Twin
Twin XL
Queen
King
Cal King
Check Price on Amazon
The shipping conditions these two companies offer differ in a couple of ways.
Leesa ships to all 50 states. Plus, to Canada, the UK, and Germany. They build the mattress after you place your order, so the delivery time might be a bit longer and will also depend on how far you live. It usually takes up to 7 business days for a mattress to arrive. It's shipped compressed in a box, so you can even get the Cal King and not worry about it being damaged on the road. Another great thing is that the shipping is free.
As for Tuft and Needle, they only ship to 50 states and Canada (except Quebec). Shipping is free for the 48 states, so if you live in Hawaii, Alaska, or Canada, it will cost more than $100 depending on the final destination. Also, residents of Rhode Island, California, and Connecticut have to pay the additional recycling fee, which is required by the state.
The return process with these two companies is fairly easy. With Leesa, you have to use it for at least 30 days, then apply for a refund, and the company will arrange a free pickup for you. Bad news for Hawaii and Alaska residents: you will have to pay $100 for the return shipment.
Tuft and Needle will also arrange a free pickup for you. They will contact your local charitable organization, and after the mattress is donated, T&N will give you a full refund. It's that easy.
This is where Leesa vs. Tuft and Needle battle results in a draw. They both offer a 100-night trial, which allows you to return your mattress for a full refund if you don't like it and don't sleep well on it.
As for the warranty, both T&N and Leesa offer a 10-year warranty on their mattresses, which is a pretty standard number for the majority of mattress manufacturers.
Which One Is Good for You?
"Sometimes, the reason why you can't sleep well is that your mattress isn't just right for you."
To help you pick the best option for your specific needs and preferences, I want to point at some additional aspects of these two mattresses.
You will love Leesa if you:
You will enjoy T&N if you:
Click here to find out more and how to order YOUR Leesa Mattress and here for T&N.
Leesa 4.7 *****
Tuft and Needle 4.4 *****
Overall, both Leesa and T&N are good mattresses that offer good support and comfort levels. Still, I would recommend Leesa, as it is suitable for multiple sleeping positions, provides a better cooling effect, and offers better delivery terms. Tuft and Needle is a decent mattress, but it's a simpler option for people who don't expect too much from a mattress.
Which mattress do you think will suit you more? Is it Leesa or Tuft and Needle? Share your thoughts in the comment section below.
Product links on Happysleepyhead are referral. We get a commission on purchases made through our links at no additional cost to you. More information in my disclosures.