Tuft and Needle vs. Casper Mattress Review
by | Last Updated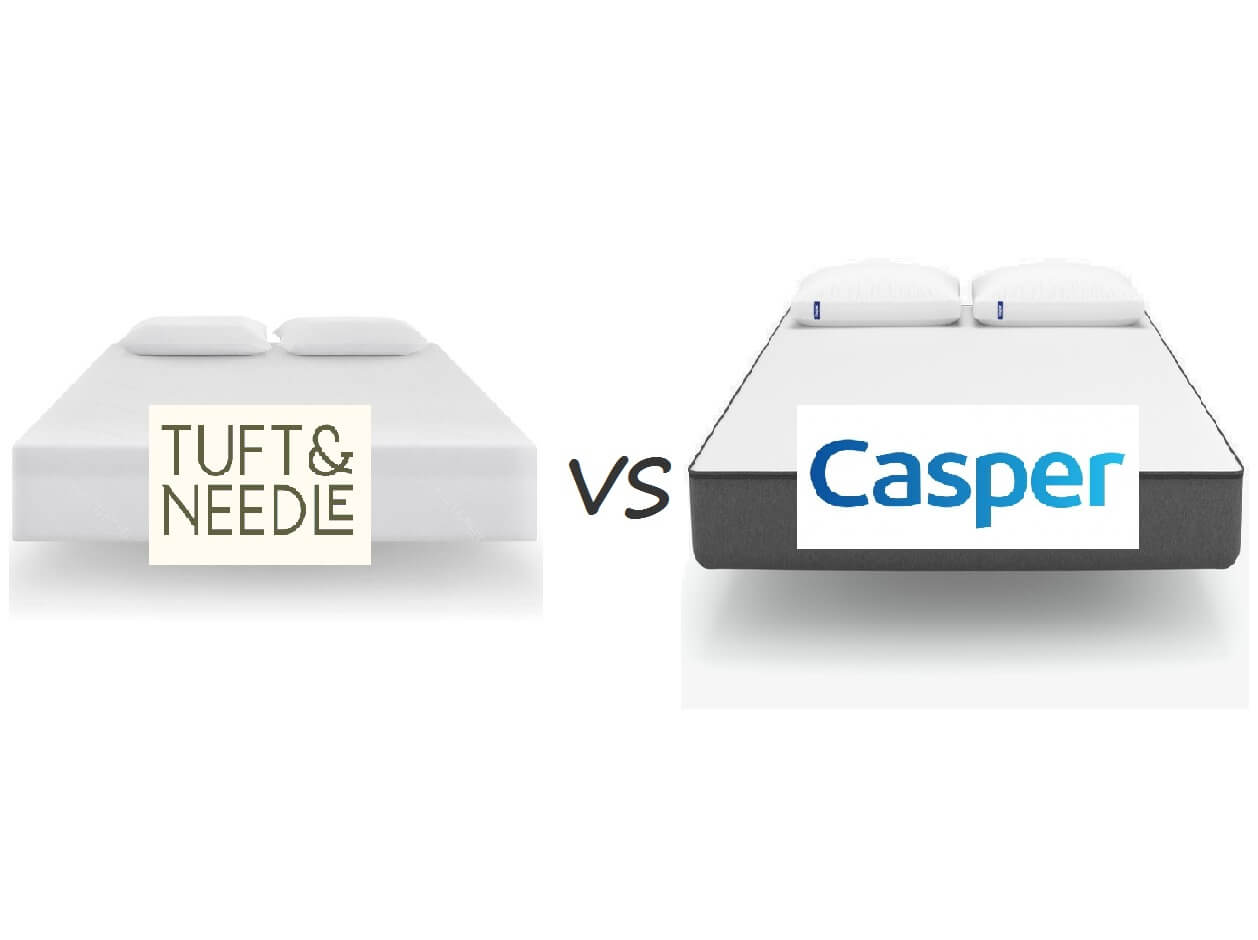 What a nightmare it is shopping for a new mattress, right? The old one doesn't suffice anymore, and the options on the market are endless. I think you will agree with me when I say that sometimes the abundance of choices can confuse and overwhelm.
"Every species known to man needs to sleep, even plants." But no matter what, on that long list of options, there are some mattresses that really are worth to be noticed. One of those is Tuft and Needle, a company that calls their mattresses "exceptional", and the other one is Casper, which promises you supreme comfort.
In this Tuft and Needle vs. Casper review, we are going to find out whether they are really that good and for whom they will be perfect.
"The most important aspect in choosing a mattress is not its price, how it looks, or the name of the brand, but its quality."
The materials and the number of layered foams are what makes a mattress comfortable or uncomfortable. No matter how good it looks, what loud words the advertisement says, or how good the price deal is, if its filling is terrible, your sleep will be terrible too.
In this Tuft and Needle vs. Casper comparison, let's take a closer look at the construction of the mattresses.
Let's start with T&N . This company probably wants to stick to the minimalistic idea, making mattresses with two layers:
the base layer is made of high-density poly-foam, which provides great support . The manufacturer claims that the foam is very responsive and offers excellent pressure relief. It is said that the more weight and pressure you put on the mattress, the more it reacts and supports your body. I'm not sure about how it can handle heavier sleepers, but my experience on this mattress was rather satisfying in terms of support;
the top comfort layer is made of proprietary Tuft and Needle Adaptive Foam. It's a high-density layer, which didn't remind me of either latex or memory foam. It's made of a combination of gel and graphite, so it has a unique feel and it sleeps cool.
If you feel like that's enough for you, get your Tuft and Needle mattress today!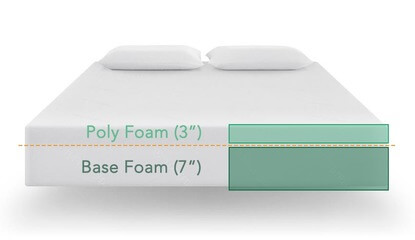 Now, Casper is not that modest. Their mattresses have four foam layers:
the base foam is supportive and high-density. It is thick and doesn't differ much from usual high-quality foam mattresses;
the adaptive transition layer is made of poly-foam, helping your body have that smooth feel between the comfort layers and the firm base foam;
the responsive memory foam layer reduces the pressure from your body. It creates a rather bouncy feel, which I really like because it means great support
the open-cell foam layer is a comfort layer, which also plays a cooling role. Its proprietary design allows the heat to flow away from the body and doesn't let you sleep hot. I found this technology to be rather effective because, like most people, I hate sleeping hot.
Does this impress you? Then don't hesitate and order your Casper mattress here!

The cover is the part of a mattress that contacts our bodies the most closely. That's why I want to dedicate a separate section of my Tuft and Needle vs. Casper review to their covers.
Let's start with T&N. Their cover is made with a combination of polyester and nylon. It is pleasant to the touch and soft.
And it only gets better:
The materials of the fabric have an OEKO-TEX certification, which means the cover doesn't contain any harmful components. That's good news for allergy-prone people, babies, and toddlers who like to crawl
into their parents' bed.
As for Casper, the best thing about their mattress cover is probably its zipper. I mean, the material is pretty good too (it's soft and high-quality), but the added zipper makes it so much easier to clean. Plus, the cover contributes to the cooling effect because it's breathable, which I felt when sleeping on it during hot summer nights.
Want a new mattress? Click here to order your new Tuft and Needle, and here to get your own Casper mattress!
Firmness and How It Feels
You might be wondering who is going to win the battle Casper vs. Tuft and Needle in terms of firmness? Well, let me just tell you this: both mattresses are pretty firm. I don't mean "hardwood floor" firm, but they are definitely not as soft as the majority of memory foam mattresses.
Tuft and Needle, despite having only two layers, is bouncy and rates 7 out of 10 on the firmness scale. It provides a good level of support and, unlike most memory foam mattresses, doesn't cause that quicksand feeling. So, if you prefer sleeping on cotton-soft mattresses, T&N isn't the best option for you.
But if you're looking for something comfortably firm, order your Tuft and Needle mattress without hesitation.
As for Casper, it doesn't differ too much from T&N in terms of firmness. I'd say it's 8 out of 10 and a bit more bouncy, probably because of its extra layers and the top open-cell foam. It is firmer than an average foam mattress, so it's not for everyone.
But if you value support and want something a bit firmer, get your Casper mattress today!
Check out our in-depth review of Casper mattress.


As I've already mentioned in my Tuft and Needle vs. Casper review, both mattresses are rather firm, which means they provide great support levels.
Keep in mind that these mattresses are foam ones, so they are not able to support well overweight sleepers. They are constructed to distribute the weight evenly (which they do), but still, foam is foam, so it's not a great option for heavier people.
As for the edge support, there's nothing really special about both Casper and T&N. Again, they are memory foam mattresses, so the edge support levels aren't that great. If this criterion is crucial for you, you should probably look at some innerspring mattresses.
"Before popping a sleeping pill, consider buying a new mattress. Your old one has probably deteriorated immensely from its "as new" condition. It offers less support and contains tons of debris, sweat traits, and hair, which can't contribute to a good night's sleep."
This part of my Tuft and Needle vs. Casper review will interest people who sleep with a partner and get disturbed easily by their movements during the night.
I have good news for you: both these mattresses offer great motion isolation. They are firm, bouncy, and don't transfer too much movement. However, let's not forget that they are foam mattresses, so heavier sleepers might experience higher motion transfer levels.
Don't want to get disturbed by your partner's movement at night? Order your Casper now, or click here to get your Tuft and Needle!
Again, both T&N and Casper showed great results. They don't let you sink into the foam, and you won't feel enveloped during sleeping. So, if you prefer that fluffy cotton-candy feel, these mattresses aren't for you.
They allow a moderate level of sinkage, approximately 2-3 inches, but it depends on the user's weight. Heavier sleepers will experience deeper sinkage, but I don't think it will be too much as the mattresses are rather firm.
When you unwrap your new mattress and feel a weird strong odor, that means some chemicals were added to it. Whether those are toxic or not, it depends on the manufacturer.
Now, both Tuft and Needle and Casper didn't strike me as "smelly". Because they are shipped compressed in a box, they both had a slight off-gassing, but the smell wasn't too strong or too chemical. It was just the smell of a new mattress. Casper's odor disappeared in 24 hours, while it took T&N approximately 2 days to get rid of the off-gassing.
This section of my Casper vs. Tuft and Needle review will be dedicated to the matter that sometimes can be rather troublesome. We all know how frustrating it is to pay too much for shipping or to wait for too long.
With T&N , the process is rather simple (and free). They ship to all the states, including Alaska and Hawaii, plus Canada (except Quebec). The delivery time varies and usually takes 2-5 days (my mattress was delivered 4 days later after I've made my order). If you live in Alaska or Hawaii, the shipping will cost more than $100, depending on the weight of the mattress and the final destination. Also, for the citizens of Connecticut, California, and Rhode Island there's a recycling fee required by the state to be collected.
Casper ships around the country as well as to Canada, the UK, Germany, Austria, and Switzerland. The shipping is free, and it took 3 days for the mattress to arrive at my place. The company offers a free White Glove delivery to people who live in New York, Los Angeles, San Francisco, and Chicago.
If you can't wait to get your brand new mattress, click here to order Tuft and Needle, and here to buy your Casper mattress.
Now, if you don't find T&N mattress comfortable enough, you can get a refund for it. You need to contact the company, and together you'll work your way to donate the mattress to your local charity. Once it's done, you'll receive a full refund .
With Casper , the company will find a local organization to pick up the mattress from your place, and you'll receive a full refund . So, the return process should be rather worry-free.
Both Casper and T&N offer a 100-night sleep trial, which is a very useful option since you can't try their mattress out in the store. Give a mattress a try for at least a couple of weeks (you need some time to adjust), and if you don't find it comfortable enough, you will be able to return it for a full refund. Yes, it's that simple.
Warranty is another aspect that might concern you. Both of these companies offer a 10-year warranty, so you can be sure that each of these companies will replace your mattress in case of any manufacturing defect.
Which One Is Good for You?
Now, no matter how good a mattress can be, the truth is that it can't suit all the people. That's why I want to specify which mattress among these two will be good for you .
Tuft and Needle will be a great option for you if you:
You will Love Casper mattress if you:
T&N 4.4 *****
Casper 4.7 *****
I can surely say that both Tuft and Needle and Casper are good mattresses. They are firm, supportive, bouncy, and comfortable.
They show good levels of motion isolation and allow you to sleep cool.
The thing is that they belong to different price categories, and Casper, being a more expensive model, offers some extras . It has some additional layers and was more comfortable, in my experience. So, I would recommend trying both of these mattresses, but if you can afford to spend a little more, go for Casper.
I'm excited to hear how comfortable you find each of these mattresses personally for you. So, comment down below!
Product links on Happysleepyhead are referral. We get a commission on purchases made through our links at no additional cost to you. More information in my disclosures.