Sheex Sheets Review: Are They Worth the Hype?
by | Last Updated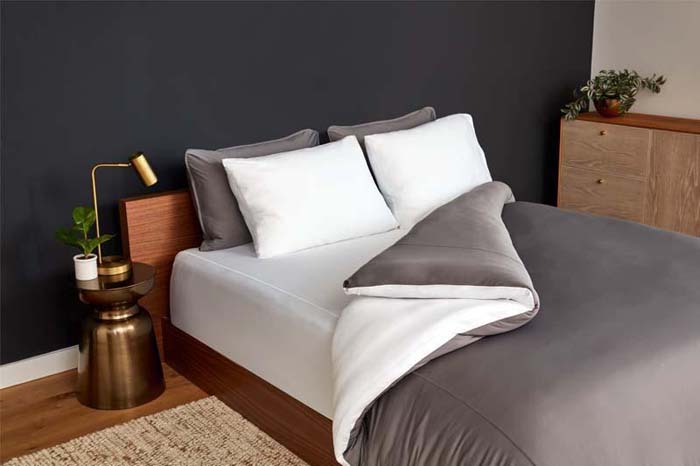 We all know about sports clothes designed to improve athletic performance by cooling you down and wicking away excess moisture.
But what if there were a bedding set made of the same materials?
Wait, it already exists! Two basketball coaches have created Sheex — the bed sheets made of the same fabric used in sports clothes.
But will they also have the same benefits? Will they make your sleep cooler and more restorative?
That's what we're about to find out in this Sheex sheets review.
Materials and Construction
The first part of my review of the Sheex bed sheets will be dedicated to how these sheets are made.
So, basically, they are a blend of polyester and spandex. This combination gives you a few wonderful benefits:
Resistance to wrinkles.

If you love the feel and look of perfectly smooth sheets, then Sheex sheets are your perfect fit. As soon as you put them on, you will get a perfectly even surface.

Stretchiness.

Spandex contributes to the elasticity of these sheets really well. They can fit any mattress up to 20 inches high and sit tightly. Also, after you wash them, they will return to their initial shape.

No static.

Surprisingly, both spandex and polyester, despite being synthetic materials, do not turn your bed into a field of static electricity.
Sheex also offers a great color palette: some models are even available in up to 12 different colors, so you can easily find something that will match the rest of your bedding and your bedroom's interior.
"All the sets I tested have a pretty simple design, but this is what makes the Sheex sheets look luxurious."
Quality and Durability
Another thing that impressed me while I was reviewing Sheex sheets was their durability.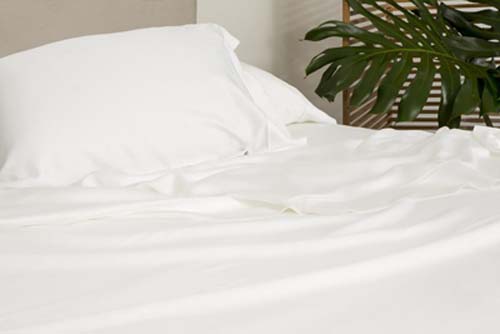 I mean, they are on the expensive side, so you expect them to be well made. But their quality is really worth every dollar spent, in my opinion.
So, the weaving of the threads is a bit loose, and this contributes to better stretching and helps the sheets easily return to their initial shape. Along with that, the weaving seems to be — at least partially — the reason behind great moisture-absorbing properties of the Sheex bedding.
"The loose weaving is also the reason why the fabric is so lightweight. So, if you pair your sheets with a lightweight blanket, you get a comfy combo that won't trap your movements when you decide to switch positions during the night."
The seams look well made, and their ability to stretch a bit with the fabric adds up to high quality. No threads are sticking out and the stitching is even.
Finally, each fitted sheet has a thick elastic band along the perimeter. This allows the sheet to stay in place, so I can easily say that Sheex could be a great pick for those who need sheets compatible with their adjustable bed base.
Comfort and How They Feel
Moving further through my Sheex review — and here comes the part we all love:
The comfort part!
So, while browsing reviews on the Web, I've noticed that some people were skeptical about sleeping on something that feels like their gym leggings.
But here's the truth:
Even though these items are made of similar materials, they feel completely different. In fact, the sheets resemble the feel of natural silk or its alternatives: very smooth and cooling. So, if you used to sleep on cotton or linen before, these sheets may take you some time to adjust to their feel.
Now, let's talk about the great thermoregulation properties of this bedding.
While I was sleeping on the Sheex sheets, I noticed how well they wicked away excess moisture. Besides, the loose fabric weave I've mentioned earlier allows the air to freely circulate between your body and the bedding, thus creating a better microclimate in your bed.
So, if you struggle with hot flashes, these sheets can really help you forget about them.
"For a more refreshing sleep, you can pair your Sheex sheet with a cooling pillow and other bedding items that have a cooling effect."
check current price on amazon
Availability
Up to date, Sheex can offer you six bedding sets to choose from. Here's a quick overview of each:
Original Performance. This is the brand's bestseller which is available in all mattress sizes and 12 different colors. The sheets are made of 87% polyester and 13% spandex for a silky soft feel and sleek look.
Studio Tech.

This set has almost the same configuration as the previous one except that it includes a duvet cover instead of the flat sheet, which allows you to arrange your bed in a continental style.

Arctic Aire-MAX.

As the name implies, this set is specifically designed for all the hot sleepers out there. It's entirely made of Tencel lyocell and has an excellent cooling effect, which can really make a difference for those who struggle with hot sleeping.

Luxury Copper.

Comprised of 90% polyester and 10% spandex, the fabric in this set is also infused with copper particles for better heat conductivity. The manufacturer also states that this fabric releases ions that may decrease oxidants in your body.

Experience

. These have 86% polyester, 14% spandex, and are available in seven basic colors. The set has even softer feel compared to others and may suit individuals with overly sensitive skin.

EcoSheex.

And finally, there's a bedding set made of 100% bamboo viscose. It's incredibly soft to the touch and wicks away moisture without feeling wet. Also, viscose is completely hypoallergenic and can adjust to your body temperature, thereby helping keep an optimal microclimate in your bed.
"Along with bedding sets, Sheex offers separate sheets, pillows, duvets, and sleepwear."
Cleaning and Maintenance
When testing bedding items, I always do the washer test.
And here's my verdict about Sheex:
The sheets are totally washer and dryer-friendly, which makes their maintenance as easy as pie.
However, it's highly recommended to follow the instructions provided by the manufacturer:
for washing in the washing machine, use cold water settings and gentle or regular cycle;

avoid using harsh bleach or fabric softeners;

in the dryer, opt for low-heat and tumble-dry settings.
Since Sheex sheets are resistant to wrinkles, there's no need to iron them at all. However, if you want even a smoother feel, you can iron the sheets on a low-heat setting for a brief time.
"Remember to use low-heat only, as higher temperatures can damage the synthetic fibers and make your sheets useless."
Another great thing about these sheets is that they don't shrink after washing. Synthetic fibers make them more elastic, so they can maintain initial shape for longer.
Something You Should Know
Now, have you ever wondered how to easily differentiate high-quality sheets from poorly made ones?
It's pretty easy!
Color resistance is the key quality to look out for.
Cheap bedding sets — and this also implies to brands that are trying to fake the Sheex sheets — use low-quality dyes that can transfer to any surface or fade after even a single wash. Not to mention that these dyes can be toxic and provoke skin irritation.
So, how do you check the quality of the color?
With Sheex, I've done a hot water test. Here are the steps I took:
Put a part of the bedding set in hot water

. I took a pillowcase because it's the smallest item in the set, and dipped it in the water that was comfortably warm for my hands.

Wrung out excess water and placed the pillowcase on a stack of paper towels

. The goal was to choose white material that would quickly show if the color transferred to it.

Pressed the pillowcase with something heavy

. I used a kitchen rolling pin.
So, I've tested several sets of different colors, and none of them haven't stained my towels. This means that Sheex sheets are colorfast and use quality dyes that won't mess with your skin and provoke allergies.
check out these sheets on amazon
The Good and the Bad: Overview
Now, let me sum up the bright and weak sides of the Sheex sheets in this table for you:
Recommendations and Takeaways
Finally, let's close my review of Sheex sheets by outlining who will benefit the most from using them:
Anyone who struggles with staying cool and dry during the night.

No matter if your hot flashes or night sweats are linked to the climate you live in or caused by a medical condition, Sheex can easily help you deal with that and make your sleep cooler.

Individuals with adjustable bases.

Or, active sleepers who want sheets that won't travel around the bed with them. Thanks to the quality elastic, Sheex sheets will stay in place no matter what.

Those who need something durable.

Sheex bedding sets seem incredibly well-made and may last you for years without losing their properties (assuming you will follow the manufacturer's care guidelines).

People with sensitive skin.

Sheex uses hypoallergenic materials and has a really soft feel, so individuals with overly reactive skin may benefit from sleeping on this bedding.
Sheex Sheets Review
Materials

Durability

Cooling Effect

Color Palette

Compatibility with mattress sizes

Value for Money

Potential odors
Product links on Happysleepyhead are referral. We get a commission on purchases made through our links at no additional cost to you. More information in my disclosures.