How To Wash Down Alternative Comforters
by | Last Updated
You have a lot of questions, right? You've been thinking just how to wash down an alternative comforter. You don't need to worry anymore; you just arrived at the right place. Here, I 'm going to tell you how to wash your comforter in a way that seems easy and ensures your bed remains fresh, attractive and elegant as it was before.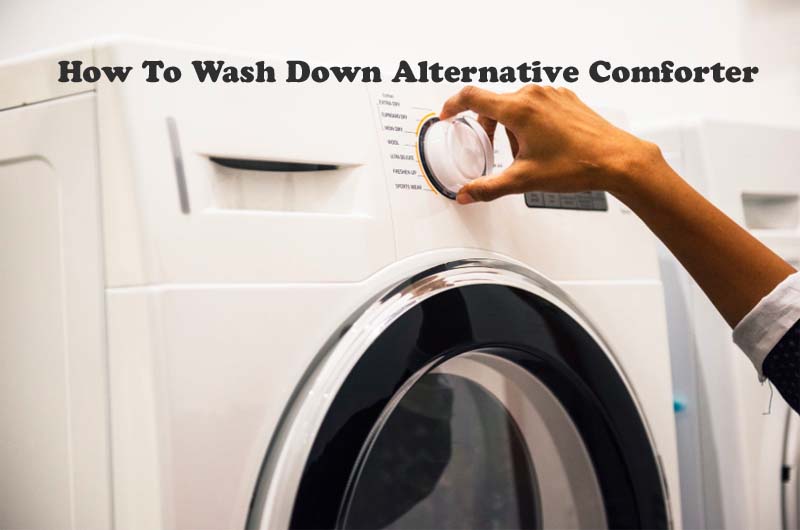 Alternative comforters are very famous nowadays. And the reasons are quite obvious; they are the best among all the comforters out there. They are not only budget friendly but also keep you warm no matter how low the temperature is. Plus, they are made of light material and always feel so amazing.
But how do I wash it?
Very easy, you need to follow the following steps and you're done with washing.
6 Steps to Wash Down Alternative Comforter
Read Down The tag
The first thing to do is to check the safety before pulling the comforter in the washing machine. Do check the tag for washing information. You can clearly see the instructions on the small tag attached to your blanket. If you see something like dry clean the blanket only, it would be better to take it to a proper place for washing. However, if it says it can be washed, then check the next step!
Load The Comforter
Now it's time to load the comforter into the machine. Make sure that you're using a machine that is large enough to easily take the comforter in. If you are insisting the comforter into the small washing machine, it may damage your down comforter.
Now add soap or detergent to the soap, you can also get special soaps for washing comforter. You should not use detergents that are made for other laundry products. Use warm water and then your washer on a specific cycle.
Using a white comforter?
If you are using a white comforter, I would suggest you add some bleach too. It helps maintain the original brightness of your comforter.
Also Read: 5 Best Down Alternative Comforters: A Cheaper, Safer, Better Choice
Warm The Washer
Now you have to set the washer to warm on the suitable washer settings. Do you have an extra rinse option as well? Good, enable it. However, if not, no worries just run the comforter manually in a separate rinse cycle in the washer.
Why extra rinse?
Extra rinse helps remove the residues from the detergent that might have been stick to the comforter during the wash.
Make Sure The Comforter Is Properly washed
Before you wash down the alternative comforter, double check that your comfort is properly washed and there is no detergent left on it. If you find any sort of residue left, you should recycle it so it gets a proper wash.
As we know, a comforter is heavier than other things that go into your washer, that's why you should stop the cycle before the spin reaches and the water is manually squeezed.
It could be of great help to ensure that the spinning is done with ease. Also, it helps to make the fabric lighter to dry quickly and efficiently.
It could be of great help to ensure that the spinning is done with ease. Also, it helps to make the fabric lighter to dry quickly and efficiently.
Wash cycle completed? Good, now it's time to take out your comforter out of the machine. I know you might worry about your comforter when you see it coming out of the washer. Relax, this is normal. Just touch your comforter and you'll find it smoother, lighter and less bulky than before.
Also noticing a hue of fabric?
It's alright, it may happen sometimes during the washing process, but the whiteness will return back after some time. It will get the color back after it gets ides. So don't worry about it.
Dry the comforter
Done with the above steps? You just did a great job. Last but not least, it's time to dry your comforter. It's a very important step you should pay attention while drying out your comforter. Try to avoid running down the alternative comforter.
Some Extra Tips:
There are some extra things to keep in mind as well. You should

always check the fabric

for any sort of wear and tear before washing. If find any, stitch it up so that there are no issues of filling coming out in the washing process.

If you just bought a new comforter, it's recommended to

wash down alternative comforter.

All of the extra chemicals attached are removed in this way and you don't face any bad odor issues.

Always

take good care

of your comforter as they are the best thing when it comes to giving you warm and coziness. Proper care can prove it a durable and reliable one.
Always keep your comforter clean after some time to give it a whole new look.
Got a question?
No issue, just tell us in the comment sections and we'll get back to you soon. Have some suggestion for users? All OK, tell us how we can further improve the cleaning process. Good Luck!